With the increase in weather-related events both in frequency and severity, the immense reliance on a network of technologies is expanding.
Organizations, nowadays, face an unprecedented degree of exposure. Such trends have left companies exposed to a variety of risks.
Using a Business Continuity Plan to manage these risks is key to the survival of any organization in the face of these risks.
That is why learning about business continuity plans and taking the time to create them for your organization is necessary.
That is why we have created this guide for everything you need to know about business continuity plans.
What is Business Continuity & a 'Business Continuity Plan'?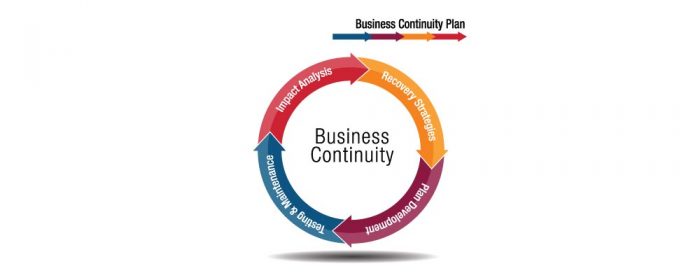 Business continuity is the ability of a company to maintain or quickly resume business functions after a major disruptive event. This event could be anything from a flood, fire, natural disaster, or even a cyberattack.
A business continuity plan outlines this business continuity in terms of instructions and procedures that the company must take when such a disaster strikes. The business continuity plan covers business processes, human resources, assets, and business partners, among other things.
Understand the business continuity plan by imagining that the building where your customer support work has a short circuit and catches fire. The building can now not be used.
Do you have a way for supporters to be up and running so your company can continue making money after the fire?
How will they handle customer calls? Do you have another location where they can temporarily set up or will they be working remotely?
All of this should be outlined in your business continuity (BC) plan.
Elements of a BCP Software: Aspects your Business Continuity Strategy should have
Depending on the impacted department, an efficient business continuity strategy will be developed with input from all key stakeholders and people. Assume that your company's intranet has been hacked. Most modern firms have a hybrid workforce that includes both in-house and remote personnel. This must be factored into your business continuity plans. Get advice not just from in-house but also from remote information technology pros while creating your BCP. How can everyone's operational continuity be ensured?
It should be noted that the risks considered in a business continuity strategy do not have to involve cyberattacks. They don't even have to be connected to the internet. Other instances of problems include weather-related calamities such as floods and fires. Here are some of the most typical difficulties that contemporary BCP software should handle, regardless of industry:
Natural disasters: Natural disasters may significantly disrupt daily life, including corporate life. Some of these natural occurrences are likewise difficult to predict. Understand what to do in the event of structural damage to commercial premises or disruption in supplies. Another aspect to consider is that these calamities might disrupt utilities, resulting in water loss and power outages.
Global pandemic: Last 2 to 3 years have demonstrated that a public health disaster such as COVID-19 will have ramifications across all industries, from food services to manufacturing. A virus, for example, may harm businesses all across the world. Create a mechanism to control how employees interact in such a circumstance (for example, if they have to switch to telecommuting suddenly). It's also critical to consider what you'll do if your supply chain is disrupted.
Cybersecurity: A cyberattack can take many different forms, including data theft, ransomware assaults, and distributed denial of service (DDoS) operations. Even if you do not rely on complicated IT systems, cybersecurity is likely to be of interest to you. Assume you own a small business. When you take electronic payment from a consumer, you are dealing with sensitive client data. You want to safeguard that data, as well as your clients and business's reputation. Prepare plans to safeguard, backup, and recover data from data centers.
Difference Between a Business Continuity Plan and a Disaster Recovery Plan
Sometimes a BC plan and a disaster recovery plan are confused. However, the two are not interchangeable.
The two plans are completely different strategies and both play an important role in safeguarding a business' operations.
A business continuity plan is a strategy, the BC plan ensures the running of your business operations with minimal downtown after a major event.
The disaster recovery plan restores data and critical applications on the chance your systems are destroyed when that major event or disaster strikes.
The disaster recovery plan is but one part of your business continuity plan as the BC plan looks at the continuity of business for your entire organization. Therefore, the business continuity plan has a wider scope than the disaster recovery plan and so should not be confused.
Why is Creating a Business Continuity Plan Important?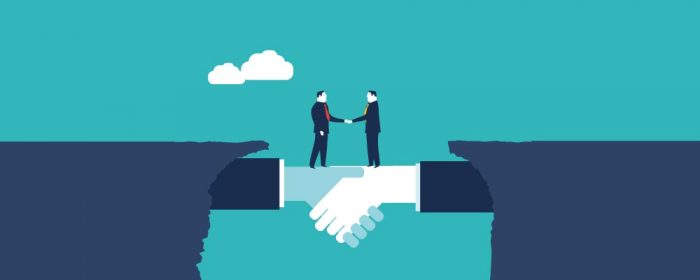 Now that you know what a business continuity plan is, and what it is not, the question is do you need to make one for your organization?
The short and sweet answer is: YES!
Below we'll highlight just some of the reasons why creating a business continuity plan is so important.
1. If you Think your Business can Withstand a Disaster it May be Time to Think Again
Studies have shown that around 25% of businesses do not reopen after facing a major event.
The risk of a major catastrophe, or even a seemingly minor one like broken water pipes or power failures, can cause your business to be unable to run.
Thinking that your business is immune to these risks or that your organization will make it through is wishful thinking and can cause the loss of your entire organization and everything that it entails.
Therefore, it is only logical to come up with a business continuity plan that can help you if such an event were to occur. Events that seem unlikely but are more common than you would hope.
This brings us to point number two.
2. Natural Disasters are More Common and More Costly
In 2012 alone, nine out of the ten most costly worldwide natural disasters happened in the United States of America.
2012 was previously the third costliest year on record with $77 billion in insured losses claimed worldwide. The first was in 2011 when $126 billion in insured losses were reported.
These numbers don't even include the year that was 2020, with a worldwide pandemic, wildfires in Australia, and a year full of devastation and loss.
In fact, a lot of major restaurants and retailers filed for bankruptcy in the first nine months of 2020 than the entirety of the year 2019.
Having a business continuity plan can help your organization to resume functioning faster, limit downtime, and give your organization a fighting chance to get back on its feet after a major event.
3. Business Continuity Planning can be viewed as a Good Investment
When you have a business continuity plan, your company can proactively consider how to respond to major events and be among the first to get back to business.
As mentioned above, an effective business continuity plan along with proper insurance coverage can maximize your organization's chance of successful recovery.
The BC plan eliminates mistakes that would otherwise be made because of hasty decision-making combined with stressful conditions.
Having a predefined BC plan elaborates how your business will get back on track after a major event with proper thought and consideration and thus details the most effective way to do so possible.
Common Myths about Business Continuity Plans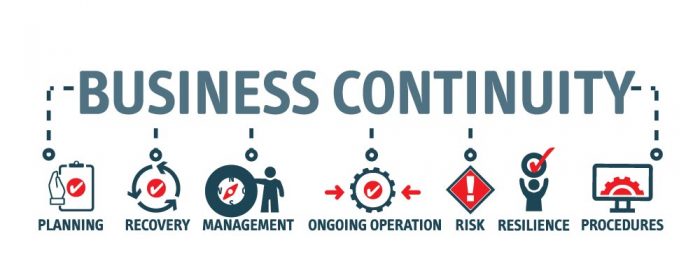 There are many misconceptions when it comes to a business continuity plan.
It is these misconceptions that either result in an organization not taking the time to create a BC plan, or making one that is insufficient to provide guidelines of processes that need to be followed in the face of a major event.
To avoid making either of these errors, here are the four most common misconnections organizations hold about business continuity plans.
Misconception 1: Business Continuity Plans and Disaster Recovery Plans are the Same
The first and most common misconception people hold about Business continuity plans (BCP) is that they are the same as Disaster continuity plans.
The popularity of this misconception drove us to address this misconception right at the start of this article.
There are major differences between the two plans and it is both of these plans that work together to bring organizational success after a catastrophe.
That is why we have highlighted the difference between a BCP and a disaster recovery plan above.
Misconception 2: The Organization Does Not Have the Time to Create a Business Continuity Plan
A second common misconception that people have is that creating a business continuity plan will take too long and the organization does not have the time to spare in creating a BCP.
As we mentioned above, creating a BCP is an investment. The quicker your organization can return to normal operations after a disaster strikes, the more likely the company is to be able to recover from the major event successfully.
As discussed, the lack of a business continuity plan can result in an organization not being able to survive an event that affects its operations.
This risk when compared to the time it would take to create a BCP should be a no-brainer.
The amount that is at stake when you do not take the time to create a BC plan should deter you from thinking like this, and ensures that your organization cannot afford not to have such a plan in place.
Misconception 3: We do not need a BCP Because our Employees will Know What to do if Such an Event were to Happen
Firstly, as we mentioned, the phrase "if such an event were to happen" is misleading. The likelihood of an event that could affect your business' operations occurring is more common now than ever.
Secondly, a lack of a well-documented BCP and training on how to follow it can lead to mistakes being made in the stressful situation of a disaster strike.
You need to ensure everyone is on the same page when an event like this happens and that everyone is working towards the organized, safe, and timely recovery of operations.
Leaving things to chance in such events is not the best move you can make for your organization.
A lack of a plan will lead to more confusion and disagreements that could increase your downtime and thus lead to losing revenue and eventually not being able to get back to operating normally.
Misconception 4: Our Insurance Plan is Sufficient as a BCP
It is a worryingly common misconception that an insurance plan is sufficient as a BC plan. However, you need to be aware that insurance alone is not a business continuity plan.
Proper insurance coverage is an important part of the BC plan and is very significant but does not cover the entirety that an organization may face in a catastrophe.
Therefore, it is important to decipher what is and is not covered under your insurance policy and what things you need to plan for.
Keep in mind things such as loss of customers, setbacks in the development or release of products, loss of market share, etc.
How to Create a Business Continuity Plan?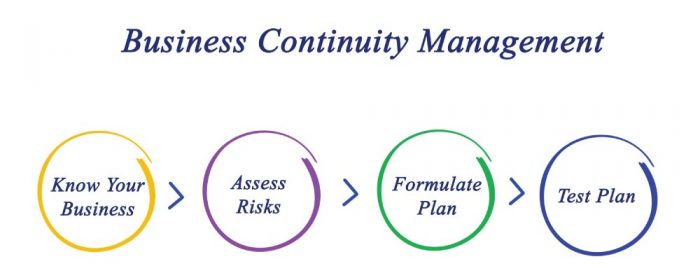 Here are a few basic steps that you can use as a guide to creating your business continuity plan.
Step #1: Identify your Business Continuity Team
You need an efficient team that can both create and implement your BC plan. This team can be split into two sub-teams.
One team will be the command-and-control team. This team is responsible for the perfect execution of the BC plan.
The second sub-team is the task-oriented team. This team is made up of those individuals who are assigned specialized operations in the BC plan.
Step #2: Business Impact Analysis
The next step is to conduct a business impact analysis. When a catastrophe strikes it is unlikely that you will have the time as an organization to assess the business impact.
This business impact analysis helps identify which key areas are most vulnerable to disruption when a disaster occurs.
The business impact analysis report will highlight key operations and critical areas for business continuity.
The report should also identify which resources you will need so that you can ensure departments remain afloat during a major event.
Step #3: Identify Critical Functions and Stakeholders
You need to identify key stakeholders and crucial resources and functions without which your company cannot function smoothly.
Establish contact points for these key resources so your teams can get in contact with them when need be. Also, make sure that the contact information is updated regularly.
Establish what minimum levels of operations are acceptable for each function identified. Also, decide how they will ensure the continuity of business processes and what to expect.
Step #4: Draft the Plan
In your BC plan you should include:
Objectives of the BCP
All relevant information about the business continuity team, their roles, and responsibilities
The key stakeholders and functions you identified
The business impact analysis report
Any gap between the resources you have and the resources you may need to put this plan into action
Strategies for prevention, response, mitigation, and recovery
What the testing schedule will be for the BC plan
Stage #5: Review and Revise your Business Continuity Plan
It is important to test, review, and revise your BC plan regularly.
Testing your BCP allows you to highlight any faults in your plan such as:
Incorrect information
Missing steps or information
Confusing or unclear steps
Reviewing and revising the BCP also gives your employees the chance to practice the plan. Therefore, if such an event were to occur, they will have experience in the plan and will be able to follow through with it more confidently.
This practice is essential not only to revise the plan's effectiveness but also to allow employees new and old to become familiar with the BC plan faster.
Business continuity planning is subject to continual improvement because of the changing needs and objectives of your organization. So, revising and reviewing the plan will give your organization a better chance of coming out successful in the event of a disaster.
How you can Use nTask for your BCP?
You can use nTask to identify any risks that could occur in your business down the road. On that note, don't forget to create mitigation plans within the application of your choice.
Furthermore, you can use nTask's communication and collaboration features to relay the BC plan to your employees.
The file-sharing feature can also be used to share and keep the BC plan in the platform to be accessed when needed.
---
Recommended Reading: