The year 2020, also known as, the year of the pandemic, brought many changes with it. The most impactful change was on the way humans work, and as a result, a large number of businesses went remote and on the mercy of effective collaboration tools for remote teams.
These collaboration tools are quite the saviors when it comes to businesses retaining their profits and getting proper value out of their employees. It would benefit you more if you are using one of the suggested tools on this list because they have been known to garner productivity to great lengths.
There is no straight answer when it comes to purchasing any tool for any work related to the organizational paradigm because there are dozens and dozens of applications and their alternatives available. But we can try to find the perfect match for us.
In this article, we will tell you about the best collaboration tools for remote teams available in the market right now. You could use these tools to streamline your workflow if your company recently transitioned to work from home mode due to COVID-19 issues.
14 Brilliant Collaboration Tools for Remote Teams to Use In 2022
Table of Contents
Brilliant Collaboration Tools for Remote Teams of 2022:
More on collaboration tools
Let us take a detailed look at all of them.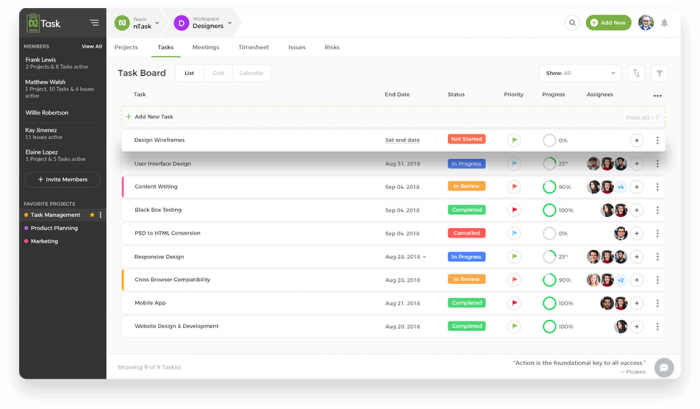 nTask is one of the best project management software if you need a proper tool that is structured to take care of your remote teams collaboration. The application is entirely only. This helps project and task managers to get rid of measly desktop client installation processes. It is also all the more reason to use the program from any remote location because the project data is stored in the cloud.
With its amazing functionality regarding remote working and project management, this application is perfect for freelancers, remote agencies, and small teams that rely on project management software for their businesses to function.
All in all, nTask can become the software your team needs to become more productive and value-producing, in no time at all. Let's take a look at the key features that this amazing application has to offer.
Key Features
Multiple in build collaboration features for teams
Project management modules for seamless milestone achievement
Timesheets, time monitoring, and approval process control at both manager and worker level
Task comments
Multiple board views
Data export
Project time tracking
Prioritizing
Risk matrix & pie charts
Task assignment
Pricing
A Free Trial is available
Premium subscription start at $3/ user per month
Business subscription starts at $8/user per month
nTask is the Best Collaboration Tool for Remote Teams

Manage tasks, teams, projects, meetings, and more with nTask. It's free – no questions asked.

The second one on the list of amazing project management and collaborative software is the application called: Monday.com. Despite being one of the most recent software applications in the market right now, on this list, Monday.com has quickly become of the most talked-about software of this genre.
One important feature that this application provides is that you can easily set all of your tasks and processes related to your projects, using templates already available in the application. This lets you save time and work on those activities rather than wasting your valuable time setting up.
Monday.com can be easily integrated with the following business-related application, such as:
Google Drive
Slack
Gmail
Jira
Trello
Dropbox
GitHub
Key Features
Activity Logging
Due date tracking
Execution board
PipeDrive integration
Tags & Keywords
User access controls
Survey
Customizable Fields
Pricing
A free trial is available
If you want the subscription for this software then that starts from $39/month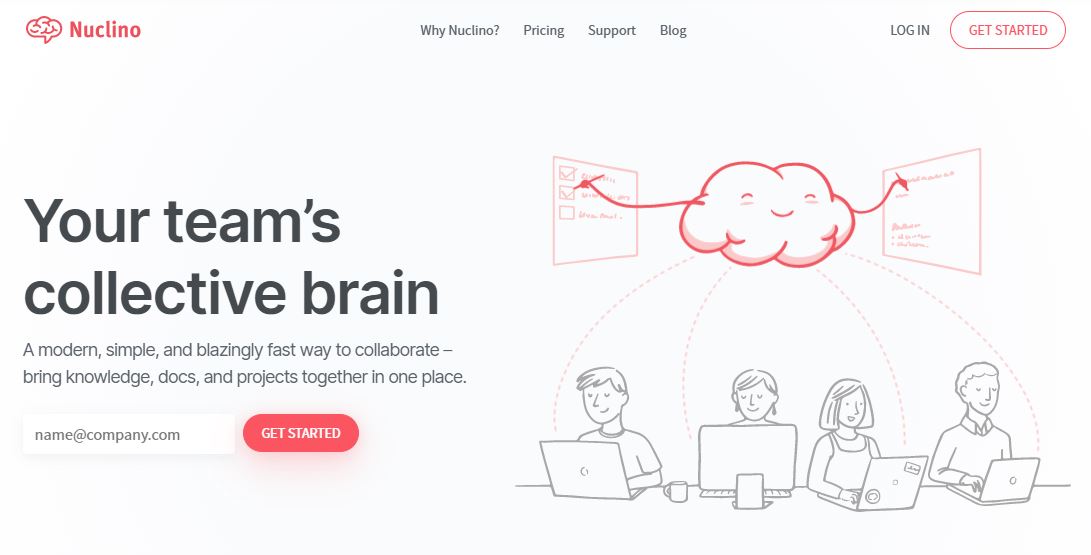 Inspired by the idea of a collective brain, Nuclino is a unified workspace where remote teams can bring all their knowledge, docs, and projects together in one place. It's a modern, simple, and blazingly fast way to collaborate remotely, without the chaos of files and folders, context switching, or silos.
You can use Nuclino to build your company knowledge base, share and collaborate on documents in real-time, manage your projects and tasks, onboard new remote employees, and more, replacing multiple other remote collaboration tools. The list, board, and graph views help you organize your docs and projects in a way that best fits your workflow.
A core strength of Nuclino is its intuitive, user-friendly design. The visual drag-and-drop editor enables a delightfully simple and fast editing experience. The interface is clean, uncluttered, and distraction-free, with only the essential features you need to get things done. This minimizes the learning curve for new users and makes it easy to get started.
Key Features
Real-time collaboration
List, Board, and Graph views
Task assignments
Markdown commands
Drag-and-drop editor
Comments and @-mentions
Version history
Access rights management
API
Integrations with 40+ apps, including Slack, Google Drive, and Figma
Pricing
A free version of the application is available
Paid subscriptions start from $5 per user, per month

Next on the list is the amazing software ProofHub, which was specifically built with large teams in mind that are not looking to spend a couple of hundred bucks every month on fully-featured project management and collaborative tool.
One amazing thing about this software is that it will not cost you for every user that joins a team and use the software. Instead, the software will charge you a flat price, after which you can add an unlimited number of users to the software without being charged a single penny.
Let's take a look at some of the features that this application has to offer.
Key Features
Collaboration
Gantt charts
Product Road-mapping
Chat
Calendar management
Project templates
Project notes
API
Automatic notifications
Dynamic workflow
Pricing
A Free Trial is available
Paid Subscriptions start at $45/ month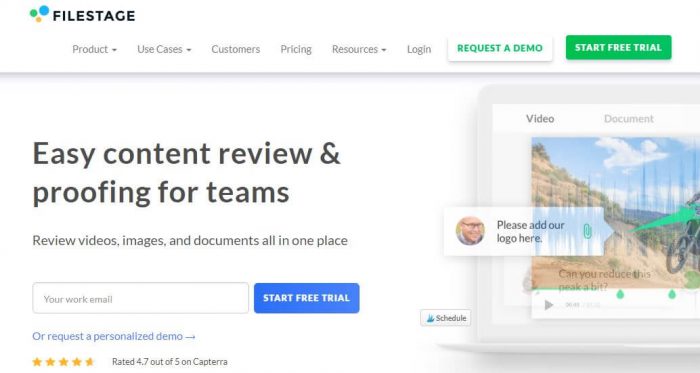 Filestage is an all-in-one online proofing solution that helps teams to get their work reviewed and approved faster. The platform enables colleagues and clients to comment and annotate files in real-time to collect and discuss feedback.
Furthermore, Filestage streamlines collaborative work with task automation, customizable workflows, and in-built versioning of files. The tool offers your colleagues and clients a simple and stress-free way to give feedback on text, image, video, and audio files. With Filestage you can easily manage all your reviews in one place, speed up the approval process, and complete projects faster by eliminating back-and-forth email chains.
Key Features:
Comment and annotate files,

Share files,

Download files,

One-click approvals,

Customizable projects,

Task and workflow automation,

In-built versioning of files,

Unlimited reviewers, @mentions,

Private comments,

Real-time collaboration,

Threaded comments,

Due dates,

Email notifications
Pricing:
A free trial is for all plans available

The pricing starts at $89 per month

Whenever we talk about collaboration in the organizational paradigm or any other working environment, communication is an essential part of that dialogue. And when you want the best software for your remote teams that will help them with their communication needs, no-one can match the value that Chanty provides.
One of the most incredible features of this application is its intuitiveness and the fact that it's so easy to use that you don't even have to read a guide for this. You just get it and start using it. That's it.
You might think that when the software is this easy to use and widely accepted by users all over the world, it would cost a lot. But it's quite the opposite. Chanty, for all intents and purposes, has a Free version that has nearly all of the premium features unlocked for everyone.
And if you still think that some features are missing, you can purchase the premium subscription for $1,50/ month/ user right now.
Key Features
Alerts/Notifications
File Sharing
Search
Activity/News Feed
Discussion Threads
Real-time Chat
Pricing
A Free version of the application is available for everyone that wishes to use it
If you want a premium subscription of the software, the prices start at $1.50/ month/ user

If you haven't been living in a hole for the last 6 months, then you probably would've heard the name of the application Zoom. This application has become a sensation in recent months when the whole world had to stay at home and talk to their loved ones or professional colleagues. It is one of the most useful collaboration tools for remote teams.
The application is an excellent collaborative tool for all of the remote teams out there, which has over 300k reviews on the App store and 90k on Google Play. It is very much the most trending app in the whole world right now with over 13mn active users on a monthly basis.
So, it's only obvious that this application can take care of the communication needs of your remote teams, even if there are 1,000 team members on a call.
Let's take a look at some of the features that the application has to offer.
Key Features
Active speaker view
Attendee management
Board meetings
Chat / messaging
Collaboration tools
Company branding
Content management
Email invitations
Instant messaging
Pricing
A Free Trial is available
Paid Subscriptions start at $14.99/ month/ host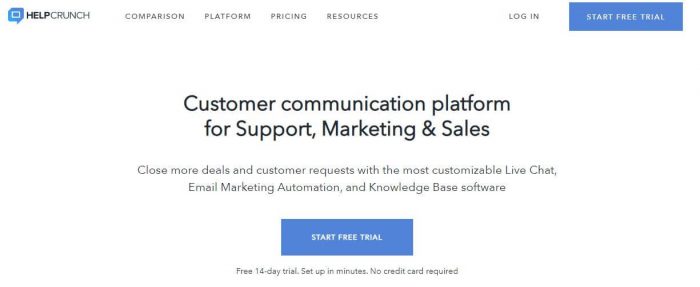 A couple of applications mentioned above are the champions when it comes to internal communication among you and the team members, but what is the story when it comes to having communications with the customers?
After all, if you're in the sales business, you'd know what it means for customer retention when there is effective and timely customer support at their disposal.
It is a lightning-fast application that takes care of all of your communication needs, whether they are emails, live chats between you and the customers, or creating a knowledge-based platform or setting-up online classes.
Let's take a look at some of the features that the application has to offer.
Key Features
Activity monitoring
Automatic device recognition
Behavior tracking
Campaign management
Chat history
Chat tags
Chat transfers
Client database
Client website integration
Collaboration tools
Contact database
Customizable fields
Drip email marketing
Email marketing
Pricing
A free trial of this application is available
Paid Subscriptions start from $15.00/ month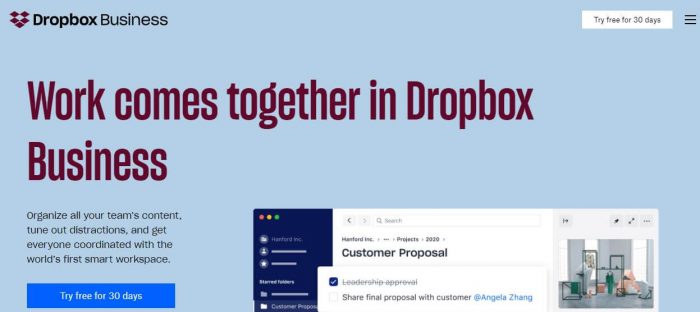 Founded over a decade ago, Dropbox is a household name when it comes to storing information on the cloud. Now with over half a billion users across the globe, Dropbox is still one of the most affordable online storage software on the market.
So, it's pretty clear that when the software is so efficient in transferring and storing information on the cloud, it can be an amazing collaborative software for you and your remote team. Let's take a look at all of the features that this application has to offer.
Key Features
Automatic organization & back-up
File storage
Online back-up & file recovery
Activity audit
Team folder manager
Audit sharing activity
256-bit AES encryption security
External sharing
Enterprise mobility management
Plus button
Pricing
A Free version of the application is available
Paid Subscriptions start at $11.35/ month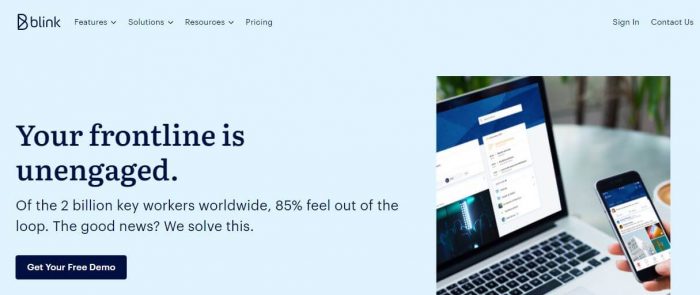 Blink is a unified collaborative platform that allows file sharing, editing, accessing, and real-time teamwork. It helps align people, processes, and their interactions, bringing remote and on-site employees onto a single communications platform.
Consider it as a virtual office that you can use on the go. The mobile app brings the workplace into your pocket, giving you access to company-wide chats, access protected data, employee directory, workforce analytics, and more.
This app also lets you carry out surveys and make micro-apps with added functionality that's perfect for your business.
Furthermore, it provides valuable insights that measure interactions and adoption among the workforce. Blink also allows integration with third-party apps such as Jira, Trello, Office 365, etc.
It protects your important data and has a user-friendly, brand-able interface that's identical to social media sites, making it easy to use.
Key Features
Company feed for top-down communications
Employee directory that lets you find and chat with anybody in the organization
Digital forms for surveys and reporting
Powerful third-party integrations
Critical insights
Pricing
Paid subscription starts at $3.40 user/month
A free 14-day trial

If you are looking for a team collaboration tool that would bring your team members to a shared workspace where they can chat and talk work? Then Troop Messenger is the right fit for your product and project managers to monitor and manage task updates through messaging, calling, and screen share.
One has to communicate with others for businesses to run! Therefore, this amazing work collaboration tool lays a perfect bridge of communication between its internal teams and the customers with its guest user feature called, the Orange Member.
Troop Messenger has brilliant search filters in every nook and corner of the UI. Whether they are users, groups, images, text files, or more, it helps you retrieve everything with a single user action, thereby giving more productive work time to the teams.
Key Features
Wide variety of messaging abilities like one-to-one, group, self, audio, and more.
Modern group calling facility with the joint code editor
The code snippet helps developers send the perfect code in the selected programming language.
A confidential burnout chat window comes with a timer.
Fork-out that sends a message to mixed audiences in one go.
Global, text, and chat area filters
Seamless and powerful admin dashboard
Google Drive and Dropbox integrations
In-app help and support.
Pricing
A free one-month enterprise trial is available.
Paid plans: Premium starts at $2.5/per user/per month and Enterprise at $5/per user/per month.

The following tool is an AI meeting assistant that will take your team's online meetings to the next level. How? By allowing attendees to focus more on the main subject of the call and not worry about taking notes or transcribing ideas.
Meetgeek improves performance, enhances productivity, and boosts knowledge sharing by capturing every detail with real-time transcription as well as recordings and notes after the meeting. You can go back in time and find what you're looking for in your post-meeting transcripts by using a keyword search that includes all your meeting recordings.
This virtual assistant has a lot to offer, so let's check out its features:
Key Features
Automate meeting notes and write better minutes;
Record and transcribe your meetings;
Stay in the loop without attending;
Share meeting outcomes with your whole team;
Seamlessly integrate into your workflow;
Search all your previous meeting recordings;
Integrate with Jira, Trello, Google Drive, Slack, and more to come;
The transcript has a 95% accuracy, while human accuracy is 94%.
Pricing
Right now, you can benefit from a 3-month free trial!
Free basic plan
Pro plan at $19/user per month
Business plan at $29/user per month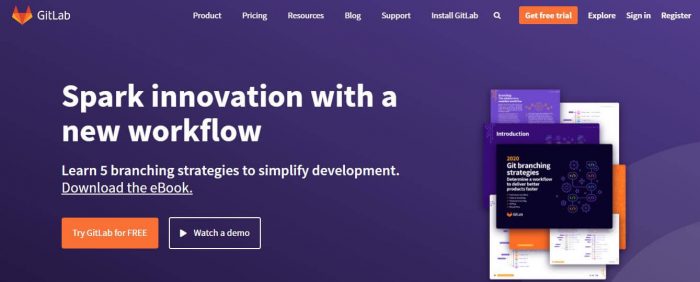 GitLab is next up and is a DevOps platform aimed at providing a single centralized platform where development teams can easily collaborate, gain viability, and work together faster and more efficiently.
GitLab offers a range of features at different pricing points. With their free plan, you gain access to unlimited repositories and unlimited collaborators. The free plan offers a great project's issue board but if you are after more robust functionalities and features you may want to consider upgrading to one of their paid plans.
The application helps teams increase developer productivity, reduce development costs, and reduce the risk of application vulnerabilities.
Key Features:
Debugging
Deployment management
Kanban boards
Change management
Configuration management
Approval workflow
Collaboration tools
Application security
Access controls and access permissions
Pricing:
There is a free plan available for individual users
If you wish to upgrade to a premium plan, the paid subscriptions start at $19 per user, per month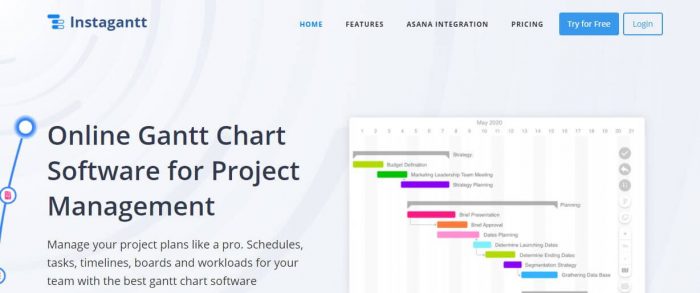 If you want a collaboration tool that allows your entire team to keep track of the project's progress without too many features to confuse you Instagantt may be the software of choice for you.
Instagantt is a Gantt chart solution that provides a range of features to manage your projects without being overloaded with complex functionalities thus ensuring that onboarding is not too long.
You can use features such as version tracking and timelines to stay on top of work and also add a client to the chart with read-only capabilities so that everyone can stay up to date without the fear of accidentally editing something.
Key Features:
Timeline view
Easy task and subtask creation
Version tracking
Milestone tracking
Templates
Capacity management
Alerts and notifications
Pricing:
Inatagantt offers a 7-day free trial so you can see whether the software is the right fit for you and your team.
Paid subscriptions start from $5 per user, per month
Collaboration Tools Examples
Many people have asked so what are collaboration tools and provide collaboration tools examples.
Collaboration tools facilitate employees to work together on different tasks and projects in a streamlined manner from anywhere in the world.
Even at nTask we strongly believe in harnessing the power of collaboration tools and therefore the company's founders looked at different collaboration tools examples in 2015.
Simply put – They weren't satisfied with the lot available bar a couple of apps.
Therefore, they decided to build nTask: The best collaboration tool for remote teams and a great example of collaboration apps.
Types of Collaboration Tools
In the last two years, there have been a plethora of app releases: Different types of collaboration tools for both desktops, iPhone, and Android plus not to forget tablets as well.
There are a number of common collaboration tools that blue-chip conglomerates, nonprofits, and government agencies acquire to maintain their performance.
Examples of Different Types of Collaboration Tools are:
File Sharing tools
Document synchronization tools
Calendar Sharing Tools
Cloud Storage
Instant Messaging
Whiteboards
Video Conferencing tools
Bonus Short Review: Collaboration Tools for Business in 2022
Finding the best collaboration tools for business involves a lot of research, trial usage, and a final decision on which cloud computing solution to opt for.
So…
We wanted to help you out in your research process so that you can narrow down the right collaboration tools for your business.
Here is a quick wrap up of the best collaboration tools for businesses in 2020:
1. File Editing Platforms
2. Messaging Applications for Businesses
3. Project Management Software Solutions
4. Calendar Software Solutions for Businesses
Looking for More Options? We've got you covered with Free Collaboration Tools
Under the current COVID-19 circumstances and the second wave, a number of firms and nonprofits are looking for free collaboration tools.
And that's understandable…
Based on the assumption that a list of free collaboration tools would be beneficial for many organizations, we have compiled a list of such apps.
11 FREE COLLABORATION TOOLS
Wait… I'm a student and I need online collaboration tools for education
In most discussions I've come across, people are more interested in understanding how technology can be leveraged for the best use of teachers in schools and universities alike.
But wait a minute…
You're a student at hi-school or university and you also have the requirement for utilizing technology to maximize your educational experience.
We've reviewed three of the best online collaboration tools for education to make your classrooms more fun and interactive.
3 of the best online collaboration tools for education
ClassCraft: Utilizing the ever-expanding popularity of video games, the designers of ClassCraft have created an app to increase student participation in K12 schooling systems. Using this app, you as a student can throughout everyday class activities earn character upgrades through academic achievements, being punctual in attendance, and more.
PenPal Schools: The Penpal Schools community with over 15,000 educators spread across 50 countries is ideal for project-based learning in a variety of subjects. The creators of the app have focused on creating a secure environment in which students and teachers can exchange messages while at the same time teachers can access the entire messaging ecosystem.
CueThink: "Make Math Special" is the tagline for this app and why not… Students use Cuethink to select strategies and display their work. This collaboration app even allows students to cross critique each other's work while creates a healthy feedback loop. Students don't early learn problem-solving skills but also develop the capacity to communicate on those finer lines which help them manage better relationships with individuals as they grow up.
Conclusion
Well, there you have it. These were the top collaborative applications that can help you and remote teams win the fight against all the obstacles related to communication, that remote working can throw at you.
These apps are more or less our top picks. If you think that these applications can not fulfill the quota you set for you and your teams, then you should browse the market and find the exact application that can fulfill that quota before you spend a single dime on purchasing an application.
Good luck!