2020 was the year of Zoom. This amazing video conferencing tool has become a household name because of its amazing features and its ability to fit in with some of the most important applications that you might use daily in your professional life.
This integration-ability is very important nowadays, as it is becoming increasingly difficult to simultaneously manage all of the projects that you have got going on. Especially in a world where remote work has become the new norm and there is a lot of room for error.
But Zoom's popularity is not going away anytime soon, and that's why there are millions of users still pouring into this application's fan pool.
This is why, in this article, we have 8 different Zoom integrations to check out, that can help you create a seamless work environment at home where all of your different work applications join hands and there are no obstacles between you and your goals.
8 Best Zoom Integrations
Here are the Zoom integrations that we are going to talk about in this article.
Let's take a look at all of these in detail and find out how they can make your Zoom experience more effective and productive.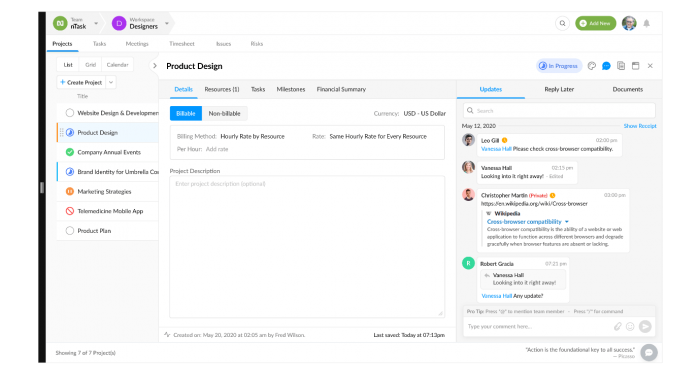 Probably one of the best Zoom integrations that you can get right now is between Zoom and nTask. nTask is an incredible project management tool that allows you to track and manage all of your tasks and processes related to your project development process.
The software is also an incredible meeting management software that you can use to conduct all of your personal and professional meetings, and when you hook up this much power with the already powerful Zoom, you can have one of the most effective and productive meetings experiences ever.
This software can also help you in tracking and managing all of the risks and scope creeps related to your project so that you can mention them in your meeting sessions with your team and get your product bug-free.
Product Features
Meeting management
Risk management
To-do list
Cost estimating
Project time tracking
Reporting
Collaboration tools
Integrate nTask with Zoom for Collaboration.

Manage teams, tasks, meetings, and timesheets for free. Sign up now!
2. Google Calendar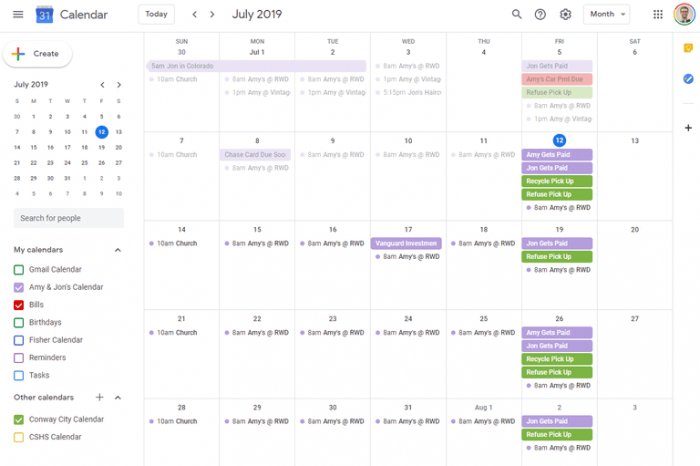 The next tool on your best Zoom integrations list is Google Calendar.
The application can be hooked up with Zoom using Zapier, which is a service that allows different web applications to be connected without any hesitation or obstacle.
While this integration is not that complicated, it is very useful for projects that require different team calendars and team meetings to be organized regularly without any mistakes.
With this amazing integration, the application will allow you to directly create any and every detailed calendar events that your project requires, whenever you want to create a Zoom meeting. Let's take a look at some of the other product features that Google Calendar has to offer.
Product Features
Collaboration and sharing of schedules amongst groups
Sharing calendars
View modes on a weekly or monthly basis, or according to the agenda you set
Drag-and-drop events
Device synchronization
Import Microsoft Outlook calendar files
3. MailChimp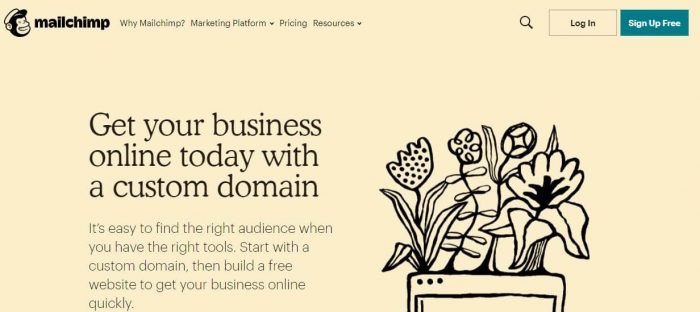 If your business relies on sales and webinars to be organized day-in and day-out, then our next item on the list, MailChimp, is the perfect Zoom integration for all of your meetings.
You can use the amazing software, Zapier to pair the two and then you can easily manage all of the follow-up emails and the webinar registrants that you want to connect between MailChimp and Zoom.
The best thing about this amazing integration is that you can optimize this integration to benefit both ways. How? Well:
You can add new webinar registrants as new MailChimp subscribers
Or you can convert your MailChimp subscribers becoming webinar registrants
Product Features
Image & file hosting
Automation workflows
Email analytics
Custom signup forms
Product recommendations
Retargeting
Build mail lists
Social media plugins
Download PDF newsletters
Multiple tutorials available
Check this out:
Zoom vs Webex Comparison: What Is the Best Video Conferencing App?
4. Gong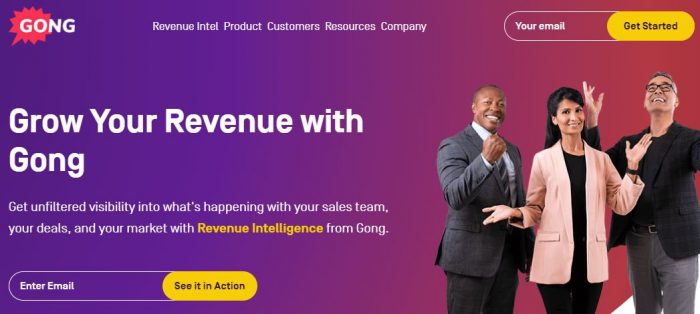 Integrating Gong with your Zoom application allows you to record, analyze and transcribe all of your Zoom meetings that were scheduled in MS Office 365 or the G Suite applications.
The application will provide insights, based on all of the information that is gathered from your meeting.
The best thing about this application being integrated with Zoom is that it works natively with the video conferencing tool, so all of your sales reps and other prospects don't have to take some application training session or anything. They can start working from day one.
Let's take a look at some of the other product features that Gong has to offer.
Product Features
Reporting/analytics
Scheduled recording
Speech recognition
Usage tracking/analytics
Artificial intelligence (AI)
Audio / video conferencing
Recording bookmarking
Sales conversation tracking
Screen activity recording
Statistical analysis
Archiving
Assessments
5. Dropbox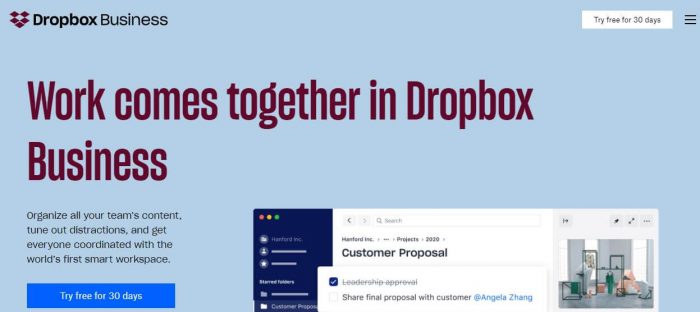 Another incredible integration that Zoom can have, is with the MVP of cloud storage, Dropbox. The application is one of the most widely used hosting services that allows your teams to share all of the information that they want regarding the project, on a cloud storage platform.
And because both of these applications are used quite often in the organizational paradigm, this integration is an incredible way to get more work done with the tool already in your arsenal.
With both of these hooked up, you can easily start a Zoom meeting from a Dropbox file, and you can also copy all of the meeting recordings and the transcripts so that you have the required history of that meeting for the time when your team will need it in the future.
Product Features
Link-sharing
Manually set bandwidths
Automatic updates
Dropbox Showcase
Customized layouts
Team activity tracking
File storage
Online back-up & file recovery
Activity audit
Team folder manager
Visual previews
Accounting integration
Application integration
6. Hive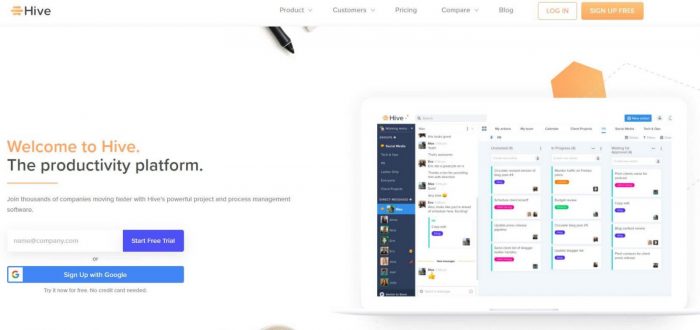 When it comes to project management, there is another Zoom integration that you can benefit from, and that is Hive. The application allows you to easily start a meeting session with your team from any project that you like, by simply typing '/zoom' in the chatbox.
Setting up this incredible integration is quite simple. You don't need Zapier or any other third-party integrators. You just have to head over to the Hive apps sections and search for Zoom, and you can find all of the integration details there.
Here are some other product features that Hive offers to its clients.
Product Features
Brainstorming
Business Process Automation
Capacity Management
Collaboration Tools
Commenting/Notes
Integrations
Budget Management
Calendar Management
Client Portal
Colour Codes/Icons
Content Management
7. Slack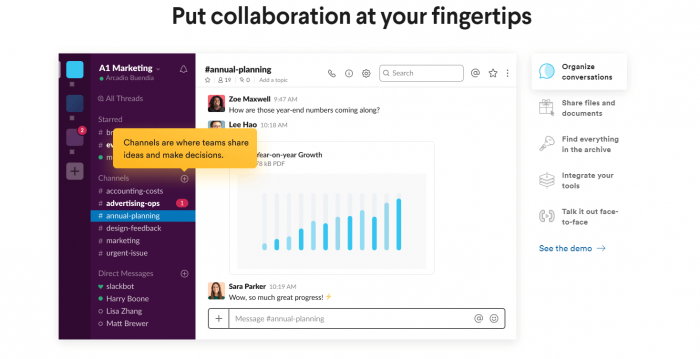 We all know that when it comes to video conferencing in 2021, we have Zoom, but as a working professional, we all know, that when it comes to textual communication between professionals, Slack has remained the undisputed king for a long time now.
When you integrate your Zoom application with Slack, you can automatically post all of your meeting reminders in your desired Slack groups. This will help make sure that there are no missing check-ins with your manager and no meetings being missed by you ever again.
Let's take a look at some of the other product features that Slack offers to its clients.
Product Features
Screen sharing
Document indexing
Audio / video conferencing
Two-way audio & video
Tagging
Commenting
Document distribution
Related:
The 10 Best Slack Integrations and Add-ons of 2022
8. Coda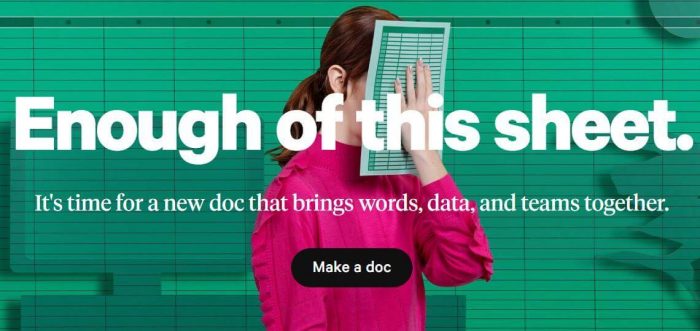 Last but not least, we have Coda. It is another Zoom integration that you need in your life because of how this application manages all of your notes related to the meetings with your team members.
The application makes your life a lot easier if you attend a lot of different meetings on a daily basis and have to make sure that you don't lose any information regarding them and perfectly track all of the moving parts.
By integrating them both, you can share all of your thoughts and concerns regarding the meetings that you had with your team, and when this level of attention is being given to information gathering, it is bound to make you and your team more productive.
Product Features
Budget Management
Collaboration Tools
Cost-to-Completion Tracking
Customizable Templates
Document Generation
Calendar Management
Contact Management
Create Subtasks
Database Creation
Conclusion
These were our top-rated and the best Zoom integrations that you should check out in 2021. If you want to add more integrations to this article, write to us and we will get back to you as soon as possible.
---
More Readings: