Creating a website is one of the most basic and prime elements. As a web designer, sometimes you might feel overwhelmed with many tasks and their complexities. Therefore, to keep everything aligned, web development software is a must.
Now you must be wondering if there a really a web development management software available.
Well, yes. Fortunately, over the years, most of project management software has developed solutions to help web designers manage their web development tasks effectively. Thus, this software is the solution for all, whether it is assigning tasks, creating sitemaps, or using built-in templates.
Therefore, you no longer have to stress about how to handle your development operations. Since we've got you covered. In this blog, we've reviewed the 7 best web development management software to use in 2023.
Here we go!
But wait up!
Let's go through some essentials to look for in web development software.
What to look for in web development software?
Even though good software depends mainly on the needs and requirements of your business, there are still some essential things to consider in good software. These include:
Ease of use: To handle complex web design operations, look for user-friendly management software that requires no-brainers.
Effective collaboration: web development requires teams to constantly interact on small details and test their website at different stages. Thus, your chosen software should help teams boost their collaboration.
Cost-effective: Don't go out and beyond to get good software. Make sure it aligns with your budget and fulfills all your needs.
Security and Privacy: Mostly, we tend to ignore this particular aspect while looking for software. Thus, keep your projects secure and make sure it has strict security and privacy policies to avoid any mishaps.
The 7 Useful Web Development Management Software To Use In 2023
Now that we know what good software might look like, let's explore the 7 best web development management software in 2023.
Commencez! Let's Begin!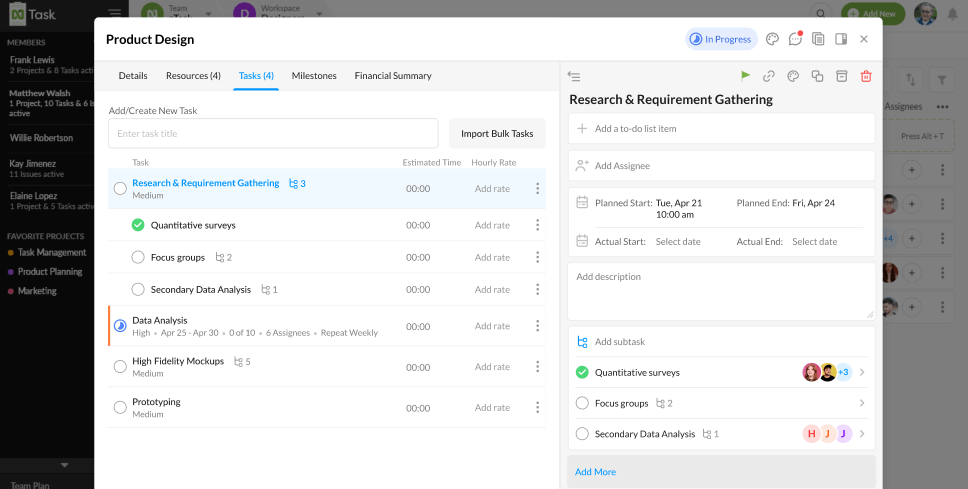 nTask is the top pick for the best project management software. It is a central hub to manage all your project operations most flexibly. nTask helps you create milestones to ensure successful execution when it comes to web development management.
Creating milestones would help you structure your project and carry out all the tasks effectively. Thus, with its milestones, you can define the objects of your project, create tasks and subtasks, assign milestones, have a Gantt chart overview, and much more.
Thus, the whole web development team would remain in sync with each other and carry out the projects with maximum agility. So, increase visibility, create a structured web design framework and identify the bottlenecks with nTask.
Some of the most important features in nTask include:
Features
Task management
Assign milestones
Set dependencies
Budgeting and billing
Resource allocation
Timeline and timesheets
Risk management
Issue tracking
Pricing
Free Plan: Unlimited workspaces
Premium: $3 per user/per month
Business: $8 per user/per month
Enterprise: Custom pricing available
Manage Web Development With nTask

Organize tasks, projects, issues, risks, releases, and clients efficiently. Sign up today!
2. Trello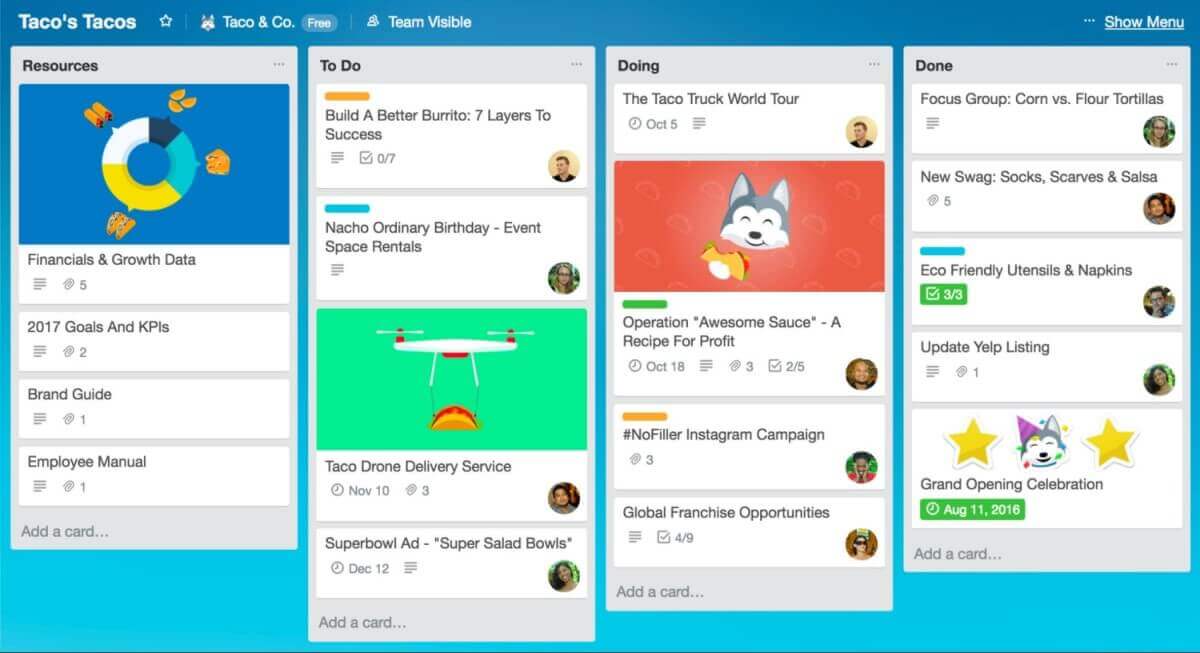 Trello is a great web development software to help web developers create a well-structured road map and gather all needed information. It provides effective tools from the developing stage of the website till its execution stage.
Moreover, you can stop worrying about forgetting the essentials since it provides room to create checklists and to-do lists. Thus, the whole team can instantly view any team and share their input.
Trello understands the complexity and small details in developing a website. Therefore, it lets teams practice effective web development management with various features. Utilizing those features effectively won't only help you create a collaborative atmosphere but also double the chances of a successful project.
The list of features included in Trello is:
Features
A website development template includes:
Website launch checklist
To-do lists
Completed tasks
Discovery
Sitemap
Wire-frame
Visual design
Development
Trash
Task management
Timeline and tracking
Productivity metrics
No code automation
Integrated tools
Pricing
Free: $0
Standard: $5 per user/per month
Premium: $10 per user/per month
Comparison post:
Trello vs Asana – Who Wins the Battle?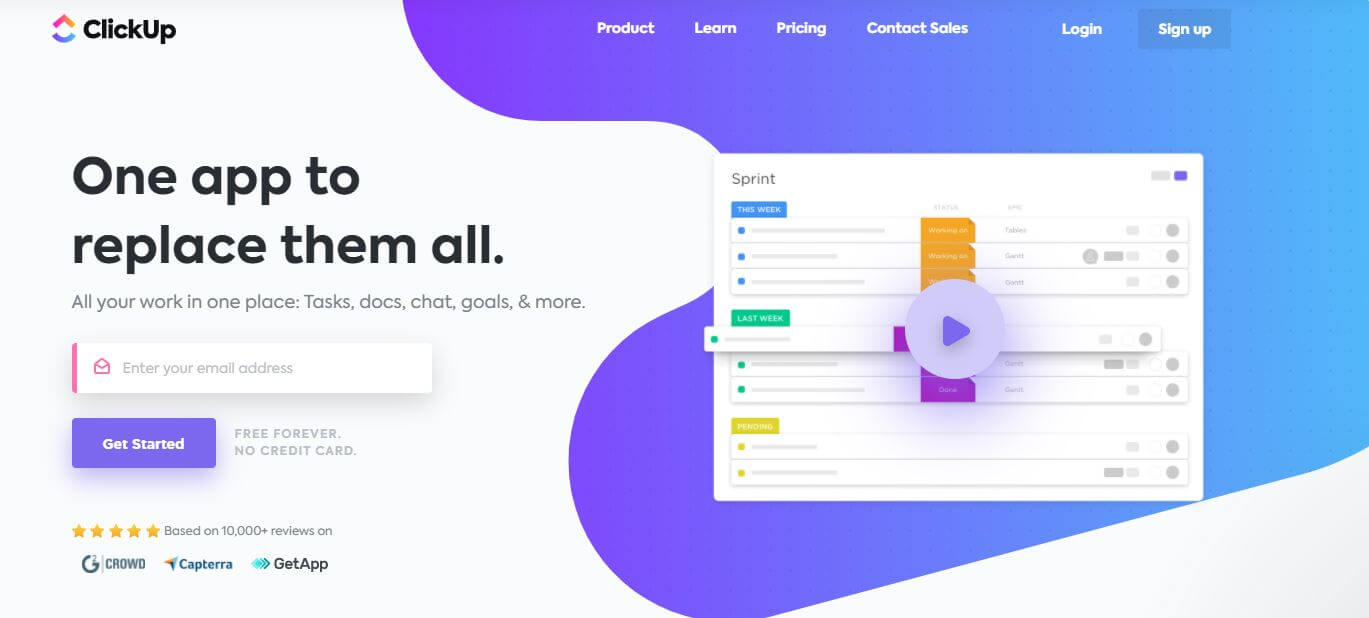 ClickUp is one of the top web development software for managing website projects under one roof. Planning, maintaining, and designing websites requires no brainer. It is undoubtedly a flexible and user-friendly platform.
Thus, with ClickUp, you can manage your content, collaborate with your team and stay on top of your activities. Moreover, it also allows you to bring all your website work in one place and create smooth workflows with the help of Gantt charts in just a few clicks.
So, streamline your website design and create chat channels to discuss your projects in real-time with ClickUp. Over one million users use ClickUp to simplify their projects and create better workflows in less time.
Why not do more in less time because, after all, time is money, right?
ClickUp has many features to help teams create the best web designs ever. Some of the main features include:
Features
Customize Workflows
Delegate Tasks
Automate Busywork
Create Templates
Set Dependencies
Tool integration
Gantt Charts
Real-time chatting
Whiteboards
Annotate and embed design files
Pricing
Free Plan: $0
Unlimited: $5 per user/per month
Business: $9 per user/per month
Business Plus: $19 per user/per month
Also, see:
What Is the Best Project Management Software? ClickUp vs Trello vs nTask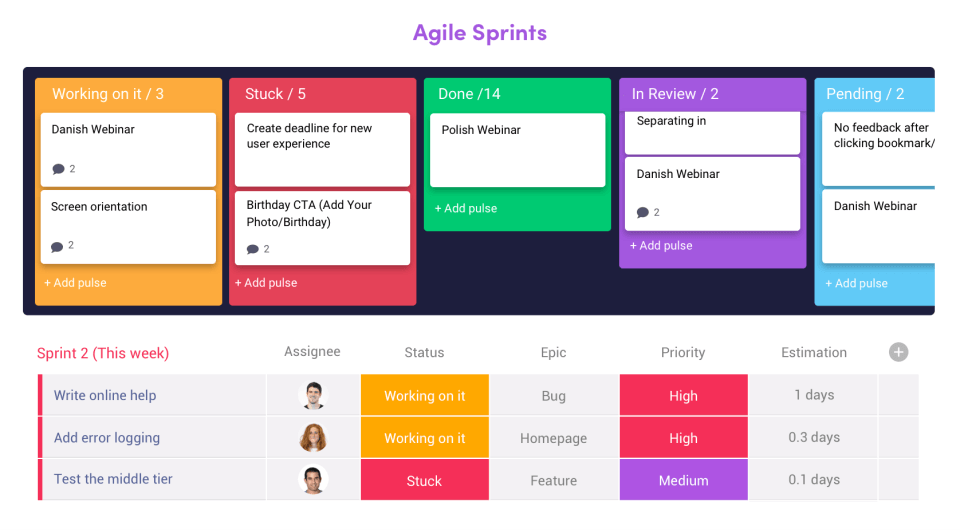 Monday.com is an all-in-one project management and web development software that helps teams visualize their complex designs better and manage their projects much more effectively.
Monday understands the importance of team collaboration for web developers. Therefore, it offers customizable templates and a stress-free platform for teams to work together under one roof.
Moreover, it also allows teams to track their project's progress rate separately and create an effective task breakdown. Task breakdown helps teams elevate focus and set better goals for its accomplishment.
Wait! That's not it!
Monday.com allows web developers to brainstorm, share and get feedback instantly. You can share images, files, docs, sound effects, and GIFs freely and remove all barriers there might be.
So, join over 127,000 customers worldwide to experience the best web development management. Its main features include:
Features
Templates
Task Management
File Sharing
Project Tracking
Create Iterations
Create Workflows
Real-time notifications
Pricing
Individual: $0
Basic: $8 per user/per month
Standard: $10 per user/per month
Pro: $16 per user/per month
Check this app comparison:
Trello vs Monday.com: Which One to Choose
5. Asana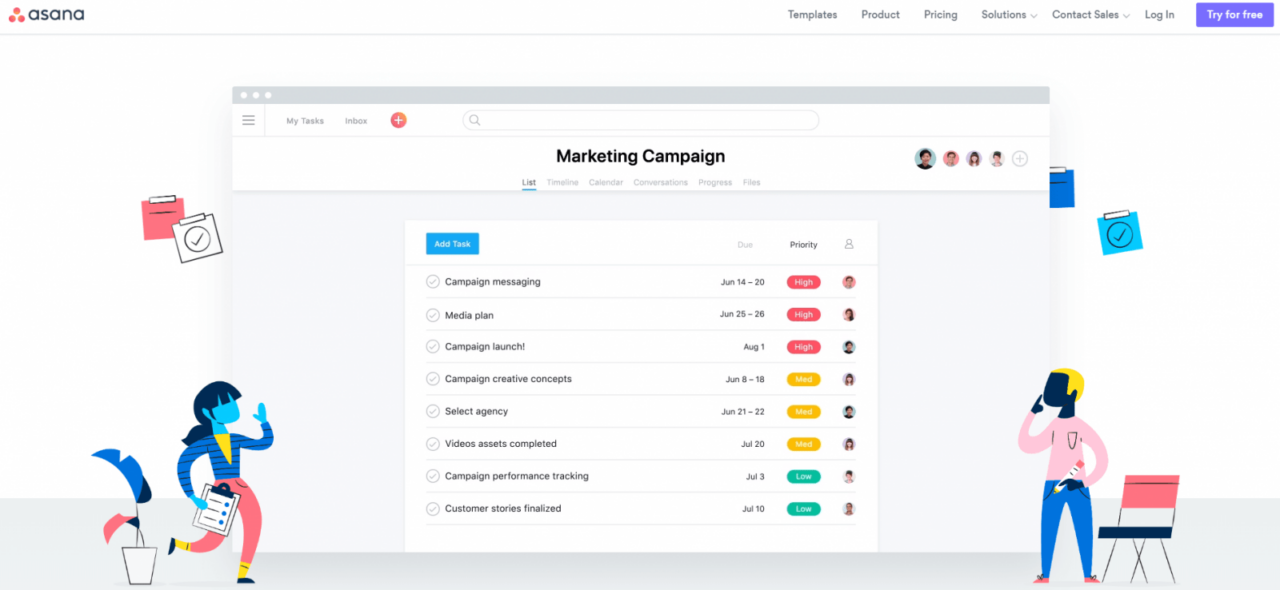 Forget about the misalignment of your web projects and missing out on small details with Asana. It is a great web development platform to streamline your workflows and establish transparent processes.
Moreover, it also helps project managers set clear responsibilities and manage deadlines better. Thus, you'll have a better idea of who, what, and when while keeping track of all your activities and tasks.
The perks don't end here. Asana also allows web developers to save time by setting up task automation and using multiple integrations. So, you don't have to juggle between various tools to get your work done.
Thus, keep your designers on the same page and create the best designs. Also, ease your web development operations with Asana's wide range of features, including:
Features
Set deadlines
Create automation
Web designing
Web production
Usability Testing plan
Agency collaboration
Creative asset feedback and approval
User research
Standup meetings
Multiple Integrations
Pricing
Basic: $0-Free forever
Premium: $10.99 per user/per month
Business: $24.99 per user/per month
Related:
Asana Vs Monday Vs nTask: Which Project Management Tool Is the Best?
6. Zoho Projects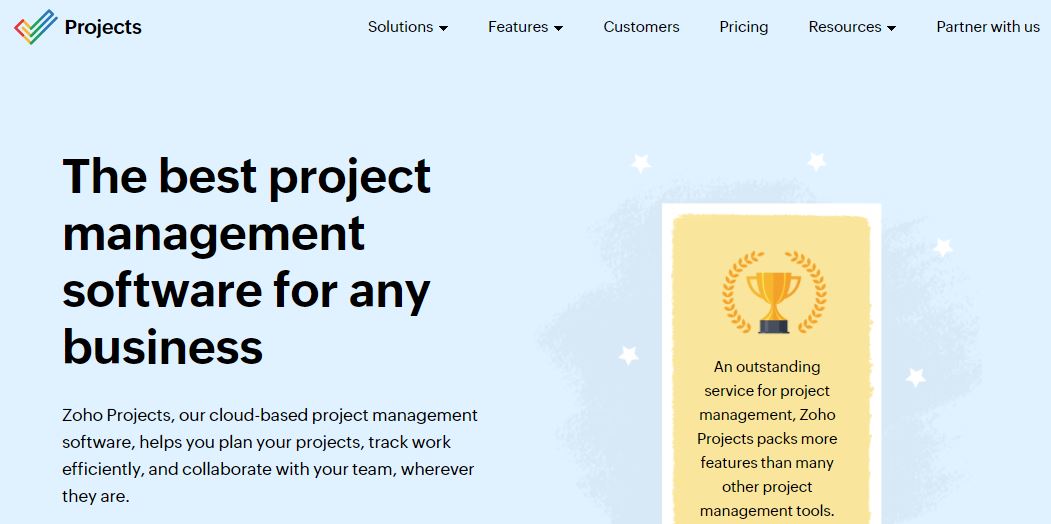 Zoho Projects help you build websites the way you want and help you focus on your projects better. It is one of the best platforms to create interactive websites to help your business stand out.
Moreover, it offers a wide range of customizable templates to ease your processes and build creative designs without any complexity. Zoho projects are your one-stop web development platform to control your business operations in the most agile manner.
Therefore, expand your reach and divert maximum traffic to your website with Zoho Projects. And don't waste another minute to achieve the 8 C's with Zoho Projects-Create, Captivate, Customize, Connect, Communicate, Capture and Circulate.
It's no surprise that the list of features included in Zoho Projects is rather long. Some of the key features of it include:
Features
Create elements, sharpers, and dynamic background
Personalize and customize your website
Captivate with audio, video, code snippets, photo box, and animation
Connect more people
Comment boxes, forms, and Zoho integrations
SEO, Traffic Analytics, and sitemap
Security and privacy
Social share, auto-publishing, and social profiles
Pricing
Free: $0
Premium: $5 per user/per month
Enterprise: $10 per user/per month
Check this:
Zoho Projects Review, Features Pricing (Updated Guide)
7. Wrike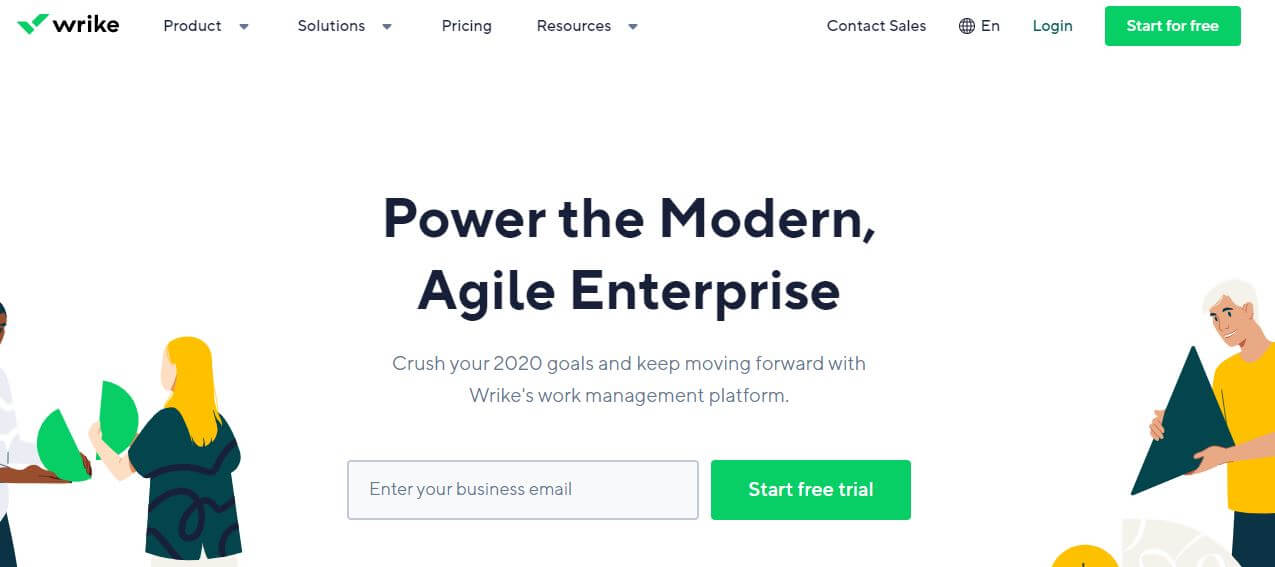 Wrike is another excellent web development software to help teams create distinguished web designs by complete management of all the operations. It enables you to remove any barriers and set clear goals and objectives.
With its wide range of templates, you can optimize your processes and save time. Moreover, it also teams to customize its features to serve customer needs. So, whether it is project portfolio management or enabling better collaboration, Wrike is the right choice for you.
Thus, you can also join over 2.3 million users to develop the top-ranked websites with Wrike. The list of features included in Wrike are:
Features
Interactive Gantt charts
Effective visualization
Customize dashboards
Visual proofing
Automated approving system
Kanban boards
Purpose-built templates
Shared team calendars
Time tracking
Advanced analytics
Pricing
Free Plan: $0
Professional: $9.80 per user/per month
Business: $24.80 per user/per month
Related:
Wrike Project Management Tool Review: A Champ You Need
Let's Wrap it!
So, there you've it! A complete review of the top 7 web development software for you to choose from. However, it is a tough choice. Just keep in mind the four tips to find the best software, and we assure you that you'll make a great choice.
If you think we missed out on any critical software, let us know!