In this article, Fred Wilson explores the 25 Best Trello Alternatives for Kanban Project Management.
Trello is a star when it comes to project management software and collaboration tools. It embodies a neat interface with cards stacked up for different projects. Each card can be opened to view more detail such as checklists, labels, and due dates.
Let's face it – you don't really need to be a Trello expert or Trello board custodian for a decade to get a hang of the tool.
But wait a minute…
While it is favored by companies with the likes of National Geographic, Google, and more, it comes without some basic features that might be critical for most teams. Trello works great as a simple to-do list app however it's limited when it comes to handling bigger and more complex projects.
To begin with, Trello does not have built-in Gantt charts. It is considered a necessity for project management by most teams. It can be integrated with external tools to get the job done, but that means additional steps.
Second, it does not come with a meeting management module either. This means you need to switch between tools to set up meetings and monitor tasks. Third, it does not offer time tracking for tasks either.
Although not critical, there are time tracking tools for you to have a better idea of how much time a task requires. It definitely helps in project planning for similar projects in the future.
For a price of $9.99 per user per month (Premium plan), there are Trello alternatives you can switch to today to get a better value for your investment.
Trello vs Slack? Trello vs Jira? You must have often heard of these comparisons but there are a ton of top apps out there that you might not have tried out to date.
The faithful among the Trello Community might not agree at first but we would love for you to lend an ear to our feedback.
Software developers are going to face a real shock at who we have reviewed at #5 ;).
We'll take you through this list step by step.
Top Trello Alternatives for 2023
Here is a list of our picks to make the switch easier for you.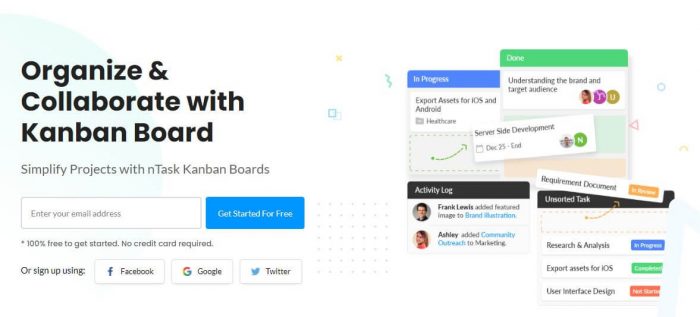 The top of the list of your free Trello alternatives is nTask. Although you might think we hold a bit of bias towards it, if you check out nTask for yourself, you will agree it is rightfully so.
This Trello alternative comes with a spectrum of features that covers all your task and project management needs under one roof.
With multiple modules neatly placed on the left panel of a central dashboard, nTask gives you options to work solo or monitor multiple teams with their dedicated workspaces. It gives you issue and resource management, meeting management, time tracking, and Gantt charts other than the basic project management feature set.
All this, at an incredibly low price and an extraordinarily short learning curve.
Key Features
Check out the following features and modules in nTask:
Custom statuses and board templates for each industry
Project management including reports, timelines, Gantt charts, progress meters, and project budgeting. Plus, there is an option to create projects and associated tasks or treat tasks independently.
Task management including task creation, time tracking, assignment, organization, prioritization, and sharing tasks with multiple statuses.
Integration with Slack so you can convert comments to tasks and projects in nTask using Slack and receive updates from nTask in Slack.
More integrations with Zoom, Zapier, Google calendar, Outlook Calendar, and more.
Meeting management module with a multitude of options including recurring or one-time meetings, sending invites, adding agendas, post-meeting actions, and meeting minutes.
A simple user interface with access to a wide range of modules.
Team-specific workspaces that can be managed and monitored simultaneously for seamless team management.
Timesheets management module for creating and managing team-specific sections for employee task efforts and payroll.
Issue management module to facilitate the identification and listing down of issues related to multiple tasks. List down the issue along with the Issue owner and relevant details to track issue maintenance.
Risk management module for keeping an eye on potential risks. Arrange risks in lists and assign a risk owner in order to track risk management.
Powerful search and filter tools to search for tasks, projects, meetings, issues, and risks. Plus, make use of the filter option to save more frequent searches.
Alerts, notifications, and reminders to keep teams on track.
Two-Factor Authentication for extensive security.
Third-party access via public links.
Mobile apps for iOS and Android.
Pricing
nTask offers the following plans:
Free basic plan.
Premium pricing plan at $3 per month per user with annual billing.
Business plan at $8 per month per user with annual billing.
Looking For A Perfect Trello
Alternative? Try nTask.

Who likes to hear about Monday? Did I just hear a groan? Well, have no fear!  monday.com would for sure make your Monday trouble-free.
Companies like Uber, Adobe, Costco, and Unilever are already making their Mondays, and the rest of the week, more productive. Use Monday's Kanban tools to plan, organize, and track your work.
They have put in elaborate work to jettison some of the typical tools used for task management. This software will be an upgrade as an alternative to Trello. Monday allows you to view your work in more than one form: list view, Kanban board, spreadsheets, and map. It has a powerful integration tool, to let you smoothly work from one resource to another.
You will find that it lacks some of the advanced features that you might require in-depth project management. monday.com should be your choice if you want to keep things simple yet versatile. You may not find such a bright and glowy app as Trello alternatives.
Key Features
Here are the features for monday.com that might make it worth your penny:
User-friendly and intuitive interface
Team projects
Recruitment tracker
Client projects
Agile projects
Automated workflow
Activity log
Available and editable templates
Quickly add columns, track tasks, time, mark locations, numbers, links and a lot more.
Invite the team; assign tasks
All your collaboration in one place
Pricing
Basic: $39/ month
Standard: $49/month
Professional: $79/month
3. Asana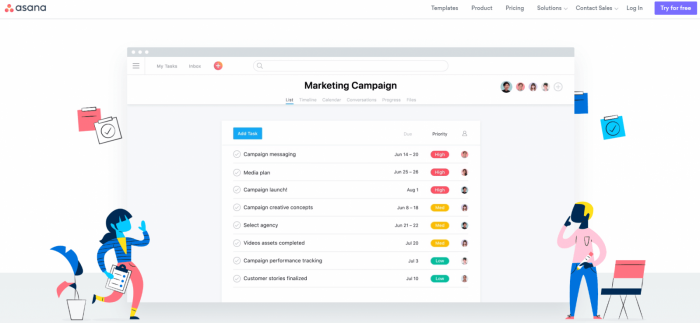 Trello vs Asana – Definitely a review of Trello Alternatives is empty without mentioning Asana as an alternative.
If Trello is a star, Asana does not lag behind boasting about acquiring millions of customers across 15 countries. This free Trello alternatives gives you a wide array of features with a clean view making your life as a project manager easier.
Whether is a small team locally or you are working with remote teams, Asana makes communication and collaboration a breeze. Like Trello, you can place your tasks and other information as cards that can be dragged and dropped.
The timeline makes project monitoring more efficient through moveable tasks with images of the task owners. Plus, communication is simplified with comments, likes, and followers. You can also share files and tag a team member in the comments to get their attention.
Key Features
Here is a detailed list of Asana's key features:
Detailed project management options that include project timeline, Gantt charts, project permissions, Project Sections, Search Views, goal setting, and due dates.
Comprehensive task management including task tracking, adding assignees, uploading attachments and adding comments to tasks. There are options to show the importance for tasks through 'hearts', task dependencies, My Tasks list, and Focus Mode.
Centralized feed for centralized updates on the workflow and team activities.
Multiple workspaces for handling multiple teams in parallel Option to view team members' tasks and priorities.
Meeting management including agenda, follow-up, upcoming, notes, references, meeting minutes, option to share projects with attendees and before meeting discussion
Real-time updates on tasks and projects.
Notifications and reminders including automatic updates to the inbox.
Customize calendars and select from multiple views – Calendar power is important
Admin and other roles creation for projects.
Email bridge.
Kanban support – Good alternative to Trello Boards
Mobile apps for iOS and Android.
Pricing
Take a pick with Asana's multiple plans:
Free.
Premium ($ 9.99 per user per month).
Enterprise (customized).
See also:
The Best OmniFocus Alternatives and Replacements of 2023
---
4. ProofHub

ProofHub is a project planning software that provides everything project management while also implementing the Kanban method and therefore is the next software on our list.
With ProofHub's in-built Kanban project management tool, you are provided with a visualization of your entire project. This tool specifically designed for you allows you to view tasks as they move through multiple stages on the Kanban board.
Kanban Features:
ProofHub offers communication and collaboration features such as @mentions
You can manage your project's progress by setting start and end dates
You can also manage your task more efficiently by breaking them into smaller subtasks
With ProofHub's task management, you can have a clear distribution of responsibilities all housed in a single platform
Prioritize, organize, and customize tasks
You can also create recurring tasks streamline your project processes
Pricing:
You can access ProofHub's Essential Plan for $50/ Month on a monthly payment plan
The Ultimate Control Plan is currently available at $99/ Month.
---
5. Bitrix24

Bitrix24 is primarily an online tool that can also be installed on-prem as your next Trello alternatives. Extremely user-friendly, it helps teams in collaboration, manage tasks and projects, and gives you a CRM module for customer support. With a customizable interface, you can create a layout to your liking.
Already winning the hearts of 4,000,000+ organizations globally, Bitrix24 is a promising tool, especially for small teams. Make use of comments, instant messages, chats, and group discussions or email. Plus, it is easy to keep ahead of your teams by viewing their activities on a centralized news feed.
In addition to basic project management options, it offers a video conferencing option, which is perfect for remote teams. Also, you can save time using their built-in task templates.
Key Features
Birtix24 comes with the following robust features:
Task management includes task and subtask creation, time tracking, reminders, reporting, templates, task dependencies, and time tracking.
Project management options include creating projects and workgroups, Kanban boards, Gantt charts, reports, and workload management.
Meeting management including setting meeting topic, agenda, description, date, time, duration, location, attendees, minutes as well as attach files. You can add attendees first, and select a meeting assistant from one of them after.
Extensive options for team collaboration through comments and likes, email, instant messaging, group chat, activity stream, calendars, and workgroups.
In-depth Human Resources Management system with attendance management, work reports, workflow automation, and employee directory.
Cloud storage and advanced document management system.
Videoconferencing and Telephony.
User profiles.
Photo albums.
Custom Fields.
Document management including document search, document sharing and version History maintenance.
Sales Team Management.
Custom Access Rights.
Calendars (Personal and Shared).
Two-way sync with iOS, Android, Google, and Outlook calendars.
CRM including lead and contact management and invoicing.
Email Marketing and Sales Automation features.
Mobile apps for iOS and Android.
Pricing
Bitrix24 offers the following plans to its customers:
Free.
Plus ($35 for 24 users).
Standard ($89 for 50 users).
Professional ($179 for unlimited users).
See also:
Top 14 Microsoft Project Alternatives of 2023
---
6. Aceproject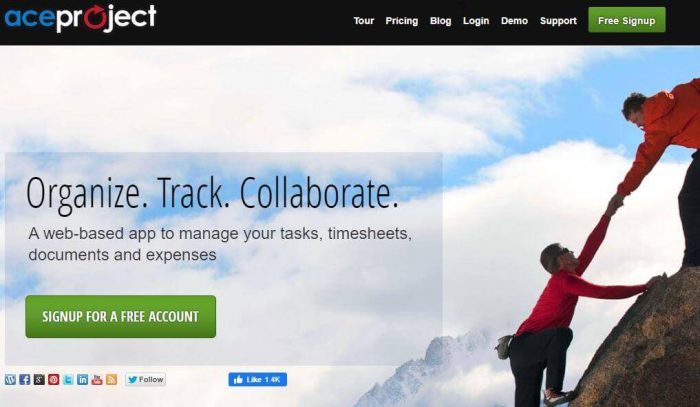 The fifth position on the list of top Trello alternatives goes to none other than Aceproject. This project management tool reminds us of a lot of nTask due to its vast array of modules. With Aceproject you can manage your tasks, projects, documents, timesheets as well as expenses. This makes it a great project management software, especially for startups and small teams.
It has a clean interface for easy collaboration and also offers email updates and notifications. Take your project management game a notch up with Gantt charts, time tracking, and efficient visuals. With so much to offer with a variety of plans to select from, Aceproject is definitely worth a try.
Key Features
This Trello alternative offers the following set of features and modules:
Project management including Gantt charts, project and time tracking, project dependencies, and in-built templates which are a strong competition to Trello Templates.
Task management including task creation, time tracking, organization of recurring tasks, and customized task reports.
Timesheet management module including time clock, timesheet approvals, and advanced time reports.
Document management including sharing and storing documents online through drag/drop or simple upload. Maintain document versioning and locking to sustain document originality.
Expense management including expense type, expense date, amount, code, tracking, approvals, and advanced reports with the option of attaching supporting documents.
Email notifications and updates.
Customizable dashboard.
Mobile apps for iOS and Android.
Pricing
Take a pick with one of the following Aceproject pricing plans:
Basic (Free).
Standard ($24 per month).
Advanced ($49 per month).
Silver ($99 per month).
Gold ($199 per month).
---
---
7. ProjectManager.com

As the name indicates, this is made to be an ultimate tool for Managers and a helpful Trello alternative. They've built the product in a way that reflects the insight of differences between each team.
They present a project management solution that assists you in taking steps toward being a successful manager. Utilizing this tool you can move forward with confidence. Project managers at Volvo, Ralph Lauren, and Bank of America seem to be letting Projectmanager.com be their tool of choice.
It allows for an expansive and in-depth view of the project and monitoring. You can easily track all of the activities to manage and allocate your resources. The internal communication via messages, comments, calls allows for a building of the project.
All this makes it evident that projectmanager.com has all the tools required to run your business, manage your team and reach your goals effectively.
Key Features
Gantt charts
Real-time and customizable dashboards
Task management
Get instant Reports
Timesheet to save up on your time
Manage your team's workload
Multiple project management
Visualize workflow with Kanban boards – Strong competition for Trello Boards and Trello Templates in our view
"To do", "doing", "done" tags
Easily add attachments
Collaborate with your team
Agile team projects
Pricing
Personal: $15 per user per month
Team: $20 per user per month
Business: $25 per user per month
---
8. Breeze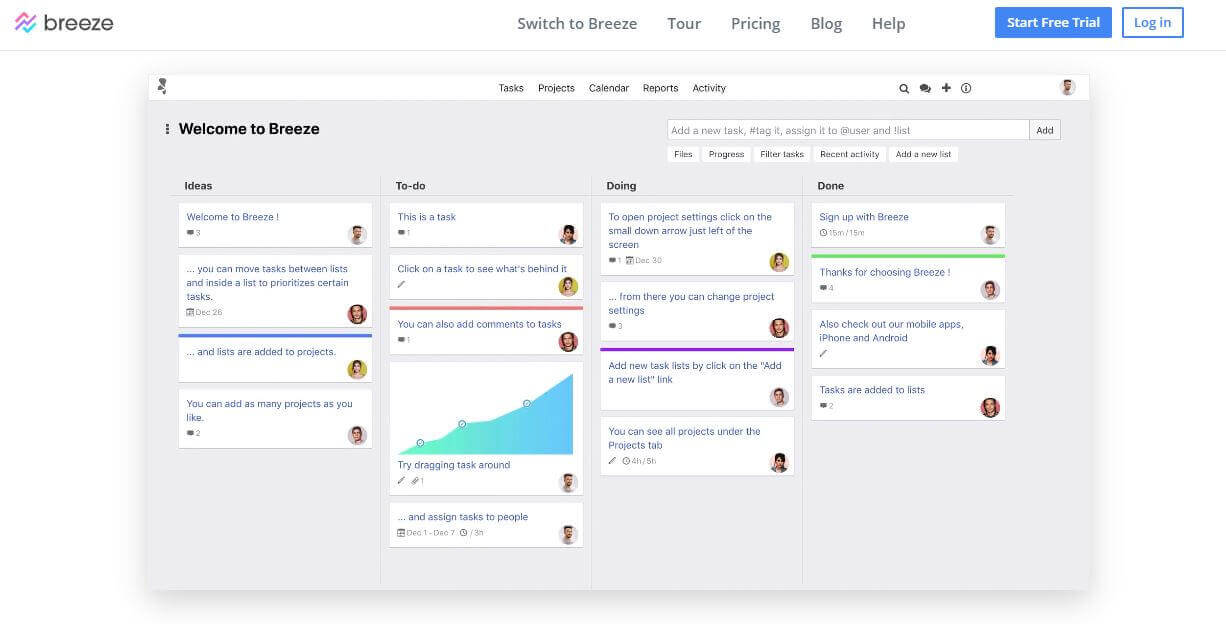 Another software for project and task management that lets you breeze through your work and good Trello alternatives is, Breeze.
Breeze is a software that is keenly used by many individuals, entrepreneurs, startups and big companies. With a minimal price, it has significant features to offer. If you are one of those people who love starting his/her day with a few words to perk you up then breeze is for you! They have inspirational words to make you the most productive of the managers.
The majority of the people who use Breeze prefer it for the wide range of features it offers for a minimal price. Breeze brings to you the best of what it has to offer.
So it can be an awesome upgrade for your work if you are looking for all-in-one software. Collect all your tasks in one place with Breeze so you can envision the bigger picture for your project.
Key Features
Upload and set statuses to show what you are up to.
Assign colors to the tasks to make them stand out
Custom fields to add detail to the assigned task
Swimlanes: the horizontal arrangement of tasks
To-do lists
Estimates and budgets
Time tracking
Tools for communication
Attach files and documents
Files and documents
Sharing of a project with clients
Calendar view and resource management
iOS and Android apps
Pricing
Freelancer: $29 per month for up to 5 users
Small business: $59 per month for up to 12 users
Larger team: $129 per month for up to 30 users
Enterprise: $249 per month for up to 60 users
---
9. Kanbanize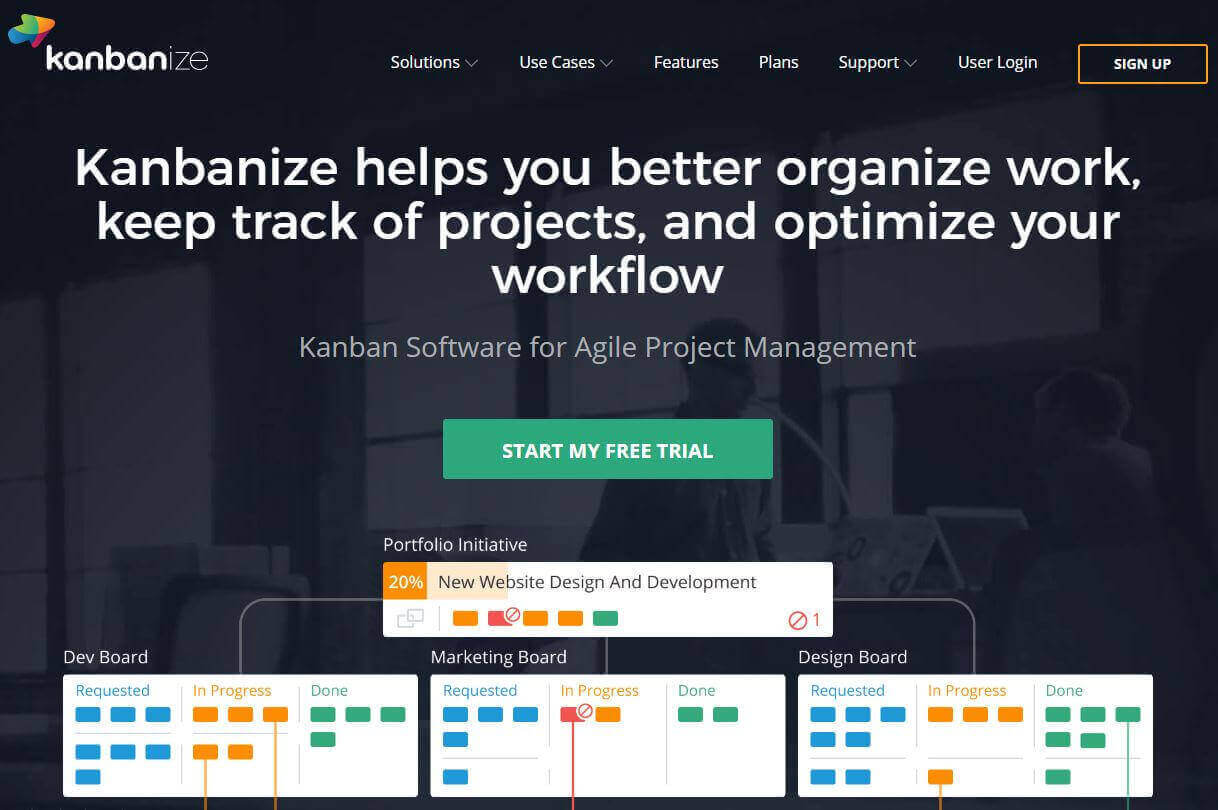 Are you looking for a sophisticated tool for the agile team you are running? Kanbanize can your software that assists you in managing, organizing, and tracking your agile projects. If you are looking for more visual work management, then Kanbanize can help you more if you are looking for Trello alternatives.
They have added a flexible workflow so you can optimize your work to get the most out of it. Their Kanban tool helps you to have transparency you ask. How? They have a portfolio style that allows you to view all of your work in one place in its hierarchy.
Key Features
An easy-to-modify Kanban Boards
Visual workflow
Define custom roles in the work
Reminders and follow-ups
Kanban Card links and hierarchy
Define your own business rules
Email integration for seamless communication
Time tracking for billable
Analytics( Cumulative flow diagrams, Cycle time scatter plot, blocked time heat map)
Monte Carlo simulation and forecasting
Integrations with Zapier and Trello, Microsoft Azure, Okta, Box. OneDrive, DropBox, GoogleDrive, GitHub, GitLab, Subversion, Bitbucket.
Pricing
30-day free trial
$49/month (includes analytics)
$25/month (10 business rules)
$99/ month (License seats. 1-15 users)
---
10. Workzone

Looking for more options as Trello Alternatives? Here on our list on the tenth is WorkZone.
It is just about the right solution for a lot of teams. It is a reputable tool known for its ease of use. It offers awesome features to help clients get things done.
You can easily "spin up" a new area on the app rather than spend significant amounts of time. You can easily upload files, view the current workflow, and reassign tasks.
Why use Workzone as a Trello Alternative?
Cloud storage for files
Personalized dashboards
Dedicated Workspaces
High-Quality Customer Support
Key Features
Project dashboard
Gantt chart
To-do list
Document sharing
Time tracking
Email alerts and notifications
Image markup
Workflows
API's and integrations
Pricing
Workzone has three pricing plans – TEAM Plan, Professional, and Enterprise. You'll need to contact their sales team to request pricing details.
---
11. Notion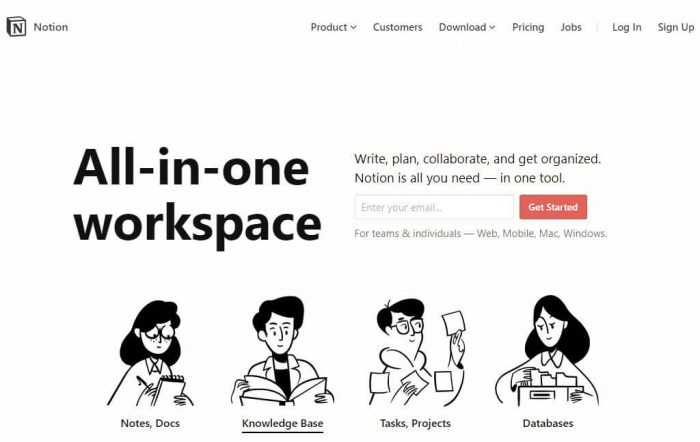 Notion is another one of those handy apps that we felt comfortable recommending as one of the best Trello alternatives. It's fast, it has a convenient drag-and-drop function; just like Trello, and the note-taking experience is not that bad at all.
Beyond the conventional highlights that you'd look in any application as an alternative to Trello, you will find that Notion has a bit more to offer.
For instance, you can create projects and main tasks which have the possibility of having milestones/ subtasks afterward. In addition, building content repositories alongside the markdown editor and app integration support is flawless.
Speaking of 3rd party app integrations, you can add 50 apps inside Notion's "Pages." There are also use cases to illustrate the application of this Software tool in different industries.
Key Features
Contains extensive use cases to support new users.
49+ app integrations.
40+ block content types.
Kanban boards, tables, galleries, and calendar views.
Support for teams and unlimited members on paid plans.
Amazing Kanban board experience: thanks to an intuitive UI and drag n' drop functionality.
Pricing
Notion is basically free for all.
Paid plans start with Notion Premium at $10 per user/ per month.
---
12. Toggl Plan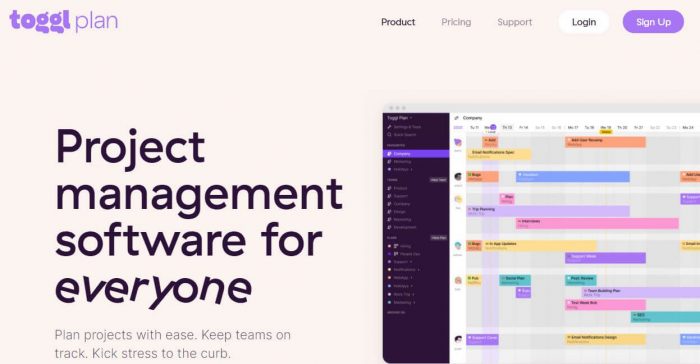 Toggl Plan takes whatever that Notion and Trello are offering and increases that experience by tenfold. Think about the beautiful execution of your plans, tasks, and projects in an entirely engrossing way.
Feature-wise, Toggl Plan has got what you'd expect from a Kanban board application. You see the usual nitty-gritties overlaid with task tracking, multiple team management, and other aspects of a project.
For instance, there are different visual modes to aid the project workflow. You can view stuff in Timeline mode and in Kanban board style. The choice is yours.
What both views do is that they help to act as an idea board for not only continuing with the workflow but also enabling you to conceptualize team ideas along the way.
Whenever you need to add new tasks in a project, they can be assigned to team members in both of the aforementioned views. While doing that, team members can collaborate via comments and file attachment support.
Key Features:
Kanban and Timeline view support.
Multiple file support extension.
Robust collaboration through commenting function.
Multiple team management support.
Use tags to prioritize projects.
Comes with Chrome extension & integrates, Slack, Google Calendar, Github, and Toggl Track.
Custom colors for tasks and increased storage space.
Pricing:
Free plan
Starter plan available for $9 per user/ per month.
Premium plan available for $18 per user/ per month.
---
13. LeanKit

LeanKit is a multiplatform application for anyone who is looking for the best free Trello alternatives. Although technically, this app isn't free, it does have a free version with an abundance of features.
Of course, if you were to opt-in for the paid edition, LeanKit will offer you a slight advantage. We will get to it later in this post.
For new users, the interface might seem intimidating. There are too many details in LeanKit boards, and you won't have the slightest clue about organizing everything. However, give it a few shots and the app will help to be more productive than ever.
The Kanban experience is overlaid with templates, card types, and many visual cues. These cards can be further color-coded to represent task urgency. Once you are done with a card, it can be maintained in the Backlog list for further reviewing.
Project managers reportedly find LeanKit to be a perfect blend of productivity and agile methodology-oriented features. To that end, use various Editing options in your app's interface to maintain team activity as an admin.
Key Features:
Powerful Kanban boards with tweaked features for performance optimization.
Edit user roles and work output as an admin.
Can be used for freelancing, project, and task management.
Carry over previous project boards and details via the unique Save feature.
Connect LeanKit with 3rd party apps through Zapier-supported integrations.
Pricing:
LeanKit is free for use.
LeanKit Premium starts at $19 per month/ per user for unlimited boards and extra features.
---
14. KanbanFlow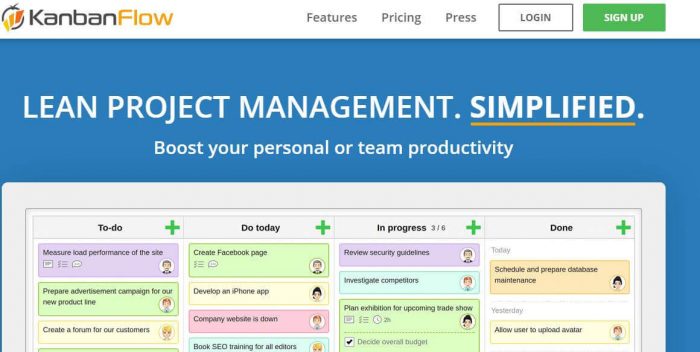 KanbanFlow a Kanban project management tool is our next pick. This software was created specifically to allow you to track the time it takes your team to complete any particular task.
With this simple Kanban tool, you can create lists and cards, customize these, and divide your Kanban board into sections for easy workflow management and task management.
Kanban Features:
You can the ability to create subtasks making your tasks more manageable
With horizontal swimlanes, you can get a better overview of your tasks
KanbanFlow also gives you the option to create customizable workflows
Manage tasks more efficiently with the ability to filter tasks through at the user level, labels-wise, by due dates, or by color codes
Analytics and reporting features
Integrate with your favorite apps to streamline your processes
Collaborate with KanbanFlow's document and file-sharing features
Options to create recurring tasks
Pricing:
Free plan available
Upgrade to the Premium plan for $5/user/ per month
---
15. Airtable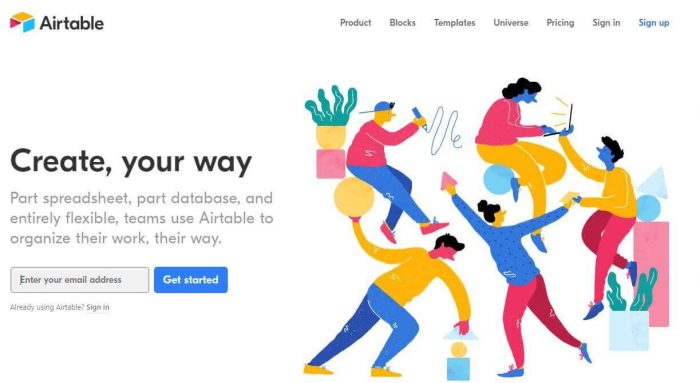 Airtable is an effective collaboration and communication tool that is perfect if you are working for a small organization and want to improve your communication channel.
This application is quite handy when it comes to managing projects, customers, and ideas, regardless of how big or small the size of your company is.
Airtable doesn't just have a dusty old spreadsheet view, it also has an incredible Kanban view that makes the task of managing different projects related to the project, quite easy.
Key Features
Active Directory integration
Attendance management
Automatic backup
Barcode scanning
Calendar management
Charting
Collaborative workspace
Compensation management
Custom development
Data filtering
Data synchronization
Document storage
File management
Full-text search
Multiple projects
Product catalog
Progress tracking
Project notes
Project templates
Project tracking
Projections
Pricing
Free trial version is available – i.e. if you are interested in evaluating the software
Paid subscription starts at $12.0/month
---
16. Teamwork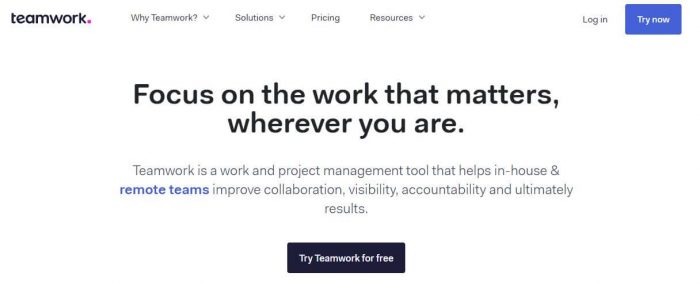 Founded in 2007, Teamwork is a popular project management solution due to its easy to use and simple design while still offering a range of features to help you and your team through the project lifecycle.
You will find your team working more productively with the help of Teamwork and its features, the platform offers the ability to communicate with team members, assign tasks, and track progress all from a single space.
Key Features:
Ability to create task dependencies
Time and expense tracking
Resource management
Interactive Gantt charts that you can choose to print out as well
Integrations with FreshBooks, Harvest, Goggle Docs, and DropBox
Pricing:
Teamwork offers a free forever plan for a maximum of 5 users
You can also choose to upgrade to the Pro plan for advanced features for $10/user, per month
The Premium plan is for $18/user, per month
---
17. Podio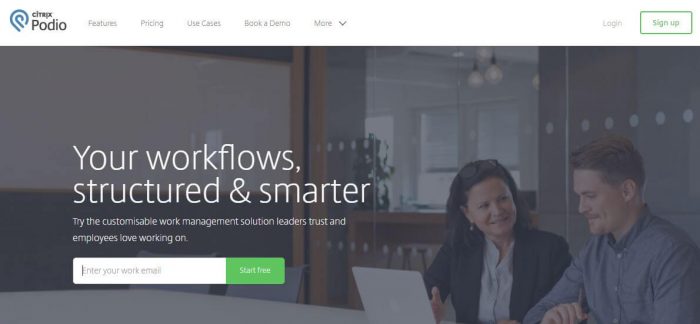 Podio allows you to easily streamline and sync your team's workflows and projects. Flexible and customizable, Podio is a software that is a good fit no matter what industry you are working in.
The software works well for both developers and software companies with its ability to allow users to create their apps.
With Podio, teams can communicate with ease while also being provided with transparency and accountability, all of which help you and your teamwork efficiently.
Key Features:
Collaboration tools
Time and expense tracking
Cost-to-completion tracking
Easily plan and schedule your projects
Calendar management
Task and project management tools
Pricing:
Podio offers a plan for free for up to 5 users
You can upgrade to the basic plan for $7.20/user, per month
The plus plan for $11.20/user, per month
The premium plan for $19.20/user, per month
---
18. Nifty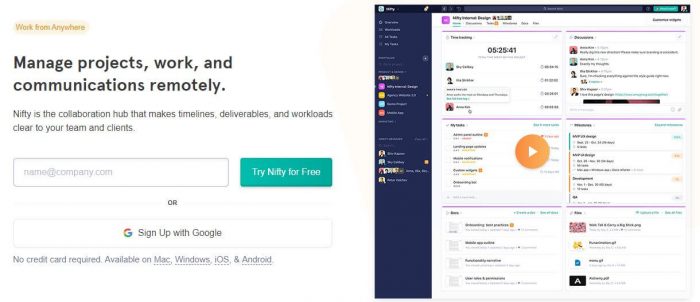 Nifty is an award-winning remote collaboration hub that helps you manage your projects, tasks, and communications through a robust feature-packed platform.
With this tool, you can easily manage any project from initiation to completion.
If you and your team are looking to manage your work and get organized this is the tool for you. It aims to help you streamline, centralize, and modernize your work operations so you can increase productivity and efficiency.
Key Features:
Activity tracking
Collaboration tools
Drag and drop interface
Project management features
Project time tracking and projections
To-do list
Pricing:
Starter plan for $39/month
Business plan for $124/month
---
19. Taskworld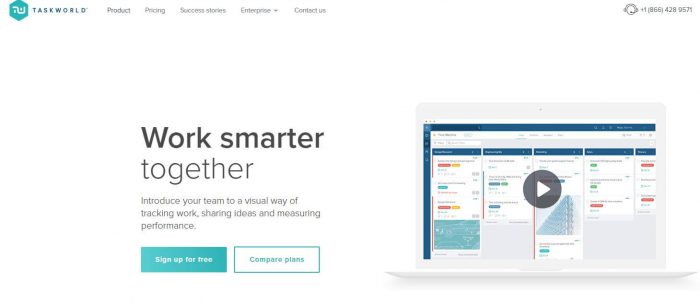 Taskworld is a task management and planning tool that is hosted on a cloud. The tool aims to help teams easily manage projects, track tasks, and seamlessly collaborate with team members all from a single platform.
Taskworld is a great option if you are considering Trello alternatives because the tool allows you to stay updated and keep track of any amendments or changes to tasks in chronological order.
Key Features:
Collaboration tools
Kanban boards
Milestone tracking
Resource management
Time and expense tracking
Dependency tracking
Task management
Time tracking
Recurring task management
Pricing:
Professional plan for $10/month, per user
Business plan for $22/month, per user
---
20. Avaza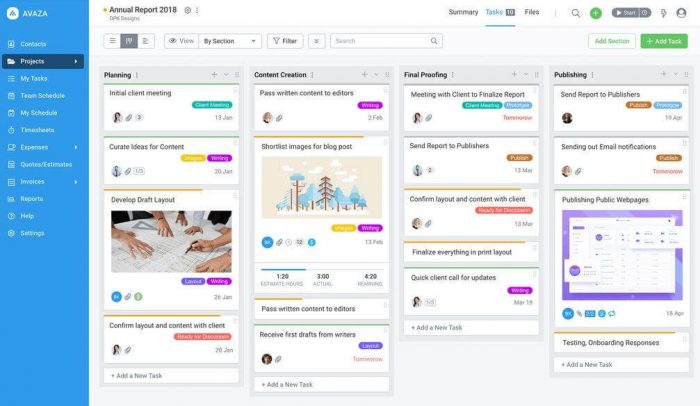 Avaza is software where you get to work on all your projects without any hindrance. The software will be your project manager to carry on all the essential activities on a single platform.
The all-in-one platform is nothing less than a project manager who keeps a check on all the activities of the team. It maintains your workflow and keeps you from juggling different platforms for different tasks.
The software is used by 60,000 users in over 150 countries. Avaza helps you in managing successful projects with better conversation and planning tools. Integration with other apps makes it more user-friendly.
Features:
Project management is made easier with thorough discussions, collaborations, and file sharing.
You can keep a time track of everything within a group or a team.
Toggle between Gantt charts, Kanban boards, and other tasks.
Visual file sharing is another likable feature of Avaza.
Get to view your team activities and presence. You can also schedule the tasks accordingly.
Better and faster collaboration with members of the team and clients.
Avaza will help you in streamlining your expenses.
Pricing:
Startup plan – $9.95 per month
Business plan – $19.95 per month
Business plan – $39.95 per month
---
21. Mavenlink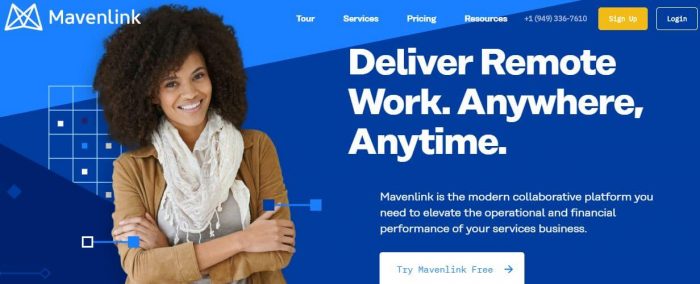 For advanced and powerful project and resource management services, Mavenlink is your go-to app. The software is created to maintain control, clarity, and confidence in projects and tasks.
Mavenlink is designed to help you with automation in project tasks. Intuitive integration and quick insights are some of the characteristic features of this app. The software is helpful in making your business more efficient in terms of project handling and management.
Features:
The app will help you generate quick and effective responses.
Optimize your resources with the help of multiple tools.
Time tracking and budgeting will help you forecast your project activities with more vigilance.
Improves client collaboration and engagement.
Mavenlink is built to help you extend your business potential and capabilities. You can integrate your work with other apps.
Make more informed decisions with Mavenlink.
Pricing:
For Pricing details, contact Mavenlink on their website.
---
22. BaseCamp

Basecamp is designed for people who are working remotely. Working remotely is more like a daily struggle for the continuous chaos that resides around you. Everything is disorganized and scattered, therefore, Basecamp is your total rescue.
The application is an ­all-in-one tool kit to make your work progress clearer and more stress-free. The popularity of the tool is increasing daily and 2,986 people have joined in the last week. BaseCamp will let you know about other members and their tasks. You can get access to the data from any computer screen be it iOS, Windows, or Android.
Features:
Built for remote employers and employees.
One platform with multiple tools to access from anywhere anytime.
Quick and efficient communication and collaboration without much hassle.
A more organized and structured workspace is created.
User-friendly.
Every member involved in the project has access to to-do lists, message boards, documents and files, group chats, and schedules.
Time tracking improves management and hence productivity.
Pricing:
Business Basecamp plan – $99 per month.
---
23. Active Collab

Active Collab is a viable alternative to Trello Kanban if you're looking for an effective Kanban project management tool.
While both Trello and Active Collab offer similar functionalities such as team collaboration, flexible project structures, and user-friendly interfaces, Active Collab takes it a step further by providing advanced features such as time tracking, invoicing, and budgeting.
Active Collab's Kanban board allows you to visualize your project's progress with ease. And you can customize it to fit your team's workflow.
Tasks can be moved from one column to another, assigned to team members, and linked with dependencies.
The platform also provides various intuitive and interactive drag-and-drop interface tools for users to easily edit boards, tasks, and subtasks.
Features:
Kanban Board for easy project visualization and tracking progress
Time Tracking with the ability to billable hours
Custom Reporting that highlights important project data
Task Management with dependencies, assignments, and comments
Invoicing and Budgeting functionality
Pricing:
Self-Hosted Licenses start at $999, with an additional $299/year for upgrades and support.
Cloud-Based pricing starts at $25/month
Professional Plan is $49/month
Business Plan is $99/month
There is also a 14-day free trial available for users who want to test the platform before committing to a plan.
---
24. Taiga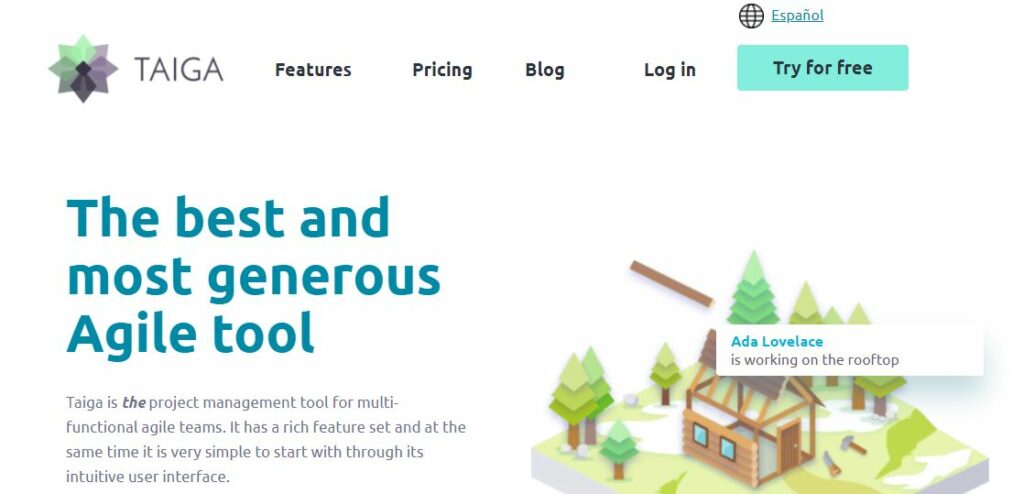 Taiga is also an ideal alternative to Trello for those who need a sophisticated and comprehensive tool for Kanban Project Management.
With Taiga, you are not just limited to simple boards and cards, but you can further customize the project management process to match your team's needs.
Taiga has a wide range of features like backlog management, user stories, Epics, Sprint Planning, and Issue Management, which let you handle complex projects with ease.
Moreover, Taiga is an open-source platform, which means that your team can customize the platform based on your specific requirements.
When we compare Taiga to Trello, Taiga is a more multi-functional and versatile tool. Whether you need advanced project management or more specific team collaboration features, Taiga has it all.
Features:
User story mapping
Taiga Boards with Kanban and Scrum support
Epics and Milestones
Sprints and Backlog management
Custom Fields and Workflows
Issue tracking and management
Agile reports and analytics
Open-source platform with high-grade security
Mobile app support for iOS and Android
Pricing:
Free plan with up to 3 users
Starter plan at $5 per user per month
Premium plan at $10 per user per month
Enterprise plan with customized pricing based on specific requirements
---
25. MeisterTask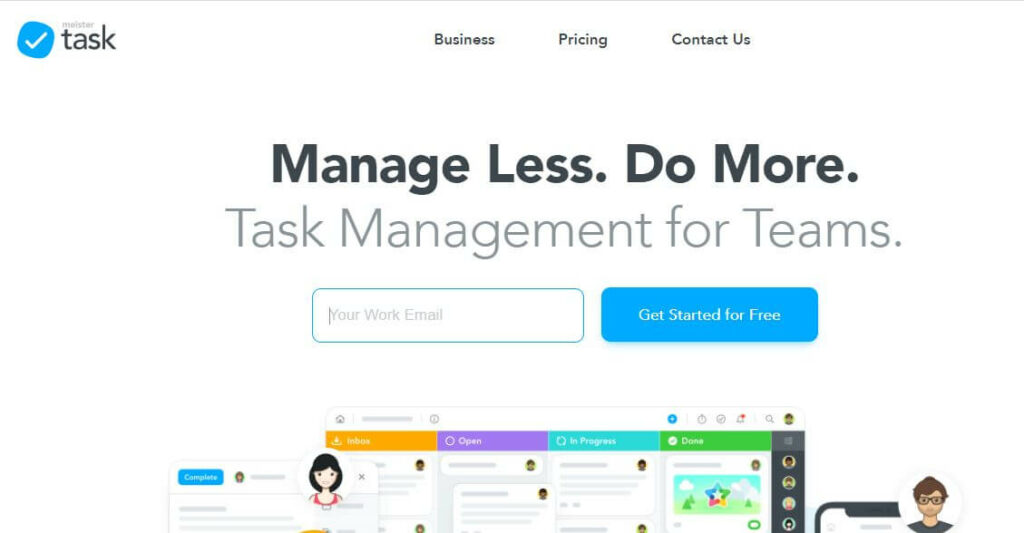 MeisterTask is a robust project management tool that provides an efficient and effective way to manage projects, teams, and tasks using the Kanban methodology.
It is often considered as an alternative to Trello for Kanban project management, as it offers a more comprehensive set of features, making it an ideal choice for complex projects.
MeisterTask's intuitive interface, customizable task boards, and integrations with third-party applications and services make it easy for teams to collaborate, track progress, and manage deadlines effectively.
In addition, MeisterTask's automation feature allows project managers to streamline the workflow, saving time and increasing productivity.
Overall, MeisterTask is an excellent tool for any team that needs to manage projects effectively, especially those who follow the Kanban methodology.
Features:
Customizable task boards with drag-and-drop functionality
Collaboration tools, including comments, mentions, and activity tracking
Integration with third-party apps and services, such as Slack, Zapier, and Google Drive
Automated workflows with conditional actions and rules
Time tracking and reporting features
Mobile apps for iOS and Android
Pricing:
Free plan with basic features and limited integrations
Pro plan at $8.25 per user per month
Business plan at $20.75 per user per month
Which app would you rate as the top Trello alternatives? Let us know in the comments below.
See also: