If we talk about graphic and web designers, especially the ones who work on a day-to-day basis to hone their productivity skills, they are looking to get things done fast! Top it off with a predicament very much aligned with freelancing/sole proprietorship business and you are looking at people who don't have much time to spare. Entrepreneurs can relate to the dilemma.
Therefore, we came up with this write-up where we get to talk about various tools and apps that have been known to help web and graphic designers with their work. That being said, this list is not conclusive. We just handpicked a few popular applications to get the conversation started. If you are looking to suggest something, feel free to use the comments section below after you're done reading this piece.
Best Tools for Web and Graphics Designers:
If a designer uses a handful of tools, it will give a solid foundation for communicating ideas and simplifying the work. So, in the journey to move from a good designer to the best one, all you have to do is have a set of tools with you.
Here's a list of some of the best tools and apps to give you a head start in your online ventures. Some of the applications are not entirely web designing/graphic designing-centric, but they are equally important because of their ability to help users multitask and keep up with their rapid workflow.
1. Photoshop – Enhance Your Digital Work Like a Pro!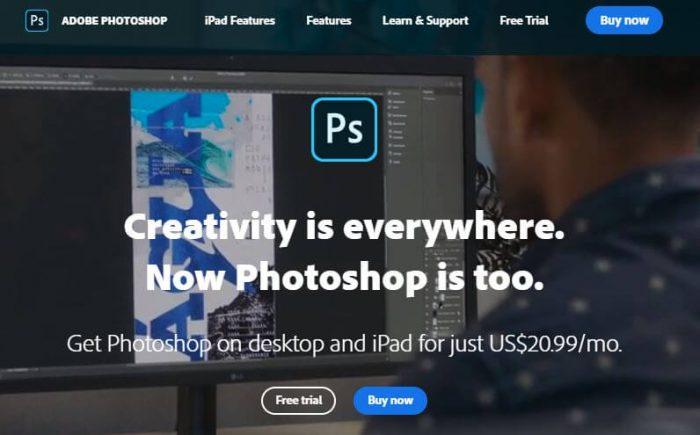 Everyone has used Photoshop by now. If you have used the program, at least you have heard of it. How could you not? It is hard to miss the slightest mention of Photoshop when we see celebrity pictures floating around at social media websites, and people commenting underneath, "Oh he/she looks so perfect and blemish-free. It has to be Photoshopped."
That being said, Photoshop is considered a very efficient graphic designing tool. Here are some of the key highlights of the program that make it worthwhile.
Key Features:
It helps to change the skin tone, create a high-resolution copy of the photo, adjust brightness or remove a blurred area in just a few clicks by using adobe Photoshop.
The additional advantages of using Photoshop include the fact those who utilize it to enhance or expand and strengthen their editing skills.
It does a lot more than image editing. Adobe's CC Suite has a collection of various other tools that enable graphics and web designers, to showcase their work at full potential.
It is a wonderful way to learn and remember useful artist gimmickry.
It speeds up your design process
Brings your ideas to life.
2. Filestage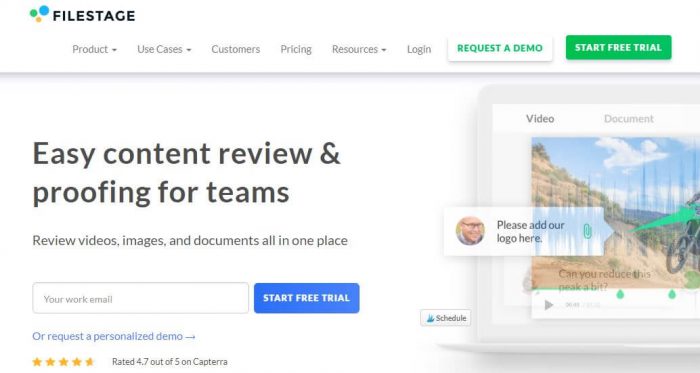 Do you hate it when there is no consistency or transparency in the review process, and everything is spread over different tools and channels?
Without it, you can't be sure that every file has been through a consistent process of checks and approvals. Filestage enables you to build and manage review processes the way you want to. Collect feedback from all reviewers in one place and ensure all files go through a consistent process.
Projects move faster when you're not stuck chasing people for feedback or wading through your inbox. But getting stakeholders to review different file types via email is complicated.
Filestage makes it easy for teammates and stakeholders to give feedback on file types, eliminating the need for long email threads.
3. ProofHub – Proofing Tool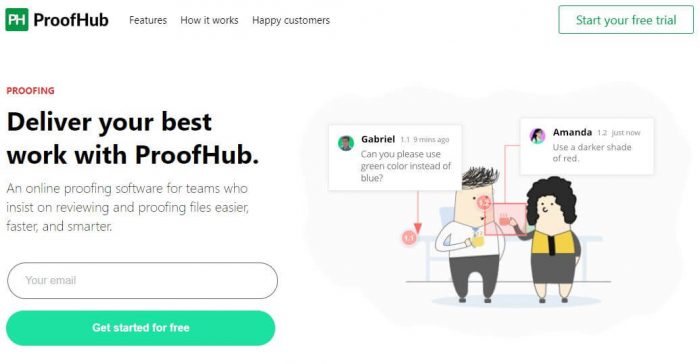 It is one place for all your projects and team collaboration. ProofHub is useful in the following ways.
Key Features:
It has all the tools for individual and team members.
It has ultimate control over teams and projects; easier done than said!
On-time project delivery & on-point team accountability.
It is very easy to understand with little to no learning curve.
Pricing:
All thanks to a friendly fixed pricing plan, ProofHub has no per-user fee.
4. DesignBold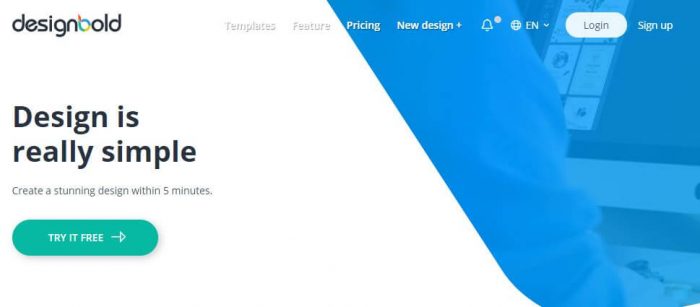 DesignBold is designed for the creatives both professional and amateur. It is developed with an eye-catching interface for creating printed or digital images quickly and smoothly. With an intuitive and robust feature-set, even beginners can create graphics, documents, and images of professional quality.
If it is your first time using DesignBold, you can surf through YouTube videos to get a hang of what the program has to offer. It doesn't matter if you are a graphics designer, a digital artist or a web designer. There is something in there for everyone; that's how the Devs created DesignBold in the first place.
Key Features:
For users with no idea where to start, DesignBold offers thousands of templates for you to edit and overlay your designs.
You can utilize them for presentations, for infographics, Instagram posts, or invitations.
Regardless, the software has it all. What's more, editing is also easy with the interface's drag-and-drop commands.
5. Illustrator (*Also Known as Adobe Illustrator) – Create Logos, Icons, and Sketches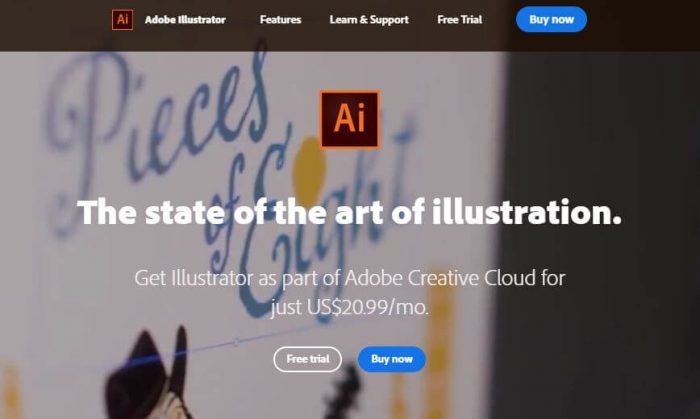 Illustrator is one of the best tools to date. Especially when you talk about using Vector images over conventional rasterized images, Illustrator takes it all to the next level. And trust me, Vector digital media is the latest trend. No one wants to see their images getting bombarded with pixels when they zoom in.
It has an intuitive user interface. Initially, it is a little hard to get a hang of things, but you will eventually get there with enough practice. Some of the additional features of this application are highlighted below:
Key Features:
It allows for in-panel editing.
It is completely scalable.
It creates files in manageable sizes.
It works on almost any computer system.
It creates print graphics and web graphics.
6. Sketch 3 – Graphic App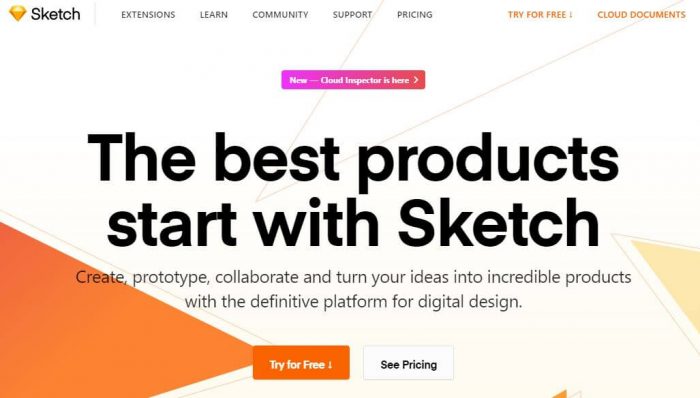 Non-relevant functions do – not exist, so you only have buttons for stuff useful for web/app design. That's what Sketch 3 and its predecessors are all about. They wanted to create something for users that's not only clutter-free but also easy to use at the same time.
You don't have the plethora of actions that you'll have in Illustrator because you don't need it.
Key Features:
UI work is full of repetitions — colors, shapes, icons, and patterns are reused again and again. The ability to have symbols and some responsive abilities is a godsend, it removes most of the boring part of UI work. It's industrializing it.
Figma does it even better, but Sketch makes it possible to work with other people on the same file (with pattern libraries, or using version control plugins like Abstract or Plant)
It's way cheaper 😀 The sketch is something like $100 a year.-
7. Marvel – Prototyping Tool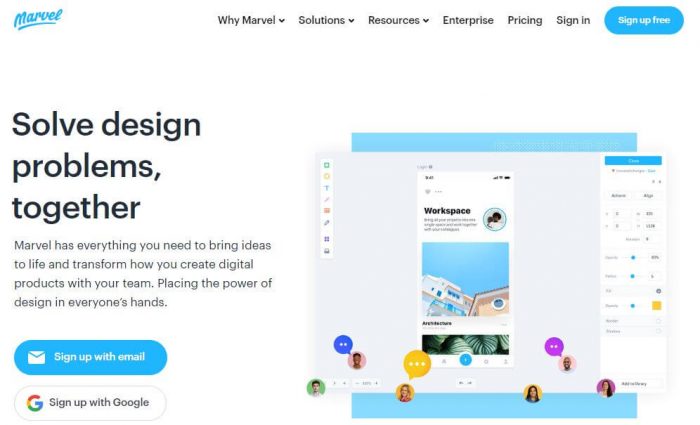 Next up, we got Marvel Prototyping Tool. Of course, just like you, I wish it had something to do with the official Marvel Comics Company, or the Avengers to say the least, but this program is something not related to the aforementioned entities.
Marvel Prototyping is an essential tool for web design workflow these days. With Marvel, you can create anything from scratch, and sync designs from your cloud storage! Sketch.
Key Features:
Design with Marvel Canvas. Prototype and add gestures and transitions to your design.
Marvel is a very highly simplified interface that makes it fast and easy to learn.
The tool works well for both non-designers and advanced UX folks.
8. Sublime Text – Text Editor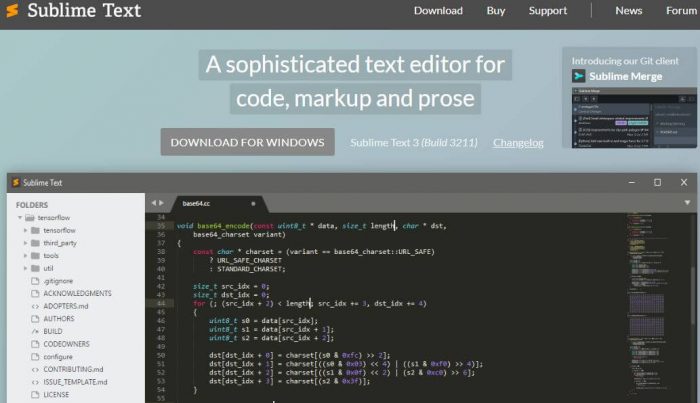 Sublime text is the text editor that you are surely going to fall in love with. Sublime Text 2 is a minimalist coding editor that will let you focus completely on your code.
If you are working on websites, this will give your great power providing powerful shortcuts and tools to leap about a document, filter the file, and quickly make edits.
9. Webflow – Responsive Web Design Tool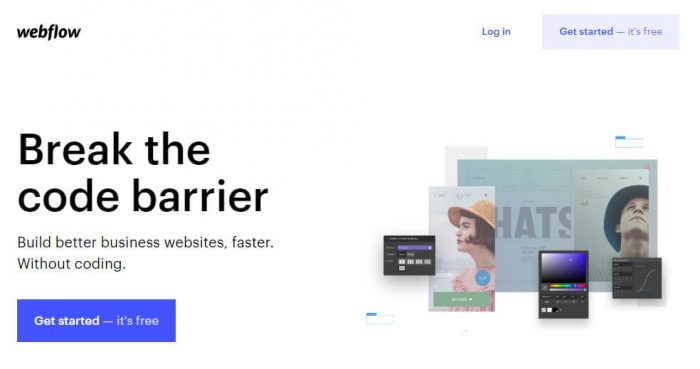 Webflow allows designers to create sites in a relatively short time period. You can design and develop at the same time, with minimal effort with Webflow.
Don't worry about using coding to execute your work output. You can easily export and change the site's HTML / CSS tags according to the customer's needs.
10. Lunacy – Design Software With Built-In Graphics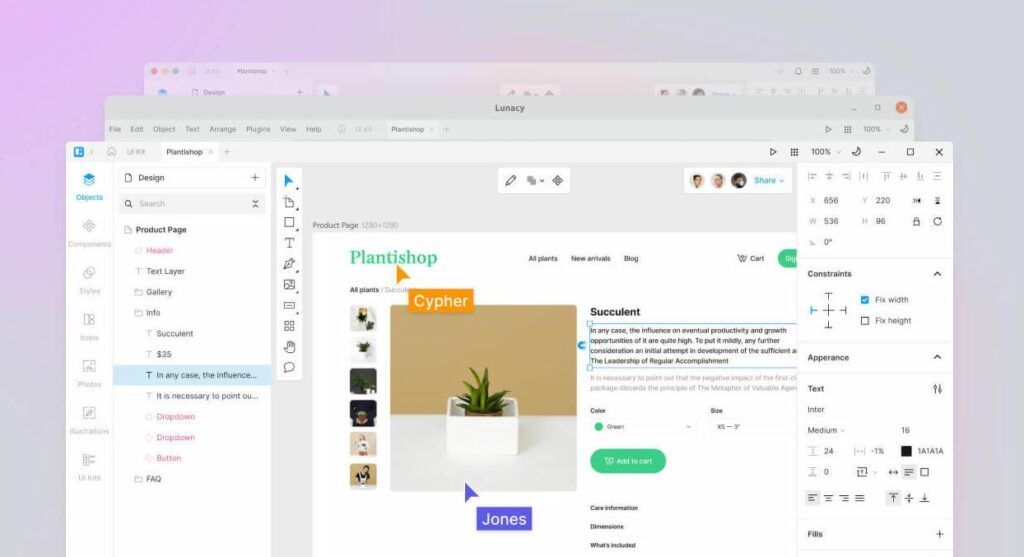 Lunacy is an innovative software app for UI, UX, and web (graphic) design created by designers for designers. It is the culmination of designers' workflow and contains a vast array of graphic elements and capabilities, cutting away from the need to surf the internet for graphics or alternative programs to remove backgrounds or edit placeholder texts.
Key Features:
Real-time collaboration
Built-in graphics
AI-powered tools on board
Works online and offline
Minimum learning curve
Price:
11. Github – Software Development Platform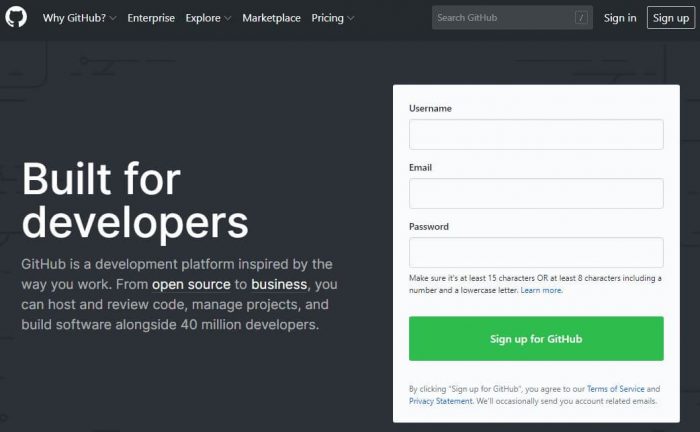 Github is a very handy tool for Web Designers and website developers. That does not mean that GitHub doesn't have anything for graphic designers. It does, but the abundance of "graphics" is not as much as compared to traditional Web 2.0 and 3.0 properties.
GitHub is a directory. Some people call it a repository. It's your choice though. The crux of the tool is in its ability to offer a platform to hardcore coding communities where people can ask technical questions related to real-life use case scenarios and other experts answer them in comments format.
Easy peasy, lemon squeezy!
In addition, GitHub can integrate with common platforms such as Amazon and Google Cloud, services such as Code Climate to track your feedback, and can highlight syntax in over 200 different programming languages.
12. Milanote – Visual Boards To Get Organized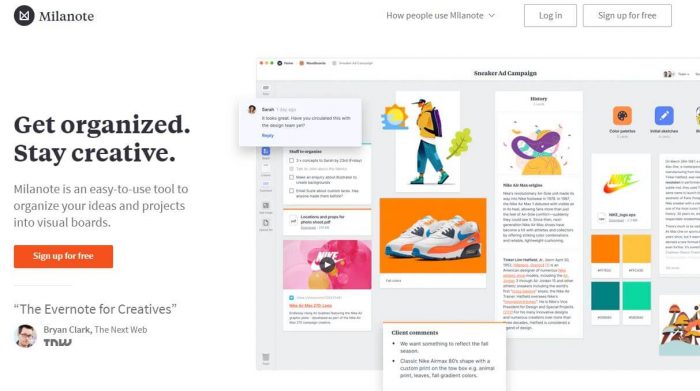 Milanote is a tool for organizing creative projects into beautiful visual boards. By design, it feels a lot like working on the wall in a creative studio – visual, tactile and sometimes a bit messy – Milanote is a great fit for designers who work in teams remotely.
Key Features:
Write notes & to-do lists, upload images & files and save things you find on the web
Organize visually using the flexible drag and drop interface.
Boards by default are a private place to think, but with a single click you can create a shared workspace for collaboration with your team
Milanote is filled with hundreds of built-in templates to help you get started with a variety of different projects, from creating a mood board to writing that perfect creative brief.
Pricing:
Free version is available with no time limit.
PRO version $9.99 per month (monthly and annual plans)
13. Instasize – Photo Editing Tool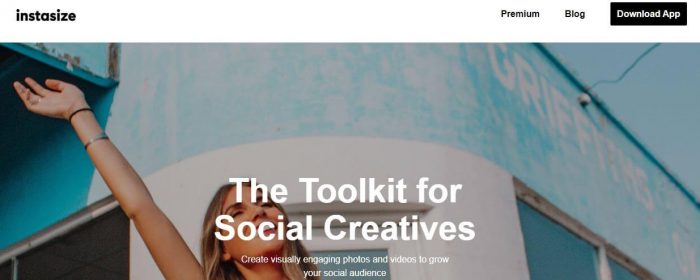 Having a multi-purpose editing app on-hand is key to making the most of any raw photos you use for digital marketing. Instasize is one of the most reliable out there, capable of applying essential post-processing to both photos and videos. It's available for mobile phones and great for designers on the go.
Features:
Crop and resize photos and trim videos as you please
A wide array of filters, text styles, and borders
Monthly updates provide new, themed editing packs
User-friendly UI that makes editing a breeze
Pricing:
Free basic plan
Premium plan at $4.99/month
14. Placeit – Design Templates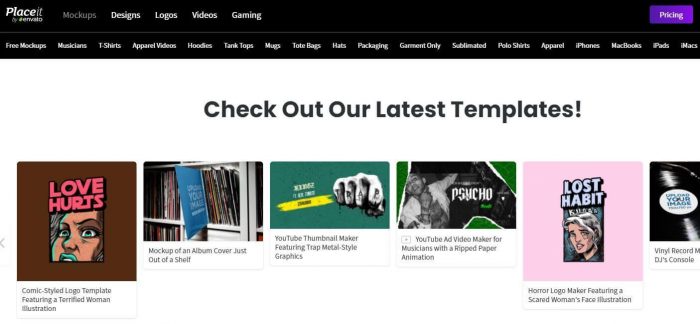 Placeit is an online platform with all kinds of mockups ready to customize. From t-shirts, digital devices to books, and home decor. Just drag your design or select it from your computer and in seconds your mockup has been customized.
Key Features
Move your design and crop it until you feel your mockup is done.
Access to mockups with different scenarios with the same model.
Access to mockups with transparent backgrounds.
You will also find a logo maker for specific niches.
Find trendy video templates to customize in minutes with original music.
Find all kinds of design templates for your social media campaigns.
Pricing
Free templates
Annual $89.69
Month $14.95
15. PosterMyWall – Social Media Graphics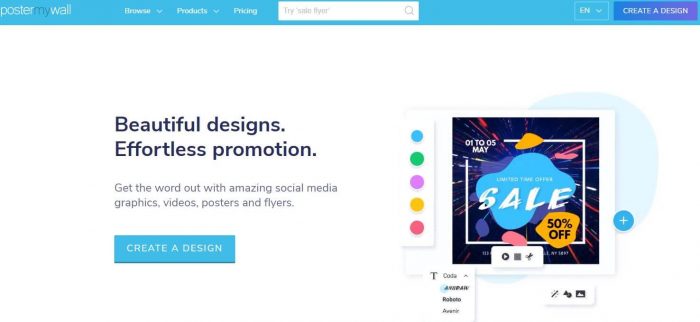 With templates for all kinds of themes, coupled with a drag-and-drop editor, PosterMyWall makes designing accessible to everyone, including anyone who's just starting out. PosterMyWall also offers tools to streamline social media marketing.
Key features
Hundreds of thousands of customizable templates to create album covers, book covers, flyers, digital signage, and more.
Social media publishing and scheduling tools are built into the website, allowing you to share social media posts as soon as they're ready.
Watermark-free image downloads for social media posts are available for free. Paid downloads for print quality and video downloads.
Design and send email campaigns.
Pricing
Free plan
Premium plan at $29.95 per quarter
Premium plus at $89.95 per quarter
16. Ziflow – Proofing Software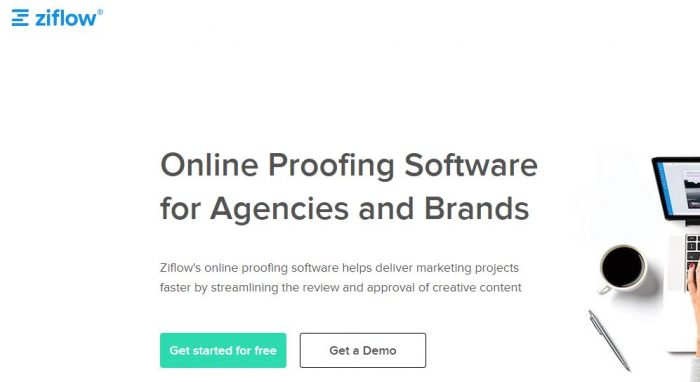 Ziflow is an online proofing system that allows designers to centralize the review and approval of designs at all stages. Instead of wading through email chains, managing WeTransfer shares, Google Drive folders, and the many other ways clients and stakeholders send feedback or versions, Ziflow gives an all-in-one environment for reviewing, annotating, discussing, comparing, and approving design elements in many mediums, through many rounds of edits, to completion.
With Ziflow, designers can manage a structured series of design stages using workflow automation and clearly delineate the internal review process from client feedback. Plus, the ability to lock designs from modifications and change requests after decisions have been made is a huge plus. No more final hour feedback to throw a wrench in the design process.
Key Features
The ability to upload, review, and approve over 1,200+ file format types, from live websites to PDFs to videos and specialized concept art, in one place.
Robust workflow automation enables design teams to facilitate multiple or concurrent review stages and separate the internal design review process from the client/stakeholder feedback process.
Side-by-side version comparison down the pixel level allows for a much more accurate review of iterative designs.
Detailed markups and annotations are tied to threaded discussions so there's no confusion about required changes.
Status updates and decision checklists linked to workflow stages indicate exactly where a design project is in the review process, keeping everyone on the same page and leaving an audit trail of approvals. Audit trails demonstrate a complete record of changes and decisions for comprehensive project history.
Pricing
Basic plan at $9/user per month
Starter plan at $18/user per month
Business plan at $45/user per month
Custom Enterprise plan
17. PicsArt – Online Photo & Video Editor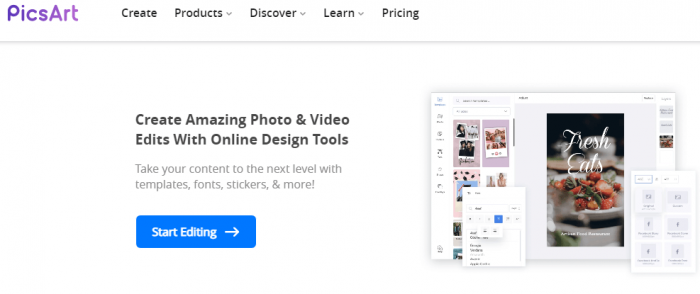 PicsArt is an incredible online photo-editing software that creative professionals can use to create some beautiful imagery for the whole world to see. The best thing about the software is that you don't even have to be an expert in the field of design and photography to make effective use of this software.
Key Features
The software also has an incredible video-editing feature that you can use to add music and other special effects to your content to make it more social media-friendly
The software also has a desktop version that you can use to make sure that you continue your work even if you don't have internet connectivity
Another great feature of the application is the "Replay" function which enables the user to apply the same editing settings from a previous edit to a new edit at the press of a button
Pricing
A free trial is available
PicsArt Gold starts at $8/month
18. Bannersnack – Online Banner Maker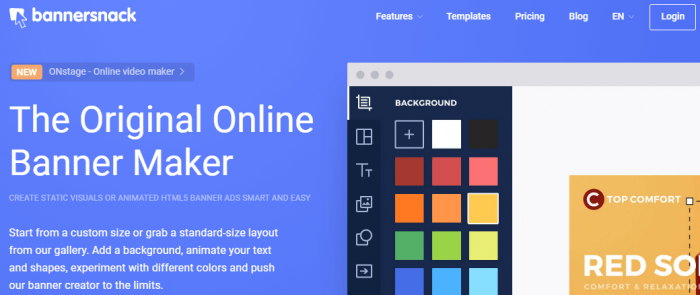 If you are a no-nonsense professional that just wants the best graphic designing tool in the market, then you need the tool Bannersnack. The application has an incredibly intuitive interface that you can use to create your content by just dragging and dropping things.
Key Features
The software can be used to create some beautiful HTML5 pages, witty GIFs for your social media handles or website, or even different visual ads to grab user attention
You can even create different hand-crafted illustrations using the software
The most incredible feature of the application is that you can work on more than 40 different-sized visuals simultaneously which helps you spending less time and money on different projects and get things done quickly
Pricing
A free version of the application is available
The starter package of the application starts at $7/month
19. Design Wizard – Videos & Images Design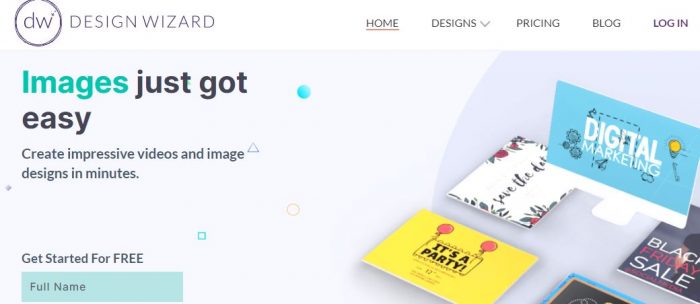 The design just got easy! With Design Wizard you can create impressive videos and image designs in minutes. Its library holds over one million premium images, thousands of high-quality videos, illustrations, graphics, and more. Every video and image has also been licensed for commercial use.
The Pro plan, starting at $9.99 per month, gives you 60 image design downloads, image uploads, font uploads, free previews, and 1GB of storage. On the Business plan, which starts at $49.99 per month, you get unlimited standard video downloads, 1 premium video per month, unlimited image design downloads, video uploads, add text and images to video, and 10GB of storage.
Key Features:
Magically resize your designs
Upload fonts, photos and logos
Create custom color palettes
Pricing:
Free plan
Pro plan at $9.99/month
Business plan at $49.99/month
20. Designmodo – Website and Newsletter Design Tool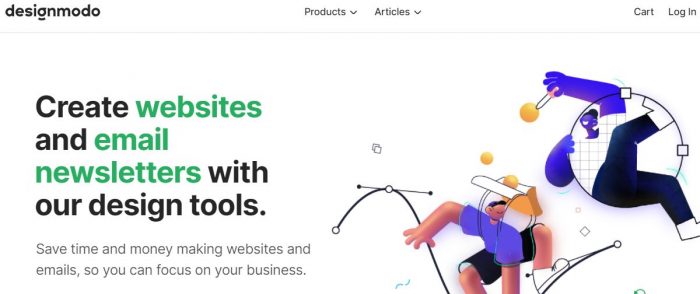 Designmodo offers three essential apps for designers to create an online presence and maintain the connection with their customers or clients. First of all, here, you will find two website builders (Slides and Startup) that will help you create a website in time and use it on your hosting without limitation.
Second, you will find an email newsletter builder called Postcards, a no-code tool that helps you create email communication and engage your clients or customers. You don't need to be a web developer to create websites and emails with Designmodo apps. The main advantage of these tools is generating templates and using them later for unlimited time in your projects.
Key Features
Pre-designed templates and elements
No-code building
Advanced customization of your templates using the code
Always update designs
Free plans
Pricing
From $18/month (Billed Annually)
From $24/month
21. Colorinch – Web-Based Photo Editor & Cartoonizer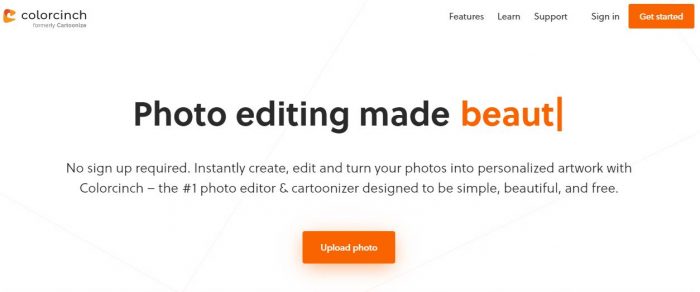 Colorcinch helps hobbyists, photographers, and professional designers produce stunning designs and enhanced photos with just a few clicks! An intuitive web-based software, Colorcinch is a perfect alternative to popular offline/online photo editors. But unlike most other editors, it requires no sign-ups, could be used for free, and needs no series of intensive tutorials to get started.
Thanks to the tool's simple & clean UI, everyone—including non-techies—can effortlessly create premium-level graphics and photo designs without getting stuck at any point. It's that simple to use!
Colorcinch features all the essential built-in editing tools needed for basic image modifications (cropping, color/tone adjustments, resizing, etc.). But beyond that, it also offers users access to a generously robust collection of vector icons & graphics, overlays, masks, and filters. Additionally, with Colorcinch, you can easily choose from a range of top-notch artistic effects and accurately transform your photos into cartoons, digital sketches, and other artworks.
Key features
A wide array of one-click artistic effects, filters, masks and overlays
Access to a sorted collection of 50,000+ vector icons and graphics
Beautiful and intuitive UI built for everyone
Pricing
Free basic plan
Plus plan at $5.99/month (or $3.99/month if billed annually)
22. Iconscout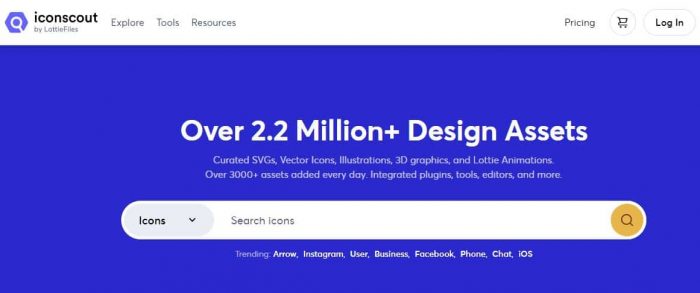 If you are a graphic designer/web developer or maybe for any stance you have a little bit of connection to the design world, there's the slightest chance of missing out on Iconscout. Previously they only had a website that helped thousands of users to get a neat collection of over 2.2millions of SVGs, Vector Icons, Illustrations, 3D graphics, and Lottie Animations.
And Now they have already launched their Application for both Mac and Windows. This is a quick, convenient way to get their millions of design assets directly from your Toolbar.
With a stunning library of design assets contributed by designers and artists from all over the world they also provide integrated tools, plugins, and editors. This application helps you with varieties of assets with enough functionality for necessary modifications.
Key Features
2.1M+ Icons, 20K+ Illustrations, 1K+ 3D Assets
5000+ assets added every day
Design Assets for any tool, document, application, etc without any restriction right from your toolbar
Switch Styles like flat, line, colored outline, solid, and many others just in a one click
Integrated plugins and tools like Icon Editor and Icon Converter
Pricing
Free(Access to limited design assets)
All-Access Annual- $9.99 per month(Billed Annually)
All-Access Monthly- $14.99 per month
23. BrandCrowd

The BrandCrowd logo maker enables brands to create a design in minutes. This will help you say goodbye to long turnaround times and difficulty sourcing freelance graphic designers.
It does this by giving them access to an expansive library of business logo designs that they can customize. It has one of the biggest design collections ranging from fashion logos to tech logos. Personalize its color, fonts, and other elements for a unique design.
Key Features
The maker has an easy-to-use tool that newbies can make the most out of.
It offers more than just logos. You can also use it for business cards, social media posts, and more.
Users can also ask for professional assistance and request further changes to your logo.
24. Mockplus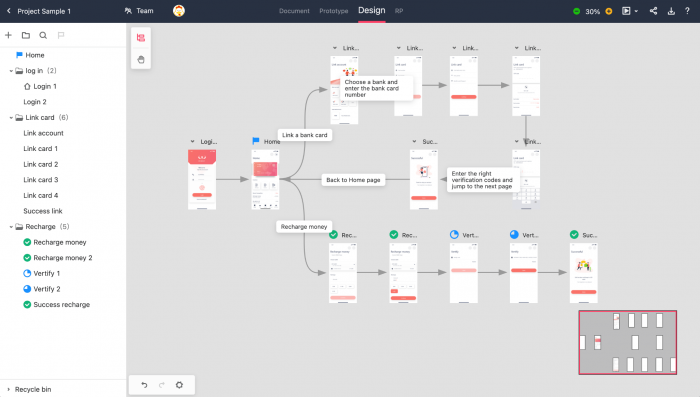 Mockplus is a web-based product design platform for prototyping, collaboration and handoff. It brings UI/UX designers, product managers and developers on to the same page, prototype, collaborate and hand off together at least 2x faster.
With Mockplus, designers can co-design on the same page and collect feedback by sharing a single link. Product managers can write PRDs online and create clear user flows with drag-and-drop. Developers can easily get a link to join a project, click and hover to view design specs and code snippets, and download assets in one click. Brand design systems can also be gathered and shared across teams with ease. Your entire product design workflow is connected in one place.
Key features:
Create functional web or mobile app prototypes with built-in components, icons, templates and interactions
Import design files from Adobe XD, Sketch, Figma, Axure, and Photoshop, and animate them with drag-and-drop
Share designs, review from anywhere, and leave comments directly on design
Write PRDs, and reference documents, and design drafts with each other
Create, plan and manage design tasks visually
Hand off all deliverables, like specs, assets and code snippets, to developers with a single link
Click or hover to view design specs, code snippets, and assets
Click to download assets for all iOS, Android, and Web platforms
Gather, manage and reuse consistent visual assets, like colors, fonts, components and more, online across teams
Pricing:
Everyone who has registered can get a free plan with up to 10 active projects and members.
Its monthly and annual payment plans help suit the needs of teams at any size.
The monthly plan starts at $7.95 per month per person.
The annual plan starts at $5.95 per month per person, which is billed annually, helping save up to 25% in comparison with the monthly plan.
25. Desygner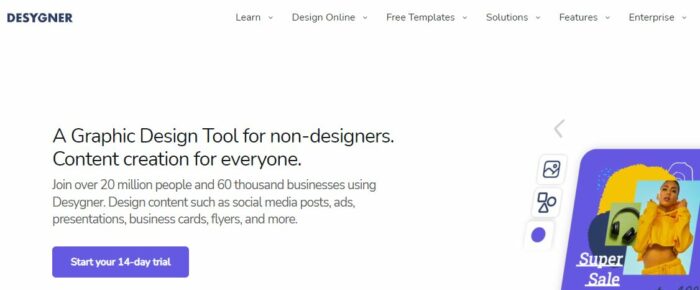 Desygner is "a graphic design tool for non-designers," they offer features like drag & drop elements; the ability to change images, fonts, colors, and text; the capability to work with layers, effects, and multi-page files; plus access to thousands of professionally designed templates and millions of free and paid subscription stock images.
The tool also lets you share designs via email, Instagram, Facebook, Twitter, and other social networks; automatically resize images into the correct sizes for social posts on different platforms; and present slides professionally with the Desygner viewer.
Key Features:
Simple and attractive dashboard
Range of assets to use in images
Banner maker tool for online ads
Cards and invitation design tools
Vector art and sticker assets
Share creations directly on social media
Import photos from Facebook Pages, Facebook Albums and Instagram
Free templates to use in designs
Google Ad templates
Ability to import and edit PDF files
26. VistaCreate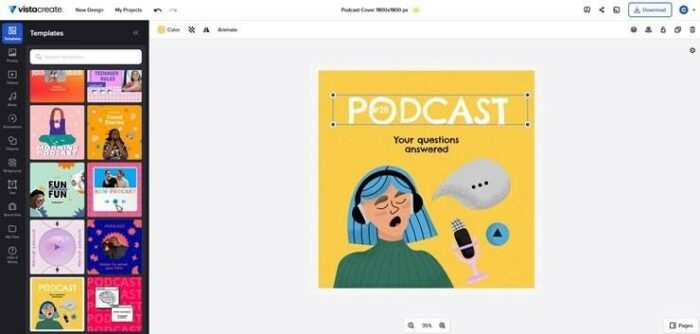 The free graphic design software by VistaCreate is what you need when you are looking for a user-friendly experience of creating any type of content, from detailed infographics to designing Facebook ads.
It will save you so much time thanks to 50K+ design templates optimized for different formats, 1M+ creative assets, and numerous productivity tools. What's really cool, VistaCreate is very feature-rich even within a free version so that it can suit professional designers as well as marketers who need to create studio-level designs.
The graphic design editor is super intuitive, allowing you to pick a template and tweak it further by adding numerous design objects, playing with typography, changing backgrounds, and applying animation effects and music.
Key Features:
Pre-designed professional templates for every need: TikTok videos, logos, infographics, posters, banners, calendars, Youtube thumbnails and more.
Royalty-free photos, videos, and vectors to help you create designs faster and better.
The free version of this graphic design software allows you to use 10 GB of storage for files and projects.
Background removal feature that makes it easy to remove image background in a few clicks, thus making editing your project easier.
You can build designs for the web as well as for printing materials.
27. DocHipo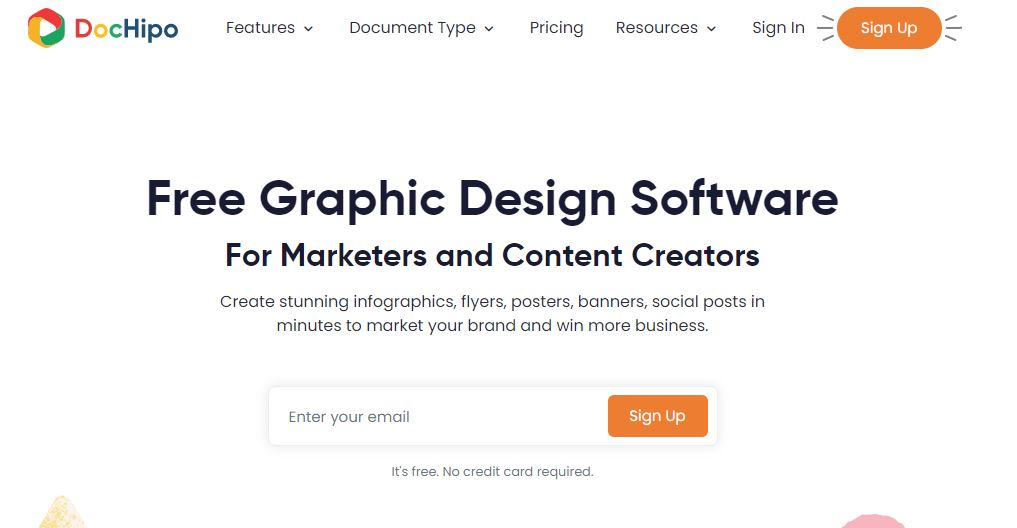 DocHipo is free graphic design software for marketers and content creators.
Choose from a massive collection of beautifully designed templates for infographics, flyers, posters, web banners, social graphics, and various other document types. The templates are segregated by industry, occasion, and so on.
Select the template you like the most and customize it using DocHipo's intuitive drag-and-drop editor. Change the color, tailor the message, and use beautiful illustrations, stickers, animations, and other design assets to create a stunning design.
You can download the design in JPG, PNG, PDF, MP4, or GIF format and use them off-line or publish them on your favorite social channels right from DocHipo itself!
Key Features:
Massive collection of templates across various document types
Premium quality illustrations, stickers, and animations that help you create memorable designs
DocHipo supports real-time collaboration amongst multiple users while designing a document
Ability to remove background from a picture in one click
Ability to resize a document into multiple other dimensions in just one click
DocHipo offers multi-company capability, i.e., a user can be part of multiple companies under one log-in
Ability to save a design directly to Mailchimp
Download a design in JPG, PNG, PDF, MP4, and GIF
28. Glorify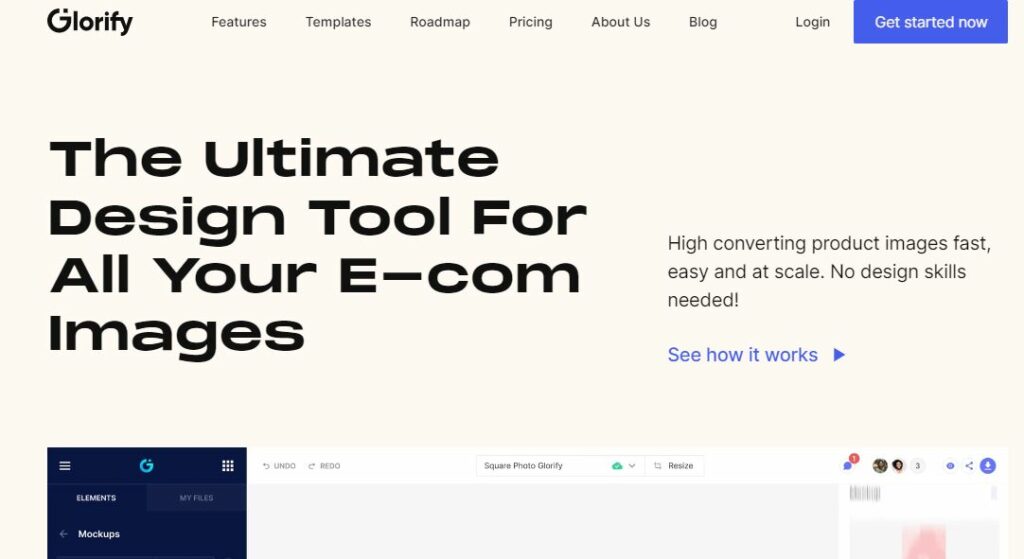 Glorify believes that design should be accessible to everybody. If you're looking for a quick, efficient way to create high-quality designs, you've found the perfect match. Its simple tools for beginners and advanced features for designers provide a practical alternative to other design tools in the market.
The best part is, that you can say goodbye to costly outsourcing. A user-friendly UI and commerce-focused design tool that is ideal for entrepreneurs, marketers, agency owners, and designers who need to scale their business through powerful story-driven product imagery.
Key features:
It has thousands of pre-designed, fully customizable, thematic templates.
Collaborative features and workspaces make it ideal for teams.
It offers professionally designed 3D mockups and mockup scenes that can be customized and branded.
Consistently updates features and adds new ones based on community requests and feedback.
29. Mega Creator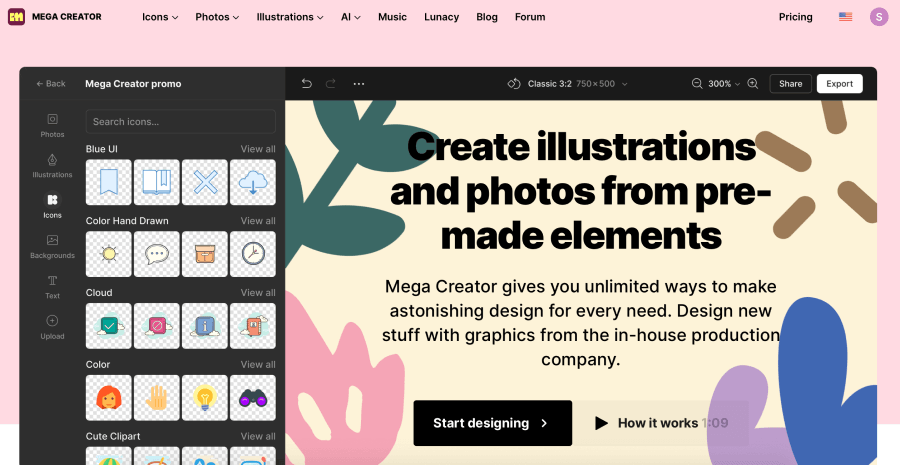 Mega Creator is a powerful vector editor because of its wide range of options and built-in stock resources. It makes it easy to create graphics for social media platforms and other websites by having customizable templates and the opportunity to design from scratch.
Mega Creator's templates library includes ideas for Instagram posts and stories, Facebook and Twitter covers, YouTube video covers, and Pinterest posts. You can upload your own image or buy Mega Creator's images and illustrations for $1. The best part about editors' stock photos is the opportunity to change the facial expressions or even the face of models.
Key Features:
Built-in stock photos, illustrations, and icons in high quality, which can be customized.
An opportunity to choose ready-to-use templates, as well as start from scratch.
Creating design online right from the web brewer
30. Depositphotos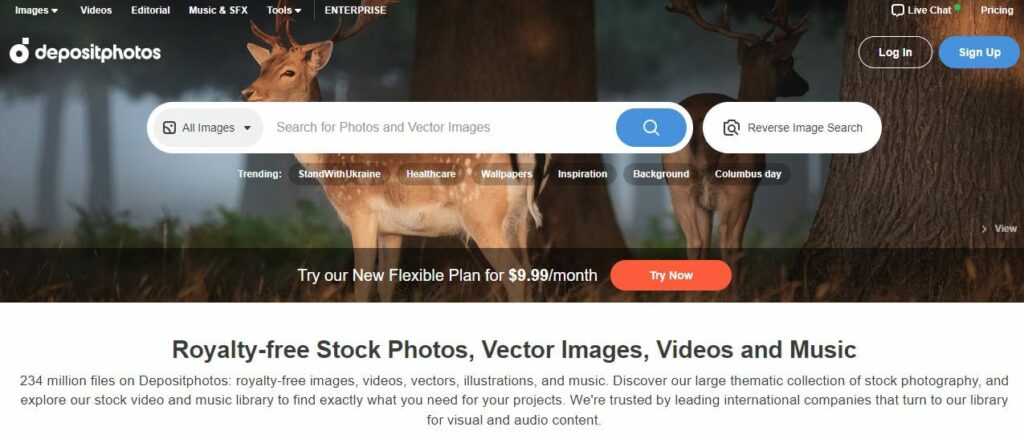 Depositphotos.com is a stock content platform that can help you create outstanding web and graphic designs. The library offers free and paid visuals featuring 230+ million high-quality photos, vectors, illustrations, music, and audio files.
The stock files are sorted into various categories and trendy collections by Depositphotos content curators, allowing you to browse images and videos without searching for hours. Download royalty-free audio and visual files for personal or commercial use, available through a Standard or Extended license on Depositphotos.
Key Features:
170K new files daily
High-quality images, videos, and clips in HD and 4K
Intuitive navigation and advanced search filters for finding files
AI-based upscaling and background removal tools for design professionals and enthusiasts
Website availability in 26 languages
70K+ free image and video files
Affordable subscription and on-demand plans

Vectornator is an all-in-one design platform for creating sophisticated illustrations and spectacular layout mockups. Vectornator has an intuitive interface, making it easy for any designer with any level of design skill to create impressive and professional designs.
If you're still unsure whether Vectornator is the right tool for you, why not try it out for yourself, this is a free design vector tool.
Key Features:
Vectornator is a vector-based tool helping users create and manipulate vector shapes easily. You can create these vector shapes by using a pen or shape tool.
This tool is easy to learn and use, all without sacrificing professionality or performance.
Vectornator's path guides allow users to work with typography, as they can convert any text into vector shapes, import custom fonts, and alter typography.
Users get to edit PDF documents by rewriting and editing text, changing images, and rotating pages.

Pixpa is an all-in-one platform for photographers and creatives to create beautiful, professional websites complete with a built-in online store, blog, and client galleries. Pixpa's versatile platform has everything you need to showcase your work, share ideas and sell your stuff online without any coding knowledge.
Build your professional website easily without touching a line of code with Pixpa's intuitive drag-and-drop builder. You can easily add stunning galleries, videos, forms, and pages to structure your website the way you want.
Choose from over 150+ stunning, pixel-perfect, mobile-friendly templates to fit every style and requirement. With a host of built-in tools such as an Online Store, Blog, SEO Manager, Marketing Pop-Ups, Announcement Bar, and much more, Pixpa offers you all the tools you need to start growing your business online.
Key Features
Easy to use, the no-code platform allows you to build a feature-rich professional website and store without touching a single line of code.
Wide range of professional, mobile-optimized, and responsive website templates.
Create a full-featured online store to sell products, services, or digital downloads. E-commerce tools include product and inventory management, shipping, taxes, and discount management, abandoned cart recovery tools, and more.
E-commerce galleries can be used to sell prints or digital downloads. Pixpa also has options for more traditional online stores..
Extensive and integrated SEO and marketing features including pop-ups and announcements.
Compatible with over 50+ third-party integrations.
Free SSL security on all websites.
24×7 customer support on all pricing tiers.
Conclusion:
Since this list is not conclusive, we know for a fact that there are tons of tools that are not mentioned here. If you have a personal favorite app that you'd like to share with web and graphic designers on the internet, or with companies offering graphic design services, go ahead and use the comments section below. You can also write to us at fwilson@ntaskmanager.com for anonymous tips.