Shifting to remote work requires some changes in the working environment. Remote work culture demands constant monitoring and real-time communication for efficient working.
Making sure that all the team members are working efficiently and there is no lag in the work progress are some of the things a manager has to take care of.
Remote work, although relatively new, has become the new norm. Upwork has predicted that the percentage of people working remotely is expected to rise to 73% by 2028. The numbers are evidence of the changing norms.
Maintaining a positive remote work culture in such changing circumstances is fundamental for the successful working of an organization.
A large portion of the population is adapting to the changing work culture. To keep up with the changing trends, project managers have to change their ways. They need more efficient tools to manage the work and promote a healthy remote work culture.
Managers need to arm themselves with the right tools to cater to the needs of remote work culture. Now, there are hundreds of these tools in the market claiming to offer a horde of different features guaranteed to improve your productivity and a healthy work-from-home culture.
We have narrowed down the best of the best tools amongst the variety of them available in the market. But, before we proceed to the focal point of this article, let us take a look at the benefits of remote culture.
Benefits Of Remote Culture
Remote company culture is equally beneficial for employees and the organization. Some of the most prominent benefits of remote culture include the following:
Gives employees the autonomy to exercise their freedom in the work
Remote company culture is inexpensive and helps save budget costs
It is an efficient way of saving time
Freedom to work from anywhere in the world
The remote work environment is quiet and peaceful
Has a positive impact on the health and happiness of employees
Helps in balancing work/life balance
Promote a comfortable remote work environment
More flexibility in working
Brings positivity to the remote work environment
Gets rid of office politics
Improves employee retention and satisfaction
Enhances productivity and efficiency
Improves communication between employees and employers
All in all, remote teamwork is more productive and efficient owing to the benefits it offers to the team members and leaders.
Coming back to the main point, let us review some of the best tools that promote a positive remote work culture.
Top 7 Tools For Efficient Remote Teamwork
Following are the top 7 tools for maintaining a positive remote work culture.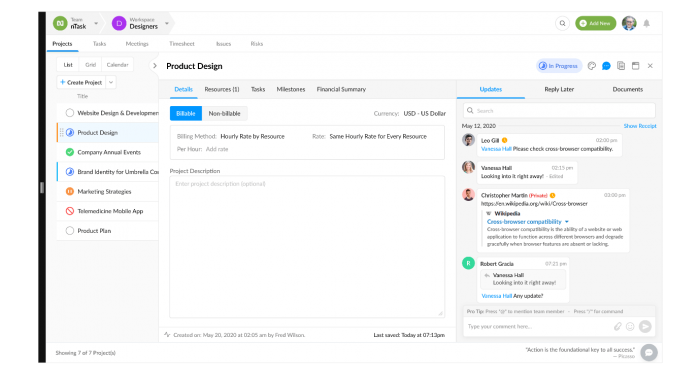 nTask is the best choice when it comes to remote work management. The software offers a variety of features that make remote work a walk in the park.
A user-friendly interface and an affordable price add to the charms of the remote work tool. The app is packed with the latest project management features, the use of which guarantees an increase in productivity and profitability statistics.
The major project management features offered by the application include:
We have compiled a list of some of the most baggable features of the app down below.
Key Features:
Time tracking and timesheet management to keep an eye on the progress of a project
Risk assessment matrix helps identify potential risks to optimize performance
Create tasks, assign them to relevant team members, and add task descriptions, deadlines, milestones, etc.
Schedule meetings with specific meeting agendas and discussion points
Allows you to share files
Set priority status for tasks
Customize statuses
Identify potential issues before they hinder the progress of the project
Exchange feedback, reviews, etc.
Communicate with team members via task comments
Keep everyone in the loop with visual metrics
Two-factor authentication to ensure foolproof safety and security of your data
Available on iOS and Android
Pricing:
Basic plan – available for free forever
Premium plan – $3 per user per month
Business plan – $8 per user per month
Enterprise plan – Custom pricing
Best Tool for Remote Team Collaboration.

Manage projects, tasks, teams, and collaboration all in one place. Sign up today!
2. Slack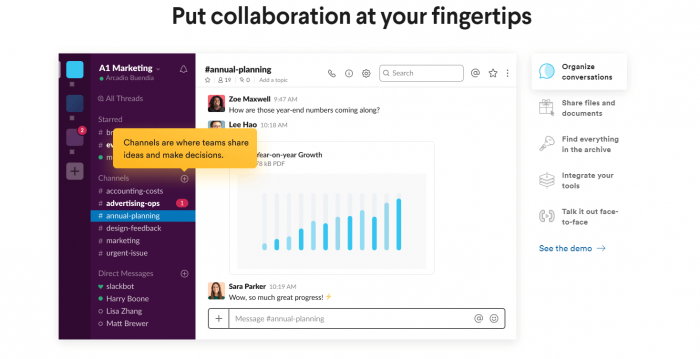 Slack is one of the most renowned collaboration tools, ideal for remote teamwork. Slack streamlines work with smooth and seamless internal communication.
The app helps teams communicate in real-time via direct messages, file attachments, live audio calls, video chats, etc. Slack makes remote work very easy by providing a platform for easy and quick communication.
An app is a reliable option for teams working remotely. With the help of this app, teams can collaborate efficiently and improve their productivity. It is "a place where people get work done, together".
Key Features:
Keep track of projects, teams, and topics in their dedicated channels
Searchable history makes it easy to find things
Allows you to share a single channel with vendors, partners, or clients to keep everyone in the loop
Communicate with other teams working in the company
Direct or group messages
Audio and video call features for real-time communication
Integrations with more than 2200 apps to streamline workflow
Automate recurring tasks
Easy file sharing (pictures, videos, PDFs, etc.)
Flawless security
Encryption keys to control access and visibility to your data
Pricing:
Free – $0 per month
Standard – $6.67 per month
Plus – $12.50 per month
Enterprise Grid – Contact Team Slack for custom pricing
3. Basecamp

Basecamp is our third pick in the list of best tools for work from home culture. Basecamp simplifies remote project management by keeping everything organized.
The tool is renowned for its friendly user interface. Moreover, it gives a comprehensive view of the projects and the progress of each of these projects.
The software allows you to efficiently manage your projects and seamlessly collaborate with team members. It offers a wide range of features, all of which help improve a team's productivity. It is your one-stop shop for all the things needed for the successful management of remote work.
Key Features:
Create to-do lists to create tasks, assign them to team members, set due dates, etc.
Use the message board to post important announcements, pitch ideas, progress updates, etc.
Set dates on a shared schedule to keep everything unified
Interactive Gantt charts
Share files, images, documents, etc.
Real-time chat with team members
Automate recurring questions
Stay on track with Basecamp exclusive-Hill charts
Collaborate with team members
Maintain work/life balance by pausing notifications whenever you want
Pricing:
Basecamp personal plan – available for free but offers limited features
Basecamp business plan – $99.99 per month
Find more apps like BaseCamp here:
The Top 16 Free Basecamp Alternatives To Use in 2022
4. Zoom

One of the factors that make remote work a bit of a hassle is the absence of one-on-one communication. Fortunately, with the help of Zoom, you can easily overcome this hurdle.
Zoom supports online video chats, webinars, conferences, etc., and helps keep everyone in the loop. It offers a bunch of useful features that make communication in work from home culture easy.
Zoom is an ideal solution for teams, organizations, individuals, etc. who want to stay connected and want to share the latest updates with their teammates. You can use Zoom to exchange direct messages, conduct audio/video calls, share screens, organize meetings, and hold events.
Moreover, the quality of Zoom's video and voice calls is far better than most of its competitors and it is really easy to use.
Key Features:
HD video and audio collaboration
Chat with your teams and streamline communications across the organization
Use Zoom Rooms and Workspaces to power up your conference rooms with video
Enterprise cloud phone system
Full-featured, easy-to-use, engaging video webinars
Third-party Integrations
APIs & SDKs to extend and enhance Zoom
Quickly search messages, files, and contacts
Pricing:
Basic plan – $0
Pro plan – $149.90 per year per license
Business plan – $199.90 per year per license
Zoom united business plan – $350 per year per license
5. Jira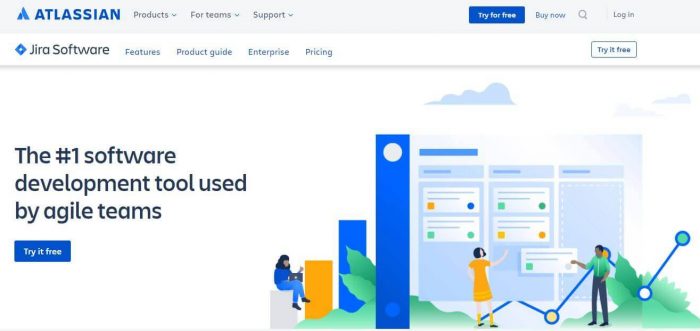 Jira is the first choice of agile teams. It is especially efficient when it comes to remote work culture. Its competent features are perfect for remote work.
It offers efficient bug tracking, and issue tracking and simplifies the app development process with its competent project management, making it one of the most favored tools for software development.
If you need some successful remote work culture ideas then you should sign-up to Jira.
Key Features:
Plan your project from start to end
Provides full visibility into the progress of your team
3000+ third-party apps
Customized programming language (Jira Query Language)
Visual metrics to enhance productivity
Streamline workflow with automation
Real-time reports with actionable insights to help improve the performance of the team
Jira software cloud helps you create and share your work roadmap
Customizable scrum boards
Pricing:
Free plan – $0 per user per month
Standard plan – $7 per user per month
Premium plan – $14 per user per month
Enterprise plan – custom pricing
Related:
Top 28 Jira Alternatives for Smarter Project Management in 2022
6. Teamwork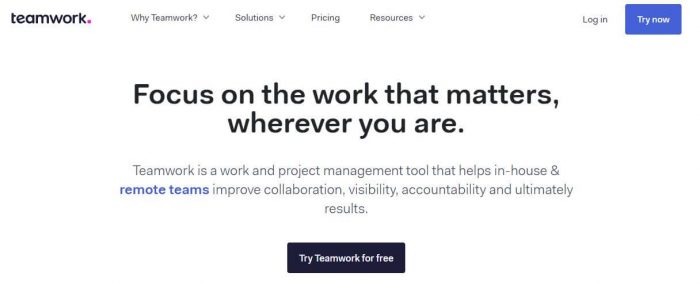 Teamwork is a work and project management software designed to cater to your management needs. The tool is easy to use and includes several important products that aid in improving work performance.
You can manage multiple complex projects with the app. You can also integrate the app with other apps to unify the workspace.
Teamwork will give you some of the best remote work culture ideas so that you can manage your team's performance efficiently.
Key Features:
Helps create tasks and projects, upload files, and add comments
Customizable workflow
Visualize workflow with Gantt charts or boards
Offers advanced features such as workload management, portfolio management, etc.
Dashboards, Board View, and project health status update you about the progress of a project
Use time tracking to keep an eye on the performance of your teammates
Helps optimize resources
Third-party integrations
Pricing:
Free forever – $0
Deliver – $10 per user per month
Grow – $18 per user per month
Enterprise – Contact Teamwork for pricing details
7. ConvertCalculator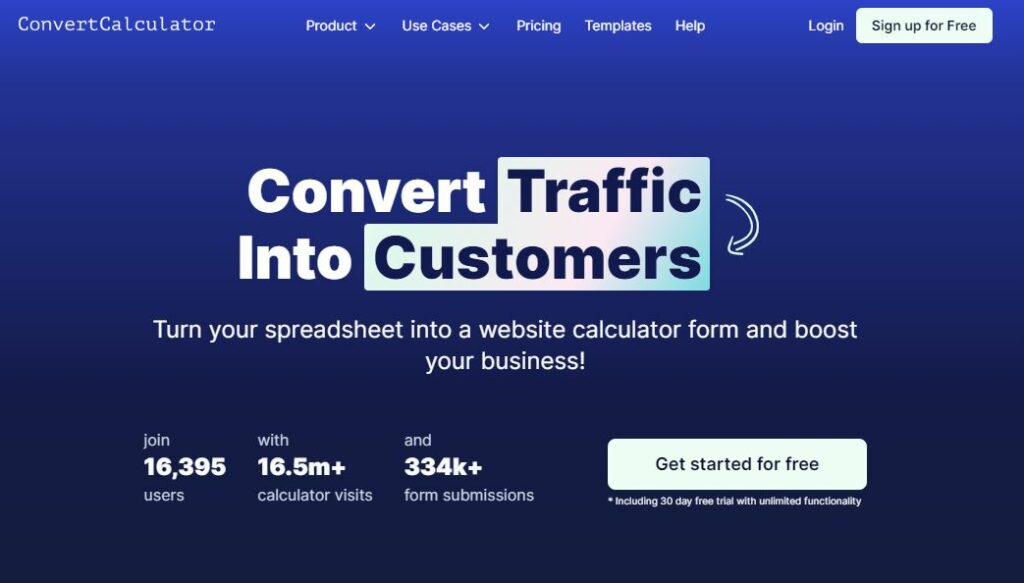 An important aspect of managing remote teams is tracking time. Online you can find various time-tracking solutions, but none is so flexible as the Timesheet calculator from ConvertCalculator.
 With this tool, you can build powerful calculator forms without code. Perfect for creating interactive content to engage with your employees. To get up and running, they supply many high-quality and fully customizable templates.

Key features:
Create interactive calculation forms
Supports all Excel-functions
Over 35 unique question, layout, element, and result types
Perfect for quoting, configuration, and utility forms
No-code drag and drop builder
Use conditional logic to show or hide questions
Fully responsive and available on any platform and website
Send your form data to 1000+ apps with custom integrations and with Zapier
Create multi-page forms
Pricing:
Free trial: get full access for 1 month for free
Free plan: for limited-size users
Hobby plan: $18 per month
Pro plan: $36 per month
Premium plan: $60 per month
Final Thoughts
Developing a positive work from home culture requires time. Your teammates will need some time to get used to the changes working environment. But once they are on board, you will see an improvement in their work efficiency.
The use of the above tools can relieve your tension by providing you with an efficient online platform. This platform will keep your team united and will enhance the overall productivity of your team.
It will take some getting-used-to, but you and your team will find your way through and will emerge victorious with a little help from these tools.
Best of luck!
---
More Readings: