This guide will highlight the Best To-Do List Apps for personal task management in 2022.
Each new day, a list of tasks awaits us. Some of them are more interesting than others. Nevertheless, the importance of completing these tasks is undisputed, especially if they build on a daily basis.
Normally what happens is that we are either able to complete a preset number of tasks on time or we fail miserably. Although the success rate depends on many factors, there is one common thing that is mostly seen in several use cases. That would be the use of to-do list apps.
There are so many of these so-called "best to-do list apps", that claim to make your life easier.
Although most of these apps stand up to the mark and can help to make things incredibly easy and organized, the criteria for their selection remains a puzzle.
We decided to do an extensive round-up of best do to list apps. The content is lengthy, no doubt, but you will be able to select a handful of applications eventually. Take a look below and see which to-do list app piques your curiosity…
Table of Contents
The Top 57 Best To-do List Apps of 2022:
Important Questions
Let's face it. Looking for the "one" in the to-do list app and productivity apps arena can be overwhelming so we have done the homework for you. Here is a list of our top 57 best to-do list apps you can use today absolutely free or with minimum pricing plans.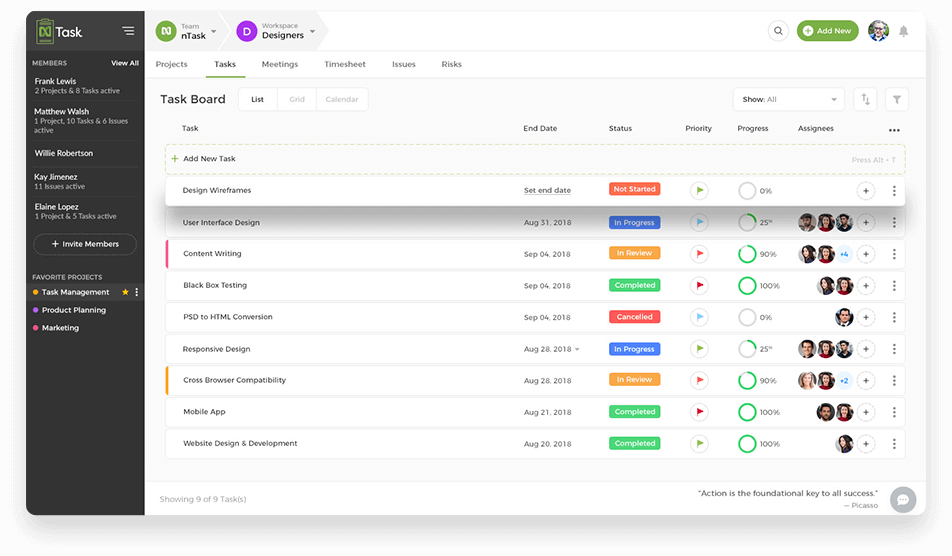 nTask comes first on our list of best to-do list apps. nTask is one of the best task management tools created for individuals and teams. With its simplified, user-friendly GUI letting you navigate a powerful set of features, nTask stands out of the crowd when it comes to helping with task completion.
You can create tasks and subtasks and schedule them as single-time, or recurring tasks. Through checklists, you can list down the things to be done. Moreover, you can create projects and associate multiple tasks under them. You can organize, prioritize tasks and monitor task status.
Options such as progress reports, timelines, and Gantt Charts let you keep projects on track. nTask helps you to save time with powerful search and filter options. You can search for tasks, projects, meetings, and do lots more. In addition, there are pre-saved filters to save time and effort on the end-users part.
This app also helps you stay in sync with updates and keeps you and your team on track through reminders and alerts.
Key Features
Out of its vast feature set nTask has to offer, here is a glimpse of some of its core features:
Create, assign, organize, prioritize and share tasks.
Schedule recurring meetings.
Create and schedule recurring tasks.
Manage tasks and to do lists with Kanban Boards.
Create and assign projects.
Comment on and assign tasks to projects or structure them independently.
Convert comments to tasks using Slack.
Select from multiple statuses for a task.
Alerts, notifications, and reminders to keep teams on track.
Two-Factor Authentication for extensive security.
A simple user interface with access to a wide range of modules.
Team-specific workspaces that can be managed and monitored simultaneously.
Extensive project management resources including project reports, Gantt charts, and project timelines to manage and monitor project progress.
A dedicated time tracking module with the option of creating and managing team-specific sections for employee task efforts and payroll.
A detailed meeting management module to help teams stay in sync. You can arrange and schedule meetings, be it one-time or recurring meetings. Plus, it lets you send invites to attendees, add meeting details and specify follow-up procedures.
Issue management module to facilitate the identification and listing of issues related to multiple tasks. You can list down the issue along with the Issue owner and relevant details to track issue maintenance.
Risk management module helps you identify and keep track of potential risks. You can list down the risk and assign a risk owner in order to track risk management.
Powerful search and filter tools that help you search for tasks, projects, meetings, issues, and risks. You can even save more frequently used filters.
Third-party integration with Zapier, Zoom, Google Calendar, Slack, and more.
iOS and Android mobile apps.
Pros
Comprehensive task management solution.
Timesheet management for time tracking.
Extensive meeting management module.
Free version available.
Set repeat tasks.
To-Do List progress bar.
Assign to-do lists to team members with due dates
Ability to add custom fields to any module
Cons
No desktop app is available for now.
Advanced reporting will be released soon.
Pricing
Free – Unlimited tasks, unlimited to-do lists, unlimited meetings, unlimited workspaces, timesheets, and more.
Premium – Starting at $3 per month to unlock Gantt Charts and Projects – Plus all of the advanced nTask features.
Business – Starting at $8 per month to unlock risk management, custom fields, risk matrix, and permissions.
2. Todoist
Todoist grew in popularity over the years and has evolved significantly encompassing more powerful features. You can create, organize and prioritize tasks, create subtasks and dependencies as well as create projects and subprojects.
You can label tasks, customize them through color codes, and add due dates to keep track of the tasks. A prominent feature that comes with Todoist is the AI-powered feature known as Smart Schedule.
Through Smart Schedule, the app suggests optimum dates for scheduling and rescheduling existing tasks.
Plus, with Todoist Karma, you get points for completing tasks, using advanced features, and meeting productivity goals on a weekly and monthly basis. You can monitor your progress through graphs with differently colored projects.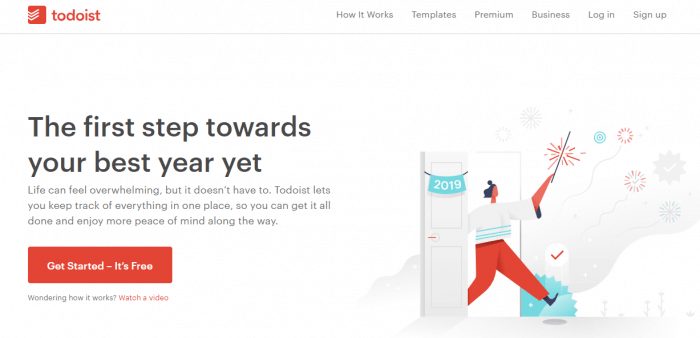 Download: iOS | Mac | Android | Windows | Desktop
Key Features
Todoist comes with some of the following notable features:
Task creation (single and recurring) and labeling.
Create tasks directly from your email inbox.
Task comments for providing timely feedback on important matters.
Set priority levels for your tasks to identify what needs to be done next.
Built-in library of project templates to instantly gear up for work.
Project sharing to brainstorm ideas and make smarter decisions.
Email notifications as well as SMS and email reminders.
Contact list integration to keep track of all your contacts and interactions.
Automatic backups to keep your data safe.
Real-time synchronization for creating a unified workflow.
Customizable filters to keep your concentration on critical things only.
User management to have more control over user access and permissions.
Productivity tracking through Karma points and streaks.
Sharing controls.
Open API.
Powerful third-party application integrations.
Pros
A vast library of project templates to get started.
Powerful third-party application integrations.
Free version available.
Cons
Built-in time tracking is missing.
No dedicated meeting management module.
Lacks advanced project tracking features.
Pricing
Free – for starters, up to 80 projects, and 5 people per project.
Premium – at $3 per month (billed annually), 300 projects, 25 people per project, reminders, etc.
Business – at $5 per user/month (billed annually), 500 projects, 50 people per project, team inbox, and much more.
3. Microsoft To-Do
Microsoft To-Do is another one of the best to-do list apps you can get your hands on. Developed by the team behind Wunderlist, Microsoft To-Do is cloud-based and integrates completely with Office 365. It lets you create tasks from scratch or even import tasks from other tools like Wunderlist and Outlook.
This is especially useful if you have to continue with pending tasks without having to rewrite the entire to do list again. You can customize task list presentations with themes and colors, organize and prioritize tasks, add notes, and set reminders to keep the tasks in check.
With the My Day list, you get easy access to the tasks due for the day. This eliminates any confusion and streamlines your activities.

Key Features
Some of the significant options Microsoft To-Do provides you with are:
Task management through to-do lists for the day.
Task reminders to avoid missing important details.
Daily task lists to get a heads up for what lies ahead in a day.
Task prioritization to define the level of urgency for getting things done.
Outlook tasks integration for managing tasks in one centralized location.
Data sync across devices, so you take your work wherever you go.
To-do suggestions, recommending your most important tasks of the day.
Multiple task lists for categorizing to-dos according to their purpose.
Due date tracking to stay ahead of deadlines.
List sharing to streamline communication and collaborate on ideas.
Custom task list themes & colors to match individual preferences.
Pros
Synchronization across multiple devices and platforms.
Simple user interfaces with a short learning curve.
It comes with Office 365 integration.
Free for everyone.
Cons
Lacks powerful task management features.
No recurring tasks management.
Needs improvements on the collaboration front.
Pricing
4. TeuxDeux
#4 on our list of the best to-do list apps is TeuxDeux (pronounced as "To Do"). Termed as the most beautiful to do list on the web, this to do list app allows you to have a visual idea of what's to be done. You can create a list of things to do and rearrange them on the calendar.
The tasks can be written down anywhere and can be later dragged and dropped into other lists. If there is a task you can't get done on a specific day, TeuxDeux automatically rolls it over to the next day's list. Furthermore, you can also schedule tasks as recurring daily.
Another interesting feature is that it supports Markdown. For those of you that are particular about text formats and presentation styles, this is a great tool to make lists and share them with others.
TeuxDeux supports sharing the app between up to 6 family members. Plus, your lists are yours to keep. This means you can download your to-do lists at any time.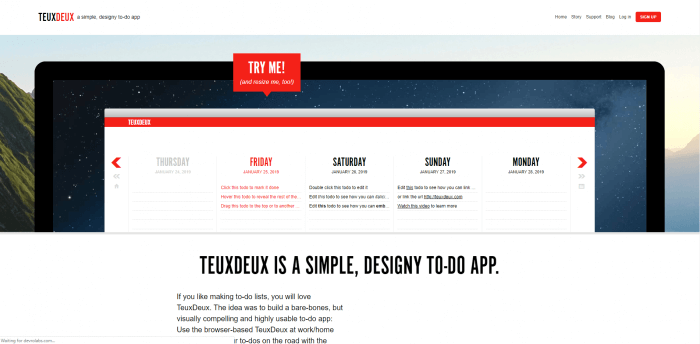 Key Features
Some of the features TeuxDeux has to offer include:
Creating custom to-do lists according to your needs.
Creating recurring tasks for repeating them at regular intervals.
Create tasks as links to resources.
Task switching between lists through easy drag and drop.
Automated task roll-over to the next day or any other day if missed.
Sync with the calendar to keep deadlines in check.
Support for text formatting with Markdown.
Sync on multiple devices to take your to-dos with you on the go.
Family sharing enabled (6 people).
Pros
A user-friendly interface makes the tool easy to use.
Text formatting toolset available.
Recurring to-dos management with task roll-over functionality.
Cons
No free version is available.
Built-in time tracking module not available.
Team collaboration features are limited.
Pricing
The tool comes with a free trial of 30 days and after that, the upgrade is available at $3 per month (paid monthly) or $2 per month (paid annually).
5. Any.do
Any.do is one of the easiest applications to create and manage your to-dos. It consists of simple tasks and subtasks folders which help in the quick creation and checking off of tasks when done. The application comes with an easy drag-and-drop option for files.
An interesting feature of the application is the voice-entry one. If you dread typing long to-do lists and prefer speaking, this application is meant for you. Any.do lets you create a to-do list of tasks by speaking into your smartphone and then creates your tasks for you, just like a virtual personal assistant.
The simple UI/UX design of the application makes it extremely easy to understand and aids the user in quickly grasping the functionality.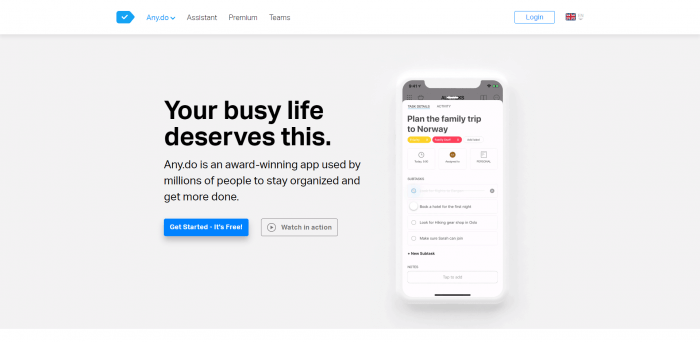 Download: iOS | Android | Desktop | Amazon Alexa | Chrome Extension
Key Features
Simple interface for creating lists and associating tasks.
Adding new tasks through voice commands (Siri, Google Assistant).
Division of tasks according to the timeline.
Easy sharing of lists with other people.
Deadlines and reminders for keeping track of tasks.
Do a moment to focus only on today's tasks.
Colors for organizing and prioritizing tasks.
Recurring tasks management for regularly repeating tasks.
Unlimited file attachments to give more context to discussions.
Notes within tasks in case of additional information.
Customized themes to match preferences.
Pros
Recurring tasks management.
Multiple task organizing features.
Built-in Calendar app for syncing tasks.
Cons
Many of the critical features are available only with the Premium plan.
Does not include advanced reporting functionality.
Pricing
Free – basic to-do list management features.
Premium – at $2.99 per month – all the Any.do features.
6. ToodleDo
Another best to-do list application that made to our list is Toodledo. This application focuses heavily on task management and lets you organize your to-dos in the most simple and easiest way. Under each task, you can add multiple sub-tasks, notes, and priority levels, along with other basic information.
In addition to the lists, Toodledo helps in managing tasks by creating an outline. All your tasks and subtasks are displayed in the form of an outline consisting of further sections to assist you in keeping your focus on important things and give you an overall view of your tasks.
Although it's primarily for task management, there are other rather interesting features available too. One of them is the tracking of habits. You can log multiple habits at one time and monitor the dos and don'ts to improve your daily routine. Habits come with a calendar, so you can track your progress in days.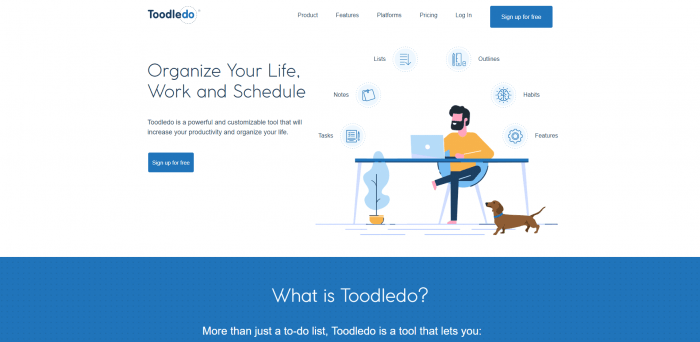 Download: Android | iOS | Desktop
Key Features
Tasks and subtasks management, along with sorting filters.
Public and private sharing of lists to define accessibility.
Recurring tasks to manage tasks repeating at regular intervals.
Quick notes to write down ideas and put them in relevant folders.
Habits tracking and monitoring through graphs and charts.
Notes within tasks for including additional information.
Scheduler for time management.
Reminders based on the current location.
Time tracking of tasks.
Integration with third-party applications.
Customized tags for organizing tasks and easy retrieval whenever required.
iOS, Android, and web compatibility.
Pros
Elaborate tasks management, along with habit tracking.
A good fit for GTD followers.
Built-in time tracker.
Cross-platform support.
Cons
Advanced features are available with paid plans.
No dedicated issues management module.
Collaboration features are only available for paid users.
Pricing
Free – basic version, unlimited tasks, task notes, recurring tasks, etc.
Standard – at $2.99 per month – subtasks, graphs, integrations, etc.
Plus – at $4.99 per month – everything in Standard plus scheduler, priority support and more.
Business – custom plan with custom features.
7. Habitica
This application is for the gamer inside each one of us. Habitica offers something completely different for the users. The application converts your daily to-dos into a role-playing game, at the end of which you can earn rewards (exciting, no?).
This fun take on task management compels you to complete the tasks on time and motivates you to achieve more to level up your character.
You can create your personalized character, unlock rewards, buy armor, and at the same time, complete your to-dos. On the flip side, if you miss your deadlines or fail to tick tasks off, your health will deteriorate and your character will lose progress.
Habitica might not be the right choice for you if you're not a big fan of games and are looking for a powerful, serious task management tool.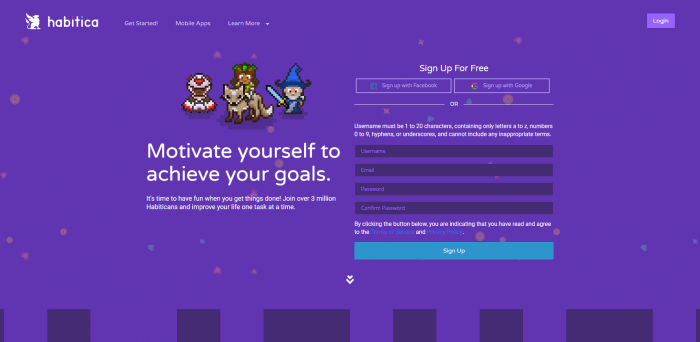 Download: iOS | Android | Desktop
Key Features
Division of to-dos according to tags for quick access.
Rewards for completing tasks.
Personalized avatars to give.
Levels for tracking progress and moving forward.
Filtering of tasks according to tags.
Task reminders to stay in the loop with updates.
Inventory for the characters to choose from according to your liking.
Online chat, and customized challenges to compete with other players.
Task filtering according to due dates for deadline management.
Positive and negative checking off of tasks for monitoring progress.
Pros
Task management while having fun at the same time.
Simple, but interesting user interface.
The competition-driven approach gives the motivation to complete the tasks.
Free for users.
Cons
Offers fewer features for elaborate task management.
Some additional features unlock after reaching certain levels.
No native time tracking is available.
Pricing
8. TickTick
Generally, TickTick offers more or less the same kind of basic features other competitors in the market are coming up with. The application supports multiple parameters like lists, tasks and subtasks, priority levels, and tags.
Coming with a neat interface, the platform makes the management of tasks clutter-free and organized. Like all other tools, you can add tasks, subtasks, set deadlines and reminders, and share them with other people. Recurring tasks can also be added and repetition can be set according to your requirements.
The tool provides smart reminders for your tasks according to due dates and time information. If you have a bad habit of snoozing through your to-dos, you can also set annoying alerts to set multiple reminders with one task.
TickTick also comes with multiple task sorting filters and tags to help you organize your tasks in a better way and make your priorities clear. Furthermore, the Pomodoro timer allows you to stay focused during your work and achieve better results.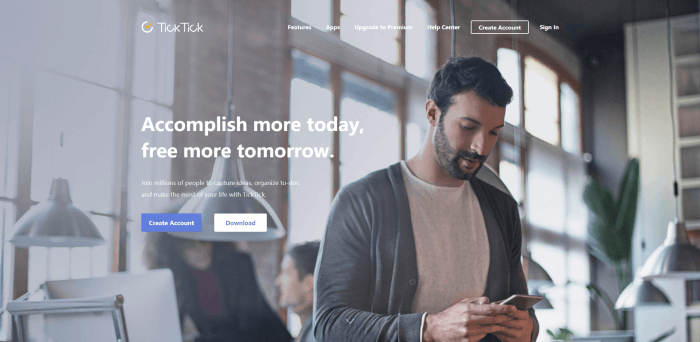 Download: iOS | Mac | Android | Windows | Web | Chrome Extension
Key Features
Customized to-do lists, plus voice commands for quick addition.
Smart reminders and alerts for due tasks.
Calendar view to keep an eye on all upcoming tasks.
Drag and drop tasks in the calendar to set the due date.
Sharing of lists with collaborators.
Priority level and tags with tasks for classification.
Personalized themes according to personal choices.
Time tracking, with achievement scores when completing tasks.
Advanced project statistics and workflow summary to monitor progress.
Backup of data to store and retrieve it whenever needed.
Pros
Smart task management module.
Native time tracking, alongside Pomodoro timer.
User-friendly interface, with easy drag and drop.
Free version available.
Cons
Advanced functionalities, such as a full calendar view, are only available with the paid version.
Cannot integrate TickTick with other task management apps to streamline workflow.
Pricing
Free – all the core functionalities of the tool.
Premium – at $27.99 annual plan, customized themes, calendar view, historical statistics, and more.
9. Google Keep
Next on our list for the best to-do list apps is Google Keep. It may not be best for you, because in contrast with other to-do applications, Google Keep doesn't have a robust set of features and it lacks advanced functionality, but if you're someone who likes to create simple to-do lists on the go, this could be the right application for you.
Google Keep is primarily used for making quick lists that can be accessed from any device. Essentially, it is a simple note-taking platform, where you can write all the important to-dos, save pictures and voice notes, and tick off the tasks after they're done. The application is basically connected to Google Drive which makes syncing with multiple devices easy.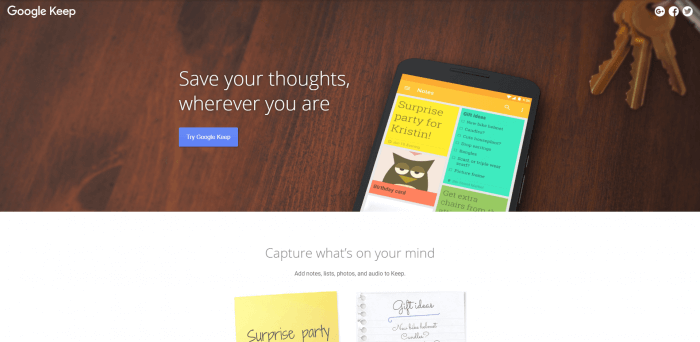 Key Features
Quick and easy addition of tasks.
Reminders with each task to never miss any details.
Sharing of lists with collaborators to discuss ideas.
Notes archiving to keep your focus on important things only.
Transcribe text from the uploaded images.
Grid and list view of notes to fit your preference.
Customized labels for organizing and recovering notes.
Pin important notes to keep them on top.
Audio notes for recording ideas if you don't want to type.
Pros
Simple to-do list management.
User-friendly interface.
Voice command support.
A free tool.
Cons
Too simplistic for advanced task management.
No time tracking with tasks.
No built-in calendar view.
Pricing
Google Keep is free for all. However, you should check their webpage for updated information.
Unlimited workspaces and to-do lists

What's better than a smart to-do list app? Get a lot of free features. Sign up for nTask today.
10. Evernote
Next up in this collection of best to-do list apps is Evernote. Evernote is a comprehensive online notepad tool that is further equipped with task management features, making organizing personal as well as professional tasks easy for the user.
Apart from this, Evernote also enables users to save any webpage or online information that they like via the web clipping tool which directly adds them to their Evernote account.
In addition, Evernote allows teams to collaborate on projects and manage meetings through shared workspaces and integrations with third-party applications like Slack.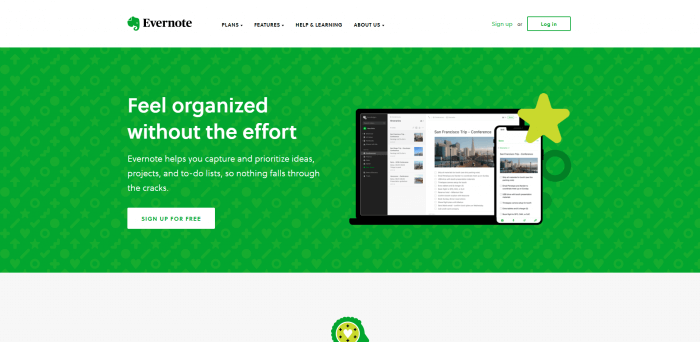 Download: iOS | Android | Windows
Key Features
Projects and tasks management.
Built-in notes templates for quickly getting to work.
Offline access to notes to never miss any details.
Drag and drop interface for instantly making updates.
Workspaces for multiple teams working on multiple projects.
Web Clipper to save any content from the web.
Document scanner to always keep important documents with you.
Multiple language recognition.
Integration with Slack to stay connected with your team.
Synchronization with an email to directly add tasks from email.
Documents attachment with notes.
Advanced search filters.
Pros
Comprehensive task management features.
Multiple third-party application integrations.
Free version available.
Cons
It can seem overwhelming for starters.
The free version comes with basic to-do list management.
Pricing
Basic – free for basic note-taking, list sharing, and a few other features.
Premium – at $7.99 per month, advanced task management, advanced search filters, tags, and more.
Business – $14.99 per user/month, all the Evernote features.
11. OmniFocus
#11 in this roundup of the best to-do list apps is OmniFocus. It is a powerful to-do list and task management application specifically designed for Mac computers and iOS mobile devices.
A highly customizable tool with color-coded labels for all the tasks which makes organizing clean and hassle-free. For processing all the tasks in a proper workflow manner, OmniFocus provides customizable tags, which further makes tracking and monitoring of tasks efficiently.
This to-do list app is a perfect fit for individuals following the GTD approach as it comes with a dedicated toolset to help you get things done faster. Add actions, categorize them through tags, and then use perspectives to plan the next big thing in your schedule.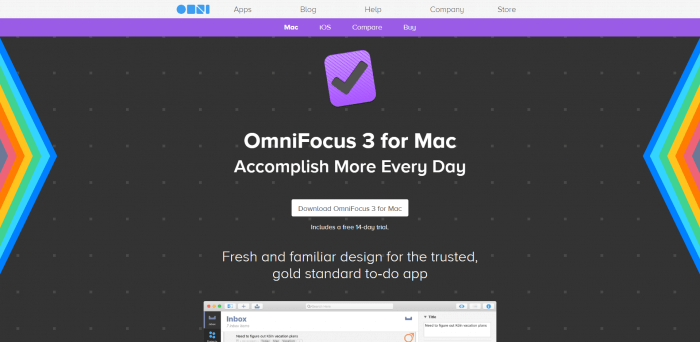 Key Features
Projects and tasks control.
Personalized task labels to organize them according to context.
Perspectives to keep your focus on specific tasks only.
Custom views to display only the relevant tasks.
Forecast for future tasks on the basis of the order of your actions.
Project and action reviews to monitor progress over time.
Notification reminders to never miss a detail.
Calendar integration to stay in the loop with the deadline.
Customized tags for adding context to the tasks.
Light and dark modes.
Batch editing for multiple items.
Pros
Beautiful user-interface.
Powerful GTD features.
Easy syncing across devices.
Cons
Only for iOS and Mac users.
Too complicated for starters.
Is costly compared with other to-do list apps.
Pricing
Omnifocus comes with two different pricing models for Mac and iOS.
For iOS:
Pro – $74.99.
Standard – $49.99.
For Mac:
Pro – $99.99.
Standard – $49.99.
12. Remember The Milk
Another application to make it to our roundup of best to-do list apps is Remember The Milk. One of the oldest to-do list applications out there, Remember The Milk is a fairly simple tool that lets the user add tasks, organize them according to priorities, and check off from the list once done.
The application makes tracking of due tasks easy through the smart lists feature which highlights the most important tasks so that you never miss a deadline. The tool comes with a powerful task and subtasks functionality that breaks down your tasks to the most basic level, making them more manageable and easily trackable.
You can also share your task lists with any of your friends or colleagues and assign them tasks to get things done faster.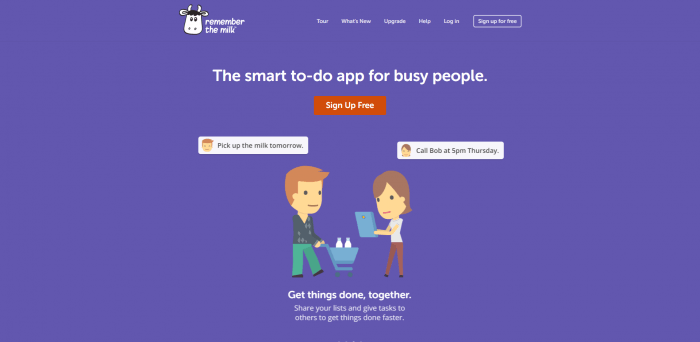 Download: Web | Windows | iOS | Mac | Android | Linux
Key Features
Tasks and subtasks management, plus tasks assigning.
Smart lists according to distinct criteria to keep track of due tasks.
Customized tags for organizing tasks according to particular categories.
Easy sharing of lists to get things done together.
File attachments and search filters.
Multiple third-party application integrations.
Customized themes, along with offline access.
Synchronization with Microsoft Outlook.
Pros
Quick to-do list management.
Clutter-free, user-friendly interface.
Powerful third-party application integrations.
Cons
No location-based reminders.
Basic task management.
No advanced team collaboration features.
Pricing
Basic – free for basic tasks management, integrations, reminders, and a few other features.
Pro – at $39.99 per year, all the tool's features, along with unlimited list sharing.
13. ClickUp
ClickUp is an all-in-one productivity platform that offers online note-taking and to-do list features, as well as over a hundred customizable features so that you can create a list that is perfect for every need.
Easily create tasks with clear, multi-functional to-do lists, set up a checklist within a comment in a task, jot down a longer, more complex to-do list in ClickUp Docs, or make quick to-do lists on the ClickUp's Notepad feature.
Wherever you choose to store your to-do list in ClickUp, ClickUp will keep it saved and accessible for when you're ready to cross things off your list—and with the mobile app, you can take your to-do list with you wherever you go.
Need to add more details to your checklist? Simply link to-do items with assignees or tasks to transform lists into actionable workflows, and spice things up a bit by adding your creative flair by formatting, changing font colors, and adding highlights to your texts to make your important notes clear and visible.
For more complex to-do lists, use customizable views such as List, Board, and Home view to see all your tasks for the day, week, and so on, and add important details to your tasks by adding custom fields, tags, due dates, and priority flags to keep them top of mind and ensure nothing falls through the cracks.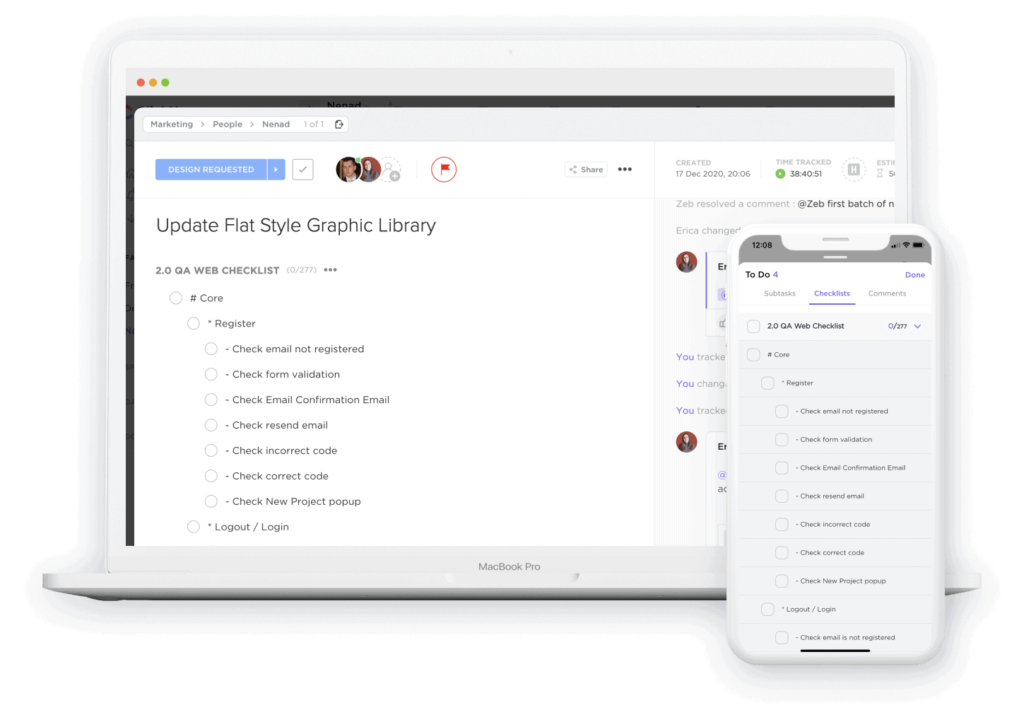 Download: iOS | Android | Desktop- Mac, Windows, Linux |
Key features
ClickUp comes with hundreds of advanced features to help create seamless workflows, including:
Note-taking and brainstorming features—ClickUp Docs, Whiteboards, Mind Maps
15+ customizable views
Subtasks and nested checklists
Drag and drop functionality
Search and filtering abilities
Custom fields, statuses, and tags
Rich-editing
Global time tracking
Real-time Dashboard analytics
Workflow automation
Customizable templates
1,000+ integrations
Mobile app
Pros
Fully customizable platform to adapt to any project and business needs, and personal workflow preferences
Affordable pricing plans and a free plan is available
24/7 customer support
Cons
Learning curve due to amount of available features
Not all views are available on the mobile app, yet
Pricing
Free Forever- Free
Unlimited-$5/user/month
Business- $9/user/month
Business Plus- $19/user/month
Enterprise- Contact Sales for pricing
14. Things
If you're not looking for a complicated, feature-loaded to-do list application, Things might be the right choice for you. Built around task management features, this application lets you organize and execute all your to-dos in a simple, yet effective way.
With a new and updated version, Things has tried to infuse a whole new set of amendments into its design, features, and overall look.
The easy drag and drop interface of the tool allows you to quickly rearrange your to-dos according to your priorities. Use headings functionality to create categories of your tasks and give more structure to what you need to do next.
Furthermore, add time-based reminders to your tasks through the click, type, or speak function to never miss a critical deadline.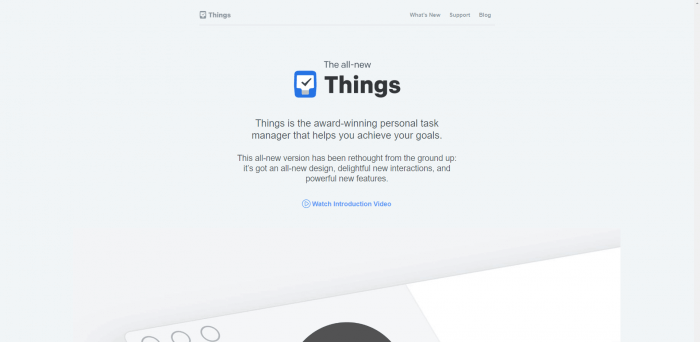 Key Features
Tasks and checklists management.
Customized tags for arranging to-dos according to categories.
Start and end dates of tasks.
Calendar view to keep the deadlines in check.
Upcoming tasks list for getting a heads up.
Drag and drop for quick addition and prioritization of tasks.
Custom headings for dividing tasks into categories.
Single tap to-do creation.
Advanced search filters and reminder notifications.
Slim mode for focused tasks only.
Pie charts for monitoring progress over time.
Pros
Effective task sorting filters.
Elaborate task management.
Easy to understand user interface.
Cons
Only Mac and iOS are compatible.
No time tracking with tasks.
No free version.
Pricing
Things come with 3 plans:
Things for Mac: $49.99.
For iPhone & Watch: $9.99.
Things for iPad: $19.99.
All plans come with 15 days free trial.
15. Google Tasks for Android
A Google-backed task management application for your Android device which fully integrates with all Google applications, Google Tasks ranks #15 in our list of best to-do list apps.
Google Tasks lets you add and manage tasks directly from your Gmail, without any need of opening a new window. The tool takes a crisp take on traditional to-do list apps by providing a simple UI design that makes task management quick and easy.
The tool might not be a good solution for you if you're looking for comprehensive to-do list management. But, if creating and managing to-do lists on the go is your forte, look no further.
Like many other to-do list apps, Google Tasks also comes with easy drag and drop functionality to help you prioritize your to-dos and make quick changes whenever required.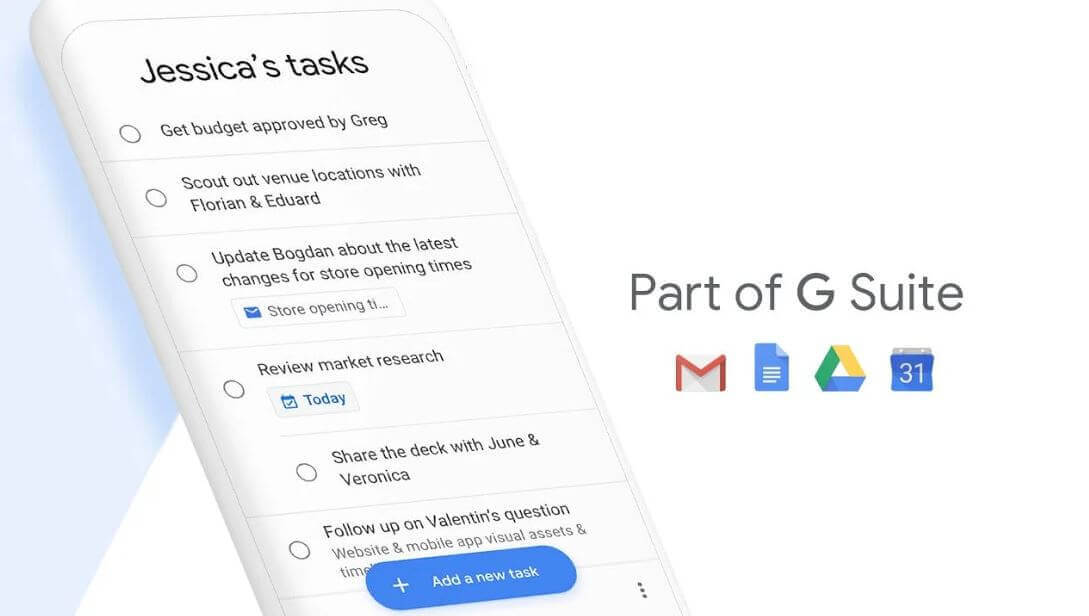 Key Features
Easy tasks and subtasks management.
Multiple task lists for managing different to-dos.
Due dates and priority setting.
Synchronization with Gmail and Google Calendar.
Drag and drop options for arranging tasks according to priority.
Additional notes on tasks in case of further information adding.
Tasks sorting filters to retrieve what's needed.
Pros
Super useful for basic to-do list management.
Completely free tool.
Minimalistic user-interface.
Cons
Not suitable for advanced task management.
No time tracking abilities.
Team collaboration features missing.
Pricing
16. Eisenhower
Eisenhower is one of a kind tool that helps you prioritize tasks through a matrix. Much similar to the SWOT matrix, there are four quadrants of sheets. These comprise:
Do First (urgent & important).
Delegate (urgent, but less important).
Schedule (less urgent, but important).
Don't do (neither urgent nor important) – it's honest too!
Through such clear and smart categorization of tasks, one can rarely get off track. You can set multiple task statuses and even reposition the tasks. By setting tasks as Focus Mode, you can focus on one task for 30 minutes without interruptions.
These are just some of the noteworthy features. See the Key Features and Pricing section to know why this is one of the best to-do list apps.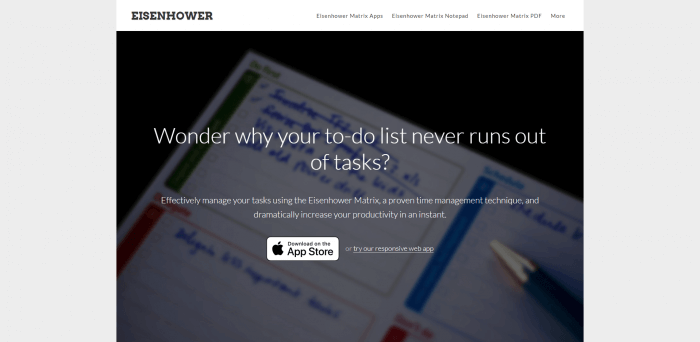 Key Features
Eisenhower helps you meet your goals through the following features:
To-do sheets.
Eisenhower Matrix of four quadrants for prioritizing tasks.
Task Counter on each to-do sheet to manage workload.
Focus Mode timer for helping focus on urgent and important tasks.
Reposition tasks depending on priority to other quadrants.
The delegation of tasks to other people through email triggers.
Cloud sync to keep lists synchronized.
Mobile app for iOS.
Pros
Smart categorization of to-dos.
Easy moving of tasks in respective quadrants.
Multi-language support.
Cons
Time tracking missing.
No Android app.
Pricing
Eisenhower offers the following plans:
Free web app.
iPhone app at $2.99.
17. Bear
Looking at the interface of Bear, one has to admit it is a beautifully designed tool. When you dig deeper, you realize that the pretty interface is just the tip of the iceberg. Bear encompasses a multitude of brilliant features, especially for those who like to get things done in one go.
With this app, you can write almost entire articles in notes with appropriate formatting and styling. You even get to set word count! How cool is that? In the end, you have an option to convert the notes to Word or PDF. Can it get simpler and swifter than that?
Plus, you get to personalize your app through different themes. With all these and more features, Bear is definitely worth a try.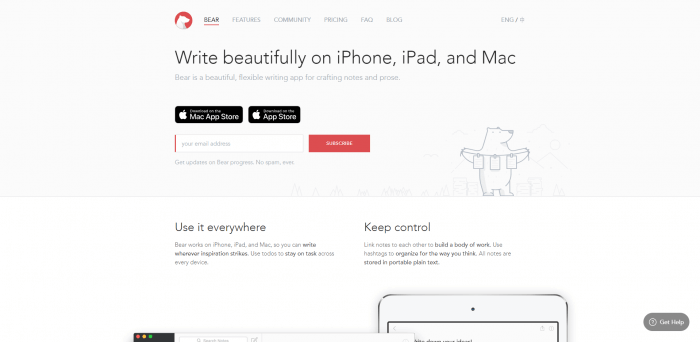 Key Features
Use Bear as follows to boost your productivity today:
Create lists with text, images, and more.
Multiple text formatting options and styling.
Intellisense for error-free writing.
Create links within lists.
In-line support for images and photos.
Hashtags to quickly find and organize notes.
Focus mode to help concentrate.
Multiple themes and typography.
Set word counts and reading times.
Convert writing into PDF and Word docs.
Multiple export options include HTML, PDF, DOCX, MD, JPG, and more.
One-tap formatting on iPhone and iPad with a custom shortcut bar.
Mobile app for iOS.
Pros
Beautiful user-interface.
Notes linking functionality.
Advanced markup options.
Cons
Only iOS and Mac compatible.
Very limited features in the basic version.
It can seem clunky for first-time users.
Pricing
Invest in this one of the best to-do list apps through one of the following plans:
$1.49 monthly (one-week free trial).
$14.99 annually (one-month free trial).
18. Keep and Share
Keep and Share is one of the best to-do list apps due to its extensive and practical feature collection. It allows you to plan your day on the calendar through text, images, and files. Write your notes directly or upload them and share them with friends and family.
You can even filter out your tasks through multiple statuses. Plus, you get to embed these files on your website, which you can set as downloadable. A great feature is selective sharing so not everyone gets to know about your plans.
You can have discussions as well as send group messages through a single button. All this and a lot more can be done via the Keep and Share calendar. Plus, it's free!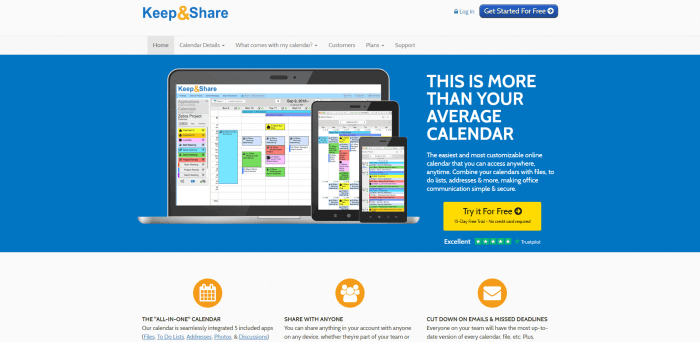 Key Features
Keep and Share equips you with the following features:
Overlay To-Do Lists on your calendar (including shared lists).
Manage tasks through creation, assigning start and due dates, checking off tasks directly from the calendar, and organizing and prioritizing tasks.
Filter tasks in your calendar by their status: Current, Future, Overdue, and "Assigned to me".
Send a daily copy of your To-Do List to yourself and others.
Add files and documents to your calendar and events.
Allow download of files from your website, newsletters, and more.
One comments section.
Directly write documents in Keep and Share's word processor, and share them.
Upload and share any type of file including Excel, Word, and PDFs through selective sharing.
Embed your files on websites.
Create discussions online with full word-processing features.
Get email and text message notifications for updates.
Add photos, screenshots, and color-coding to your discussion topics.
Use "Send Message" to send direct messages to group members.
Add photos to the calendar/events and share them.
Upload photos from off-site and access them online instantly.
It allows multiple people to contribute photos to one library or album.
Create personalized tags to group and identify photos.
Mobile apps for iOS and Android.
Pros
Extensive calendar management features.
Easy sharing of the personal calendar.
Recurring events management.
A lifetime free version is available.
Cons
No dedicated subtask management.
Time tracking is missing.
No issue/bug tracking capability.
Pricing
Keep and Share brings you the following plans:
Basic, free for a lifetime.
Solo at $9 per month.
Team with 5 plans ranging from $19 per month to $149 per month.
19. Casual
Primarily a project management tool with useful task management functions, Casual comprises features similar to that of a to-do list app. Instead of burdening you with complex features and heavy modules, Casual makes work casual and efficient.
How? with the help of visual representations – from ideation to planning. Draw tasks to be done, along with their dependent tasks in easy and effective flowcharts.
The flowcharts help you improve and steer your tasks along the way as required. Plus, you can use created tasks and snippets of existing flowcharts to create new lists.
For working in teams, each member gets notifications about the task assigned to them. At a very affordable price range, you can practically use Casual personally and professionally.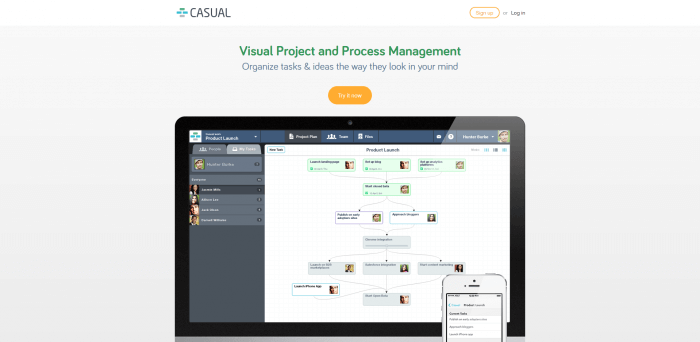 Key Features
Managing tasks through creation, assignment, prioritization, and viewing through lists and flowcharts.
Managing project workflows via re-usable project creation, milestones, sub-processes, timelines, charts, and visual project summary.
Team notifications to stay in touch with updates.
Team management and collaboration through messaging and file sharing.
Automatic backup and SSL security.
Summary reports getting a quick glance at project performance.
Pros
The visual organization of tasks.
Free project templates and samples.
Simple and intuitive user interface.
Cons
Might not be suitable for complex projects.
No free version, only a free trial available.
Mobile apps are not available.
Pricing
Casual offers the following plans:
Free trial.
Personal at $7 per month.
The group at $21 per month.
The team at $35 per month.
Department at $70 per month.
Enterprise at $133 per month.
Unlimited tasks, workspaces and to-do lists

Add as many team members for free. Many cool features inside. Sign up for nTask today.
20. Antnotes
If you have a knack for colorful and fun sticky notes, you will really enjoy this to-do list app. More of a personal assistant than a take-full-control app, Antnotes notes are useful especially for reminders and staying productive.
Choose from multiple colors, sizes, translucency options, and more to create notes that keep you updated without unnecessary distraction. Rich text editing lets you emphasize important elements. You can also add text and images to existing notes.
Accidentally closed a note? No problem. By default, Antnotes does not delete closed notes. Instead, you can easily search and archive notes. Also, you don't need to be bound to Cloud to use this app. Just download the app and store your information on your device.
A big plus – it is shareable so you can work with up to six family members for joint events related to to-do lists.

Download: iOS
Key Features
Use Antnotes as follows to keep productive:
Customizable, on-screen sticky notes that can be rolled up to minimize space.
Note options include size, placement on screen, background color, text font and color, translucency, or pinning.
Standard rich text editing features include bold, italic, and underline.
Option to insert images and links.
Option to drag text and files to the note.
A search feature to quickly find a note.
Notes archive for active and closed notes.
Option to glue a note to the application so it is displayed when the application is activated.
Family Sharing is set up for up to six family members.
No cloud-based binding.
Pros
Highly customizable options for notes.
Rich text editing capabilities.
Easy drag and drop for file attachments.
Cons
Elaborate task management features are not available.
No time tracking.
No calendar view.
Mobile apps are not available.
Pricing
Free – basic note-taking features.
Paid – at $2.99, greater customization options, background color selection, and more.
21. Notion
Notion provides an all-in-one platform for managing your daily to-dos, as well as keeping a record of your important documents. No need to switch between multiple applications to keep track of things.
This best to-do list app provides a flexible interface for creating to-do lists, taking notes, and managing data in the form of spreadsheets and databases. In this way, Notion provides multiple ways to connect with your data.
The application comes with built-in templates for you to use and design an outline. This outline brings clarity to the workflow and helps team members understand the project requirements in a better way.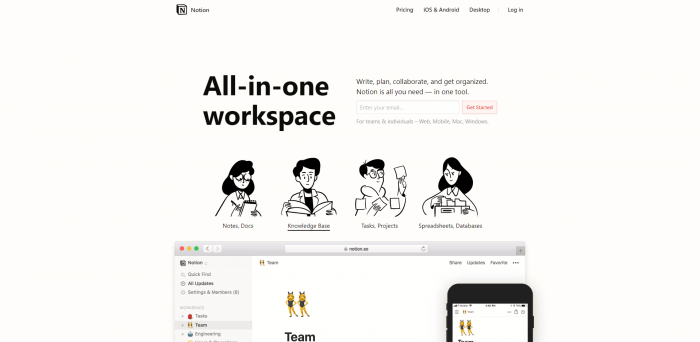 Download: Windows | iOS | Mac | Android
Key Features
Drag and drop functionality for easy rearranging of items.
Customizable dashboard which lets you view things you want to see.
Tasks and Project management through Kanban boards.
Calendar and list views of tasks.
Spreadsheets to keep a record of workflows.
Slash commands as shortcuts for instantly accessing features.
Offline access, along with sync with other devices.
Third-party application integrations.
Pros
Easy checklists management.
Flexible task management through Kanban boards.
Cross-platform support is available.
Free version availability.
Cons
Limited features are available with the free version.
No native time tracking module is available.
No real-time chat functionality is available for team communication.
Pricing
Free – unlimited members, 1000 block storage, 5MB file upload limit.
Personal – at $4 per month, one member, unlimited block storage, advanced permissions.
Team – $8 per member/month, unlimited members, priority support, and more.
Enterprise – at $16 per member/month, all team features, dedicated account manager, and more.
22. Checklist
If you don't want the hassle of complicated features and add-ons to manage your to-dos, this might be the best to-do list app for you. Checklist works on the basic principle of creating a checklist, associating tasks and subtasks, and setting reminders to keep track of progress.
The application provides the flexibility of creating unlimited checklists and sharing with anyone to increase overall productivity. It's an easy-to-use application that helps the user quickly get the hang of it.
When you launch the application, you don't need to go through the trouble of creating a checklist from scratch. There's a huge built-in library of templates that you can choose from according to your needs. In addition to that, you can conveniently share your checklists with your friends, family, or colleagues to collaborate on what needs to be done.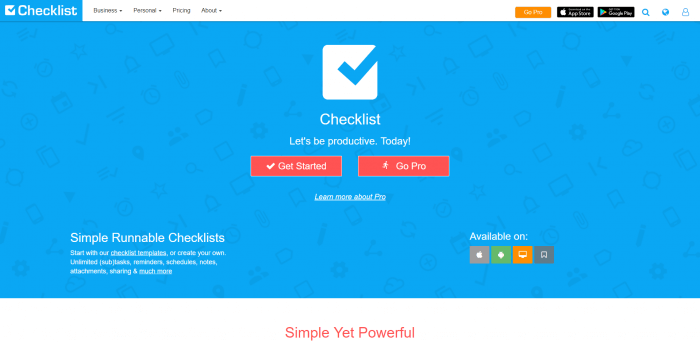 Key Features
Built-in templates for saving time.
Tasks and subtasks management.
Tasks assignment to team members for defining accountability.
Unlimited checklists, along with unlimited tasks and levels.
Notes and file attachments with tasks.
Due dates and reminders to highlight the underlying tasks.
Checklists exported to other tools for improving workflow.
Recurring schedules for managing the regularly repeating tasks.
Checklists sharing to discuss the underlying tasks.
Dashboard to sneak peek at key performance indicators.
Smart lists for keeping track of important things.
Pros
An array of built-in templates.
Smart checklists management features.
Comprehensive features in the free version.
Cross-platform support is available.
Cons
No built-in time tracking functionality.
No Gantt charts are available.
Kanban view only available with Enterprise plan.
Pricing
Free – unlimited checklists, unlimited subtasks, 1GB storage, multiple themes and more.
Standard – at €3 per user/month, all Free features plus tags, 5GB storage, advanced search and more.
Pro – at €5 per user/month, all Standard features, along with private templates, teams, 20GB storage, user roles, and more.
Enterprise – at €9.5 per user/month, all Pro features with advanced security measures, 50GB storage, external integrations, and more.
23. Ikiru
A simple to-do list application at heart, Ikiru works on the concept of creating lists within lists to help you categorize your to-dos the way you want. Create your task lists and assign emoji-style icons to help you with easy identification.
Select light and dark themes to match your preference and easily swipe to mark items or lists as completed. You can also set reminders and due dates to keep track of your work.
Another useful feature of the application is the shake to undo. In case you accidentally mark a list or item as complete, shake to undo. This will make the list go back to its original form.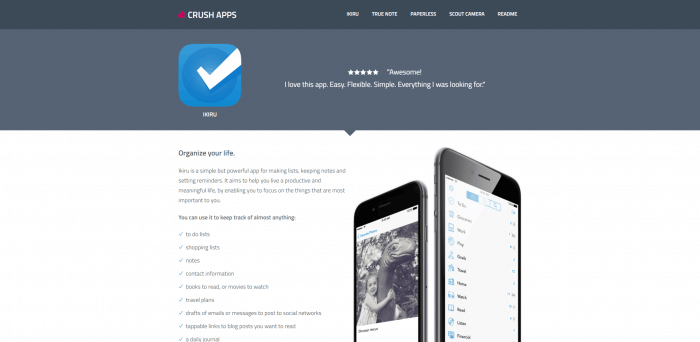 Download: iOS
Key Features
Checklists management, with design icons to assign to particular lists.
Due dates and reminders with individual items in a list.
Dark and light themes to fit with individual preferences.
Drag and drop functionality for making quick changes.
Share lists with collaborators via email.
Timeline view to keep the schedule in check.
Photo uploads to lists for giving more context.
Pros
Simple user interface with easy drag and drop.
Automatic backup and sync between devices.
Multi-language support.
Cons
Too simplistic for elaborate to-do list management.
No cross-platform support is available.
Pricing
Ikiru is priced at $4.99.
24. Swipes
Coming with smart integration of Gmail and Evernote, Swipes is the next best to-do list app reviewed here. A clean interface, short learning curve, and quick checklist management – Swipes comes with enough features to pass as a useful personal to-do list manager.
Through Gmail integration, you can convert your emails into respective tasks and take control of your workload. Similarly, whenever you create a new note in Evernote, the title of the note is converted to a task in Swipes and all the checkmarks that you add to the note are converted to subtasks.
For the overwhelming number of tasks on your plate, Swipes allows task snoozing functionality. Snooze your tasks to the limit when you're finally ready to execute them.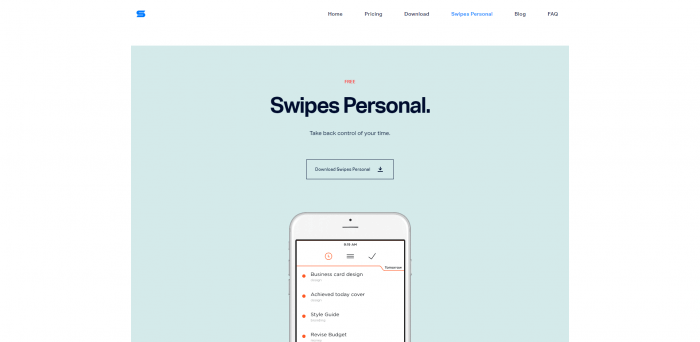 Download: Desktop
Key Features
Checklist management, along with tasks imported from Evernote and Gmail.
Reminder notifications and task due dates.
Drag and drop functionality, plus task priorities.
Task snoozing for delaying tasks.
Subtasks management.
Gmail and Evernote integration.
Pros
Minimalistic and aesthetically pleasing user interface.
Powerful Evernote and Gmail integration for tasks import.
Simple to-do list management.
Cons
Overly simplistic for task management.
Missing major to-do list management functionalities.
Pricing
Swipes come with a free personal edition. The team plan is available for $7.50 per user/month.
25. SomTodo
At one point or another, you might have caught yourself in the overwhelming plethora of to-dos that you desperately need to organize. SomTodo takes your worries away by organizing your tasks into subsequent folders.
Manage your personal to-dos and professional projects by setting deadlines and prioritizing the task items. You can also include additional notes to your tasks to make details clear. This best to-do list app also allows you to secure your ideas by setting passwords and pin codes for limited access.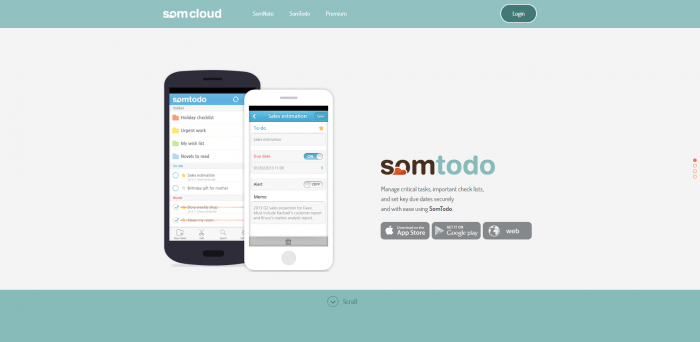 Key Features
Color-coded folders to organize your tasks in a better way.
Checklist management, along with additional notes.
Deadlines and task priorities to define urgency.
Keyword search functionality.
Task organizing filters according to the needed focus.
Passwords for private folders to maintain privacy.
Android, iOS, and web-supported.
Pros
Distinct folders to keep everything centralized.
Smart privacy measures to keep your tasks and notes private.
It can be used for free.
Cons
Time tracking is a missing feature.
Not suitable for advanced team collaboration.
Pricing
Free – core features of the tool with limited storage capacity.
Premium – at $3.6 per month – all the SomTodo features.
26. 2Do
Another one of the best to-do list apps to earn a mention in this list is 2Do. The application comes with native features to help implement the GTD method effectively. Through the quick add feature, you can instantly add to-dos before they slip your mind.
2Do allows you to easily convert your tasks into projects or a checklist to manage them according to your needs. Users can add context to their tasks by classifying them on the basis of tags. These tags also help in quickly browsing the tasks whenever needed.
The smart lists feature of the application lets you go a little smart with your task management. Add due dates, reminders, and tags to your lists to stay focused on things that matter and get things done faster.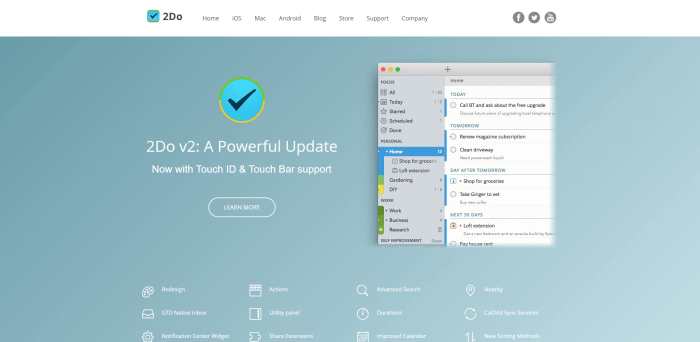 Key Features
Checklist management.
Tags with tasks for adding context.
Recurring tasks management to control repeating tasks.
Due dates and reminders.
Location information with tasks to get alerts.
Photo attachments, color codes, and search filters.
Drag and drop multiple tasks on the calendar.
Sync with multiple applications.
Pros
Suitable for teams following the GTD method.
Location-based reminders.
Advanced search options, along with smart lists.
Available on multiple platforms.
Cons
File attachment capability is limited.
Time tracking not available.
Tasks cannot be assigned to multiple assignees.
Pricing
2Do offers 3 plans, according to the supported platforms:
Free for Android.
$14.99 for iOS (up to 5 devices).
$49.99 for Mac (up to 5 Macs).
27. Ike
Coming with a colorful and clean interface, Ike makes it to 27th place in our list of best to-do list apps. Working on Eisenhower's organizational methods revolving around the priority matrix, the application allows you to manage tasks according to urgency and importance.
Instead of bombarding users with tons of complicated features and add-ons, Ike takes on a minimalistic approach by providing simple, but essential features for to-do list management.
The tool makes running daily errands a piece of cake by quickly prioritizing tasks and checking them off once complete. You can also add images or recordings to your tasks to give them more context.
What's even more interesting is that the app plays customizable animations as a celebration whenever you complete a task (sounds fun, no?).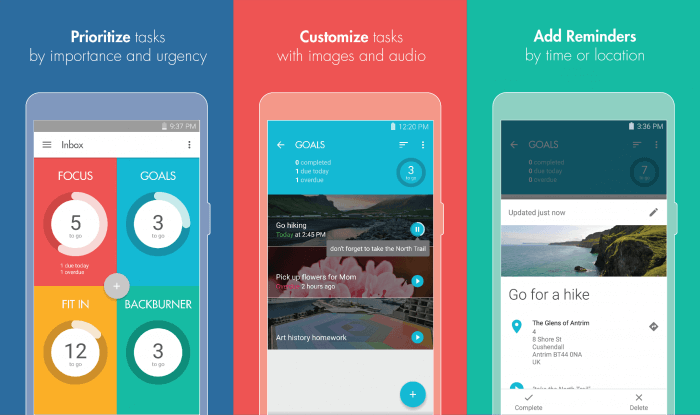 Download: Android
Key Features
Task priority and due dates.
In-app reminder notifications.
Quick and easy checklist management.
File attachments and additional notes with tasks.
Customized themes for setting backgrounds.
Customizable celebrations when tasks are accomplished.
Pros
Designed keeping in mind the priority matrix.
Suitable for basic to-do list management.
Beautiful user interface with eye-catching animations.
Cons
Only an Android app is available.
No elaborate to-do list management features.
Pricing
Free plan
Pro plan is available at ($2).
28. I Done This
As the name suggests, I Done This is basically an application to track the work you've already done. But the tool comes with some solid features to monitor the ongoing tasks and what needs to be done over time.
The application allows you to organize your tasks in the form of 'Done' and 'Goals' to track what has been done and what lies ahead. You can also track the tasks that are hindering your project performance.
Easily list down your daily to-dos, check them off when done, and at the end of the day, monitor what you accomplished and what you couldn't as a measure of your productivity.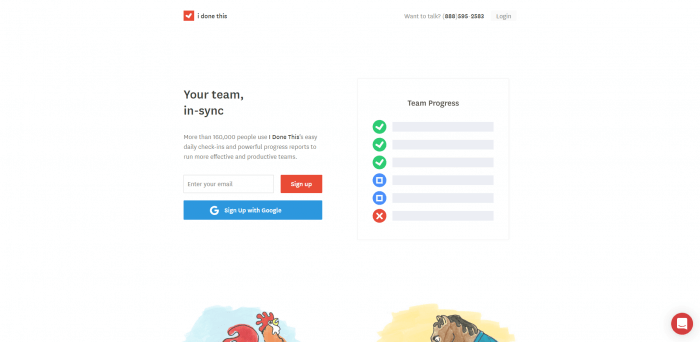 Download: Web
Key Features
Checklist management with quick checking off of tasks when done.
Task statuses to understand where tasks stand at the moment.
Task progress reports monitor the performance.
Collaborative Dashboard for getting a quick glance at KPIs.
Third-party application integrations.
Pros
Perfect for personal to-do list management.
The short learning curve with a clean user interface.
Multiple pricing plans to choose from.
Cons
It does not come with a Free plan.
No mobile apps are available.
Not suited for advanced team collaboration.
Pricing
This simple to-do list app comes with the following paid plans:
Basic – $5 per user/month.
Standard – $12.50 per user/month.
Plus – $25 per user/month.
Enterprise – $40 per user/month.
29. Apple Reminders
A simple reminder app that comes built-in with iPhone, iPad, and Mac devices, Apple Reminders might be one of the best to-do list apps for you if you're an Apple user and don't want the hassle of installing and setting up a to-do list app from scratch.
An easy-to-use application, allows you to add tasks to your lists and easily sort them according to your needs. In a hurry and can't type in a task? Use Siri to instantly add a to-do.
Through location-based reminders, you won't have to miss even the most trivial of tasks (like picking up groceries). You can also effortlessly share your lists with anyone having an iCloud account.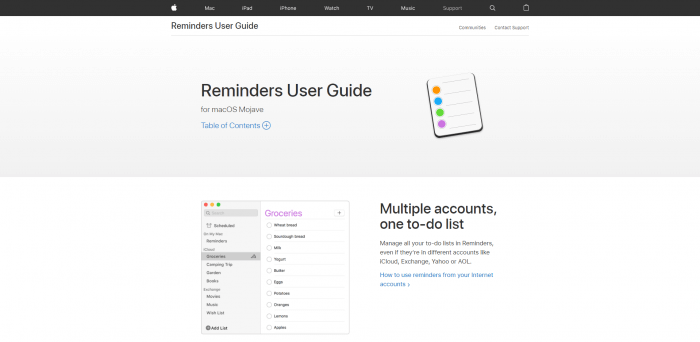 Key Features
Easy checklist management.
Location-based reminders to never forget a thing again.
Lists sharing with friends and colleagues to get things done faster.
Drag and drop functionality for instantly making changes to lists.
Due dates, and calendar view.
Pros
Clean, intuitive user interface.
Easy syncing with multiple devices.
Intelligent location-based reminders.
Cons
Missing elaborate tasks management functionality.
No time tracking or timesheets management.
Tasks cannot be assigned to multiple assignees.
Pricing
Apple Reminders comes free with all Apple devices.
Unlimited tasks and to-do lists

What's better than a to-do list app? A free to-do list app. Sign up for nTask today.
30. Nozbe
Nozbe is one of the best to-do list apps when you want to get things done. As compared to other applications mentioned earlier in this write-up, Nozbe is a little complicated to use. That is if you are a first-time user, so may find a lot of integrations, UI layout, and such things a little hard to master. In that order, this to-do list app has a steep learning curve.
However, one of the reasons for recommending Nozbe as the best to-do list app is the program's ability to make collaboration, milestone achievement, and goal completion easy. Everything is right where it needs to be. It is easy to delegate tasks to teams. When the projects are done, you can share the progress list with stakeholders and vice versa.
The cool thing about Nozbe is its availability. This to-do list app is available for use on different operating systems, such as; Mac OS, iPhone, Android, Windows, and of course Linux. That's why this application is widely popular because of its user base from different platforms.
If it is your first time using Nozbe, you will end up in the Nozbe Inbox. That's where you will see some dummy tasks that are set up to give an idea of what an actual task will look like. In addition, there are a couple of filter options for sorting tasks according to their priority. If you don't feel comfortable with Nozbe's default templates, you can create your own template for a more personalized approach.
Overall, this is a cool to-do list app with tons of features available for basic and advanced level users. Take a look at some of the main highlights of Nozbe below.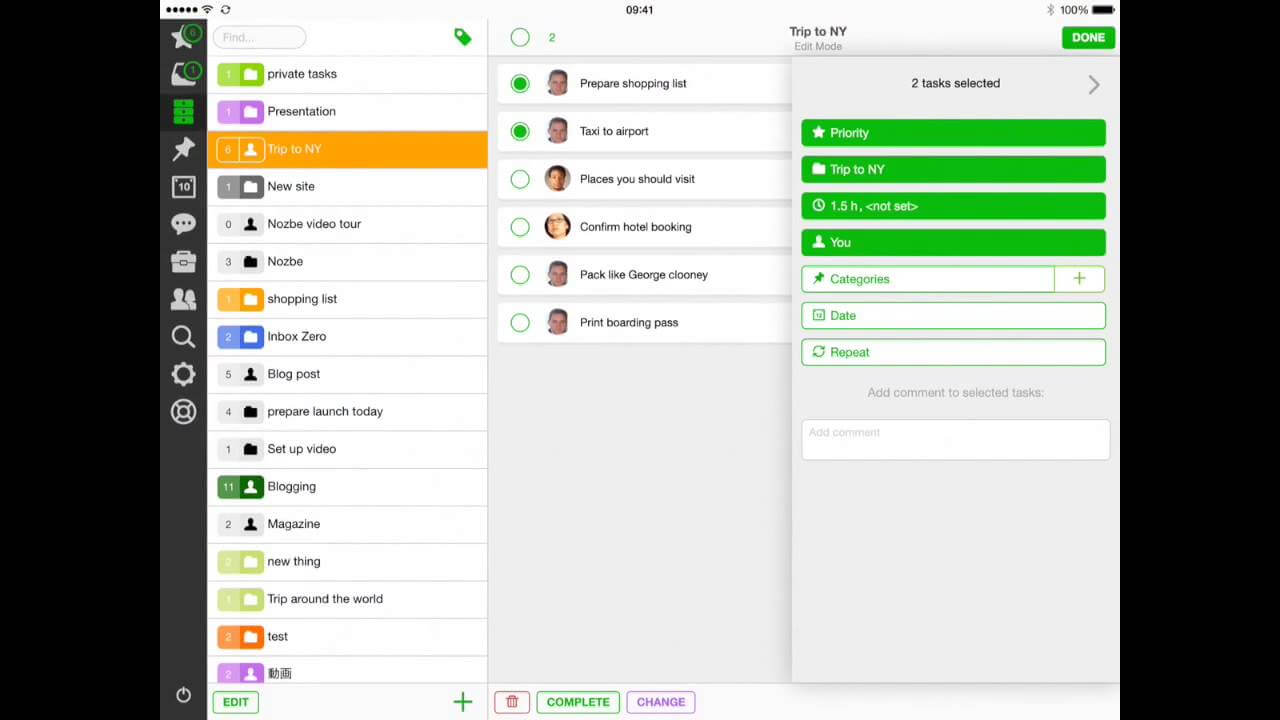 Download: Web | iOS | Android | Windows
Key Features:
Easy Drag and Drop interface for quick maneuverability across project boards.
Add the main tasks and append sub-tasks underneath them.
Integrate Google, Microsoft, and other 3rd party accounts easily.
Easy to use web interface with cloud-based data backup.
Invite stakeholders to project boards.
Non-Nozbe users can view Nozbe project boards without having to sign up for an account!
Pros:
The first takeaway feature is the ability to view project boards and tasks as a non-Nozbe user.
The UI interface is compatible with different devices ranging over various screen sizes.
Work from anywhere due to Nozbe's cloud-based data backup.
Cons:
Steep learning curve. Sometimes it can be a little hard for new members to get a hang of everything that Nozbe has to offer. Better check their official tutorial videos at YouTube to get started.
Pricing:
Free Trial starts at $0.
Nozbe Solo/Duo starts at $10 per month. (*Prev price used to be $8)
Business accounts for multi-user access are available at $23 – $99 per month.
31. Quire
Next up on this list is 'Quire'. It is an online task and project management software with a side of resource scheduling. The devs at Quire go by the 'visual task management' cue – and for that very reason, the overall UI of the software is lined up with some amazing handy tools, shortcuts, and minimalistic design.
As a project manager or an individual looking to just get his toes dipped in the PM industry, Quire will give you a head start on stuff through a couple of core features. New ideas can be mind mapped; broken down into subcategories, and eventually reformed into a simple to-do list.
Likewise, professional project managers can enjoy the benefits of a native Kanban board feature, also known as Quire Mark II alongside many other technical nitpicks. We think Quire's ability to let users collaborate in real-time and its overall aesthetics make the program a well-rounded software for the community.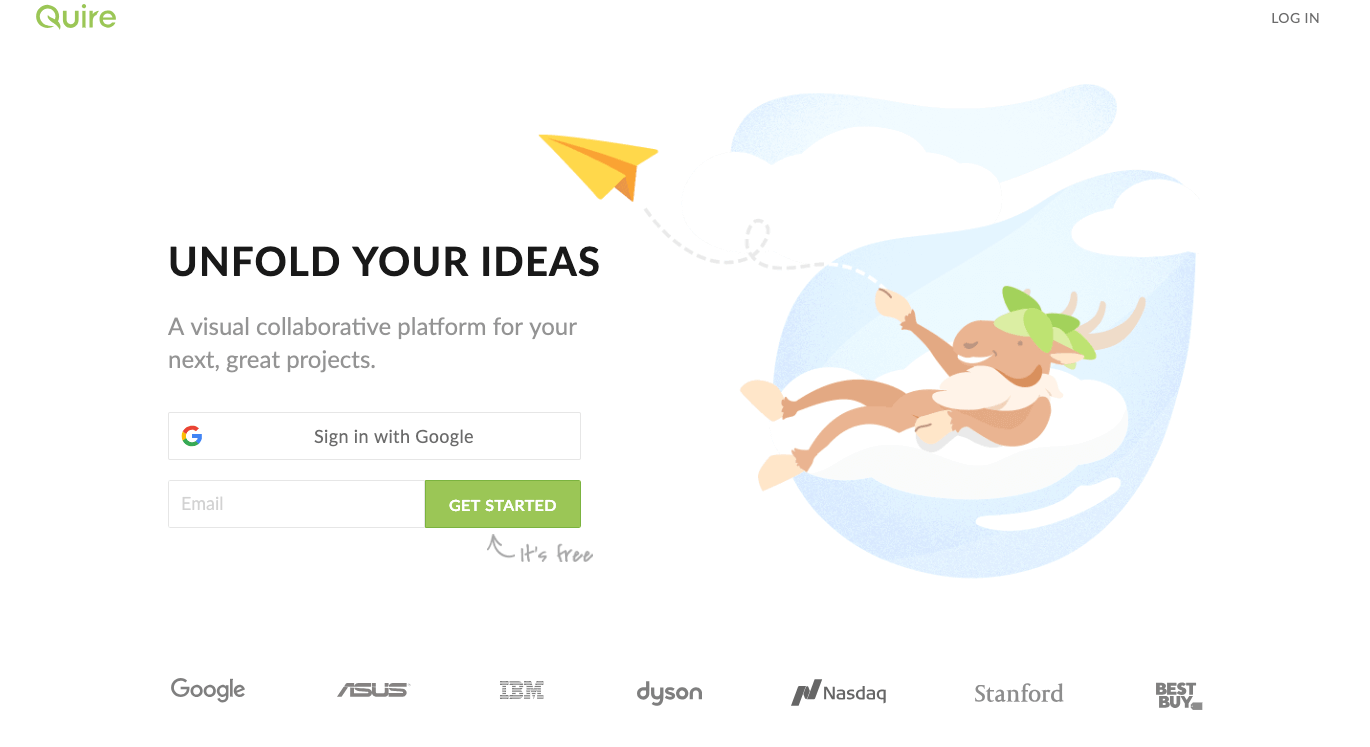 Features:
Get real-time updates and collaborate with fellow team members easily.
Manage and monitor tasks through individual 'My Tasks' view across all projects.
Share files, import n' export documents, and integrate 3rd party apps through APIs.
Visually manage projects with the help of Kanban, Gantt Chart view, and calendar integrations across different tasks.
Get an estimate of the cost of task completion easily.
Customize templates to your liking.
Incorporates the latest Agile framework and methodologies.
Pricing:
Free until the first half of the Year 2020 – According to Quire Officials
32. Workflowy
Workflowy is another good addition to our best to-do list apps. It is a kind of digital list-making desktop, mobile, and web app that is simple, elegant, and responsive. You can use it to assign tasks to your team members or to make a shopping list. It has the capability to share the list with relevant stakeholders and enable easy collaboration.
This simple to do list app can be used to make a list for taking notes, your personal to-do items, writing a research article, team assignment, and many other activities. When you get into the Workflowy app you will see a text editor for creating your document that is distraction-free and helps in focusing on your work. There is no restriction on how you use this app and organize your list.
Workflowy gives you the ability to mark the items done, clone your list, share your documents with a link, delete the items, and export your document to a file.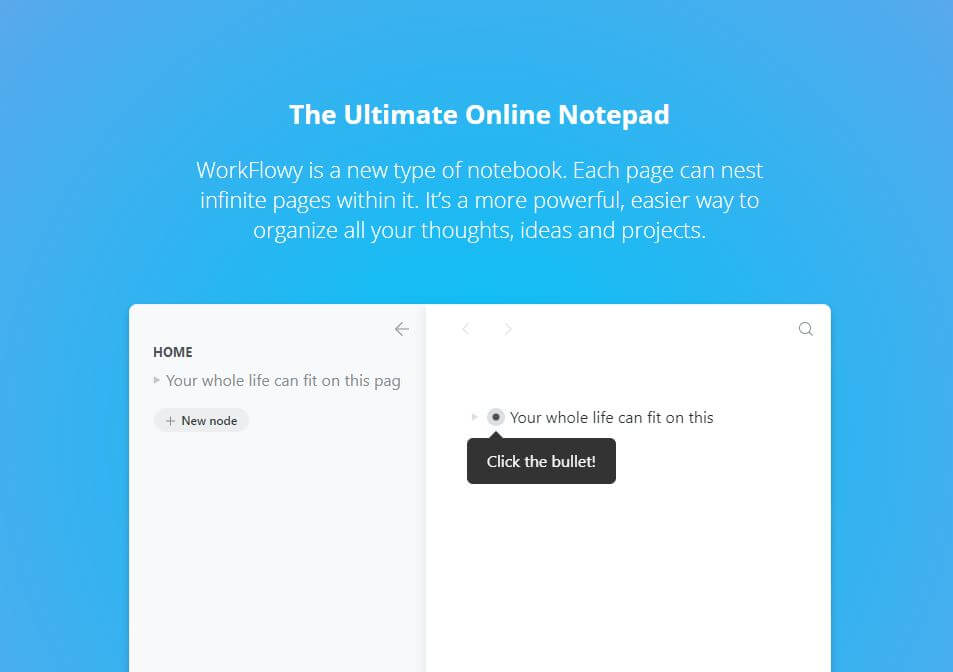 Download: Web | Android | iOS | Desktop
Key Features:
Simple and minimalistic user interface
Collaboration with shared links
Delete or archive the list
Search any items with hashtags
Structure and order the list to your liking
One-click export
Desktop and Mobile apps
Pros:
Easy creation of a nested list
Keyboard short keys enabled
Simple and elegant UI
Easy collaboration with stakeholders
Cons:
No 3rd party integrations
If you want to create a backup or get password protected then you have to subscribe for a PRO account.
Limitation on fonts and background themes in free account.
Pricing
Freemium account supports 100 items per month. If you make a successful referral then 250 more items will be added to your account.
The Pro package is priced at $49/month with unlimited items on the list, daily Dropbox backup, theme change options, and enable password protection.
33. Bit.ai
Bit.ai recently hit our radar as a handy to-do list app. We checked it out, and it does a lot more than expected. As far as the "to do" and getting things done part is concerned, this app is lined up with multiple tools to help you do just about anything.
Beyond the "to do" convention, the application is reaming with rich note-taking features, multiple file attachment support, several perks to help avoid distraction – so on and so forth. The fun part is that Bit.Ai is totally free to use. Of course, you can upgrade to a paid plan for a measly $12 per month.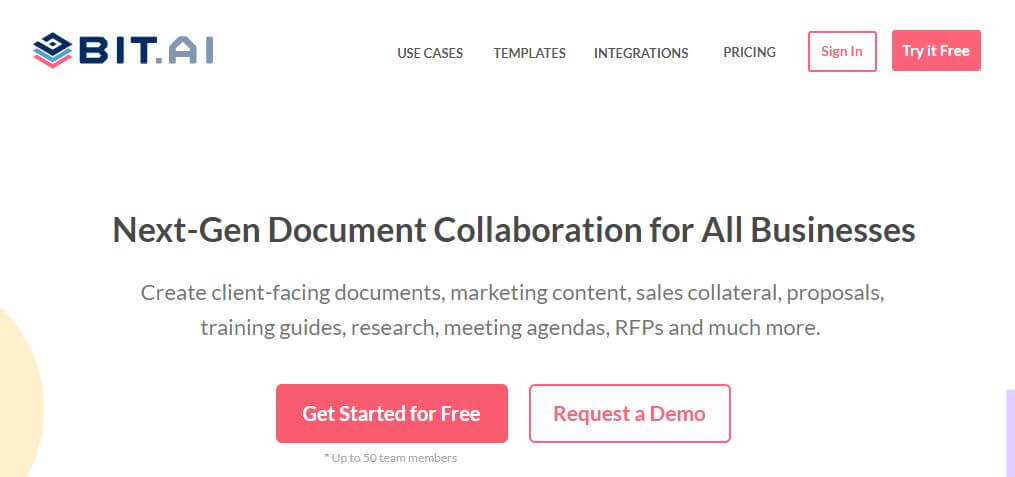 Download: Web
Pros:
Rich To-Do List Features
Free of Cost
Multiple File Support
Anti Distraction Tools to Maintain End User Focus
Note Taking Support
Video Note Takin Support
And about a bazillion more features worth exploring…
Cons:
$12/Per Month seems like an intimidating cost to users who are on a shoestring budget!
Pricing:
Free Plan: comes with basic level access and limited file uploading support.
Paid Plan: Introduced at $12 per month, this plan comes with more storage options and many perks for power users.
34. ActiveInbox
ActiveInbox is another intuitive best to-do list app that can turn your Gmail inbox into a cool to-do list task manager. If you face problems in keeping your focus at work and feel overwhelmed with your Gmail inbox, then ActiveInbox can turn your emails into a simple task with the functionality of customization.
You can easily set time to send emails, mark email follow-ups with a due date and never miss important tasks while keeping your focus. It is useful to do list app for busy professionals who want to eliminate their email obsession. Use this cool to-do list application for getting productive and ideal for email to-doers.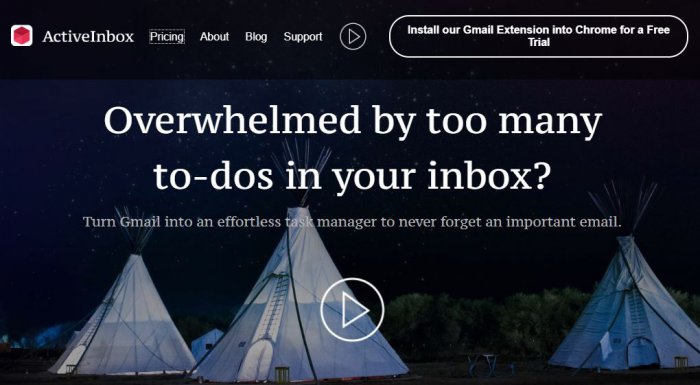 Download: Web | Chrome Extension
Key Features:
Create due dates
Set reminders for email tasks
Create sub-tasks
Create follow-ups for your emails
Create a send later email with a time selection
Create folders for your project
Pros:
Simple to use with intuitive design
Admin can monitor the progress in Team Plan.
Gmail Plugin
Available on Google Chrome
Cons:
Mobile apps not available
Users can have a free trial but a completely free version is not available
Pricing:
Personal Plan: $4.16/month for 1 Gmail account (paid yearly).
Team Plan: $12.48/month for 3 to 999 Gmail accounts (paid yearly) PLUS $4.16 per account per month.
Enterprise Plan: For 1000+ Gmail accounts. Contact ActiveInbox for enterprise pricing.
35. Todo.txt
If you are looking for a simple best to-do list apps functionality Todo.txt is for you. You can get more control over your to do tasks and save them all in Todo.txt. It is more like a text document that lives on your computer desktop or mobile phone. Each text line in Todo.txt is a task. You can also sort items on your to do list.
It is built on a minimal approach. There are no dropdowns, checkboxes and date settings to make you distracted or double your efforts to make a to do list. The Todo.txt is an editor that can help you manage your to do items and tasks with only a few touches and keystrokes.
You can use Todo.txt on the go from your mobile device. It is connected with Dropbox to make it easy for you to manage your to do items and sync in real-time with your computer. You can link your Todo.txt app with several other plugins and use the add-ons.
You may require some time to get hands-on with the Todo.txt application, but once you are easy with it you might not look for other apps to manage your daily to do tasks. Additionally, there is a command prompt app for completing tasks and adding items.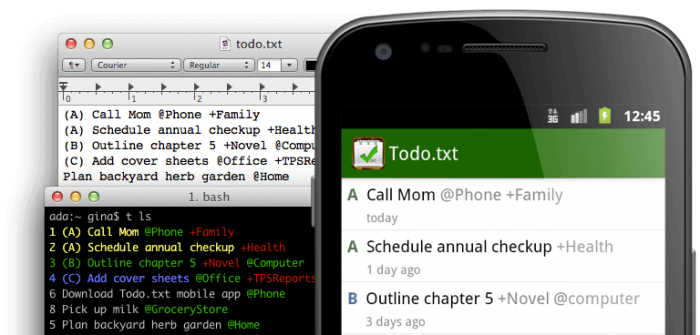 Download: Web | Desktop | Android | iOS | Chrome Extension
Key Features:
Simple text and code editor
Support priorities
Set creation and completion dates
Format projects and context
Desktop app, web app, add-ons, and plugins
Connect with Dropbox
You can get open-source code for developer use
Shortcut keys are enabled
Pros:
Easy to use without any extra feature that can distract you from your to-do items
More control over tasks
Option to use it with graphical interface apps on Windows, Mac, iOS, and Android
Ability to organize your tasks on an app rather than on the document
Cons:
No time tracking
No chat and collaboration option
Limited feature in organizing your tasks
Pricing:
36. Trello
Trello (now acquired by Atlassian Jira) is the most intuitive and flexible Kanban app that can be used as a to-do list creation. Getting in our list of the best to-do list apps, Trello lets you create boards and customize them as per your need. You can use it for personal to-do list management software, manage your daily to-do tasks on the job, plan your vacation, use it as an event organizer, organize your grocery list, and use for many other task management.
It is a useful tool to make you work more productive by creating cards and workflows of your operation's process. This to do list app makes collaboration with your team easier than before. You can create your to-do checklist within the cards on the Trello board. Once you mark any to-do list item as done, it will show the progress bar.
Trello is an application that helps in creating, organizing, collaborating, and work tracking among your team members. You can even share your Trello boards with collaborators outside your team with public link functionality. You can make fuel your boards with Trello add-ons such as automation, power-ups, unlimited team boards, change background, etc.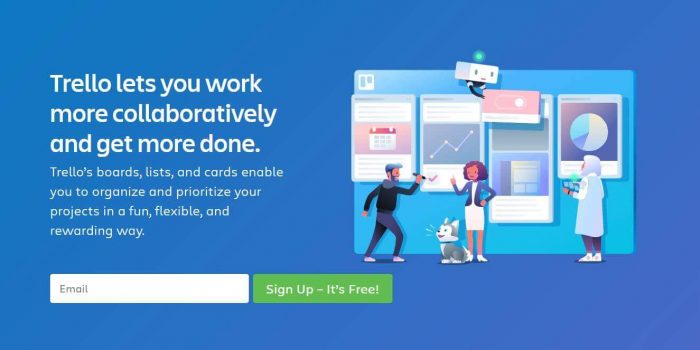 Download: Web | Android | iOS | Mac | Desktop
Key Features:
Create a checklist in cards
Attach files, and images and share links on the Trello board
Synchronize your cards with third-party calendars
Public links for sharing boards with external collaborators
Set due dates, assign cards to team members, and shift cards with drag and drop.
Pros:
Use it on desktop, Android, iOS, and Microsoft apps
Flexible Kanban board for free
Easy-to-use application
Cons:
No internal task calendar
No progress report
No Gantt charts
Pricing:
Free
Business plan at $9.99/user per month if paid annually and $12.50/user per month if paid monthly
Enterprise plan at $20.83/user per month if paid annually
37. Ayoa
Ayoa, formerly known as 'DropTask', is a product of OpenGenius. It is an awesome visual task management and to-do list app that can help you to get more done all in one place. You can use the Ayoa application as an individual or as a team to collaborate on your projects, tasks, and to-do items with the help of a checklist.
Now, you don't need to switch your apps every time as you can use Ayoa for idea generation, task management, and team chat and you can keep all your project documents in one place.
While working on Ayoa, you can get a taste of creative project management with mind mapping and radial maps, which you can create with this cool application. Managing your to-do list items and collaborating on them with your team is not boring while using the Ayoa app.
You can track the progress on your projects and to-do list with the help of visual Gantt charts, where you can set the due dates and milestones.
Moreover, you can get a complete view of your to-do list task on the 'My Calendar' feature of Ayoa. Here you can easily plan your work in advance and see the big picture of your to-do list.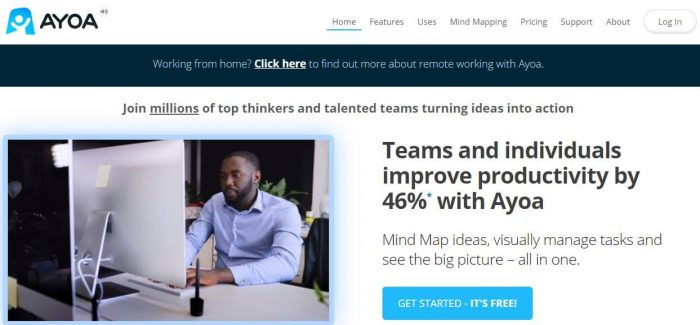 Download: Web | Android | iOS | Mac | Desktop
Key Features:
Create your ideation plan with the help of a mind map
Set priorities and dues dates of your tasks
Connect with Dropbox, Google, and Evernote
Instant messaging with Ayoa Chat
Attach files and images on tasks
Gantt timeline view and calendar view
Pros:
Enables visual task and project management
Easy onboarding and friendly support team
Data security and TLS encryption
Cross-device synchronization
Cons:
Missing reporting feature
No extensive third-party integrations
Pricing:
Basic free version with limited features
Advanced version starting at $12/month
Contact the Ayoa team for the Enterprise version
38. SimpleNote
If you are looking for simple and speedy to-do list apps that work across different devices with efficiency, then SimpleNote is a good option. You can use the SimpleNote app for managing and organizing your daily tasks and collaborate on them with your team members easily.
With the tags and pins feature, you can easily search for the desired tasks you have created in your notes space. SimpleNote is built with the phenomenon of minimalism, to do more with less effort. This is one of the reasons that SimpleNote doesn't offer any rich features offered by other to-do list apps or note-taking apps.
SimpleNote helps you to eliminate distraction, with no extra menus or notifications, when working by giving you a space to jot down your checklist for your items to-do, and you can do it across different platforms. It is useful for non-tech savvy people who can easily work on a simple text-based app to manage your to-do list.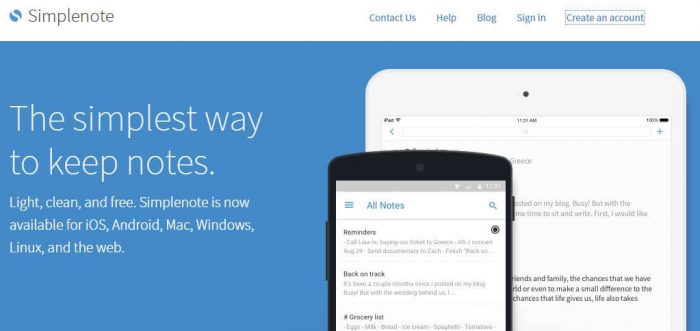 Download: Web | Android | iOS | Windows | Mac
Key Features:
Instant searching for your tasks
Apply tags to your checklists
Create, review and publish your to-do items in Markdown format
Share your list with your friends, family, co-workers, and clients
Publish your to-do items and notes online
Sync across different devices
Backup your notes and checklist, so that you can see all the changes you have made to them over the time
Pros:
Simple UI for minimalists
Wide variety of cross-device synchronization
Markdown format supported
Free to use
Useful sharing and search option
Cons:
No extensive integrations offered
Only text-based checklists and notes can be created on SimpleNote
No option to create folders
Doesn't support uploads and multimedia
Pricing:
39. Asana
Next up on our best to-do list apps is Asana. It is a workflow management tool loved by productivity enthusiasts with useful options to manage tasks and projects. While using Asana to manage your to-do lists and project deliverables, it is more suited to use for the tasks that are ongoing.
You can not only create and organize your tasks or to-do list with Asana but also you will be enabled to collaborate on those tasks with your team and track completion time. It gives you the ability to assign the task and to-do list to a specified team member. Moreover, you can set the task status as closed or open, set task priorities, and leave comments on those tasks to share information.
It is an easy-to-use tool that can be used for organizing your personal and professional to-do list, both. Asana comes in handy with iOS and Android apps to help you manage your work from anywhere. This tool can also be used to help monitor the workflow and team performance on tasks.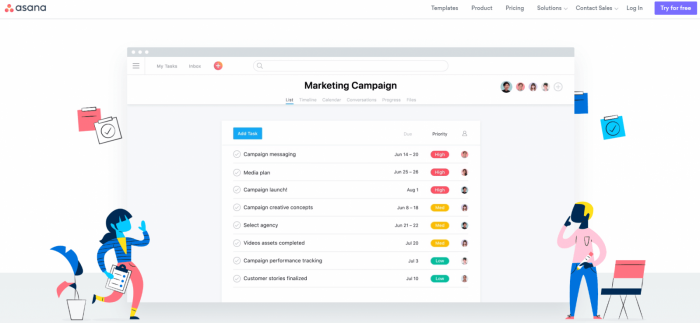 Key Features:
Comprehensive task and to-do list management with tracking
Assign a task to multiple team members
Upload files and add comments to the tasks
Mark important tasks
Multiple workspaces to handle different teams
Real-time updates on tasks
Create and set task dependencies
Pros:
Free version with adequate features
Flexible, clean, and fast application design
Different task views to manage easily
Sharing option available
Cons:
Inability to switch between tasks and Kanban view
Not suitable for creatives and graphics management work
Paid plans are costly for startups
Pricing:
Basic free version
Premium plan at $10.99 (billed annually)
Business plan at $24.99 (billed annually)
Custom pricing for Enterprise Plan
40. Apollo
The next one on the list of best to-do list apps is Apollo. We have talked about this cheeky little tool in one of our other posts on top project management software.
Compared to nTask, we wouldn't dub Apollo as the perfect project management experience, but it does come close. You can get a lot done within a minimum amount of time with this to-do list app.
For instance, as a new project manager of a small team, you will find Contacts, Team Collaboration features, task management, and other tools all in one place. Apparently, they are essential to doing anything from a ground-up approach quickly.
Meanwhile, contractors and individual freelancers can also join Apollo because of its prowess for to do list applications. Schedule your meetings, slot up your calendar with 'to do' elements, and make full use of whatever number of perks this tool has waiting for you.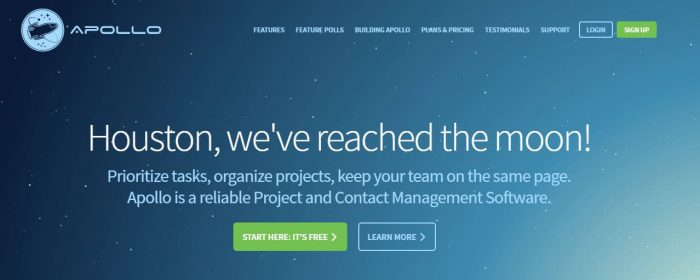 Download: Web
Key Features:
Projects and tasks can be favorited through a star rating system.
Retrieve conversation history with team members. History is inclusive of personal messages, notes, emails, and public mentions in virtual Apollo app rooms.
Supports different document extensions.
Set project milestones by dates and deadlines. The same can be done for tasks.
Supports image and file annotation for extra convenience.
The new update rollout introduced file grouping and sorting as part of the user-requested feature.
Pros:
Ideal for freelancers and contractors as a to do list app.
Very much affordable.
Web-based user experience. No installation is needed.
Cons:
Not the perfect application for large-scale MNCs and professional project managers.
Pricing:
Start with the Apollo Basic package at $23 per month.
The rest of the paid plans range from $48 to $148 accordingly.
41. Conceptboard
This to-do list app is a mix of mind mapping/ brainstorming and task management for project managers. On that note, even if you are not a hardcore PM, but a freelancer, instead, Conceptboard will offer you a blend of different tools for a fully-fledged user experience.
Beyond its brainstorming capabilities, Conceptboard helps to transition the process from paper to actually applied workflow through a stream of task management, document sharing, and user management roles.
Oh, and it has special features for writers, too. If you are a content creator, you will definitely benefit from Conceptboard's amazing UI and UE.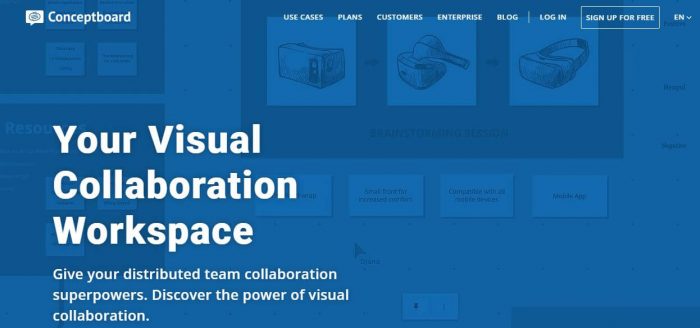 Download: Web | Chrome Extension | On-Premises
Key Features:
Manage your remote teams and 3rd party contractors in different workspaces.
Conceptboard offers a powerful mind mapping/ planning experience.
Supports multiple file and image extensions for uploading and downloading.
Plan and execute your project milestones with a great degree of convenience.
Pros:
Based on a SaaS model.
Ideal tool for content creators, marketers, project managers, and freelancers on a budget.
Set-up collaboration platforms for seamless communication.
Cons:
The learning curve may seem a little steep to brand-new users.
Pricing:
Conceptboard is not free but it does have a trial offer.
Basic paid plan starts at $7.50 per month, per user.
42. Lighthouse
Lighthouse is more than just your average application to take care of the list of things to do. In a nutshell, it simplifies to-do list tasks whether you are an individual or a team of 50.
Whilst task management is one of the strongest suites of Lighthouse, this application also focuses on the to-do list aspect through strong collaboration – and that too from all the people involved in the workflow.
On a much grander scale, this tool makes issue tracking and problem resolution simpler and organized for anyone who wishes to take part. You also get 3rd party app support via native integration and API.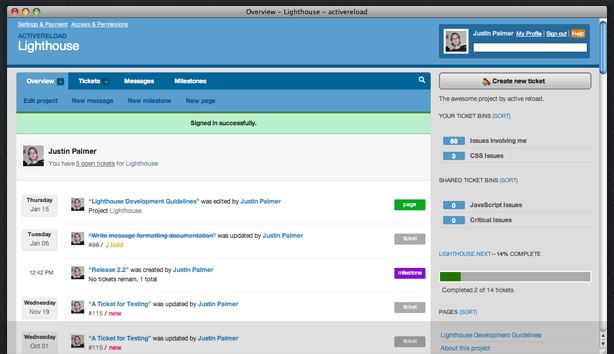 Download: Web
Key Features:
Simplified navigation overlaid with an immersive UI.
Robust to-do list feature set, issue tracking, and project management.
Multi-user support.
Collaboration support for internal and external users.
Centralized document management.
Pros:
Ideal for developers
API available
Better issue tracking features
Cons:
No mobile apps
Expensive for startups
Needs improvement in UI
Pricing:
Lighthouse Bronze is available at $25/month.
Lighthouse Silver is available at $50 for large companies.
Lighthouse Gold is available at $100 for enterprise platforms.
43. KanbanFlow
For an enhanced Kanban-oriented to-do list experience.
This tool is more than just a simple To-do list app. KanbanFlow offers a blend of productivity and mapped workflow with the help of different features. Think of taking your tasks from a sketched Kanban card level to a finished product.
In fact, the "finished product" doesn't actually have to be a part of a conventional item meant for usage. The product could be a set of subtasks, milestones, and other things that you have wanted to do efficiently.
Features-wise, we are looking at different swim lanes, where you have the option of creating multiple tasks, adding assignees, and including markdown formatted descriptions as you move along.
Top it off with a reserved list of to-do-list items that are pending. They can be set aside for later reviewing.
Our favorite feature to date in KanbanFlow is the native in-built Pomodoro Timer. There is a timer button to maintain an uninterrupted 25-minute workflow. After that, you can take breaks to unwind and brainstorm a little. The timer starts again, either as the task resumes, or whenever new tasks are to be tended to.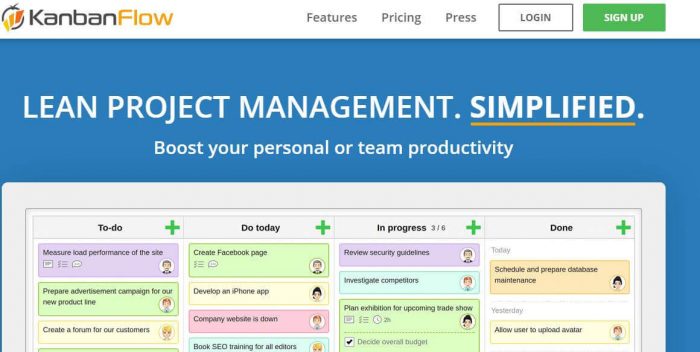 Download: Web | Chrome Extension | Mobile
Key Features:
Integrate thousands of to-do list apps through Zapier integrations in KanbanFlow.
Supports multiple file attachment formats.
Unlimited board for core users.
Powerful admin features for team and workflow management.
Create main tasks and sub-tasks with filters.
Get work done and keep things organized.
Pros:
Compatible with mobile browsers
Easy checklist creation
Time reporting in task boards
Cons:
No Android and iOS apps
Limited Integration
Pricing:
The free version comes with unlimited boards and users.
KanbanFlow Premium starts at $5 per user/ per month.
44. TaskPaper
TaskPaper is our next pick on this list. Created in 2006, this software lets you create plain text to-do lists for Mac.
Concealing its power behind a simple interface, TaskPaper is a great tool to help you stay organized.
With different keyboard commands, the software makes it easy to create simple to-do lists that you can view in a simple design.
TaskPaper knows about projects, tasks, tags, and notes and auto-formats these items in an easy-to-read list.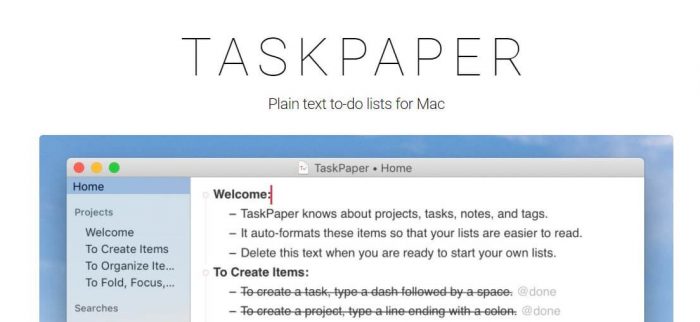 Key Features:
Edit your plain text files from anywhere
As you type, your lists are auto-formatted
Ability to filter your lists by content, type, or @tags
Fast keyboard navigation and commands
Organize projects, tasks, notes, and @tags
Import/export with the Reminders app
Extensive JavaScript API for scripting
Pros:
Better organization
Native integrations with Omni Focus and Reminders
Basic natural language processing for dates
Cons:
Only available for Mac
No native mobile app
No recurring tasks feature
Pricing:
You can purchase the software for $24.99
45. ProofHub
ProofHub is a project management and task management system that lets you and your team stay organized.
With ProofHub, you can create tasks, make to-do lists, as well as write notes so that all your information is centralized in one platform. This lets your team stay prepared and not overlook any important task or information.
The project management software has a simple and clean interface and design making it popular among many workflow management tools.

Key Features:
Ability to create tasks, sub-tasks
Use a calendar feature to add reminders and events
Make to-do lists and notes, as well as have the ability to add comments
Define task deadlines with start and end dates
Simplified project management and team collaboration
Pros:
Does not charge a per-user fee
Requires little to no learning curve
Can be used by teams from any industry, of any size
Cons:
Pricing:
Essential plan for $45/month when billed annually
Ultimate Control Plan is currently for $89/month when billed annually
46. FreedCamp
Up next, we have got FreedCamp, a to-do list app on steroids. It comes with unlimited project solutions to unlimited users. Above all; it's absolutely free! However, you can switch to paid plans if you are looking to use the software as a business or an enterprise.
FreedCamp offers services through a web application portal. While it may diss users who like to-do list app installers, this program offers guaranteed 24/7 cloud data protection. That means you can work remotely and delegate projects from anywhere in the world.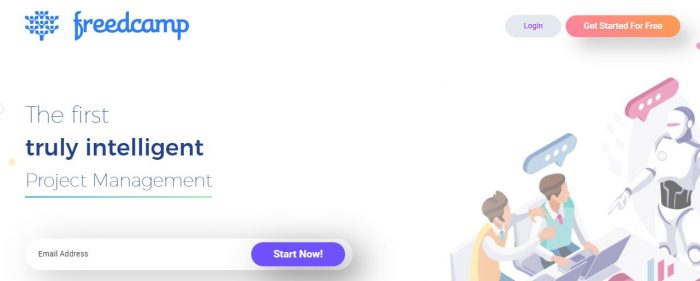 Download: Web | iOS | Android | Windows
Key Features:
Unlimited plans, unlimited users, and much more in the free plan.
A revamped task management system that allows splitting large tasks into multiple group-level activities.
Gantt charts offer a bird-eye view of simultaneous processes.
Includes email-in feature in integration with cloud storage devices.
Issue tracker
Project templates and interactive reports.
Pros:
Ability to create subtasks
Personal task board
White label app available
Cons:
Complicated navigation
Difficult to use
Pricing:
Includes unlimited free plan with unlimited users.
Paid plans start with FreedCamp Minimalist at $1.49 per user/ per month.
47. Dynalist
The next to-do list app that offers simple and adaptable features is Dynalist. This app lets you organize your ideas and tasks in a cleaner interface for to do list management. It helps you to group the tasks and sub-tasks into different layers.
Using Dynalist you can set dates, and recurring dates, integrate with Google Calendar for task tracking, create unlimited tasks and attach documents easily. The app helps you focus on your to-do list tasks and eliminate distractions as the UI is clean and intuitive.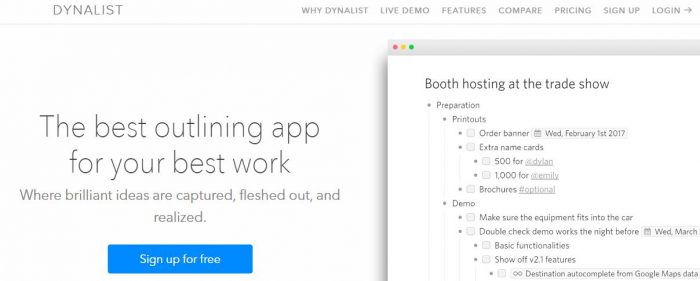 Download: Web | Android | iOS | Chrome Extensions | Firefox Add-on
Key Features:
Features offered by Dynalist include:
Add due dates, and the ability to filter with time and date
Create a checklist to manage your to-do items
Quickly find and bookmark files
Navigate to any item using the item finder
Multi-select tasks
Group and filter with tags
Color labeling
Keep your notes
Crosslink tasks
See all tags on Tag Pane
Markdown and sorting
Pros:
Clean and user-friendly UI
No distraction with bulk features
Cons:
Some usability issues with mobile app
Formatting issue in copy/pasting
No advanced task management features
Pricing:
Free plan with unlimited items and documents
PRO plan is priced at $9.99/user per month
Honorable Mentions | More Useful To Do List Apps
Compared to Asana, Trello, nTask, and other to-do list applications, the following apps are more of a blip on the radar. Nonetheless, they are highly useful and worth a shot – especially if you are just about getting started in the To-do list realm.
48. Flow
Flow by 'GetFlow' is not to be confused with KanbanFlow or Workflowy. Those two are entirely different to-do list apps in their own league.
What Flow does is that it simplifies your task organization and delegation from an individual and multi-user perspective. With this application, it is easy to see pending activities, completed tasks, and whatever comes afterward.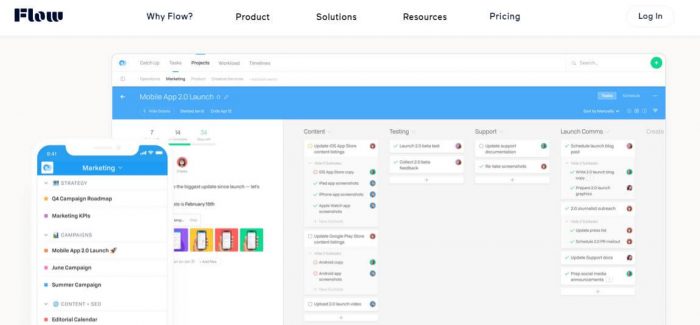 Download: Web | Mac | Windows | Android | iOS
Key Features:
Modern-day to-do list applications are built on the 'Ready, Set, Flow' mentality.
Ideal for Agile teams that need to collaborate 24/7.
Integrates with popular 3rd party applications to ease workflow.
Achieve more by planning & deploying to-do list activities.
Contains simple checklists.
Offers native Kanban boards for professional project managers.
Pros:
Simple user interface
Flexible project planning and management
Dashboard to overview tasks in different projects
Follow tasks to get notified of their progress
Cons:
Advanced analytics are missing
Difficult to search for old tasks
Pricing:
Flow Basic starts at $6 per user/ per month.
Flow Plus and Pro plans range from $8 – $12 per user/ per month.
49. Solid
Also known as 'Solid Io', the app has been faring up as more than your ordinary to-do list app. We can't label it as the best to-do list app yet, but GetSolid does help users with tons of stuff.
Of course, in the end, you will be walking off with a stash of delivered projects, scheduled meetings, and on-time task deliveries without any hassles.
This application is perfect for businesses and individuals on the go. You can run effective and easy meetings – especially if they have multiple agendas lined up. The program also helps teams to collaborate over tasks, decisions, and mailbox communication.
GetSolid retrieves your agenda information from Google calendar. The program is designed to analyze present and future activities and suggests a rather focused meeting agenda for upcoming activities. Besides getting insight on actionable minutes after any meeting, you get to work with what you already have at your disposal.
As one of the most expected integrations with Socialboss, GetSolid gets a rank up among power users who can't get enough of to do list applications.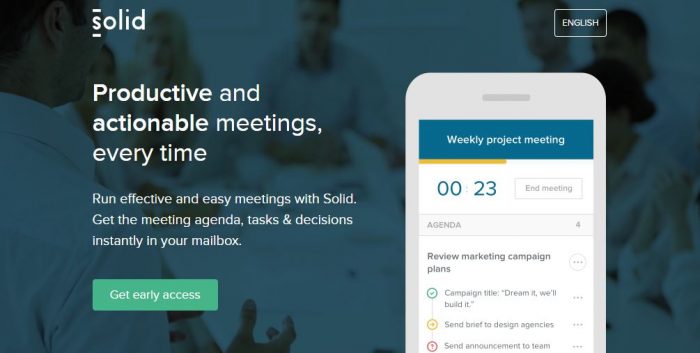 Download: Chrome Extension
Key Features:
Integrate meetings and other agendas through your Google Calendar
The export project, task, and milestone activities to Evernote & Slack
Partnered with Zapier app suite to help teams stay connected on the go
Features SSL SHA256 HTTPS level security for ironclad data maintenance
Use in-app chat service for instant access to customer support representatives
Pros:
Third-party integrations available
Automated notifications
Cons:
No team collaboration on the native app
Lack of advanced to-do features and reporting
Pricing:
Get Solid Basic for free
Solid Pro starts at $7.90 per month and contains unlimited premium features
For Solid Enterprise, feel free to contact vendor support
50. Spike
With Spike, your email becomes a real-time collaboration and team communication hub.
It turns your email inbox into a task management tool and enables you to make your emails into your daily to-dos. The application enables you to manage projects, set reminders, and manage to-do list for any type of project.
Spike app lets you collaborate with your team, just like other collaboration tools such as Slack, but it offers more than just messaging feature. It helps you to simplify your mailbox for better organization and planning.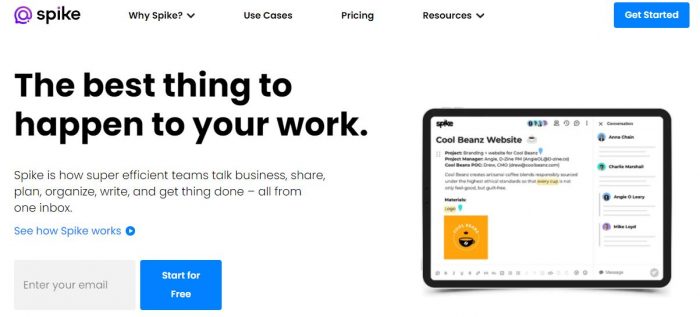 Download: Web | iOS | Android | Desktop | Mac
Key Features:
Real-time online conversation and collaboration
Enable project management with multiple collaborators
Create to-do lists right from your email inbox
Group chat with your team and clients
Audio and video calls enabled
Set bulk actions
Pros:
Available on multiple devices
Easily turn emails into a to-do list with the ability to set reminders
File Management
Cloud integration with GDrive, Dropbox and OneDrive
Keyboard shortcuts and dark/light theme
Cons:
Custom email domain accounts not in the free plan
Needs improvements in advanced features
Pricing:
Free: Free forever, personal email addresses only, unlimited personal accounts, up to 100K messages search history, 10 groups, basic email support
Solo: $15/account for a business email address. 20 groups and 200 notes
Team: $10/month for at least two accounts. Unlimited groups and notes. 50 Audio/Video call participants.
Business account: $16/month with a minimum of 20 users billed annually
51. Todo Cloud
Todo Cloud helps you organize your tasks and projects so you can power through your to-do list at maximum efficiency. With more than 70 million tasks completed, Todo Cloud is one of the most popular, powerful, and award-winning to-do list apps ever. Todo Cloud is best for power users and goal-setters. It's designed with the proven "Getting Things Done" Franklin Covey framework. With intuitive features that help you visualize, organize and prioritize your tasks, Todo Cloud helps users analytically allocate their time to the projects that matter most.
One of Todo Cloud's most beloved features is how it is available across a wide range of devices and syncs tasks across them. Whether you're at home, at work, or out and about, Todo Cloud syncs across your devices so that your tasks and reminders are right there when you need them. Bonus: if you're working on a team, Todo Cloud's collaboration functionality makes it perfect for planning, executing, and winning as a team.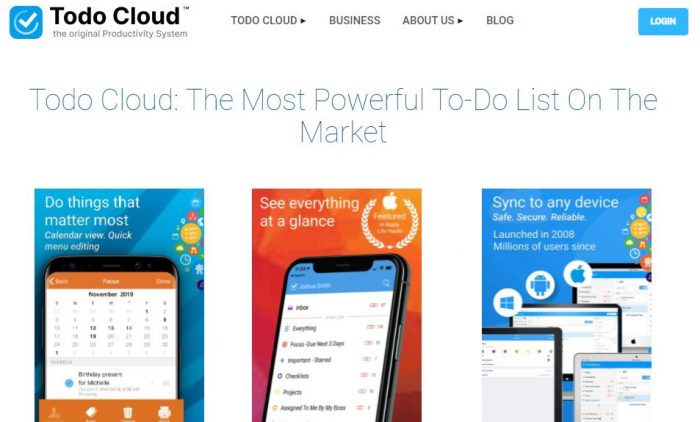 Download: Web | Android | iOS | Chrome Extension | Desktop
Key Features:
Forward Tasks from Email
Siri Shortcuts Task Creation
Intelligent Task Parsing
Import Apple Reminders
Create New Lists
Share a List With Others
Move List Locations
Set Default Due Date
Assign a Task to Someone Else
Add Task Actions
Add a Task Comment
Add Start and Due Dates
Set Location Alerts
Set Priority Level
Add Tags for Tracking
Set Recurring Tasks
Filter Using Calendar
Email a Task
View All Completed Tasks
Create Smart Lists
Pros:
Automatic recurring tasks reduce the time required for new task creation
Easy to use geotagging for tasks so you get reminders where you need them
Cons:
Because the app has so many abilities it can take a while to learn
Limited team sharing functionality without upgrading the package
Pricing:
Free – basic to-do list abilities
Premium – $29.99/year – includes all advanced features
For Business – $39.99/year – includes advanced features for team sharing and collaboration
52. Fellow
Fellow app is a note-taking app that helps managers connect with their direct reports through one-on-one meetings, and diverse teams across different organizations build collaborative meeting agendas. The software helps teams work together by providing real-time agendas, feedback features, and expert meeting templates.
This application is helpful for having productive team meetings and keeping a track of the action items in terms of to-do lists, helps you organize ideas and save them as a template.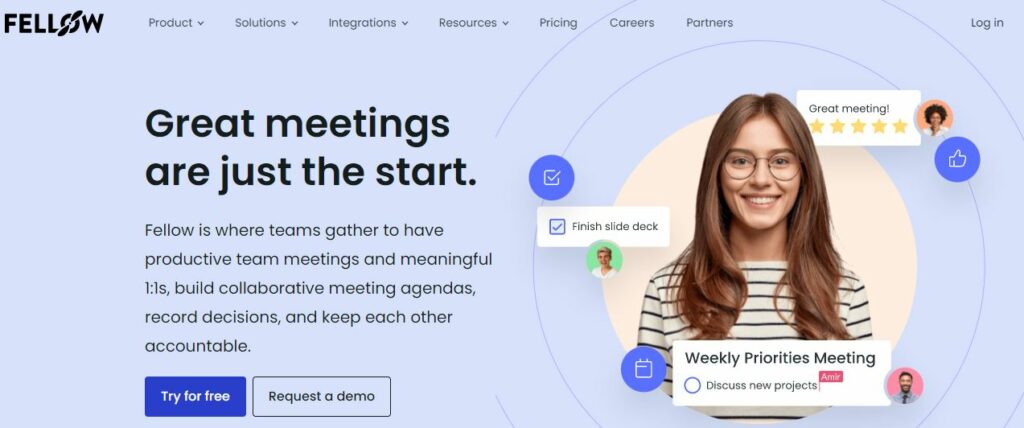 Download: Web | Android | iOS | Mac | Desktop
Key features
Build great meeting habits through collaborative agendas and real-time note-taking.
Track action items to keep your team organized and held accountable.
Use the meeting template gallery for all forms of meetings.
Request or gather real-time feedback from your team.
Pros
Employees and managers can get and request instant feedback after meetings.
Collaborate across different departments and teams with instant meeting agendas.
Stay organized and hold team members accountable with action items.
Build stronger relationships during your one-on-one meetings.
Use Fellow conjunctly with project management tools.
Build accountability within your team
Integrate Fellow into Google Calendar, Slack, or even Zoom.
Build a culture of feedback through the instant feedback tool.
Track objectives and OKRs across your team.
Cons
Fellow could integrate with more apps.
Fellow is paid after 10 users.
Pricing
Free plan
Pro plan at $9/user power month
Custom Business and Enterprise plans are available
53. Twobird
Discussions, initiatives, and collaboration across several programs need more work. Twobird is a task manager that also serves as an email service. Two birds allow you to focus on the most important discussions, tasks, notes, and activities at the time while discarding the rest.
Twobird keeps everything in perspective and under control. With Twobird, you do not have to switch programs to stay in context—your notes, reminders, and calendar are all integrated into your email. With pinned and recent lists, important items are kept close to hand. Done and Unsubscribe are basic strategies for eliminating unwanted email and subscriptions.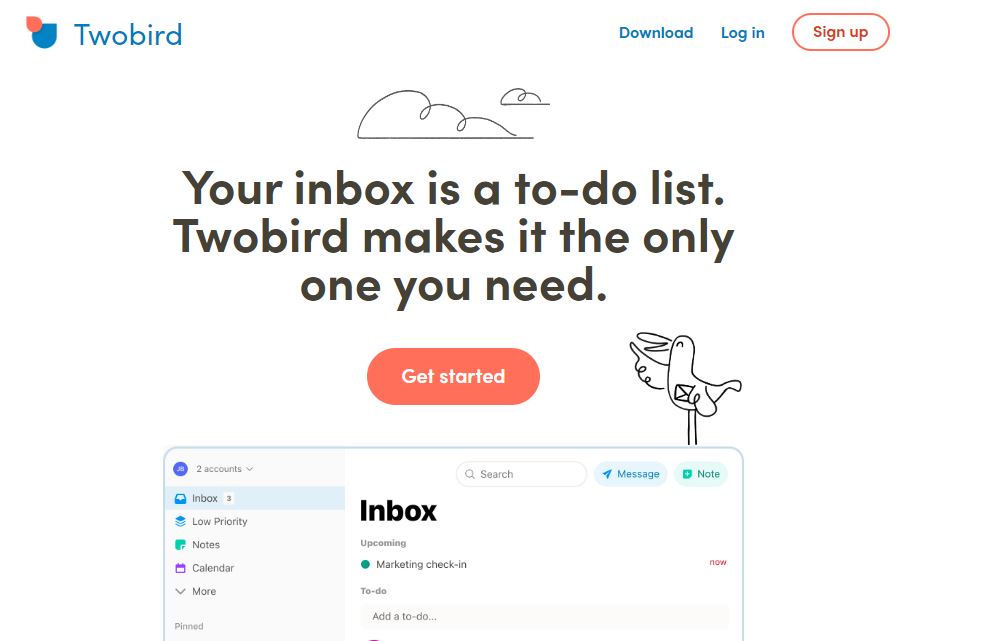 Download: Web | iOS | Android | Mac | Desktop
Features
It is a one-stop tool for organizing your chores and emails
You do not have to navigate between applications to view what is on your to-do list
Personal tasks can be added to your to-do list
Its low priority function allows you to lay aside jobs that are not vital at the time
You may use the reminder tool to create notifications for when to accomplish particular tasks
You can update a note while still in a chat
also, take proactive measures, such as disabling pixel tracking, to keep email activity secret
Pros
No cost to use the app
Makes it easy to manage task lists from emails
Integrates well with Microsoft and Google products like Outlook, Gmail, etc.
Manage list with calendar side-by-side.
Cons
The to-do list feature is of a basic level
Advanced features like task assignments are not available
No time tracking
Price
54. Google sheet
While other to-do list apps are available, none are as user-friendly and simple as Google Sheets.
Bonus: Syncing Google Sheets with your other G-suite applications is simple.
The best part about using Google Sheets as a to-do list is the formatting options. Text can be formatted to indicate high-priority tasks by bolding them or simply stating HIGH PRIORITY next to them. You can format your to-do list as you like.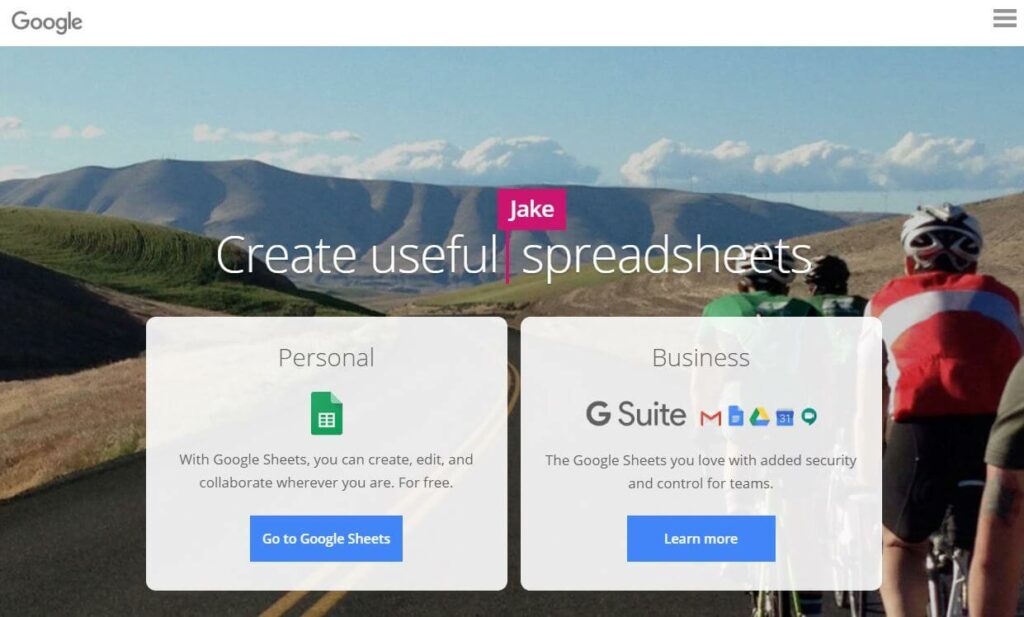 Features
Invoicing, project management, to-do lists, wedding planning, work, yearly budget, and analytics
Available in Google workspace
You do not have to worry about losing something because a coworker accidentally edited it as it has a detailed revision history
There is a ready-to-use template available that you can customize and use right away
Pros
Integrates seamlessly with all Google apps
Helps keep track of important information and lists
Share list with anyone within and out of the organization
Regularly updated
Cons
No customer support
Loss of formatting sometimes
Pricing
55. Akiflow
Akiflow is a new entry for to-do list apps of 2022 that creates a new market segment by being organized like a daily planner. By linking various apps such as Trello, Asana, Zoom, and many more, Akiflow allows you to consolidate your to-do lists into one place.
The tool enables you to bring all the work to one place, and manage the tasks on the calendar. It helps you easily bring tasks from different apps to one place, and the platform shareability is to the next level.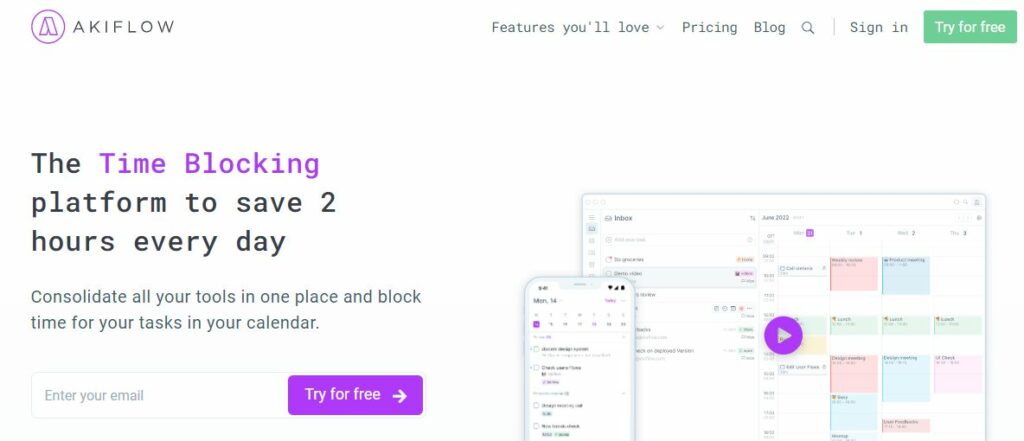 Download: Web | Android | iOS | Windows | Mac
Features
Integrations
Connect your preferred tools
Notifications
Receive notifications before a necessary appointment
Inbox Universal
Convert your chats into feasible tasks
The Command Bar
Tasks and events are managed at the pace of thinking
Pros
Easy to integrate with other applications
Saves time to manage tasks on multiple apps
Several keyboard shortcuts are available
Makes schedule management a breeze
Cons
The premium plan is a bit expensive for some users
Missing integration with Office 365
Pricing
56. Sunsama
Sunsama not only helps you arrange your day, but it also interacts and integrates with other apps like Todoist and Trello.
The app is undoubtedly one of the best to-do list apps as it pushes you to time-block your days, allowing you to focus more on serious work. Seamlessly import tasks from any task management or project management tool, and manage the schedule on Sunsama.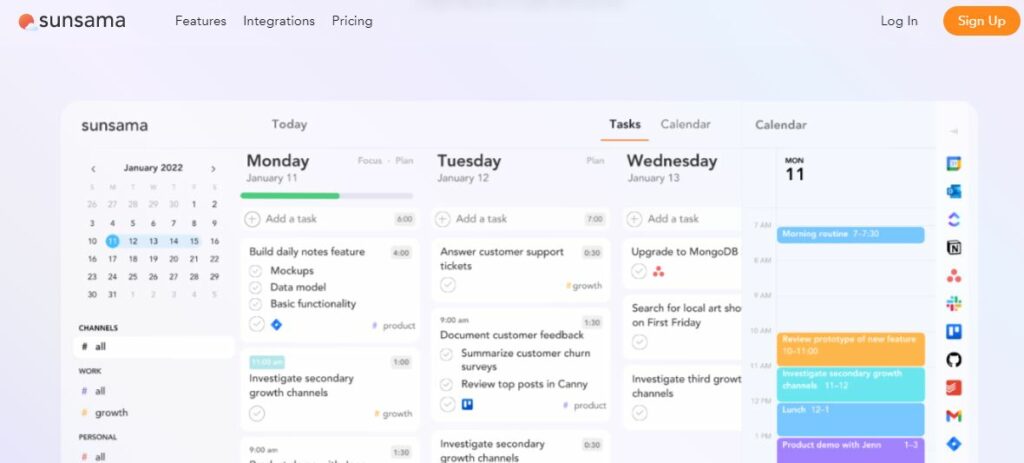 Download: Web | iOS | Android | Desktop
Features
Time management.
Task management.
Scheduling tasks.
Assigning Tasks
Reporting (Analytics)
Management of Recurring Tasks
Progress monitoring
Alerts
Pros
Intuitive mobile and desktop apps
Task scheduling made easy on a calendar
Unified view for tasks
Prioritize the time estimates
Cons
The cost of the tool is high for many users
Some responsiveness issues on mobile apps
Freemium plan is too limited
Pricing
57. Wunderlist
The second tool you can use to boost your productivity levels is Wunderlist (taken over by Microsoft). It comes with a clean interface that is user-friendly. You can add and check off tasks, sub-tasks, add a due date, or even reminders. You can also organize lists into folders and insert more items. Plus, you can filter tasks and keep track of your schedule.
What's more? With this app, you can create to do lists and even share them with family and friends. It is great if you have to submit homework in groups and get the supplies for an event coming up.
Everyone can share the same list of activities. When a task is done, either person can check it off as completed, letting the others know and all of this without affecting the overall user experience.
Please Note: Wunderlist is shutting down and being taken over by Microsoft. Here is what you need to do now.

Key Features:
Some of the prominent options Wunderlist provides you with are:
Create folders and group together related lists to keep the information centralized.
Share lists with colleagues or friends to collaborate.
Add comments to give more context to your team communication.
Quickly create notes for whatever comes to your mind.
Add reminders and notifications to always stay updated.
Easy import of things from the web to Wunderlist.
Tags to link together relevant to-dos and quickly access them whenever needed.
Cross-platform support for accessing the tool from multiple devices.
Pros:
Easy to set up, with a simple feature set.
Easy synchronization with multiple devices.
Free of cost.
Cons:
Too basic for advanced task management.
No built-in time tracking abilities.
No native calendar view.
Pricing:
Important Questions
Why you should be using a To-Do List App?
There are days when you have tens of tasks to complete both at a professional and personal level. To keep your head over water you need to be on top of your game.
To make that happen what I have discovered over the years is that using a To-Do list app helps a lot.
Here are three reasons why you should seriously consider using a To-do list app for your professional and personal efficiency:
1. Organization:
I personally believe the ability to organize all your work is one of the most important reasons for you to keep a to-do list app.
Once you cross off all the completed tasks you will feel a sense of accomplishment and gradually you'll feel less pressured by the amount of work that you initially thought that you had from the go-get.
You will feel more grounded and on top of your game once all of your tasks are organized.
2. Enhanced Productivity
Once you record all your tasks in a to-do list app you can easily check the list and prioritize the tasks of the highest importance.
Why would you want to wait on trivial matters when there exists a pile of really important tasks which could have high returns for your business?
A to-do list app will help you focus your attention on the most significant tasks first.
3. Better Retention and Memory
We as human beings do not have the capacity to remember everything at all times.
To-do lists are an extremely useful memory aid that facilitates the process of retention of all your tasks and responsibilities.
As per research, an average individual's memory can hold 7 pieces of information for about 30 seconds.
So…
What if you have more than 7 tasks to remember?
So, you get the point right… Your setup for failure this way.
What makes a great to-do list app?
A great to-do list app can be the catalyst to keep away from chaos.
It is always good to have a criterion on which you base your assumptions and decisions… Right?
The best to-do list apps do not need to be over complicated.
They should cover the following bases and you are good to go:
Improve your efficiency in organizing tasks
There need to be multiple ways to organize your tasks in an effective manner
It should have the capacity to notify you about your deadlines
A great to-do list app should provide a clear and crisp user interface
It should be available both on desktop and on mobile so that you can switch between the two easily and at your ease
Provide the ability to add sub-tasks to the main task category
Best to-do list app for iPhone
As per research by Statista, there exist more than 100 million iPhone users in the US alone, accounting for around 45% of all smartphone users in the US.
With such a big base of users of Apple products like the iPhone, we have jotted down a quick list of best to-do list apps for the iPhone.
The 6 Best to Do List Apps for iPhone
Best to-do list apps for Android
We really wanted to make your life easier.
So, in case you are looking for the best to-do list app for Android then we have a short but crisp list for such apps as well.
There are tons to choose from so here are the best to-do list apps for Android.
The 6 Best to Do List Apps for Android
Does Google Have a to-do list app?
Google's to-do list app is Google Tasks. Google Tasks allows you to manage, capture, and manage your tasks from any location at any time. This is through the fact that you can sync your to-dos or created tasks across all your devices for easy access.
We have reviewed the app above, but to find out even more or to download the application check it out on the Google Play Store, or click this link.
How Can You Organize Your To-Do List?
While to-do lists are to help you stay organized, keeping these lists organized themselves can also be a task. The main thing to remember is to keep it personalized. You need to figure out what works for you since to-do lists inherently will only benefit you if they are catered to your needs.
As a basic guideline, however, there are certain things that you can include to help your to-do list be organized and not get too out of hand. One thing to try is to know what you need to get done; this can be through prioritizing.
By prioritizing your to-dos, you won't get confused as to what work to do first and what can be left for later. Besides prioritizing tasks, also include a schedule or due dates for each task so you stay on top of the work and nothing gets missed.
Most of the applications we have included in this list of to-do list apps include both the option to include due dates and to set priorities for the tasks or to-do items you create. So, this should be simple to follow.
How Many Items Should be on Your To-Do List?
The number of items you include on your to-do list depends on what type of to-do list you are creating. Is it a daily to-do list, one for the month, or the entire year? Maybe it is just a list of items you want to get done whenever you get the chance.
The number of items you include depends entirely on you, but if you are making a daily to-do list try to write only as many items as is practical for you to get through. Having a list that is unrealistic to complete can lead to stress and be disheartening.
Is It Really Important to Rely on To-Do List Apps?
One of the scenarios that many websites fail to mention is whether it is really necessary to use To-Do List Apps.
If you don't believe us, you can do your research by simply typing down the best to-do list apps in Google. Chances are that you will see tons of web pages leading to a curated list of these applications, but you won't find any plausible reason for their use and efficacy.
This is because most of these websites are only interested in pushing these applications to the front page.
No matter how good a to-do list application is, it will render useless if you don't have any real use for such tools.
The best way to go about this predicament is by analyzing your requirements. To be honest, most independent freelancers and contractors don't need the best to-do list apps. These individuals can manage their workflow easily via simple Google timesheet extensions or other online alternatives.
You will only need to use a to do list application if you are a project manager or someone who has to multitask a lot. In such cases, committing daily doubles to memory is a hard thing. The best bet is to manage everything in a list format and prioritize tasks as they come by. That's what to do list applications are for.
Well, this marks the end of our top 57 best to-do list apps. How do you manage to get your to-do lists completed? Suggest the best to-do list apps you have come across in the comments below.