TimeCamp is a very famous time tracking software that highly improves your work's progress, productivity, and efficiency. It tracks down workers who are doing their work remotely and it also administrates the invoicing( bill and debts). This blog will help people looking for TimeCamp alternatives.
However, TimeCamp is not perfect as it has some flaws. It is complex to an extent and you'll be facing flexibility issues in its reporting time alongside other things.
The following are some alternatives to Timecamp and by using these, you'll see the robustness in your working routine.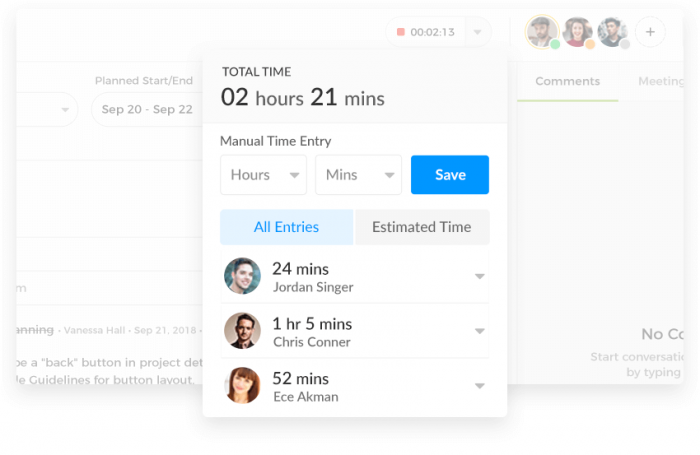 nTask comes as a project management tool at its core. At least that's how the company started several years ago. Ever since the 2.0 update, the program has been revamped with several user-requested features that reportedly help to boost productivity.
And yes, time management is one of the core features alongside a slew of many other nifty additions. nTask can be used to not only monitor time logs but also delegate time management to other subtasks across different teams.
For such reasons, nTask project manager is considered one of the best time camp alternatives to date. Another key highlight of this tool is the interactive Gantt charts experience. For each workflow process, the Gantt charts can be conveniently customized to manage the direction of the project. You can simply drag and drop to perform various functions to optimize your Gantt charts easily.
Key Features:
Timestamp and time management features.
Time log, timesheets approval, and various other schedule-related functions.
To-do lists and everything there is to productivity.
Clutter-free UI with Kanban boards (coming soon), priority management, and scheduling system.
Various collaboration tools for a wholesome teamwork-oriented work management process.
Pricing:
nTask Manager offers a forever free plan.
The premium plan starts at only $3 per user per month
The business plan goes up to $8 per user per month respectively.
nTask is the Best Free TimeCamp Alternatives

Manage tasks, teams, projects, meetings, and more with nTask. It's free – no questions asked.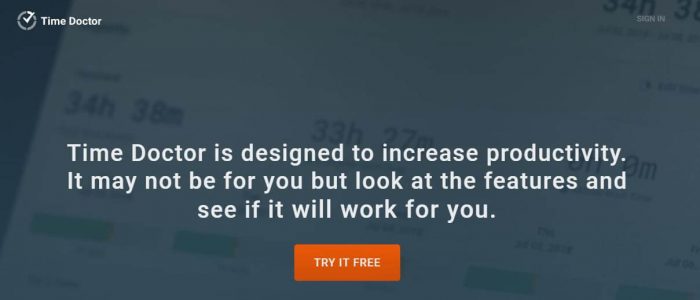 Moving on, Time Doctor is a very unique software that monitors and determines your productivity at different forefronts. Many reputed international and multinational companies (MNCs) use Time Doctor as part of their daily work regimen.
If you are looking to upscale your time management experience, you can give this app a shot. It is considered the best Timecamp alternative that precedes nTask manager by a few minor highlights.
Key Features:
Time Doctor tracks time-related activities at employees' end.
It monitors the websites and apps that employees use during work.
It scrutinizes the less efficient workers and provides sufficient methods to boost and upgrade their working abilities.
It serves the purpose when it comes to client billing and employee's accurate monitoring as it accesses a huge chunk of reports.
It can easily integrate or amalgamate with world-known communication apps, such as; Slack, GitHub, Google Apps, Microsoft Teams, and many more.
Pricing:
Time Doctor costs USD 9.99 per user/ per month. You can also sign up for a 14-day free trial.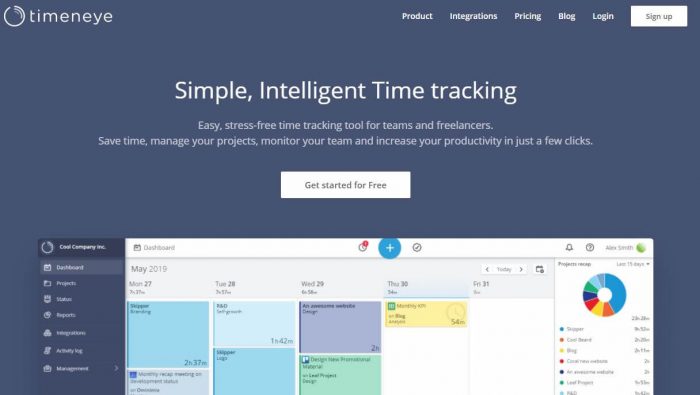 This one is a peculiar app because of its innate ability to breakdown time stamps at employees' work level. Aside from admin-level monitoring, team managers can also keep up with employee end performance regularly before the work is passed up for review.
Key Features:
You can use this application to monitor how the employees are utilizing their time to finish their work.
If a task is assigned to a team and it is taking too much, you can identify blockers by reviewing the auto-generated backlog.
Pricing:
The free plan comes with support for a maximum of 5 projects with minor storage space restrictions.
Pro plan costs $7.00 per user/ per month or billed accordingly per the annual plan.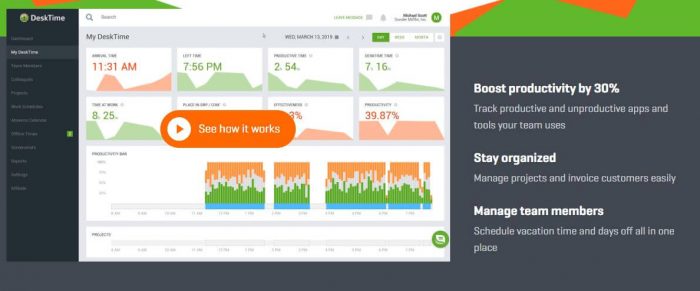 Desktime is a handy tool when it comes to the best Timecamp alternatives. It breaks down and calculates the total amount of time spent by your team on a project. You can easily figure out the project-wise work and assess which employee has worked on each task for said number of hours according to the company policy.
Key Features:
Track down billable or paid hours of a project.
Estimate budget and get auto alters/ suggestions if a project is exceeding the financial limit.
Predict extra time hours if the work is going beyond the limit.
Pricing:
Free plan comes with basic level time monitoring features. Paid plan, labeled as Pro charges $7.0 per user/ per month.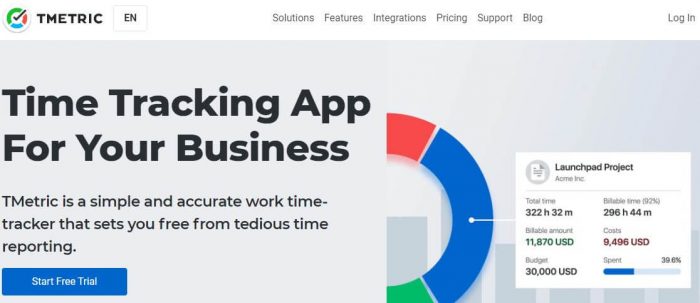 TMetric is a reports oriented project and time management software. It highlights the apps and websites that have been used by an employee during their working hours alongside the total duration of the time that he has been spent on each application/website.
Key Features:
You can easily track down the work progress of your employees using this app.
You can figure out the productivity of your employee to help identify blockers if/any.
Offers the highest level of monitoring at employee end keyphrase and search term levels.
Pricing:
Tmetric is available as per the following price plans.
Free plan enables 5 users support at a time. Ideal for small startups and new businesses.
The professional plan costs $5.00 per user/ per month. Perfect for multi-user monitoring, task management, and project budgeting.
The business plan costs $7.00 per user/ per month with additional resources available to enterprise-level users.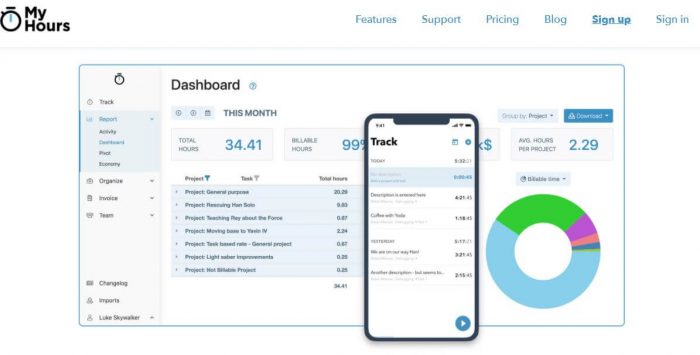 As one of the best Timecamp alternatives available online, My Hours enables end-users a breakdown of their entire week's work activity easily. Of course, team managers and admins can also overlook this activity feed, but My Hours sort of offers a more personalized approach to users.
This way, primary program users can make amends and get rid of any performance blockers before passing up their work for further review. The program rectifies any setbacks in productivity by helping users to oversee their tasks, time spent on each activity, and vice versa as a means to self-improvement.
Key Features:
Employers can use My Hours to monitor and observe nonserious and less productive employees.
You can check which employee is taking too much time to complete any assigned activity.
Pricing:
The free plan does not include invoicing features. It is ideal for single users and/or freelancers.
Pro Trial offers a 30-day user experience without any cost. Pro Plan offers all Pro Trial features with the inclusion of $6.0 per user/ per month.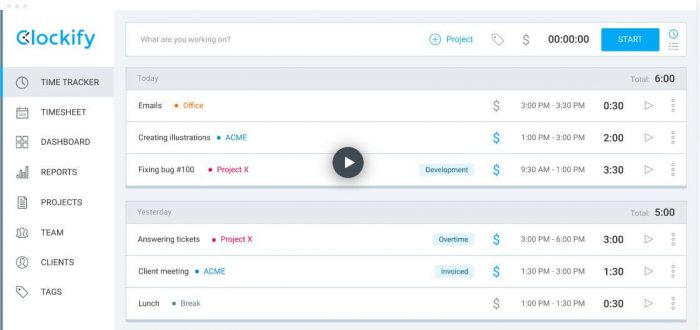 Clockify is a very advanced TimeCamp alternative that helps to tracks the progress of working hours across any number of projects. It is user-friendly and very easy to use – all thanks to a simple UI and placement of tools shortcuts right where they need to be in the Clockify dashboard.
Key Features:
Clockify supports both manual and automated time tracking.
Easy to use due to minimalistic UI and Web 2.0+ design overlay.
Reports can be exported in multiple file formats, such as; PDF, CSV & XLS.
It can be integrated with numerous project management and business apps. ClickUp, Trello, Evernote, etc. are just to name a few!
Pricing:
Free plan includes basic time tracking features.
Plus tier comes at $9.99 per month alongside timesheet locking, privacy controls, and reminders.
Premium plan costs $29.99 per month. This package includes bulk report editing and project templates.
Server plan is an enterprise-level solution aimed at bigger companies. This plan costs $450 per month. It provides high-level advanced security, dedicated customer support, and technical assistance.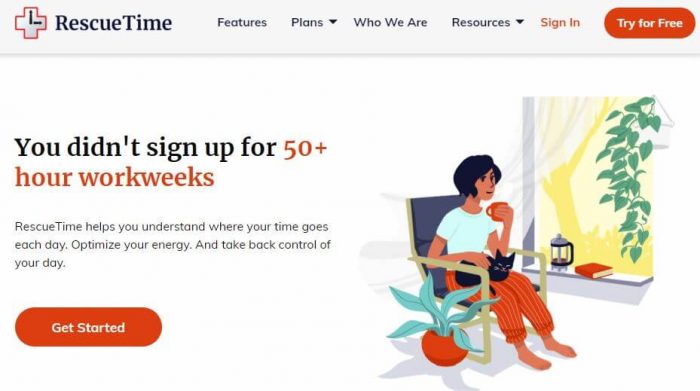 As the best Timecamp alternatives on this list, RescueTime is considered a very handy and hassle-free resource. It is a web-based time tracking tool with a side of productivity boost for workaholics. It tracks down power time usage and helps you to take adaptive measures to boost work efficiency across multiple forefronts.
Key Features:
It provides you with automatic time tracking for the websites and apps accessed at the employee level.
Block useless or irrelevant websites, so that you can get by with a distraction-free experience at the office.
ResceTime integrates with tons of other project management and communication apps, such as; GitHub and Slack, etc.
Pricing:
RescueTime Lite: Free version includes basic level tracking features.
RescueTime Premium: USD charged at $6.00 per month is specifically made for individuals and freelancers. This package includes distraction blockers and real-time alerts.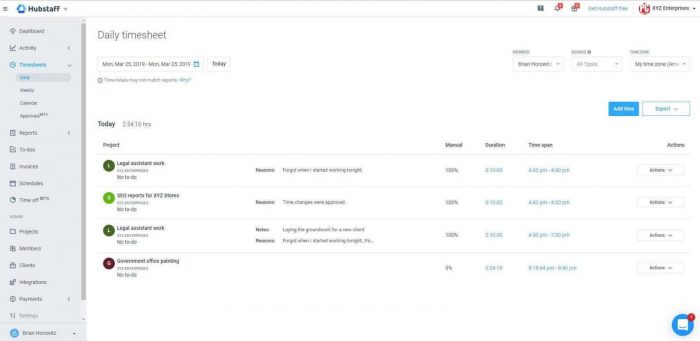 Hubstaff is a very famous timesheet management software application end level employee progress. You can determine the productivity of your employees with its simple and unique features. These key highlights of this program are appended below:
Key Features:
Timesheets are highly accurate and advanced.
Employees can easily be monitored with the help of screenshots.
It has built-in payroll management and a project management system.
Supports integration with project management, billing tools, CRM software for extended and flexible user experience.
Pricing:
The Free plan has minimal tracking features.
Basic plan comes at $4 per month alongside unlimited screenshots.
Premium Plan costs $8 per month. It supports unlimited integrations and payroll/wage management related features.
Enterprise plan is available for $16 per month. This plan includes unlimited team size and skilled support management.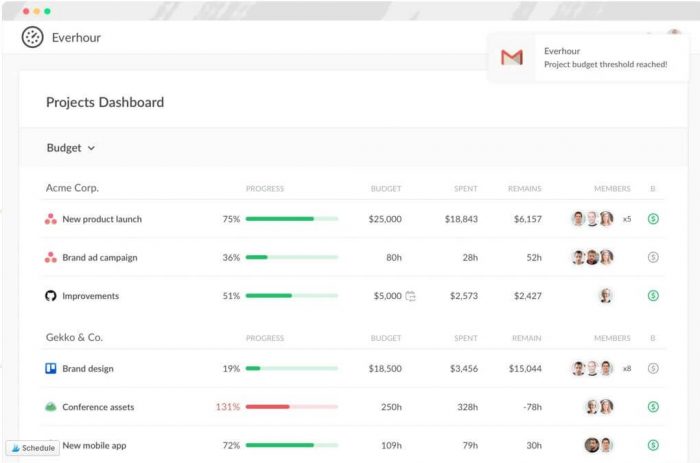 Everhour is a team-based time tracking software that manages and administrates payrolls, billing, and invoicing. It is very simple to use and specially designed for remote workers so that they can work effectively.
Key Features:
Set reminders and estimate the project workflow.
Track down project progress in terms of finances.
Easily integrates with numerous project management apps like Jira, GitHub, Trello, Slack, etc.
Pricing:
Basic Plan comes at $7.00 per month and billed annually.
Team Plan costs $8.00 per user/ per month and billed annually.

As one of the best Timecamp alternatives, Toggl is perfect when it comes to small business franchises, such as; freelancers and local warehouse setups, etc.
Key Features:
It has a powerful browser extension. You can track downtime spent on different apps easily.
It contains automated timesheet management and has real-time synchronization with mobile and desktop programs.
Generated reports can easily be exported to PDF, XLS or CSV.
Pricing:
The starter plan comes at $9.00 per month billed. It can also be billed annually.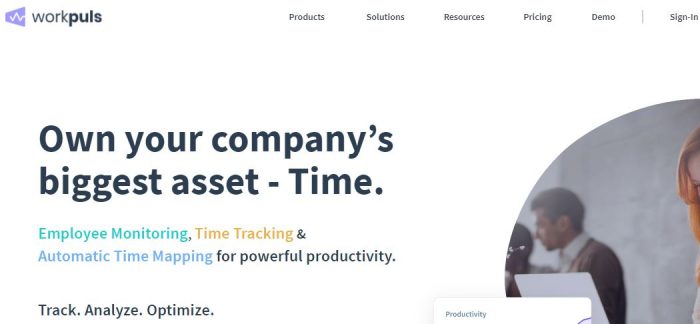 Workpuls is a TimeCamp alternative that was built for today's work from anywhere world. It can be tailored to any industry and company from 10 to 10,000+ employees, whether your team works remotely, in-office, or both.
With a suite of products including employee monitoring, time tracking, and automatic time mapping software, they're focused on providing analytics to companies to give them insights about their employees' productivity. It's trusted by a number of global companies including Accenture, Farmers Insurance, and Office Depot.
Give this app a try if you're looking to increase your productivity or accountability at work.
Key Features:
Workpuls has real-time monitoring that gives insights at a glance into what employees are up to.
It has automated time tracking that tracks clock-ins, outs, and overtime hours automatically by checking computer activity.
It allows employees and managers to analyze productivity and efficiency with insightful charts for individuals, teams, or the entire organization.
It has the functionality to manually take screenshots for any employee at any time.
You can export raw data at any time for companies who want more detailed data about employees' everyday activities.
It allows for alerts to be created when productivity levels are unusually low or when deadlines or project budgets are approaching, for example.
Pricing:
Workpuls costs USD 4.80 per user/per month on an annual basis or USD 6 monthly. There's a free 7-day trial available.
Conclusion:
If you feel that we failed to mention your preferred tool of choice as part of the best Timecamp alternatives, feel free to let us know through the comments section below. You can also write to us with your suggestions at fwilson@ntaskmanager.com.
Further readings: