Time is the most critical factor that you can't overlook as a freelancer. You live and die by the time you promise the assignment or the project to your client, and if you don't deliver the required work over to the client, then all of your hard work goes to waste, and there is no coming back for that client.
This is why time tracking tools for freelancers are one of the most sought-after tools in the market right now in this world of productivity. This is because professional life is quite demanding, and if they don't manage their time correctly, that life gets more complex.
If you are in a similar situation, we have the answer for you in this article.
This article will talk about 5 of the best time tracking tools for freelancers and how they can use them to improve their productivity levels.
Why Use a Time Tracking Application as a Freelance Professional?
As we see nowadays that being a freelancer has become a worldwide phenomenon. Especially during the pandemic when most of the workforce worldwide had to be laid off from their jobs, and they had to find an alternative income source. That alternative income source, Freelancing.
We live in extraordinary times where technological progress is racing forward at an incredible pace and the vast urbanization of human civilization, allowing people from all over the world to work from any place at any given period.
Furthermore, according to many studies related to Freelancing (by Upwork and Freelancers Union), "freelancing income totals almost $1 trillion — or nearly 5% of GDP — more than major industries like construction."
When you look at huge numbers like that, you really can't be surprised when so many people around you decide to quit the normal office routine that we are all used to and join a more convenient lifestyle that can help us achieve a healthier work/life balance.
But you need to understand that working as a freelancer is immensely fruitful in so many ways. Still, it can be pretty demanding regarding self-discipline, constant communication with clients, and proper time management related to the projects and products at hand.
You might think that this self-discipline and constant communication is simple, but it isn't.
It is a never-ending process in which you have to exchange a lot of different information between many other parties so that everyone is in the loop, and there are no blank spaces when it comes to the project or the product you are working on.
This exchange of information is generally of 2 different types.
What is the expected budget for the project's metrics, completion, and numbers?
How many hours is the freelancer going to spend working on a project?
This is where a time tracking application comes into view for the freelancer.
How to Choose the Best Time Tracking Application?
You can think of a time tracking application as a personal assistant to the freelancer in question. Not only do they just follow the time and manage that information in the future, but they are also quite helpful when the individual using the application is being paid at an hourly rate. The application helps them calculate that amount using the project information at hand.
In an effective or one of the best time tracking applications, all of the different components making up the application should be tied with one another so that you can quickly and flexibly use the application without any obstacles or issues.
The application should also have a free trial to try it out before spending any money on it. Also, it should automatically track time, track billable hours, and have many integration options with other apps so that the user isn't troubled with any compatibility issues later.
So now let's talk about the 5 best time tracking tools that are perfect for freelancers in 2022.
Best Time Tracking Tools for Freelancers to Use in 2022
Let's talk about the time tracking applications for freelancers in detail and find out how they can benefit freelancers working in the market in 2022.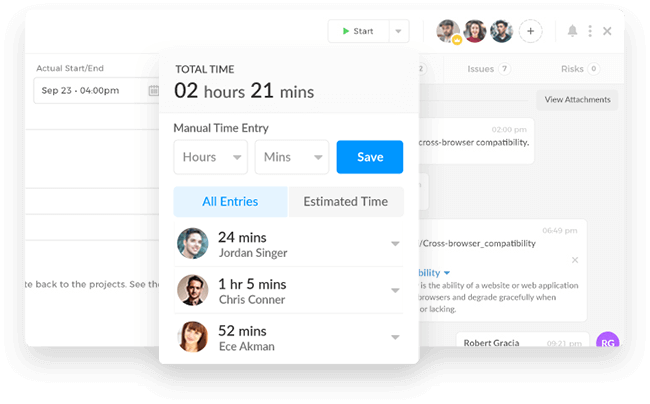 Being a fantastic project management application that you can use for all of your current projects as a freelancer, nTask is an incredible time tracking tool that can also help ensure that all of the time is related to the tasks and processes you perform is stored and managed.
The application has an intuitive dashboard that allows you to enter all of the tasks and processes you are performing right now and helps you maintain a timesheet regarding those tasks and processes.
When you have finished the task, you can quickly stop the timer that you started at the start of the process so that the data can be stored in the database, which you can easily access through the interface later on.
Here are some of the features you can enjoy using this time tracking tool as a freelancer.
Key Features
Project management to take care of the processes that are a part of the project development process that you are working on
Task management to track and manage the tasks of the freelance project that you are working on
Kanban boarding and Gantt charts to get a better view of the project at hand
Meeting management to keep in constant communication with the clients
Risk management to make sure that there are no risks or scope creeps associated with the project
Time tracking to keep track of all of the time-related data related to the tasks and processes that you perform as a freelancer
Pricing
The application has an incredible free trial that can help you get to know the software and whether or not you should use the application in the future for your freelancing career
Basic free plan
Paid plan starts at $3/month
2. Hubstaff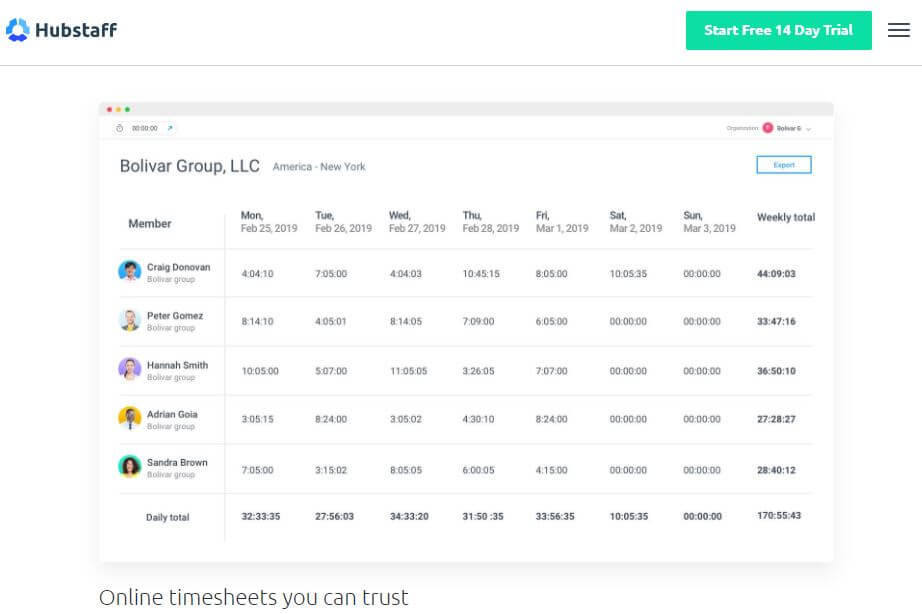 One of the more straightforward management tools for all the contractors and freelancers working in the market right now, Hubstaff is incredible when it comes to time tracking.
With features like activity monitoring and screenshots, the clients and the freelancer handlers can see precisely what is going on related to the project and the freelancers at work.
Key Features
Using the application, you can easily edit or add time entries into the interface so that you can create custom reports and timesheets easily
You can create customized reports with the application, and you can view all of these reports according to the filter you set, which are by team member, as a timesheet, as location reports, by week, by projects or clients, etc.
You also have a one-click timer that allows you to track any time-related activity in just one click, and when you are done, you can just tap finished, and it will be saved
You can also enjoy simple budgeting and billable hours tracking in this incredible time tracking tool for freelancers
Pricing
You can use the trial version of this incredible time tracking application which will last around 14 days, but if you want a paid subscription with more premium features than the free version, then you have to buy the Basic subscription which will cost you around $7/month
3. TimeCamp

TimeCamp is one of the best time tracking applications on the market. It is a 100% free time tracker that can be used by an unlimited number of users worldwide.
The application allows you to manage all of your different projects in one place, collect all of the information related to the data and its stakeholders, and save it to the database.
Key Features
The application has an automatic time tracking feature that allows you to follow all of the time you spent on your applications on your PC or mobile and also tracks the idle and offline time
The application lets you track all of the billable and non-billable rates, which is very important when it comes to Freelancing
You can create custom reports using the software according to the needs and requirements of the situation
You can integrate the application with a lot of third-party apps so that the users don't have to use a lot of new applications, and they can just merge the ones they are using right now
Pricing
There is a 14-day trial period if you want to use the software without paying any money, but if you think that you want to use the software as your daily driver and want to buy a paid subscription, then you need to pay $6.30/user/month
4. TMetric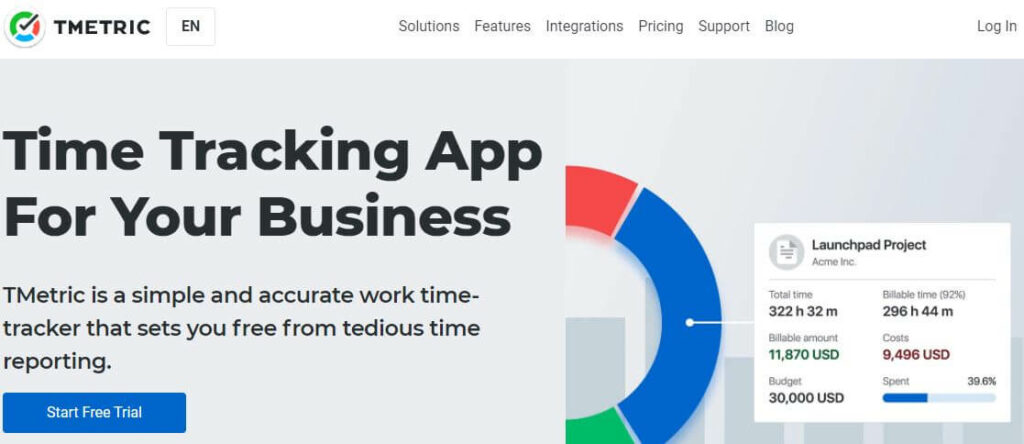 Another incredible time tracking application that can help you monitor the progress of your work and time-tracking every single task and activity is TMetric. The application also allows you to measure the budget spent on the project so that you can easily bill your clients without using any other tool.
Key Features
Automatic time tracking
Manual time tracking with editable time entries for custom timesheets
Integrations with many different platforms
Tracking billable time entries
Create custom reports related to the project and the freelancers
Pricing
There is a free trial in all of the subscriptions regardless of which one you get, and the most affordable one to get is $7/month
5. Insightful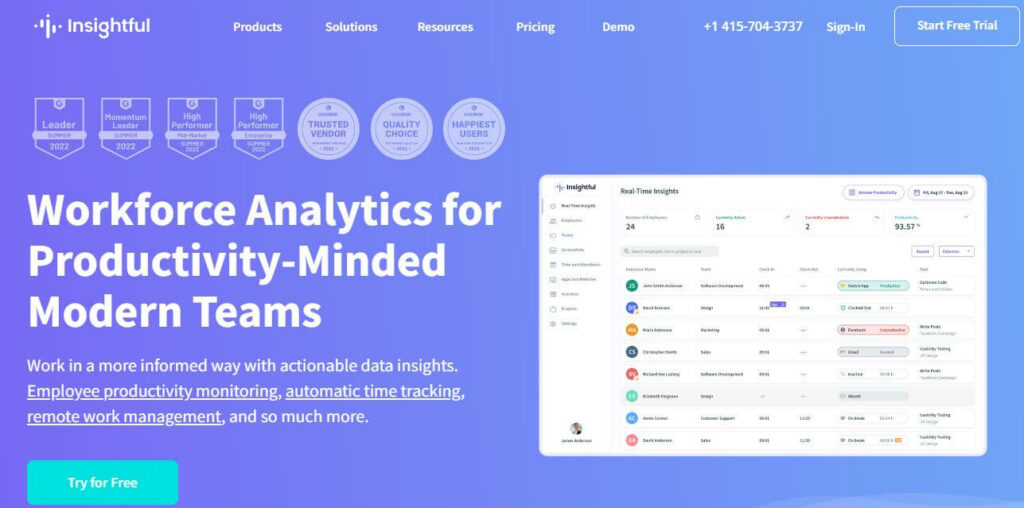 At the end of the day, you want to see the results of your work and not just "Killing" your hours in the workplace. Time is money. There are many ways to measure your productivity or keep you focused during the day. If you or your employee gets distracted a lot there are trackers like Insightful with its employee computer monitoring tool.
Insightful is a great solution if you want to work smart not hard, with its multiple opportunities like screenshot mode, stealth mode, productivity tracking, reporting, and an easy payroll system.
Key Features
Time and attendance management
Time tracking for projects
Employee monitoring
Time mapping is done automatically
Pricing
Employee monitoring at $8/month
Time tracking at $10/month
Time mapping at $15/month
Custom enterprise plan
Conclusion
If you think that we missed some essential elements and should be included in this piece, write to us, and we will review it ASAP.
---
Related Posts: