Are you one of those people who cannot function without a watch on their wrist? For a productive life, your day has to be organized and scheduled to the minute. Do you keep a to-do list for time management or do you rely on your daily planner or a calendar?
Managing time on a daily basis can be a slight challenge for many out there. People fall prey to procrastination, binge-watching Netflix (we've all been there) or they could be distracted by some other project that offers a personal distraction.
For some people aiming to live a prolific life, to avoid anxiety and constant stress — having things planned out for the hours in the day is an important step. It also decreases that dreadful feeling of not having "enough hours in the day".
You have your phones on you at all times. They've sort of become our additional limb, haven't they? Let us show you ways to manage your time on the go. You can have apps to be your time management genie, right in your pocket.
Table of Contents
13 Best Time Management Apps In 2023:
More on these apps are appended below: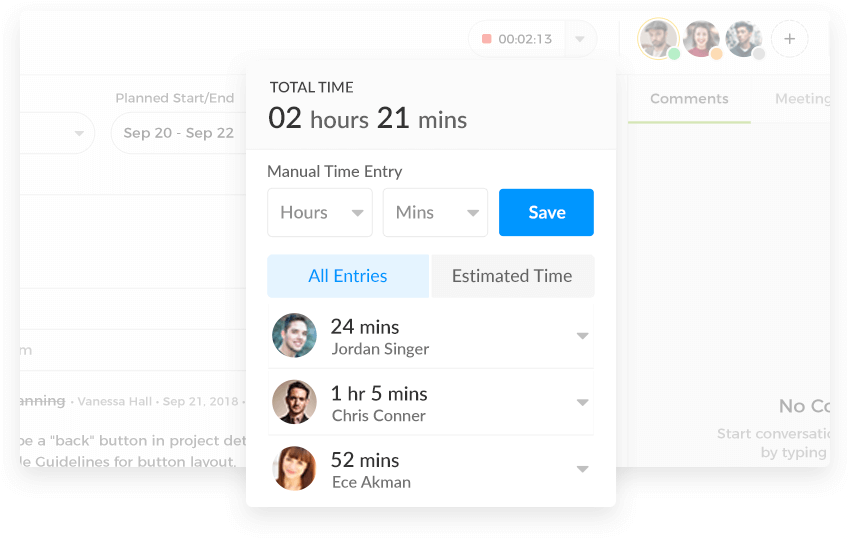 Being one of the most incredible task management and project management application on the market right now, nTask is perfect when it comes to time management.
The application is as intuitive as it gets, and with its easy-to-use and minimal interface, it can easily replace any and every project management and task management application that you are currently using.
The application has a lot of different features that make it a formidable opponent to many applications out there right now.
These features include time management and its connections with the tasks, so that if you are a manager or a team member and you want to manage the tasks and processes that you have to perform as a part of the project development process with the time allocated to you, then you can easily do that with nTask.
Other features include Kanban boarding and Gantt charting, in which you can easily visualize the tasks and processes that you add to your interface in a whole different way.
This helps the managers to check out all of the different priorities and dependencies related to the project at hand and the included tasks to make a roadmap for their team members to perform the tasks in order and finish the project easily and quickly.
The application has an incredible free trial which can be used by any user that wants to check out the features that are the best for value shoppers, and if you want to get the paid subscription right away, then pricing starts at $3/month/user.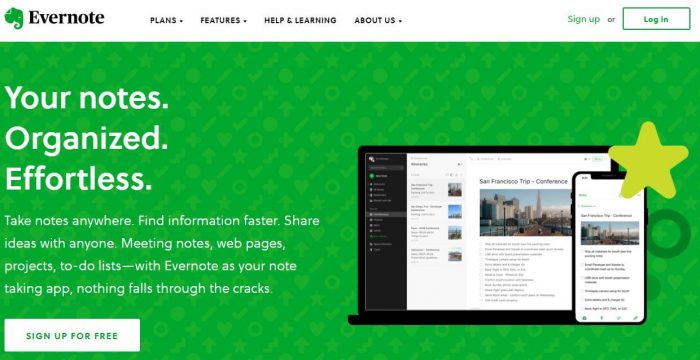 Evernote uses the logo of an elephant, because "Elephants never forget". Evernote has been designed to help not to forget!
One of the most popular time tracking apps out there is Evernote. You can keep your notes, ideas and to-do lists here. It offers the ease to share your notes with whomever you wish to without them having Evernote as well.
You can easily integrate Gmail, Outlook, Google Drive, Slack and Siri to alternate and work more efficiently.
Sign up for Evernote for free or you can also get additional features on Evernote with the premium and business plans costing $7.99/month and $14.99/user/month respectively.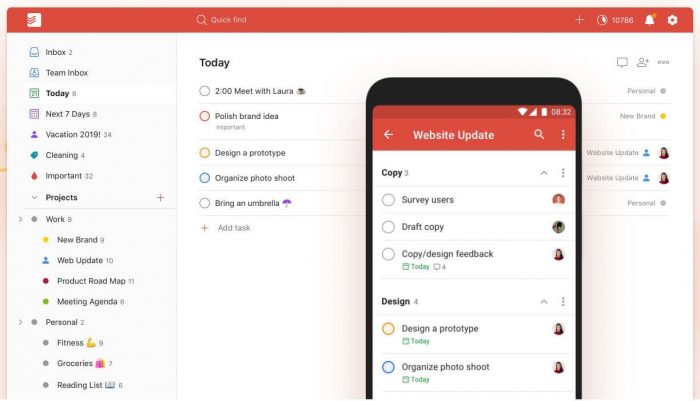 Your mind might be too cluttered with all the tasks you have to accomplish before the end of the day. Or your daily planner pages might have turned black with all the little notes and things you have to do. Todoist cannot just unclutter it all for you but also help you stay focused on getting the job done.
Todoist will rescue you from being overwhelmed by the stacked work you have. Just take a breath! Calm yourself with this app's features to prioritize work and get tangible progress.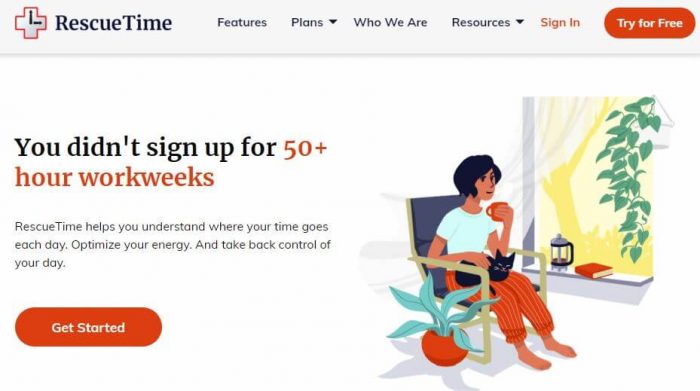 It is a fully automated software that will let you keep track of all of the 24 hours in your day. This way you can divide your time efficiently to add in the "me time" as well as the focused time you need for achieving your goals.
RescueTime, by understanding what you use your time most for, lets you prioritize your tasks too. It automatically keeps a track of all websites you visit or the apps you visit. That way you can build focus towards what is more important. With a clever little feature called "Productivity Pulse," you can see how concentrated you were on a particular day.
This is a great app to use if you do not want to find yourself stuck in front of your laptop, working all your hours away. You need to be mindful of your time.
They have separate plans for individuals and for teams. You can use it for free or for $6 per month per member.

It is a simple but powerful time tracking app. As with other apps on this list, Toggl will help you to learn what your time is worth and where to spend it the most. With Toggl you can take assistance to assess where exactly your money can be monetized; this app is business intelligent.
It learns from your daily routine and provides you with further suggestions to fill up your task schedule. If you are one of those people who are all over the place when working on various projects then Toggl is certainly for you. It will help you to make better and smarter choices.
Toggl offers a starter's package of $9 per user per month, a premium package for $18 per user per month and an enterprise package with custom pricing.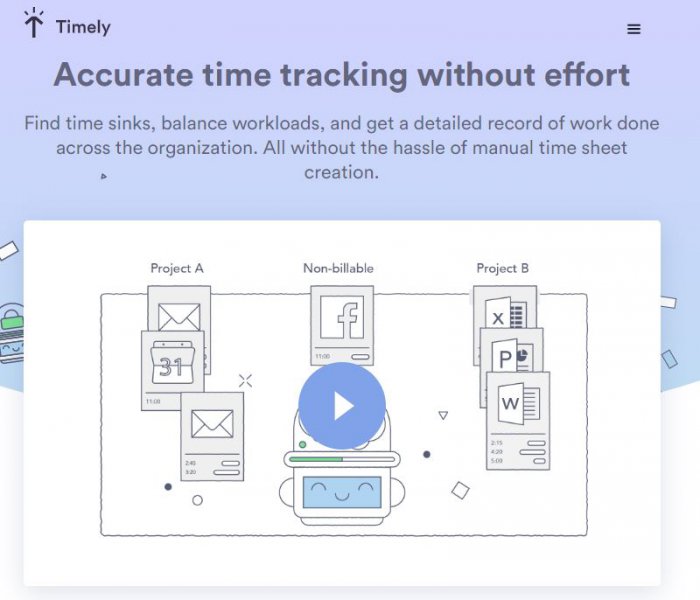 Apart from being a team and project planning software, Timely is an excellent time tracking tool as well. You can have a full view of the team's time and their performance accordingly in this app. This will surely increase your productivity. You can also keep track of your time using reports for payrolls and performances.
They have various pricing plans separately for individuals– ranging from $6-$20 per month; for teams based on their size $44- $404 per month.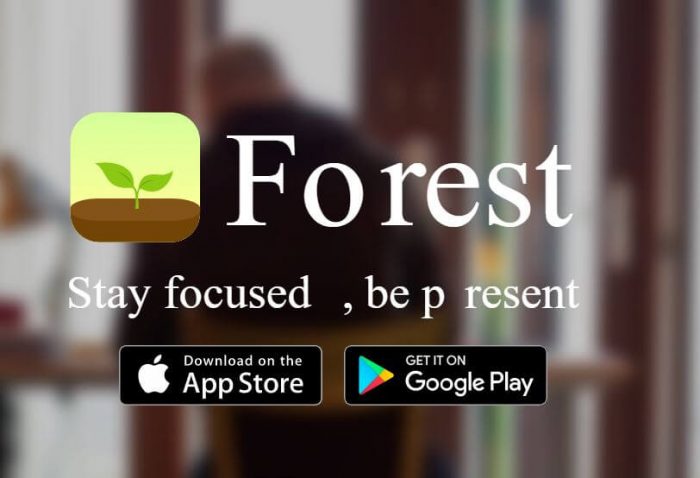 Forest is one of our favorite apps to use for keeping mindful track of your time.
If you need to spend time away from your phone and on the task at hand; this app lets you grow a tree. That way you will be building your forest. If you move away from the app, your tree will be killed. (a fun and productive way to be reminded of the importance of trees as well.)
Forest also partners with organizations that plant real tress for all the virtual coins you earn and then spend. It is a contributive way of practically caring for the environment and also staying focused on your work.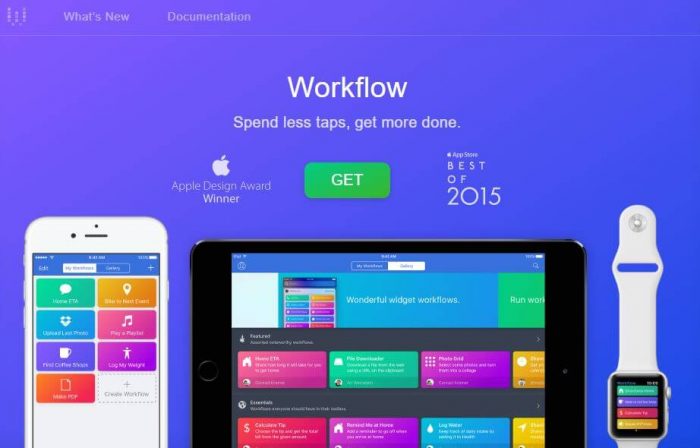 If you are want everything to be done with fewer taps then, Workflow can work for you. If you are tired of having to shift among various apps and tasks as you have a million things to do at the same time then the workflow is also for you. It lets you custom create your Workflow. It collects all the best features of your favorite apps and places them all together.
You can play a playlist, read the news, make a note to self, order a ride—you would be in control of creating a customizable app, just for your use.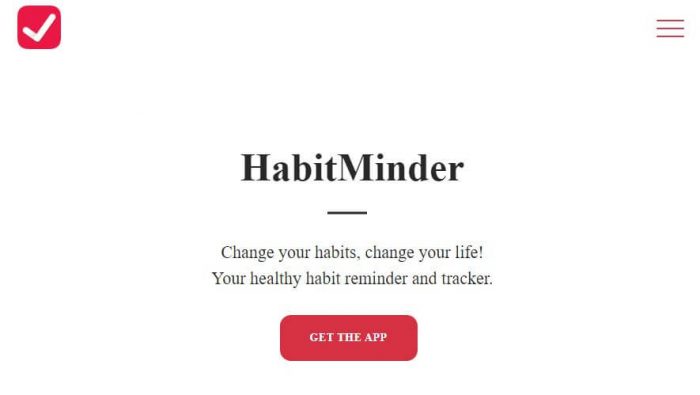 We have all made our New Year's Resolution, promises to our loved ones that we will definitely see this one particular thing through. We will make this one thing in our habit.
It can be difficult to keep up with the new productive habit you want to keep integrated into your life. This app would let you keep track of your habits and possibly change your life too. Stay on the road with your daily goals, and even your work using its intuitive software. Soon you will be able to flaunt that you did keep your New Year's resolution after all.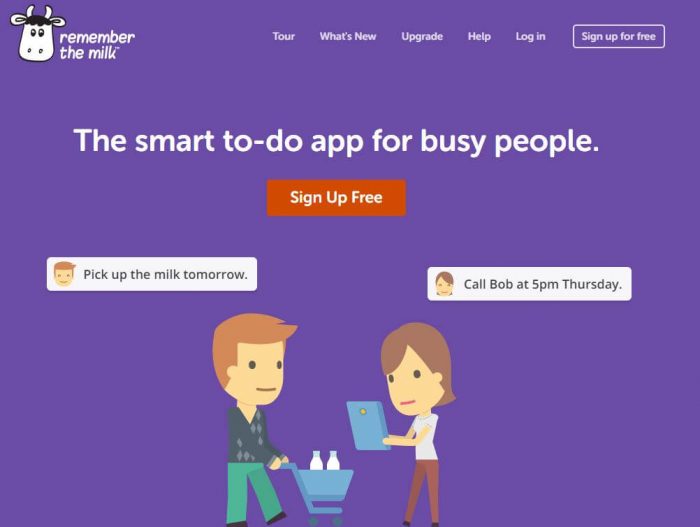 Have you ever stepped out of the house, thinking of grabbing the milk off the rack? However, you end up buying everything but the milk (Happens to the best of us). You can use this app to not forget the milk the next time, or any other item on your list for that matter.
It lets you break your tasks into smaller subtasks, and prioritize using colored tabs. It also has easy reminders using texts, IM emails, and Twitter.
There is a free version of this app available as well. Or you can use it for $40 per year.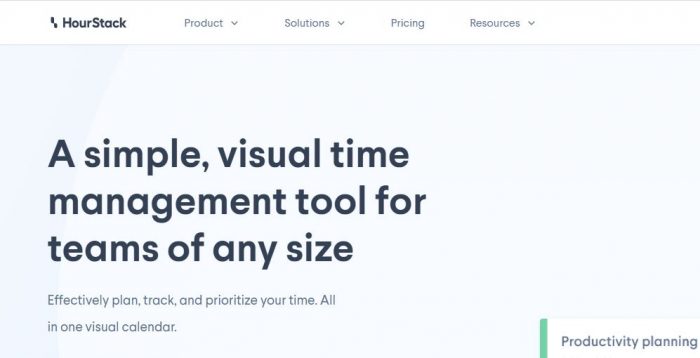 HourStack is a transparent, easy-to-use time management tool customized to your team's current workflow. The all-in-one visual calendar helps you see, plan, and track your team's time across tasks and projects in a complete view. Easily schedule tasks, accurately track time, pull actionable reports, and customize your workspace and permissions.
Use HourStack on its own to track and schedule time, or enhance the experience via integrations. By integrating HourStack, you can continue to use the software you love —Asana, Trello, Todoist, Google Calendar, and more— and get simple and flexible time tracking functionality across them all in a centralized view. No technical skills needed, no complicated integrations, and no more duplication of entries.
Pricing starts at $9/month for an individual user workspace and $12/month for a team. They also offer a free trial of 30 days.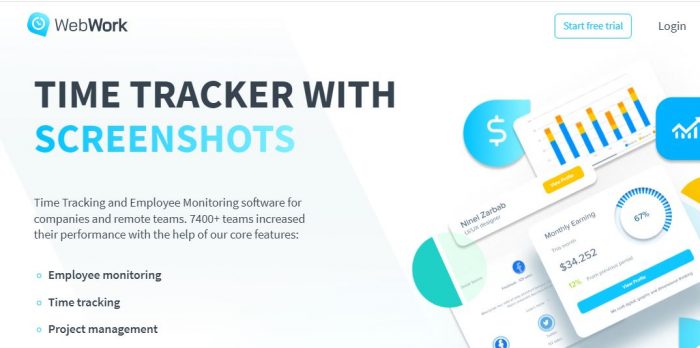 You can no longer worry about managing multiple clients, projects, and employees at once.
WebWork Time Tracker is an all-in-one software tհat allows you to achieve greater output with the same amount of input. It tracks time with screenshots, records attendance, and distinguishes between productive and non-productive applications to ensure your team's high performance.
The price is $2.99/user/month for unlimited features, projects, and clients. It offers a 7-day free trial. You can use it now and pay in 30 days, only if satisfied.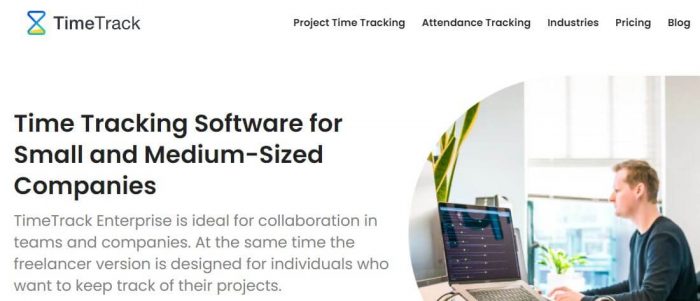 Planning was never so easy! With TimeTrack you can select from an endless number of features that adapt to your individual needs.
TimeTrack does not only provide managers with valuable time reports with insight into tracking, review, evaluation, and invoicing but is also the best solution for teams and freelancers to manage their time and plan projects more effectively. TimeTrack also brings transparency to your business and fully automates tracking your work time.
You no longer have to worry about managing and scheduling multiple tasks such as projects and assignments, as well as deadlines, shifts, teams, jobs, and customers.
Focus on the important things in life and let TimeTrack do the rest. This app has a free plan available, and the paid plans start at $4/month paid annually.
Obviously, the aforementioned apps are just something we scraped up; there is plenty of other fish in the sea. If you are interested in sharing your favorite application, feel free to write to us at fwilson@ntaskmanager.com.