Team collaboration has multiple territories. There is a territory of time tracking, which entails project managers tracking employee hours. Teams from various departments have varying patterns of workflow. To cater to all forms of online team collaboration, we devised a list of the best team collaboration software for each category.
For growing businesses, each day is a struggle. Teams endeavor to battle the rising competition, reduce project overheads, and meet weekly goals to keep the boat afloat.
Though such challenges of a workplace never entirely disappear, when individual minds come together and collate their brilliant set of skills, expertise, and ideas, the result is an inevitable increase in productivity and project success.
Why Do You Need a Team Collaboration Software?
Did you know that 86% of employees and executives associate a lack of collaboration with workplace failures?
However, in this fast-evolving digital era, with an independent culture of task performance, teams rely excessively on the best team collaboration software for day-to-day task functions. According to an Alfresco survey, nearly 83% of professional teams depend on technology to collaborate.
For instance, interaction in marketing teams relies largely on sharing data, numbers, and other kinds of information which is done via file sharing. Whereas, geographically dispersed teams rely on virtual meetings to discuss project progress.
And this last one goes without saying; teams of all sorts, agile or non-agile need instant messaging platforms for minute-by-minute updates.
How do companies use business collaboration tools?
Companies use business collaboration tools to improve team productivity and communication. They can also help companies share files and documents more easily, make it easier to collaborate on projects, and reduce the amount of time needed to get work done.
Collaboration tools can be used in a variety of ways, depending on the needs of the company. For example, some tools are designed for Microsoft Office users only, while others are suitable for both Office and Google Docs users.
Companies typically use collaboration tools to manage projects or share information with team members. They can also use them to create task lists, track progress, and keep track of deadlines.
There are a variety of different types of business collaboration tools available on the market, each with its own benefits. Some of the most popular tools include online document sharing, communication platforms, project management software, and groupware products.
Benefits of using collaboration tools for business
There are a number of benefits that come with using collaboration tools for business. These tools can help increase communication and coordination between team members, which can lead to faster and more efficient workflows. They can also make it easier for teams to share information and ideas, and to work together on projects.
Increased productivity: When everyone in an organization is working together on the same project, it becomes much easier to get things done smoothly and quickly.
Better communication: Collaboration tools make it easy for people to share ideas and feedback, which helps improve communication between departments and leads to more efficient decision-making.
Improved teamwork: By working together as a team, employees learn how to work better as a unit and become more capable overall. They also develop skills that are essential for future success in the workplace.
Greater innovation: When employees are allowed to freely share their ideas with one another, they're more likely to come up with novel solutions that benefit both them and the company as a whole.
Let's get started.
40 Best Team Collaboration Software for Team Management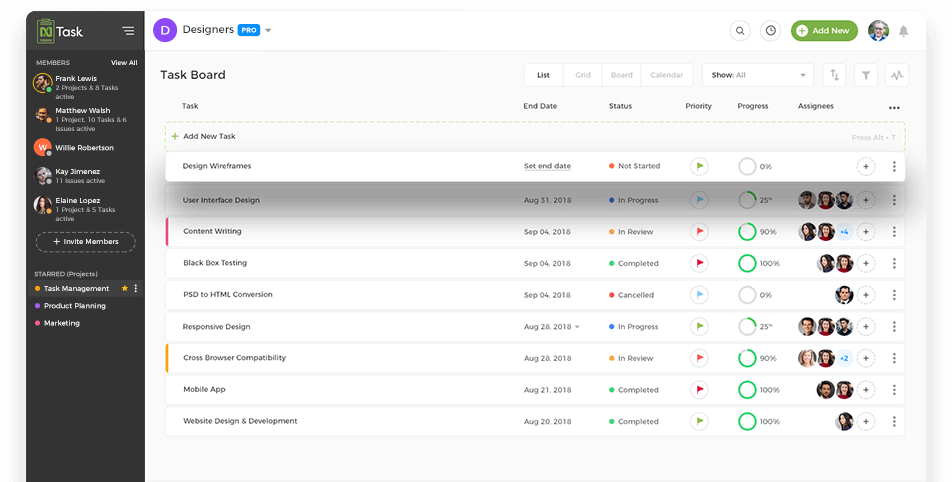 The accelerating advances in cloud computing gave rise to the concept of online workspaces, which was most vigorously adopted by IT companies everywhere. Online workspaces obliterate the need to be physically present everywhere at all times.
If anything, they allow project managers to be at two places at once. What more could a project manager ask for, right?
You've probably never heard of nTask. Well, that's okay, for it's a brand-new project management tool that recently made its way into the market and is garnering great attention from working professionals from academia as well as thriving tech companies.
nTask is aimed to help teams and project managers from all industries to help organize their projects and get work done faster. It eliminates user frustration, caused by overly-complex features.
Everything in nTask, is designed with simple functionality, to help users stride their way from one part of the application to another with minimum confusion.
And to top it all: It is a multi-layered management tool that combines all your team collaboration needs under one roof.
Key Features:
Here's how you and your team can achieve consistent project success with nTask:
Create checklists within tasks, set task status, and check task progress using an automated progress meter. To manage repeating tasks, set task recurrence, and get each task detail transferred within a matter of a few seconds. The same technique applies to copy a task within a project.
Project Managers can assess team performance by reviewing time reports sent for approval by each team member. No integrations needed! With the help of a built-in spreadsheet feature, users can log total hours spent on each task, which are then generated into weekly timesheets by the application.
Manage resource allocation, project budget, and currency using the Project Planner
With auto-generating Gantt Charts, teams can avail the luxury of gaining a quick perspective on all their tasks and project timelines. Gantt Chart view is accessible in a single click.
Maintain project stability and complete projects within set deadlines by identifying issues and assigning them to specific resources for a focused solution.
Every project is subjected to potential risks that can destroy project integrity. Safeguard your project lifecycle by creating, prioritizing, and discerning the likelihood of each identified risk.
Pricing:
Free Plan – unlimited members per workspace, 100MBs of File Storage, unlimited issue tracking
Premium Plan – starting at $3 per user per month. Unlimited projects, Gantt charts, and custom filters.
Business Plan – starting at $8 per user per month. Unlimited risk management, and custom fields.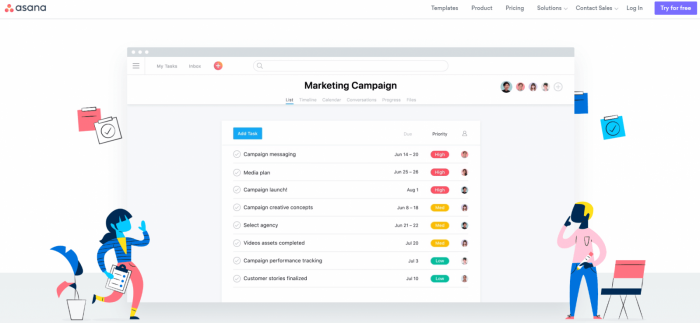 If you're a well-established enterprise with an inundating number of teams, rigorously working to meet impossible deadlines and tackling hard-to-impress clients, then Asana is one of the top collaboration tools for your organization.
Asana is one of the oldest project management tools, which explains the sophisticated level of workflow solutions that are to this day unparalleled by any software out there.
Just how useful Asana can be for managing your projects, take a look:
Visually creative Kanban boards to help manage and organize work into separate compartments with an easy drag-and-drop option.
Map, modify and share the project plan, created on a Timeline with intersecting tasks, due dates, and milestones
Graphical representation of work reports with a quick summary of task progress, that can be viewed by everyone on the team
Custom fields that display task priority, total time spent, and mode of the channel to enable teams to keep track of what is most important
Asana integrates with 100s of other team collaboration apps to facilitate team communication
Pricing
Basic Free Version – 15 members, unlimited tasks, projects, and conversations.
---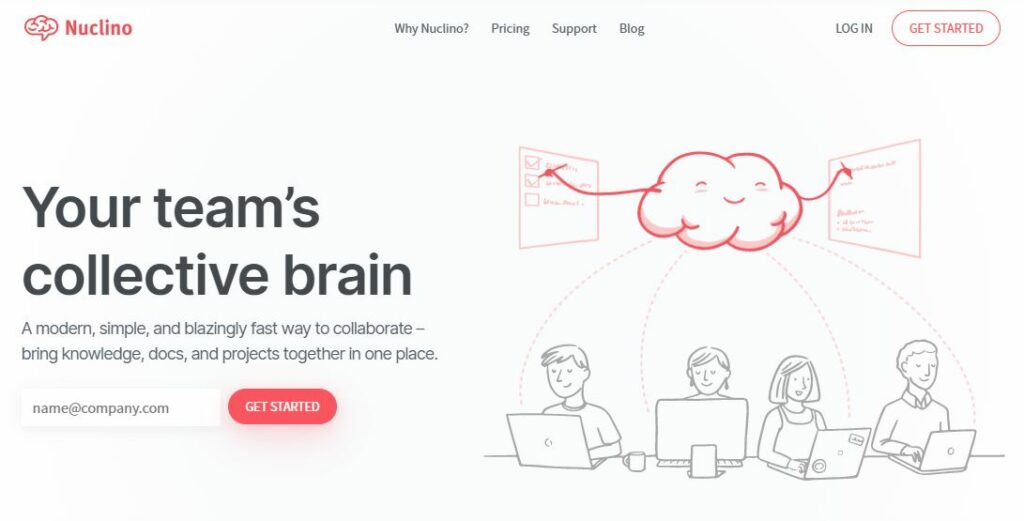 Nuclino unifies the best of many team collaboration tools, allowing you to bring all your team's knowledge, docs, and projects together in one place. You can use it to build your company knowledge base, share and collaborate on documents in real-time, onboard new employees, and more.
At the same time, Nuclino is designed to be as simple and intuitive as possible, with no clunky menus or needlessly complex settings. It focuses on the essentials and offers a clean, distraction-free interface, with virtually no learning curve for new users.
Nuclino streamlines team collaboration by enabling you to:
Bring all your work together in one place and collaborate without silos or context-switching.
Collaborate in real-time or communicate asynchronously, using comments and mentions.
Use the List, Board, and Graph views to organize your work visually, adapting Nuclino to your team's workflow.
Search and filter through all your docs and projects, quickly and easily find what you need, when you need it.
Integrate Nuclino with the other tools your team is already using, such as Slack, Figma, or Google Drive, and keep all your work in sync.
Pricing:
Basic free plan
Paid subscriptions start from $5 per user, per month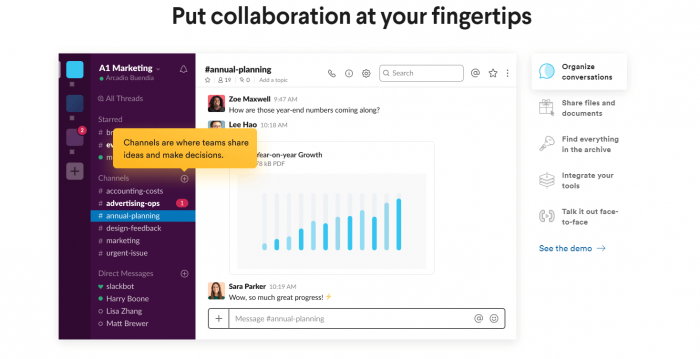 Not fairly old, but this one hardly needs an introduction. If your team doesn't use Slack, then I'm certain you've at least heard about it. Slack provides a centralized hub for teams of all sizes to communicate in real-time.
Communication on Slack is fortified with powerful features like:
Ability to drag-and-drop documents, images, videos, PDFs, spreadsheets, and other file types directly into the application
Conduct team and individual chats, to compartmentalize topics and discussions for quick and private communication
Carry out voice and video calls with as many as 15 people at a time.
Share video screen for an effective and more transparent manner of communication
Quickly search any document, message, and conversation for future reference
Manage notification settings according to your needs. Choose and mute notifications from rarely active group conversations
Use Slack App Directory to connect to more than 900 corresponding tools and apps to limit on-screen clutter of unnecessary tabs
Pricing
Free Plan – small teams. 5 GB file storage. Single Person Voice call.
Standard Plan – $6.67 per user/month. Unlimited message search. 10 GB file storage per member. Voice & video call up to 15 members.
---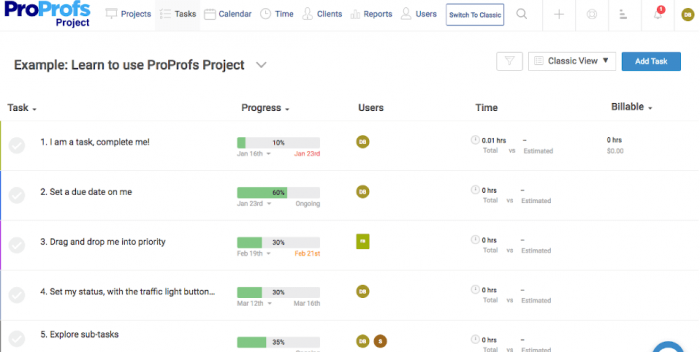 ProProfs Project facilitates team collaboration by offering many key features. The best part of using this tool is you don't feel the need of having any sort of training because it is simple to use. Using this software, you can bring transparency into operations and decide when collaboration is needed.
Key features of ProProfs Project that help you with team collaboration are:
Task comments:

Your teams can drop comments on a particular task if they want to share their inputs or need clarification. It keeps the hassle of going through messy email threads at bay and makes collaboration easier

Email notifications:

Whenever one team member leaves a comment or assigns a task, all concerned individuals receive email alerts about the same. It prevents delays and paves the way for quick collaborative work

Shared project calendar:

ProProfs Project lets you plan tasks for the entire month via its 'Calendar View' feature, and it allows you to set events for collaborative work

Mobile apps:

Mobile applications for Android and iOS users are available, which enables all team members to collaborate anytime, anywhere

File sharing:

Teams across different departments can share files on the go so that their collaborative work goes smoothly
Pricing:
Free Plan –

You can use it for up to 3 projects and access all basic features

Essentials Plan –

It starts from $2 user/month (billed annually) and allows access to more essential features

Premium Plan –

It starts from $4 user/month (billed annually) and allows access to all premium features
---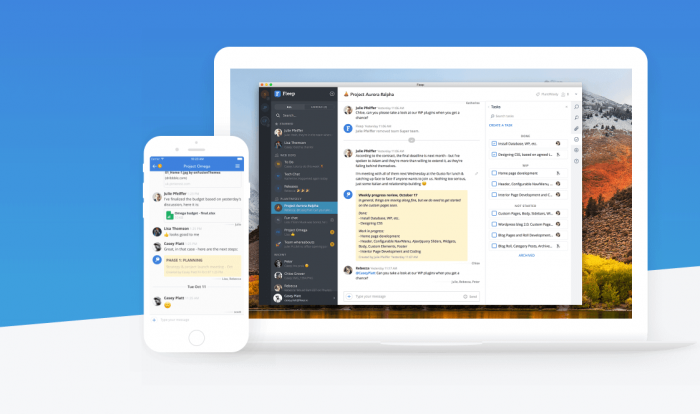 Fleep is best recognized as a Slack Alternative. While it has too much in common with Slack, Fleep hits the mark with a handful more superior features to galvanize teamwork.
Fleep is most enamored for its penchant to clear the hotchpotch of long disjointed emails that are both confusing and time-consuming.
Fleep can streamline your communication in the following ways:
Allows teams to chat and communicate with non-Fleep users via simple email address requirement
Integrates with Google Hangouts to facilitate audio and video call. This includes screen sharing for a closer insight.
Exclusive File Drawer option enables users to locate an image or file shared in a conversation at any given time in the past.
Pinboard feature allows users to create digital sticky notes that can be pinned to the side of a conversation. Team members can collectively make changes to these pins that can most often be used as reminders, meeting updates or etc.
Chat-experience enhancing features such as Writing indicator (that tell you when someone on the other end is typing), Seen indicators (that display read receipts), and Last Active (that reveal the time user was last available at).
Native Task management feature that allows users to create, assign, and manage tasks.
Pricing
Basic FREE plan – unlimited conversations, 10GB File storage. Full message history
Business Plan – 5 Euros per user/month. 100 GB File storage. My tasks. Upload your company name & logo. Premium conversations.
---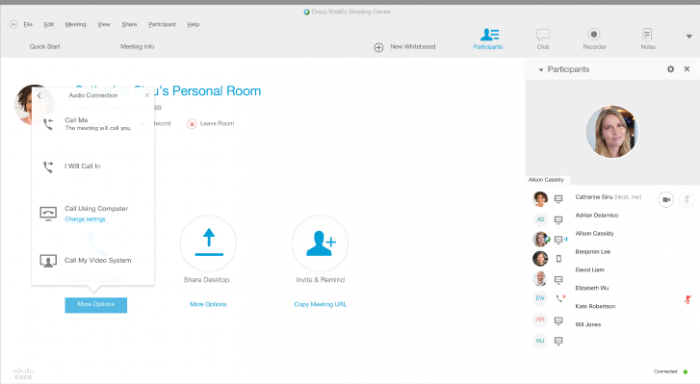 According to Cisco, 37% of employee time is spent in meetings.
While most meetings are a drag and a waste of time, we can't deny what perpetual necessity meetings are for team collaboration. It is for this reason, Cisco WebEx, one of the most powerful meetings management software is included in this list.
Use Cisco WebEx to streamline an over-bearing bundle of meetings with the following perks:
Share screens, host webinars and video conferences with WebEx Floating panels
Schedule meetings using Quick or Advanced Scheduler. Users can send meeting invites via SMS, email or IM.
In case of a dead battery or technical constraints, WebEx facilitates the immediate device switch option in connection with the meeting remains intact.
Record meetings to revisit old discussions from the past
Monitor meeting safety by setting a password to each meeting
Use Brainstorm tool to gather real-time votes from team attendees
Pricing
Premium – $24/month. 8 members. Video conferencing and screen sharing.
---

Flock has nearly the same features as Slack but at less price. Although the interface of Flock can seem a bit cluttered at first, the tool comes with some solid team collaboration features. Get all your team members on the same page by creating distinct team channels, and collaborate through audio and video calls.
Furthermore, keeping track of important messages is not a hassle anymore with Flock's bookmarking feature. Add specific messages to your favorites, so you can access them anytime you want.
Flock makes team communication smooth by allowing you to:
Instantly convert discussions into respective to-dos to keep your deadlines in check
Invite team members through one click and add them to respective team channels for uninterrupted information flow
Connect with remote teams through video and audio-conferencing calls
Simply drag and drop files to share with your team members
Give limited controls to people for accessing sensitive information by adding them as guests
Send email updates to all channel members at once through the smart emailing option
Create polls to get everyone's perspective about major team decisions
Integrate with multiple third-party applications to keep your workflow intact
Pricing
Free Plan – small teams, up to 10GB file storage, up to 10K messages, limited admin controls
Pro Plan – midsized teams, $4.5 per user/month, unlimited messages, 10 GB file storage, enhanced admin controls
Enterprise Plan – large enterprises, custom pricing, unlimited messages, 20 GB file storage, enhanced admin controls
---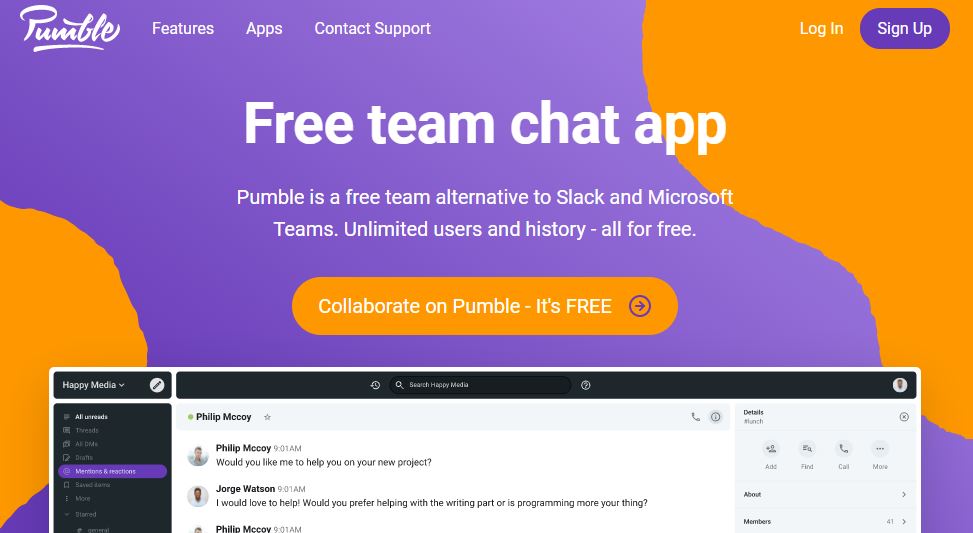 Pumble is a business messaging platform for all your team communication and collaboration needs, whether in real-time or asynchronously.
If you're searching for an affordable high-quality communication and collaboration solution, look no further — Pumble, the tool of choice for relaxed and secure communication with both your team and third parties.
This intuitive messaging platform enables you an amazing communication experience by allowing you to:
Exchange and organize your messages in public and private channels, as well as in threads, for clutterless communication with your colleagues,
Engage in audio and video calls,
Share your screen, with your team or third parties, for more seamless collaboration and information sharing,
Share links, and all types of files with other users by simply dragging and dropping them into the chat,
Add unlimited users and access unlimited message history, even in the free plan, and
Customize your notifications, mute channels, or unfollow threads, so that you can relax and enjoy deep work when needed.
Pumble is available on Windows, macOS, Linux, Android, iOS, and the Web.
Pricing:
Free Plan — Unlimited users and message history, 1:1 voice and video calls, files and link sharing, 10GB storage per workspace
Pro Plan — $1.99 per user/month, everything in FREE, guest access, screen sharing, 10GB storage per user, permissions, user groups, customizable sections
---

The next team collaboration software we have in line is Yammer.
A Microsoft powered tool, Yammer is a social networking platform that facilitates seamless communication within an organization. Providing users with a commonplace for brainstorming and sharing creative ideas, this team collaboration app helps companies make better decisions, faster.
The ability to create public and private groups inside Yammer allows you to share files in one central location, without any fear of data loss. You can also join team discussions to gain and share valuable insights regarding team tasks.
This is how you can improve your team communication by choosing Yammer:
Create or be a part of distinct groups relevant to your work or interests
Share documents or files for collaborating on important things
Join team discussions to be a part of something productive
In-app notifications and reminders to stay on track
Integrate with other Office 365 applications and keep your workflows uninterrupted
Pricing
Yammer comes with a free trial of Yammer Basic and is available with Office 365 paid plans.
---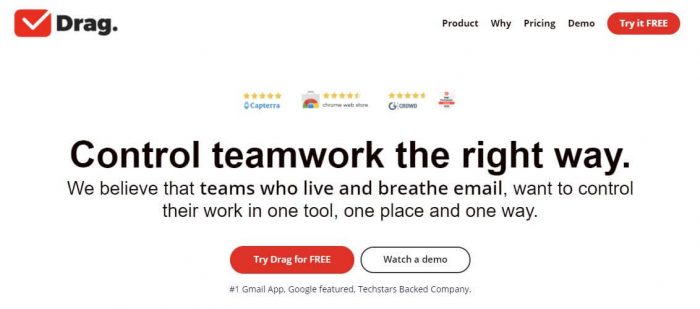 Losing your focus under piles of emails is a little too familiar situation for most of us. Fret not, as Drag helps you stay organized by converting all your emails into respective tasks. These tasks can be further managed through Kanban boards.
You can also manage your team emails by creating a shared inbox. This inbox can be shared by all of your team members to take timely decisions. The tool integrates with your Google Calendar to help you stay posted about your deadlines.
Drag allows you to streamline your Gmail inbox by providing the following features:
Convert your inbox into a Kanban board and add tasks to visualize your workflow
Create a shared inbox for your team to manage all your team emails associated with CRM, project management, support, or help desk
Create custom boards to add tasks of your choice from your email inbox
Add comments and mention relevant team members through internal team chat functionality and provide instant feedback
Assign color codes to your tasks and identify them on the basis of their urgency, or whatever works for you
Create a quick checklist of all the things you need to do from your inbox and add due dates for staying on track
For making roles clear, assign emails and tasks to your team members and get things done faster
Integrate with your Google Calendar, so any task with a due date will be automatically added to your calendar and will help you stay ahead of your deadlines
Pricing
Solo Plan – $3 a month
Team Plan – $49 a month – unlimited users
---

Chanty is a team collaboration platform with task management and video calling features. You can chat with your team and turn messages into tasks and manage them with the help of the Kanban board. Chanty integrates with third-party apps including Trello, Asana, Zapier, Google Drive, Dropbox, Onedrive, Github, Gitlab, Bitbucket, Mailchimp, Giphy and others.
Features of Chanty:
Instant messaging between team members – one to one messages, public and private conversations.
Unlimited searchable message history – get secure unlimited messaging forever.
Audio and video calls – reach out to your team or any team member with Chanty audio and video calls.
Task management Kanban board – enjoy a flexible and simple way to manage your tasks, set a due date and priority for any task.
Teambook – a single hub to organize your tasks, conversations, pinned messages and content.
Voice messages – reply to your teammate instantly on the go.
Integrations – make a simple team chat a powerful productivity tool with third-party apps.
Pinned messages- pin any message on Chanty and choose time to get back to it.
Discussion threads – let you stay on topic without endless history scrolling.
Platforms:
Chanty is available on:
Windows
MacOS
Web
Android
iOS
Pricing:
Free plan up to 10 users
Business plan: starts at $3 user/month
---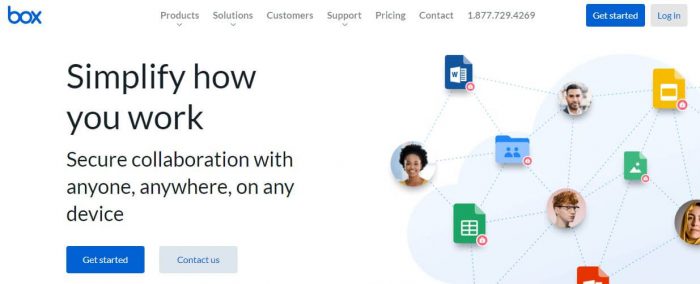 No offense Microsoft, but during my first week using Box, I had forgotten all about MS-Word. Working on Box showed me what it really felt like to be a constant part of a team working on a single platform.
Interestingly, my boss and I would be working on the same document on Box from two different countries, and though I could not see him, His constantly moving cursor and the additions He kept making to the document made me feel like he was right there!
Box is a cloud-based file storage service tailored to help teams store, share, and access files from a centralized database. And to make the experience of team collaboration even niftier, all modes of file storage and sharing can be accessed from any device sitting in any part of the world.
Just a tad of limitation of having internet access for it though. But not like that's a problem nowadays, right?
Key Features
Set passwords to your files to keep any unwanted third party from accessing your private data.
Set expiration dates to documents to keep track of what's important and what still needs to be done
As a file owner, you can control and manage who to give permission to for certain files
Take notes on Box Notes during meetings, discussions, or simple brainstorming sessions. Box Notes are accessible and visible to everyone.
Co-edit a document with a team of more than 15 members editing, commenting, and sharing images or files on a single document in real-time
Create as many documents as you can on Box, all your written and formulated work will automatically be stored on your Box account. In fact, every minuscule edit that you make, be it a spacebar hit even, Box will automatically save anything.
Box offers a powerful search bar directory that helps you locate any file from a vast treasure of online documents, notes, images, PDFs, spreadsheets, presentations that pile up over time.
Box integrates with a good 1000 business applications, so teams can share and transfer their work to other best team collaboration software from their centralized content network on Box.
Pricing
Starter Plan – $5 per user/month. 100 GB storage. Max.10 users
---

Xender is another file-sharing app, that surfaced on the market 7 years ago. Since then Xender has acquired more than 700 million users worldwide.
Using one of the most innovative technologies and a high-performance global server network, Xender proudly proclaims and also delivers the fastest file transfer from one device to another.
See how Xender makes file sharing a breeze:
Xender app uses a technology called Wi-Fi Direct. Wi-fi Direct technology enables users with Wi-Fi connections to share files across any device. Users can connect to more than one person at a time and share files with a number of people at the same time.
Xender has a dedicated history folder that shows users a list of all their files and videos shared across a given period of time. A separate folder for Sent and Received files
Offers a Swipe & Share feature, for which users simply have to shake their device to transfer a file
A very straightforward interface designed to make every beginner feel right at home
Pricing
Free to use on PC, Android, and iOS
---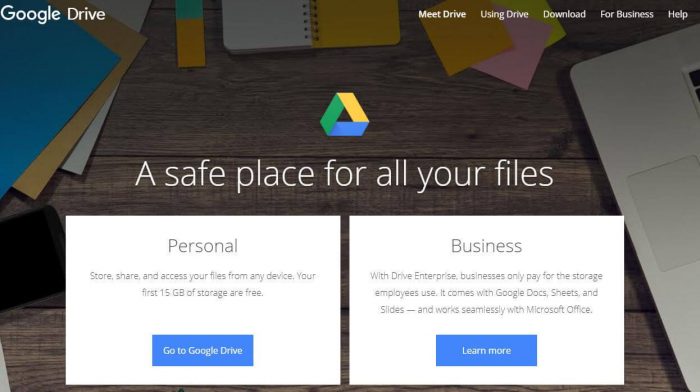 Possibly one of the most popular names in cloud storage and file sharing, Google drive gives us all the right reasons to include it in our list of team collaboration tools. With more than 800 million users to bag, Google Drive is giving all other cloud storage applications a run for their money.
A safe, fast, and reliable space for all your files, you don't have to think twice before choosing Google Drive for your team collaboration. Quickly invite anyone to view and download the files to participate in useful team discussions and take timely decisions.
Not only file storage, but the tool also comes with powerful native applications to help you smartly deal with your daily operations.
This is what you can conveniently achieve by using Google Drive:
Create documents (spreadsheets and slides etc) and share them with relevant team members
Run a quick team survey using Google docs
Layout diagrams and flow charts using Google Drawings
Scan documents and save their copy as PDFs
With your Google account, you get free 15 GB of storage space
Pricing
Up to 15 GB – Free
100 GB – $1.99
1 TB – $9.99
10 TB – $99.99
---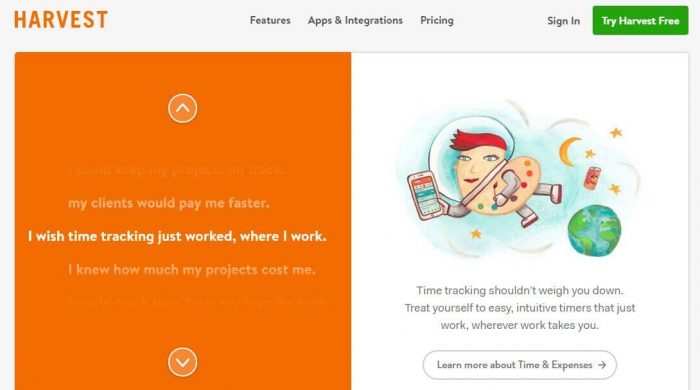 Harvest is a web-based tool, prospering 12 years in the business of helping a busy chunk of teams to track time and meet their goals on time. It takes full responsibility for your time tracking needs, with smart and intelligent features that extend from reporting to planning and assessing the health of your project.
Harvest is popular for:
Manual time tracking options. You can either use Harvest's digital timer to log in total hours spent on a task or create timesheets from scratch.
Calculating Burnout capacities. Harvest tracks and records the total hours inserted for each employee and compares the total billable hours logged in from each member. From this comparison, it determines whether an employee is overburdened. And if it is the time bar turns red.
Integrate able with a sister-app, called Forecast. Forecast creates a roadmap of all the projects and gives a quick summary of what each team member is working on and which tasks are pending.
Excellent reporting system. Each time a team member submits a report of his/her timesheet, an automatic notification is sent to the project manager for review. On the other end, project managers can send a polite reminder in case someone has forgotten to send in their reports.
Convert billable hours into invoices with simple single clicks. Then share these invoices with clients and customers via email. And if a client is slacking off or has forgotten to pay your invoice, Harvest sends automatic reminders to them.
Pricing
Single User – $12/month Unlimited estimates and invoices
---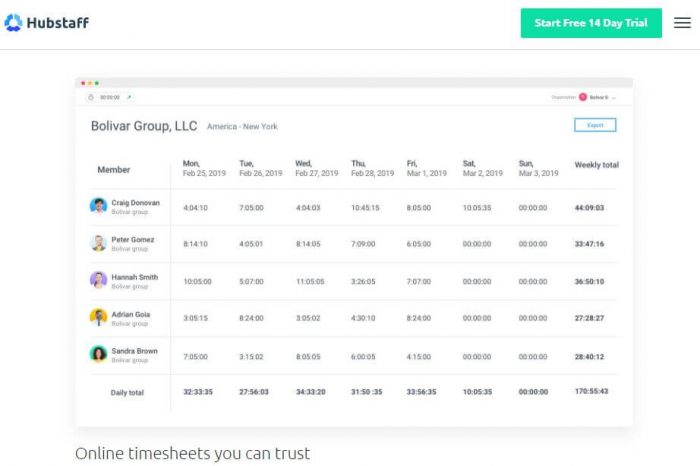 Another leader in time tracking tools. Hubstaff is a lightweight platform designed specifically for remote teams. More than 8000 remote companies now use Hubstaff for managing deadlines and keep track of multiple teams.
Hubstaff time tracking functionalities ensure accurate time accountability of each employee. The application also comes with a thorough reporting system that provides actionable insights for efficient decision-making.
However, Hubstaff is not simply a time-tracking tool. It offers a variety of features such as screen recording, automatic payrolls, GPS tracking, and powerful APIs, to make team collaboration faster and more authentic.
See what your team can do using Hubstaff:
Dashboards that display all your team's performance, each activity, the total budget spent on each project, and the total number of projects completed.
An automatic report generating a system that detects when a timesheet has been completed and is now ready for review
With Hubstaff's advanced monitoring feature, project managers can monitor how much time does each team member spend on a website.
Team leads can monitor and keep track of each team member's attendance with Staff Scheduling.
Pricing
Free Plan – Single User. Limited Features.
Basic Plan – $208/month. 50 users. Limited features
---

Troop Messenger is a Slack alternative Workplace collaboration app. The impressive UI and immersive UX make the users smoothly transit between the features to achieve greater team conversations.
Designed for all team sizes! The teams of agile or non-agile can seamlessly connect across groups and discuss work. It comes in the variants of SaaS, Self-hosting, Chat APIs, and Custom apps. The best email killer allows users to send/receive messages, and attachments of all file types in just a few seconds.
Look how Troop Messenger stands unique in delivering the best team collaboration:
Send instant one-to-one messages to an individual or to a group member. Each message is supported with actions of reply, copy, forward, recall, edit, delete, respond later, flag, and message info.
Easily filter out unread messages with its filter.
Change the background area of the chat with beautiful wallpapers and feel the new chat experience.
Share your screen with the remote team members across all cross-platforms.
Use advanced filter group to view documents, images, videos, URLs, and more for effective data segregation.
Ability to preview all types of documents without downloading them.
Send a quick audio message to your team member or group for better workplace communication.
Supports many native integrations to enhance work productivity.
Pricing
Premium: $1 per user/month. All basic team collaboration features with 150GB/account.
Enterprise: $5 per user/month. New registrations can avail a one-month free trial of this plan with an exclusive set of features including premium.
Self-Hosting: Custom. This model is suitable for 500+ users designed to serve large corporations.
---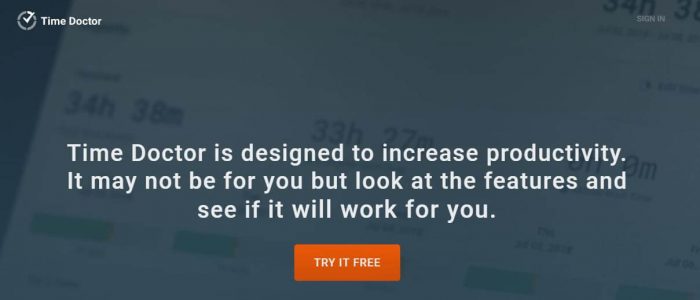 As many as 24% of employees admit that they spend at least an hour a day checking their personal emails, phone calls, and text messages. This can be avoided by using Time Doctor. Time Doctor is a time tracking software that is used to accurately monitor the time spent during a workday
It records the time spent on various activities by an average employee and provides analytics that helps in analyzing the total time management at work.
The time Doctor provides screenshots for tracking the activities. These screenshots can be taken at any time interval you specify during the working hours, ensuring minimum privacy intrusion and maximum team collaboration.
This is how Time Doctor is a solution for your time management needs:
Efficient time tracking which records all the time being spent on an individual activity
Accurate data that shows internet usage during working hours. How much time is being spent on each application is also recorded
Payroll management alongside hours worked conveniently calculated through Time Doctor
Integrations with other tools like Slack, Google Apps, Jira, Asana, Freshdesk, etc.
Clients that you've worked for can view the data related to their work only to check the progress
Pricing
$9.99 per user/month, Free for the first 14 days
---

If you're looking for a simple, flexible time tracker that doesn't put a huge dent in your budget, Toggl might be the answer.
Toggl gives you the flexibility to choose basic or advanced time tracking features, pertaining to your needs. Even with the basic functions, this online team collaboration software for time tracking makes sure you get the most out of the application.
With an easy-to-use interface and clutter-free placement of features, the application lets you smoothly navigate through the features with minimum confusion.
Coming with the right mix of basic and advanced time tracking features, Toggl allows you to:
Track time associated with your tasks using the automated timer
Get your reports directly in your email inbox
Track time on all your devices through the browser extension
Break down your hours by projects, tasks, and clients to better track your performance
Pricing
Starter – $9 per user/month, for basic time tracking and reporting
Premium – $18 per user/month, for team time management
Enterprise – custom pricing, for complex or large organizations
---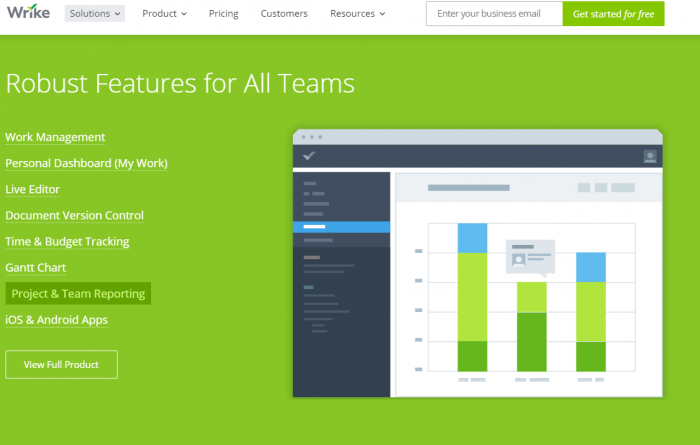 Next, to come in our list of cherry-picked team collaboration software, there's Wrike. This program is a go-to solution for huge companies on the lookout for collaboration and work efficiency.
Wrike offers a set of different tools and native embedded features that make it a good choice for businesses dependent on collaboration. For instance, HTC, Adobe, EA Sport, and Google have leveraged Wrike at some point to manage teams and projects.
As a small business or sole proprietor, you can track tasks in real-time, communicate with the rest of the team members, and get updates from people who are struggling to meet deadlines. The credit goes to Wrike's '3 Pane Window' feature. It is an All-in-one solution that showcases three window panes dedicated to a different aspect of team collaboration.
Wrike is able to upscale your work efficiency through one of the following ways:
Collaborate with all team members through the native 3 Window Pane feature. The entire data is segmented into 3 parts, while each section breaks down into real-time updates.
Tag all your teammates, project managers, and concerned stakeholders through Folder Tagging, File Tagging, and many other data tagging options.
Individually mention someone through @ mention. Not only does it draw a minuscule level of attention, but it also declutters entire communication.
Track entire progress through the task tracking tool.
3rd party integrations for all Wrike users make data importing, team collaboration, and overall communication a hassle-free venture. Dropbox, JIRA, Salesforce, Google Drive, Google Calendar, and many other integrations are just a small example of what Wrike is capable of.
Pricing
A free plan is available
Professional plan and other variants go up to $34.60 per month
---

As one of the highly recommended team collaboration tools, it'd be a mistake to skip Smartsheet. One of the standout features of this team collaboration software is the user experience. Right off the bat, you don't have to install Smartsheet; it is an entirely web-based solution to assist people with access issues (if/any) from all over the world.
As the name suggests, Smartsheet developers took the concept of team collaboration and tried to implement it into a single pane format. As a result, you get to mingle with other team members to do office chores, such as; managing projects, dealing with customers, file sharing, IT-related activities, and HR functions.
Smartsheet follows a Google Sheets format, but it does so through a redefined interface. Users can leverage team collaboration factors and implement complex formulas, create custom project milestones, and much more.
Some of the advanced features, which make this SaaS solution one of the few desirable team collaboration tools, are:
You can drive your work scale at your own pace. To help ensure consistency, there are different tools for prioritizing or deprioritizing projects. Likewise, all subtasks can be equally distributed across a team to manage workflow.
Project managers can collaborate with their subordinates not only through the native Smartsheet window view but also through the integration of 3rd party applications. Think of DocuSign, G-Suite solutions, JIRA, Salesforce, and Box are some alternative means for keeping communication at all fronts.
Share files with your team members.
Export and import various projects in different extensions to make collaborate at an unparalleled pace with entire project members.
Pricing
Free trial available
Paid plans range from Individual to Enterprise packages starting from a minimum of $14 per month and all the way up to $25 per month
---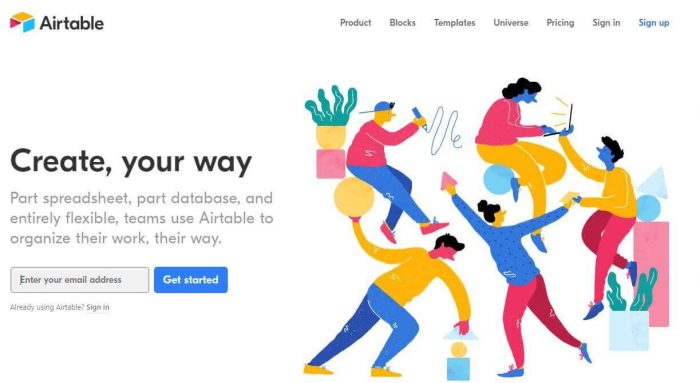 As a team collaboration software, Airtable's unique feature is the ability to link records between different databases. Very few programs have the advantage of cross-linking native data records from one side to another.
Beyond database linking as a much-needed asset for teams on the move, Airtable has an abundance of nifty perks for both online and offline users. Members are able to take notes, create notes, and discuss project-related activities alongside various other functions.
Some of the main highlights of Airtable as a team collaboration software are stated below:
Team members are able to share a native screen view with one another.
Multipurpose customization options for users who prefer to work in a specific format. No two users have the same Airtable screen if they prefer a customized interface to their own liking.
Communication management through different communication tools.
Highlight core project activities to share with outsiders through native social media integration tools.
Manage forms by taking snapshots if you don't want to export and share the entire project file with another team member.
Pricing
Free trial and Airtable base bundle at $0.00
Airtable plus and pro plans are available at $12 – $14 per month respectively
---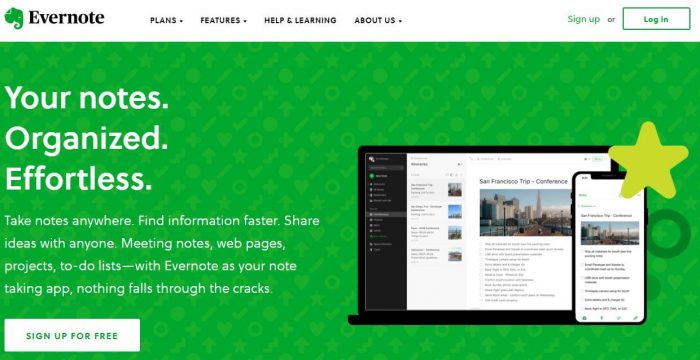 Evernote has been mentioned at our blog numerous times for offering an array of outstanding features. As one of the best team collaboration tools, Evernote simplifies capturing and sharing ideas to an entirely different level.
Most of the power-level users, who depend on Evernote, have appreciated the program as a way of dramatically transforming projects. Many people have reportedly progressed from the planning phase to actual work mode through Evernote. However, they did so through team collaboration and that's exactly what this solution offers.
From a team collaboration perspective, some of the cursory highlights of Evernote are stated below:
Create readily available notes for self-starters and large-scale businesses. Integrate notes with proper ideas and other team members for greater benefit.
User-friendly screen with single click/ single tap functionality for efficient results.
Create clear, precise and to the point content for sharing a purpose.
Give feedback on an ongoing project and share it with other teammates easily.
Evernote is available on different OS and formats to help access to anyone from anywhere.
Pricing
Free trial and basic plan are available for free.
Plus, Premium and Business plan pricing ranges from $3.99 per month to $14.99 per month.
---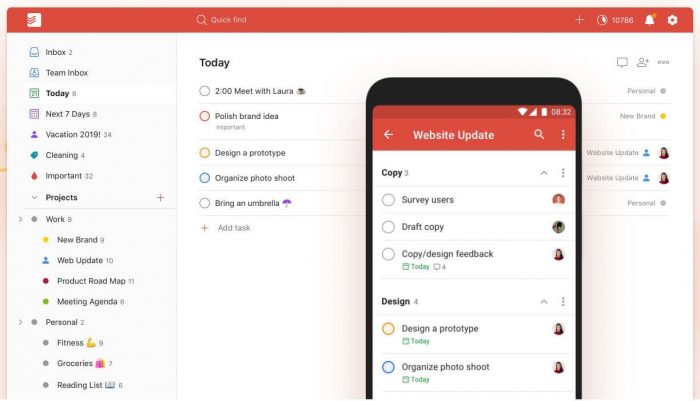 For businesses on the lookout for reliable team collaboration tools, Todoist comes as a highly recommended product. It is an online program with its main highlight as a free solution to help complete B2B tasks, complex projects, and simplest activities, such as; paying rent, etc.
In this context, Todoist's applicability has a very wide scope because you are able to not only use the program in your professional but also in personal life as well. Users can individually work on assignments and milestones.
Meanwhile, all business and team project collaboration related activities can be completed through base features appended below:
Visualize projects into productive ideas through powerful recurring dates.
Collaborate with team members across the same, or different project boards through task and subtask levels.
Prioritize activities on the basis of urgency.
Create automatic data backup through 24/7 cloud data support.
Choose from different project templates to keep the entire team on the same page.
Pricing
Free plan and trial are available at $0.00 per month.
Upgraded features are available at $28.99 per year.
---

Skype took off as a simple communication tool in its early stages. However, given the surge in business needs across the world. Skype transitioned as a great team collaboration software. Web conferences and one-on-one calls are just one of the features of this program.
If you are looking to complete any project with real-time updates from all areas of the members, Skype for Business is perfect. The program is available as a 3rd party installer and also in the form of a web-based solution.
From a team collaboration point of view, the main features of Skype for Business are stated below:
Make web video, conference and team calls from anywhere across the world
Share files, documents, and other project-related material with team members
Share screens with project managers and project teams remotely
Send video or voice messages to an individual or an entire group specifically
Make calls from mobiles and landlines using Skype as the base software
Pricing
Free trial and basic plan are available $0.00 per month
Online plan with additional integrations ranges from $5.50 per month per user to $12.50 per month per user
---

As a team collaboration software, Zoom offers a multitude of solutions in the realm of video and call conferencing. Just like Skype, Zoom maintains a healthy user base across the internet on the basis of many distinct features. Therefore, choosing between either of the programs is not only a matter of choice but also breaks down to actual business requirements.
Zoom renders services to small businesses and goes all the way up north of enterprise-level solutions. At the same time, all video calls are available at a 100% lossless stream rate with real-time updates. This eliminates undesirable frame-rate drops and lags easily.
From a team collaboration perspective, Zoom embeds various signature technologies to help communicate a standout feature of the program. Some of the main highlights are, but not limited to the following:
Conduct a video webinar with a live member opt-in program
Make special cloud recordings for later use in local, or cloud access medium
Integrate schedules into your Zoom meetings with teammates
Highest level of audio and video quality
Collaborate as a group, or as an individual to declutter communication
Pricing
Zoom free and basic plan is available at $0.00 per month
Zoom Pro and Business solutions are available at $14.99 – $19.99 per month – per host
---

There is a lot that we like about Workfront as a team collaboration software.
Workfront is a workplace hub that is enterprise-grade and is one of the top team collaboration software available in the market. It is a bit like Podio – you can customize it to your requirements.
Workfront allows you to flip requests into projects, using its task feature to assign each user their role in a larger context of a project. From a creative perspective, you can use Workfront for agile project management and concurrently set tasks, customize tasks or waterfall project management.
To summarize, Workfront offers a really clear process that enables accountability through a team's creative process.
Workfront enables team communication and collaboration with the following feature sets:
Enables you to work with speed and make system changes
Friendly customer support
Incredibly efficient time management resources – you can utilize Workfront to give realistic objectives and work goals
As far as data management is concerned this app enables users to view custom reports, and manage costs
In-depth project planning and collaboration
Pricing Plans:
Workfront offers four pricing plans: Team, Pro, Business, and Enterprise (You'll have to request their sales team for a quote)
---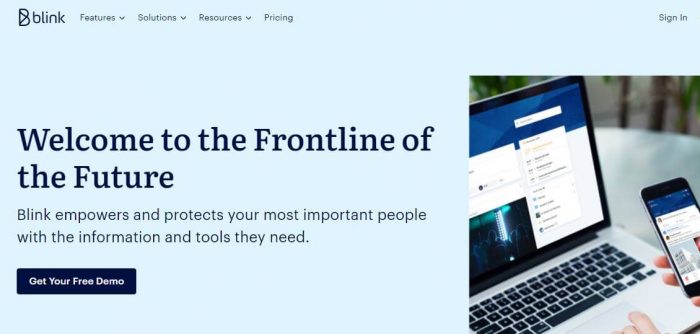 Next up on our best team collaboration software list is Blink. It is a leading employee engagement app designed with a particular emphasis on the unique needs of managing a mobile workforce. It's aimed to facilitate communication, ease collaboration, and enhance the productivity of the remote workers.
It does so by offering a customizable feed that keeps remote teams in the loop through notifications, company notices, videos, training sessions, and much more. Additionally, it also provides a robust and secure platform for seamless file and document transfers.
That's not all – Blink also consists of other powerful features that empower remote employees with the functionality they need to do their jobs efficiently. Therefore, it can prove highly useful for organizations to decrease employee turnover and increase their productivity significantly.
Here's a comprehensive outlook of Blink's features:
Personalized news feed to keep the team updated on the latest news from their workplace.
Employee directory that helps remote teams connect with others around the world with a single click.
Secure chat threads that bring your personnel together through one-on-one or group chats with personalization and additional features.
Analytics on communication flow to gauge their engagement and performance.
Striking content and responsive articles – you can even embed images, videos, and other media files to increase their traction.
Pricing
14-day free trial
Business plan for $3.40 per person per month
Enterprise plan charged according to corporate requirements and paid annually
---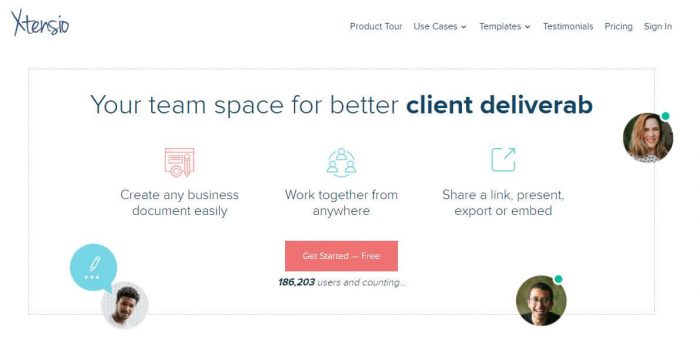 If you are someone whose most of the time goes around screens, Xtensio is for you! It simplifies your work by allowing you to create, share, and present your live documents with clients. Using its plethora of pre-built, impressive templates, you can easily create slides and presentations. Its friendly interface is accessible and easy to use.
Here is the features outlook of Xtensio:
Pre-built templates
Customized color schemes
Easy to use
Lets you create live documents
App integration
Easy for team communication
Pricing
Individual plans: The basic is for free, plus plan is of $15
Business plans: Starts from $50/month
Education plan- $40 only for a pro to $500 for agencies
---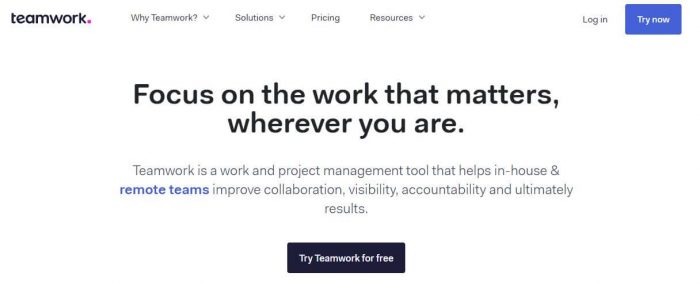 Teamwork is a powerful team collaboration tool that is great for agencies, business owners, project managers, professional services, and many more.
It is feature-rich yet easy to use meaning it is perfect for businesses of all sizes. Teamwork is a growing Project Management platform trusted by over 20,000 companies such as Netflix, Spotify, PayPal, and many more
Some of its key project management features are:
Tasks and Subtasks: This allows you to create primary tasks and subtasks you break down your workload and manage more effectively.
Portfolio: This allows you to get a panoramic view of your ongoing projects.
Time Tracking: This allows you to effectively track time spent on projects.
Client Permissions: Great for agencies, allows you to manage client permissions so they can access things like time tracking and invoicing.
Workload: This allows you to track team members' workload to manage and distribute tasks effectively.
Gantt Charts: Track project progress and get a full view of ongoing tasks, milestones, and timelines.
Pricing
Free plan with 5 users
Pro plan at $10/user per month
Premium plan at $18/user per month
---

Orangescrum is awesome project and task management software to organize projects, teams, and tasks in one place. Orangescrum keeps your team or customers on the same page. It has awesome features to simplify your Project Collaboration to get more productivity.
Orangescrum is one of the best agile project management software to manage projects, tasks, and teams in a single place. Features like scrum board, Kanban, and sprint help to simplify your project management and help in maximizing productivity.
It offers project planning capabilities of milestone/task group tracking, task status tracking, priority setting, document sharing, timeline mapping, and Invoice management.
Orangescrum is the all-in-one project management and task management software for a team of small and enterprise businesses. It has awesome features with 14 day free trial without credit card information.
Here is a quick Orangescrum feature snapshot –
Assign, schedule, collaborate and track tasks
Create task and sub-tasks without any hassle
Automated time tracking for your team
Check your resource availability and resource utilization
Schedule and create task dependencies
Create your own workflow as per your business requirement
Create, save and send accurate invoices to your customer/client.
Information-rich Kanban view for TO DO, In Progress, and Pending tasks
Get instant email notifications and reply on the go
Get daily team updates right in your inbox with Daily Catch-Up
Easy to collaborate and brainstorm ideas, seek reviews & approvals instantly with the in-app chat
Create and manage your team, tasks, and projects on the go using Mobile apps
Pricing
14-day free trial
Plan starts with $9 per month for 10 users.
Professional plan starts with an average of $2.15 per user.
---

If you are tired of using one app for collaboration, one for task management, one for time tracking, and yet another one for team communication, then ProofHub is the tool for you.
This award-winning project management and team collaboration have all that you and your team need to bring out your A-game. ProofHub brings your teams together to give them a central place to securely share and access all the information they need.
It has an easy-to-use interface, which makes the onboarding process effortless. Take a look at these features and see why ProofHub is such a fantastic option for team collaboration:
Create simple to-do lists or build custom workflows using Kanban boards for building agile work processes
Set deadlines for team members and always keep them on their toes, share attachments in tasks for better understanding, and comment on them
Visualize projects with timelines in Gantt charts to plan them better
Communicate in real-time with an in-built Group chat app, carry out project-related and casual conversations without having to switch to a different tool
Brainstorm together with a dedicated space for real-time discussions
Simplify the review and approval process with a powerful online proofing tool to create
ProofHub also integrates with apps like Dropbox, Box, OneDrive, and Google Drive to bring all your scattered files together in one central and secure place
Pricing
Ultimate control plan: with unlimited projects and users available at $89 per month
---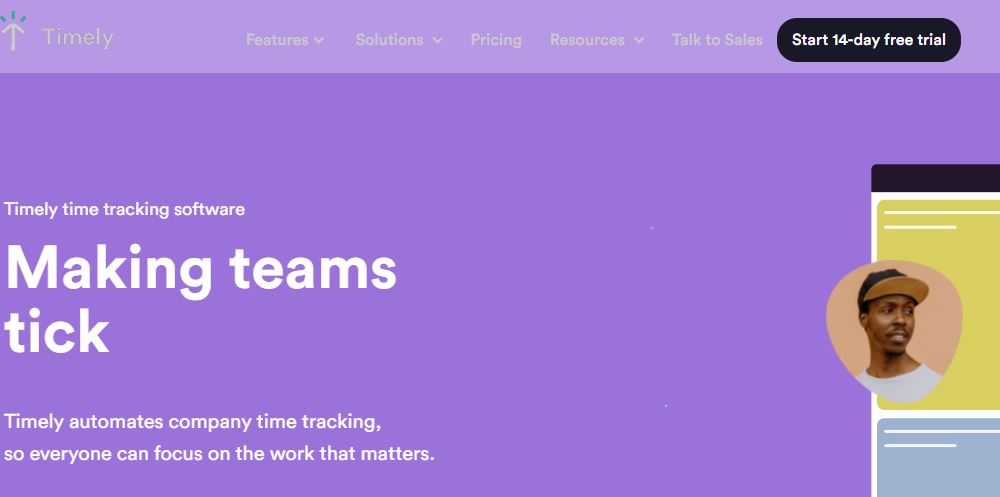 No team should have to waste time and effort on essential admin. That's why Timely was built – to automate time tracking. Bill clients accurately, free everyone for the work that matters and create the optimal space for collaboration.
Timely is an award-winning automatic time tracking software developed by Norwegian start-up Memory. Leveraging AI, it helps 5,000 companies across 160 countries automate time tracking and timesheet creation – solving the inaccuracy and effort of manual solutions. Offering strict user-level privacy by design, Timely is a tracking tool that employees actually trust. Teams can work naturally and focus on their work, confident that every billable detail will make it to their timesheet.
Some of the key features of the Timely app are:
Offers user-level privacy by design – all tracked data stays 100% private
Tracking teams trust – absolutely no creepy screenshots or covert monitoring
No fiddly manual timers – automatically remember everything you work on
Minimal timesheet admin – AI can draft timesheet entries for you
Effortless reporting – real-time dashboards communicate team/project performance
Quick onboarding – small learning curve
Ease of implementation – clicks into your existing tech stack
Makes all-time accountable – produces a precise, objective record of all business time
Removes manual error – no assumption, "guesstimation" or oversight from trying to remember what you worked on
Surfaces hidden hours – captures time spent on email, internal communication, and meetings
Pricing
14 day free trial. Starter plan $8 per user per mo. billed annually. Starter, Premium and Unlimited packages available."
---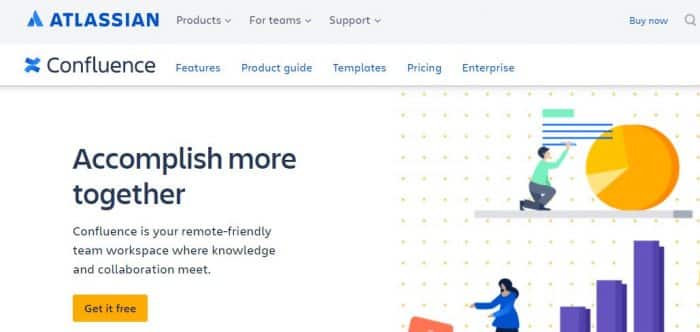 In this rapidly developing world, team collaboration has become inevitable since companies need to be in touch with the workers all the time to share data, files, and other information.
Confluence is a powerful platform that assists teams to work more efficiently. It is an efficient platform where teams can collaborate to process, store and pass on valuable information across the enterprise.
Here is a snapshot of Confluence features:
Drives data across the team eliminating the requirement of creating separate documents for each member.
Trouble-free file sharing option
Storing ideas, conversations, and plans for long periods expediting new projects.
Permits employees at all levels to share novel plans, ask questions, and voice their opinion.
Equipped with ready-made templates to make your work even easier.
Organizes files, manage projects, traces, and reviews the decision.
Pricing:
Basic free version – Available for free for 10 users
Standard version–5$ per user per month
Premium – $10 per user per month
Enterprise – Custom pricing
---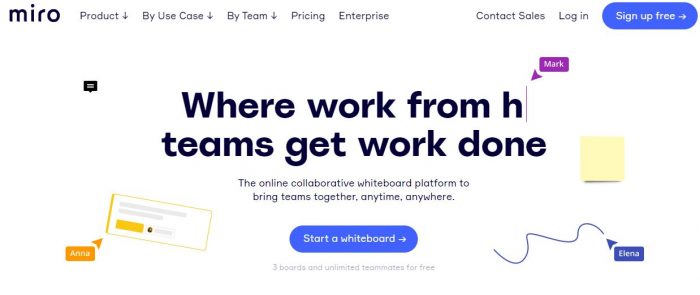 Miro is an online platform built to help distributed teams work together. It is an engaging and intuitive collaborating platform where hybrid teams, remote teams, work from home teams, and telecommuting teams work together.
The software is built to assist members of a team on a whiteboard to work together on a project. The software provides them with virtual sticky notes to plan and manage their workflow.
With Miro, distance is no more an issue for you can communicate and bring ideas together with other team members anywhere, anytime.
Some top features of Miro are as follows:
You can run online meetings and workshops
Discuss ideas with your team to collect the best ones
You can co-create and align your ideas with other members on an online whiteboard
Plan your work with the distributed team with the help of the online whiteboard
You can use visual mapping and diagrams to discuss plans and processes
Zoom-able canvas
Pricing:
Free – $0 unlimited team members
Team – $8 per member per month
Business – $16 per user per month
Enterprise – Contact Team Miro for custom pricing.
---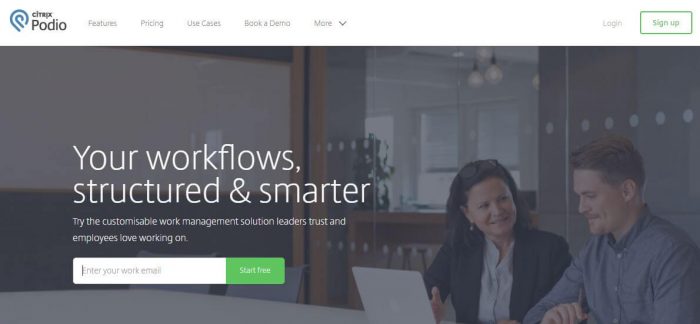 Podio is one-stop-shop collaboration software. The tool is another great software that streamlines communication and collaboration for better productivity and more efficiency.
Podio's advanced features can help you stay connected with your teammates. You can easily share files and stay on top of your work schedule.
Here are some of the top features of Podio for online team collaboration:
Allows you to control access to your Podio workspace
Quick and easy file sharing with clients and team members
Customization features help you personalize your workspace
Seamless adaptability with an intuitive interface
Other features include; Web & Mobile, Automated Workflows, Meeting Scheduling, Data Visualization, Social Collaboration, Task Management, and much more.
Seamless integration with multiple tools
Pricing:
Free – $0
Basic – $7.20
Plus – $11.20
Premium – $19.20
---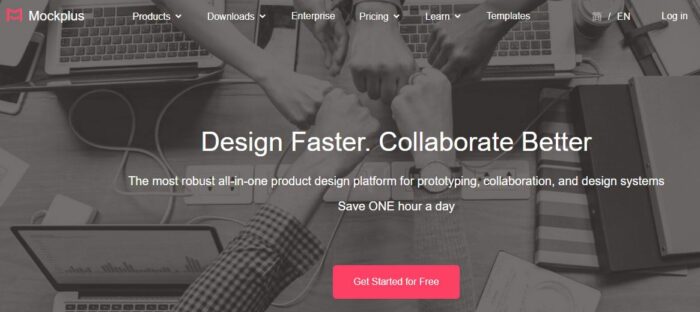 Mockplus is a web-based platform for design teams to prototype, design, collaborate, and hand off in one place. It is a simple-to-use design tool that connects every member of your whole team. It transforms the way design teams collaborate on design projects and also streamlines the handoff from designers to developers.
It has everything your design team needs from ideation to execution. 2M+ users and 200K+ teams around the world use Mockplus to create products you know and love.
Here is a snapshot of Mockplus key features:
Designers can import designs with assets from Sketch, Adobe XD, Photoshop, and Figma;
The team members can comment, review, test, and iterate designs with simple clicks;
Developers can inspect, copy and download design specs, assets, code snippets with one click;
It connects designing and developing close and makes design handoff more effective.
Pricing:
Free basic account on the cloud is available
Mockplus Cloud pricing starts at $5.95/month
Mockplus Classic (desktop) pricing starts at $199/year
---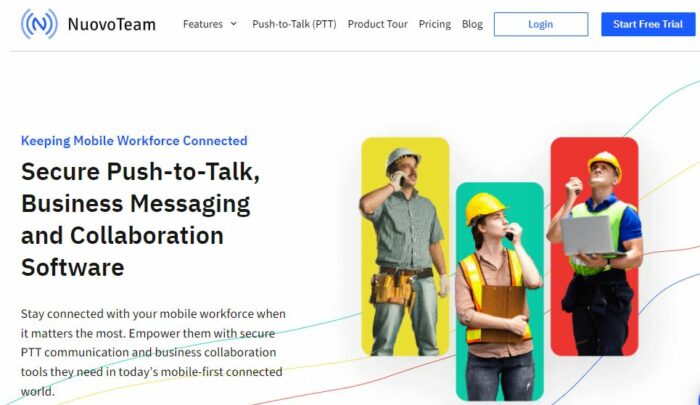 NuovoTeam is a business collaboration software designed specially to help remote and on-field teams connect and collaborate with ease. It offers instant walkie-talkie like Push-to-talk (PTT) connectivity coupled with a wide range of collaboration features to make your remote team communication a breeze!
Here is an overview of NuovoTeam features:
Compatible with your Android & iOS smartphones, rugged devices and custom devices.

Obtain seamless communication over cellular data or Wi-Fi.

Instant Push-to-talk connectivity at the hit of a button.

Prevent complex dialing and texting protocols with PTT.

Replay PTT messages with live voice playback.

Share documents of diverse formats over the air.

Leverage privacy-focused location tracking and geofencing.

Quick access to employee contact information with the corporate directory.

Create public or private channels for group communication.

Most suitable for field service industries including mining, construction, warehousing, logistics, transportation and much more.
Pricing:
NuovoTeam offers a business plan of $5 per user per month.
---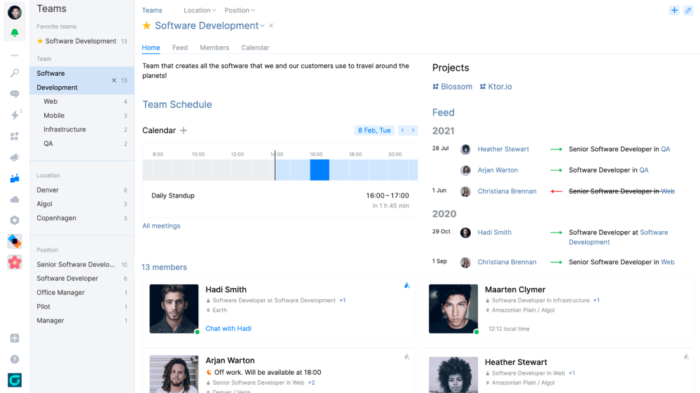 JetBrains Space is a collaboration platform built with software development teams in mind. It combines everything you need for the full development cycle in a single toolset. Space allows teams to host Git repositories, review code, automate CI/CD, store and publish packages, manage issues and files, and communicate in chats – all in one place and integrated out of the box.
To make your collaboration as effective as possible, Space seamlessly combines everything needed for software development with organizational and communication functionality, including:
A team directory for managing the company's organizational structure: memberships, permissions, vacations, absences, and work locations.
Private and group chats, themed channels, and blogs.
Features for uploading, previewing, and sharing personal and project files.
Creating and collaborating on documents, checklists, and to-dos.
Meeting management, personalized dashboards, and calendars.
Pricing
JetBrains Space is available in four subscription plans, starting with a free plan for an unlimited number of projects and users. Paid plans start from $8 per active user, per month.
---
What is Collaboration Software?
Many people are not quite sure what collaboration software is all about.
Collaboration software is an app that facilitates people in getting things done faster and more effectively.
These collaboration software solutions help us manage all our tasks without having to run after each and every stakeholder through emails, voice mails, or knocking on doors.
These collaboration software solutions ensure that the right people have the right applications in their grasp to optimize results for businesses and nonprofits alike.
The current trend in the collaboration software sphere is more focused on cloud solutions where each user can log in with their own username and password. nTask is one example of collaboration software where you can manage, track, and communicate on all your relevant projects and tasks effortlessly.
Best Real-Time Document Collaboration Tools
The best document collaboration tools in 2022 allow all relevant stakeholders to view and edit documents in real time. These tools help to prevent miscommunication among stakeholders while allowing for a more streamlined document creation process.
Essential features to look for in a document collaboration tool
Look for the following features in any best document collaboration tool including:
Version History
New change Notifications
Commenting
Chat instant messaging
Pre-Made File Templates
Apps Integration
File Access Control
Scalable memory and file storage
The 5 Best Document Collaboration Software Solutions in 2022
Best Enterprise Collaboration Software Solutions: 5 Essential Tools you need to use
Collaboration is easier said than done – especially in the enterprise collaboration software solutions sphere.
Almost 86% of employees and executives have a lack of collaboration as the main factor behind their failure.
But do not feel that you're bound to go that route as well…
There is a quick-win solution: Enterprise Collaboration Software and best of all we have shortlisted for you 3 of the best enterprise collaboration software solutions in different categories:
Zoom: The best enterprise collaboration software for meetings
nTask: The best enterprise collaboration software for project management
Slack: Best collaboration software for messaging
FAQs
1. What is enterprise collaboration software?
Enterprise collaboration software is a type of software that allows multiple people to work on the same project or document together. This can be beneficial in times of high-stress, when team members need to share files and collaborate on tasks. Enterprise collaboration software often offers features like chat rooms, file sharing, group discussion boards, and task management tools.

These tools make it easy for team members to communicate with each other and keep track of their progress while working on the same project or document. Additionally, enterprise collaboration software can help managers manage projects by tracking deadlines, budgets, and more.

2. Why do enterprise collaboration softwares matter?
Enterprises are increasingly relying on collaboration software to help them work more efficiently and communicate better. These softwares enable organizations to exchange information, share files and documents, collaborate on projects, and much more.

Enterprises use these softwares for a variety of reasons, such as reducing the time required to complete tasks or meeting deadlines; improving communication within the organization; increasing efficiency by sharing resources across teams; making it easier for managers to track employee performance; and developing collaborative solutions faster than would be possible without them.

3. What are the 4 types of collaboration tools?
The four main types of collaboration tools are,

1. Communications tools
2. Organized collaboration tools
3. Time management tools
4. Roadmap tools
This brings us to the end of our partisan list, with one last question still remaining. Which of these best team collaboration software will your business put into use? Tell us in the comments or share feedback at: fwilson@ntaskmanager.com