In this article, Fred will highlight and review the best online task management software and tools of 2023.
Running a startup is no piece of the cake. There is a constant hammer of uncertainty that only adds to the already existing pressures of limited budget and scarce resources. Each week as the business of a startup grows, so do the challenges that come with this growth.
As a Project Manager, you can only do so much, monitor and manage team collaboration, maintain time accountability, and assess the progress of your projects. And even then, things can get clunky and fall out of place. To foster an organized workflow, most organizations acquire the help of a nifty task management tool.
Because why let everything fall on your mortal human shoulders when you have a wide array of automated friends to share your burden with?
What is Task Management?
Task management is defined as the process of managing the life cycle of a task.
It stretches right from task planning to track to execution.
It facilitates the entire team to track tasks from the beginning, setting deadlines, how prioritizing tasks, and assigning the tasks to relevant stakeholders.
Task management involves:
Planning
Testing
Tracking
Reporting
Essentially, task management can facilitate individuals to achieve their goals or groups of individuals to collaborate for the achievement of collective goals.
What is Task Management Software?
Task management tools allow you to organize, plan and prioritize tasks to complete them efficiently within the desired time frame.
Such tools are specifically designed to address the requirements of project leads and rule out the chance of missing goals and surpassing budgets.
The best part is that you can get accustomed to such apps even if you are tech-savvy or not.
Summing up, if you are in a job role where you have to delegate tasks to your broader team then task management software is important for you.
Why Use Task Management Software?
Before we move onto helping you choose the best task management software, let's skim through the reasons your emerging business could use one.
Centralize team workflow and

communication on a single platform

Maintain and monitor team accountability for a myriad of tasks with just a few clicks
Practice efficient time tracking of all your team members, at all times with an automated system
Create a central hub for document storage, sharing, and retrieval
Avoid time wastage in manually updating and organizing project schedules
Schedule and attend virtual meetings from anywhere in the world
If you have never used a tool for task management, you will find yourself swimming in a bottomless sea of software to choose from. Which also means, you are equally likely to find yourself investing in the wrong software, which may sound like a good idea at the start but would turn out to be a big source of disappointment.
What Does the Best Task Management Software Offer?
Here are 6 key criteria you should refer to before investing in one:
Are issue tracking and risk assessment available for each task or project that you create?
Does it facilitate real-time communication with team members for clear & transparent management?
Does it allow users the freedom to customize their workspace according to what best suits their preference?
Is it visually simple to understand and flexible to use for all sorts of teams?
Does it offer a generous set of features at a low price?
Does it consist of time tracking features to ensure on-time project delivery?
Table of Contents
41 Best Task Management Software and Task Tracking Tools for Startups:
Bonus Task Management Apps:
If hopefully by now, you're convinced that your startup could use the expertise of a management tool, we have reviewed a list of the 41 best task management tools to help you manage teamwork and increase your productivity.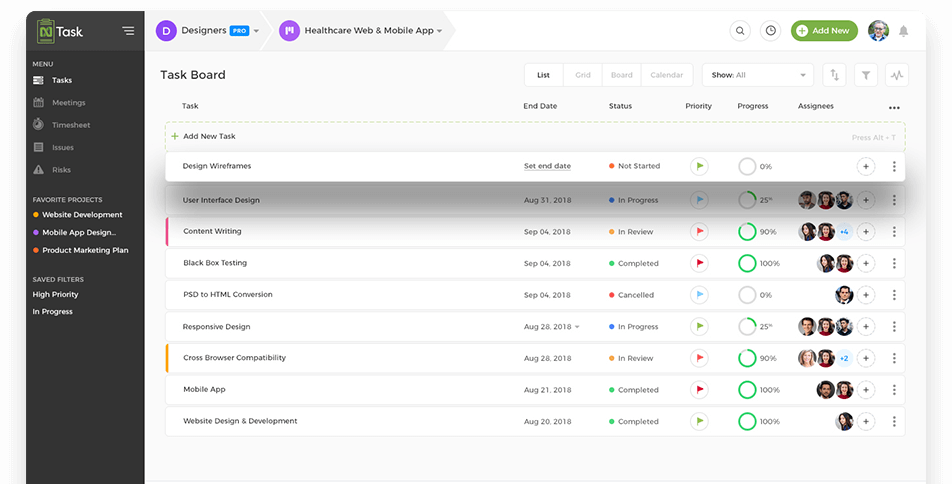 nTask is a newcomer in the fierce market of software. It was designed to eliminate the frustration caused by overly complex tools that are often abandoned by the users halfway down the road. Its specialty lies in its straightforward, elementary format that reduces the learning curve of users belonging to any team type.
It can be one of the best task management software for modern teams as it comes equipped with native modules that give all-round coverage to your project needs. With an elaborate task management solution built-in, there's nothing you cannot do with nTask. Assign tasks, manage priorities, set recurrences, and get notified when a task lies ahead of you.
Furthermore, track and resolve issues associated with your tasks quickly with nTask's powerful issue management module. Identify issue severity and assign to particular team members to define accountability. The same holds true for risks. The software allows you to develop a robust risk mitigation strategy to let you smartly deal with your project risks.
It doesn't end here. To help you eliminate the horror of unproductive meetings, nTask's meeting management solution has it all. From agenda to meeting participants attendance, to meeting minutes, and lots more. A definite fit in the manager tools category.
You can also use the software for time tracking as nTask facilitates timesheet management too. Manually enter time entries and you can later use them for billing clients too.
nTask is number one on our list of best online task management tools for 2023.
Prominent Features:
Visually appealing views of tasks in the form of List, Grid, and Calendar. Assort and manage how you view tasks using a set of filters
Create and link multiple tasks to projects in one click
Create checklists and give descriptions to tasks
Give your tasks individual status, priority, and a due date
Manually log hours that automatically update in corresponding timesheets
View task percentage progress via self-generating progress meter
Create a task recurrence on a daily, weekly, monthly basis
Add files, images, and comments to each task for effective communication
Export task details to external sources via a public link or email
Use the color palette to color-code your tasks
Self-generating Gantt Charts to help you give a roadmap view of your task timelines
View task history in Activity Log
Assign tasks to multiple assignees for dividing the workflow
Conduct and manage minutes of meetings with defined agendas, discussion points, and follow-up actions
Create recurring tasks
Free project management software
Create task dependencies
Organized project schedules
Free trials
Project tracker
Assign tasks
Resource management capability
Pricing
Free Plan – unlimited workspaces, unlimited tasks, 100 MBs of storage.
Premium Plan – Starting at $3 per user per month, Unlimited projects and Gantt charts.
Features Missing in nTask
Does not have advanced reporting
Sign up for the best task management software today, it's free!

Your favorite task management software. Sign up today and organize work smartly.
---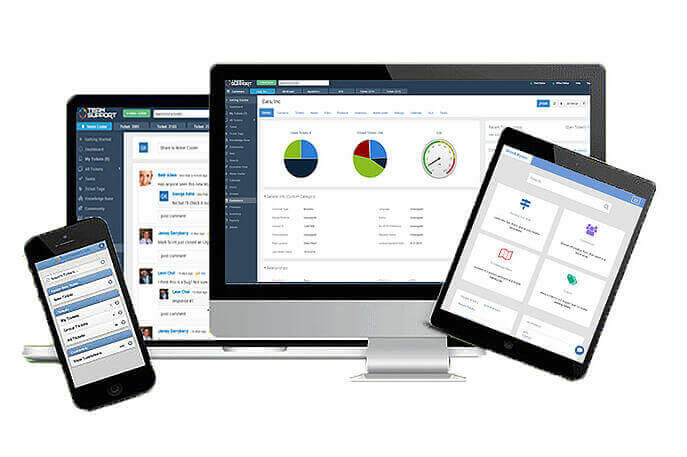 Evident from its name, Teamwork is one of the best task management software focusing on streamlining team collaboration and effort. It offers an impressive tier of project management features that extend from simple task management to time tracking, billing, and a lot more. Whether you work with a group of small teams or large, Teamwork will help you strengthen the different forts of your workspace, all under one roof.
Key Features
Create multiple tasks and divide them into easily manageable sub-tasks
Track and log time individually on each task using the digital timer
Log billable and non-billable hours on each task using the digital timer
Add estimates and work progress next to each task
Set priority status, tags, reminders, and labels for each task
Create task dependencies and recurring tasks
Import tasks from Excel
Organized project schedules
Assign tasks
Link tasks to Milestones created separately on Teamwork. You can also link tasks to Teamwork Calendar
Manage who to notify and when by controlling Notification Settings
Communicate with Team members using the Comment and Chat Feature Task Board
Free task management tools
Project tracker
Free trials available
Free project management software
Resource management capability
Pricing
Free Plan – 5 User, 100 MB storage.
Pro Plan – $9 user/month. 100 GB file storage.
Features Missing in Teamwork
Does not provide Issue tracking or reporting within Task Management
---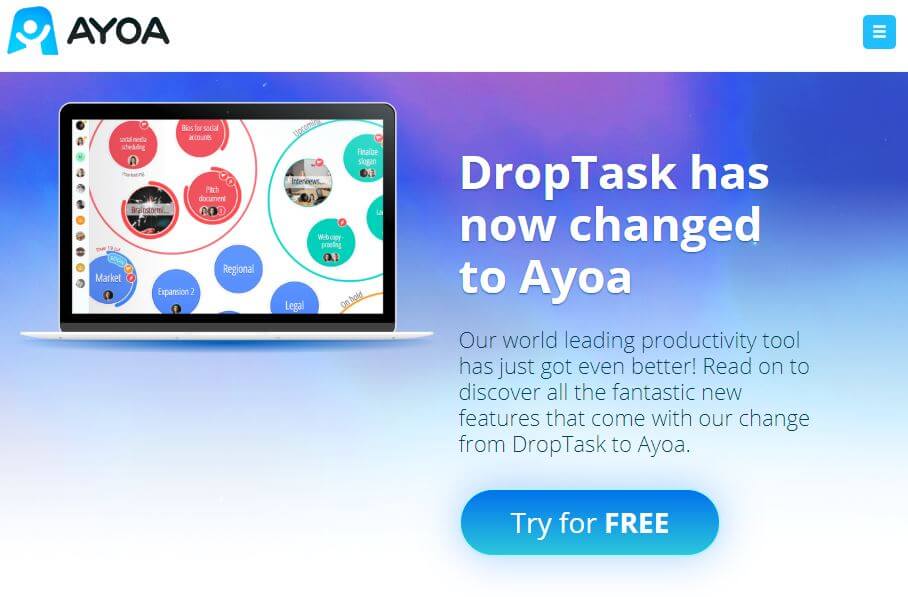 Approved into use by some of the most influential names across the world, such as Harvard University, Coca-Cola, and Disney, Droptask brings a pleasant twist in the framework of task management.
Designed with visually appealing Venn diagrams that permit color customization, it has the shortest learning curve compared to any task management software out there and a must in the manager tools category.
Key Features
Alternate between fun-inducing canvas view or a workflow view of a task
Add notes, assignees, tags, checklists, reminders, and attachments to each task
Choose and manage urgency, priority, progress, and effort of a task with a slide bar
Access and view task history at any time you want
Organized project schedules
Create a separate category or project, then use Drag & Drop option to relocate task into either one
Monitor and manage task notifications for each member
One of the best online task management tools available this year
Project tracker
Free trials available
Free project management software
Assign tasks
Resource management capability
Pricing
Free Plan – Unlimited users. Unlimited workspaces.
Individual Plan – $5/month, single-user, all features
Features Missing in Droptask
An issue tracker to report and identify issues related to tasks not available
No Gantt Chart views to display roadmap of task timelines
Timesheets to keep track of employee hours not available
---

ProofHub may be a tad expensive, but with add-ons like unified communication, email project management, and a multilingual interface, it can be great for larger teams looking to collaborate remotely. It is an easy-to-use platform to manage team collaboration and deliver projects on time.
Key Features
Define workflow, with flexible Kanban boards that provide List view and board view of tasks
Track time spent on each task using a digital timer or manually log the hours
Assign custom roles to members for each task
Switch and move tasks into varying stages depending on the project life cycle
Visit infographic column on the task board to get a quick analytical summary of tasks in progress, tasks completed and total tasks
Create Sub-tasks and assign to various team members
Change interface language from English to either French, Spanish, German, Polish or Portuguese
View roadmaps of task and project timelines in holistic Gantt Charts
One of the best online task management tools
Project tracker
Free trials available
Assign tasks
Resource management capability
Pricing
$89/ month- Unlimited projects and users
Features Missing in ProofHub
Does not offer issue or risk tracking
---

ActiveCollab is another powerful tool perfect for organizing workflow for small teams and businesses in general. It has been around the block for a decade, and because of its smooth and flexible usability, it has rendered a favorite spot among numerous academic institutions and government organizations. You can manage every aspect of your project be it time tracking, team collaboration or invoicing.
Active Collab is a cloud-based app that functions on multiple browsers and can be installed on a personal server as well.
Key Features
Create and organize tasks on a single board and filter them into due dates, labels or people
Choose assignees for each task, add reminders, leave comments and attach files for your team to share
Assemble your tasks in Gantt-like view, Column view or list view
Sync your calendar with event-specific tasks
Track the total hours spent on a task with the use of a stopwatch
Generate reports for the number of open tasks
Organized project schedules
Project and task management tools
Assign tasks
Project tracker
Free trials available
Resource management capability
Pricing
$25/ month. 5 users. 5GB space
Features Missing in ActiveCollab
No sub-tasks, no task dependencies
No issue or risk tracking
---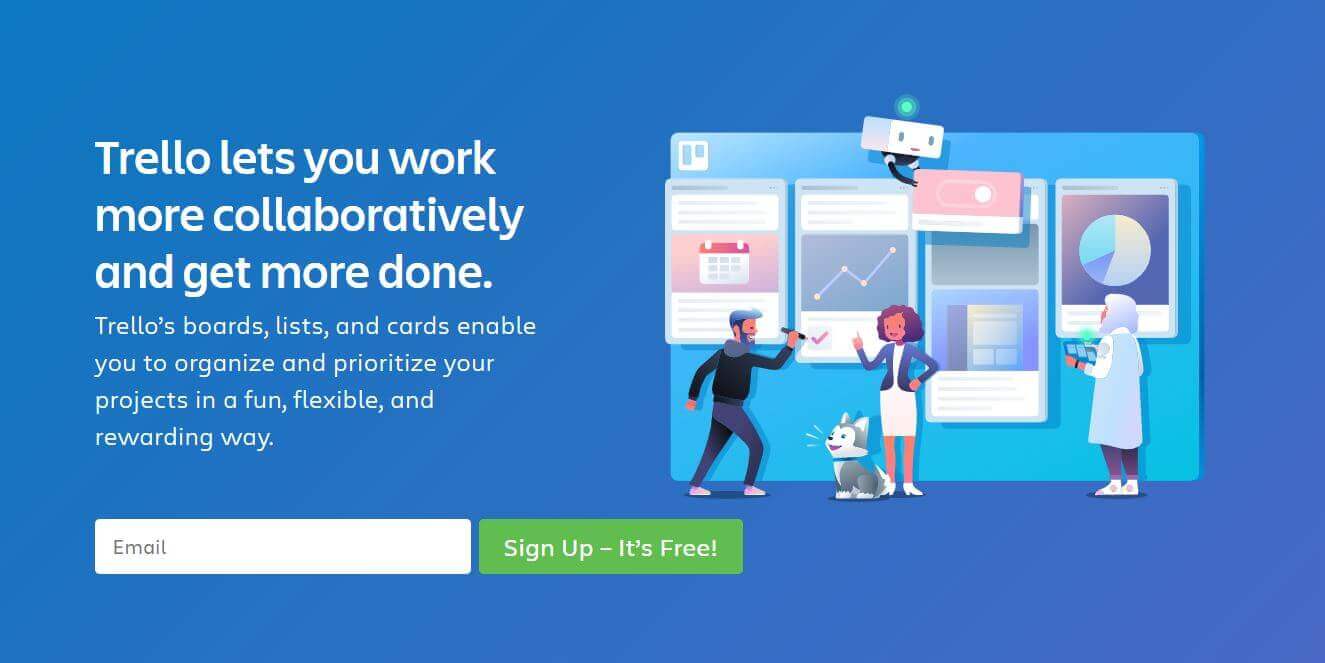 One of the best task management software that needs no real introduction, Trello is the very definition of basic task management. Trello's specialty lies in its interactively simple Kanban boards that assist quick drag & drop ability of tasks from one column to another.
The incredibly generous Free plan of Trello that offers unlimited members, boards, and checklists are what has granted Trello a golden spot in the hearts of small businesses and setups a must in the manager tools category.
Key Features
Flexible Kanban boards that store created tasks in the form of cards, boards and lists
Users can create checklists within the cards and toss in their vote for each performance being carried out within the card
Email-to-board feature allows users to convert their emails into boards and cards
Assign tasks, attach files, add descriptions and progress checklists to each individual board containing a task
Add comments with emojis on boards and cards to communicate real-time with the rest of the team
Top Project and task management tools
Project tracker
Assign tasks
Free trials available
Free project management software
Resource management capability
Pricing
Free Plan – Unlimited users and unlimited boards.
Business Plan – $9.99/month – 250 MB storage, multiple integrations, added data security
Features Missing in Trello
Time tracking not available for tasks
Reporting formats not available for task summaries
Task dependencies or recurring tasks missing
Gantt Chart view of boards and tasks not available
---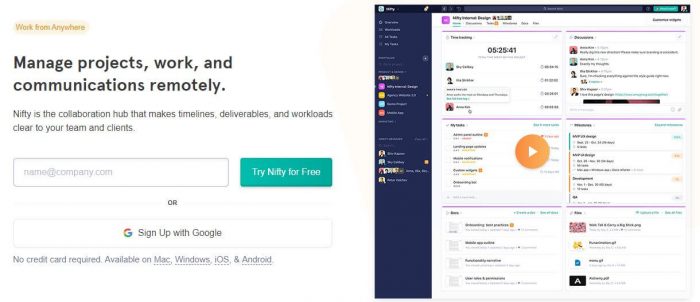 Primarily a project management tool and simple task management tool, Nifty is gradually becoming a strong name to remember in this crowded market of task management tools. It provides users with a diverse array of features that assist both team communication as well as project management.
The meager pricing plan of Nifty is a big business-pleaser for small teams looking to invest in something affordable to enhance team productivity and a clear winner in the manager tools category.
Key Features
Kanban Board view that splits and divides tasks into three categories of New tasks, In-progress and Completed
A visual overview of task deadline and milestones on a roadmap
File storage with separate categories of spreadsheets, presentations, videos, audios, images, and even code
Control and manage notifications for each member of the team
Capability to add or remove Team members
Filter tasks by user and milestones
Project task management tool
Organized project schedules
Assign one or more members to a task
Commenting feature to assist team collaboration on tasks in addition to a discussion board
Project tracker
Free trials available
Resource management capability
Project timelines
Pricing
Basic Plan – $8 per user/month. 5 GB space. Unlimited projects
Features Missing in Nifty
Native Gantt Charts
Task Priority settings
Task Progress metrics
User/team activity dashboard
---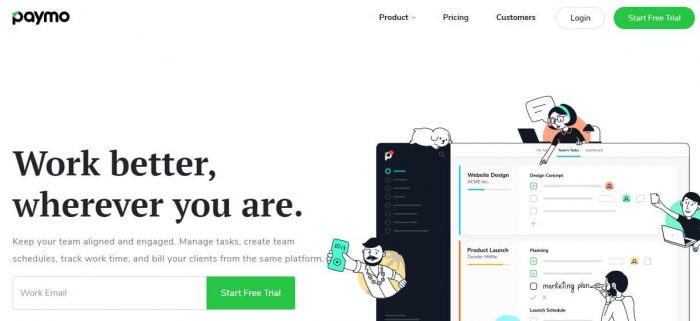 Another great task management application that you can use in 2023 is Paymo. The application is a modern project management software that allows small and medium-sized businesses to plan and organize all of the projects they have on their roster.
One of the great things about having such an abundance of functionality in one single interface is that it eliminates the struggles of juggling tasks that span across different applications.
Let's take a look at some other features that this application has to offer.
Key Features
Team Collaboration and Communication
Gantt Charts and Kanban boards
Invoicing Add-ons
Task Management
Automatic Time Tracking and Timesheet Reporting
Resource Scheduling
Mobile companion apps
Pricing
Paymo offers a free plan and a free trial if you want to check out the software before buying the subscription
The Small Office Plan subscription of the software starts at $18.95/month/user
Features missing ing Paymo
Looking for Paymo alternatives? Check this out:
Top 8 Paymo Alternatives to Use in 2023
---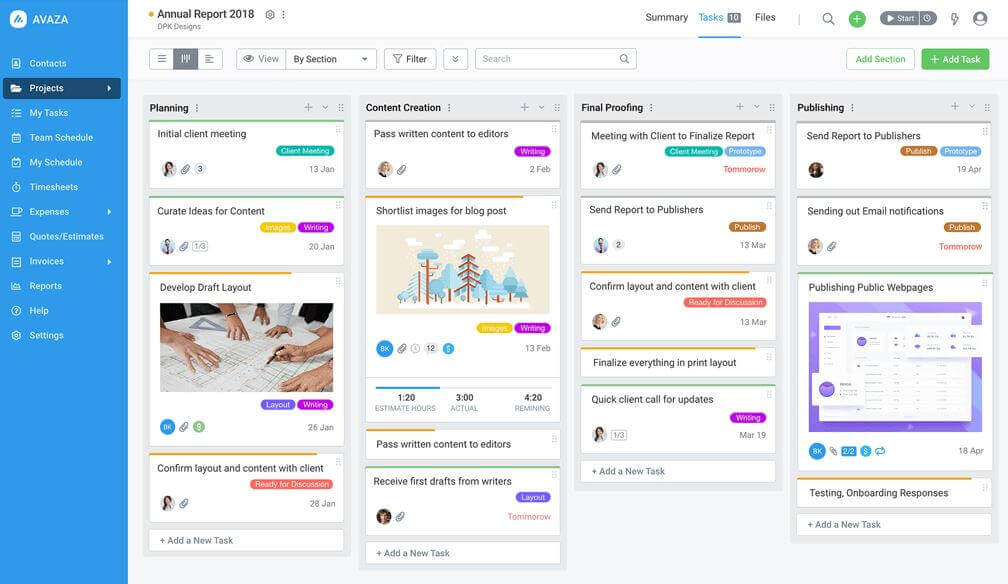 Gathering clientele, struggling with new deadlines and the processes of recruiting the right team can be a draining process. Startups need something that is not only affordable but also helps take care of multiple dimensions of team and project management.
That is where Avaza steps in. Avaza lines up in our list of best task management software due to its comprehensive feature list that lets you manage projects, teams as well as the invoices. Simplify complex projects by breaking them down into manageable work through to-do lists, add details such as a start and end date and view them in Kanban, Gantt charts or lists.
Starting with the initial quotation to processing invoices, with Avaza your financials are taken good care of, so you can focus entirely on your project delivery. Avaza makes payment and invoicing even easier through options that allow for conveying and monitoring detailed estimates to potential clients, which you can convert into a project with a few clicks.
It also offers an inbuilt client management module that includes a Time & Expenses tab and caters to direct payment through PayPal or Stripe.
Key Features
Task management including group tasks
Multiple task views including Kanban, Gantt & List
Comments, file sharing, and collaboration
Project management including project budgeting and project progress dashboards
Scrum project Burndown charts to assess work pressure
Activity feeds so your team can stay updated on the latest developments
Time tracking to stay on track
Capability to add or remove Team members
Timesheet entry and billing
Business reporting
Organized project schedules
Cloud accounting
Credit notes
Invoice, Quotation, and Estimation
Support for split payments across invoices
Billing and expense management
Multi-currency expenses, invoicing, payments and credit notes
Online payments (partial payments, PayPal payment integration)
Manager tools
iOS and Android mobile apps
Project tracker
Free trials available
Free project management software
Project timelines
Pricing
Avaza offers Free, Startup ($9.95 per month), Basic ($19.95 per month), and Business ($39.95 per month) plans.
Features Missing in Avaza
Mobile apps are not as intuitive and easy to navigate
A higher learning curve takes time to get around it
Real-time updates
Issue tracking features
Project risk management
Native Meeting management
---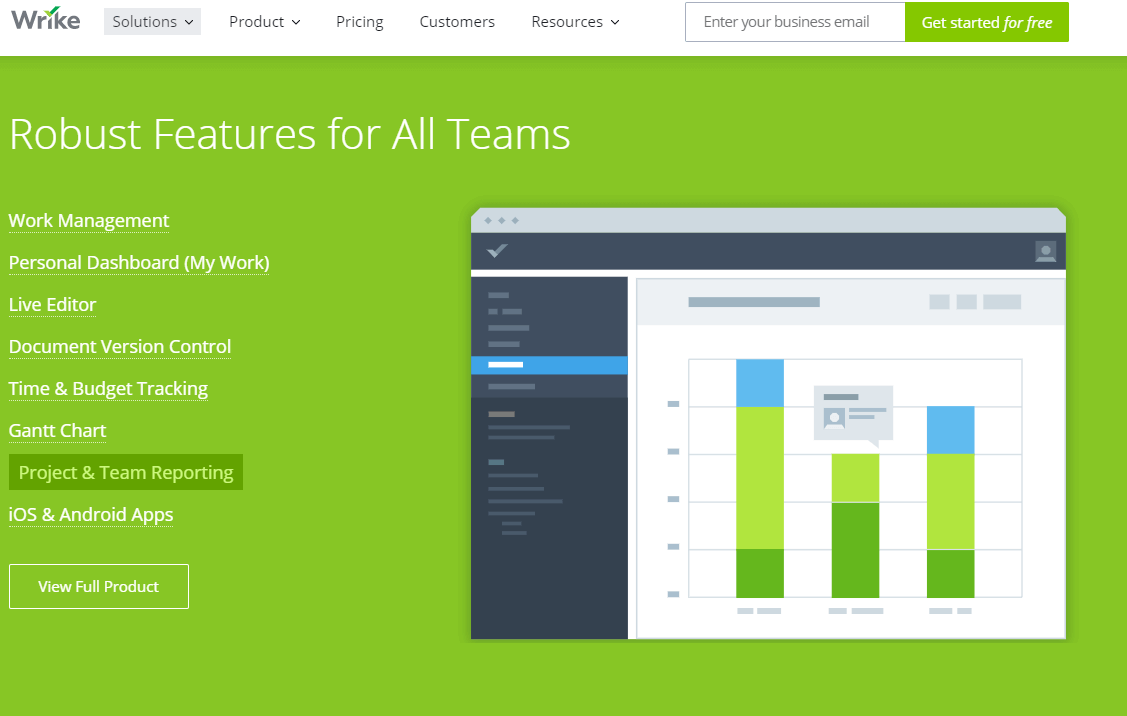 A complete project and task management app with a growing number of subscribers with each passing day, Wrike holds its place as one of the best task management software for teams of all sizes in all industries.
Offering a multitude of options with a sleek interface to manage projects encompassing complexity from basic to enterprise, this tool is one of the all-under-one-roof solutions. Beginning with multiple pane views for viewing and monitoring information from different aspects, Wrike makes it easy to stay on top of your projects with little effort.
You can organize, prioritize, and schedule tasks, engage team members through tagging, customize reports, and collaborate with peers with just a few clicks. If you are just starting up, you can start free with a limited number of users and a fixed set of features. You can later upgrade your subscription as your team grows or as the workload and project lists expand requiring a vaster feature set.
Key Features
Comprehensive task management feature set
Setting recurrent tasks
Task organization and prioritization
Team discussions in tasks
3 pane project view for analyzing data efficiently
Member engagement through tags
Customized reports
Organized project schedules
Capability to add or remove Team members
Interactive timeline (Gantt chart)
Real-time newsfeed
Document collaboration
Workload management
Time-tracking
Email integration
Manager tools
Meeting management
iPhone and Android apps
Project tracker
Free trials available
Free project management software
Project timelines
Pricing
Wrike offers multiple plans that comprise Free, Professional ($9.80 per user per month), Business ($ 24.80 per user per month), Marketers ($ 34.60 per user per month) and Enterprise (customized) plans.
Features Missing in Wrike
Higher learning curve
No progress completion percentage.
The time reporting option is not available.
Not as intuitive to work with and takes time to learn.
Task management in mobile apps is not as efficient.
---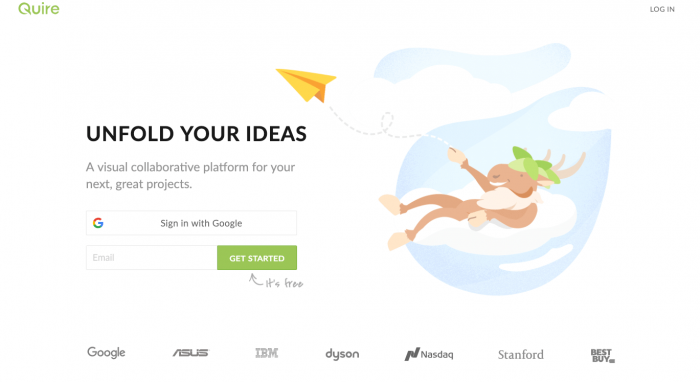 Quire is an award-winning task management and to-do list app for personal use or team collaboration. The app has earned countless positive reviews from business owners and is one of the most highly recommended task management software. With a minimalist and intuitive interface, Quire new users can quickly maneuver around like a pro, on both the web browser and the mobile app.
Quire offers multiple features that make collaboration easy and help you manage tasks with a well-designed system. The nested task list provides a tree hierarchical structure with unlimited levels of tasks and subtasks to let teams jot down their ideas and break down a big goal into doable smaller tasks. The Kanban board feature helps users streamline workflow and input the Scrum productivity method. Sublists allow users to have their own personal view of the main task list.
The recent powerful Timeline feature, which is a more simple and visualizing Gantt chart that lets you switch different views for your projects. With this feature, you'll be able to see if tasks are evenly distributed between members and which tasks are reaching deadlines.
Key Features
List view with endless tasks and subtasks
Kanban board
Timeline
Multiple assignees
Comments area, update in real-time, allowing me to discuss matters with teammates
Set due dates
Set priorities and reminders
Add tags, great for organizing tasks (filtering and sorting)
Migrate from other tools: Asana, Trello, Wunderlist, etc
Clean interface: minimalistic
Desktop + mobile app quick sync
Pricing
Features missing in Quire
No on-premise solution available
Chat functioning is limited
Limited templates
---

With a focused but powerful set of features that can help you streamline your task management activities and that is affordable, Basecamp could be your next best task management tool. Basecamp provides channels for instant messaging and real-time chat with groups and individuals, a good amount of file storage, to-do lists for sorting out work-related tasks, scheduling work and sharing documents, and other information.
Plus, it generates reports automatically based on your work summary so it saves you time. Also, instead of juggling between various payment plans, if you like to keep the payment plan fuss-free, at a single standard rate, regardless of the team size, Basecamp offers you uncomplicated pricing.
This means you don't need to juggle between saving expenses and growing your team.
Key Features
To-do lists for tasks
Scheduling tasks
Setting priorities for tasks
Task History
Project management including project templates
Use of calendar
Organized project schedules
Tracking hours spent on projects
Interactive Gantt Charts for projects
Project planning
Create Teams/Groups
Messaging or Instant Messaging with individuals or groups
Document Management
Information and file sharing
Forums for team discussions
RSS Feed
Issue History
Resources allocation and forecasting
Project tracker
Free trials available
Pricing
Basecamp offers one standard price at $99 per month regardless of the number of users, projects or teams.
Features Missing in Basecamp
The details associated with each project are limited and scattered across the tool. This means it does not display information under a single view.
Limited features for task or project reporting.
Lack of options for task or project budgeting.
There is no built-in time tracking, however, it can be integrated.
There is no customization option.
It does not offer an inbuilt instant messaging feature.
Search and filter options for files or to-do lists.
Risk management features
Built-in meeting management features
---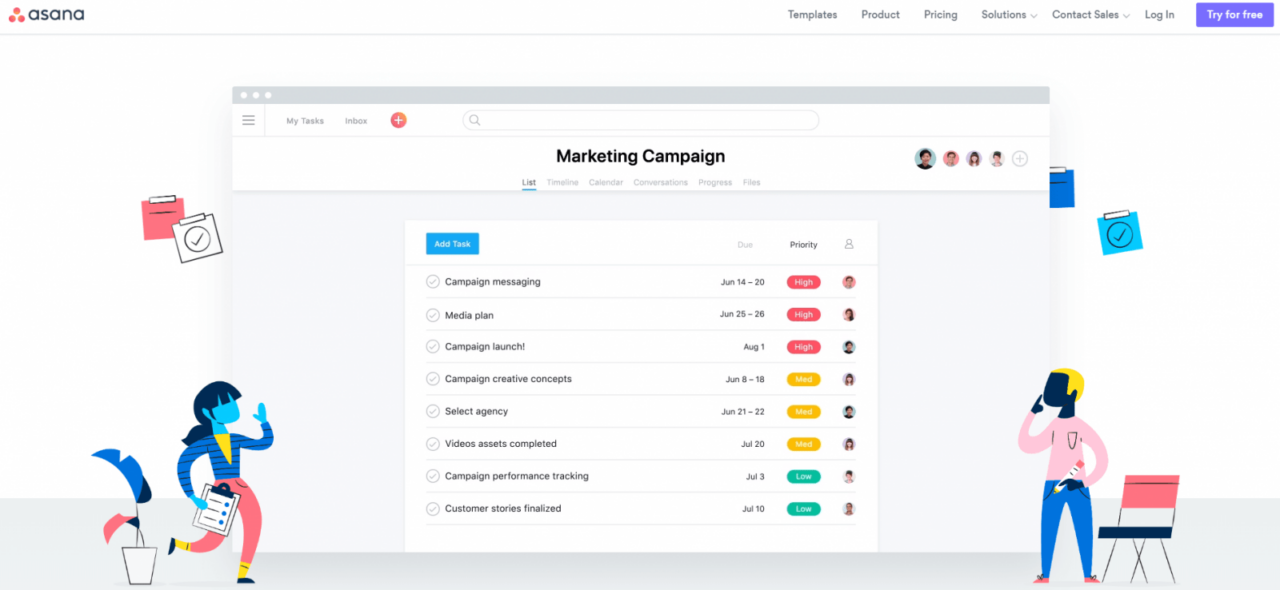 A task management app, Asana has come a long way and has made a name for itself as one of the best task management software floating the market. You can create and manage tasks individually or assign them to projects as well as follow up on them through various devices.
Modules such as My Tasks list and Focus Mode help you focus on more important, more urgent tasks. Team members can easily collaborate with each other on the work at hand through comments, likes, and follow options.
Plus, Asana makes it easy to share files and other information, and even tag a team member in the comments to involve them in a certain task. Asana saves you the need to use email or other third-party add-ons for collaboration.
Key Features
Activity feed for centralized updates on the workflow and team activities
Add assignees to tasks
Add attachments to tasks
Project planning
'Like' tasks and activities through 'hearts'
Automatic updates to the inbox
Create custom calendars and views
Email bridge
My Tasks list and Focus Mode
Track tasks and add followers
Notifications and reminders
iPhone support, HTML5 mobile site
Multiple workspaces for handling multiple teams in parallel
Project Sections and Search Views
Real-time updates on tasks and projects
See team members' tasks and priorities
Organized project schedules
Set goals, priorities, and due dates
Set project permissions
Project and task creation
Comment on tasks for further clarification
Task dependencies for streamlined workflow
Gantt Charts
Track tasks
Kanban support
Meeting minutes
Project tracker
Free trials available
Free project management software
Pricing
Asana offers a Free, Premium ($ 9.99 per user per month) and Enterprise (customized) plan.
Features Missing in Asana
No task assignment to multiple users or team members
Limited task status options
No option of converting comments to tasks and vice versa
Higher learning curve
Not so easy to keep track of tasks or other information due to its nested structure
No built-in meeting management
---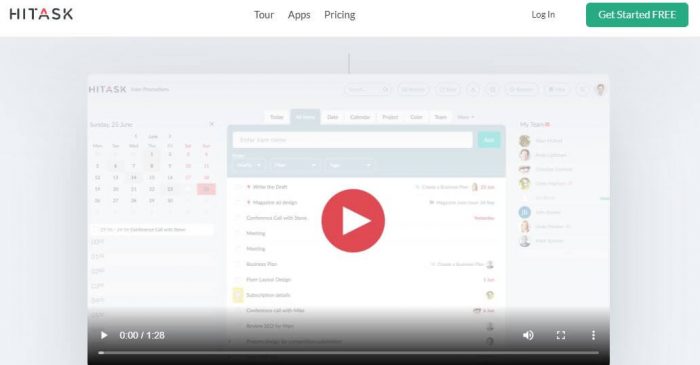 Hitask is a task management tool that is the perfect fit for start-ups. Comprising of multiple features placed neatly on a user-friendly interface, this app makes it very easy to manage tasks and collaborate with teams.
Key Features
Task creation from email to Hitask account
Email and mobile push notifications
Multiple reminders per task
Task assignment to team members
Notification on comments, due dates, missed deadlines and updated or completed tasks
Chat and instant messaging
Task comments for elaboration and added information
Hierarchy of tasks and sub-tasks forming nested task lists
Recurring tasks on a daily, weekly, monthly or yearly basis
Issue tracking by a unique number
Organized project schedules
Task progress and spent time reporting
Project planning
Multi-lingual support for multiple languages
Tags for categorizing items by contexts
Color tagging for tasks and projects
Data export option for Excel and other data format for external processing
IOS and Android mobile apps
Track tasks
Pricing
Hitask offers Team Free, Team Business ($ 25 per month), and Enterprise ($ 120 per month ) plans.
Features Missing in Hitask
Meeting management module
Gantt Charts not available
Basic Document management features
Does not offer built-in meeting management
---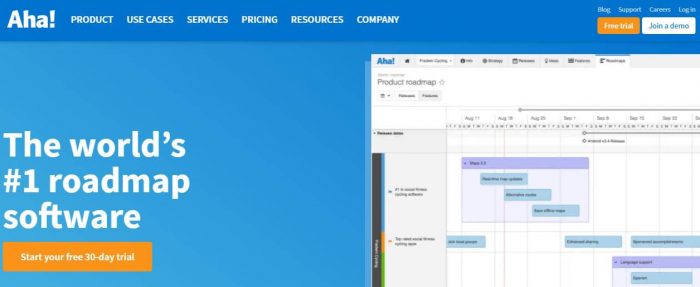 #13 on our list of the best task management software is Aha!. Every start-up and established organization needs to establish a roadmap to clearly set and meet goals and monitor progress accordingly. What's more? Aha! actually offers a subscription plan that is focused on start-ups.
This task management software helps you define your vision, goals, and initiatives to help strategize more efficiently. It also has a separate section for gathering ideas from customers for future improvements.
With a drag-and-drop interface, you can list down your project requirements and document features as well as create mock-ups in the same tool. Plus, you get to analyze and share your roadmaps.
Key Features
Efficiently designed modules that hold feature sets focusing on strategy, releases, idea gathering, roadmaps, analytics, and more.
Drag and drop interface for storing features and requirements through user stories.
Organize and prioritize features.
Project planning
Scoring card for features to assess which feature needs to be prioritized.
Create mock-ups of the features designed.
Attaching wireframes, sketches, and inspirations directly to features.
Visualize dependencies between features.
Track the progress of related features.
Organized project schedules
Comment stream to capture feedback with options to mention colleagues and other features.
Customize columns, filters, and other fields.
View project status and team activities through Kanban boards.
Mobile app for iOS.
Track tasks
Free project management software
Pricing
With Aha! you can avail Startup (qualification assessment), Premium ($59 per user per month), Enterprise ($99 for product owner or contributor per month), Enterprise + ($149 for product owner or contributor per month) plans.
Features Missing in Aha!
No mobile app for Android.
Prices are relatively higher than peer tools.
The user interface can take some time to get used to.
No issue or risk tracking.
---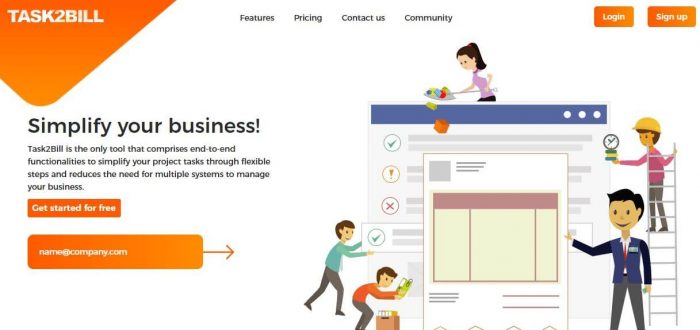 As the name may infer, this task management solution has you covered all the way from task creation and management to your billing and invoicing. With the number of options this tool provides, it can safely be considered as one of the best task management software on the market.
Kanban boards make it easier to adapt the tool in an Agile work process with everything placed neatly on Kanban columns. Start-up teams need a centralized tool for monitoring everything from tasks, to clients, to the finances, which Task2Bill provides.
The additional 1GB free storage space makes this option even more attractive especially if there is a document management and file sharing involved.
Key Features
Tasks management including listing tasks, prioritizing them, setting task status, and posting comments.
Kanban boards for re-positioning and monitoring tasks on different status columns through drag and drop.
Set milestones for task groups and payments.
Track time invested in tasks.
Add custom roles for employees according to their responsibilities.
Assign tasks
Project planning
Client Rate Chart for maintaining customized and negotiated rates for task services and materials used for calculating quotations and invoicing.
Send quotations to clients and negotiate with the cost.
Accepted quotations, billable tasks and expenses, payment milestones, and used materials.
Create quick invoices for clients from billable items.
Online or manual payments and adjustments with invoices.
1 GB free storage on Task2Bill server.
Organized project schedules
Options to set up meetings, appointments, and reminders.
Notifications including configurable email notifications for actions, Web, and Slack notifications.
Generate advanced reports for projects, people, timesheet, and sales activity.
Add multiple contacts for your company or for your clients.
Track tasks
Free project management software
Pricing
Task2Bill offers a Basic (free), Starter ($15 per month), Pro ($25 per month), and Advanced ($50 per month) pricing plans.
Features Missing in Task2Bill
No mobile apps for iOS or Android
Issue and Risk tracking modules missing
Task dependencies are not available
---
Sign up for the best task management software today, it's free!

Your favorite task management software. Sign up today and organize work smartly.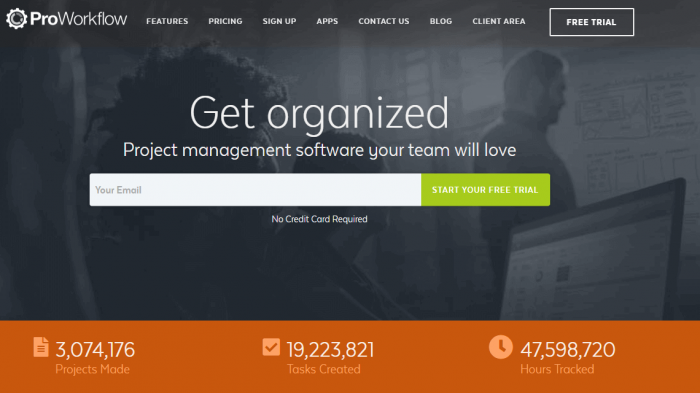 Proworkflow is one of the best task management tools for teams that are just starting up and picking pace. With pre-defined templates, you can take control of your task management process and not the other way round.
Customize your workflow, manage timesheets and corresponding reports, team messaging, and document sharing. A major concern of newly formed organizations is to keep track of finances and monitor the rightful investment of resources.
With the invoice management and quotation handling feature set, Proworkflow helps you steer your finances in the right direction without having to worry about any critical element slipping by.
Also, you don't need to juggle between multiple views, instead, you get access to updates and task progress and a lot more through a single, comprehensive view – the dashboard.
Key Features
Here is how you manage your tasks with Proworkflow:
Task management through task creation and assignment set recurring tasks, add sub-tasks and dependencies as needed
Project management making use of templates, project prioritization, project timelines and reporting, cost-to-completion tracking, Gantt charts, Kanban board, milestone tracking, percent-complete tracking, and status tracking
Project planning
Resource allocation easy workload balancing control
Notifications and alerts
Organized project schedule
Team collaboration and management including centralized messaging & collaboration, file sharing, customizable templates, chat / messaging, contact management, content management, cooperative writing
Client access and request ability
Mobile apps for iOS and Android
Pricing
Proworkflow offers Solo ($10 per user per month), Professional ($20 per user per month) and Advanced ($30 per user per month) subscription plans.
Features Missing in Proworkflow
No risk or issue tracking
Does not offer meeting management features
---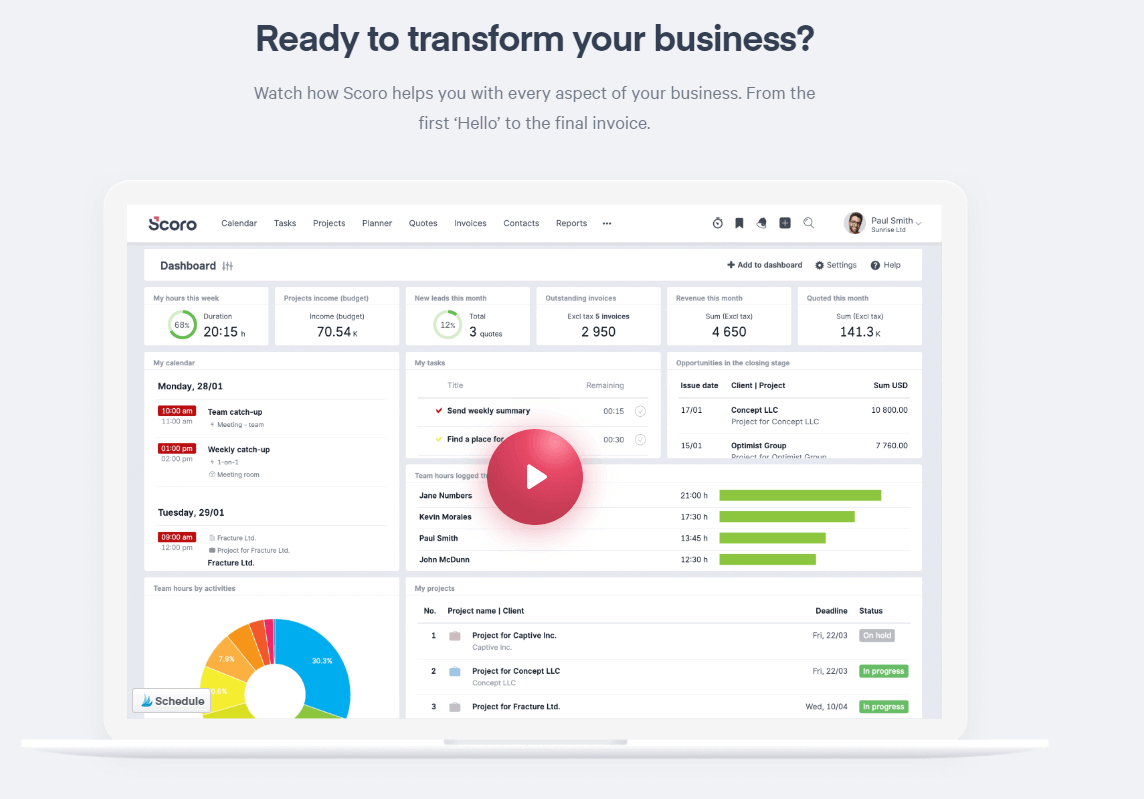 Scoro makes its way to this list of the best task management software for a number of reasons. It is a complete business solution that offers a broad spectrum of features including task and project management, team management, and customer relationship management. Scoro makes it easy to keep track of tasks and projects all the while giving you ample options to oversee team progress.
For customer-oriented businesses, it is especially useful to keep track of customer issues and be able to attend to their queries through the same platform. This prevents start-ups from the extra expense that may otherwise be incurred by investing in multiple solutions for different requirements.
Scoro also helps you maintain documentation and manage invoices and billing. With so much to offer, Scoro is a must-have for start-ups in any industry.
Key Features
Task and project management modules
Meeting scheduling and management
Shared team calendar
Team communication and collaboration
Document management and file sharing
Real-time, customizable KPI dashboards
Contact database and management
Time tracking and billing for work
Project planning
Comprehensive reports for various elements of the workflow
Quotation and invoice management with pre-set templates
Mobile apps for iOS and Android
Pricing
Scoro offers Plus ($22 per user per month), Premium ($33 per user per month), and Ultimate ($55 per user per month) subscription plans.
Features Missing in Scoro
Contacts can be hard to find
Gantt charts are not available
No issue or risk tracking
Not too easy to learn
---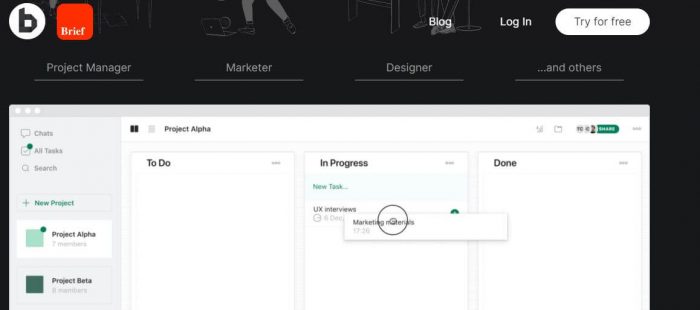 Brief makes it to the 17th spot on our list of the best task management software for startups. Although it does not offer a huge spectrum features, the modules and capabilities it does offer is perfect for start-ups.
It is equally useful for small and large teams. It comes with a clean interface and has is easy to work with. Create and manage tasks with options that include task forwarding and group task assignment.
Plus, you can assign tasks during discussions and this not only saves time but gives you an easier way to get work done. With an option to create multiple private or shared team workspaces and topic creation for teams, manage different teams in their own way through a single tool.
A centralized view helps you oversee and monitor workspaces with the corresponding activities.
Key Features
Take hold of the following prominent features with Brief:
Task management including task creation, to-do lists, task replies, forwarding, and group tasks
Task assignment to single users or team
Convert chat messages to task
Team management including creating teams, team workspaces (private or shared)
Hubs to organize your chats, tasks, and files.
File sharing for multiple file types
Chat discussions
Video chats and group chats
Project planning
Mobile apps for iOS and Android
Pricing
Brief offers a Free, Pro ($10.99 per month) and Enterprise ($13.99 per month) plan.
Features Missing in Brief
No percent-complete tracking
Recurring task management not available
No time tracking
The option to create subtasks not available
No Gantt/Timeline view
---
A powerful to do list and task manager, Todoist leaves a mark by providing some solid task management features for you and your team. The tool allows you to quickly track your startups' progress over time through a handy feature set. Like some of the best task management software, Todoist also comes equipped with native project templates to eliminate the hassle of creating similar projects from scratch.
If you're prone to forgetting things, use the quick add functionality and instantly jot down whatever comes to your mind. The color labels, tags, and themes further allow you to organize your tasks the way you want and according to your priorities.
An interesting feature of the tool is the Karma points. Every time you complete your tasks, you earn Karma points and level up. You can also track your performance by analyzing Karma trends and streaks.
Key Features
Quick add feature for instantly adding tasks on ad hoc basis
Color codes, labels, and themes to organize tasks according to preferences
Built-in templates for instantly getting to work without any delays
Project planning
Tasks and subtasks management, including tasks assigned to team members
Recurring due dates and reminders for tasks repeating on a regular basis
Activity stream to stay posted about project updates happening over time
Karma points and levels each time you add and complete a task
Task comments, file attachments, and notifications
Cross-platform support to help you take your work with you wherever you go
Pricing
Todoist offers a Free, Premium ($3 per month), and Business ($5 per user/month) plans.
Features Missing in Todoist
No calendar view
Built-in time tracker
Does not offer Gantt charts
No issues or risks tracking
---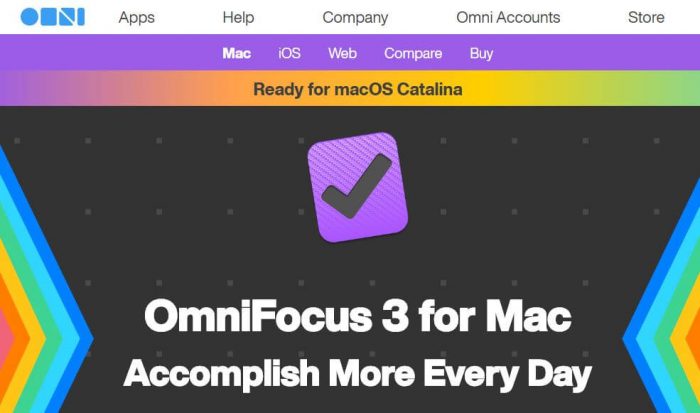 Omnifocus is a beautiful task management software designed for Mac and iOS devices. A GTD app at heart, Omnifocus makes task management efficient for you. Although the myriad of features Omnifocus comes with may seem a little too overwhelming for starters, if you're looking for a complete task management solution, look no further.
Easily add actions using Siri to process things faster. Furthermore, for executing tasks in a workflow manner, make use of customizable tags to make tracking and monitoring of tasks smooth. These tags could refer to any context, ranging from location or people to priority levels of actions.
Through the forecast feature, which shows your calendar, keep an eye on upcoming tasks for the day, and plan accordingly.
Key Features
Projects and tasks controls, including task labels
Custom views catering to individual preferences
Perspectives to keep the focus on specific tasks only
Forecast functionality for keeping future tasks in check
Project reviews to keep everything on track and monitor progress
Notification reminders, so no information slips through the cracks
Project planning
Customized tags for adding context to the tasks
Light and dark modes
Batch editing for multiple items
Pricing
Omnifocus comes with different plans catering to Mac and iOS devices.
For iOS – Pro ($74.99) and Standard ($49.99) plans
For Mac – Pro ($99.99) and Standard ($49.99) plans
The tool also comes with discounted plans for educational and business institutions.
Features Missing in OmniFocus
Does not come with built-in time tracking
Gantt view missing
Issue and Bug Tracking not available
Check out the best OmniFocus Alternatives:
The Best OmniFocus Alternatives and Replacements of 2023
---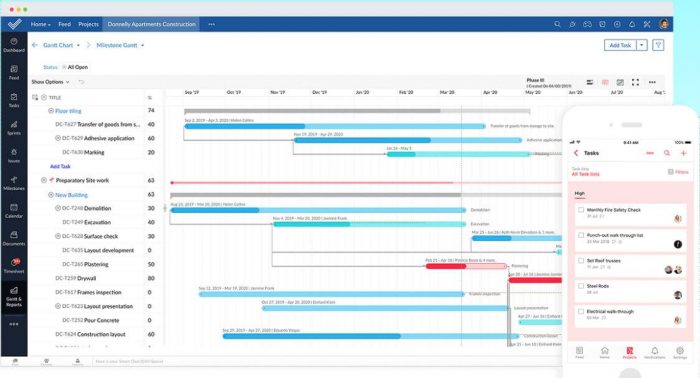 Another comprehensive task management software, Zoho Projects provides a powerful suite of features that let you manage your tasks with minimum confusion and maximum efficiency. The core functionality of the tool revolves around social networking while getting things done. That is, Zoho Projects comes with a rich toolset comprising of multiple collaboration channels for you to keep everyone in the loop. Some of these channels are team chat, online team communication forums, and interactive feeds.
In addition to that, through task dependencies and milestones you can track your task relationships and your projects' most significant events in order to understand what you need to do next.
The software comes with built-in extensive reporting capabilities to help you gain useful insights regarding where your project stands at the moment.
Key Features
Tasks and subtasks management
Kanban boards for visualizing the workflow and tracking progress
Task dependencies for identifying the relationship
Activity feed for staying updated about all the changes occurring over time
Powerful reports for monitoring project progress
Time tracking with tasks
Gantt charts for project scheduling
Issue tracking for timely identifying and resolving issues
Client invoicing management for accurately billing clients
Project planning
Milestone tracking to keep an eye on the project's important events
Pricing
You can make use of Zoho Projects through 4 plans. Free, Standard ($20 per month), Express ($40 per month), Premium ($85 per month), and Enterprise ($125 per month).
Features Missing in Zoho Projects
Missing dedicated meeting management module
Risk tracking features are not available
---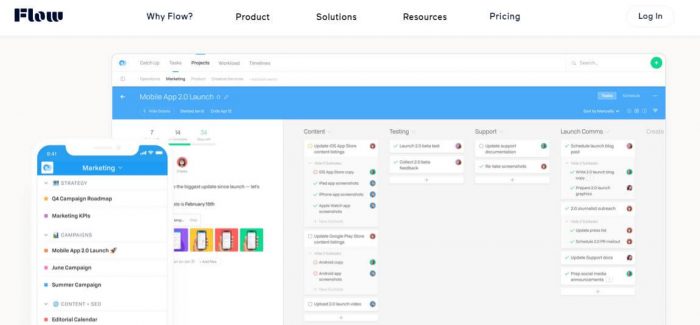 If you're looking for a user-friendly, yet a comprehensive task manager, Flow might be one of the best task management software for startups. Through a visually appealing and intuitive user-interface, Flow makes task management even more fun.
The project timelines allow you to plan your project by week, day, or month. The easy drag and drop lets you quickly schedule the upcoming tasks and layout the individual workload on your timeline. You can also catch a quick glimpse of your project performance through project dashboards.
If you have a large team working on multiple projects, Flow caters that too. Create workgroups for each project or team and start adding tasks. Furthermore, apply useful filters to keep your attention towards the critical tasks.
Key Features
Kanban boards for organizing and visualizing tasks' progress
Project timeline for mapping out schedules and monitoring resource workload
Drag and drop interface for instantly making changes
Dashboard for monitoring project progress and quickly deciding the next course of action
Customizable task views, along with start and end dates
Workgroups for multiple teams, or a team working on multiple projects
Search filters, plus private and public access to tasks
Task notes, task comments, and file attachments
Project planning
Multiple third-party application integrations
ios and android support
Pricing
Flow comes with two easy plans. Flow ($4.79 per user/month) and Flow Pro ($7.99 per user/month).
Features Missing in Flow
No built-in time tracking
Issue tracking and risks management not available
Meeting management module missing
---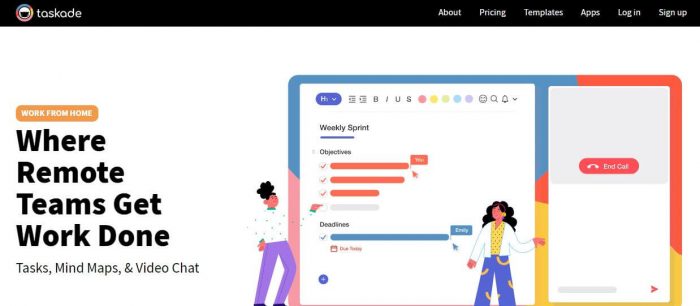 Taskade is a simple and flexible online team collaboration tool and task manager that lets you organize and collaborate on your ideas through checklists, notes, and audio/video calls. The simplicity of the tool is the reason it made to our list of best task management apps for startups.
The real-time collaboration features of Taskade provide an excellent platform to stay connected with your team and streamline communication for completing tasks effectively. These features are audio/video calls, team chat and comments, and file sharing.
The tool also comes with built-in templates to help you plan your work ahead of time and get geared up quickly to get things done faster.
Key Features
Checklists management to keep track of work that needs to be done
Built-in project templates to configure new projects quickly
Due date reminders and notifications
Audio/video calls to collaborate with remote team members
Team chat and comments for sharing timely feedback
Cross-platform support to always stay connected with your work
Personalized themes and backgrounds to fit with preferences
ios and android support
Pricing
Taskade can be subscribed through two plans. Free, and Pro ($7 per month).
Features Missing in Taskade
Gantt charts not available
No time tracking
Issue tracking and risks management not available
---

Integrating multiple business management tools into one solution, Bitrix24 is a powerful task management software. It provides a collaborative platform for smartly dealing with your projects through elaborate solutions which include task management, CRM, and team collaboration, to name a few.
Use built-in Gantt charts to kick-start your project planning and map out your schedule to visualize key tasks. The Gantt charts also help with resource management and efficient task allocation. The tool provides a solid framework for team collaboration, making it easy for you to communicate through multiple means. These include social intranet, team chat, videoconferencing, workspaces, and more.
In addition, the automatic time tracking functionality helps you keep track of where your time went and how you can improve it. In case of manual time tracking, you can easily put in time entries according to your schedule and calculate the hours spent.
Key Features
Activity stream to keep track of all the updates
Calendar sharing with team members for collaborating on schedule
Bulk email to simultaneously send invites
Task dependencies to identify the relationship between tasks
Extranet for inviting external users to your workspaces
File sharing and versioning
CRM with multiple powerful reports
Instant messages to share timely feedback with anyone
Team chat and videoconferencing for quick brainstorming on ideas
Task management with task reporting and built-in templates
Time tracking for billing clients and managing hours spent
User profiles and user groups for managing individual team members
Email notifications and reminders
Can be integrated with Gmail, Google Calendar, Dropbox, MS Office, Office 365, Outlook, and more
ios and android support
Multiple projects functionality
Features Missing in Bitrix24
Dedicated meeting management is missing
Issues and risks management is not available
Pricing
Bitrix24 offers Free, CRM+ ($69 per month for all users), Standard ($99 per month for all users), and Professional ($199 per month for all users) plans.
---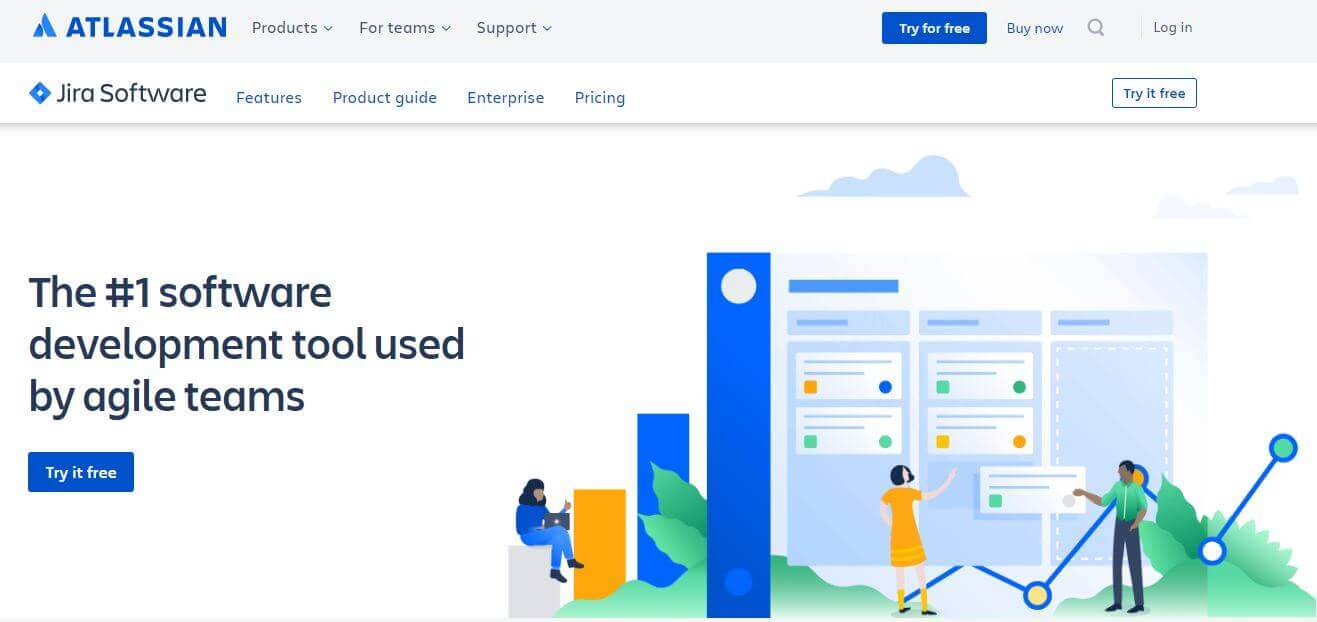 Another one of the powerful task management software, Jira comes with a lot more than traditional task management. The software is a solid means to keep track of your work, whilst keeping in mind the bigger picture revolving around issues and bug tracking when it comes to software development.
As soon as you launch the application, Jira gives this leverage to you to choose the type of view according to your task needs. You get the options of Scrum board or a classic Kanban board to fit with your project requirements and then move along with your work.
The software is loaded with features specifically designed to smoothly implement agile. With a massive built-in library of agile reports, you wouldn't need a third-party tool for measuring your performance. These reports range from basic burnup and burndown charts to more elaborate velocity and sprint charts.
Key Features
Customizable Scrum boards for teams following Scrum
Kanban boards for visualizing the workflow
Roadmaps for planning the project's work
Customizable project dashboard for measuring KPIs
Customizable workflows, along with workflow mapping
Powerful bug and issues tracker
Custom search filters to view only what's important
Multiple agile reports for tracking performance
Integrations with Harvest, Toggl, Microsoft Teams for Jira, Cisco Webex, GitHub, and many more
Multiple projects functionality
Features Missing in Jira
Native recurring tasks management is not available
Meeting management features are missing from the software
Can seem complicated for first-time users
Not optimal for small teams or start-ups
Pricing
Jira offers a free trial of 7 days and a paid plan. The paid plan starts from $10 per month, which increases with the number of users.
Check out the top Jira alternatives:
Top 24 Jira Alternatives for Smarter Project Management in 2023
---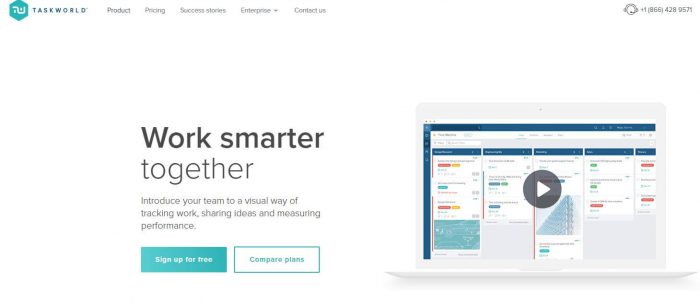 An easy to use task management software, Taskworld comes with a neat set of features to help you get things done faster. Designed to fit with the requirements of small and medium-sized teams, Taskworld comes with a variety of functionalities to streamline your operations.
The interactive dashboard allows you to catch a quick glance at your project performance and take instant decisions, without getting into the hassle of peeking through individual projects. The same principle applies to the activity stream too. The live stream allows you to get project updates in real-time from your team members so that no information leak is observed.
Other than all the essential task management features, Taskworld comes with other useful functionalities too, including multiple projects performance reports like burnup and burndown charts, consolidated documents management, and multiple language support.
Key Features
Tasks management, including recurring tasks and checklists
Interactive dashboard for mentioning KPIs and tracking progress
Dedicated workspaces for managing multiple teams and projects
Simultaneous task editing among different projects
Tags and labels for classifying tasks according to their type
File attachments and high-quality image previews
Activity log for keeping track of changes occurring over time
Native project templates to use for kick-starting your work
Project timeline to keep an eye out on upcoming and ongoing tasks
Task comments, direct messages, and team member mentions
Public and private access to specific team channels
Integrations with Google Drive, Google Calendar, Box, Microsoft Outlook, and Dropbox
Multiple projects functionality
Features Missing in Taskworld
Meeting management features are missing from the software
Issues and risks associated with your tasks cannot be resolved using Taskworld
Task dependencies cannot be set
Pricing
Taskworld comes with a Professional ($10.99 per user/month) and Enterprise (custom) plans.
---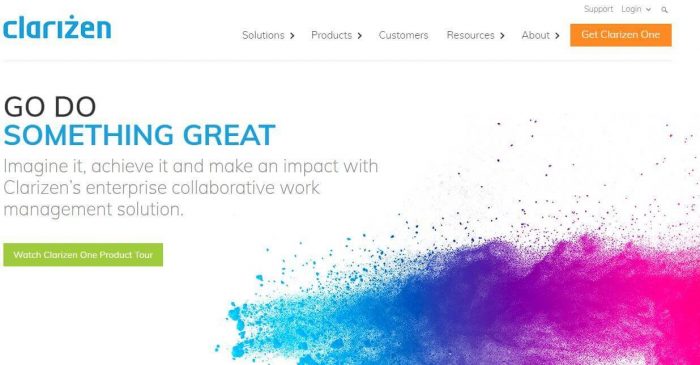 An enterprise-level project management software, Clarizen empowers a team to go beyond the basic task management, and automate processes to support broader organizational goals. If you're looking for a simple task management software for your team, you may want to pass, as Clarizen's core functionality revolves around work management for enterprises.
The software provides a 360-degree view into your project resources, and task schedules to get real-time insights into what lies ahead. Another way of gaining this is through the dashboard which features your project portfolio and all the critical key performance indicators. You can also engage your workforce on a calendar to collaborate on schedule and quickly make changes according to requirements.
The powerful built-in reporting of Clarizen helps you to measure your project performance without opting for any third-party application integrations. This facilitates in developing a coherent workflow across your organization without any fear of information loss.
Key Features
A project dashboard for gaining insights into project performance
Project portfolio management for managing multiple projects simultaneously
Plan and schedule your projects through Gantt charts
Resource workload viewer, to evaluate resource allocation of tasks
Team discussions, along with file attachments to collaborate seamlessly
Configurable workflows for streamlining the operations
Time, budget, and expense tracking with projects
Mobile apps for iOS and Android to keep track of work even when on the go
Integrates with Salesforce, Jira, SharePoint, Google Drive, Slack, and more
Multiple projects functionality
Features Missing in Clarizen
Meeting management solution is not available
Risk management features are missing
Pricing
Clarizen's pricing plans are available upon request.
---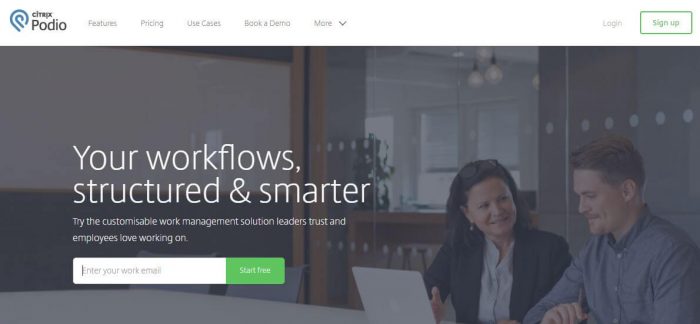 Podio is a task management software that essentially operates by consolidating task management and social collaboration features into one integrated solution. The software facilitates successful project execution by claiming to put content, context, and collaboration in one place.
The team collaboration features Podio comes with a range from likes and file sharing within the system (just like Facebook), to instant messaging and audio/video calls for instant collaboration. These features allow you to closely track team performance and what each team member is working on at a particular time.
The file management inside Podio is a secure way to keep all of your documents in one place, only to be retrieved whenever required. You can also share your presentations as status posts with your team members when needed.
Key Features
Personal dashboards for monitoring performance metrics
Comprehensive task management, including recurring tasks
Private and public workspaces to define accessibility
Activity stream to keep everyone in the loop with the updates
Automated workflows for automating business processes
Audio and video conference calls
Integrated chat for instant feedback
Comments, likes, and file sharing within tasks
Integrations with Dropbox, Google Drive, Evernote, One Drive, SugarSync, and Sharefile
Multiple projects functionality
Features Missing in Podio
Native time tracking with tasks is missing
Issue tracking is not available
Risks management features are not found
Exclusive meeting management solution is not available
Pricing
The subscription plans Podio provides are Free (for 5 employees), Basic ($9 per user/month), Plus ($14 per user/month), and Premium ($24 per user/month).
---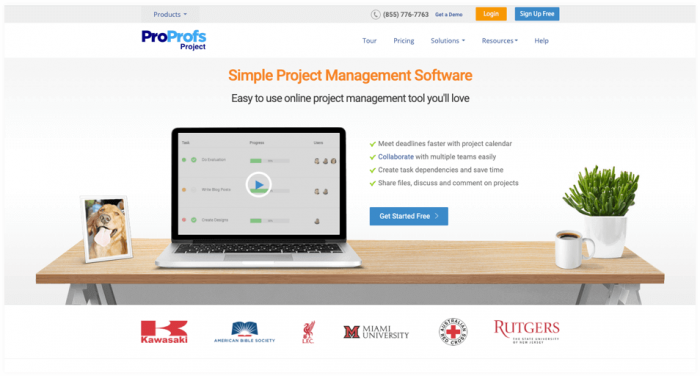 ProProfs Project is one of the top task management software and offers a gamut of indispensable features, which makes task management a breeze. Its simplicity is the X-factor of this tool. Generally, other task management tools require some sort of technical knowledge or complexity to operate, but ProProfs Project cuts all the clutter and promises an immersive user experience.
Users can easily keep a close eye on their projects as they are backed by an intuitive dashboard. Jobs like task assignment, subtask creation, etc. can be done without breaking a sweat, which further promises better performance during the project execution phase.
Users can skip the hassle of skimming through a pile of unread emails as ProProfs Project allows discussion on each task, which, in turn, keeps the whole team on the same page and results in better task execution.
Key Features
Task priorities

Time tracking

Timesheets

Powerful reporting

Calendar view

Gantt charts

Task templates

Automated invoicing

Email notifications

File sharing

Multiple projects functionality
Pricing
Free Plan – 3 projects, unlimited guests

Solopreneur Plan – $19/month -10 projects, unlimited teams
Features missing in ProProfs Project
---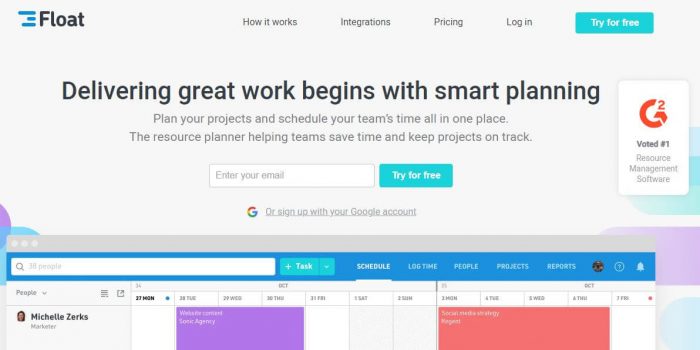 Float was originally developed as a resource scheduling application. It is entirely web-based, which means that you don't have to go through the hassle of the installation process. Especially when you are on the move, it kind of gets hard to reinstall and activate the program over and over again.
Anyhow, resource scheduling is not the only strong suite here. Float comes with several colorful features that easily nominate it is as one of the best task management tools in the market.
Why is it suitable for start-ups? Well, if you put it that way, it comes with a very attractive price tag. For $5 only, you can get by with all the premium features on a monthly basis. Moving on, Float is reportedly used to give projects that special push to meet deadlines effectively.
As mentioned earlier, in addition to resource management, Float is an excellent solution for project and task management. The program enables you to manage your team's time efficiently. You can identify the critical path tasks for as long as you know which tasks can be delayed.
There is no need for lengthy processes or entering a lot of data into Float to start using it. It is simple and easy to use tool. Just add your project and your team on the platform, and you are good to go. Make your schedule and assign tasks to team members. The moment you do that, you will be able to monitor the progress of each task. Pretty cool, right?
Key Features:
Feasible packages make it ideal for startups.
Customize the way you work through an intuitive interface.
Minimalistic design with beautiful color overlay.
Sort your most important data in terms of usability/ priority.
Share daily and weekly project workflow.
The new timeline feature is fantastic for managing time-sensitive processes.
Features Missing in Float:
Issue Tracking
Risk Management
Pricing:
Comes with a free trial for evaluation purposes.
$5 per user/ per month.
---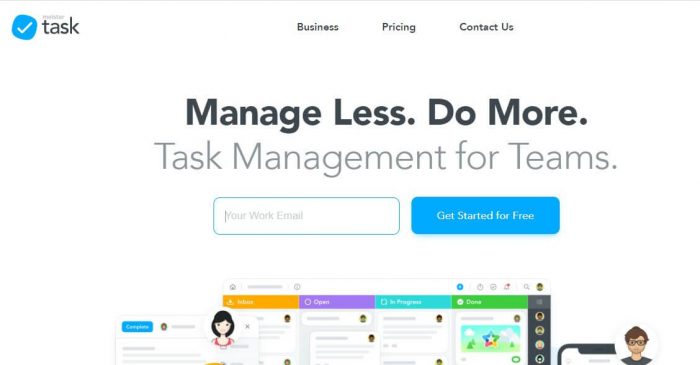 The next tool on our task management tools list is MeisterTask.
The software primarily aims to meet the needs of Agile teams. With MeisterTask you can create different kinds of workflows including, but not limited to Sprints, Kanban boards, as well as simple static project boards.
With a large selection of native integrations along with over 2,000 applications via Zapier, MeisterTask streamlines any digital ecosystem.
With intuitive user experience, MeisterTask's task management allows you to customize tasks, projects, and views according to how you want.
Key Features:
Collaboration tools
Ability to create subtasks making it easier to manage your tasks
Mobile access for task management on the go
Reporting and analytics features
Taskboard view
Gantt chart view as well as timeline views to choose from
Time tracking
Features Missing in MeisterTask:
There is no spreadsheet view
Percent-complete tracking
Customizable templates
Resource or budget management
Pricing:
The basic plan for free
A pro plan for $4.19/month, billed annually
A business plan for $10.39/month, billed annually
Custom enterprise plan
---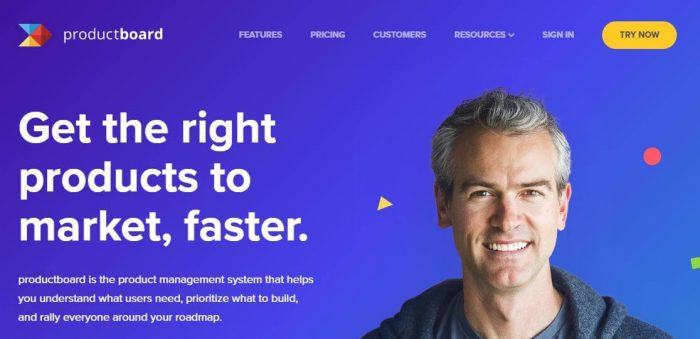 ProductBoard reportedly aligns teams with the product development cycle.
The tool is reportedly used by custom-driven, modern organizations because of its design philosophy centered around Product Excellence Methodology.
With this tool, you get the right balance of flexibility and guidance – giving your team the tools they need to truly understand what users want.
Key Features:
Percent complete tracking
Task board view
Spreadsheet view
Recurring task management
Gantt chart view and timeline view
Collaboration tools
Ability to create subtasks
Supports agile methodologies
Idea management
Expense tracking
Features Missing in ProductBoard:
Does not provide time tracking
Does not provide mobile access
No analytics or reporting features in task management
Pricing:
Individual plan for $49/maker, per month
Team plan for $99/maker, per month
Business plan for $199/maker/month, billed annually
Customizable enterprise plan
---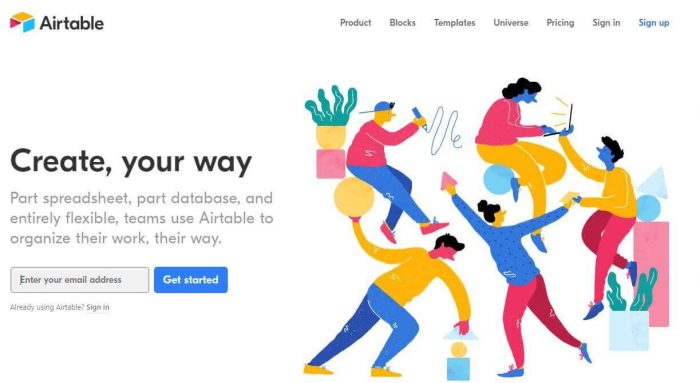 Airtable is an online collaboration service that comes with numerous task management features.
Its layout is simple to understand and you can utilize it to manage your tasks in a convenient manner.
Best of using Airtable task management software you can arrange all your work in a way you like.
Key Features:
Highly visual
Excellent collaborative support
Interface is user friendly and light
Integrates with hundreds of apps
Gallery view makes it easy to find documents and photos.
Features missing in Airtable:
Limited features compared to top tier task management tools
Reporting tools not available
Can't link databases
Pricing
Free Plan: $0/user/month
Plus: $12/user/month
Pro: $24/user/month
Enterprise: Contact Sales
---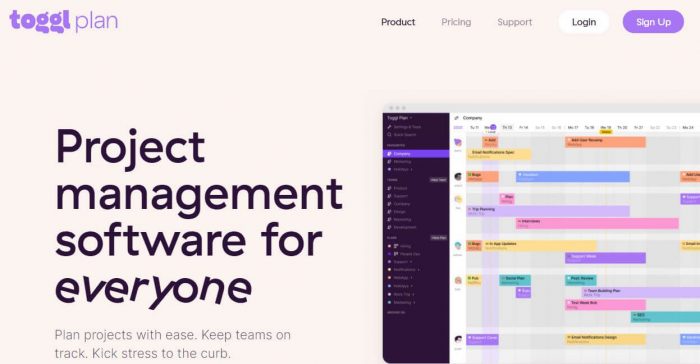 Toggl Plan is an easy to use task management tool.
With this software, you can plan projects with ease and keep everyone on the same page.
Toggl Plan can be used by small and medium teams. If you are looking to better your workflow management this is the tool for you.
The application is specifically aimed at helping IT, design, finance, and marketing companies, or such departments within a larger organization.
Key Features:
Collaboration tools
Ability to create subtasks
Taskboard view
To-do list view
Gantt charts
Project scheduling features
Ability to progress track your projects
Capacity monitoring
Resource management
Utilization reporting
Pricing:
Toggl Plan offers a free version for the use of up to 5 users
Annual Premium for $8/month, per user
Features Missing in Toggl Plan:
Full customization options are missing.
The ability to create recurring tasks.
---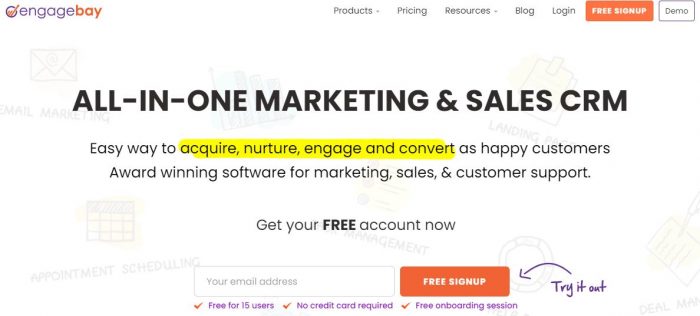 EngageBay Inc. provides an effective and easy tool to assign and manage tasks between your sales, marketing, and support teams.
The software is an affordable all-in-one marketing, sales, support, and CRM solution for growing companies.
EngageBay helps you to engage web visitors and convert them to a happy customer.
Key Features:
Reporting and analytics
Lead nurturing
Campaign personalization
Progress tracking
Meeting management
Customer support tracking
Live chat
Gamification
Pricing:
EngageBay offers a free option
Basic plan for $8.99/month, per user
Growth plan for $29.99/month, per user
Pro plan for $47.99/month, per user
Features Missing in EngageBay:
There is no SMS function
Limited landing page templates
---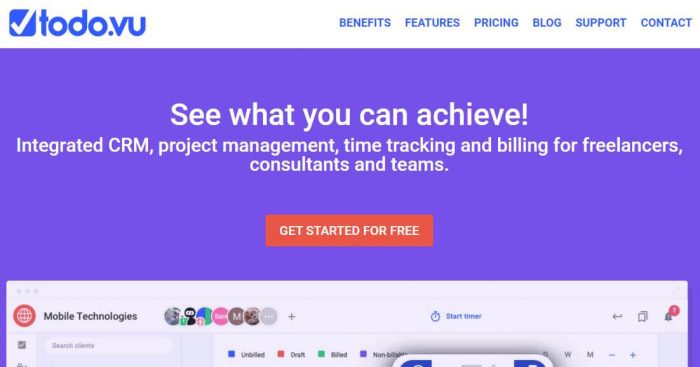 Next up on our list is Todo.vu. Todo.vu is a productivity suite that provides task management, CRM, time tracking, and billing functionalities.
The software is a great choice for any type of team of varying sizes including freelancers, teams, and consultants.
Todo.vu aims to help teams and individuals improve efficiency and productivity while allowing you to gain transparency and increased quality outcomes.
Key Features:
Project management tools
Collaboration features with file-sharing abilities
Time and expense tracking abilities
Idea management
Team management
Task management with options to set task priorities and track status of tasks
Reporting and analytics
Check task progress with percent complete tracking
To-do list view
Pricing:
Todo.vu is free for freelancers
Business time plan for $9/month, per user
Features Missing in Todo.Vu:
Todo.vu does not come with in-built Gantt charts or timeline views for your projects.
---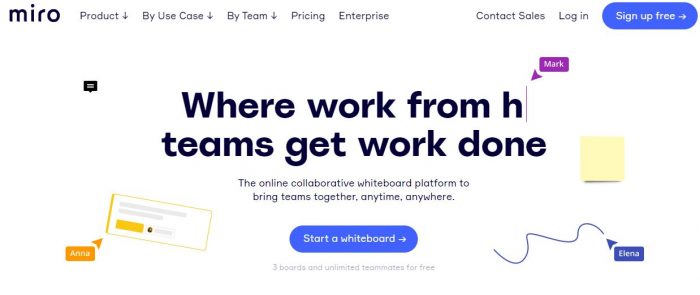 Miro is an online visual collaboration platform for teamwork. With Miro, you can create, collaborate, and centralize communication for all your cross0functional teamwork.
This platform is a great tool that helps teams work effectively together with the ability to brainstorm together and plan and manage agile workflows.
And with the various integrations the software offers, Miro is a great choice as a task manager and a tool to help organize and streamline workflow.
Key Features:
Collaboration tools
Gantt chart and timeline and to-do list views
Task management
Document management
Graphical workflow editor
Customizable templates
Time and expense tracking abilities
Resource management tools
Pricing:
Free plan available
Team plan available for $8/month, per user
Business plan available for $16/month, per user
Features Missing in Miro:
You cannot create subtasks or recurring tasks in the software
---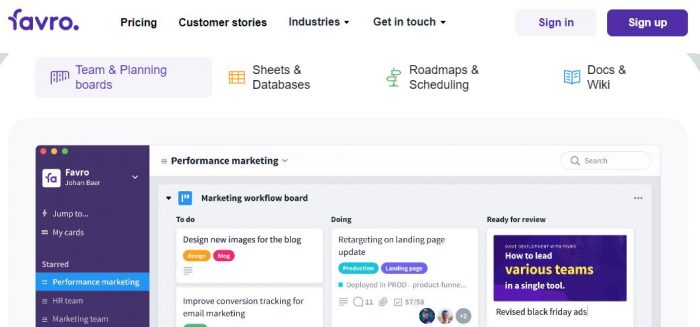 Being one of the world's most agile collaboration platforms and planning tools based on the cloud, Favro is an amazing application where different teams working on a project can organize themselves to be more productive.
This productivity comes when they use the application and all of the information relevant to their work is so transparent and obvious that they know everything about their work and how to do it, in a heartbeat.
Here are some of the features that this incredible task management application has to offer to its clientele.
Key Features
Supports Kanban
Task completion management
Task management
Template management
Third-party integration
Time tracking
Task lists
Task planning
Time reporting
Timesheet management
Pricing
There is a two week free trial of the software available if you want to check it out
The paid pricing of this amazing tool starts at $12/month for 2 users.
Features missing in Favro
No issue or risk management
---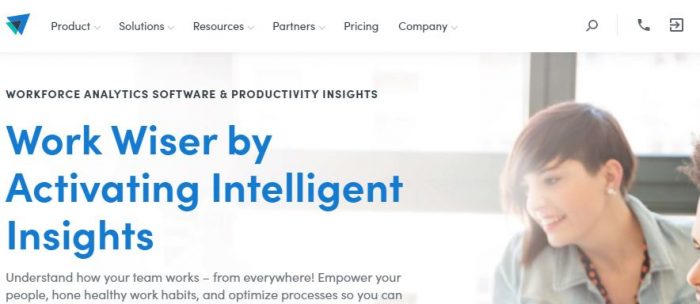 Another amazing task management application that allows the managers working in the organizational paradigm to analyze all of the members of their workforce based on the tasks and processes that they perform is ActivTrak.
The application helps you to identify the workloads in the overall project development process and helps to make sure that there are no bottlenecks that can hinder production.
Key features
Real-time activity tracking
Real-time data
Detect threats
Activity-based alarms
Compliance
Business intelligence
Employee monitoring
Productivity tracking & monitoring
Usage reports
Remote workstation screenshots
Pricing
If you want to make sure that this application is right for you and your company, do check out the free trial that the company offers
The paid pricing of this incredible tool starts at $9/month
If you want to know more about the subscription pricing of this tool, contact the vendor so that they can create a custom quote for you
Features missing in ActivTrack
No Gantt charts
No issue tracking
---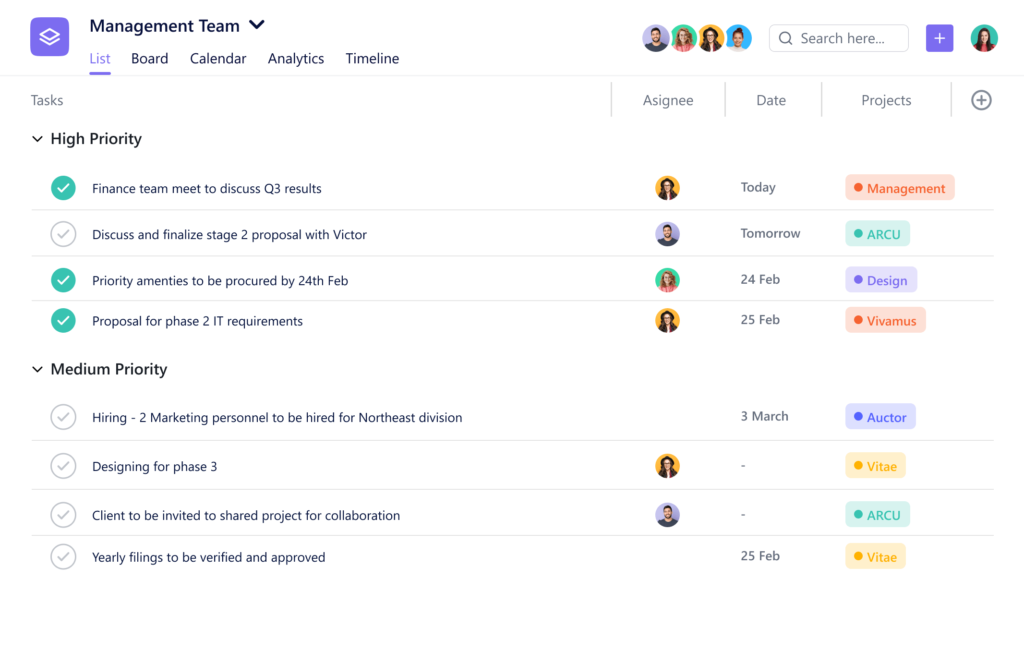 You know that feeling you get when you have a million things to do, and you're just unsure how to get them all done?
That's where SmartTask comes in. With a beautiful interface and powerful features, SmartTask lets you organize your tasks in the best way possible. You can organize tasks in the list, board, calendar, and timeline views.
It has the ability to make it super easy for you to create recurring tasks, sub-tasks, task dependencies, and more. You can even auto-schedule tasks so they don't fall through the cracks!
You can also import tasks from other apps like Mailchimp and Slack. Apart from task management, SmartTask also offers project management, sales CRM, time tracking, analytics, reporting, and team communication capabilities.
Key Features
Create recurring tasks, sub tasks, set reminders, and set due dates
Assign tasks, attach files, set priorities, and comment on tasks by tagging
Set task dependencies and auto-schedule tasks
Organize tasks with the list, board, calendar, and timeline views
Track multiple projects with the portfolio view
Set project milestones and goals
Collaborate with video meetings, audio calls, and group chats
Automatic and manual time tracking
Sales CRM
Project dashboards and reporting
Productivity scoring
Pricing
Free forever plan for unlimited users, tasks, projects, and contacts with limited storage
Premium plan – $5 per user/month when billed annually
Features missing in SmartTask
Does not have a dark mode feature
---
3 Best Free Task Management Software Solutions to help you Organize Work
Be it personal or professional life, you'll have tasks to complete every day. Keeping a track of all the tasks pending in a day can be challenging for many.
That's why it's important to organize all assignments.
Using the best free task management software solutions is a great option for those who want to organize work in an efficient manner.
Let's take a look at the three top free task management software solutions which we have shortlisted:
nTask: nTask is an online project and task management platform used to streamline processes for teams of any size.
Trello: Trello is one of the best task management software. You can use it on your own, with your team, or even with the entire company or across companies.
MeisterTask: This is an online free task management software solution designed to be helpful in the project management journey.
3 Must-Have Personal Task Management Software Solutions for 2023
Task management is not applicable to just professional life – It's equally important to manage your personal life as well.
It's quite simple really!!!
Either you are organized or you're not & I personally believe it's always safer and much more productive in being organized.
What better way to manage that end than through a personal task management software solution?
To help you with personal task management, I've curated a list of 3 must-have best personal task management software solutions for 2023:
nTask:

Free Online Task & Project Management Solution

Smartsheet:

Dynamic work and collaboration software

Evernote:

Best Note Taking App and Personal Task Management Solution
And as a final giveaway from our end: 3 Task Management Software Open Source
The following 3 Task Management Software Solutions are open source and will help manage your task management needs.
Task Freak: Web-based task manager and todo list
TaskUnifier: Organize your tasks, calendars, and notes with ease
Fluxday: Open Source Task & Productivity Management Tool
Although not every task management app in our reviewed list meets each criterion necessary for selection, we leave the final decision up to you. Keeping your startup's framework in mind, its limitations, and your strengths as a project manager, select and find out which task management software will best catapult your business.
Sign up for the best task management software today, it's free!

Your favorite task management software. Sign up today and organize work smartly.
Also Read: