What do you do when you have a project at hand? Stress out about how to get it done; Make a few dandy to-do lists on a paper about the tasks to be carried out. Then stress out some more?
Oh, and it gets worse when the assignment at hand is complex – and that too, with intricate details that need constant attention. In most instances, the stakes are high and any errors can cause you substantial loss. These losses can lead to eventual setbacks that can send you off the expected trajectory of your project. A lot of times, that would otherwise be used productively, but getting back to track over and over again kind of drains the spirit.
What is Task Management and Why Do You Need it?
When you head out on the journey of planning and executing a project, one of the first things you would consider is dividing up the project into smaller and rather doable tasks. These tasks can make you even more efficient, especially in case of cumbersome projects that otherwise tend to tangle up your brain.
This, of course, generates a need to learn and execute the management of your tasks from its initiation to completion. And this whole process is called task management.
So, you could be running a complex project with raised stakes; you could be running a project with multiple clients that equally need due attention. Or it is possible that you are in the habit of "micromanaging" everything.
We know that the word has negative implications to it. However, ironically, it could be a good thing as well. Micromanaging can come in handy, and help you to stay on top of everything if you use task management the right way.
We now have at our disposal, task managing software that can assist task managers of businesses ranging in all sizes, to get this work done more collaboratively and productively.
Here are our recommendations for the Best Software For Task Management to use to scan them in a jiffy and breeze through them effortlessly.
Table of Contents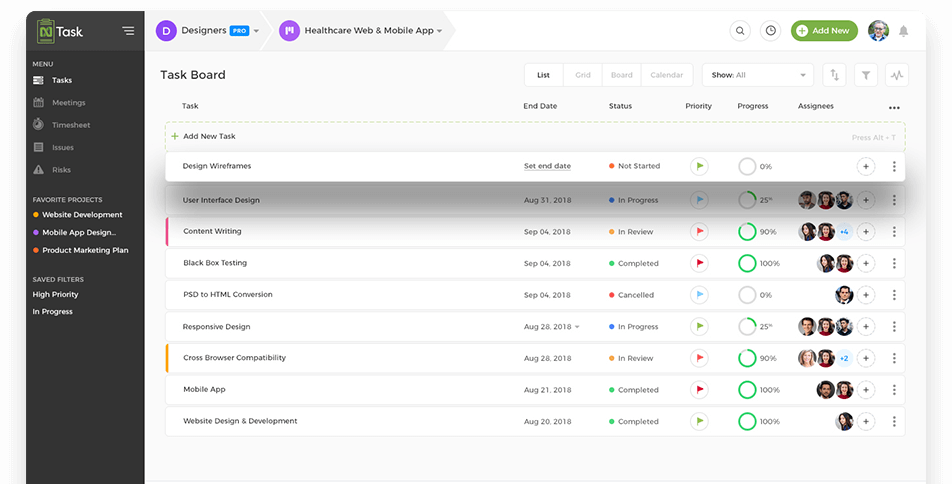 nTask eliminates the frustration that is created by complex tools. It is a straightforward software with easy to use a format that improves the learning curve of users belonging to any type of team and industry. With, it's impressive UI and task management features it makes managing complex tasks for the teams easier.
It is rated as the best task management software in our list used by smart teams because it is equipped with native modules with comprehensive coverage to your project scope needs. There is nothing that you cannot do with nTask with its built-in elaborate feature sets.
You can create tasks, make to-do (checklist) items, assign tasks to the team, manage priority, repeat tasks, get notifications, use task timer, set actual/planned start and end dates, real-time team collaboration, and many more.
Features:
Create a repeat task on a daily, weekly, monthly basis
Add files, images, and comments to each task for effective communication
Export task details to external sources via a public link or email
Use the color palette to color-code your tasks
Visually appealing views of tasks in the form of List, Grid, and Calendar. Assort and manage how you view tasks using a set of filters
Create and link multiple tasks to projects in one click
Create checklists and give descriptions to tasks
Give your tasks individual status, priority and a due date
Manually log hours that automatically update in corresponding timesheets
View task percentage progress via self-generating progress meter
Self-generating Gantt Charts to help you give a roadmap view of your task timelines
View task history in Activity Log
Assign tasks to multiple assignees for dividing the workflow
Conduct and manage minutes of meetings with defined agendas, discussion points, and follow-up actions
Integrations:
You can integrate nTask with Slack and use Zapier to integrate with 100 other apps. Other in-app integrations are coming soon!
Pricing
Free Plan – unlimited workspaces and tasks, 100 MB of storage.
Premium Plan – starts at $3/month per user, Unlimited projects, and Gantt charts.
Business Plan – starts at $8/month per user, Risk Management and Custom Fields.
Sign up for the best task management software today, it's free!

Your favorite task management software. Sign up today and organize work smartly.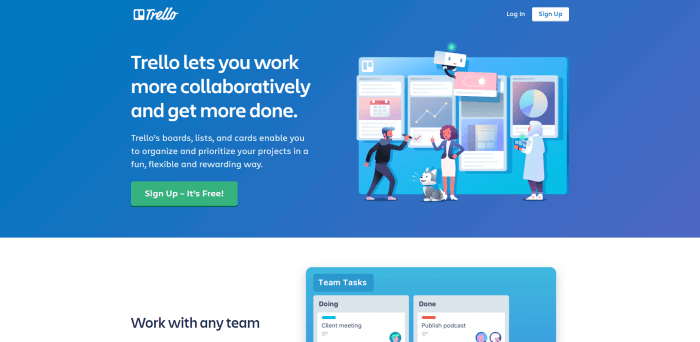 One of the widely used task management software used is Trello. And, what a fun little name! You may hear Task Managers at company giants like Google, National Geographic and Fender use this name as well; they utilize this software too. But companies of various shapes and sizes use Trello every day for all sorts of work/tasks.
Trello is, at its core, a list-making software. It operates with the renowned and easy-to-use Kanban style and Butler. Imagine the board on Trello as a vast pin-board in your office; you can still have your lists on it. Visualize the concept in your head to see things panning out easily.
The lists you create at Trello are a clean and efficient way of representing your workflow going from left to right of the board. Each of these lists then contains cards that represent the individual tasks you work on. These cards have the team members mentioned on them that will be carrying out that specific activity.
Features:
Add tasks using a feature of easily editable and descriptive cards
Add subtasks, edit the title and add descriptions
Add members to the task
Get instant notifications
View the due dates and put visual labels
Comment on the tasks to communicate with the team
Move cards across the lists and boards as the work progresses.
Activity feed
Archive of the cards upon completion
Integration:
You can directly integrate the software and apps you are already working on like Google Drive, Dropbox, Jira, InVision, Calendars, and Maps.
Price:
The best thing about Trello: you can use it for free for an unlimited time. You can upgrade it to business class for $9.99 per user per month or Enterprise for $20.83 per user per month.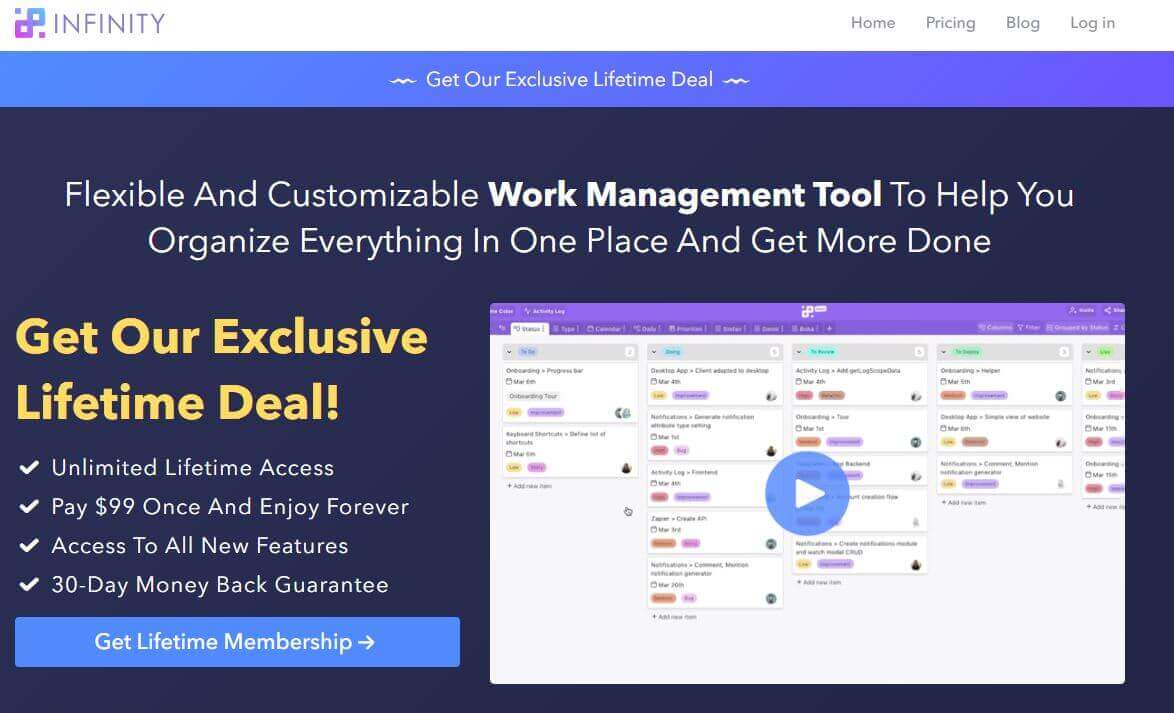 Use Infinity to help your team thrive! That is what Infinity claims along with the promise of being able to handle complex projects more efficiently.
Infinity is a great task management software that aims to organize almost every kind of project for you. Be it businesses (especially for small and intermediate-sized businesses), personal organization, multiple projects, or any other collaborative work.
Infinity supports creating specific workflows that increase adaptability and are according to your as well as your clients' preferences. It, also, lets you customize your workflow to enhance your productivity too with an in-depth structure.
Key Features:
Social Media Calendar
Project Tracker
Event Planning
Marketing Campaign
Habit Tracker
Finances Tracker
Marketing Agency Client
Business Roadmap
… And about a bazillion more! With an elaborate list like this, it is quite evident that they have a lot to offer to make a task manager's work rich.
Integration:
You can integrate Zapier, Trello, Clockify, CSV, Google Drive, Google Calendar, Gmail, Toggl, etc., into Infinity. They have more possible integration lined up for the future as well.
Price:
Infinity provides for a free trial, with a standard plan of $9 per user per month, a pro Plan of $18 per user per month.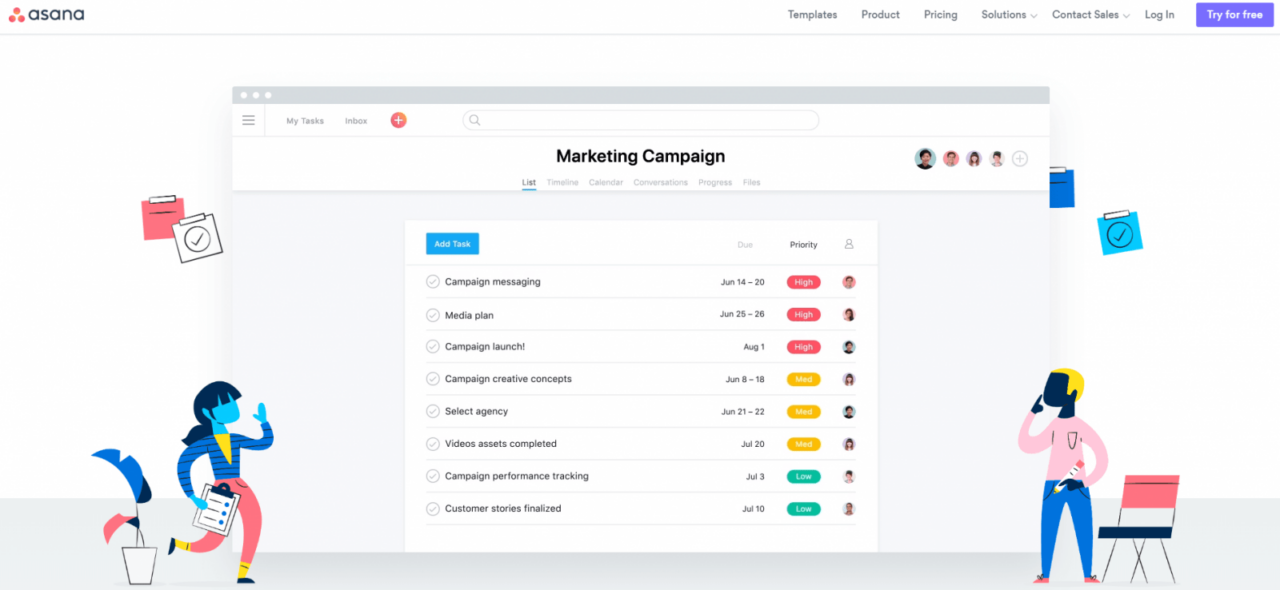 Asana is an exceptional task management software used by task managers to fortify, collaborate, grow and organize your business and team. Use this software to remove any tedious tasks you would otherwise be simply wasting your time on. Company teams like Airbnb, The New York Times, and Red Bull use this cool software as well.
Asana used a task-oriented approach to offer a gainful workflow. It has an easy-to-use and flexible interface that allows for working with different assortments of teams. You can follow your work at almost every stage, even if your plans are altering. It assists you in coordinating all your teams and assigning work effortlessly.
Key Features:
Task assignment
Workflow management
Timeline and portfolio
Building Agile and Scrum teams and tracking the progress
Admin control panel for task managers
Calendar-based work
Kanban boards
Deliberately manage your time efficiently
Plan and track your campaigns
Use the PRINCE2 methodology for your projects
Integrations:
You can integrate Adobe Creative Cloud, Outlook, Litmus, Slack, Microsoft Teams, Google Calendar, and Dropbox into your Asana account.
Price:
Asana offers a free trial for up to 15 users. A premium plan is $10.99 per user per month, whereas, a business plan is for $24.99.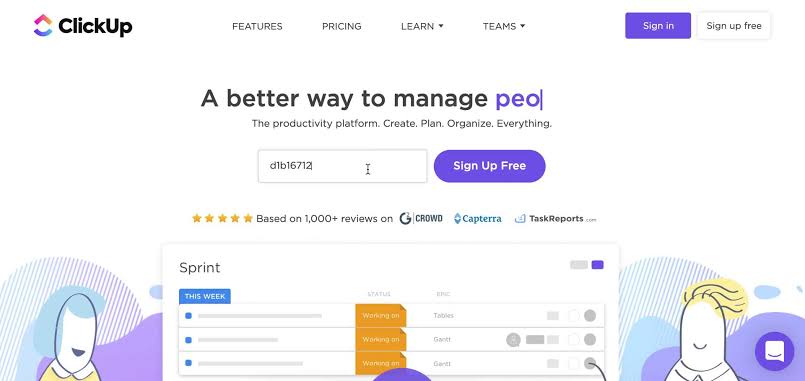 With companies like Google, Airbnb, Uber, Netflix, and Nike; ClickUp is one of the effective tools to run your task management. Use your previously used task list to re-use and build on for future projects. Does it irk you if you have to keep re-formulating a task for a team? Clickup can make your life easier by featuring a recurring task tool.
So, this is remarkable software to use if you wish to use other software alternatives like Asana, Airtable, and Monday (that is what Clickup claims)
Key Features:
Create simple to complex tasks
Recurring tasks
To-do lists
Build customizable projects
Write up and create documents and easily share them as well
Calendar, Timeline, Gantt, and File view
Conversations, channels, and threads
Set goals and track them over time
Create lists to keep everything organized
Board and box view for easy viewing
Customizable spaces, spaces, and colors
Integration:
You can easily import your work from other places like Trello, Todoist, and Airtable. They offer 1000+ integrations like chrome, Toggl, Google Drive, Zapier, Github, Goggle Calendar, Amazon Alexa, and Slack.
Price:
To get started on ClickUp you can use it for free. Its prices start from $5.00 per month per user and $9 per user per month for a Business account.
Not unlike other to-do list apps this task management software is a breeze to use as well. It helps you to keep everything well organized and de-clutter your mind. This way you can have more mental capacity to apply for your projects and propagate.
Use Todoist to remove the stress of the bothersome and overwhelming tasks and to point your energy in the direction of the things that would get you to the next and better place.
Features:
An easy overview of everything
Quick add and view for tasks
Recurring tasks and their dates
Favorites and priorities
Sections and subtasks
Task assignment
Notifications, comments
Todoist Karma—to let you keep awards and points for your completed and maintained tasks
Tracking of productivity
Templates to get you started
Integrations:
They have 10+ apps that you can integrate into the work you are doing on Todoist for your ease.
Price:
For a price of $29 per year or $3 per user per month, you can use all the cool features of Todoist.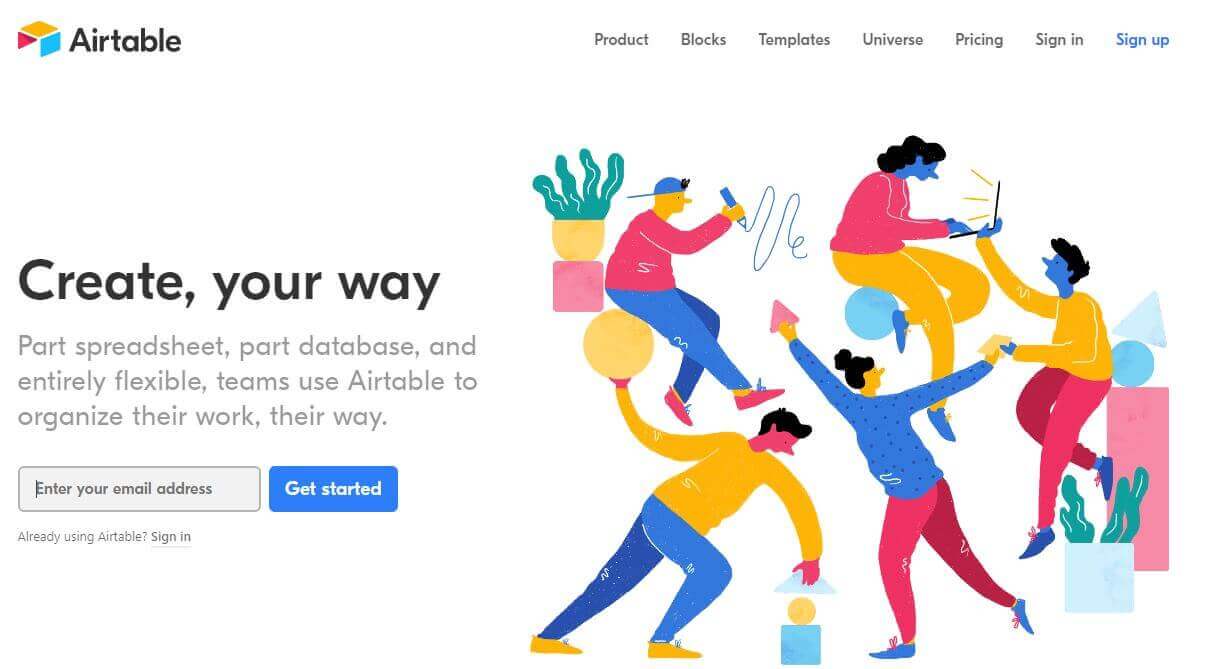 Airtable is a powerful tool that keeps the use of a spreadsheet for work somewhat alive. You can use it to organize, filter, collaborate and group your work with a great combination of high yielding tools and how-to guides along with them. It partially acts as a database as well.
This software especially focuses on the potential your team has and digging into it. You can let your team be as creative as they can be.
Features:
Task organization
Syncing across multiple devices
Field types for the content
Customizable views for arranging and grouping your work
Grid, calendar, gallery, and Kanban view
Linkage among related content; smart relationships
Templates
Project tracker, product planning
Marketing campaign tracking
Integration:
You can join in your work from Slack, LinkedIn, Instagram, Gmail, Facebook, and Twitter or you can access your content using their API.
Price:
You can use the basic feature of this software for free. For a Plus and a Pro plan, you have to pay $10 per user per month and $20 per user per month respectively.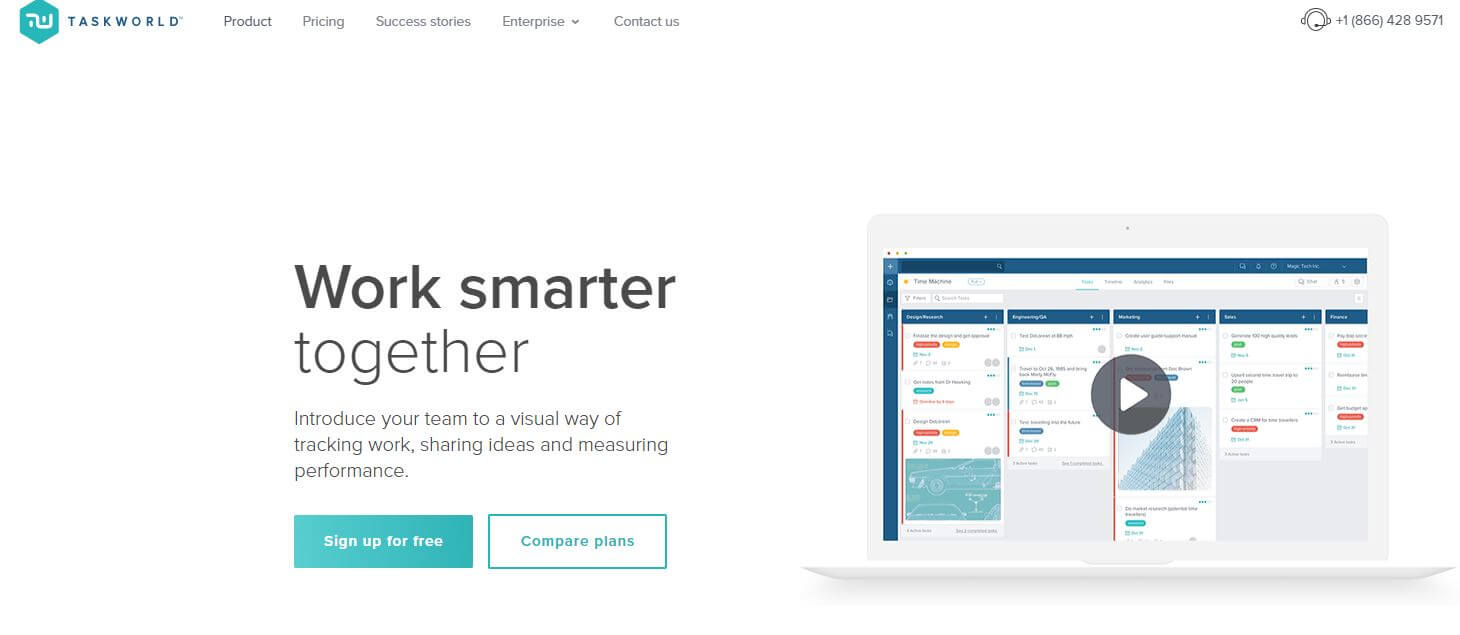 Another tool to make your life easier and more organized: Taskworld. They combine powerful features and smooth design to give you the best out of their experience. They assist you in completing your task on time and achieving the results you desire.
The outlook of Taskworld resembles that of Trello with a few additional features.
Taskworld is a lot more visual when it comes to tracking the progress of your work and your teams. This is a cool way to share your ideas and estimate your performance.
Task managers at companies like Samsung and Volkswagen trust their work with Taskworld too.
Key Features:
Project management with visual boards
Performance reports
Task lists
Task points
Multiple assignees
Project tracking and timeline
Task assignments delivered by email
Activity log
Recurring tasks
Direct team messaging
Integration:
You can easily integrate Google Drive, Dropbox, Box, Google Calendar, Microsoft Outlook, and other external recourses.
Price:
For a professional account, which has only one workspace Taskworld charges a $10.99 per user per month. For an enterprise, they charge $21.99 per user per month.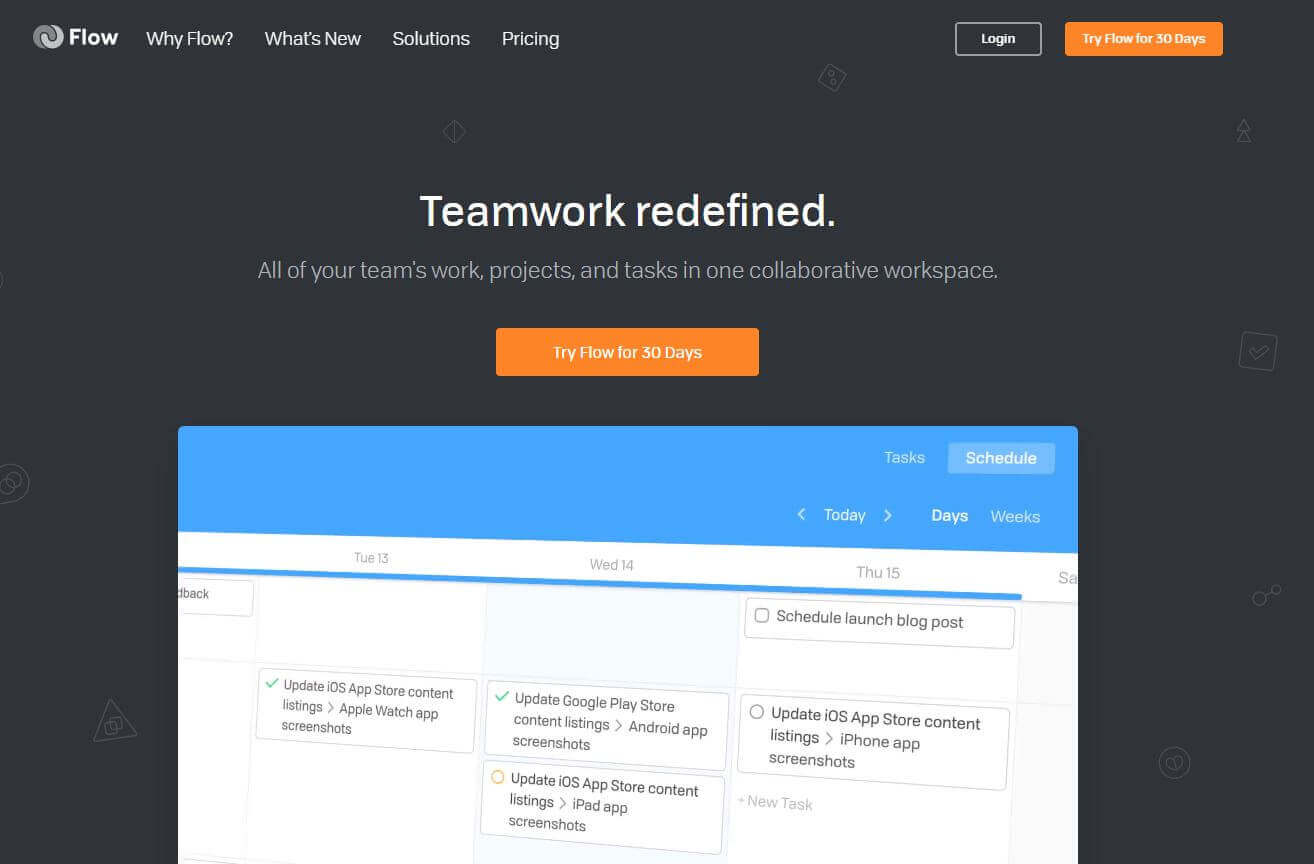 A powerful application that can make you flow through your tasks. If you are familiar with Trello, GetFlow also uses Kanban design, allowing you to create cards that you can add tasks. Swiftly shift these cards to where you want them to be.
Easily assign tasks and get notified of their due dates. You can track and balance all of the team's workload and visualize it in one place.
Key Features:
Organize, view, and prioritize your tasks
Know when to start your task
An advanced approach to subtasks with additional features
Search and filter names, due dates, and tags
View separately public and private tasks
Customize your task view
Easily assign or delegate work
Notes, comments, file attachments
Recurring tasks
Integration:
This software offers loads of integrations with Dropbox, Google Drive, Slack, Harvest. Their API lets you automate and edit to integrate your tools as well.
Price:
For a starter plan with the basic features: $5.95 per user per month. For a Pro package: $11.95.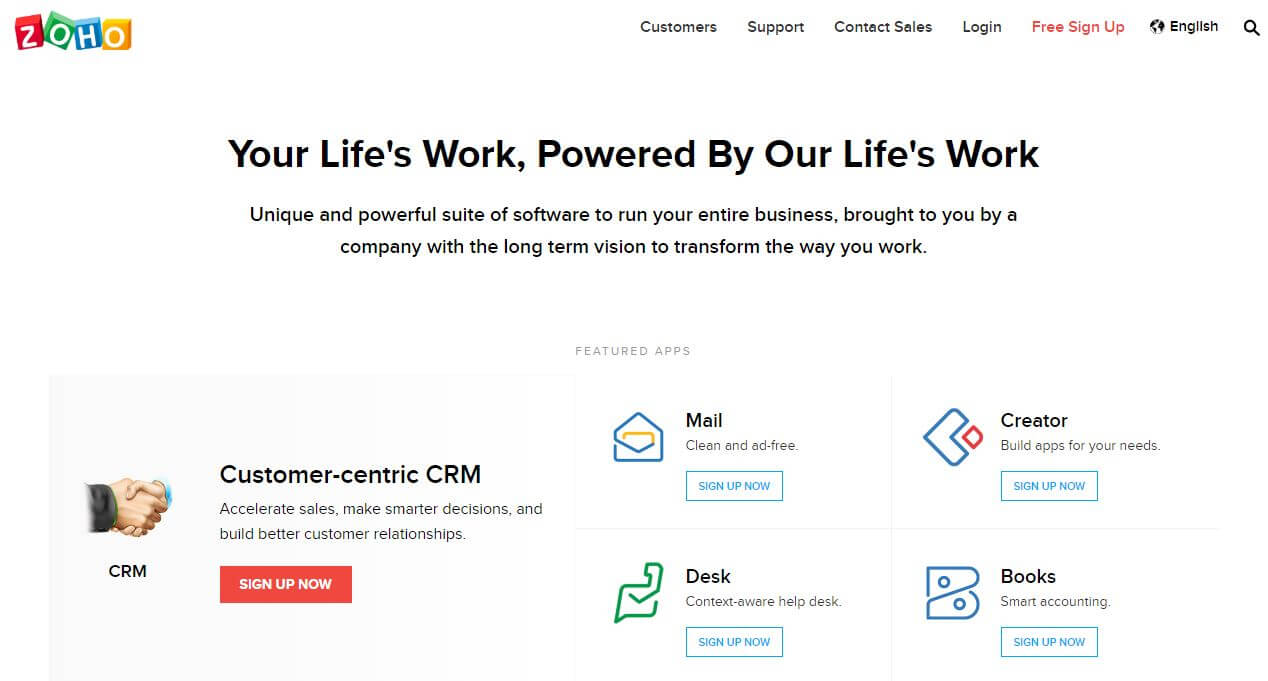 It is one of the wide-ranging task management tools to be used. Businesses and companies alike use this for task tracking, project tracking, and staying ahead of all collaborations.
Zoho divides your tasks into further subtasks to make them more achievable and manageable. It saves you precious time with its powerful automation.
Key Features:
Classic, Plain, and Kanban view
Project planning
Timesheets
Gantt Charts
Feeds and activity streams for networking and coordination
Billing hours and invoicing
Faster collaboration with message boards and chat rooms
Integration:
Integrate Dropbox, Google, CSV, Zoom, Slack, Trello, LinkedIn, and Zapier into Zoho along with many other applications.
Price:
Free access, $25 per user per month, $50 per user per month, $80 per user per month is what Zoho is offering.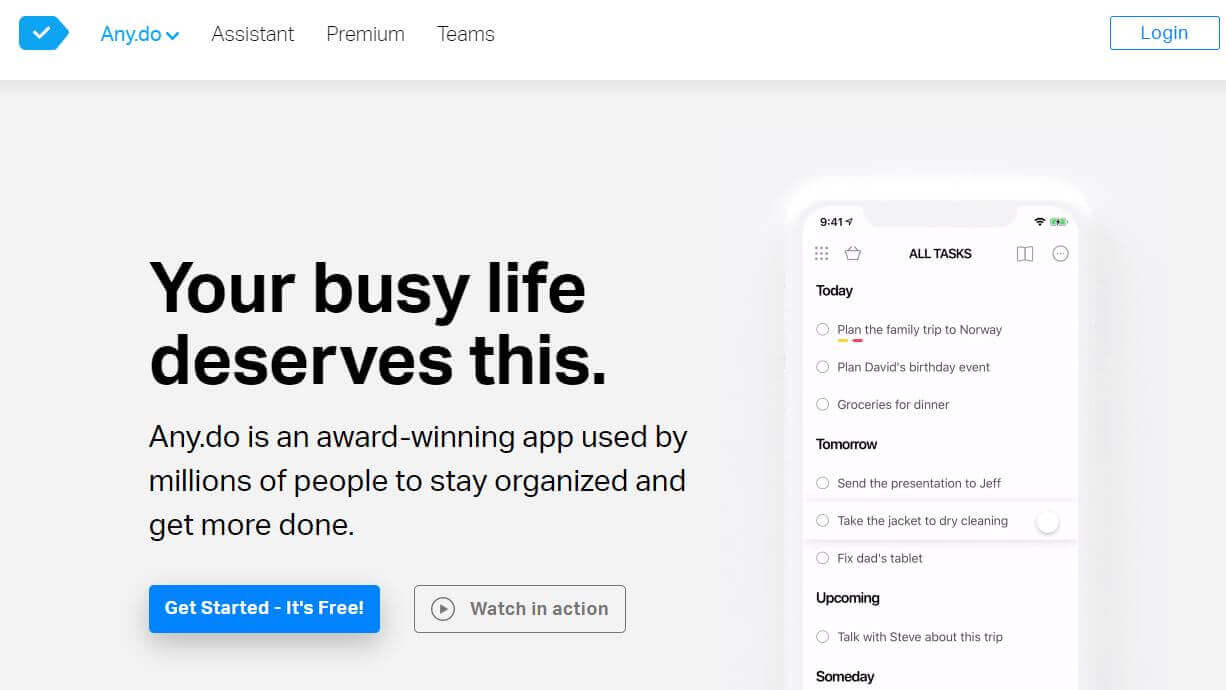 Any.do stands for a simple to-do list with an integrated Calendar to help you stay organized. Set up reminders, lists, and tasks with a simple and minimalistic award-winning layout.
Any.do can serve you a great tool to manage your time effectively and spend an industrious day! Any.do is more of a personal use software that you can carry around with you anywhere – in your phone, laptop or Desktop.
Key Features:
To-do list
Calendar
Grocery List
Reminders
Daily Planner
Custom recurring tasks
Colored tasks
Unlimited attachments
Collaborations
Integration:
Google Assistant, Amazon Alexa, Slack, Google Chrome and Siri.
Price:
Any.do offers free services. However, for a premium account, it charges only $5.99 per month.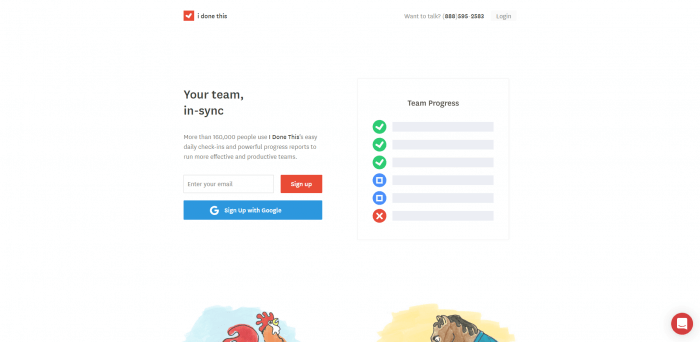 It is a powerful tool to make yourself and your team so much more productive. This software is based on a study at Harvard that concluded that taking smaller steps can lead to better performance (we sort of already knew that, didn't we?).
So that is why we are going to use this software as well—to increase our percentage of goal completion. Enter your goals as the things that need to be done, edit in the tasks you've accomplished as done, and even add blocked to indicate which task was not done and why.
Key Features:
Tasks dashboard
Focus on smaller steps
Collaborations
Goals – tasks that are to be completed
Done – tasks that have been accomplished
Blocked – what can't be done and why
Daily status update
Reports
Price: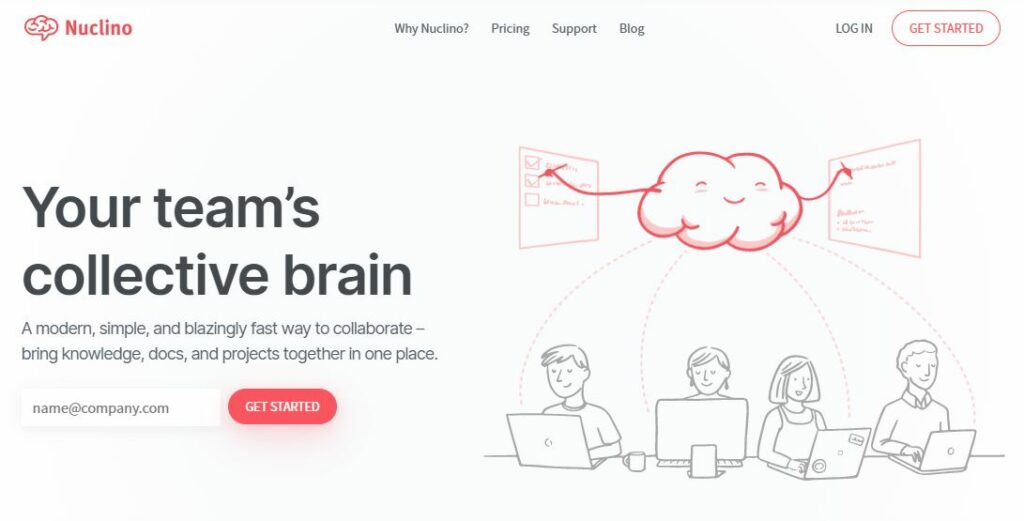 If you're looking for modern and easy-to-use task management software, Nuclino is a great option. It offers a simple and lightweight interface but packs many powerful features within it.
Tasks in Nuclino can be organized in a variety of different ways, including a Kanban board, a hierarchical list, a table, or a graph. You can easily track important information about each task, such as its due date, assignee, priority, and more. One of the unique features of Nuclino is how it brings together structured tasks and long-form content, allowing for easy collaboration and feedback exchange within the context of each task.
In addition to being a powerful task management tool, Nuclino can also be used to create an internal knowledge base for your team, collaborate on meeting notes, create technical documentation, and more. It's a unified workspace where teams can bring all their work together in one place.
Features:
Flexible data visualization options, including the Board, List, Table, and Graph view
Real-time collaboration
Task lists and assignments
Custom fields for tracking assignees, due dates, tags, and more
Auto-save of changes with version history
Drag-and-drop editor
Comments and @-mentions
Quick search with advanced filters
Integrations:
You can integrate Nuclino with Slack, Google Drive, Figma, Typeform, Miro, Lucidchart, Loom, Dropbox, and 40+ other applications.
Price:
You can get started with Nuclino for free. Advanced features can be accessed with a Standard or Premium plan subscription starting at $5/user/month.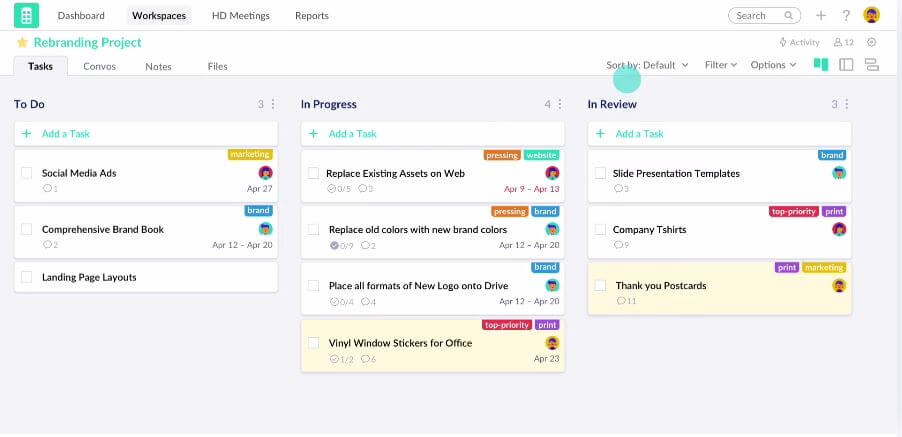 It is a cool platform for advanced and modern teams with clients that range in creative, marketing and IT company and many others. It allows for easy management, discussions, tasks assignment and collaborations.
With their smart and intuitive task management solution, they create a flexible system that increases accountability. By clearly assigned defined task the rate of completion gets higher and you can easily stay on top of your work.
Key Features:
Collaboration tools
Recurring task management
Taskboard view and transparency
Subtasks
Gantt view, Timeline view, To-do list view
Kanban boards
Productivity Reports
View of team history to glean from
Integration:
Use box. Google Drive, Evernote, Dropbox, Zapier, and outlook with Redbooth.
Price: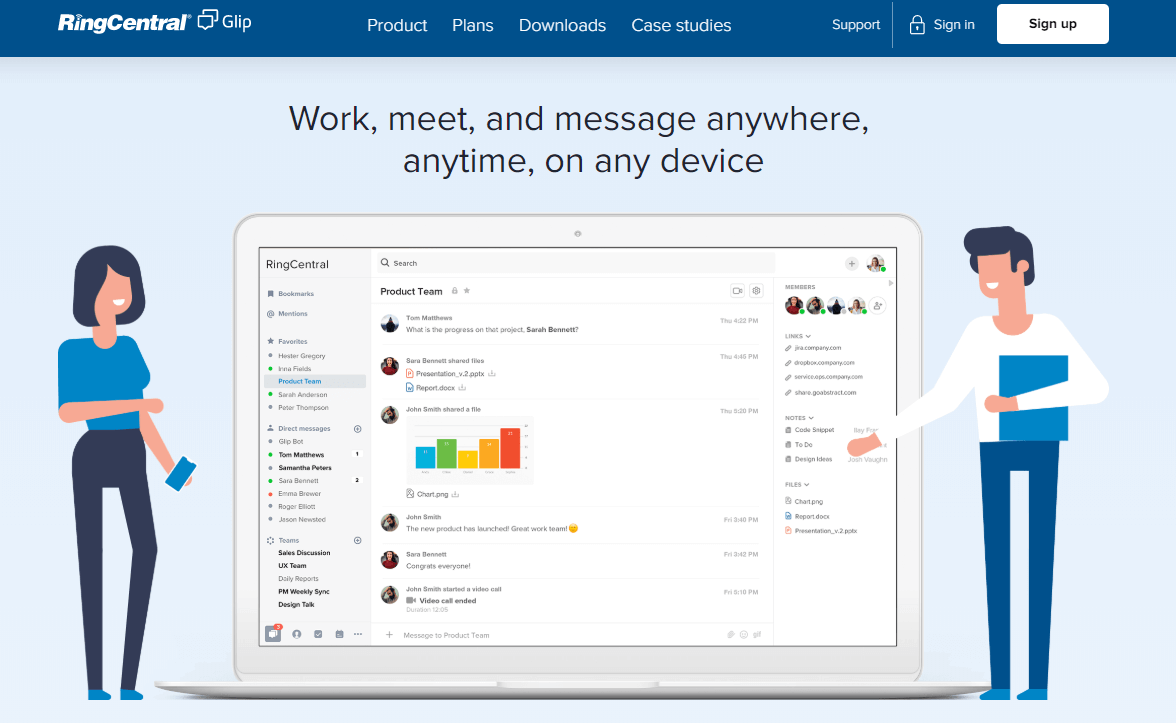 You can work on Glip on the cloud for collaborations and task management. Employees are more likely to stick with a team if there is proper communication. Team collaboration can be made easy with Glip — a success indicator—that Glip focuses on.
Key Features:
Creating and managing tasks
Create tasks directly from the chat
Calendar view, list view,
Real-time texting, calling and video conference calls
Fast sharing of files
Screen sharing
Manage team calendar
Integration:
Avail unlimited integrations: Airbrake, box, Asana. AppSignal, Github, DoneDone, Google Drive, Harvest, Jira, Trello, Zapier, Zoho and many more.
Price:

Basecamp serves as an organizer to keep all of your work in one place rather than going crazy for having it in every other place. So to make your life easier and don't be irked: consider using Basecamp. Utilize its task management features to get done what is needed and be more efficient.
Key Features:
To-to lists
Schedule with a calendar
Share your documents and files
Group chat
Recurring tasks
My stuff- for your individual work
Hill charts to help you access your progress
Price:
Basecamp offers a free pricing plan with limited features. It also has a $99 per month flat for business accounts. They do not charge per user.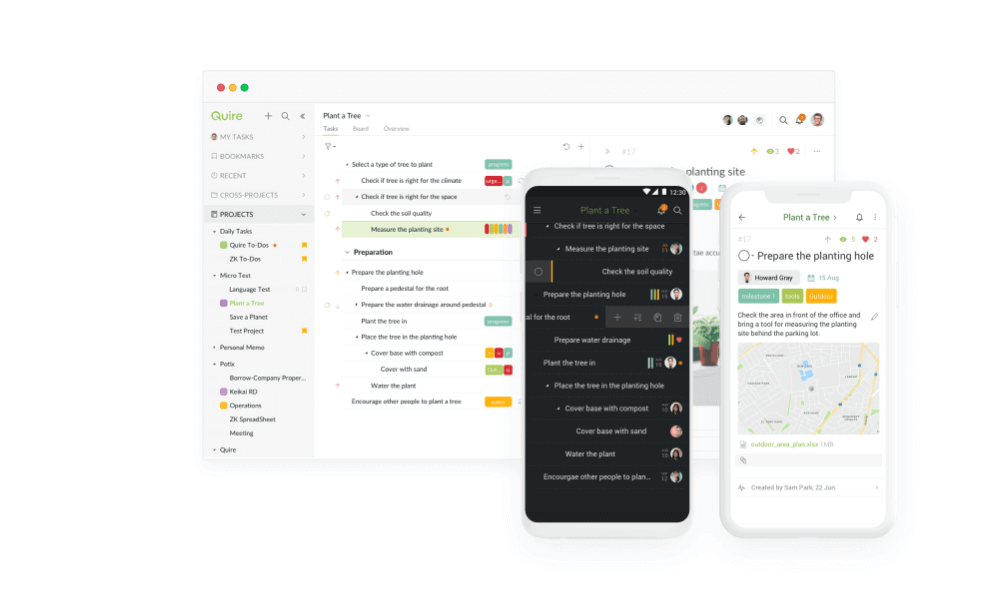 Quire urges you to unfold your ideas with a moose chilling on a cloud. We think the people at Google, Asus, IBM, and Stanford must be doing the same with Quire.
Quire uses Kanban and the feature of nesting helps you focus and prioritize the tasks that need your attention foremost. This software for task management lets you create the task you are about to embark on and then break it down even further! That's a little more relief in this crazy world.
It helps you to tackle your daunting challenges by starting small. Take it step-by-step through various critical phases!
Key Features:
Kanban boards
View my Task at a glance across all projects
Stay organized with smart folders
Assignee role and permissions
Safely assign tasks to third parties
Focused subtasks
Multiple assignees
A visual overview of your project
Filter tasks
Recurring tasks
Integration:
Sync to Siri, Google Calendar, Slack, Google Drive, CSV or you can use Quire API to integrate your favorite applications.
Price:
Quire is still figuring out their detailed price packages. For now, they let you use Quire for free (for up to 80 projects).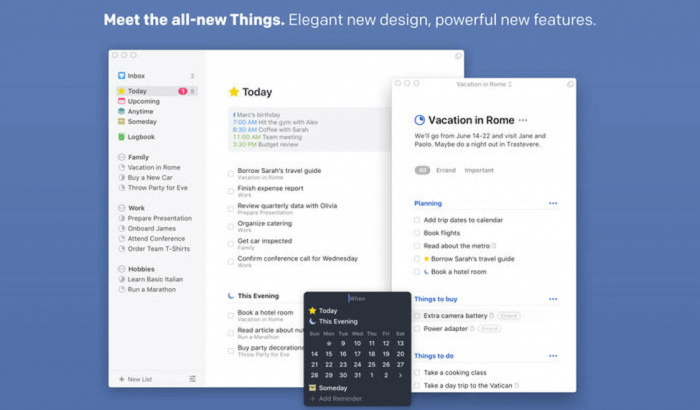 Things is one of the best software for task management in the market right now but only if you're a Mac user. This is one of the major drawbacks of this application. Nonetheless, it is still one of the best task management applications in the market.
One of the differentiating factors between Things and other task management applications in the market is the fact that the managers can select a specific course of action or a core focus for each part of the day.
So, the whole workload of the day is divided into three different sections' worth i.e. Morning, afternoon, and evening, which enables the managers and the teams to break down their work into chunks, and easily achieve their daily targets.
Let's take a look at some of the features that the application offers.
Key Features:
Morning, afternoon, and evening slots
Checklists
Reminder settings
Calendar events
Section headings
Search
Mac OS shortcuts
Integrations:
You can integrate with several reminder apps and calendars on Apple devices.
Pricing:
A Subscription will cost you $50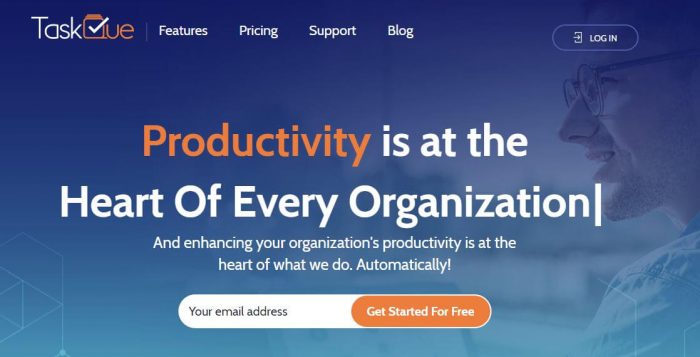 This application is not your normal to-do list maker, rather it's an incredible step up from your traditional applications of this genre. It's incredible software for task management and resource management that automatically assigns the remaining tasks to the next available soldier in the company's arsenal.
This application works perfectly when all of the team members are on the same page, with similar skills and the same functionality overall.
Let us take a look at some of the features that the application offers.
Key Features
Discussions
A powerful to-do list app
Automatic task assignment
Calendar
Workflow management
Integration:
Taskque seamlessly integrates with Slack, Google Drive, and Dropbox.
Pricing
A free trial is available
Subscription starts from $5/ user/ month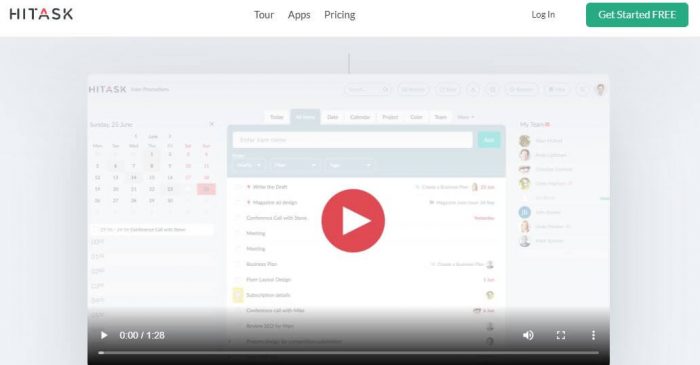 This is one of the most comprehensive software for task management out there in the market right now. It has an immense focus on projects and tasks from the very start and helps the managers with their management problems using that focus.
When it comes to the UI, all of the team members working on the development of the project are listed on the right side, and you can assign tasks to them by simply dragging and dropping the tasks on the appropriate team member's name.
Let us take a look at some of the features that the application offers.
Key Features
File storage
Email task creation
Reports
Task management
Time tracking
Mobile apps for iOS and Android
Workflow management
Integration:
The Hitask app integrates with Outlook and Google Calendar
Pricing
A free trial is available
Subscription will cost you about $120/month

Chanty is a team collaboration application that uses a chat-first design to produce an effective task management system. Using chat organization, users may convert any message into an assignment, allocate it to the appropriate person, and set due dates for it.
Moving to a Kanban board may also help you improve your productivity by allowing you to manage all of your work in one location from a bird's eye view.
You can also use Chanty to do more than just talk by linking other programs and eliminating the need to switch between them.
Key Features
Chanty delivers communication tools to help you collaborate with your team
To keep your discussions organized, Chanty allows you to create threads for each topic
After defining a subject, you can start a conversation and share data, photographs, and videos with related individuals
Chanty enhances your productivity by providing a Kanban board view where you can monitor and manage your activities
You may create tasks, appoint team members, and establish deadlines
You can convert a message into a task during a chat to help you keep on top
Integrations
Chanty works with the tools and software you presently use for your regular tasks. It works with Google Drive, Dropbox, and OneDrive for storage. Task management, it integrates with Tasks, Trello, and Asana. Custom integrations are also available.
Pricing
Free for 10 users
Paid subscription starts from $3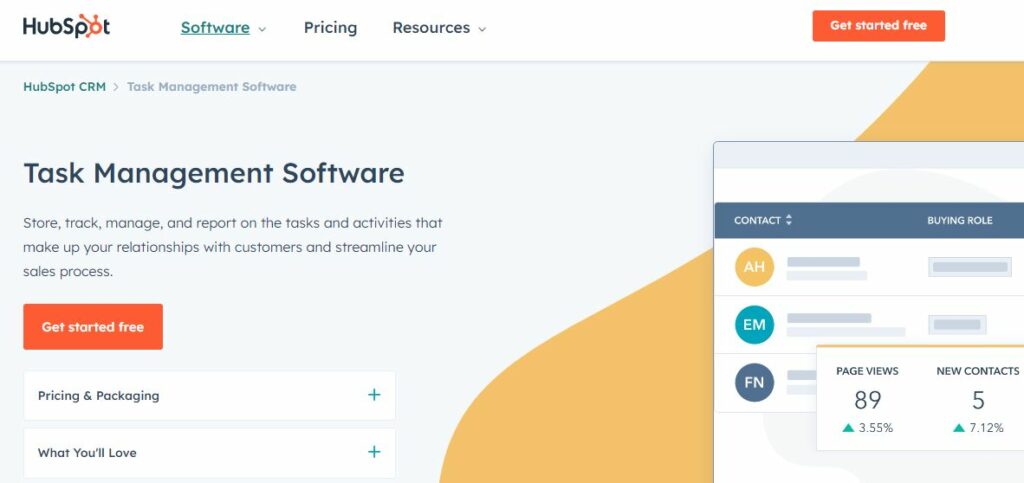 HubSpot chose to take task management to the next level for everyone. The software is part of its customer relationship management (CRM) package and is designed to assist you in moving down the sales funnel.
Workflows can be used to automatically schedule new tasks after completing ongoing activities. Set reminders, compare your performance to historical statistics, and store everything in one location.
HubSpot places a great emphasis on integrations, so if you have a favorite app, chances are HubSpot supports it.
Key Features
Data that is automatically synced
Simple task creation
Task queues for tracking progress
Free CRM
Landing Pages
List Segmentation
Email
Workflows
paid Ad Tracking
Integrations
HubSpot integrates with Linkedin, Instagram, and Facebook, allowing users to link numerous accounts across platforms and plan and schedule posts more easily. Posts may be authored, revised, and scheduled from inside HubSpot.
Pricing
HubSpot is free to use, with premium CRM options beginning at $45 per month.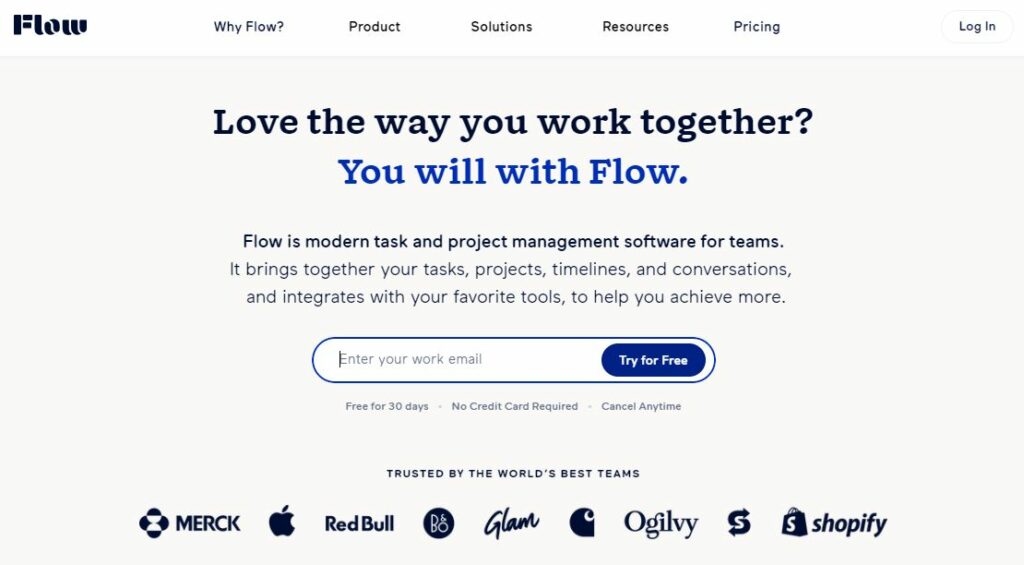 If you enjoy using a Gantt chart as a project manager, Flow may be the ideal task-tracking software for you. The majority of the projects are color-coded to make it easier to switch between various tasks and projects in your workflow.
Furthermore, templates and repeat projects assist users when they need to duplicate a project or arrange another event.
Key Features
Collaboration Software
Management of Ideas and Resources
Sharing of files
Prioritization of Reporting/Project Tracking
Tracking Milestones in Task Management
Scheduling Tasks
Project Scheduling/Planning
Gantt/Timeline View
Tracking Time and Expenses
Subtasks
Integrations
Google Drive
Slack
OneDrive
Pricing
$4.79/user/month and above
Final Word on Which Software to Use
There exists more software to be explored for managing your tasks; tools that can assist you to be an efficient, productive, and better task manager. We attempted to give a detailed list here. However, the software that you take for your picking depends heavily on your preferences.
Check up the reviews, carefully scan the features, balance the pros and cons, and consider the price plans along with the projects you will be working on before starting on a task management tool.
Chances are you hit a few snags before finding the right for your work. But, the heaps of similar software out there can make this a fun and easy endeavor. So dig in! Enjoy exploring your own potential and creativity by using a task-managing tool to make your life a bit more stress-free.