There are tons of free slack alternatives available in the market but deciding which one is best for your team is the tricky part. For those who have never heard of slack before, slack is a popular collaboration tool that is becoming a natural choice for small to medium-sized teams.
It has a clean, intuitive interface that neatly organizes your conversations in the form of chat rooms and associated options. Plus, it offers Free and two reasonable paid plans, which makes it a no-brainer for most teams.
Primary replacing the use of emails to escape lengthy email conversations, Slack helps teams discuss (and in some cases create) tasks and projects, make voice and video calls, create groups, and add attendees as required.
It also lets teams search through message history with a powerful search option. With all these features, it definitely offers teams ease of collaboration and is thus rated highly as one of the best productivity apps in the market for effective team management.
However, there is more to project management than just task and project creation and discussions. Here we give you a list of the top best and free slack alternatives 2022 that will up your project management game, both with additional features as well as competitive pricing.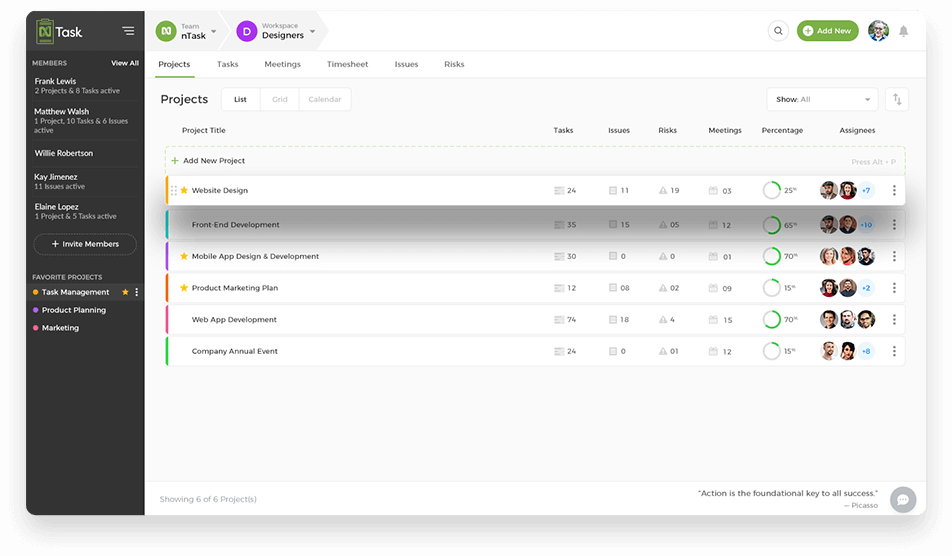 nTask takes the first spot in the list for our free slack alternatives for project management. With a Free plan with a huge array of features and a paid plan starting at just $1 per user per month, it is an obvious choice by project managers.
To give an idea of what it entails, it includes comprehensive modules related to tasks, projects, meetings, timesheets, issues, risk tracking as well as powerful search and filter options.
For existing Slack users that may want to take their time switching, nTask makes it easy due to its integration with Slack. You can create projects and tasks in nTask through some basic Slack commands.
You even get notified about updates from nTask in Slack. Need we say more? Check out the key features to see for yourself why nTask is your top Slack alternative.
Key Features
nTask offers the following features for your task and project management:
Task comment, team member tagging, file-sharing
Task management including to-do lists, task creation, assignment, organization, prioritization, and sharing tasks with multiple statuses.
Project management options including reports, timelines, Gantt charts, percent completion, the option to interchange tasks. You can create projects and assign tasks or treat tasks independently.
Integration with Slack giving you the options to convert comments to tasks and projects in nTask using Slack and receive updates from nTask in Slack.
Meeting management module for setting up recurring or one-time meetings, sending invites, adding agenda, post-meeting actions, and meeting minutes.
Workspaces to manage and monitor multiple teams, simultaneously.
Timesheets management module for logging and approving employee task efforts and payroll.
Issue management module for spotting and listing down issues related to multiple tasks. You can add details including Issue owner and status to track issue maintenance.
Risk management module for identifying and jotting down potential risks. Arrange risks in lists and assign a risk owner in order to track risk management.
Powerful search and filter tools to search for tasks, projects, meetings, issues, and risks. Plus, make use of the filter option to save more frequent searches.
Alerts, notifications, and reminders to keep teams on track.
Two-Factor Authentication for extensive security.
Third-party access.
Mobile apps for iOS and Android.
Pricing
nTask offers the following plans:
Free basic plan with 5 team members, unlimited workspaces, and tasks
Premium pricing plan ( $3/user per month with annual billing)
Business pricing plan (Starting at $8/user per month with annual billing)
Looking for the perfect Slack Project Management assistant?

See for yourself why Slack users are adopting nTask for Slack Project Management. Create unlimited, tasks, meetings & more.
2. Rocket Chat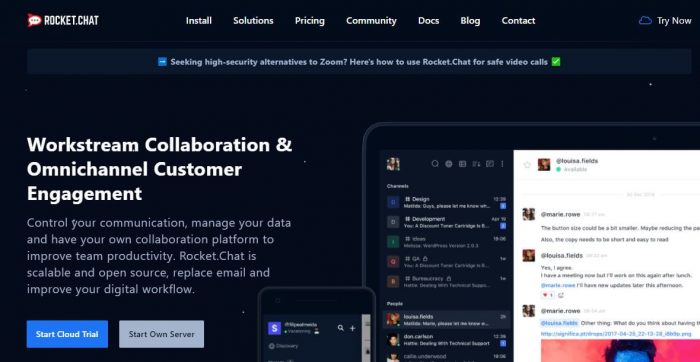 The spot for the first runner-up for our free slack alternatives list goes to Rocket Chat. Having more or less the same options like Slack, Rocket Chat is an unlimited and open source.
Being trusted by leading teams such as Nokia, Audi, Samsung, and more, this tool seems to be going places with its recent announcements of partnerships with Amazon and Gluu.
It gives you one-on-one and team chats, share files, and video/audio conferencing. Plus, it is actually being used in the new wave of blockchain phenomena, by blockchain innovators. Also, it gives you real-time translation with the interface being translated to over 50 languages.
Key Features
Take a look at the following features for Rocket Chat:
Team and one-on-one chat
Multiple users and guest access
Audio and video conferencing
Screen sharing
Role definitions including moderators and administrators
Search through conversations
Real-time chat with translation (over 50 languages)
File uploads and attachments
User support helpdesk creation for customer queries and lead conversion
UI personalization and customization
Two-factor authentication (2FA)
E2E encryption
Mobile apps for iOS and Android
Pricing
Rocket chat comes with about half the price of Slack for paid plans. Here are the options:
Community (Free)
Pro ($3 per user per month)
Enterprise (Tiered pricing and volume discount)
See also: The 8 Best Trello Alternatives for Kanban Project Management
3. Fleep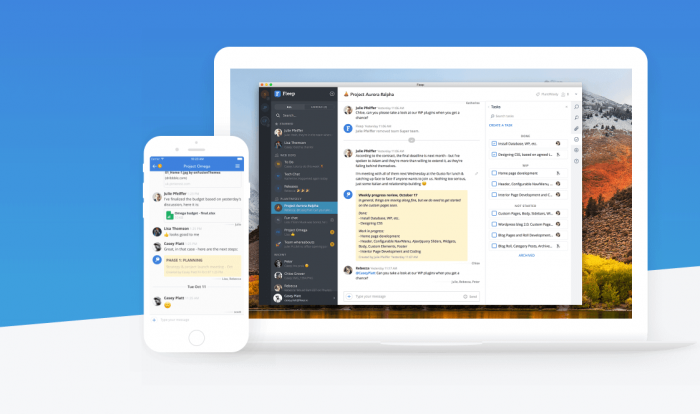 Fleep becomes our second runner up in the array of free slack alternatives for project management. Fleep has a clean UI that is intuitive and efficient, simultaneously. Apart from chat, audio and video conversations with screen sharing, Fleep gives a number of task creation and tracking options.
You add multiple types of details to conversations including links, meeting notes, upload files, and pin important messages to highlight them for the chat attendees. Plus, it reduces guesswork by offering chat statuses including messages seen, last active, or simply a team member writing a reply.
You can have Fleep conversations with any email address, whether or not you are a team member. Check out the detailed feature list below.
Key Features
Some of the prominent features you can avail with Fleep include:
Create, assign, search and track tasks
Full message history
Unlimited conversations with the option to editable pin important message, meeting notes, links and contact details, file drawer for shared photos and files
Status indicators including last active, 'Seen' for messages, or 'busy writing a reply' with the 'Writing' indicator.
Audio-video calling and screen sharing
100 GB file storage
Document/file sharing
Native apps
User account management
Premium conversations owned by the organization.
Admin control over membership, settings, and message history
Personalization with company name and logo
Mobile apps for iOS and Android
Pricing
Fleep has you covered with the following plans:
Basic (Free)
Basic (E5 per user per month)
Enterprise (custom)
See also: The Best OmniFocus Alternatives and Replacements of 2022
4. Twist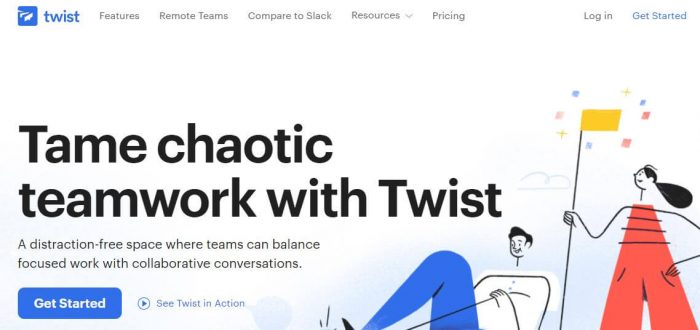 With over 100k users and growing, Twist seems to be rapidly making way to be one of the most sought-after online collaboration tools. Coming in at number 4 of our free slack alternatives list ; this tool gives a new twist to communication by offering you the best of both chat and email.
You can sort conversations by topics and threads, which makes it easy to catch up on the actual matter instead of being attentive to every message. Team chats can be open or you can opt for more not-so-public conversations through messages with the option of one-on-one or small team messages.
Add images, files and other information to clarify discussions. The best part is, unlike Slack that gives a search option for a limited number of messages in the past (on the Free plan), Twist helps you find information through hundreds of conversations from years ago.
Talking about keeping up with progress, Twist actually surveyed their users for potential improvement in their collaboration. Amid other percentages relevant to calmness, focus, and synchronization, 81% agreed to be more efficient.
Key Features
Check out these notable features in Twist:
Team conversations with the option to upload images, files, and other attachments
Messages for one-on-one, private conversations
Basic and advanced search for finding conversations and information
Organized team conversations with topics and threads
Multiple channels divided through teams, clients or projects
Option to archive channels
Mobile apps for iOS and Android
Pricing
Twist gives you the following pricing plans:
Free
Unlimited ($5 per user per month)
5. Glip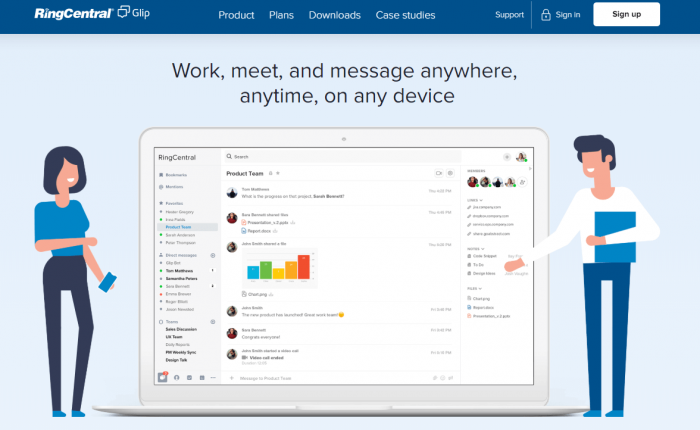 Coming in at number five of our free slack alternatives list; Glip for project management has clients including food franchises, publishing houses, churches, and more. 96% of their users have agreed to Glip simplifying their communication. Glip offers team chats and messaging for remote and local teams, file and information sharing, and task/project management options.
Plus, you can hold meetings with clients and teams through video calls and screen sharing. With a central team calendar, you know exactly who is up to what and how to progress. You can associate tasks, events, notes, file, and photos with the calendar.
Also, the unlimited storage option makes it all the more worthwhile for documents, spreadsheets, presentation files, contracts, invoices, images, and videos.
Key Features
Glip makes collaboration and task management easier through the following feature set:
Task management including task creation, assignment, sharing, and tracking tasks in any team or conversation
Chat options including an invitation to unlimited users, post unlimited messages and chat in real-time
Video chat and screen sharing
File upload, sharing and document storage
Centralized team calendar for synchronizing notes, tasks, and events
Pricing
Take your pick with the following plans Glip offers:
Free
Standard ($5 per user per month)
See also: Top 14 Microsoft Project Alternatives of 2022
6. Flock

Flock is a team communication and task management tool that comes with a broad feature set. From setting private and public channels to converting discussions into tasks and making audio and video calls, this free slack alternative has it all.
Especially for DevOps teams, there is an option of creating and sharing code snippets on the go. Moreover, you can upload files in multiple formats, bookmark entities, and create polls for team vote.
Powered with an efficient search, you can find any entity and even contact teams through the company directory, offline and online. With automated mailing lists and data made secure through encryption.
Flock is definitely worth your time to check it out to get a little bit more than what Slack offers.
Key Features
Find the following features in Flock:
Direct one-on-one messaging
Private or public channels to discuss ideas and tasks
Convert discussions into tasks
Audio conferencing
Video calls directly from conversations and screen share
Upload and share content including Google Drive links, images, videos, apps, and files
Create and share code snippets
Note down ideas during meetings that are editable by the team
Bookmark important messages, files, and links
Create image-based polls for teams
Simple and advanced search for files and links
Guest access
Set reminders for personal and team tasks
News and updates through announcement channel
Company team directory even for off-line access
Auto-generated mailing lists to team members and external parties
Predefined membership rules for channels
Data encryption using TLS 1.2
Mobile apps for iOS and Android
Pricing
Flock brings forth the following subscription plans:
Free
Pro ($4.5 per user per month)
Enterprise (custom)
7. Troop Messenger

Last on our list of free slack alternatives is Troop Messenger which is an integrated solution for teams in solving all of the communication challenges. There are numerous useful features the tool comes with, making collaboration among team members efficient and streamlined.
Through distinct groups, make your workflow synchronized and team members in the loop with all the updates occurring over time. The groups also come with unlimited message history to store and retrieve information whenever required.
Furthermore, the video call and screen sharing functionality act as an excellent means to manage geographically scattered teams. Not only this, the first 50GB of storage is free for users, after which an upgrade of up to 1TB can be easily done.
For analytics purposes, Troop Messenger provides admin dashboards to keep an eye on what's happening around.
Key Features
Distinct groups for individual teams and departments
Unlimited messages and video calls to stay connected with your team
Screen sharing for effective online team collaboration
50 GB free storage, and upgrade till 1TB
Unlimited messages history to monitor decisions over time
Admin dashboards for team analytics
Pin users for keeping conversations with them on top
Third-party application integrations
Web, mobile, and desktop apps
Pricing
Troop Messenger comes with the following subscription plans:
Free plan
Premium ($1 per user/month)
Enterprise ($5 per user/month)
8. Microsoft Teams

Eighth on our list of free slack alternatives is Microsoft Teams.  For a very long time, this app was only available to Office 365 subscribers but the good news is that the free version of Microsoft Teams packs a heap of useful features into the free offering.
The best part is that the free version of Microsoft Teams includes the following for up to 300 people.
Key Features
Unlimited chat messages and search
10 GB of team file storage
Additional 2 GB per person for personal growth
Built-in audio and video calling for individuals, groups, and full team meetups
Integrated real-time content creation including built-in Word, Excel, Powerpoint, and OneNote
140+ business apps to choose from, including Adobe, Evernote, and more
Pricing
Troop Messenger comes with the following subscription plans:
Free plan
Office 365 Business Essentials ($5 per user/month)
Office 365 Business Premium ($12.5 per user/month)
9. Brosix IM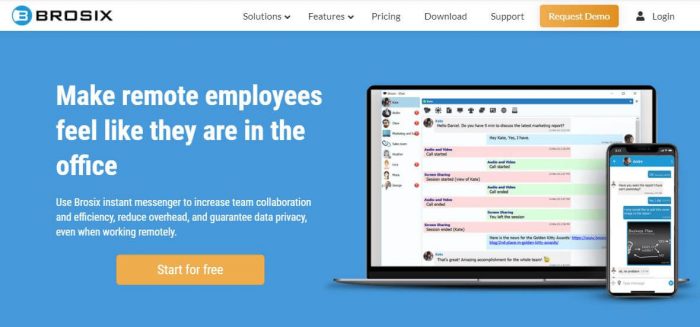 Next up on our list is a tool specializing in secure and streamlined team communication. Brosix IM provides teams with a fully administrative private team network full of collaboration features. These networks give teams a highly secure collaboration environment limited to professional contacts.
Teams can benefit from unlimited in size p2p file transfer, audio and video chat, dedicated chat rooms, screen sharing, and remote desktop. These features and more are combined in one package that teams can administer as they see fit.
Brosix IM's administrative features provide customized contact lists, user activity logs, restricted network access, and control of user features, among other controls. Administrators can keep track of user permissions and network status through a centralized web control panel, making network administration highly functional.
On the security front, Brosix IM comes with full end-to-end encryption on all communication channels. This encryption, combined with the restricted nature of its private team networks, makes Brosix a solid choice for the more security-conscious.
Key Features
Private team networks with full administrative control

Admin web control panel for network administration and analytics

Account, app, contact, and feature controls for network admins

Text, Audio, and video chat

Screen sharing, remote desktop, and a virtual whiteboard for collaboration

User activity logs for keeping track of communications

Custom contact groups with dedicated chat rooms

Unlimited in size p2p file transfer

AES 256-bit encryption on all communication channels

Apps for iOS, Android, Windows, Mac, Linux, and web
Pricing
Brosix IM offers 3 different plans:
Startup plan (free for up to 3 users)

Business ($4 per user/month when paid annually)

Premium ($6 per user/month when paid annually)
10. Zulip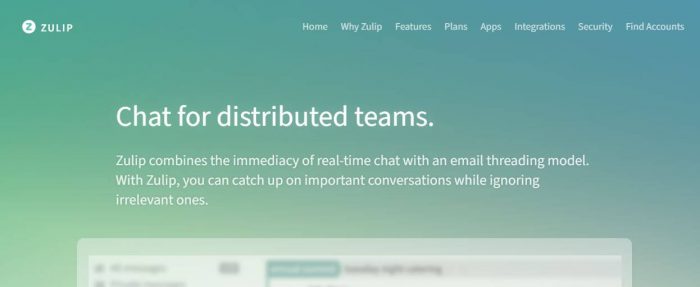 Zulip is an open-source messaging tool that has got a number of features spot on. Zulip is a powerful, open-source team chat that combines the quickness of real-time chat with the advantages of threaded conversations, Zulip facilitates occupied managers and others in meetings throughout the day in their team's communication.
Zulip is a great open-source real-time chat solution with good integrations. The documentation is well done and it's available for on-premise deployment which earns it additional brownie points.
It has a plethora of features, intuitive design, cross-platform nature, and the possibility of extensions make it one of the prominent team collaboration apps out there.
Key Features
Integrations
API: Zulip has got a simple RESTful API and Python bindings that make integration easy to manage
Mobile Apps
Enterprise-Grade Security
Full-Text Full History Search
One-on-One and Group Private Conversations
Integrate with IRC, Matrix, or Slack
Pricing
Zulip comes with the following subscription plans:
Free plan
Standard ($6.67/user/month)
Enterprise (Pricing Varies)
11. Pumble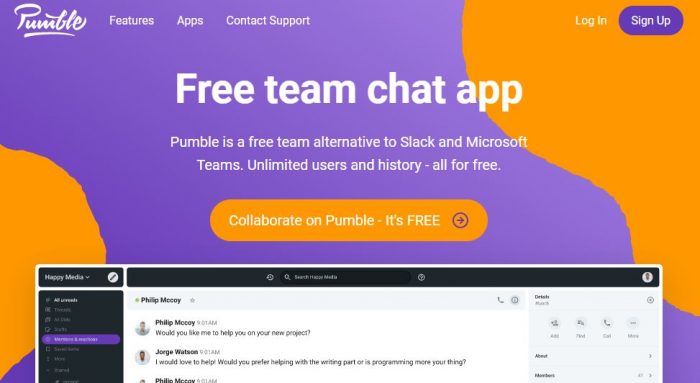 One of the most straightforward alternatives to Slack that boasts the core of Slack's functionality completely free of charge is Pumble. This app is emerging as one of the most intuitive teams communication and collaboration tools on the market, with a chock-full of features for a seamless user experience in its Free (forever) plan.
Unlike Slack, Pumble's Free plan provides you with unlimited chat history, an unlimited number of users, and a well-rounded set of features suitable for teams of all shapes and sizes.
A ridiculously affordable PRO plan (only $1.99 per user) will upgrade you from 10GB per workspace to 10GB per user and take your workspace to the next level with additional advanced tools. There's also an option to self-host your Pumble workspaces on your private server, which comes with all the yummy features, but adds unlimited storage and total privacy and security for peace of mind.
With upcoming features, including voice and video calls and screen sharing, Pumble is a serious competitor in the team communication game.
Key Features
Direct one-on-one and group messaging
Private and public channels
Unlimited users and chat history for free
10GB file storage for free
Sharing files, links, videos, and images
Sophisticated search options
Threads
Smart notifications
Emoji reactions
Advanced admin tools (custom permissions, limited guest access, user groups, etc.)
Availability across all devices and platforms (web, Android, iOS, Windows, Linux, and Mac)

Data encryption

Self-hosting option
Pricing
Pumble comes with the following pricing options:
Free plan
PRO plan ($1.99 per user per month)
Server, aka self-hosting (custom)
12. Bitrix24

Bitrix24 is considered the #1 best free slack alternative for effective project management. It is a superb application that comprises unique tools for proper management, splendid administration, and many other project management variables. Overall, it is an awesome tool that helps to connect team members with project managers.
Multinational companies are using Bitrix24 as it is specially designed to cater to such operations easily. Thanks to detailed reporting, multiple views support, and in-built collaboration features, Bitrix24 has what it takes to streamline workflow processes easily.
Key Features
Overall free management and communication tool
Supports social networking
Tasks and project management/Administration through multiple views
Integrated CRM solutions
File sharing and support in multiple extensions
Document management
Calendar planning, scheduling, and meeting management
Sales team management
For team collaboration, it offers a virtual telephone calling feature
Pricing
The free plan supports 12 users, 1 admin, and 5 GB of storage space
Plus Plan: $40 for 24 users, 2 admins, and 25 GB of online storage
Standard Plan: $99 for 50 users, 5 admins, and 100 GB of online storage
Professional Plan $199 for Unlimited users, admins, and online storage
13. Chanty

Chanty comes as not only a free slack alternative but also a viable option for project managers from small businesses. It is a user-friendly program specifically designed for small companies looking to expand shortly.
This free Slack alternative, Chanty offers small scale solutions for effective collaboration, team, and task management. Nothing fancy; just your day to day operations done with a twist of collaboration. One of the fascinating things about this application is that it doesn't have limitations when it comes to searchable message history. In that sense, it is much better than Slack because your old messages remain intact.
Key Features
It has a subtle, simple, and clean interface that looks very eye-capturing and amazing to the clients
Single notification center for every application you use during work
Does not have limitations on message history thus makes things way more convenient
Easy to use even if you are a new user in the market
Surprisingly faster than most of the other apps
Pricing
Free Up to 10 members per 10 integrations
Business Plan: $3 for limitless members, limitless integrations, and unlimited storage space
14. Cisco Spark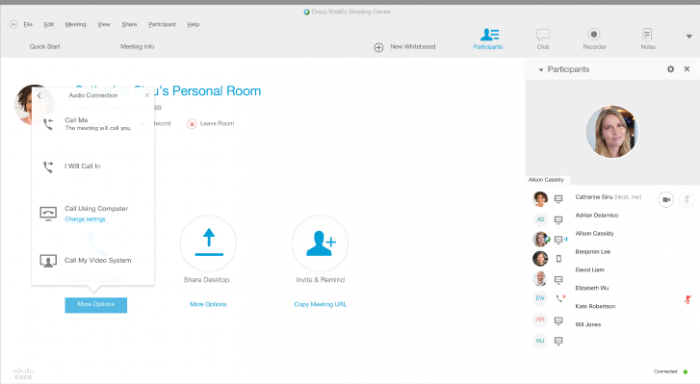 Cisco Spark is a unique application developed by Cisco and a very close free slack alternatives. Although their roots are embedded in hardware development, they do have a few tools for project managers from all over the world.
Cisco Spark is good for managing, and administrating teams. The tool provides multiple communication and collaboration modules. It is ideal for internal organization use; especially for companies running via their network.
One of the biggest advantages of using Cisco Spark is that you can work anywhere because of its cloud-based computing paradigm.
Key Features
Conceive, analyze, and invent with Cisco Spark's revamped version
Top-notch documentation administration features
Video calls and conferences supported
Cloud-based computing for 24/7 data security and backup
Pricing
It is free of cost and doesn't have any custom package provided by the company.
15. Blink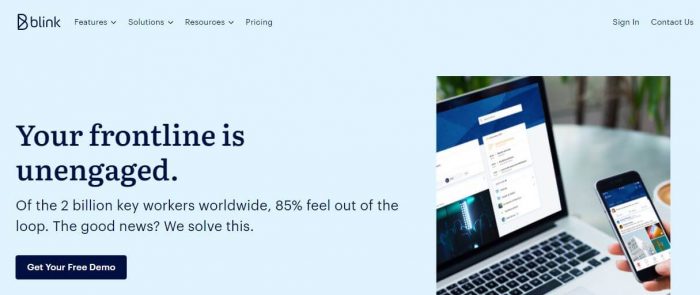 Next up on the free Slack alternatives list is Blink. It is yet another exciting addition to the list of best Slack alternatives for project management. Designed as a comprehensive collaboration tool for modern organizations, Blink combines crucial intranet features into an impressive layout.
The tool offers excellent customization features – for both users and admin alike. So while you can tailor what posts you see as a user, you can also make sure that key messages and announcements cut through the noise as an administrator.
On top of that, it offers a one-stop solution for your intranet requirements with features such as allowing you to create a data repository and survey forms. That's not all – you can also benefit from integrating effective micro-apps or rely on existing tool integrations to complement your workflow.
Key Features
Here's a look into some of Blink's impressive features:
Always connect with the right person for the job using Blink's compact contact directory
Chat integration allows excellent intra-team and inter-team communication
Customized theming control to help you design the tool per your brand
Find any data, document, or application with a comprehensive search function
Prioritize critical resources through the 'Featured Posts' option
Task management controls such as reminders, highlights, and scheduling of tasks
Enhanced administrative controls over user roles
Tool analytics to help you understand the flow of communication in your organization
Report dubious content and submit it to review to ensure a peaceful environment
Pricing
14-day free trial
Business plan for $3.40 per person per month
Enterprise plan charged according to corporate requirements and paid annually
16. Discord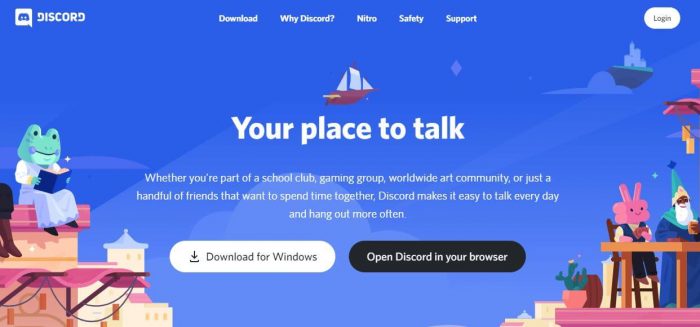 Yes, it's loved by gamers, but Discord has been rockin' it as a Slack alternative for a long time now. Of course, that is, If you are willing to overlook the 'collaboration tool for gamers' mindset. The program has a lot more to offer than what meets the eye.
As a Slack alternative, Discord allows real-time collaboration, multiple format file sharing, private chat channel creation, and much more. Above all, you can also make voice calls by setting up Discord voice channels. It is up to you, whether you want to use the program as a small business, or as a company.
Right now, the base version, which also happens to be entirely Free, is loaded with a wholesome customer experience. You probably don't need to sign up for an upgrade, but if that's what you are looking for, Discord's paid plans start at $9.99 per month, labeled as Discord Nitro.
Meanwhile, Slack's paid plan is offered at $6.67 per person/ per month! Add both of em up, and you'll probably end up paying more for Slack as compared to Discord.
Key Features
Use emojis, GIFs, and other interactive icons to liven up your collaboration across multiple teams.
Share your screen through the Discord Live feature.
Auto spell-check.
Server ownership and user access levels.
Offers free VoIP, video, and text chat services.
Ideal for small and growing businesses.
Pricing
Discord's base plan is entirely free
$9.99 per month for Discord Nitro
17. Jostle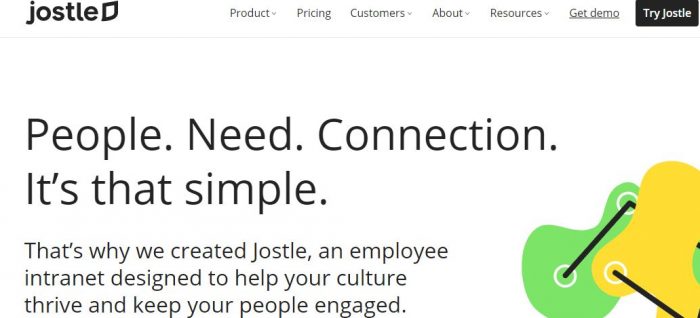 At number 16 in our list of the best free Slack alternatives is Jostle. Jostle is a cloud-based employee engagement platform, designed to smoothen and strengthen company culture.
The tool is a social networking site for employees working in an organization offering a company-wide intuitive intranet. The employee engagement solution can be an efficient medium for sharing news, making announcements, initiating direct conversations, conducting polls, and much more.
With Jostle's user-friendly interface and its ease of use, you can say goodbye to tedious modes of communication and collaboration. The cloud software keeps your company communication unified and readily available with its easy accessibility across various platforms i.e., mobile apps, desktop version, and TV connectivity.
Key Features:
Send content to targeted audiences
Keeps track of whether an employee has read the information or not
Organization-wide live polls
Automatically updates after every two weeks
iOS, Android, and MAC apps plus desktop version and TV connectivity
Supports multiple integrations for streamlined working
Pricing:
Jostle is available for free for up to 15 users and includes internal communications features.
The pricing details for larger organizations depend on the number of employees.
18. Hive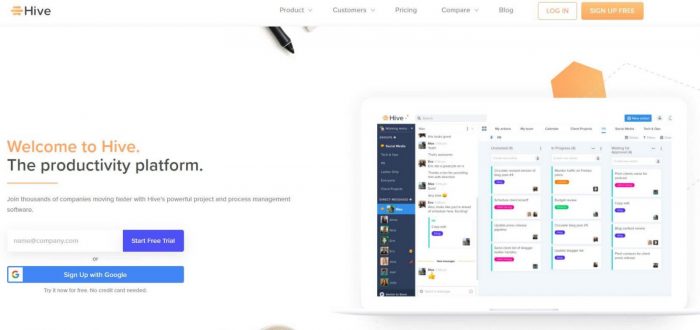 Hive is a project management tool designed to unify your workspace for smoother, more efficient working. The tool is an all-in-one platform that not only helps with communication but is also ideal for project management, tracking, and execution.
For better flexibility and more functionality, it offers integration with Slack. Hive offers a long list of management and communication solutions:
Project management
Time management
Team collaboration
Integrations and much more
Key Features:
Hive chat offers real-time conversation and seamless integration with Slack
You can comment and also tag your colleagues
Use Hive inbox to manage your Gmail or Outlook inbox
Get your projects approved and receive feedback from your team leader
Share email inbox with your team members
Assign priority statuses to tasks to let your team members know of the urgency of the tasks
Control project accessibility with permissions
Pricing:
Solo – $0
Teams – $12 per month
Enterprise – Get in touch with Team Hive for custom pricing
19. Google Chat

Google chat is our pick for this list. Google is our go-to search engine for every query, every problem we encounter. Well, Google does not disappoint us when it comes to team collaboration. Google Chat is an efficient Slack alternative with various chatting options that make communication a piece of cake.
One of the most unique features of the software is that it supports 28 different languages, adding to its efficiency. The tool also offers multiple integrations with other tools to streamline your workflow.
Google chat is a part of the Google Workspace, you can use the tool to communicate with anyone having a Gmail account, no matter whether it is paid or not. Google chat and others solutions of the Google Workspace collectively make communication much easier and collaboration smoother.
Key Features:
Group chat via chat rooms
Audio and video calling
Private messages
Web, desktop, and mobile apps
Screen sharing option
Integrates with Gmail
Pricing:
Free trial of 14 days
Available for free to Google Workspace users
20. BlogIn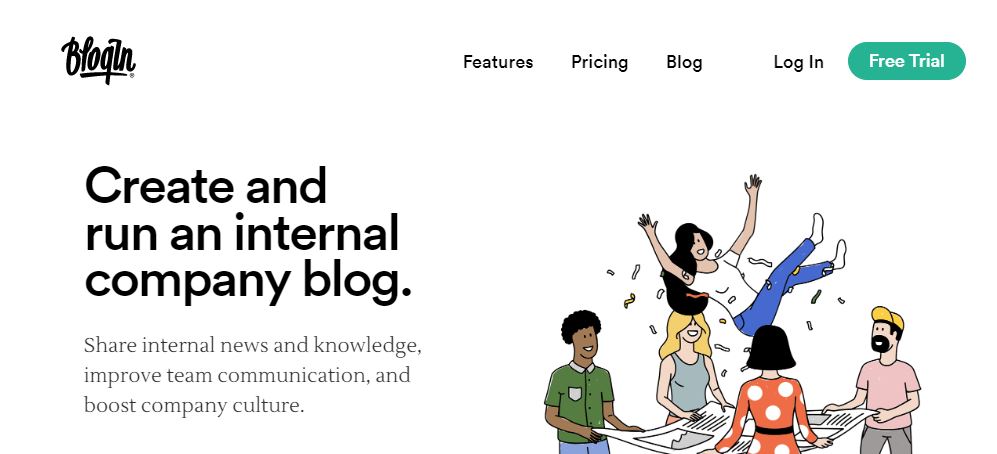 BlogIn is a beautifully simple internal blog and knowledge-sharing platform for teams of all sizes. The internal blog acts as a central information hub or a 'virtual bulletin board' for the company, allowing all employees to stay in the loop with what's going on in and around the office.
At the same time, the blog opens a new, transparent, two-way communication channel inside an organization, where everyone can ask a question and get the information they need to make faster and smarter decisions. The internal blog is intuitive and easy to use, so everyone can quickly get on board, which is why it works so well as an internal communication tool.
Key features:
Unlimited users and teams
Unlimited posts, pages, and comments
Private member invitations
E-mail and push notifications
Single Sign-On and User provisioning (SCIM)
Google & Slack sign in
Activity Log
Unlimited document upload
Integration with other services (Slack, Google, Zapier..)
Unlimited categories and tags
Rest API
Markdown text support
Fully-hosted internal blog
Pricing:
14-day free trial
Flat $39 per month
Flat $390 per year
---
Also Read: