Shared calendars are the difference between teams working efficiently and coordinating with ease and having to constantly text, email, or phone each other for collaborations and meetings.
Shared Calendar apps are the way to ensure that your entire team is coordinated and up to date. They also help avoid the hassle of trying to manage everyone's timetables to schedule a meeting.
But what is the best shared calendar app for your team and what should you be looking for in the shared calendar app you choose?
Here is our list of the best shared calendar apps in 2023.
Best Shared Calendar Apps
Here are our top picks for the best-shared calendar apps of 2023.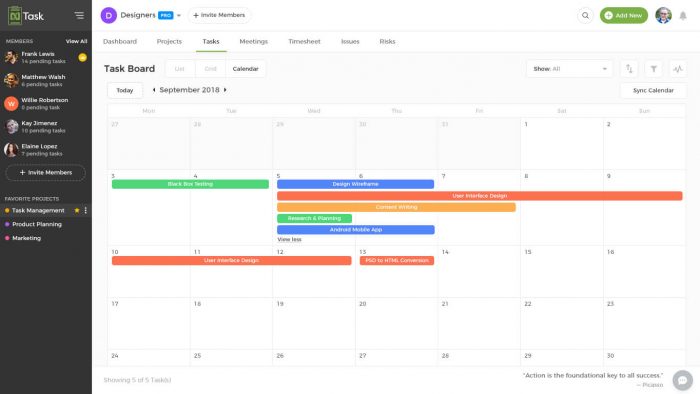 nTask is a project management tool and perhaps would not be the first choice on your mind when you think of share calendar apps.
However, the tool offers a versatile and extensive feature set that justifies its inclusion on our list.
In fact, due to its incorporation with other aspects of your workflow, awarded it the top spot on our list of the best shared calendar apps.
nTask allows you to schedule, plan, and manage your projects and tasks using an easy calendar view.
You also get access to the meeting management feature which enables you to easily establish, manage, and schedule meetings.
This tool had to make the list because of its many management perspectives, capacity to interact and communicate with team members, and a lot more.
Key Features:
Task scheduling and management
Calendar view
Calendar management for tasks and meetings
Meeting management tools
Meeting reminders and task deadline reminders
Collaboration tools
Pricing:
The Basic Plan is free of cost
The Premium plan starts at $3/user, per month
The Business plan costs $8/user, per month
The Enterprise plan is customizable according to your team's needs
Shared Calendar App To Smart Teams.

Manage tasks, meetings, projects, events and teams, all in one place. Sign up today!
2. Google Calendar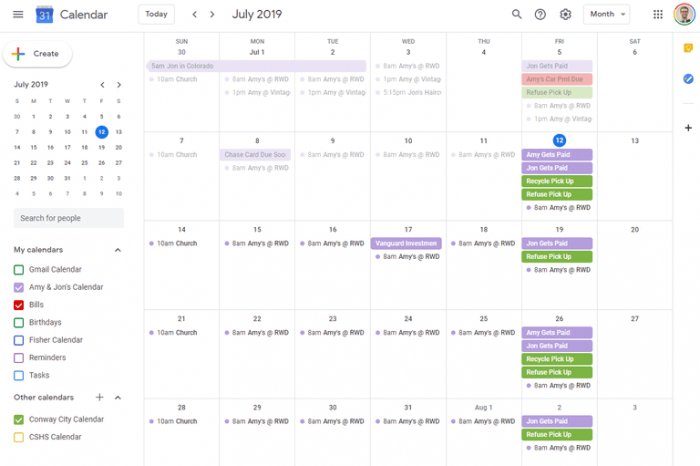 Google Calendar is both robust and versatile, and it does so without being difficult to use. You're covered if all you need is a simple calendar to keep track of your events.
You may share full calendars, which are useful for team collaboration.
Learning how to add events or move from the default week view to a month or day view doesn't take long.
You can also easily add a Google Meet Video conference or invite others with no difficulty at all.
Key Features:
Ability to schedule meeting rooms
Task management
Event management
Calendar sync
Reminder system
Google Calendar integration with nTask
Pricing:
Free version
The Business version comes at a price of $5/month, per user.
Check this out:
12 Best Google Calendar Alternatives
3. Calendly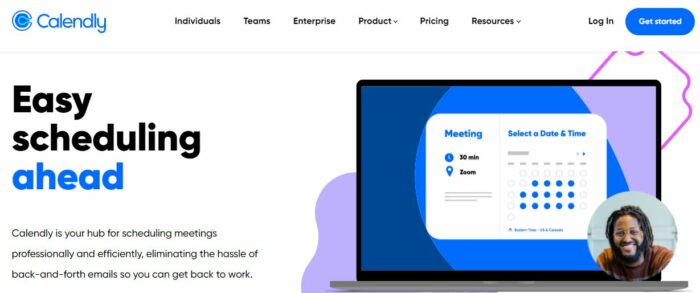 Calendly has an automatic scheduling option that checks your availability using. Your favorite calendar.
You can eliminate back and forth emails with this shared calendar, which also helps you plan meetings at the same time.
Other features include time zone identification and the ability to set a buffer period between sessions. It integrates with other programs like GoToMeeting, Salesforce, and Zapier, and it allows your team to grow over time.
Key Features:
Event management
Group scheduling
Email management
Appointment scheduling
Calendar sync
Collaboration tools
Pricing:
The Basic plan is free of cost
The Essential plan is $8/seat, per month
The Professional plan is $12/seat, per month
The Teams plan starts at $16/seat, per month
4. Outlook Calendar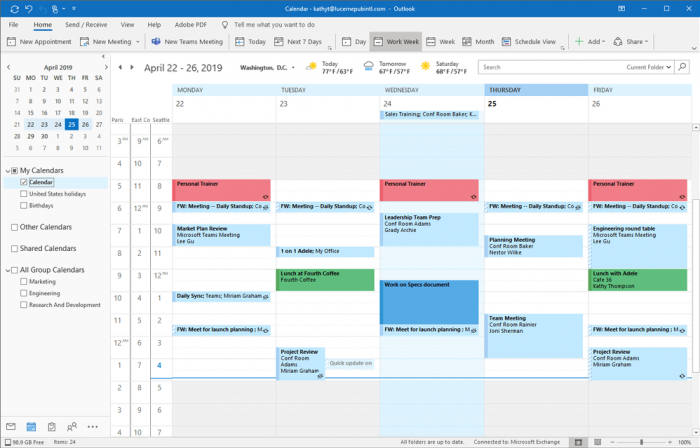 The option to see group schedules is available in the Outlook calendar. All you have to do is create a group calendar and invite all the people you want to be part of it.
You can also share your availability with others to aid in the discovery of a meeting time that is convenient for everyone.
Because the calendar in Outlook is part of the larger Outlook software, you will have to switch between your mail and your calendar to see the different capabilities available.
Outlook calendar is also available as a desktop application for PC and Mac.
This is, however, not an option that will appeal to everyone. If you use Outlook for business or personal email, though, it may be the best choice for you.
Key Features:
Also, see:
14 Best Outlook Calendar Integrations for You to Try in 2023
5. Teamup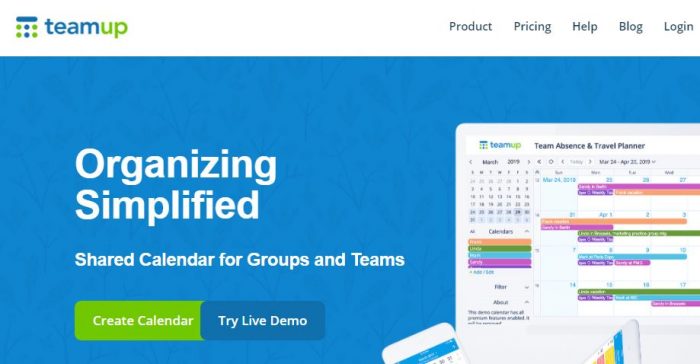 To make planning, scheduling, and communicating easier for groups, Teamup offers shared calendars.
Businesses have the option of choosing between free and paid plans. in addition, Teamup provides a live sample of their software as well as a three-day trial so you can determine if this program is right for your team.
This tool was created with groups in mind, and the calendars are simple to use. The calendars are color-coded and may be shared simply and securely with other team members through a secure URL.
Key Features:
Collaboration tools
Task management
Calendar sync
Event calendar
Employee scheduling
Resource scheduling
Pricing:
The Basic plan is free of cost
The Plus plan costs $8/month
The Premium plan costs $20/month
The Enterprise plan costs $80/month
6. iCloud Calendar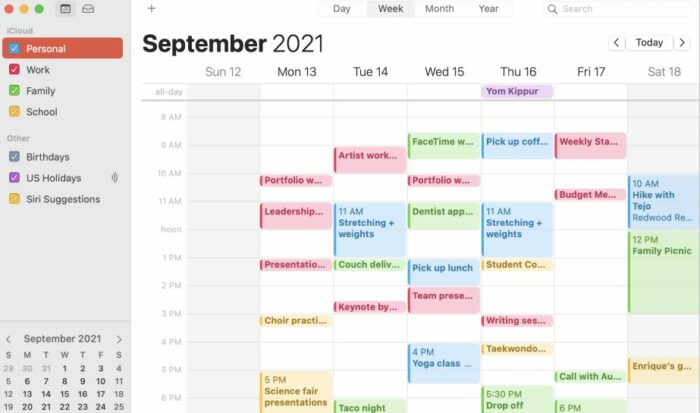 iCloud has an easy-to-use calendar that works with any Apple device. Your team can easily arrange meetings, share information, and communicate with the iCloud calendar app.
To see your daily chores and projects at a glance, users simply need to change their calendar view to "Today." It is a popular choice since its functionality is simple and similar to Google's calendar.
Non-Apple laptops and Android smartphones, on the other hand, lose a lot of functionality while using the iCloud calendar.
Overall, if your entire company utilizes Apple gadgets, this calendar tool is ideal.
Key Features:
Ability to customize your calendar view
Alerts and notifications
Time zone support
Ability to create multiple calendars
Import options
Apple Calendar integration with nTask
Pricing:
you can try the iCloud calendar free of cost
after your free trial the iCloud calendar costs $1.99/year
Shared Calendar App Capabilities and Features
When choosing the right shared calendar app for your team, there are certain capabilities and features you should keep in mind.
Remember, you need to keep in mind your specific team and what you are trying to achieve in using a shared calendar app when making the right choice for your team.
Here are the features and other considerations we kept in mind when coming up with this list.
1. User-Friendly Interface
Shared calendar apps should be simple to use and maintain, with minimum navigation and upkeep. It should also make the cooperation process as simple as possible.
2. Syncing Capabilities
Auto-syncing can save you a lot of time. Any changes you make to your shared calendar should, sync with both your account and the accounts of everybody else engaged.
Automatic synchronization and interaction with other applications are available in many calendar apps.
3. Scheduling Features
A shared calendar's main purpose is to arrange everyone's schedules, but it should also make scheduling easy.
If the app allows you to check the availability of coworkers at a glance, that's a terrific feature to look for.
Customization features, various calendar availability, and time- and location-based reminders are some more essential things to look for.
4. Collaboration Tools
You want to be able to share availability, event invitations, and calendars with your team while using corporate calendar software.
You'll also want to be able to work together on events, calendars, and any papers or projects that are shared within the app.
5. Integrations
Using such software should help you streamline processes and workflows within your team. Having calendars that integrate with other software or tools you use will help simplify processes and make your and your team's work easier.
In Summary
And there you have it, our list of the best shared calendar apps for you and your team. We hope this list has made choosing the best shared calendar app easier.
For more informative articles check out our blogs on the nTask website here.