Whenever it comes to adopting a customer relationship management (CRM) platform, Salesforce is most likely on top of the list for many. This is because it helps companies to study their customers' behavior and optimize their outreach to fit those behavioral patterns.
However, although Salesforce has tons of powerful features, it is heavy on the pocket, and not every business can afford it. Aside from that, maintaining your Salesforce CRM will also incur additional charges.
Here is why many companies chose Salesforce in the first place:

Ample in-house programs

: Salesforce provides access to a wide range of business programs (like Sales Cloud or Service Cloud). And with these programs, you streamline marketing, sales, and

customer relationship management

for better conversion and

sales productivity

.



Powerful third-party integration: Salesforce integrates with a wide range of third-party tools like Zapier,

Outlook

, Jira, and ActiveCampaign.



It is scalable

: Another main advantage of Salesforce is that it can handle a growing number of customers. Therefore, you don't need to worry about migrating to another CRM as your revenue increases, and as your business grows.



Also, here is why many SMBs and large companies are looking for alternatives:
It is expensive

: One of the biggest drawbacks of using Salesforce is that it is on the high-end for many companies. Small or medium-scale businesses with a limited budget may not be able to afford it. Additionally, users often complain about the lack of clarity in Salesforce's pricing models.



It has a steep learning curve

: Learning how to use Salesforce effectively can be very difficult. You'll need to complete a series of lengthy introductory courses. And even after that, there is no guarantee you'll be able to use all software features. You might need to hire an in-house Salesforce admin or an outsourced Salesforce service provider.



You pay more for support than with other CRMs:

Salesforce falls short in its customer service. Feedback can be very slow and you might have to figure things out on your own if you encounter any difficulties. To get advanced and timely support, you'll have to pay additional charges.
Are you also looking for an alternative to Salesforce? If so, you're in the right place.
We've created a list of some of the best Salesforce alternatives that are more affordable and have similar enough capabilities to help you manage your sales and marketing. But before we dive into that, we will be walking you through some of the factors you should consider when choosing a Salesforce alternative.
What to look for when choosing a Salesforce alternative?
Choosing the right CRM for your business is a big project. You have to make sure you ask the right questions before making a decision that will potentially impact your business for at least another year. While this article doesn't aim to cover all aspects of purchasing a CRM, I do however want to make sure it highlights the most important aspects to look for in a Salesforce alternative. Based on the users' feedback available online, here are the aspects that you should consider:
Ease of use

One major factor you should consider when picking out a CRM is how easy it is to use. Does it have an intuitive user interface? Can you navigate it on your own or would you be needing the help of an IT specialist?
Pipeline management

Your CRM platform must allow you to effectively organize leads, visualize deals, and manage your sales process. Also, you need to consider a software solution that is scalable as your business expands.

Pricing

Cost is another important factor that you should consider when choosing a CRM tool. You should consider something that is within your budget. Additionally, you should look into the additional costs that customization, support, and using add-ons for your CRM may incur.
Table of Contents
Best Salesforce Alternatives for 2023
Here are the top Salesforce Alternatives you can choose to use:
1. HubSpot Sales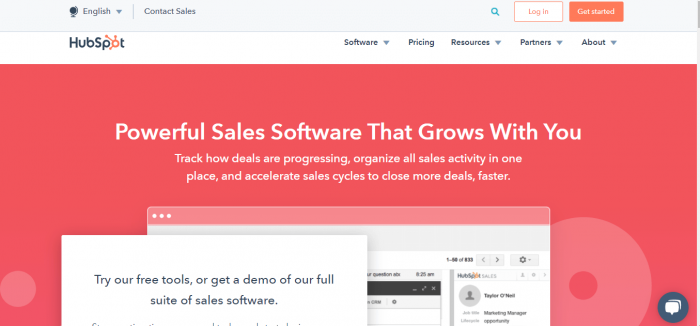 HubSpot Sales is a cloud-based customer relationship management (CRM) platform with Marketing Hub, Sales Hub, Service Hub, and CMS Hub software applications that help scaling companies grow better. HubSpot is our top choice for a Salesforce alternative because it combines power and ease-of-use.
HubSpot is, at core, an all-in-one CRM that is designed to adapt and grow, as the business grows. HubSpot CRM starts with a free version (freemium plan) that includes up to 1,000,000 contacts and a number of essential features for startups and small businesses: email marketing, live chat (and a chatbot builder), forms, landing pages, and meeting scheduler software.
For growing businesses and enterprise-level companies, that need more complex features, HubSpot includes sales custom objects, engagement software, CPQ tools, and powerful sales analytics.
One other important benefit of HubSpot is that, overall, has a lower total cost of ownership. While Salesforce charges for every user and requires paid add-ons for essential features, HubSpot includes all the features in its advertised price, and customers only pay for additional revenue-generating sales seats.
Key features
Intuitive and easy to use

All-in-one

CRM platform

that includes Sales, Marketing, & Service resulting in a unified

customer experience

Sales management playbooks included (competitive battlecards, call scripts, positioning guides, etc.)

Integration with more than 500 tools in HubSpot's App Marketplace.
Price
HubSpot Sales offers three main plans:
Starter plan at $50/month

Professional plan at $400/month

Enterprise plan at $1200/month
Support options:
Starter plan users get support via chat or email and those on Professional and Enterprise plan get extra phone support.
Integrations:
HubSpot Sales integrates with LinkedIn Sales Navigator, Survey Monkey, Shopify, and 500+ tools.
Clients
:
SurveyMonkey

Atlassian

Revolut
Why is HubSpot Sales a good Salesforce alternative?
Compared to Salesforce, HubSpot has a simple user-interface thereby making it easy to deploy. Additionally, the total cost of ownership of HubSpot is cheaper compared to Salesforce.
2. Pipedrive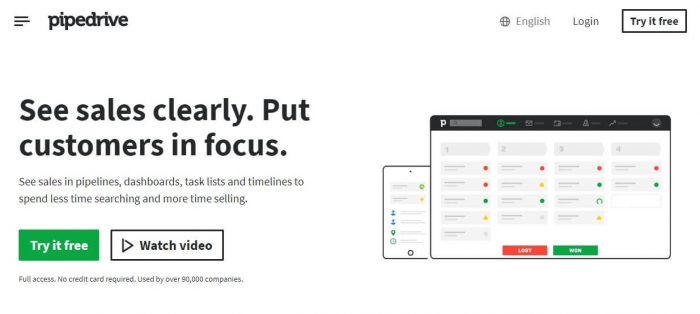 Pipedrive is a sales CRM and pipeline management solution that allows you to customize sales processes that fit your buyers' journey. You can create a comprehensive buyer profile and add important details like their contact information, deal sizes, timelines, and how long it took to make a purchase.
Not only that, Pipedrive has a drag-and-drop feature that makes it pretty easy to add new prospects to your lead cards and move them through each buyer stage.
Key features
Streamline pipelines management

Provide in-depth insight and reports

Guaranteed data security
Price
Pipedrive has four main plans:
Essentials at $12.50/month

Advanced at $24.90/month

Professional at $49.90 month

Enterprise at $99.00/month
Support options
:
All

Pipedrive

's premium plans get you access to free 24/7 support via live chat or email.
Integrations:
The CRM integrates with MailChimp, Trello, Zapier, and more.
Clients
:
Why is Pipedrive a good Salesforce alternative?
Pipedrive is a great fit for small and mid-sized companies. It is easy to navigate and more affordable compared to Salesforce.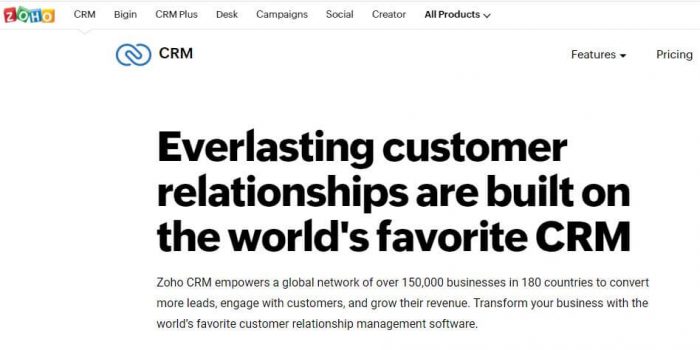 Zoho is an end-to-end CRM solution that allows you to create multi-channel communication with leads. The platform allows you to communicate with leads via live chats, email, and webinars. On top of that, you can discover the best time and channel to communicate with leads.
Zoho has an AI-powered predictive score that allows you to qualify leads that are most likely to convert. Additionally, the CRM has a Zoho's key performance dashboard that provides a deep insight into your sales process and how you can improve conversion and revenue.
Key features
Streamline

lead management

Automated workflows

AI-driven sales prediction
Price
Zoho CRM comes in four different pricing tiers:
Standard at $18/month

Professional at $30/month

Enterprise at $45/month

Ultimate at $55/month
Support options
:
Zoho provides learning materials via their community forum, and email support for all their plans. There is live chat and toll-free support for users on Professional, Enterprise, and Ultimate plans.
Integrations
:
Gmail

,

Outlook

, Office 365
Clients
:
Facebook, Netflix, Amazon.
Why is Zoho CRM a good Salesforce alternative?
Zoho CRM has a smooth interface and allows you to integrate with third-party applications at no additional cost.
Looking for Zoho Alternatives? Check this out:
4. Insightly

Insightly makes it very easy to align both marketing and sales under a unified platform. You can track the most relevant lead information and monitor their activity to gauge their level of interest in your products/services.
Additionally, you can create multiple workflows that fit your business perfectly and also automate recurring tasks. Beyond that, you can track email delivery, open rates, and click statistics in real-time.
Key features
Workflow automation

Lead routing

Effective datasets management
Price
Insightly has four major plans:
Plus at $29/month

Professional at $49/month

Enterprise $99/month
Support options:
You can get support via community, quarterly webinars, email, and phone.
Integrations
:
Clients
:
Why is Insightly a good Salesforce alternative?
Unlike Salesforce, Insightly allows you to automate everything from lead routing to task assignment to project management without the need for a high-level consultant. You can create custom workflows based on your user preferences all by yourself in less lead time.
5. Freshsales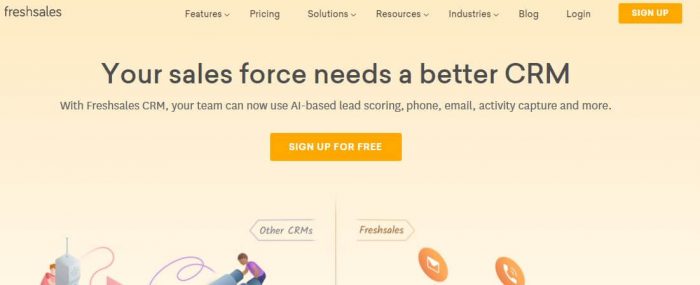 If you're running a small or medium business, Freshsales is a great option for you.
It provides you with everything you need to grow your revenue without juggling multiple software. With Freshsales, you can build a comprehensive customer profile using the information gathered via phone calls, emails, web forms, and live chats.
Also, the CRM makes use of AI-based lead scoring to qualify sales leads.
Key features
Effective

lead management

Auto-profile enrichment

Visual sales reports
Price
:
Growth Plan is

€

29/month

Pro Plan is

€

69/month

Enterprise Plan is

€

125/month
Support options
:
Email, chat, and phone support is included with all plans.
Integrations
:
Clients
:
Why is Freshsales a good Salesforce alternative?
Freshsales has an intuitive user interface that allows you to call prospects, send emails, create proposals, and schedule appointments without any hassle.
6. SugarCRM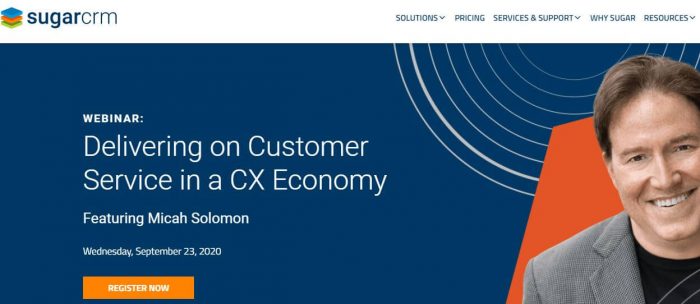 SugarCRM is a robust enterprise-level CRM with an AI-driven feature that makes creating comprehensive and detailed customer profiles easier. The CRM does this by curating customers' info from social media. After curation, it compiles all information into one place thereby making it easier to manage.
Sugar CRM is customizable and can be easily tailored to fit your business preferences. Also, it is very scalable thereby making it a perfect option for companies looking to advance in their sales over time.
Best of all, SugarCRM will notify you when there is any other opportunity to up-sell a contact to increase their customer's lifetime value after conversion.
Key features
In-depth revenue analytics

AI-powered Predictability

Email and calendaring integration
Price
:
Sugar Professional starts at $52/user/month for 10 users minimum (billed annually)

Sugar Enterprise starts at $85/user/month for 10 users minimum (billed annually)

Sugar Serve starts at $80/user/month for 10 users minimum (billed annually)

Sugar Market starts at $1000/month for 10k contacts and unlimited users (billed annually)
Support options
:
You can get help via phone or

SugarCRM

Support portal.
Integrations
:
Zapier, Skyvia, MailChimp
Clients
:
Sennheiser, Materion, StrongWell
Why is SugarCRM a good Salesforce alternative?
SugarCRM is more of an affordable option compared to Salesforce. Also, the software is powered by incredible machine learning features that make lead capturing and contact management easier.
Check out the best online sales tools:
7. Copper

Copper CRM is a powerful CRM specifically built for G Suite. It allows G Suite users to manage customers' interactions without toggling between multiple software. Asides from integrating with Gmail, the CRM also integrates with other third-party applications like Slack, Intuit, and Zendesk.
Copper has an advanced reporting feature for sales forecasting. With this feature, you can pull data to get your sales team performance monthly, quarterly, or yearly.
Key features
Zero data entry

Simple user-interface

One-click third-party integration
Price
:
Basic plan starts at $25/user/per month, billed annually

Professional plan starts at $59/user/per month, billed annually

Business plan starts at $119/user/per month, billed annually
Support options
:
Copper provides support via training, certification, and customer service.
Integrations
:
G Suite, RingCentral, Zendesk
Clients
:
MailChimp, IDEO, Curology
Why is Copper a good Salesforce alternative?
Copper has a smooth and intuitive user interface. Not only that, they provide customer support to their users at no additional cost.
8. Microsoft Dynamics 365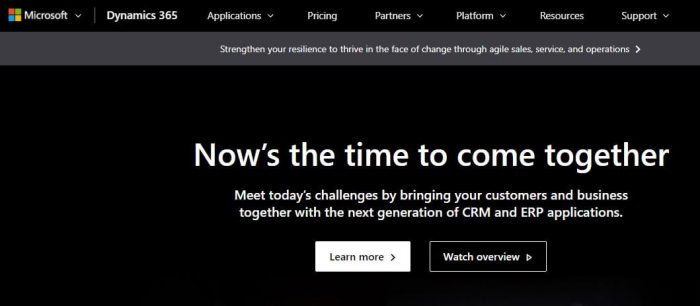 Microsoft Dynamic 365 is an enterprise-level CRM that provides data-driven insights that you can use to make smarter marketing and sales decisions, build strong customer relationships, and close more deals in less time.
Also, the software allows you to target leads using multi-channels to send personalized marketing campaigns to fill your sales funnel with quality leads.
Key features
Data unification

Mobile integration

Marketing & sales modules
Price
Microsoft Dynamics

365 has different pricing models for each of its business products. You can find one that's perfect for you by visiting their

pricing page

.
Support options
:
You can get support via phone or the web.
Integrations
:
SharePoint, Microsoft Azure, Microsoft Teams.
Clients
:
Adobe, Beyond Bank Australia, Boys & Girls Clubs of America.
Why is Microsoft Dynamics 365 a good Salesforce alternative?
It is affordable, has better support, and is easy to deploy without the help of any professionals.
9. Nutshell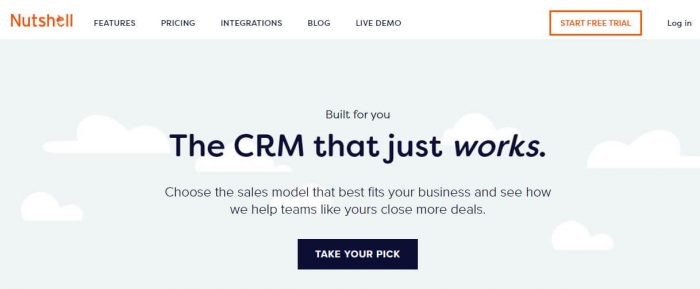 Nutshell is another impressive option to consider if you want to build meaningful and strong connections with prospects.
One of Nutshell's features that stood out is its reporting capabilities. This feature allows you to create customizable reports that will make measuring your sales performance quite easy.


Also, the CRM allows you to delegate tasks within your sales team and track the performance of each member.
Key features
Presentation-ready data reports

Advanced

pipeline management

Automated

sales process
Price
Nutshell has two mains plans:
Starter at $19/month

Pro plan at $35/month
Support options
:
Nutshell provides world-class support to all its users. You can get support via phone, live chat, and email.
Integrations
:
Constant Contact, Intercom, Unbounce.
Clients
:
The CyberWire, Bloomerang, McSweeney's.
Why is Nutshell a good Salesforce alternative?
With Nutshell, you'll enjoy unlimited bandwidth and free technical support.
10. Nimble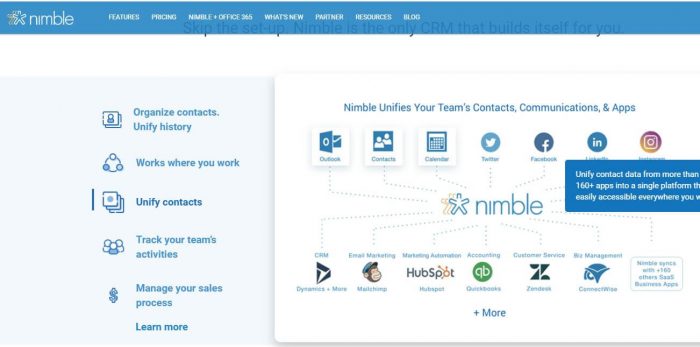 Nimble is a very flexible CRM that allows you to segment your sales pipelines and schedule appointments with your contacts. You can track the deals you've won, lost and the ones that are yet to convert. Nimble gives you deep insight into sales deals and measures customer engagement.
Also, with Nimble, you can create personalized email templates, send them to leads, and track the performance of your email marketing in real-time. Additionally, it integrates with over 150 third-party applications making it easy to feed more data into your CRM.
Key features
Customized pipeline stages

Unified contact data

Comprehensive dashboard
Price:
Nimble Starter plan is at $22/user per month (paid monthly)
Nimble Pro plan is at $39/user per month (paid monthly)
Support options:
Nimble provides one-on-one support on phone or via email.
Integrations
:
Clients:
GoDaddy, Flexjobs, Upwork
Why is Nimble a good Salesforce alternative?
Nimble's onboarding process is easier compared to Salesforce's. Also, it is relatively cheap, has a clean interface, and very easy to navigate.
11. ConvergeHub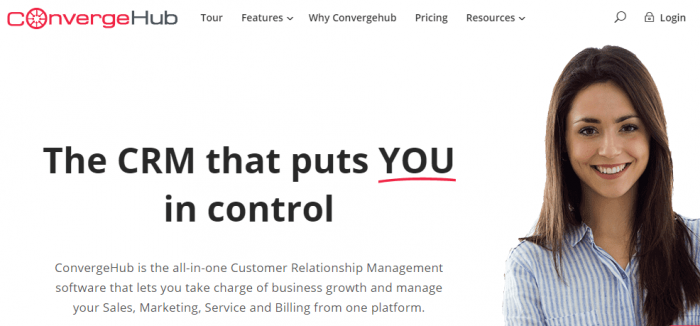 ConvergeHub is a great alternative for small and medium companies. It has a clean and easily configurable dashboard. With this CRM, you can schedule meetings and close more deals without any hassle.
You can also launch and manage your email campaigns without having to pay for extra tools on the side.
Key features
Customer service analytics

Financial CRM

Marketing automation
Price
Support options
:
ConvergeHub provides phone, email, and live chat support.
Integrations
:
Gmail

,

Outlook

, Office 365
Clients
:
Lending Valley, ClkClk Inc, Fast Advance Funding.
Why is ConvergeHub a good Salesforce alternative?
Compared to Salesforce, ConvergeHub is cost-effective and easy to set up.
12. Keap (Infusionsoft)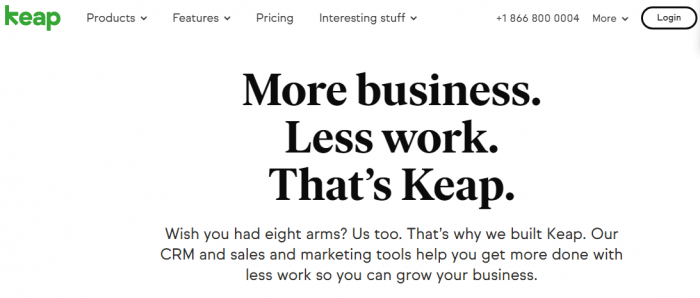 Keap, formerly known as Infusionsoft, is specifically built for service-based companies. The platform allows you to organize all your customer information all in one place for smooth customer data management. Also, it has a dashboard that makes it possible to visualize leads and move them from one stage to the other without any hassle.
The program has an API functionality that makes integration with other third-party software pretty easy.
Key features
Built-in campaign builder

Marketing automation
Price
Keap Grow starts at $40/month/user

Keap Pro starts at $75/month/user

Infusionsoft

start at $100/month/user
Integrations
:
BigCommerce, OptinMonster, Instapage
Clients
:
Conversion Leadership, CoryWest Media, oneQube
Why is Keap (Infusionsoft) a good Salesforce alternative?
The CRM has a simple user interface that allows you to nurture leads and create repeatable sales processes without any hassle or special training.

13. EngageBay Sales Bay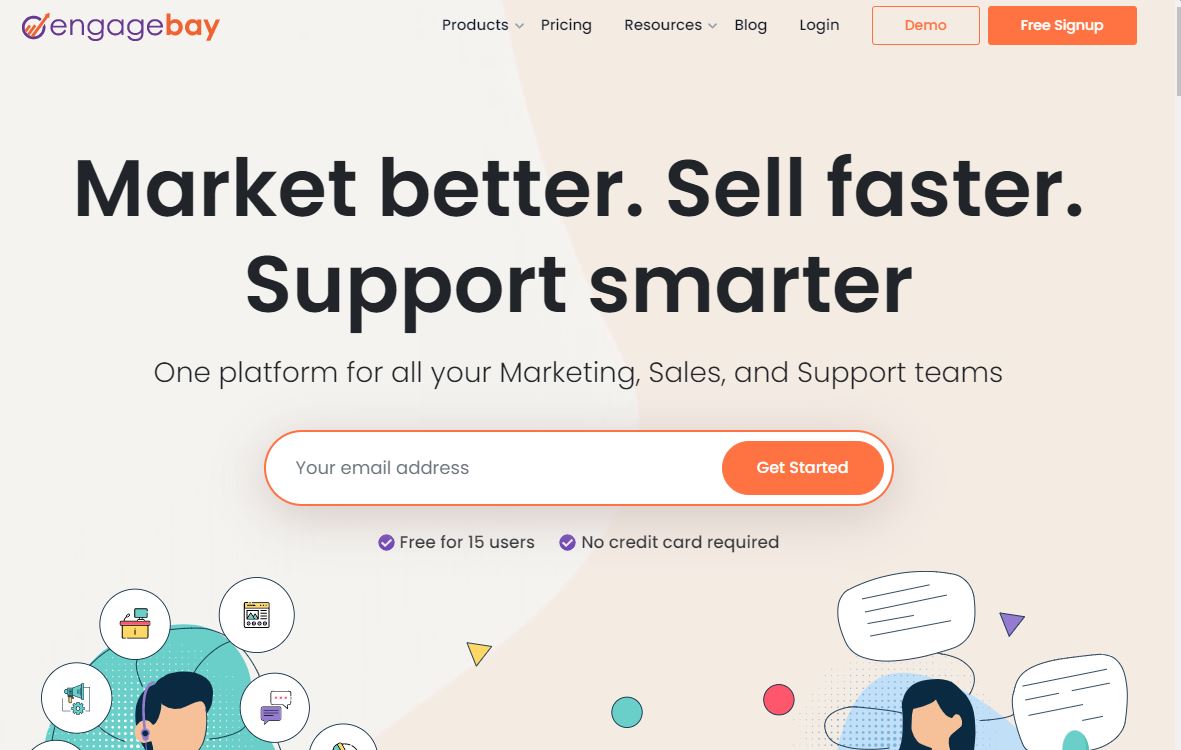 EngageBay Sales Bay is a cloud-based Customer Relationship Management (CRM) software – part of the all-in-one Suite.
EngageBay is the perfect solution for small businesses and startups because of its affordable pricing. This helps companies with smaller budgets manage their sales processes and scale up their businesses without breaking the bank – and this makes EngageBay one of the top Salesforce alternatives for small businesses.
EngageBay's centralized CRM database helps all teams view, update, and analyze the same customer information without having multiple versions.
The simple yet powerful contact management software lets you view every interaction with your leads and prospects. Lead nurturing tools like call scripts help your sales agents communicate easily and nurture the relationship through perfect pitches.
Automated tasks and appointment scheduling feature lets you create tasks automatically when a new lead is assigned to a specific sales rep. EngageBay also automatically schedules appointments to help your team get the most of their time.
In-CRM telephony helps you place and receive calls from your contacts directly from the platform. In addition, advanced CRM analytics tracks your key performance indicators and other metrics to help you get a holistic view of your leads and prospects.
Key Features
360-degree contact view

Ease-of-use

One of the most affordable in the market

Sales Bay is part of the all-in-one marketing, sales, and customer support Suite

Advanced sales features include call scripts, proposal analytics, conversational inbox, and call records

Multi-step automation to help streamline sales workflows
Price
EngageBay CRM & Sales Bay offers four plans:
Free-forever plan at $0

Basic plan at $12.99

Growth plan at $24.99

Pro plan at $49.99
Support options:
The Free and Basic plan offers email and chat support, the Growth plan adds a dedicated account manager and free onboarding sessions, and the Pro plan adds premium phone support.
Integrations:
EngageBay integrates with CallHippo, Zapier, JotForm, WooCommerce, and more.
Clients:
CyberSprout

Business Ninjas

WindowCity
Why is EngageBay a good Salesforce alternative?
EngageBay's plans are highly affordable for small businesses. Even the Pro plan costs less than $50 a month and offers a plethora of advanced features to turn leads into customers.
Over To You!
If you decide not to go with Salesforce or change your current plan, finding a perfect alternative can be quite overwhelming. However, the great news is there are affordable Salesforce CRM alternatives that you can explore.
---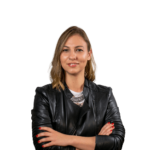 Post by: Irina Nica
Senior Marketing Manager, Product Awareness at HubSpot
Irina is a digital marketer and international keynote speaker based in Dublin, Ireland. She's currently working at HubSpot, where she is focused on building awareness for the company's freemium products. Irina was also one of the Head Judges for the 2020 Global Search Awards and has been on the judging panel for the 2020 European Search Awards.