Lead management or customer acquisition is the center stone on which the whole sales department of any new or existing business in the market depends to succeed.
This lead management is a collection of methods or practices that are used to acquire new clients for a business, and to make sure that this process is flawless without any problems, the lead management tools that are used by businesses around the world, have evolved exponentially.
Let's talk some more about lead tracking and management and then we will see in detail what those lead generation applications are.
Lead Tracking and Lead Management
One thing that you need to know if you are just starting in the sales industry is that there are always indirect and direct customers for all of the services and products that you or your company are selling.
One of the main goals of businesses around the world is to tap the direct customers that are always convertible and very valuable to the company. These convertibles are tagged as hot leads by the company because they are their regular customers or they are positive that they will buy the product.
The whole shebang related to lead tracking is the labeling of the interest of different parties towards your product or whatever services that you are selling.
Benefits of Lead Management
Let's take a look at some of the benefits of lead management for you and your sales team.
Tracking the Lead
Lead Stage Filtering
Real-time Data, Reports, and Forecasts
Improved Team Co-ordination
Increases Efficiency in Lead Processing
Lead Fostering
Attaching Identifications/Statuses
Highlighting Active Leads
Predictive Analysis
Let's now take a look at some of the most common features that are present in a functioning lead management software on the market right now.
Basic Functionalities of Lead Management Software
Lead management software functionality:
Automated data collection
Work allocation and Task management
Scheduling and Tracking leads
Communication
Detailed analysis
Data management
Response to leads
Lead security
So, without further ado, let's take a look at some of the best sales to lead management software out there in the market right now that can really help boost your lead tracking and tagging processes, and also boost sales.
5 Best Sales Lead Management Software in 2022
Here is a list of the best sales lead management applications that we are going to talk about in this article.
nTask
Pipedrive
Zoho
Monday.com
HubSpot
Let's take a look at all of these wonderful sales lead management applications in detail and find out how they can get us more leads and boost sales.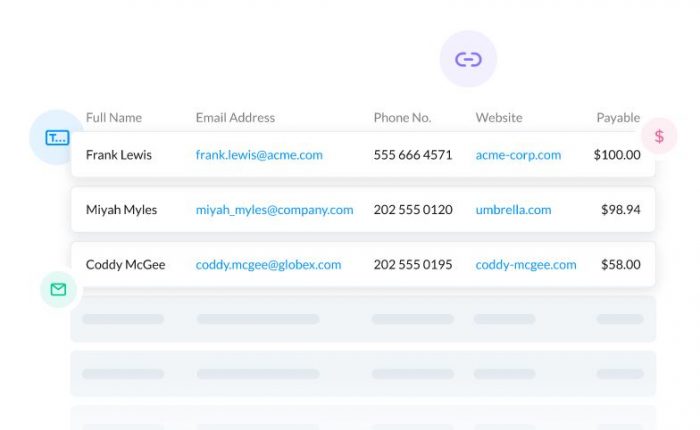 Being one of the best project management and task management applications in the market, nTask is incredible when it comes to sales lead management.
The application has an incredible dashboard that lets you enter all of the lead information in it so that you can easily track and manage every single client that you want to boost sales.
The application has custom fields and statuses that you can use to differentiate between cold and hot leads, and also prioritize the clients that you want your team to interact with first. This will ensure that your sales team is not wasting time on dull or cold leads and focuses on the important stuff first.
Key Features
Task management
Project management
Time tracking
Gantt charting
Risk management
Issue tracking
Sales lead management
Third-party integrations including Zoom, Google Calendar, and many more
Pricing
The free version of the application lets you check out the features that the application has to offer, but it's not the complete experience. If you want the complete experience, you will have to pay the entry price of $3/month
Top Sales Lead Management Software.

Manage contacts, leads, projects, financials and teams, all in one place. Sign up today!
2. Pipedrive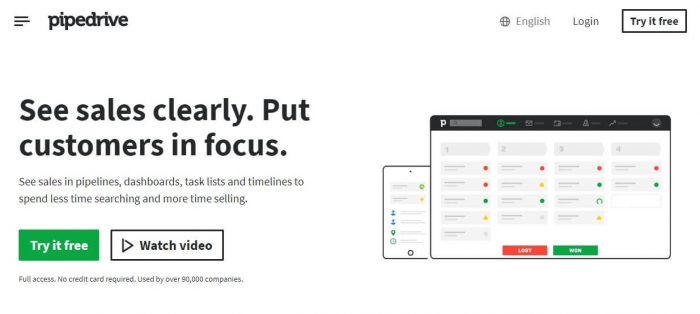 One of the best sales leads management applications that are perfect for small and medium-sized enterprises across the organizational paradigm is Pipedrive. The application has thousands of companies as clients and is quite famous in countries like Brazil, Germany, Canada, the US, Australia, and the Netherlands, etc.
The application is incredible for salespeople that want all of their tasks and activities related to sales, organized. One other amazing thing about the tool is that it is extremely easy to use and quite intuitive. Let's take a look at some other useful features that Pipedrive has to offer.
Key Features
Sales lead management
Contact management
Customer database
Email integration
Customizable templates
Email marketing
Client tracking
Contact database
Pricing
There is a free trial of the software available for you to use and to check out everything that the tool has to offer, but if you want to use those features for a long time, then you need to pay a starting fee of $12.50/month
3. Zoho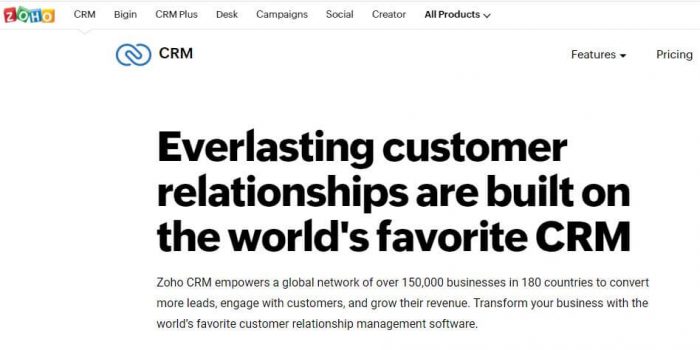 The sales lead management application is an incredible cloud-based solution that helps different businesses to build lasting customer relationships.
Over 13,000 companies served, Zoho is an incredible sales lead application that is used in countries like Spain, France, the US, Mexico, and UK, etc.
The company has an incredible customer support and is also great value for money including amazing features perfect for various businesses around the world.
Key Features
Sales lead management
Customer database
Contact management
Calendar management
Customizable reports
Email marketing
Mobile access
Third-party integrations
Pricing
This amazing sales lead management has an incredible free trial that helps you check out all of the different features that this tool has to offer, completely free of charge
But if you want the good stuff and by good stuff, we mean 'premium features', you need to pay a starting fee of $20/month
4. Monday.com

Another incredible application on the list is Monday.com. The application is perfect for small to large businesses that make the sales lead pipeline management easy and efficient, and also helps to connect every single department of the company with each other regardless of the size of the organization.
The Monday application also helps you to manage all of the customer data, the processes, and the interactions that your team has with the company's clients. Basically, the company allows the users to manage all of these processes according to how they want to.
Let's take a look at some of the other features that this sales lead management application has to offer.
Key Features
Activity dashboard
Document management
Document storage
Content management
File sharing
Task management
Sales lead management
Pricing
There is a free trial of the application available for all of the users of the application to use. This free trial helps the new users to get familiar with the features and functionalities that the application has to offer, and if you want these features permanently, then you have to pay $10/month
5. HubSpot

HubSpot is an incredible email tracking and sales lead management application that sends you real-time notification of every single activity that is happening on the dashboard so that no lead or business proposition from your clients goes unnoticed.
Using the application you can easily make calls from within your browser, and also you can log calls and even record calls directly to your CRM with just a single click on the dashboard.
You can also integrate this application with other tools like HubSpot CRM, Salesforce, G Suite, Microsoft Office 365, and Gmail.
Let's take a look at some other features that this incredible sales lead management application has to offer.
Key Features
Activity dashboard
Alerts
Notifications
Chat / Messaging
Contact management
Data management
Sales lead management
Live chat
Third-party integrations
Pricing
The free version of this incredible sales lead management application is perfect for an individual sales rep. looking to boost sales, but if you want to use the application for sales teams with multiple individuals managing leads, then you will have to pay a starting price of $50/month
FAQs
1. Why is it so important for companies to generate leads?
Lead generation is a process that builds visibility, credibility, trust, and interest from a specific group of people, known as potential leads as well. So when you focus on lead generation, it can genuinely help to drive traffic from high-quality prospects, and turn them into high-value customers. 
2. How do companies increase the lead flow?
Companies can increase the lead flow by developing clear guidelines defining who is in charge of the leads at each stage in the process and what steps they should be taking. Ensure that your software helps to score your leads so everyone on both teams can quickly see where a lead currently is in the process. 
3. What are the benefits of sales lead management?
Improve your lead nurturing
Effectively filter your leads
Develop keener and better insights
Enhance the team coordination
Improve your response time as well
4. Does sales lead management software help to generate leads?
Any sales lead management software helps with lead generation in the following ways,
Setting objectives and goals
Define and adapt to your target audience
Bring value with the intent of data
Create a content marketing funnel
Ask customers to review your product
Use short videos to explain complex data
5. How does the lead management system work?
Lead management is a systematic process in which incoming leads are qualified, analyzed, and nurtured so that they can be converted into new business opportunities. In a typical sales process, leads from multiple channels enter your lead management system, and the sales-ready leads are converted into deals.
6. How much does sales lead management software usually cost?
Ans) For a basic system, you can expect to spend around $12 to $100 per month. A mid-level plan typically costs between $100 to $600 per month. The most advanced systems cost between $600 and $1200 per month.
Conclusion
This was our guide on what sales lead management is and what tools you can use to track and manage those leads. If you think that we should have mentioned something else that was important to this topic, then write to us and we will review that information ASAP.
---
More Readings for You: