Many people think or see project management tools and believe they are created to serve project managers and their teams. This, however, is a misconception.
There are, indeed, many project management tools for education that are reportedly used by both students and teachers, alike, for increased productivity.
These tools feature a group of versatile features and modules wrapped up at one dedicated platform to aid any and everyone who needs organization and structure to their work or personal tasks.
In project management tools, the said features are broad in the way that they can be used so that they fit in with your needs and requirements. This includes those working in or with educational institutes.
Whether you are a student who is taking different classes and working on multiple projects, a faculty member who is teaching different groups and working with colleagues, or an admin staff member who has to juggle faculty members, students, and administrative work, project management tools can help you stay on top of it all.
Let's see how project management tools can help you and also which are the best project management tools for education.
How You Can Use Project Management Tools for Education?
As we mentioned above, project management tools can be used by teachers and lecturers, students, and administrative staff members alike. This is because of the versatility that most project management tools offer.
If you consider any educational institution, there are a load of different people running the institution and working towards the education of the students there. These individuals need to work together to ensure the best process and functioning of passing along knowledge to students.
With the help of project management tools, each of these individuals whether they be regular teaching faculty, guest lecturers, administrative staff, or more can stay connected and manage roles and responsibilities from project management tools.
Many project management tools have calendar features or integrate with calendar apps which allows teachers and other staff members to manage and have control over their work schedules. They can note down extra-curricular activities, lectures, or even curriculum achievements and progress that need to be met.
For students, task management features in project management tools can help them keep track of their classes, assignments, and projects, they can collaborate with team members if they have a group project and even upload assignments for proofing and approval for teachers to view.
With file management features that some project management tools offer, teachers and students alike will no longer need to go back and forth between multiple apps and emails for submissions and feedback. Everything will be uploaded, managed, and available within the platform.
With the pandemic and sudden shift in the educational sector to online classes, project management tools can be used as a means to keep everything organized and compressed in a single platform so that nothing goes amiss.
These are just basic ways that project management tools for education can be used for all those involved.
Depending on the features available, with collaboration tools, meeting management features, timesheets, and more the way you can use project management tools to your advantage is limitless.
So, without further ado, let's look at our picks for the top project management tools for education that you, as a student or faculty, can choose from and adopt into your institute or personal life to help organize your tasks and work.
Best Project Management Tools for Education
Here are our picks for the best project management tools for education.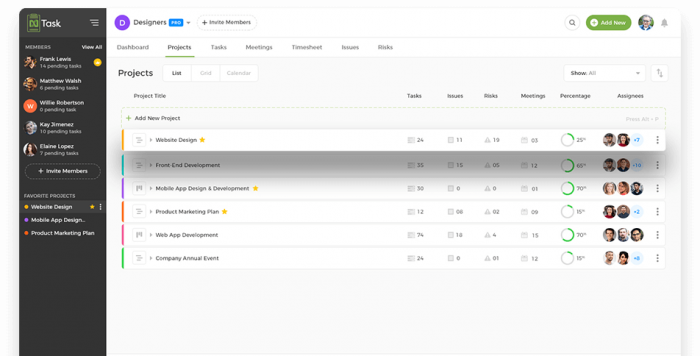 nTask is a project management tool that has been chosen by smart teams across 155 countries for its versatile yet feature-rich platform.
With a user-friendly interface and pricing plans which cater to all budget restrictions, nTask is a great choice for educational institutes, teachers, administrative staff, and students.
With nTask, you have task management and to-do lists which can help teachers and lecturers keep track of their lessons and classes and students of their assignments and workload.
Gantt charts give a graphical representation of what needs to get done and by when while also highlighting task dependencies and milestones which is a great tool to track the progress of curriculums and lesson plans. it can also be used by students to highlight their study schedule or by admin staff to keep track of the school year and activities.
Meeting management is great especially with the pandemic and virtual learning. With nTask's meeting management feature, institute staff can organize and stay up to date on a staff meeting. Students can also use the meeting management module when working with groups on projects.
nTask also offers collaboration and communication tools and features to help individuals stay connected and keep all information centralized in one platform.
To find out more about the features available in nTask check out the website here.
Try the Best Project Management Tool for Educational Institutes.

Manage all your work, projects, assignments, and groups in one place. Sign up today!
2. Monday.com

Monday.com is another feature-rich project management tool with a complex set of features and modules to help you manage projects and tasks.
With Monday.com you can create and organize your tasks and to-do list items. You can share and manage files. Email updates to team members or other members of your institute.
With different integrations and features, the tool is great to ensure you are not switching between different software while still being able to help you manage your workload.
Check out more about Monday.com here.
3. Trello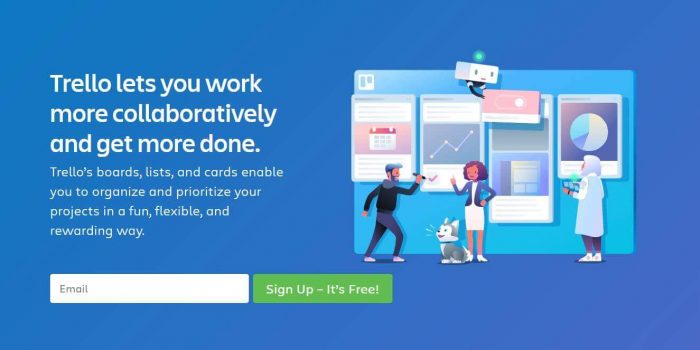 If you are looking for a simple project management tool that follows the Kanban board style Trello is a great option.
With Trello, you can organize and arrange all your tasks with ease within a board layout which indicates which stage of work each task is on. For example, whether it is yet to be started, in progress, or completed. You can choose what each of these stages is depending on your own needs.
Trello is a good choice if you want something quick and easy to look at, although it lacks some of the features available in more feature-rich project management tools.
To find out more about Trello, check out their website here.
4. Basecamp

Basecamp is another project management tool that is aimed at helping you get things done on time while also offering the ability to monitor your work or task's progress.
With Basecamp you have task management features that let you plan and schedule tasks, track the progress of tasks created, and assign the tasks to different individuals.
The software also allows team members, students, or other faculty to share ideas, proposals, and align conversations which ensures that everyone is aware of what they are doing and what their schedules are.
To find out more about Basecamp check out their website here.
5. ProofHub

ProofHub is especially beneficial for eLearning or the current virtual classrooms with its cloud-based platform with organizational and communication tools in one place.
The app is great in providing solutions that allow you to plan what needs to be done, organizing documents and files, assigning tasks with transparency, collaborating with teams, and much more.
The application is accessible through a web browser or on mobile devices through the ProofHub mobile app.
To find out more check out their website.
6. HeySpace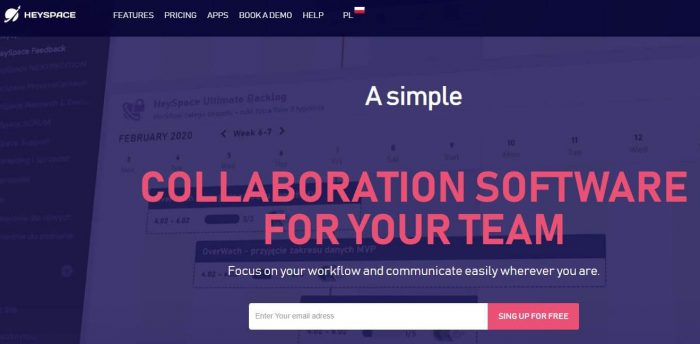 HeySpace is next up and combines task management functionalities with communication features to provide a platform where you can communicate and collaborate with ease whether that be with fellow students or colleagues and other faculty members.
The tool also comes with calendar integrations that allow you to manage workload and schedules from within the platform rather than juggling between different applications and tools.
HeySpace is available as a web, desktop, and mobile app and therefore is great if you want access to work and features on the go.
Check out HeySpace website here.
Conclusion
There you have it, our top picks for project management tools for education.
Remember to consider your budget, what integrations the tool offers, as well as the features available in the tool when choosing any software to ensure it is the right pick for you.