To have an appealing and dynamic digital presence, you need focused planning. In order to figure out the Best Project Management Software for e-commerce for your business, one must do research to identify which products should be given, how they should be presented on their websites, how to process orders, and how to keep track of current stock.
Furthermore, online marketers must target their customers through sales and advertising campaigns, give discounts and special offers, analyze online traffic trends, and create appealing content to educate their customers while enhancing SEO and conversion rates.
If you want to stay on top in this competitive market, now is the best time to explore the best project management software for e-commerce.
A large spectrum of online tools is appropriate for all types of organizations. Entrepreneurs must acknowledge the effect these technologies may have on their ability to achieve their goals. They are also heavily involved in work delegation, Communication, online meetings, analytics monitoring, sales, promotions, and other important organizational processes.
E-commerce campaigns must be carried out methodically and on schedule. Progress and available money must be documented and reported on. Milestones must be documented. Files must be transferred.
We have developed a list of 5 Best Project Management Software for e-commerce to help project managers manage e-commerce operations more effectively.
But first, if you are a startup and think that e-commerce software is only suitable for giant organizations, Think again!
---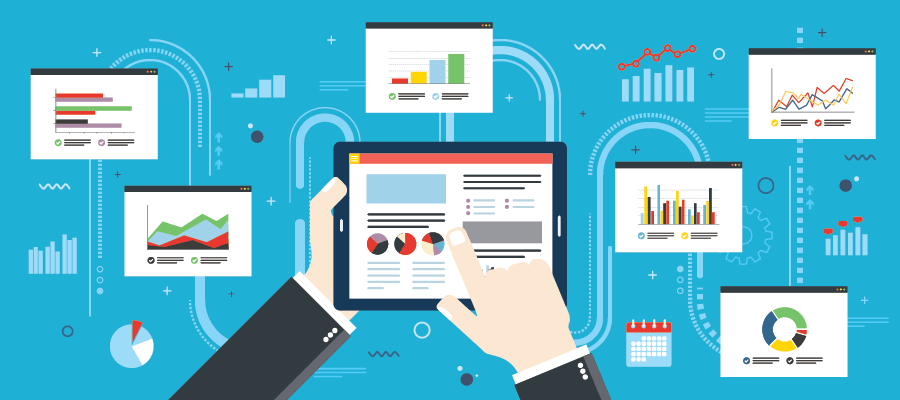 Does Your Business Need a Project Management Tool?
Definitely!
You want to be productive, efficient, and visible as an online entrepreneur. A project management tool becomes essential when your company grows and your responsibilities overwhelm you and your team.
The following are some of the benefits of implementing a project management tool in your company.
1. Reliability
Every project requires a lot of factors to be successful. A project must start with detailed planning, budgeting, and implementation. If you do not have a tool to assist you through these stages, your time will be squandered. Budgeting, planning, and estimating help will increase the precision.  A rigorous and consistent approach will also be ensured.
2. Delegating Tasks
Project management tools help in the effective and efficient division of tasks. The key responsibilities of any company must be prioritized and assigned to suitable workers. Everyone on the team must communicate, coordinate, and collaborate to ensure that all jobs are completed.
3. Time management and organization
Your team will need to hold meetings, phone chats, emails, and other types of contact from time to time. Consider how convenient it would be to have all of the communication tools you need in one place. Meetings would be easy to schedule, and reminders would be sent to remind you of each event.
4. File and document sharing
Sharing and transferring files will be much easier if you use project management software. Furthermore, because you are only using one platform, your team members will not have to compromise on data security.
5. Improves Communication
Using various project management tools, you may interact with clients, prospects, and suppliers. You can send automated messages or create a bespoke message depending on your concerns.
6. Integrations
Project management software is integrated into other apps and Software. You can do and accomplish more. This develops more networks and connections to offer your products and services successfully.
7. Informed Decision Making
Project management systems assist the organization in making more successful decisions by analyzing data, sales, and analytics. This gives you the ability to determine what should be halted or enhanced.
8. Monitoring
Project management software, as previously said, offers tracking sales, conversions, analytics, and other essential data in your firm. You can design a dashboard to see the sales flow in real time
This strategy can also be used to track statistics and website traffic.
---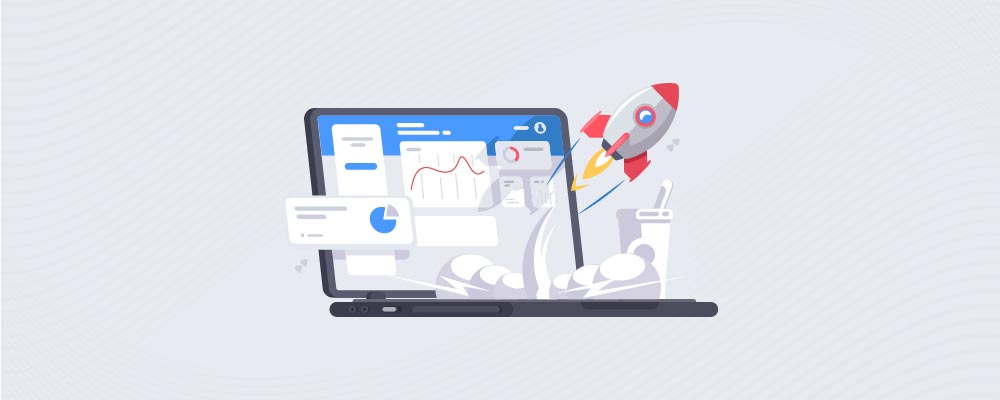 Best Project Management Software for E-commerce in 2023
The following is a list of the best project management software for e-commerce businesses.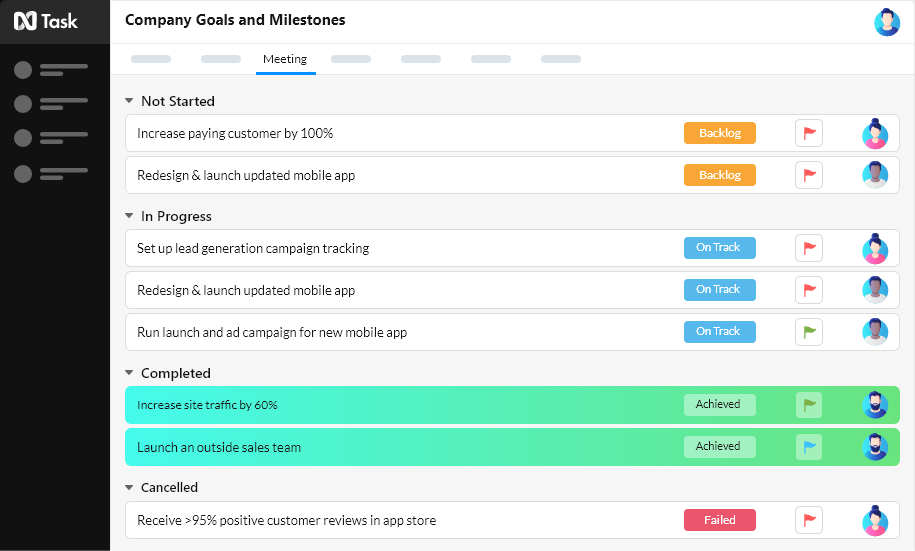 nTask is a business management tool emphasizing simple task management, problem tracking, and meeting schedules. While many apps have sophisticated interfaces and a profusion of options, nTask keeps it simple and elegant.
But here's the million-dollar question: what makes nTask a go-to tool for activity scheduling and planning in the absence of extensive expertise?
 nTask project management tool is a one-of-a-kind breed in the industry. It emphasizes aspects of the task that are typically overlooked or neglected by other tools.
Features
It allows you to assign projects, set deadlines, change statuses, and measure progress
Gannt charts demonstrate the relationships between your tasks and the entire project. This enables you to run your operations on a larger scale while yet having total control over all resources, employees, and processes
Using the nTask Gantt chart and Kanban view, define dependencies and recurring tasks. The best part is that you can do all of this with drag-and-drop, which speeds up the process.
The most striking feature of the nTask meeting organizer is the ability to attach a task to a meeting. This may aid in decision-making by making your goals more apparent and concentrated
nTask provides risk assessment tools to help with forecasting and problem resolution
nTask may also measure how much time your team spends on a certain task
Insights from timesheets are utilized for work analysis and reporting. By monitoring everyone's labor volume over a certain period, you can make key decisions concerning workload, promotions, and remuneration
Pros & Cons
Pros
Cons
-simple to use
-Meeting management
-Cost-Effective Effective Risk assessment
-Uncertain privacy policies
-Only the Enterprise plan allows for self-hosting
Pricing and Plans
nTask is one of the most affordable choices on the market.
To begin, nTask includes a valuable 14-day free trial with each bundle. You can test every feature in the premium plans without submitting your credit card information in two weeks. Does not that seem like a terrific deal?
The pricing plans are
Basic – Free
Premium – $3/user
Business – $8/user
Enterprise – Contact support
---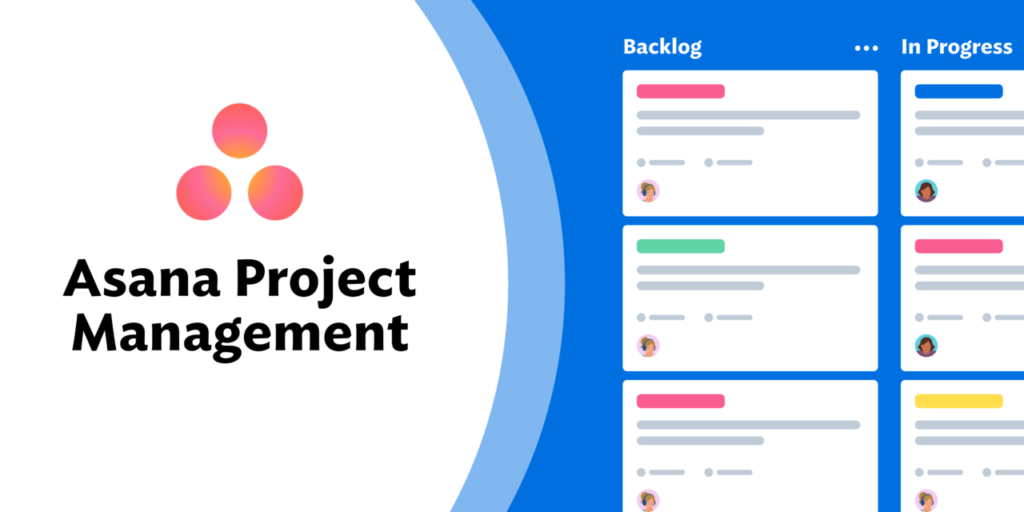 Asana is a work organization tool that includes teams, workflow, and templates. The tool deserves to be on the list of best project management software for e-commerce.
Features
You can track project progress to ensure productivity
You can use Asana's forms feature to submit and manage tasks requests
The platform is completely automated, which relieves your team of tedious administrative tasks.
Asana's project management hub will benefit the engineering, marketing, sales, and human resources departments.
It enables e-commerce employees to deliver priority help to consumers by tracking progress
They can also manage timetables and promote teamwork. When everyone can see what their teammates are up on, it eliminates loose ends in logistics and chain coordination
Asana features over 60 marketing, operations, design, product, sales, customer success, engineering, human resources, and information technology templates
It also integrates with over 20 other apps, including Vimeo, Microsoft Teams, Zoom, Jira Cloud, and Slack
Pros & Cons
Pros
Cons
-The assignment feature holds everyone accountable
-project management
-Previous and necessary action items are depicted on the Gantt chart. When there is a delay, you can see how it affects the project's progress
-no way to track or export time
-It takes time and must be done individually rather than as a group to add a team to a project portfolio
Pricing Plans
While it is unknown how many team members can use each category on Asana's pricing webpage, below are the price tiers:
free
Business: $30.49/month
Business: $30.49/month
Enterprise: For more information, please contact Asana sales
---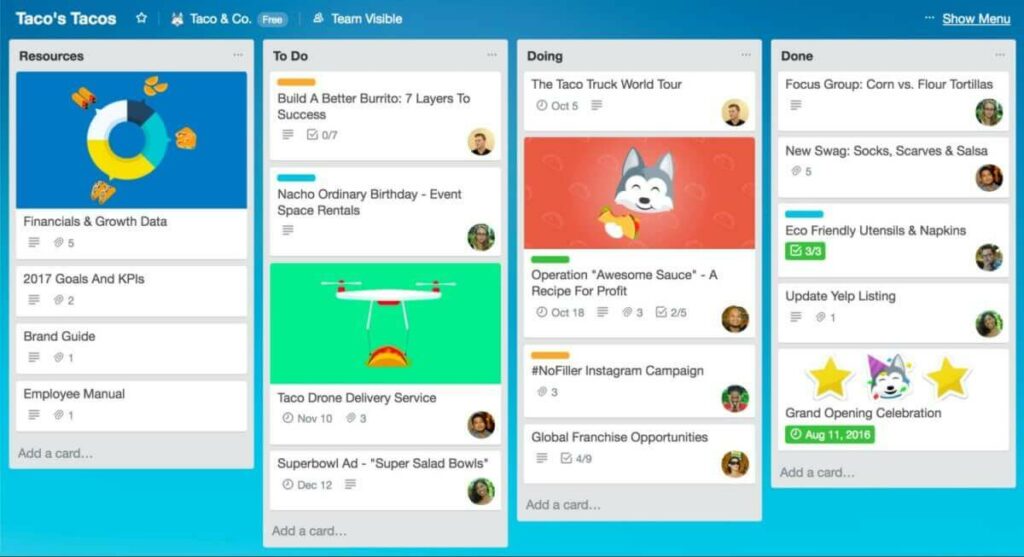 Trello is a well-known, simple, and easy-to-use collaboration software that organizes projects and everything linked with them into boards. Trello helps you to find
What exactly are you working on?
Who is working on which projects?
How far has the project progressed?
Trello's primary selling point is its simplicity, which makes it easy to sign up customer service and marketing teams. Trello, on the other hand, may be limited to simple tasks. This may not be the best tool for more complex and large projects that require managers to look at more data.
Features
Trello manages projects through boards, cards, and lists.
Subtasks inside a card can be created using checklists.
Tasks can be given to several members to notify them of any card changes.
An activity log keeps the team up to date.
Attachments provide optimal resource organization.
Butler, its built-in automation, reduces the number of repetitive tasks by using automation
Trello integrates with Confluence, Slack, Dropbox, Evernote, and Google Drive
Pros & Cons
Pros
Cons
-Provides Responsive Web Design
-Trello's pricing structure is fair and easy to understand
-Trello is always at the top of your notifications, ensuring that you never miss an important task
-Boards and cards allow for real-time updating
-Trello has an issue with data access
-Attachments can only be up to 250MB in size per upload
Despite these limitations, it remains an excellent project management software for e-commerce.
Pricing Plans
Free
Standard- $5/user
Premium- $10/user
Enterprise -$17.50/user
---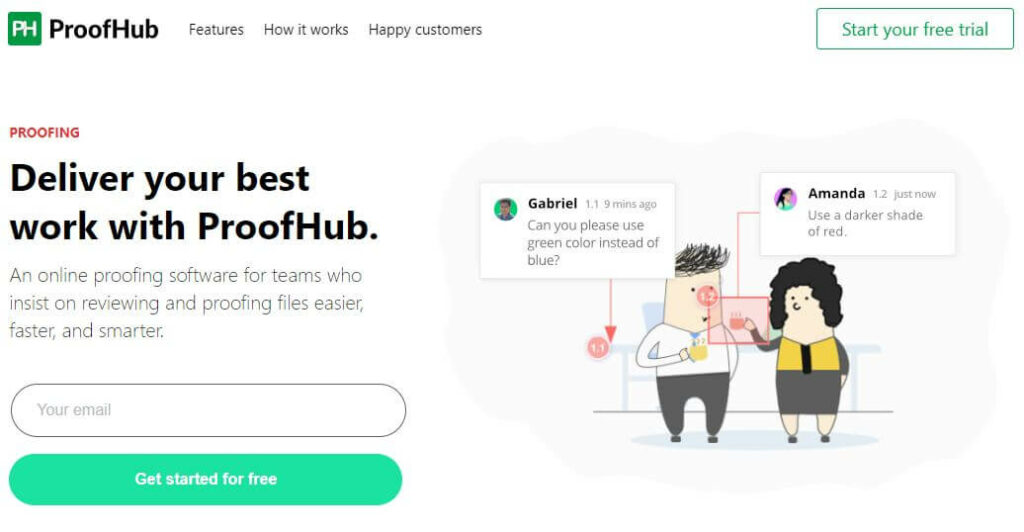 ProofHub is an all-in-one company management software that helps organizations assemble their work and keep it all in one place. It is a centralized platform that allows teams to filter through the noise and comprehend their everyday tasks easily.
Managers in eCommerce and customer support can control who has access to what data by using Proof Hub's custom roles, private task lists, and restricted IP, which allows you to check IP addresses and only allow in traffic that you trust.
Features
The task management section will create, manage, and monitor project tasks.
You can hold real-time talks with your team members and classify them in the ProofHub chats area
You can also use ProofHub's built-in chat feature to connect with your team members in real-time 
The ProofHub timer is a time management tool that tracks how much time you spend on each task
proofHub is an excellent file storage system that handles file copying, versioning, and organization all in one location
Every business owner wants to know what their employees are up to daily without micromanaging or meddling. ProofHub makes it simple to keep track of your team's daily activities and progress
Pros & Cons
Pros
Cons
 -provides users with outstanding planning and collaboration, making it a one-stop shop
-allocate tasks, conduct meetings, and communicate with your team on mobile
-can handle several projects, making management simple
-No budgeting feature
-Recurring tasks are not possible
Pricing Plans
FREE
ULTIMATE CONTROL -$89/month
ESSENTIAL-$45/month
---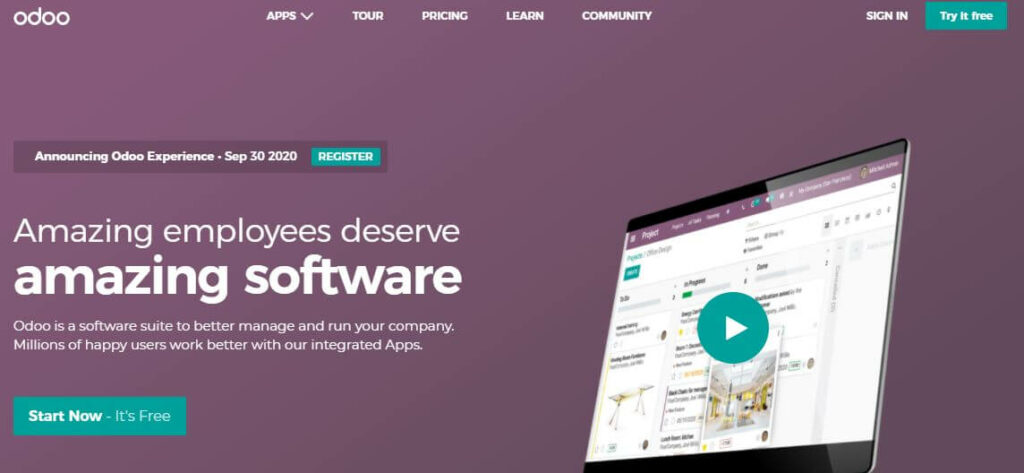 Last on our list of the 5 best project management tools for e-commerce is Odoo. It offers several business applications that combine to provide a complete enterprise management software suite. CRM, eCommerce trends, accounting, inventory, sales, and project management are all supported. 
Odoo apps integrate easily, allowing you to automate your business tasks fully.
Features
strong technological foundations
Dashboards may help you gain a quick overview of your business
Real-time Communication promotes better teamwork
Efficient project accounting, timesheet management, and cost management
Pros & Cons
Pros
Cons
-Cost-effective ERP support
-electronic signatures to improve a company's sales processes
-Streamline and integrate technologies in the workplace.
-Complicated interface
-Pricing plans can be confusing
-Support has a limited scope.
Pricing
The Odoo Community edition is free.
The Odoo Enterprise version costs $20/user/month (annual billing) or $25/user/month
---
Which e-Commerce Software should you choose?
An efficient e-commerce software not only assists you in developing your skills but also assists you in balancing many of your business activities.
When it comes to dealing with project volatility, modern project tools are a manager's best friend. After all, everyone wants a more successful company and happier employees, which can only be attained via good management.
We hope our list of the 5 best project management tools for e-commerce will help you to choose the best option for your team and get started on achieving your goals more effectively.