In today's ever-changing world, staying on top of tasks and projects can be a challenge.
Fortunately, with the advent of online timesheets software, it's now easier than ever to stay organized and keep track of your team's productivity. 
Timesheets software makes it easy to track hours worked, assign tasks, and monitor progress.
In this post, we'll review the 6 best online timesheets software available on the market today and rank them based on features, usability, customer service, and cost. 
This will help you choose the right timesheets software for your team so that you can make an informed decision. 
So if you're looking for an efficient and easy-to-use timesheets software to keep track of your team's hours, read on to find out which one is right for you!
Importance of timesheet tools
Here are 5 reasons why using an online timesheet solution for your business can benefit both employers and employees:
1. Streamline Payroll – Traditional methods require manual data entry which takes longer to process than digital solutions.
This can cause delays in payments, creating problems for employers who need accurate records of their team's employment status (such as vacation days taken) quickly so that payroll processing runs smoothly every pay cycle.
Timesheet management software allows you to automatically capture your employees' attendance data. 
This reduces the amount of paperwork required, minimizes errors associated with manual entry, and eliminates cumbersome end-of-month reconciliation processes associated with traditional methods.
2. Improve Productivity – Manual timesheets tend to distract from work by taking away focus from actual job tasks while they're being filled out.
Timesheet tools eliminate this issue as they make it easy for staff to record their hours. This not only improves accuracy but also allows better utilization of resources.
3. Track Overtime – Employers should keep track of overtime worked so that it does not exceed company regulations concerning the maximum number of hours per day or week allowed without additional compensation.
This helps ensure compliance with minimum wage laws across jurisdictions where relevant legislation applies.
Employer will be aware exactly how many hours were worked when calculating necessary payment adjustments etc., thus avoiding potential fines due to noncompliance
In addition, employees get paid justly for every extra hour clocked in
4. Enhance Communication – Online timesheets provide transparency between employer and employee making communication easier over matters such as requesting leave off, and submitting timecard adjustments.
This makes sure there aren't any ambiguities over respective rights & responsibilities held between both parties when it comes to addressing issues related to employee attendance & remuneration.
As well, leaving management options open via such platforms enables higher levels of engagement among different teams involved in projects
5. Make Expense Tracking Easier – An integrated expense management module within an online timesheet software allows users easily upload receipts and expenses directly into the system along with details such as the date purchased item was bought& its cost ensuring all expenses are tracked effectively
The same module then sorts them categorically which comes with two-fold benefits :
Firstly, the cost factor may be centrally managed, allowing organizations to track entire spending trends.

Secondly, being able to increase the authenticity and reliability of reports given to internal/external stakeholders greatly expands total reporting possibilities!
6 Best Online Timesheets Software In 2023
We evaluated and compared the top time-tracking software out there, based on reviews and user interfaces, we have listed down a bunch of tools that make them unique:
Let's get started …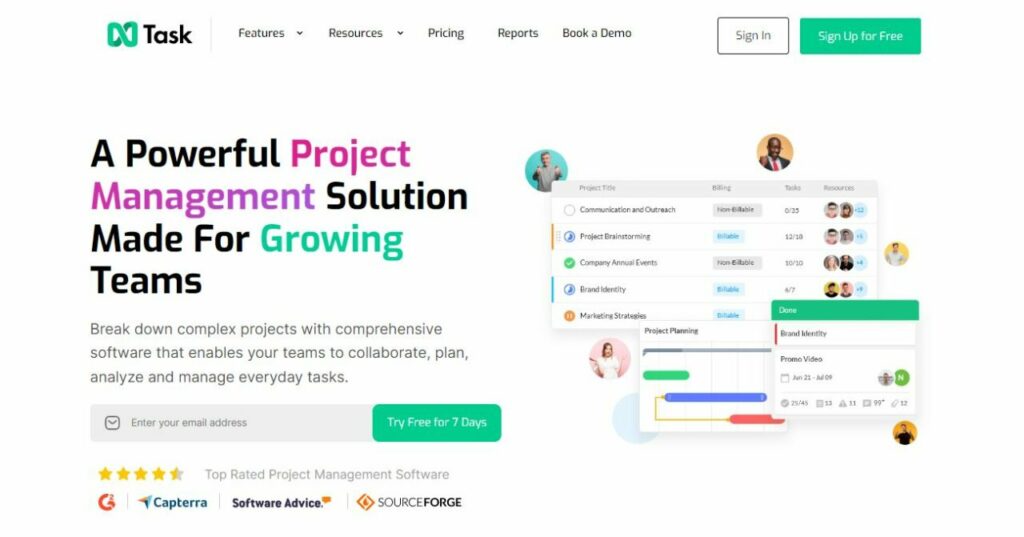 nTask is an advanced timesheet tool that makes it easy to track and manage employee time.
It provides businesses with a comprehensive view of their team's working hours and allows managers to easily adjust timesheets in real-time without having to manually enter data.
With its intuitive user interface, powerful reporting capabilities, and automated reminders for upcoming tasks, nTask is an ideal choice for businesses of all sizes. It also offers customized reports that can be used to gauge team performance and measure productivity.
Additionally, the software integrates seamlessly with other popular tools such as Slack and Google Calendar. This makes it easy for teams to stay on top of their workloads without having to switch between multiple platforms.
Overall, nTask is a great timesheet tool that can help businesses get organized and stay productive.
Top Features
With ntask, you can easily track and manage your time for any project or task.
You can keep an accurate record of your working hours and project

It generates detailed reports that make it easy for both employees and employers to monitor productivity levels in real-time
This means that tasks never slip through the cracks and no time is wasted on manual data entry or calculations.
ntask also allows you to set goals, create project milestones, assign tasks to team members, and manage deadlines from one place

You'll always have a clear picture of what each individual is doing at any given time – all in one convenient platform
the platform also integrates with popular collaboration tools like Slack so everyone stays up-to-date on progress updates all day long
All this information is securely stored in the cloud which makes it easy to access anytime, anywhere – perfect if multiple people need access or you work remotely
So if you're looking for a timesheet software that makes it easier than ever before to track work hours, plan projects ahead of time, assign & delegate tasks quickly while communicating better
What's interesting about this tool
nTask for time tracking software has gained precedence over other tools in the market because it offers a comprehensive solution for managing and tracking projects, tasks, and time spent.
The timesheet tool is designed to make project management easier.
It provides features such as task planning, scheduling, assigning roles to team members, tracking hours worked on each task, monitoring progress, and generating reports.
These features give users the ability to better understand where their resources are being used and how they can become more efficient when completing tasks. 
The user interface of nTask also helps give it an edge over other online timesheets software tool since it is intuitive and provides an easy way for users to manage their data. It runs on both mobile app platforms (Android & iOS) so users can easily access their data from any device at any time.
Additionally, NTask allows its users to customize fields according to their particular needs with no coding required.
Simplify project management
with nTask today!
Pricing
Free
Premium – $3
Business – $8
Enterprise – Contact Support
2. SCORO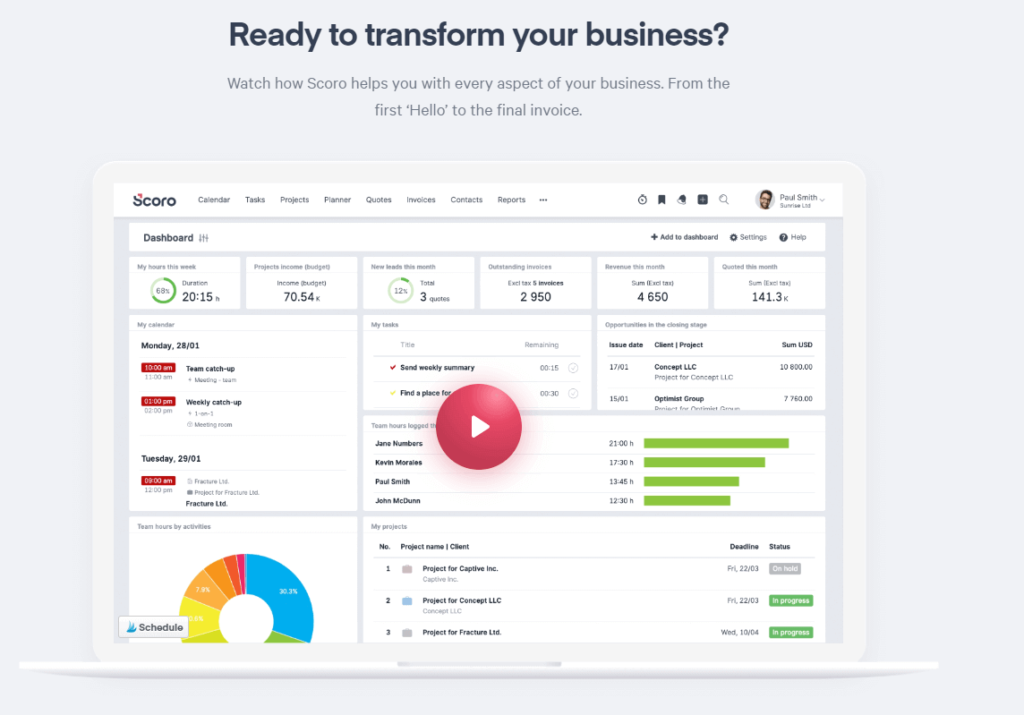 Top Features
The main features of Scoro include: 
Time Tracking: Users can easily create projects and set deadlines to optimize their workflow.
Additionally, they can set up automated reminders for themselves so that they don't miss any important tasks or deadlines. In addition to this, Scoro offers various analytics tools which allow users to get actionable insights into how much time is being spent on each project or task.
Collaboration: Through the collaborative workspace feature offered by Scoro, it becomes easier for teams or individuals who are working remotely on a project to stay in sync with each other's progress.
This helps improve efficiency through a centralized platform to which everyone involved has access.
Billing & Reporting: With integrated invoicing, this online timesheet software generates accurate invoices whenever necessary.
Moreover, it also keeps track of payments due from clients or customers conveniently.
All the reports generated by this tool are customizable as well as exportable which makes them even more useful while making decisions related to business operations.
What's interesting about this tool
Scoro time tracking software has become one of the leading timesheet management softwares. It is suitable for a variety of tasks, from detailed project management to invoicing and reporting.
Its robust data analysis and insights capabilities deliver powerful business analytics that can help facilitate improved productivity across teams.
Additionally, its modern design makes it easy for users to learn how to use it quickly with minimal training needs.
The ability to streamline workflows through automated processes such as assigning tasks, setting reminders, and tracking progress is another factor why SCORO is so popular with users as a robust online timesheets software. 
The cloud-based platform allows businesses of all sizes to access their data from any device or location in real time. Plus, its budget-friendly pricing options make it attractive for small businesses that may not have large IT budgets but need a sophisticated tool nonetheless.
Pricing
Free
Essential – $26
Pro – $37
Ultimate – $63
3. BEEBOLE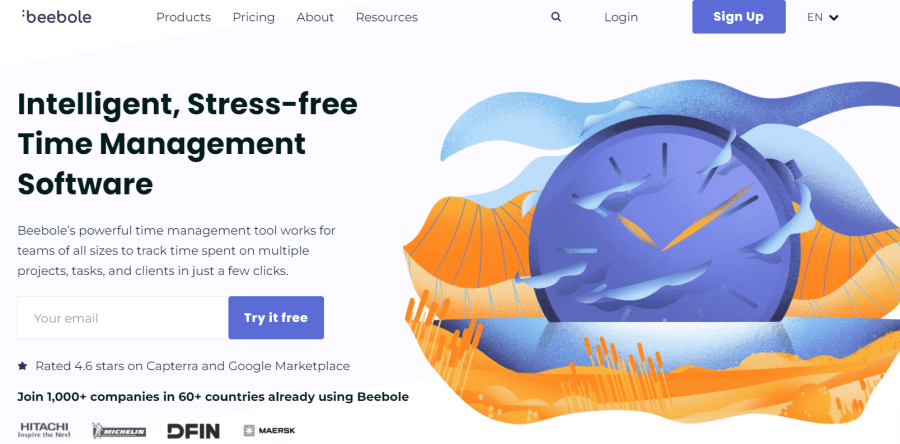 Top Features
The main features provided by BeeBole include:
Time tracking: BeeBole allows users to track their working hours, either manually or automatically, by using a timer or a timesheet.
Project management: Users can create and manage projects, set budgets, and assign tasks to team members. They can also view project progress and generate reports.
Resource management: BeeBole enables users to track the availability and utilization of resources, such as equipment and personnel, to ensure optimal resource allocation.
Customizable reports: Users can generate detailed reports on time spent, projects, and resources, and customize them to suit their needs.
Invoicing: The online timesheets software allows users to generate invoices based on the time spent on projects and billable rates.
Integration: BeeBole can be integrated with other software and tools such as Slack, Trello, and QuickBooks, making it easier to manage time and resources.
Mobile app: As one of the best online timesheets software, this tool has a mobile app that enables users to track time on-the-go, view their schedules, and access reports.
What's interesting about this tool
Beebole for time tracking software has gained precedence over other tools in the market for several reasons.
Firstly, Beebole offers powerful scheduling and reporting features that allow teams to manage their work quickly and efficiently.
Another reason why Beebole is considered a great tool for managing time tracking is its integration with many popular applications (such as Asana, Jira, and Slack) that enable seamless transfer of data. This can be done between different external databases or systems without manual re-entry – saving precious time.
Furthermore, deep insight into performance trends enables users to better plan future projects – there's no need for manual data processing or storage solutions. This helps eliminate administrative costs associated with alternative timesheet software.
It provides an all-in-one solution that makes it easy to keep track of progress on various tasks within an organization.
This saves considerable amounts of time in addition to reducing labor costs associated with manual data entry processes thus making it an economical choice in a competitive marketplace!
Pricing
Contact their support team.
4.HARVEST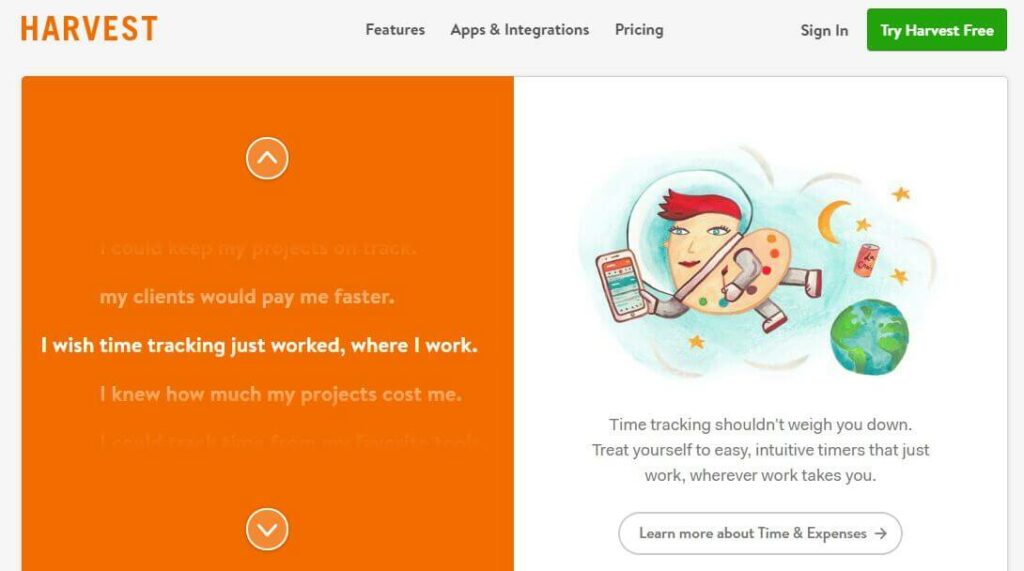 Top Features
Up next on our online timesheets software recommendations list, we've got Harvest. The main features provided by Harvest include: 
Visual Time Tracking: Users can quickly log their hours as soon as they start or complete work on a task or project.
Intuitive visuals that make it simple to accurately capture how much time was dedicated to various tasks.
Accurate Reporting: The app automatically consolidates data from all logged hours into comprehensive reports for both individual team members and teams.
This way, managers can easily evaluate how productive employees have been over any given timeframe.
Flexible Timers: When logging entries, users have the option of using multiple timers that allow them to switch between different activities throughout the day without having to manually update every entry each time there's a change in task.
Detailed Notes & History Viewer: Comprehensive notes associated with logged entries allow users and managers alike an opportunity to better understand why certain tasks took more (or less) than expected amounts of time.
It gives everyone involved insight into what improvements could be made going forward in order better meet deadlines and objectives.
Invoice Generation & Billable Hours Tracking: Managers also have access to view and export bills that take into account billable hours worked by all employees.
This makes billing clients easier than ever before!
Overall, this online timesheets software provides an easy-to-use yet powerful experience when it comes to tracking employee working times – allowing businesses greater control over internal processes such as invoicing customers for services rendered or making sure employees are being paid fairly based on how many billable hours were worked during specific periods
What's interesting about this tool
Harvest makes it easy for users to track their time by providing a simple, intuitive interface that allows them to quickly enter data and view important information about their work.
This tool features timers, project tracking, invoicing, and reporting capabilities which enable users to more easily manage their projects.
The platform also integrates with popular third-party services allowing users to access important information within one dashboard.
Moving on, Harvest is known for its customizable plans that fit any budget. The service also provides customers with excellent support via email or live chat which helps ensure that issues are addressed quickly and efficiently.
Pricing
Free
Pro – $10.80
5. TOGGL 

Top Features
The main features of Toggl include:
Time-tracking – Set a timer whenever you work on a task and let Toggl handle the rest. It will automatically calculate your total hours worked for that project/task. 
Detailed Reporting – Generate reports with visualized data showing where your time has been spent – this can help make better decisions when planning future projects or tasks.
Integration – Integrate with several popular platforms like Slack and Trello to ensure seamless communication between teams and coworkers.
Budget Tracking – You can plan for upcoming projects by setting budgets for each one accordingly; this makes it easier to determine what resources are needed to stay within budget limits.
Multiple Users & Teams – Invite team members so everybody involved can log their progress; collaborate with multiple users as well as add comments directly to any project/task to keep everyone updated with the latest work done or changes made.
By using these various features combined, this online timesheets software helps to increase productivity levels while giving users greater insights into their performance over periods too!
What's interesting about this tool
Toggl is a popular time-tracking software that offers an easy-to-use solution for tracking and managing employee time.
It is designed to help organizations improve productivity, reduce project costs, and streamline billing processes.
The user interface of Toggl is highly intuitive which makes it easy to use even for those with limited technical knowledge or experience.
This allows users to quickly log their timesheets without having to learn complex commands or commands related to specific third-party applications.
Data stored online access can be given out easily where privileged users can view real-time updates on their assigned tasks as well as monitor overall progress on certain projects from multiple departments/teams within one click
Pricing
Free
Starter – $9
Premium -$18
Enterprise – Contact Support
6. AVAZA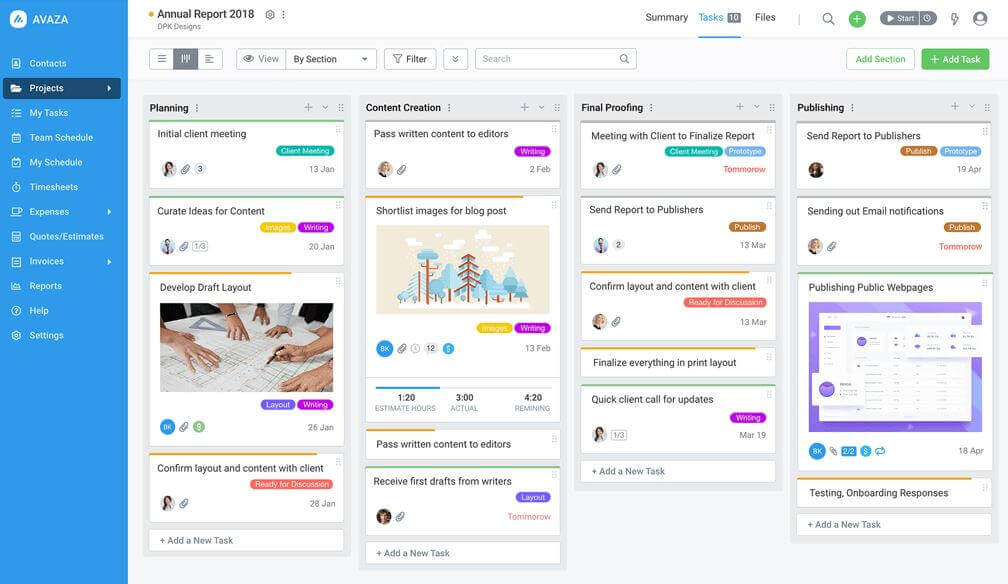 Top Features
Time tracking in a robust online timesheets software, such as AVAZA, offers an array of features such as:
Create timesheets: Users can create monthly, weekly, or daily timesheets directly within AVAZA, saving them the hassle of creating and managing multiple sheets manually.
They simply fill out a form with start/end dates and tasks they have completed.
Monitor progress: This helps users monitor their work progress over any period—allowing them to check whether they are within budget and timeline constraints.
The feature also generates reports which help them identify areas where efficiencies can be made in terms of effort.
Capture all hours worked: This includes logging inputs from mobile devices so teams can accurately capture all hours worked – no matter where they are working; from home or on-site at the office.
The data captured by this feature is programmed into easily understandable dashboards and graphs, allowing managers to gain insight into how efficiently their projects are running.
Set billable rates: Users can set different billable rates for each task/project category. For example, setting higher hourly rates when working on complex projects than basic tasks like data entry or customer service inquiries, etc. All calculations will be automated based on user-inputted information saving time wasted calculating manually! 
Export reports quickly & easily: This enables team members(or managers) to export reports in either Excel or PDF format quickly. This provides a snapshot of your work done & what has been billed so far.
This further allows you to stay one step ahead when doing invoicing & billing clients.
What's interesting about this tool
AVAZA for time tracking is one of the top solutions for businesses looking to improve their task tracking and project management.
With AVAZA, teams can easily collaborate across multiple projects in real time and gain visibility into what's happening across their organization. One of the biggest advantages of AVAZA is its intuitive design. it's easy to understand how to use the system quickly.
It also has powerful automation tools that make it easier to set up tasks and schedules, as well as keep track of progress on projects.
The time tracking tool has integrations that allow you to connect with other popular business applications like QuickBooks, Slack, Asana, Trello, and more. 
Pricing
Free
Startup -$11.39
Basic -$23.95
Business -$47.95
Conclusion
Online timesheets software can be a valuable tool for businesses and individuals who want to track their time more efficiently and accurately.
They can help improve productivity, streamline project management, and facilitate billing and invoicing processes. Many such programs offer customizable features, such as automatic reminders, project tracking, and invoicing integration, which can help users tailor the software to their specific needs.
To sum it all up, we'd say that in the right hands, these, or any other online timesheets software tools of your choice can be a great asset for businesses of all sizes and industries. However, it's important to do your research and choose a reputable online timesheets software provider that meets your specific requirements and preferences.