Notion is an incredible tool that you can use to simplify your note-taking processes and handle your tasks while taking care of your database processes.
This application is so incredibly versatile and productive that you are going to have a hard time replacing it with something else. But as with everything in the software market, there is always some other tool that is going to fulfill your needs and requirements more perfectly.
That's why, in this article, we are going to talk about some of the best applications on the market that you can use as a Notion alternative, and take care of those notes and databases more effectively and easily.
19 Best Notion Alternatives to Use in 2022
Here are some of the applications that we are going to talk about in this article.
Table of Contents
Best Notion Alternatives for 2022
Let's take a look at all of them in detail and find out how they are different and more useful than Notion.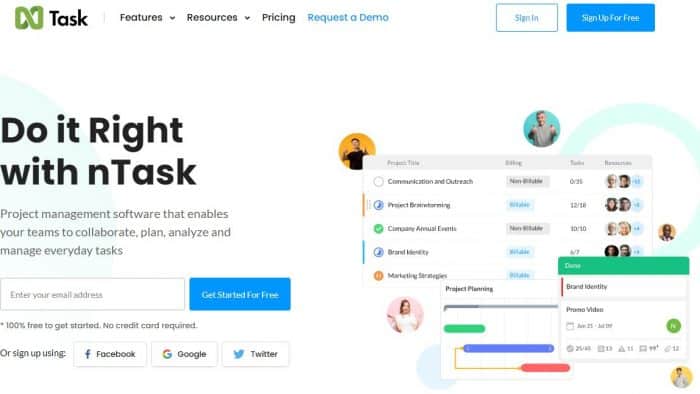 Being an amazing project management software and one of the best task management applications that you can find on the market, nTask has everything that you need in a Notion alternative.
The application is an amazing tool that allows you to gather information about the project you are working on in the designated comment section for every task and project, and also you can use it to manage the data connected to your project, all in a single interface.
Key Features
Task color codes
Meeting agendas
2FA
File attachments
Project cloning
Activity management
Project planning and management
Pricing
Basic free plan
14-day free trial for Premium and Business plan
The paid subscription of the application starts at $3/month
Use The Best Notion Alternative for Free.

Manage all your tasks, projects, team collaboration and more in one place. Sign up today!
2. Coda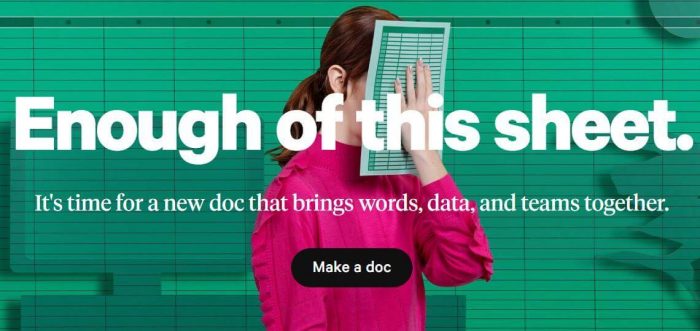 Another incredible Notion alternative that allows you to take control of the whole bulk of docs related to your project easier than you need to check out Coda.
The application is a highly proficient word-processing, database management, and spreadsheet creation tool that enables you to take control of your project and tasks with fairly good results.
Key Features
API
Alerts / Escalation
Approval Process Control
Automatic Notifications
Brainstorming
Collaboration Tools
Collaborative Review
Collaborative Workspace
Commenting
Configurable Workflow
Customizable Templates
Document Automation
Pricing
There is a free trial of the software available if you want to check out the software before making a subscription purchase
The paid subscription to the software starts at $10/per month
3. Nuclino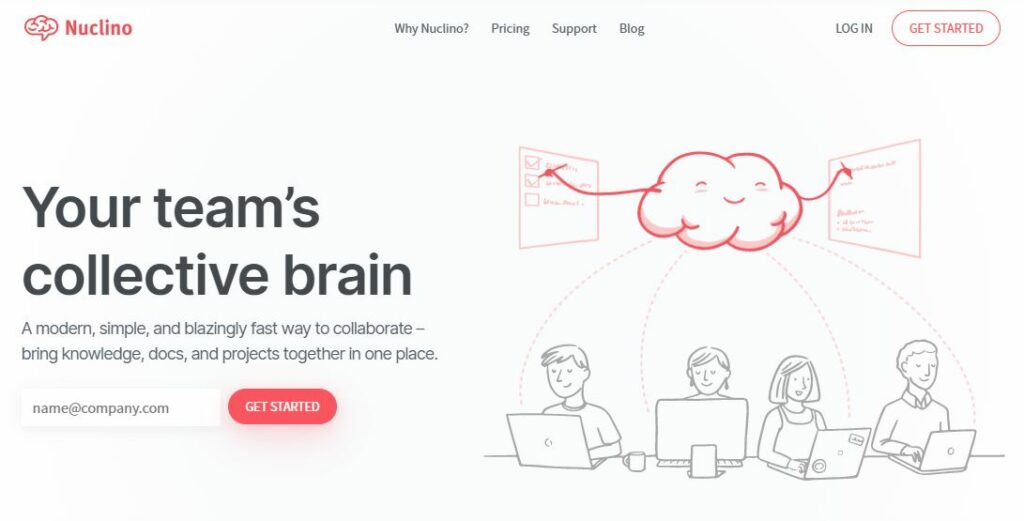 Nuclino is a great option for those looking for a more lightweight, fast, and easy-to-use alternative to Notion. Nuclino focuses on the essentials, such as search, content organization, and collaborative editing, and doing away with the clunky menus and rarely-used features.
The interface of Nuclino is clean, intuitive, and distraction-free. The initial setup is quick and easy, with virtually no learning curve for new users.
Key Features
Real-time collaboration
List, Board, and Graph views
Task assignments
Markdown commands
Drag-and-drop editor
Comments and @-mentions
Version history
Access rights management
API
Integrations with 40+ apps, including Slack, Google Drive, and Figma
Pricing
Basic free plan
Paid subscriptions start from $5 per user, per month
4. Joplin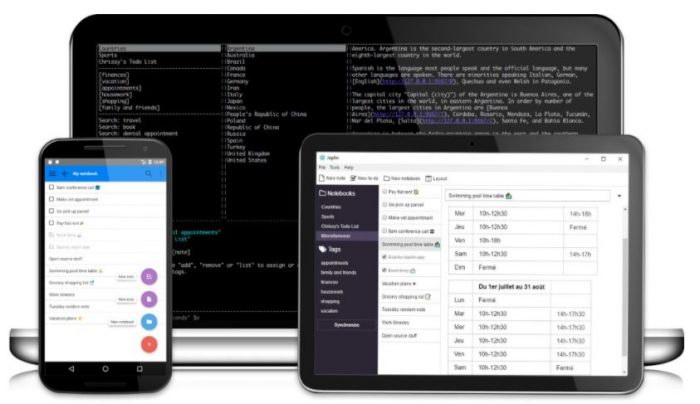 Another great example of a Notion alternative that can help you gather information via notes and easily manage all of the tasks related to your project is Joplin.
One drawback of this application is that it is not as feature-packed as Notion and some of the other applications in this list, but it does have some cool features that help you to create notes and manage your tasks pretty easily.
Key Features
End-to-End encryption to keep your data protected and secured from any harmful entities
The software supports a lot of plugins that help you to hook this application with some other professional applications that you use daily
You can easily import data from Evernote
Integration with NextCloud
Integration with WebDAV
Integration with OneDrive
Pricing
This incredible application is open-source and completely free of cost
5. Tettra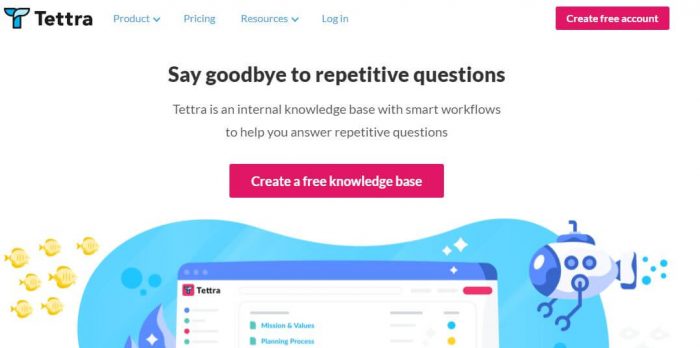 One of the most powerful Notion alternatives that you will find on the app market is Tettra. The application is an incredible knowledge management system that can replace Notion for you and maybe help you even more than its famed rival.
The application provides incredible support for smart workflows and provides you with the ability to quickly answer different questions of the new and old team members.
Key Features
Single sign-on with Slack
Slack integration
Securely hosted
Page requests
Automatic table of content
Easy to use editor
Markdown support
Slack notification
Share and search pages on slack
Internal page linking
Pricing
There is a free trial of the software available to use if you want to check out the software before making a purchase
The paid subscription of the application starts at $50/month
6. Evernote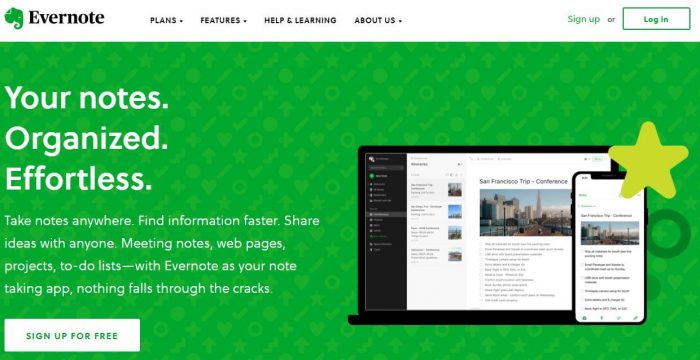 When it comes to data management and note-taking, we all know that Evernote is the king. It is an incredible Notion alternative that allows you to input data and other forms of content very easily into a single interface so that you can work on your projects and tasks easily with all of the data at hand.
Key Features
Mobile and Web interface
Web clipper browser extensions
Geolocation
Save online resources in one place
Save favorite webpages
Evernote Clearly for clearing web content
Annotation and markup
Other products include Skitch and Penultimate
Pricing
There is a free trial of the software available to use if you want to check out the application before making a subscription purchase
The paid subscription of the application starts at $3.99/month
7. Microsoft OneNote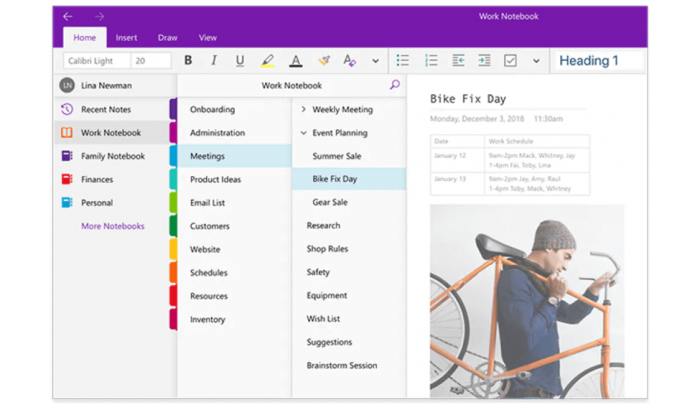 One another example of a great note-taking application is Microsoft OneNote. The application is designed to allow all sorts of users to sync, create and store all sorts of ideas and notes through all of the different mobile devices that you use daily.
It is more like an organized storage place for your data, information, research, and other notes.
Microsoft OneNote is a freeform storage app where you can save your data in the form of clips, drawings, images, and texts. You can keep the storage to yourself or share it with others.
Keep your data in this digital notebook to take all your notes. The app has cross-functional uses so you can sync and share your notes with other devices as well.
Let's take a look at some of the features that this application has to offer.
Key Features
Page Templates so that you don't waste time creating an interface for similar projects every single time
Quick Notes to help you store any and every information that you want to be saved at any time of the day
Custom Tags to help you differentiate between the different types of information that you input into the application throughout the day
Quick Access Toolbar to help you access just the right features at the right moment and not go through all of the features before you find your desired one, every single time
The division into pages and sections would help you to be more organized in your work
The division will also assist you to navigate easily
Search your notes wherever you left them with Quick Access Toolbar
With syncing and sharing, you can gather ideas to work them better
Annotate your notes with your finger or a stylus
Revision of notes becomes easier and quicker
You can also highlight the important notes
With the option of mixing media, sharing audio, and video notes
Use web-clipper to save your notes with just a single click
Pricing
Microsoft 365 family – $9.99 per month
Microsoft 365 personal – $6.99 per month
One-time purchase for PC and Mac is for $149.99
8. ClickUp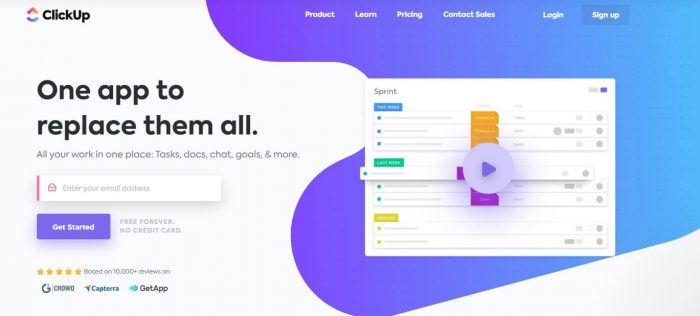 ClickUp is one of the highest-rated project management tools that small and large teams across different industries turn to for a powerful work management solution. Some of ClickUp's key assets are its customization abilities and feature-rich user experience. Manage and prioritize your workload, monitor project updates, and collaborate with the team, no matter what project style you use.
ClickUp packs all the power of Notion's features and takes them a step further with a scalable architecture and attractive UI. Make your writing stand out in ClickUp Docs with headers, tables, color highlights, lists, bullets, code blocks, markups, and more. Create your own visual hierarchy with nested pages in ClickUp Docs and use collaborative detection to edit with multiple team members. ClickUp offers hundreds of features in one place and integrates with over 1,000 other tools so you'll never miss a beat.
Features
Organizational Hierarchy
Subtasks and nested checklists
Powerful ClickUp Chrome Extension
Live-edit and nest pages in ClickUp Docs
Assign, edit and tag comments
Add Custom Fields to tasks, Lists, and Folders
Robust filtering features
15+ views including Gantt, Board, and Mind Maps
Set Goals and Targets
Milestones feature
Easily import data virtually anywhere
Over 1,000 integrations
Pricing
Add unlimited members and tasks and get 1,000 MB of storage with the Free Forever Plan
Get access to more advanced features with paid plans starting at $5
9. Confluence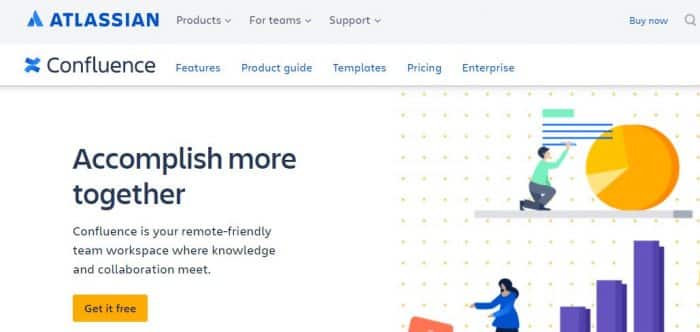 Another amazing Notion alternative that you can use in 2021 is Confluence. The application is a shared workspace that allows you to create and manage all of the tasks and processes that your team performs as a part of the project development process.
The application is an open and collaborative software that helps your team and company to do bigger and better things, and that usually happens when the application helps to improve your productivity in such a way that you and your team get more effective and result-oriented.
Let's take a look at some of the features that Confluence has to offer to its clientele.
Key Features
Communication management
Email integration
Full-text search
Permission management
Team calendars
Collaborative workspace
Content management
Document storage
File management
Outlook integration
Project plans
Pricing
Confluence offers a free trial if you want to check it out without paying any money
The paid plans of this amazing application start at $5/month
10. Quip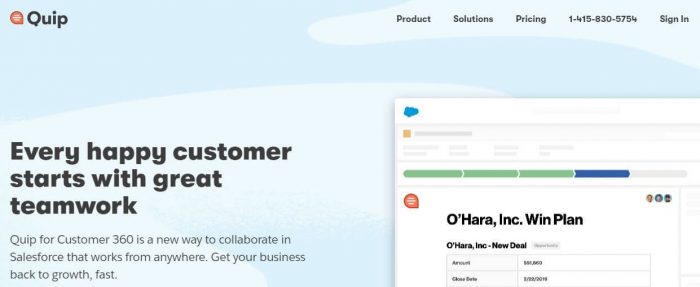 Quip is an incredible team collaboration tool that allows you to combine all of the information regarding your overall project or your project development process, in the shape of documents and a spreadsheet.
This information helps your teams to achieve the goals and milestones of the company easily. The application also allows users to create and edit documents right in the interface, and also helps to find some text in the interface quickly, through the search functionality.
Let's take a look at some other features that Quip has to offer to its clientele.
Key Features
Brainstorming
Change management
Collaborative review
Communication management
Document review
Document tracking
Notifications
Calendar management
Document revision history
Collaborative workspace
Data synchronization
Document storage
Pricing
Quip offers a free trial if you want to check out the software before making a purchase
The paid plans of this exceptional application start at $30/per month
11. Nimbus Note

Nimbus Note is another note-taking app that is used by more than a million professionals around the world. This versatile application is super easy to use and is highly versatile.
The application is available on all known platforms and devices to help you get easy access. You can open your saved data anywhere anytime with just a click.
The software is more like a platform where you can gather and save all your information from multiple sources. Thus, the app is making your work more organized with databases, tables, and spreadsheets. Moreover, you can clip everything and can annotate the important points to help yourself during a meeting, etc.
Key Features:
An organizational console will help you manage your team's work and client's information under one roof
Structuring is another key feature that assists you in keeping your work more professional. You can divide and manage your workspace
There are many tools in the application that will assist your work. There are public pages that can be accessed easily by the public if you have customized your branding.
You can set privacy controls
Import your data anywhere anytime
Nimbus Note will make your collaboration smoother and more easy-going.
The application is not a hostage to your data. You have all the autonomy over your information.
Pricing:
Pro package – $4 per month annually and $5 for just a month
Business plan – $6 per month per user annually and $7 a month
12. Slab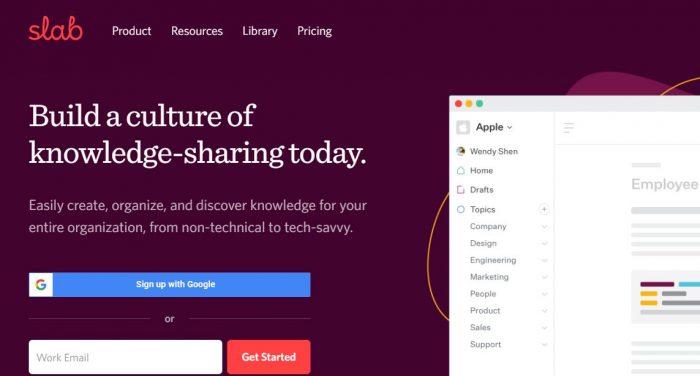 Slab is another efficient note-taking software that will help you in organizing your data to make your workflow smoother and easier than before. The app is designed to build and maintain a knowledge-sharing culture.
Slab will make you find data and other knowledgeable stuff with such ease and comfort that your workload will be compensated. With the app, your data is more centralized and well-formatted.
Key Features:
Modern editing features let you work without having to make formatting efforts
Your content will look presentable by default.
Structuring and organizational tools will help your teammates in easy browsing.
Search options in Slab will get you the most relevant answers as the software will collect information from your saved content and other integrated tools.
Integration is another beneficial tool to maintain your work with utmost efficiency.
Pricing:
Startup plan – $6.67 per month annually and $8 monthly
Business plan – $12.50 per month annually and $15 monthly
Enterprise plan – Contact for enterprise pricing details
13. ProofHub

ProofHub is one of the most user-friendly and feature-rich project management and team collaboration software available today. One of the most potent alternatives to Notion, ProofHub allows users to plan, organize, execute, collaborate on and deliver projects of any size within set deadlines. With ProofHub, you do not need to use multiple apps to manage your work as you get a wide range of advanced tools in a centralized location.
You can use ProofHub on any device, from any location. A simple learning curve, an intuitive interface make it a delight to use for users. Unlike Notion, which is primarily a note-taking app, ProofHub offers a comprehensive solution to all your project management needs. Fixed pricing plans are light on your pocket and an excellent customer support service will make sure all your queries are answered in the most professional manner possible.
Key Features
Online proofing
Table view
Custom fields
Group chat
Task management
Time tracking
Real-time updates
Scheduling calendar
Discussions
Reports
Pricing
A Free 14-day trial
The Ultimate Control plan is priced at $89, per month, billed annually.
Related:
Evernote vs OneNote – Which One Is the Best for You?
14. Google Keep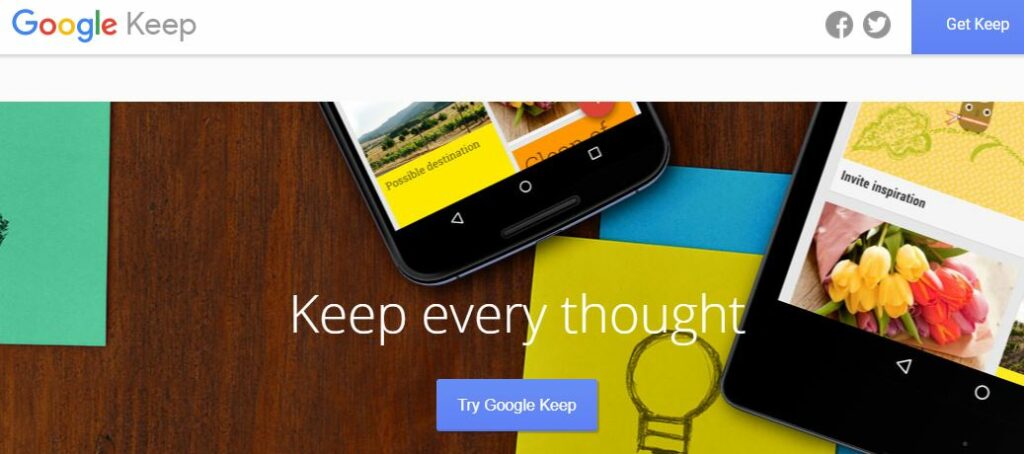 Google Keep is powerful notetaking and to-do list app in the Google Docs Editors suite. Since the tool is a part of Google's comprehensive solutions, its features are comparable to Notion's.
Google Keep offers a wide range of notetaking options with customization options. It is available as a web application as well as a mobile application. It has a simple interface and is relatively easy to use. You can also share your notes and collaborate with other individuals.
Key Features:
Uses optical character recognition to extract text from images
Easy-to-use interface
Organize notes via color-coding and labeling
Collaborate with other users in real-time
Transcribe voice recordings in real-time
Transfer long-form notes from Google Keep to Google Docs
Location and time-based reminders
Drag and drop feature
Pricing:
Google Keep is a part of G-suite and is entirely free of cost.
15. Obsidian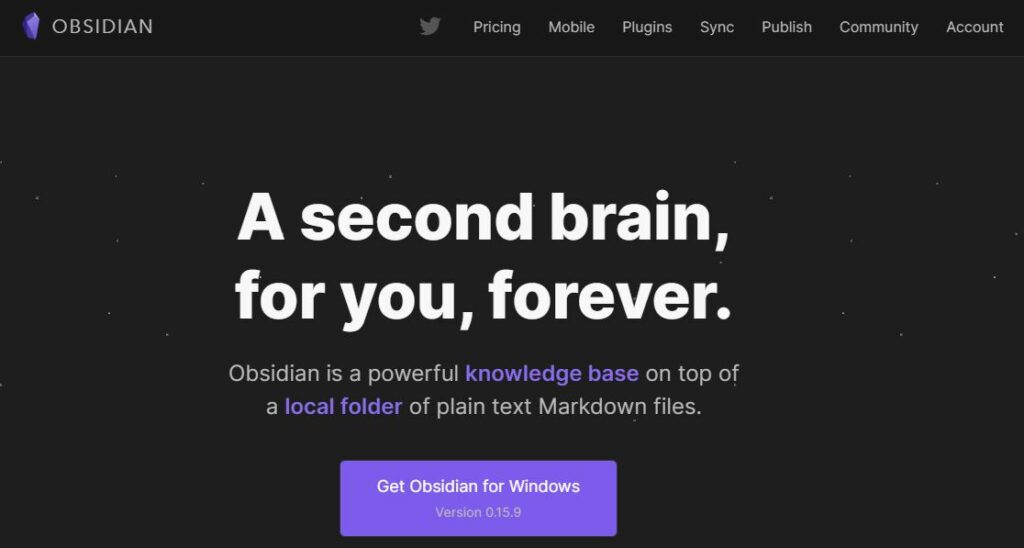 Obsidian is our next pick on this list. You can use this app to align your thoughts and construct something productive. Obsidian has got to the bottom of Notion and is now exploring for gaps that it can fulfill.
The tool offers an array of plugins, core, and community so that users can customize the app according to their liking. It displays your ideas in the form of a constellation, where you can link one thought to another and create a pattern linked to the core.
Key Features:
Graph view with the group, filter, and display options
One click to link to relevant pages
One-click to turn mentions into links
25 core plugins, 129 themes, and 609 community plugins
Available offline
Unique constellation graph
Use the keyboard to jump between notes
Data is stored in a folder on your computer as "Markup files."
Pricing:
For personal use, Obsidian costs $0 forever
Advanced options are available in Catalyst, which is available at a one-time payment of $25.
The commercial plan has advance level solutions and costs $50 per user per year. You can also sign up for a free trial of 14 days before paying to learn about the tool and how it works.
16. Workflowy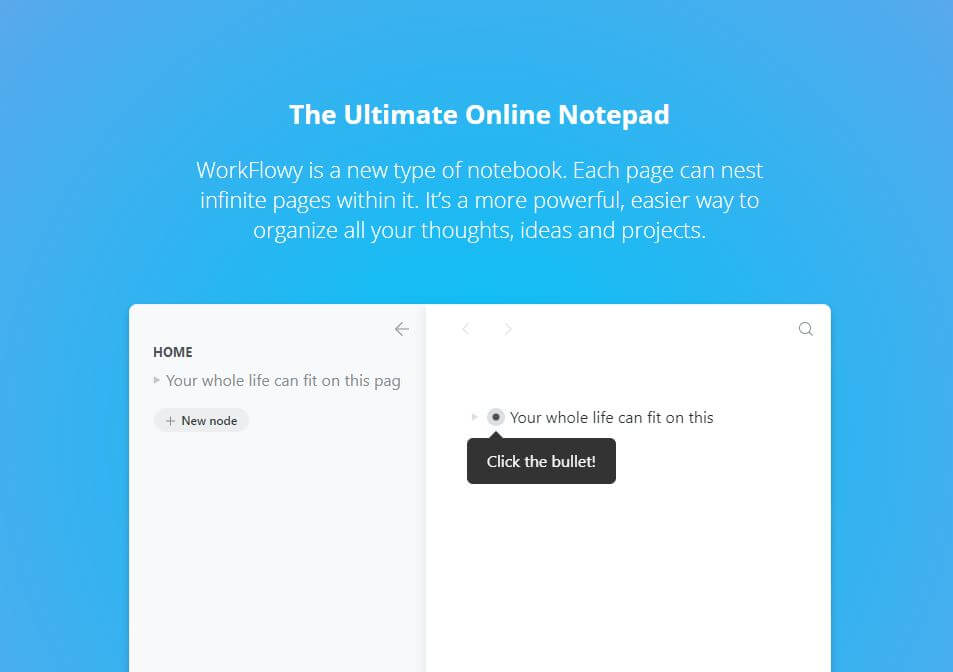 If you feel burdened by the complexity of thoughts and ideas and need a simple and easy-to-use solution, then Workflowy it is. The tool streamlines your knowledge with its robust features, helping you improve your efficiency.
Not only can you create, but its Kanban boards and other viewing options make for an ideal solution for organizing thoughts, ideas, etc. Although the tool lacks customization options or other advanced options, it is fairly simple to use and relatively inexpensive.
Key Features:
Drag-and-drop files
Add files, images, etc. with simple drag and drop
A global search to instantly search through all your files and documents
iOS and Android app
Nesting structure
Kanban boards
Filter search via tags
Create live copy in real-time
Share and collaborate
Quick saving
Pricing:
Workflowy's basic package costs $0 and is great for casual use
For professional options, you can sign up for Workflowy Pro, available at $4.99 per month
17. Taskade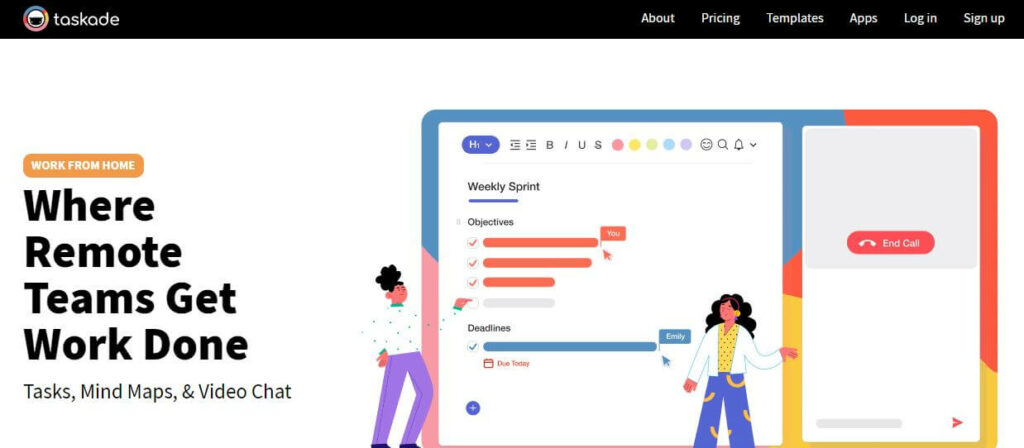 Taskade was created in 2017 as online productivity and team collaboration solution by John Xie, Dionis Loire, and Stan Chang.
The Y Combinator-backed startup hopes to make it easier for remote teams and individuals to do jobs more quickly and intelligently.
Taskade is a platform for task completion by remote teams. Taskade is an all-in-one unified workspace that allows you to manage tasks, take detailed notes, automate repetitive operations, interact with your team via built-in video chat, and much more.
Features
Taskade is packed with powerful features that will help you get more done.
Views on the Project Visualize your tasks in a variety of ways. To work according to your wish, switch between the List, Mind Map, Org Chart, and Board views
List view-Make new lists in this section
View from the Board. This layout allows you to work horizontally, similar to a Kanban board. In this full-width view, you can see your workflow and tasks
Mind Map view – unlike Notion, has a Mind Map view that allows you to work in a horizontal tree-structured way and map out what you have in mind
Action Work in table format to keep organized with the task due dates and other details
View the Organizational Chart- Breaking things down helps you get things done
Pricing
Free Taskade Plan
Taskade Unlimited Plan – Prices start at $5 per month.
18. Monday.com

Monday.com Work OS is a collaboration and project management platform with a spreadsheet design that can be customized to meet the needs of your unique business. It includes features like a dashboard that gives you a bird's-eye view of all your projects and automation that helps you to save hours on repetitive tasks.
Features
Dashboards: You may create your own dashboards to obtain a high-level view of how your projects are progressing
Monday.com can be combined with several tools you already use
Automation: You can write your own automation without having to write any code
Monday.com's features can be expanded by downloading Monday apps (for example, for Monday time tracking or Monday project management)
Monday.com uses boards that you can customize to help you visualize your tasks
Pricing
19. Todoist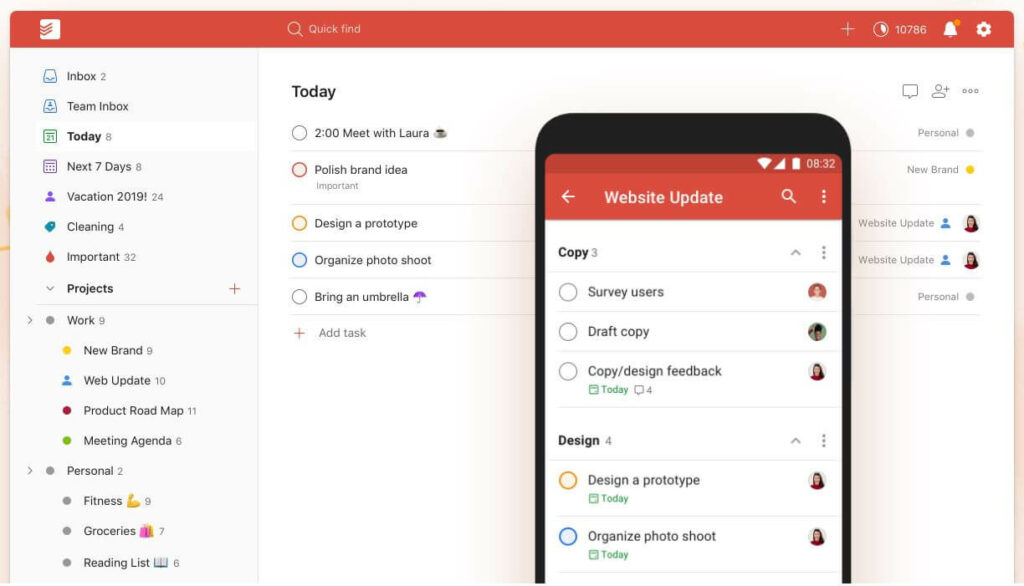 Todoist is a task management program developed by Doist, its parent business. Todoist was created to assist people in staying on top of their tasks by organizing them using a simple task management system.
The software is lightweight, with simple features that make it easy to use and quick.
Todoist allows you to create tasks, which are subsequently organized into projects or an inbox. To organize your work, you can establish sub-projects inside projects and split large jobs into smaller sub-tasks.
Features
Todoist is utilized to create tasks, which are then organized into projects or your Todoist inbox
You can establish several projects to categorize your duties, such as work and home
If you want to enhance your organizational skills, create divisions inside your projects to organize your work
Pricing
Todoist's software is available on three levels, with further discounts available.
Todoist's free Plan
Todoist Pro Plan – $3 per month per user
Todoist Business Plan – $5 per month per user
Conclusion
These were our top picks for the best Notion alternatives that you can find on the app market right now. If you think that we missed something, or if you think that we mentioned something wrong, contact us and we will get back to you as soon as possible.
---
Recommended Readings: