Knowing how you spend your time is a promising strategy.
Some of the most productive people in the world utilize time management tools, both desktop, and mobile, to increase production and free up time away from work.
Mobile time tracking provides several advantages to remote teams, including automating billing, boosting productivity, and maximizing work time.
If your staff works remotely or moves from one working area to another, a mobile time-tracking solution can keep you in the loop.
Time management
made easy!
Mobile trackers can also help team members who forget to record their hours. When they realize this, instead of waiting until the next working day, they may immediately utilize their phones to fill out the timesheet.
These tools are made to save energy and time for employees. One tap to start and one tap to stop the timer. Mobile time tracker developers provide innovative features that simplify customers' lives. Mobile time tracking is about increasing your employees' productivity, from "your clock is still ticking, but you look to be inactive" alerts to smart ideas.
Although the benefits of mobile time tracking are clear, the abundance of options on the market can make it challenging to determine which mobile timecard solution is better adapted for your individual needs and company.
How to Choose the Best Mobile Time Tracking Tool?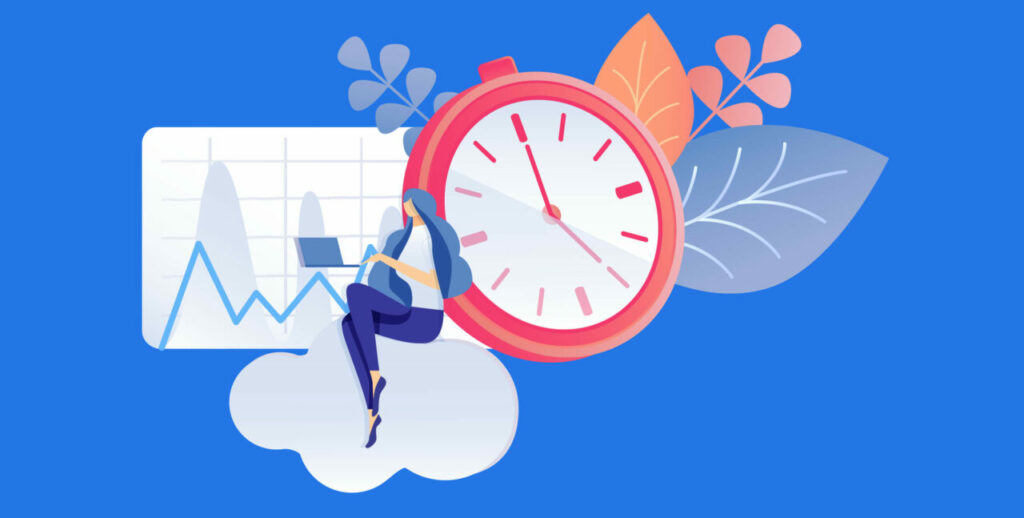 Before we get into the technicalities of the various types of time-tracking software, we must analyze all the external factors that may influence your final call.
A few general things you need to realize are the location of your workplace, the way you manage a business, your time tracking needs, and, most importantly, your budget.
What else is there to look for when choosing the best mobile time tracking software?
Here are a bunch of key traits to keep in mind.
* Real-time Tracking
Almost all time tracking software allows you to monitor in real-time, giving you a running clock that starts when you begin a job and may pause or stop when you finish.
* Ability to Adjust Recorded Time
The best time tracking tools allow you to modify the time monitored, such as if you leave a timer running while you go to lunch.
You should be able to change the time log to deduct the minutes you were not working. You will also want an app that allows you to input a time block on the fly in case you fail to start a timer.
For example, if your phone rings and you immediately enter into a 20-minute consultation call, you may not want to set a timer, but you will want to document and bill for those hours.
* Should Be Able to Export Data
Once you have gathered all of the time spent on your work, you must be able to take action. These apps allow you to produce invoices automatically based on time-tracking data recorded in the app or export that data.
* Must be Simple to Use
The best time-tracking applications make it simple and easy to start a timer. They are adaptable enough to allow you to begin a timer from wherever is most convenient: your browser, desktop software, or mobile device.
* Reporting
Dashboards and analytics that allow you to break down the time spent per project, person, or client daily, weekly, or monthly are among the most powerful time-tracking tools.
* Accessible Integrations
The time-tracking app will not function on its own. It must be compatible with the processes you are currently using. It is vital to figure out which systems it can work with. This is very crucial to consider while picking a free plan.
* Customer Support
Usually, tracking apps have a simple setup and use, but contact customer care if you or your team members get stuck. Before deciding on time-tracking software, consider the many ways customer support is provided.
Are there any provided tutorials?
How active is customer support?
Having said that, we have handpicked some of the best mobile time tracking apps for you to consider. Let's take a look!
6 Best Mobile Time Tracking Tools for 2023
| | | | |
| --- | --- | --- | --- |
| Tools | Platforms Supported | Price | Best For |
| nTask | Web, Android, iOS | $3/per user/per month | Project management, freelancing, hybrid contract work, and automating timesheets, time tracking, and much more! |
| Toggl Track | Web; desktop apps for Linux, Mac, and Windows; and iOS and Android mobile apps | $9/user/month | Freelancing |
| Timely | Desktop version for windows and LinuxAndroid & iOS | $7/month/user | Automating Time tracking and project management |
| Hubstaff | Desktop software (Windows, Mac OS, Linux) and mobile apps (Android and iOS) are available. | A basic plan is available for $5/month/user | Project management teams |
| Paymo | Desktop versions for Linux, Mac, and WindowsiOS and Android mobile apps | Free $4.95/user/month | Invoicing for small businesses |
| Clockify | Chrome and Firefox Desktop Version is available for Linux, Mac, and Windows Android and iOS | Free $3.99/month/user | Hybrid organizations (on-site and remote employees). |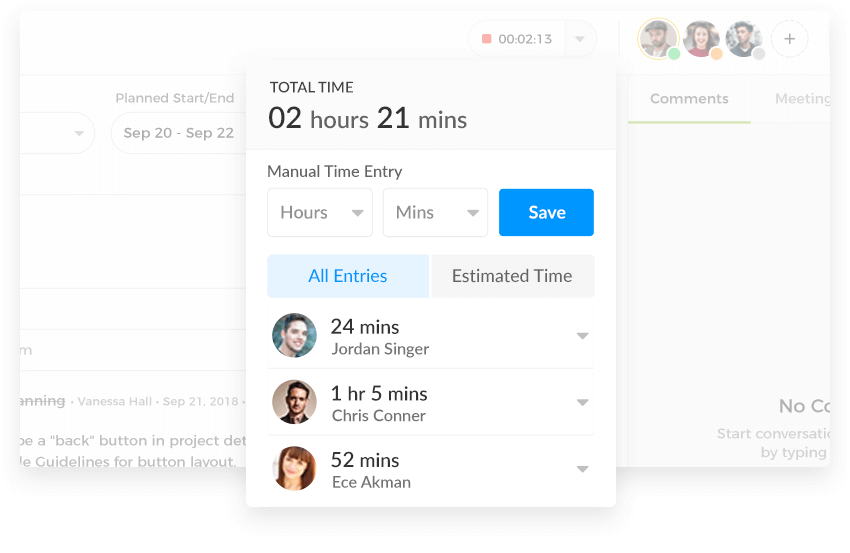 If there is one mobile time tracking software that every user can blindly invest in, it is nTask.
Designed with a simple, user-friendly interface, nTask is a 7-in-1 project management tool, ideal for small and large teams. You can create multiple workspaces with as many tasks and projects as you like.
Track and report issues, capture risks, and formulate a mitigation plan to solve any roadblocks in your project's development cycle.
Pros
Simplified Timesheets – Beautifully designed weekly timesheets that provide manual logging of hours linked to a suitable task or a project. Users can also update task effort for each day of the week separately in just a few clicks.
Unified Tracking– With status labels next to each Project-specific timesheet, teams and individuals alike can quickly track the progress of their work. In addition to manually creating timesheets on the Timesheet board, users can directly log hours spent on their tasks from the Taskboard.
Flexible Reporting – Once a weekly timesheet is completed, users can submit them for approval to their project manager. Approved timesheets can then be sent back with feedback in the comments section. There is a separate dashboard for completed timesheets, where users can get a quick summary of which timesheet has been approved.
Advanced Reporting Features – Reporting timesheets in nTask are not limited to the app only. With the help of the Email option, team members can send their billable hours to clients, stakeholders, or even the team lead directly into their email inbox. For record-maintaining purposes, reports can also be printed in a single click.
Gantt Chart View – Easily interpretable and self-generating Gantt charts that give a comprehensive summary of a project timeline from the creation date to its due date.
Cons
Occasional steep learning curve (*depends on teams' overall tech-savviness)
2. Toggl Track

Up next on our mobile time tracking software list, we've got Toggl. The app works flawlessly across all platforms. 
Aside from the "must-have" features, idle detection is a valuable tool that notifies you when you are not using your computer and offers to refresh your timetable.
Toggl Track is a renowned mobile time-tracking app. The app
Track time using various methods, including a one-click timer, silent automatic tracking, calendar integration, etc
Create a lot of detailed reports to reveal helpful information
Timetables and budgets should be planned, and progress can be tracked as you go
Billable rates can be set to workspaces, team members, projects, and project members
Pros & Cons
Pros
Cons
– Simple interfaceUnlimited ProjectsPomodoro timer for concentrated work

– Reports can be exported

– Idle time and a timer that is not set on reminders

– Calendar view of monitored hours
– Single billing rates

– Invoicing is an optional feature

– Free plan isn't that generous with features
Why We Picked It?
Toggl track is best for small teams since its free plan was designed specifically for freelancers. It can accommodate up to five people, so you're good to go if you have a small team.
You can manage time for an infinite number of clients and projects. Billable hours can also be tracked with paid memberships. You may also create and use endless tags to keep reports organized.
Toggl Track handles your start-stop issue by identifying idle time and sending messages if you are working, but the timer is not set.
The app gives thorough information daily, weekly, and monthly. You can generate reports based on clients, projects, or tags, as well as billable hours if you have a subscription plan.
3. Timely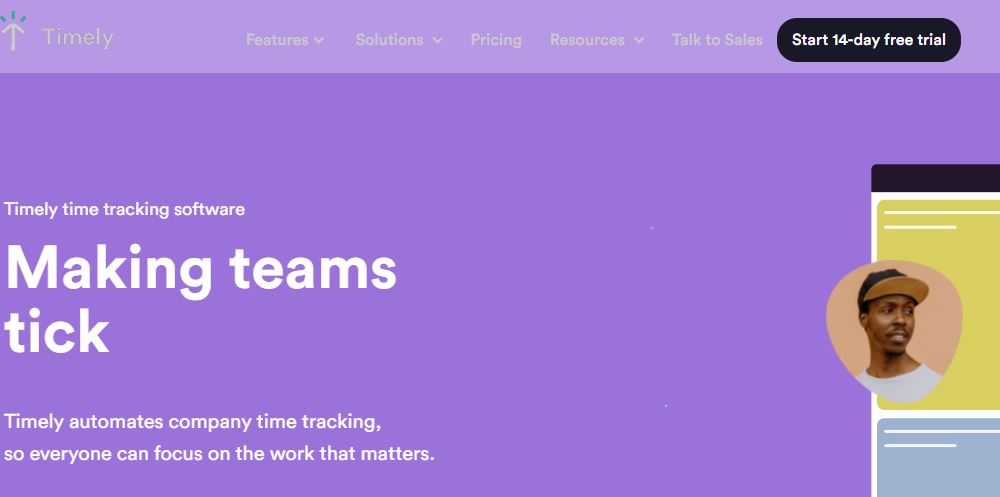 Next on Our list of best mobile time tracking tools is Timely.
Timely's best feature is the task planning function. Gant charts allow you to organize tasks visually by dragging and dropping them. This assists in successfully planning project timetables, which is crucial for project completion.
Timely create Memories of every software and website you visit during the day. Then, whenever it is convenient, please drag & drop these Memories into their respective tasks or projects to generate a Timesheet
You can also add projects, tasks, and clients fast, as well as set your hourly rate for people and projects
You do not have to remember to set timers. Spend a few minutes at the end of the day dragging and dropping actions into their respective projects on your time sheet, and you will have a precise and detailed record of how you spent your time.
Customized views categorized by clients, projects, people, categories, or teams may also be built using report templates
Pros & Cons
Pros
Cons
– Multiple bookings can be avoided due to integrations with Google Calendar

– SMS reminders are used to book appointments automatically

– Xero integration, as well as automated invoicing and payments
– lengthy booking method

– It doesn't allow the booking of more than one ticket for an event or class at the same time

– Not suitable for group sessions or classes
Why We Picked It?
Timely will give you a comprehensive picture of your performance and help you make informed decisions, whether you are just starting on your own or have been running a business for years.
The reporting, marketing, and staff management tools can help you determine what works and doesn't and where you might earn more money.
4. Hubstaff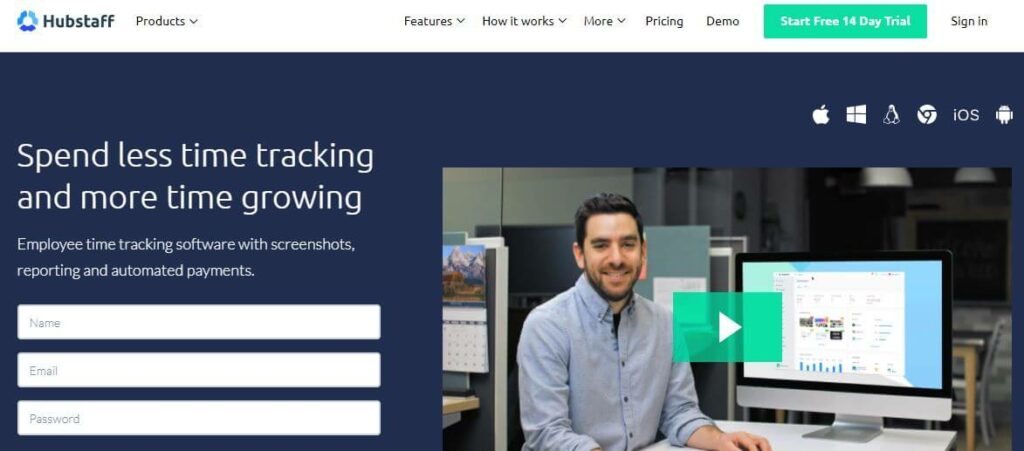 Hubstaff is a robust and user-friendly mobile time-tracking app with broad spectrum features for those who want to take charge of their time.
Managers can see exactly what their employees are working on every day. Billing and invoicing are also made easier due to automation.
Users can keep track of teams' time and generate accurate timesheets
They can create automatic reminders to assist team members in remembering to log time
Hubstaff's employee scheduling feature allows users to build schedules, monitor shift rotations, and get no-show notifications
Hubstaff eliminates the need to constantly check in on your team's progress throughout the day
In addition, the tool is integrated with a variety of sites, including Asana, Basecamp, Trello, and others
Pros & Cons
Pros
Cons
– Detailed Reporting of team performance

– Simple to use, reliable desktop application with excellent visualizations

– Statistics screen recording and random screenshots are instrumental
– Data can be complex to understand

– Need improvement in real-time dashboards reported hours
Why We Picked It?
Hubstaff is simple to use, so businesses that use the online service will notice an instant improvement in output. Users become more aware of their time and how they use it.
The software also offers time entry and tracking automation, as well as the compilation of accurate timesheets and reports. Managers get visibility, which helps them prioritize projects, monitor expenses, adopt better tools, and schedule staff training.
5. Paymo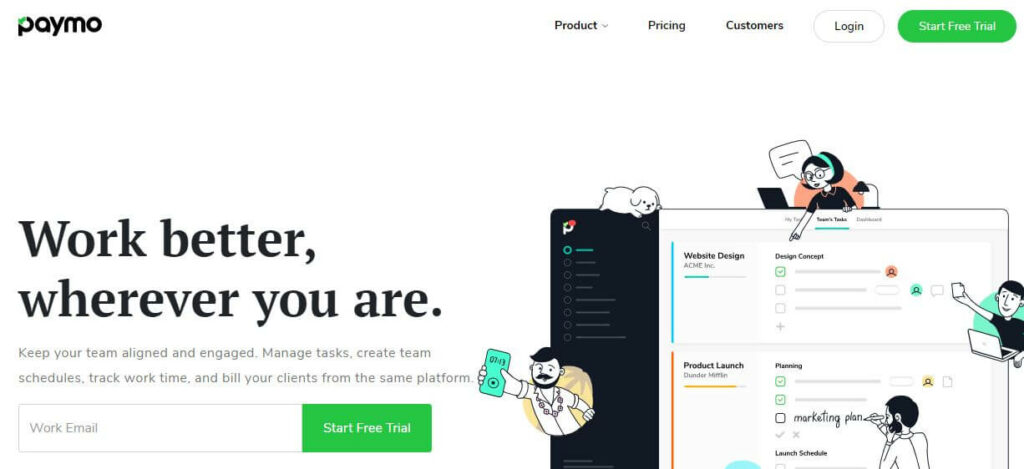 Paymo is a work and project management system used by marketing, design, creative, and advertising companies, architecture firms, universities, law firms, and consulting organizations.
You can manage projects, enter labor hours, invoice clients, be paid online, and track profitability.
Task creation, assignment, and management
Track work hours using a browser, desktop tools, or mobile apps.
identify who is overbooked or underbooked in Paymo's Team Scheduler
manage costs, invoice customers, and get paid online
assess employee performance and track leave days –
interact in real-time with task comments –
proof designs faster owing to the file proofing & versioning function
Pros & Cons
Pros
Cons
– Automated timekeeping

– Attendance monitoring

– Integrated calendarStrong reporting and analysis

– Payroll IntegrationTasks can be viewed as a list, table, board, or calendar
– Only three clients are allowed

– To set alerts for late work and missed deadlines, an add-on is required

– To define various pricing levels, a separate add-on is necessary

– Only premium plans get in-app technical support
Why We Picked It?
Paymo is an excellent time-tracking tool for invoicing since it allows you to send unlimited invoices directly from the app.
The Free plan limits you to three customers and 50 tasks, but you can create and assign projects to those clients indefinitely.
Static time reports can also be generated and customized by entering information such as time cost, project budget, task budget, and time comments. You may also send these reports to team members or clients.
6. Clockify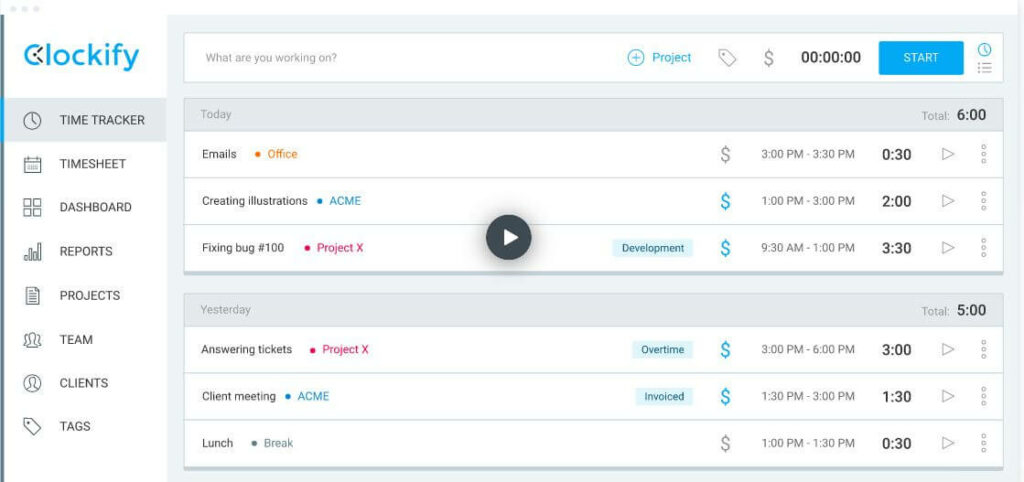 Clockify is a free mobile time tracking app that helps teams monitor work hours across projects.
You can analyze staff productivity, track project progress, and manage all necessary reporting and management tasks for an infinite number of users, projects, and clients in one place.
Provides insight into how much time employees spend on each task, stressing where time is lost and where time may be saved, and aids in monitoring the amount of time spent on specific activities and projects throughout the week
Reports will be prepared based on these entries to provide you with information for improved time and project management
Easily manage your daily and weekly activities
Visualize your time to see how your day or week looks, arrange tasks, conveniently block time for specific projects, resize time blocks, and include events
Pros & Cons
Pros
Cons
– Both manual and automatic tracking.Timesheet that is simple to use and understand

– Reminders for unfinished dutiesTimekeeping when not connected to the internet

– Project administration with an integrated calendar

– Detailed reporting and filtering
– Projects cannot be declared as complete

– Reporting can be confusing at first.
Why We Picked It?
Clockify is the best overall time-tracking tool on our list because it is a full-featured cloud-based application that allows you to track time across projects, clients, and devices.
In addition to time tracking, the program helps you to manage attendance for payroll and accounting purposes, improve employee productivity, track billable time and expenses, and communicate project status with clients.
Final Verdict
Mobile time tracking apps are perfect for freelancers and managers in charge of dispersed teams.
They allow managers and businesses to assess how efficient and productive their teams are and inspire people to take greater responsibility for their work.
You can choose the best mobile time-tracking apps on the market based on your needs.