Work from home has become a new normal for employees as well as employers. With the changing needs and trends, companies have become more adaptive to remote working. The transition from office to remote work has proved beneficial wherein companies have become more productive, efficient, and creative.
Probably the most enticing feature of remote working is that the employees work with greater efficiency hence increasing the profitability of the business.
However, with pros come the cons. Remote work is, no doubt, a flexible workspace but it halts communication and collaboration within a team. Meetings, mind mapping sessions, and collective brainstorming efforts are affected in remote working. Work from home, therefore, restricts the possibility and productibility of such sessions.
Some Mentionable Miro Alternatives:
Miro is undoubtedly one of the best collaborative tool for remote teams but here we are giving you a list of other competitive alternatives. These alternatives will let you compare and contrast the differences in the tools so that you can choose the one that suits you best.
In this article, we have done all the research for you. Below is the list of some famous Miro alternatives with their characteristic features and pricing details. Grab some popcorns or your favorite snack, choose your favorite reading spot and off we go together!
List Of The 8 Most Efficient Miro Alternatives: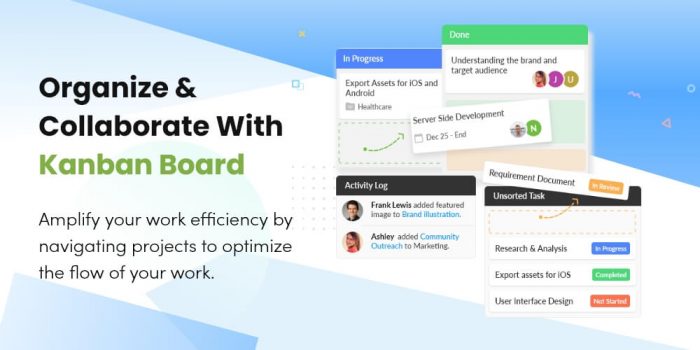 nTask is the first and foremost tool that we like to highlight in this article. The software is impressive project management software with various functions to cater to your business's needs. Let us look into how nTask can assist remote working?
The answer is simple and quite pleasing. nTask is more than a project management tool for the multiple features are no less than a wonder for all types of teams despite their geographical location. You can also take advantage of nTask's Kanban boards for visual collaboration.
Kanban boards on nTask offer a visual medium to carry on with your project.
Key Features:
Helps in mind mapping and then converting the ideas into tasks.
You can import your tasks onto the board.
Make your board with different colors, status, etc.
Customization gives you the freedom of creativity.
The timeline of your board is easy to maintain.
Collaboration and communication become more efficient and beneficial.
You can select custom templates to convert your ideas into tasks.
Activity log will help you trace the progress of your team members.
Pricing:
Basic plan – available for free forever
Premium plan – $2.99 per user per month
Business plan – $7.99 per user per month
Enterprise plan – Custom pricing
Try The Best Miro Alternatives for Collaboration

Manage tasks, projects, documents, boards and meetings easily. Sign up today!
2. CardBoard

CardBoard is a visual team collaboration and a story mapping platform to share ideas, whiteboards, workflows, meeting notes, and much more. Whatever your geographical location is, CardBoard ups your business game through its unique and innovative features.
This versatile and flexible software is all set to assist you in client story mapping, voting on cards, and the creation of new templates so you can manufacture better products.
Key Features:
Create, organize and collaborate on work through this remote-friendly platform
Generate your own user story map by using the simple drag-and-drop option
Get to know your customer experiences through journey mapping-an aspect that makes you ponder over where you want your clients to be
Templates are given to facilitate users in choosing the one that fits perfectly
Develop new projects quickly and efficiently
Pricing:
Essential plan – $10 per user per month
Professional plan – $12 per user per month
Enterprise plan – $15 per user per month
AWS GovCloud – Pricing available on contact
3. Lucidspark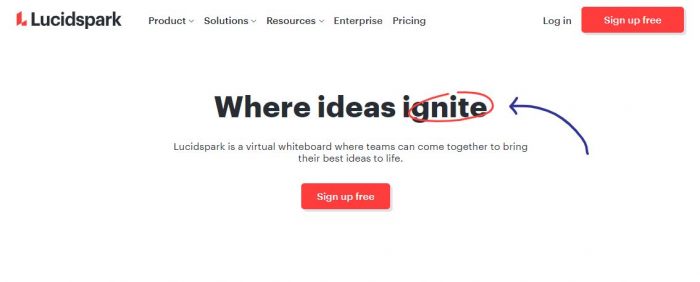 Another promising collaborative tool is Lucidspark. The software is made to make your work more efficient and productive within a team. Also, the features are favorable for remote working.
One of the characteristic features of this tool is that you can turn your ideas, notes, and scribbles into well-formed structures. Furthermore, your team can process the data and information collected from the meeting into workflows to work in the future.
Lucidspark sparks the creative instinct of the team members and promotes better collaboration.
Key Features:
Templates are already available with customization options.
Communication with comments, chats, and mentions under one roof.
Collaborative workspace.
Creates more avenues to explore further possibilities.
Helps you turn your ideas into actions.
Integration with other apps makes you work seamlessly.
Visual diagramming, colors, and shapes.
Pricing:
Individual package – Starting at $7.95
Team plan – $6.67 per user
Enterprise package – Contact Team Lucidspark for a custom price quote.
4. Stormboard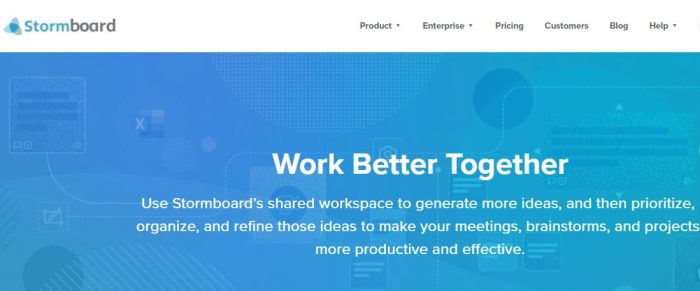 Stormboard is a virtual whiteboard and a team collaboration software that assists remote teams in holding conferences and operating together irrespective of their distribution around the world.
This online workspace is efficient enough to allow users to create, process, and edit a document thereby facilitating the development of an enterprise.
Key Features:
Get in touch with your team members instantly and share ideas, files, and whiteboards
Secured internet connection to keep your ideas and projects safe
Choose the requisite one from the built-in templates and start your effective business process
Every team member gets the chance to participate in the meetings held
Aids in generating new business ideas, solving troubles, and determining your goals
Prioritize your plans, eliminate the duplicate ones and organize similar ones under one heading
Choose a project, give assignments to workers and keep monitoring status updates
Pricing:
Personal plan – $0
Business plan – $10 per user per month
Enterprise plan – $16.67 per user per month
5. Mural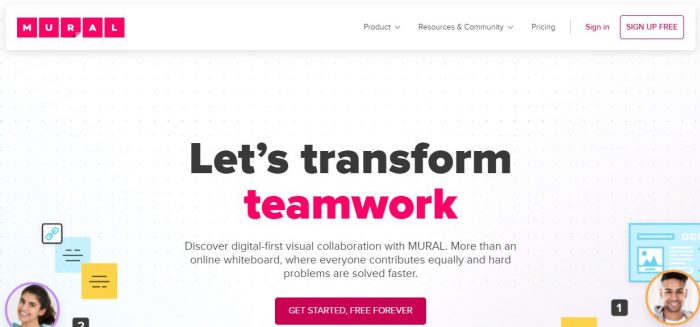 Mural is another platform that counts as a good Miro alternative. The software has been recognized all around the world in recent times for the qualifying features and reasonable pricing.
Digital workspace gives a collaborative platform to the teams for remote working. Team members can get a visual representation of the ideas that can be refined further. You can also create your preferred workflows to make your project go more easily.
Create multiple boards or rooms to host different teams at a time. Each room will have different accessibilities in accordance with the team.
You can create multiple rooms to house different teams. Each room can have different accessibilities corresponding to a specific team.
Key Features:
Time tracking.
Pre-made templates.
Voting sessions are timed.
Make your meetings more visual with drawings, mappings, flowcharts, etc.
Mural gives you the platform to brainstorm collectively via online meetings and workshops, and evaluations, etc.
Make diagrams to make your workflows.
Amazing meeting features.
Enhance your joint sessions by dragging images
Pricing:
Starter plan – $12 per member per month
Plus plan – $20 per member per month
Enterprise Network – Custom pricing
6. Coggle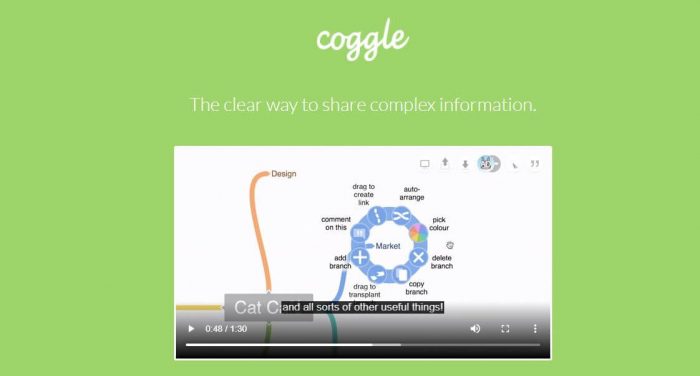 Coggle is a web-based mind mapping application that helps users in creating workflows and gradationally arranged files just like a graphically displayed branching structure.
It is an online software to generate and process concept maps. Its main focus is to assist in drawing innovative ideas, finding connections between theories, and getting in touch with others.
Key Features:
Create and organize new ideas
Understand, sort out and pass on valuable information with colleagues
Get a chance to invite friends and join hands-on assembling and editing an idea, assignment, or project
Outline your brainstorming thoughts on a platform to execute later on
Save each alteration and undo whichever you want and it will return to its previous form
Cut and paste unlimited images from your desktop to the software
Within the flow charts, you get the chance to create twists, join branches, add random text and pick a variety of shapes to make branches making your diagrams even more comprehensive and appealing
If you get to log out ever, your access to the diagrams you have drawn remains intact
Pricing:
Free forever – $0
Awesome – $5 per month
Organization – $8 per user per month
7. Milanote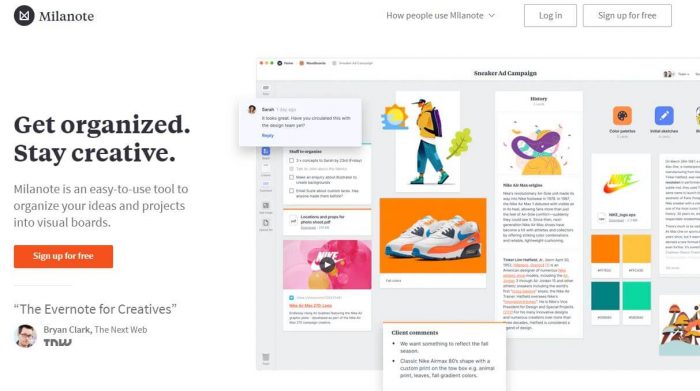 Organize your creative ideas with Milanote, another impressive Miro alternative. Visualization is the key feature of this tool that will support your remote working.
The tool lets you evolve at a gradual pace. Your evolution will be derived from patterns and connections. Milanote lets you save your team's ideas for plans. Last but not the least, the tool is user-friendly which implies that it is easygoing and not rocket science to understand.
Key Features:
Import files, documents, and images.
You can save texts, images, and other data from other sources.
Milanote will let you add notes, and images from your cell phone.
Sharing is easier.
Visual organization features allow more creativity
Pricing:
Free plan – Available for free
Pay per person – $9.99 per month
Upgrade your team package – $49 per month
8. Lucidchart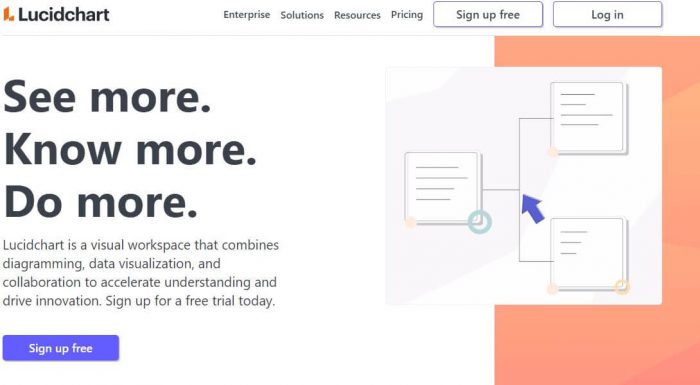 Lucidchart is a web-enabled software that allows business teams to unite on one page by sharing charts, diagrams, and drawings. It helps users in visualizing plans, illustrating novel projects through virtual whiteboards, and representing ideas to facilitate the growth of the business.
This simple and easy-to-use worksite enables teams to think out of the box through its incredibly advanced features like data representation, plan a demonstration, and much more.
Key Features:
Allow your remote teams to get together and thus boost their productivity and efficiency
Speed up the comprehension of teams through a visual illustration of information and processes
Draw every plan from workflows to tasks, assignments to projects and schemes
Communicate with your employees directly, analyze their needs, make sure each worker is being paid appropriately, and for staff data, choose the view that suits you the most
Upgrade your network status according to your business requirement
Comprehensive features to help you in planning and approaching employees
Get to see your projects in one window both current and upcoming statuses
Manage your projects precisely by keeping an eye on the performance and joining the teams on one platform
Pricing:
Free plan – Available for free
Individual plan – $7.95 per month
Team plan – starting from $6.67 per user per month
Enterprise plan – Contact Team Lucidchart for custom pricing
It's A Wrap!
That is all from our side!
Now that we have done all the hard work for you, the choice is yours to make. You can always signup for demos or trials before you make your final decision.
Good luck!