Microsoft Teams is a common communication tool used by teams and companies especially those that use Microsoft's other tools and applications.
However, it is not the app of choice for many teams and that is why there is a search for Microsoft Teams Alternatives.
If you too are in a struggle and are looking to switch from Microsoft Teams or want to know what else is out there you have come to the right place.
We have rounded up our top picks for the best Microsoft Teams Alternatives in the market that are available for you to choose from.
So, without further ado, here are the best Microsoft Teams Alternatives.
The 11 Top Microsoft Teams Alternatives
Let us have a look at some of the top-ranking Microsoft Teams alternatives you can signup for and start using today.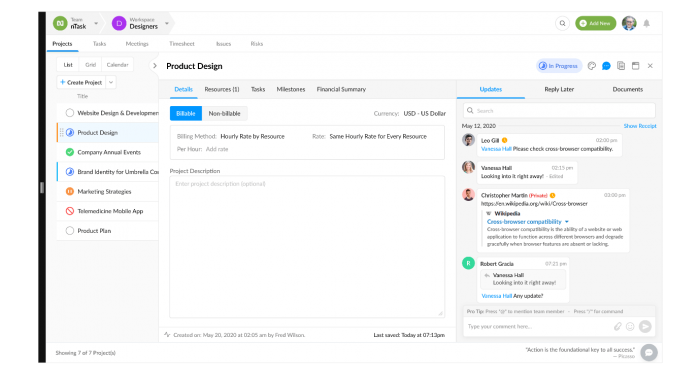 nTask is a project management tool that provides a wide range of features including communication and collaboration tools that make it a great pick if you are looking for a Microsoft Teams alternative.
The software incorporates real-time communication and collaboration between your team with task management and project management modules to help you achieve and access all the tools you and your team need to stay productive and optimize work.
Moreover, nTask is both easy to use and offers great pricing plans making it suitable for any sized team. Its versatility also allows users to streamline their processes in different industries.
Key Features:
Pricing:
Basic plan available completely free of cost
A premium plan for $3/user, per month
Business plan for $8/user, per month
Enterprise plan available on demand. Contact the sales team for a custom quote.
The Best MS Teams Alternatives for Free.

Manage all your tasks, teams, collaboration, resources and more in one place. Sign up today!
2. Adobe Connect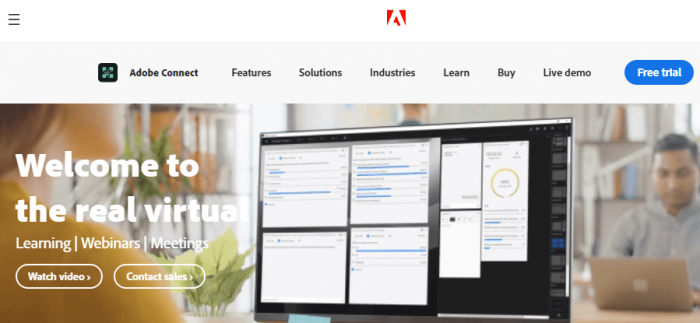 Next up we have Adobe Connect. This web conferencing solution is a great alternative to Microsoft Teams for webinars, online meetings, eLearning, and more.
With this web conferencing solution, you simply need to use Adobe Flash Player runtime and a web browser to allow you and your team to easily and securely share multimedia and presentations virtually.
The software is great for any sized team and helps with interactions and allows you to improve collaboration within your corporation.
Key Features:
Interactive Whiteboard
Live Chat
Live Streaming
Collaboration tools
Pricing:
Adobe offers a range of pricing plans for its users.
As a business, you can choose to purchase all Adobe applications for $79.99/month
You could also purchase a single application for $33.99/month
3. HCL Sametime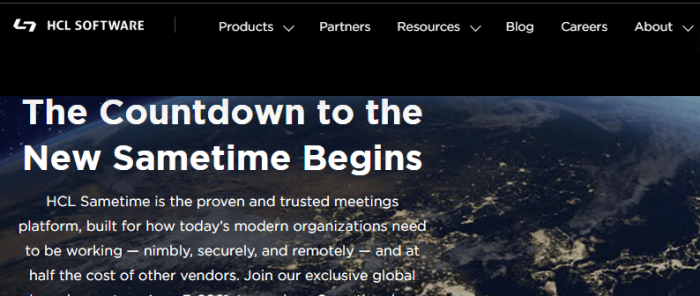 HCL Sametime is our next pick and is an instant messaging platform that provides a means for social communication within your organization's environment.
The software provides a trusted meeting platform where you and your team can hold online meetings, instant messages, share voice and video messages, data, and more.
Key Features:
File sharing
Audio and video conferencing
Screen sharing abilities
Participant permission options
Pricing:
HCL Sametime does not offer pricing information. To get a custom quote contact their sales representatives.
4. Quip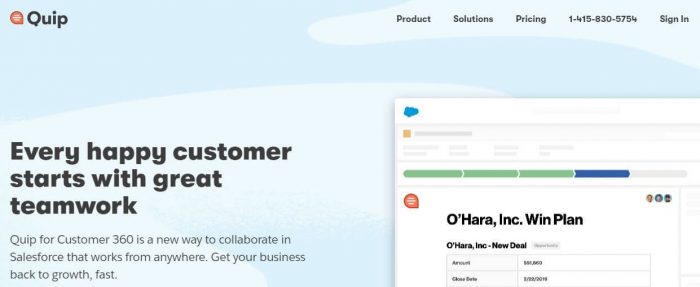 Next up is Quip which is a team collaboration solution and therefore a great alternative to Microsoft Teams.
The software allows you to create, collaborate, and communicate on documents from the same place.
With Quip, you have the ability to manage documents, tasks, spreadsheets, and chats all seamlessly to allow you and your team to stay connected.
Key Features:
Collaboration tools
Document management
File sharing
Meeting management
Task management
Pricing:
The Quip Starter plan is available for $10/user, per month
Quip Plus plan is available for $25/user, per month
Salesforce Anywhere Advanced plan is for $100/user, per month
5. Ryver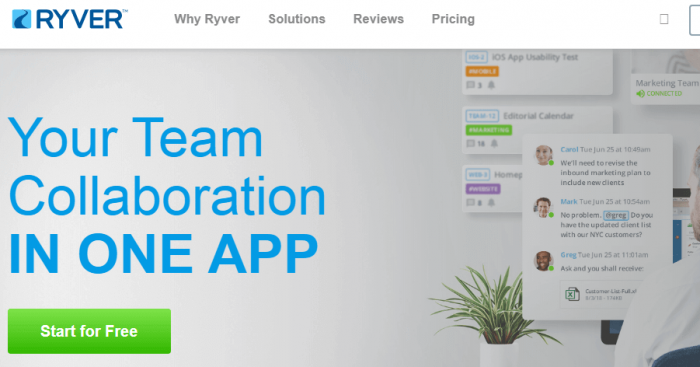 Ryver provides a single application for all your team collaboration.
The app comes equipped with task management, group chat, as well as voice and video calling options.
The software is perfect no matter what your team's size is and is accessible for use on different devices.
Key Features:
File sharing
Real-time chat features
Video conferencing
Document management
Task management
Pricing:
Ryver currently has discounts on their pricing plans due to the current Global Pandemic.
The Starter plan is for $49/month
The Unlimited plan is currently for $79/month
The Enterprise plan is currently for $149/month
6. TeamViewer

TeamViewer is a remote connectivity software. What this means is that it is software that allows you to connect anything, anytime, anywhere.
More specifically what this means is that with TeamViewer you can connect and monitor desktop-to-desktop, desktop-to-mobile, mobile-to-mobile, or any unattended devices as well.
Key Features:
File sharing
Screen sharing
Video conferencing
Instant messaging
Audio calling
Pricing:
For a single user, TeamViewer costs $23.90/month
For multi-user, the plan is for $47.90/month
For teams, the plan is for $93.90/month
7. Chatter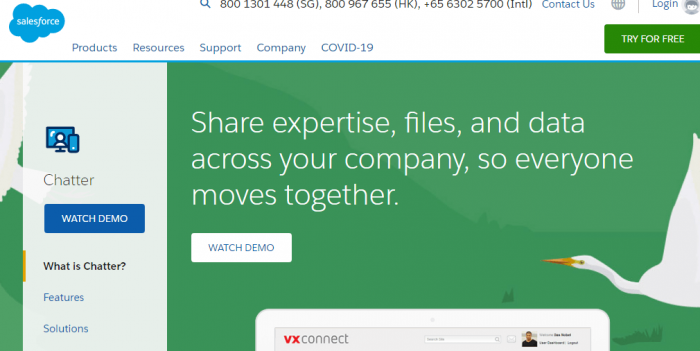 Chatter by Salesforce is an enterprise social collaboration and networking platform. This software is a great tool to help you connect, collaborate, communicate, and share with your team.
The platform helps your team work together, be updated, and connect with ease.
Key Features:
File sharing
Video conferencing
Audio conferencing
Available integrations
Pricing:
Check out Salesforce's website for pricing plans on all their tools.
Looking for Salesforce alternatives? Check it out:
12 Best Salesforce Alternatives to Consider for 2021
8. Avaya OneCloud UCaaS

Avaya OneCloud UCaaS is a unified communications solution. This software offers a single solution to help with your business's productivity.
Avaya OneCloud UCaaS provides a platform for your meetings, conferences, to collaborate and message with ease.
Key Features:
Meetings and conferences
Team collaboration features
Calling and messaging
Pricing:
You can get a quote for pricing by contacting one of Avaya's sales representatives.
9. Wire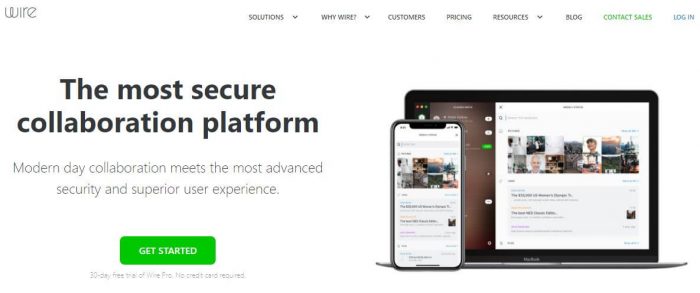 Wire Pro is next up and is a secure team collaboration tool. The tool offers the ability to message team members, hold voice and video calls, share your screen while doing so, and share files.
All is done with the knowledge that your information is secure and protected with end-to-end encryption and full administrative control.
Key Features:
Secure guest rooms for external parties
Audio and video conference calls
Document management
File sharing
Live chat
Pricing:
Wire Pro costs $5.83/user, per month
Wire Enterprise is for $9.50/user, per month
10. Rake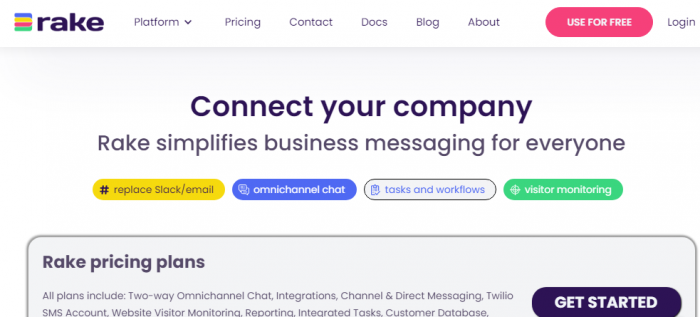 Rake is your one-stop messaging platform for all stakeholders.
This is a platform that offers your team both private and public communication channels. You also have two-way omnichannel messaging with customers, website visitors, etc through webchat widgets and direct social media SMS connections.
This is a perfect tool for teams who engage in direct sales through services, hospitality, legal, retail, etc.
Key Features:
Employee database
Collaboration tools
File sharing
Communication management
Meeting management
Pricing:
Rake is free to use for up to 10 users
For up to 25 users Rake costs $50/month
You also have Rake unlimited which costs $75/month
11. Troop Messenger

Troop Messenger is an office communication tool used by Startups, SMEs, Large Enterprises, Government, Defense agencies, and others to help them collaborate seamlessly with its secure and productive collaboration features. It has better features than any other tool of the same genre to conclude work conversations faster.
With this team collaboration platform for PC, mobiles, and the web with the features of group texting, audio-video conferencing, screen sharing, and others, you can stay connected with all your office and the remote teams from all across the world.
In addition, the Zapier integration would help the users of Troop Messenger to connect with thousands of their daily apps for improved work productivity.
Features
HD Group Audio-Video calling
Fork out, Burnout, 1:1 and Group, Audio and Self-Message
Intensive File Management
Chat Area Filters
Role-Based Access Controls
AES-256 Military-Grade Encryption
Time-Saving Search Filters
Chat Wallpaper
Integrations and more
Pricing
Enterprise Free Trial for one month
Premium at $2.5/per user/per month
Enterprise at $5/per user/per month
Superior ( Coming Soon)
Why Look for Microsoft Teams Alternatives?
Now that you know what other software and tools are available, let's look at some of the reasoning behind this blog in the first place.
You may still be on the fence about whether to choose Microsoft Teams for your communication needs or whether you should be searching for Microsoft Teams alternatives.
Here are some of the reasons teams choose not to opt for Microsoft Teams as their go-to communication and collaboration platform.
If you are working with a large organization, you may find that the possible number of channels is inadequate for your workforce.
While the software offers a lot of features, some may be hard to maneuver, and take your team some time to properly get acquainted with the tool and how to best use it which is unproductive.
Microsoft Teams offers file sharing capabilities; however, these are fairly limited in the sense of their organization of them. For example, it can be difficult to organize files in shared conversations.
Microsoft Teams also lacks the ability to reply to an individual text on its web browser which can cause confusion in chats with multiple participants. This feature is however available in the mobile app.
Users have also found that the permission settings are fairly rigid. Moreover, Microsoft Teams lacks the option to invite guest users to channels. The need to do so would require you to use an entirely different communication tool.
Related:
Slack vs Microsoft Teams: Which One Is Best for Your Project Management Needs?
Frequently Asked Questions
What is Microsoft Teams?
Microsoft Teams is a team chat and collaboration tool. The platform combines workplace chat, notes, attachments, and meetings in one space to help your team stay connected.
Microsoft Teams integrates with the Office 365 subscription office productivity suite and offers extensions to integrate with non-Microsoft products.
You and your team have the ability to create multiple chat channels, make audio and video calls and conference calls, send files and attachments, and more.
Here's some Additional Info On Microsoft Team's Pricing!
You can access Microsoft Teams for free or get the application as part of the Microsoft 365 subscription.
To get a full breakdown of available pricing plans, check out the website here.