In this article, Fred highlights the best meeting notes apps you can start using today.
Meetings are a common practice in just about every organization and company. You want to not only connect and stay updated with your colleagues and team members but also with external stakeholders or clients or vendors your company may be dealing with.
However, for many organizations, these meetings are done and then forgotten about. This is why the minutes of the meeting is so important. Although simply writing down the minutes of the meeting is not enough.
It is important for these minutes of the meeting to be available for your team and other meeting participants but also be kept in record for future reference.
This is where the meeting notes apps come into play. Meeting minutes apps or meeting notes apps are great to keep your meetings organized and ensure all relevant parties have access to the information they need. They also ensure the information is kept for future reference.
There are many such meeting notes apps to choose from so we have searched the internet and gathered our top picks in the post of the best meeting notes apps available for you.
Why Do You Need to Jot Down Meeting Minutes Through Dedicated Meeting Notes Apps?
Before we get into the best meeting notes apps available, it is important to consider why you should be taking down minutes of the meeting in the first place.
There are multiple different reasons why you may want to write the minutes of the meeting. They not only benefit you and others present in the meeting but also those who may have missed the meeting.
Minutes of the meeting act as a summary for those individuals who were unable to attend the meeting so they are still updated as to what was discussed and decided.
Moreover, the minutes of the meeting also act as a reminder for those that were present during the meeting.
Minutes of any previous meeting act as the starting point for any subsequent meeting. You use these minutes to establish what needed to be done, by whom, and when.
12 Best Meeting Notes Apps
Now that you know some of the benefits of taking minutes of the meeting, here are some meeting notes apps that can help you with the process and keep everything organized.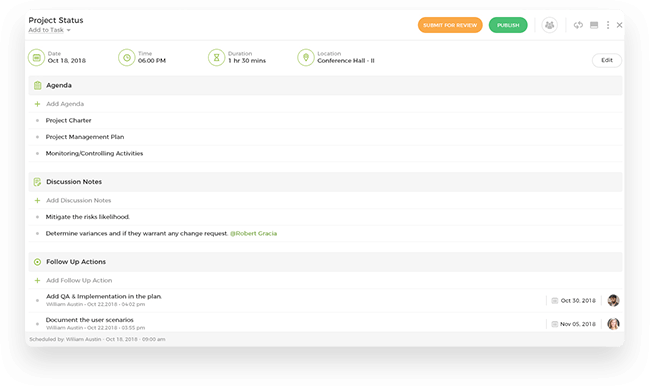 nTask is a project management tool that offers everything you will need to manage your project from initiation through to project closure.
nTask has a meeting management module that is simple to use, yet offers a great platform to note down your meeting minutes which is why it makes it to our number one spot on this list.
nTask meeting(s) allow you to create meeting minutes before you create a meeting. You can organize meetings with the following information:
Title of the meeting
Meeting date
Participants can be added from your team members
Meeting agenda
Duration of meeting
Meeting location, which with the Zoom integration allows you to generate a Zoom link to which all the participants have access.
Manage meetings with nTask Calendar view, or integrate with Google Calendar, Outlook Calendar, or iCal.
Apart from helping users to fill in pre-meeting information, nTask also lets you update meeting minutes, both during the meeting and after the meeting as well.
You can note down important discussion notes, and key decisions, as well as write down any follow-up actions that were decided and need to take place.
With the follow-up actions, you have the option to convert these actions to tasks that can easily be assigned to team members and thus streamline your entire workflow.
After your meeting has taken place these minutes of the meeting are available for all the participants of the meeting to review and amend as necessary, and as they see fit. Once everyone is in agreement, the meeting minutes are published and saved on the platform for you to view at a later date.
nTask also gives you the option to email these meeting minutes to participants or attendees that may not be part of your nTask platform.
Pricing:
The Basic plan is available for free
The Premium plan is available for $3/month, per user
The Business plan is available for $8/month, per user
Try the Best Free Meeting Notes App, nTask.

Manage all your meetings, projects, tasks, and timesheets in one place. Sign up today!
2. MeetingBooster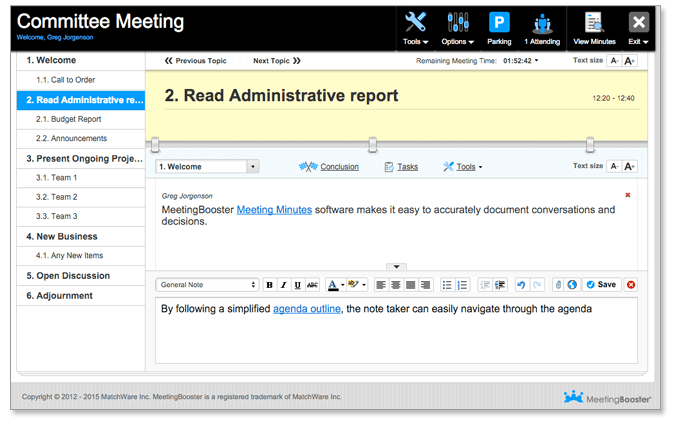 Next up on our list is MeetingBooster, MeetingBooster is a meeting minutes app that helps you organize, formalize, and structure your meeting minutes and streamline the meeting process and procedure.
Similar to other such applications, MeetingBooster offers organization for notes before the meeting, during the meeting, and after the meeting.
Before any meeting, MeetingBooster lets you schedule and prepare for the meeting. During the meeting, you can write down notes but also assign action items to different individuals and participants.
With collaboration options, MeetingBooster allows the participants of your meeting to review and discuss meeting minutes thus streamlining the reviewing of the notes and making the process faster.
Pricing:
MeetingBooster offers a free trial
3. Hypercontext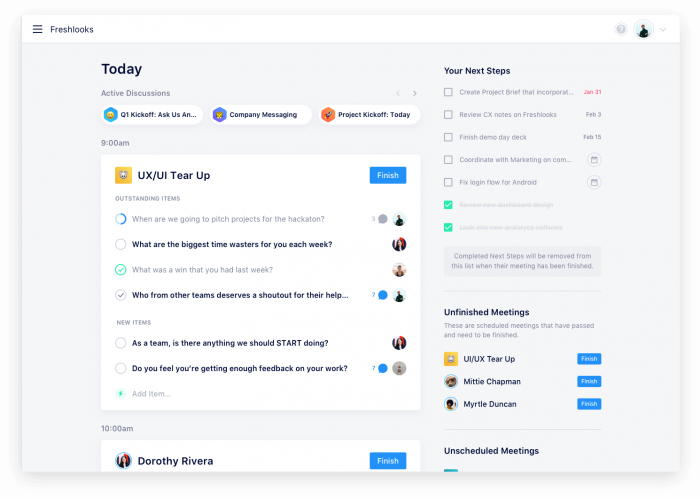 Hypercontext is a meeting note and agenda app. Aimed at managers who control meetings, Hypercontext is a great tool to organize your meeting agendas and notes.
With Hypercontext, you can track meeting minutes, decisions about assigned responsibilities, as well as any action items created. The meeting notes are achieved along with any discussion points which you and your team can refer to anytime later on.
Moreover, the application provides integrations with other software and tools such as Google Calendar, MS Teams, and Slack so that you can streamline your workflow and processes with ease.
Pricing:
Hypercontext basic plan is for free
Pro plan at $5.60/user per month
Business plan at $8.80/user per month
4. MeetingSense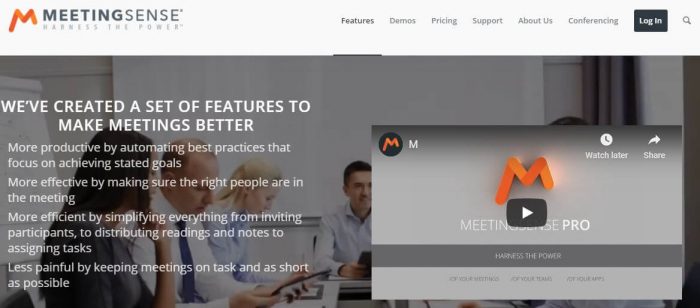 MeetingSense is the next software of choice on our list and provides you and your team the ability to collaboratively manage and share meeting information and any relevant action items.
By using MeetingSense you are provided with a standardized meeting structure for all your meetings which in turn is claimed to improve overall business productivity.
With the application, you and your team can organize both pre-and post-meeting elements. The software is easy to use and even lets you send meeting summaries as well as action item assignments by publishing them online or sending them via email.
Pricing:
For a quote request and more information contact the provider.
5. Nuclino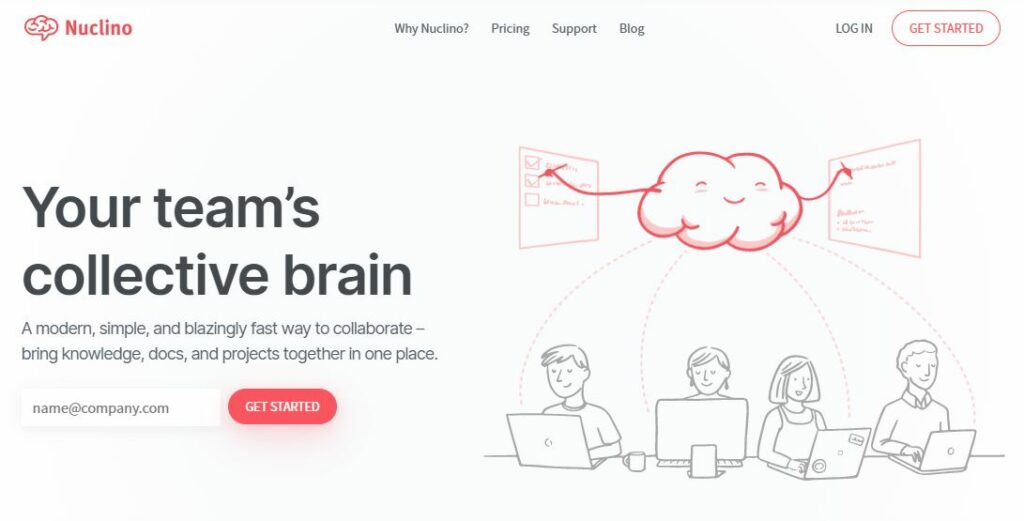 Nuclino is a unified workspace where teams can bring all their knowledge, docs, and projects together in one place. Organizing, sharing, and collaborating on meeting notes is one of the many ways you can use it.
All meeting notes stored in Nuclino can be collaborated on in real-time, with every change automatically saved and preserved in the version history. The visual drag-and-drop editor enables an easy and fast editing experience. Media files — slides, spreadsheets, diagrams, videos, and more — can be uploaded or embedded. Action items can be easily assigned to meeting participants to keep track of all the follow-up tasks.
Documents, projects, and topics that are relevant to the meeting can be referenced using internal links, so you can keep everything organized and never lose context.
Pricing:
Free plan available for up to 50 items
Standard plan (paid monthly) at $6/user/month
6. Beenote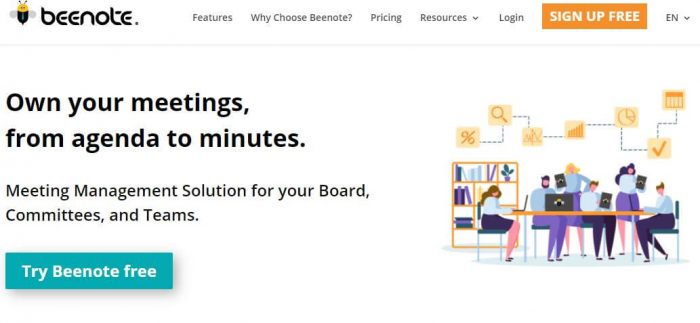 Beenote is a meeting management software that is created for the board, executive, and team meetings.
The software helps you have more structured meetings with the ability to prepare meeting agendas in advance in collaboration with other participants. You can choose from predefined or customized templates to simplify and make the process more efficient.
Beenote also allows you to note down collaborative notes, tasks, and decisions during the meeting that are then automatically incorporated into your meeting minutes. These minutes of the meeting can then be shared with other individuals.
The agenda of the meeting you create also works along with a timekeeper during your meeting that ensures everything is discussed by highlighting time by subject. You can also follow up on tasks you assign to team members after the meeting.
Pricing:
Beefree is Beenote's basic free plan
You can purchase one Beenote license for $10/month, per user
Beenote's 10 licenses plan is for $55/month, per user
Beenote's 20 licenses plan is for $80/month, per user
Beenote's 30 licenses plan is for $110/month, per user
Beenote's 50 licenses plan is for $160/month, per user
7. Magic Minutes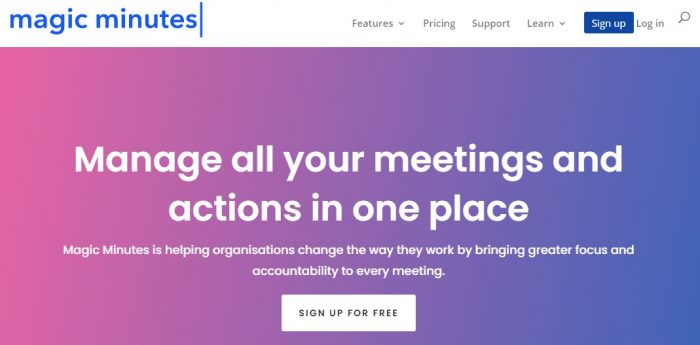 Magic Minutes is an online note-taking meeting software. With Magic Minutes you can set up meetings in advance, take minutes of the meeting, and create action items.
With Magic Minutes you can stay organized by having visibility over recent meetings or upcoming meetings which display in a list that is easy to manage. You can create agendas on the go.
Magic Minutes offers a platform where you can take meeting minutes and notes and even create tasks or action items that can be assigned to individuals with due dates and descriptions.
The minutes of the meeting also have the option to include screenshots or images, all of which are easy to send via email, or be viewed on your Magic Minutes dashboard.
Pricing:
Meeting attendees can access Magic Minutes absolutely free of cost
The Premium plan is for £12/month, per user
The Team plan is for £6/month, per user
8. Tactiq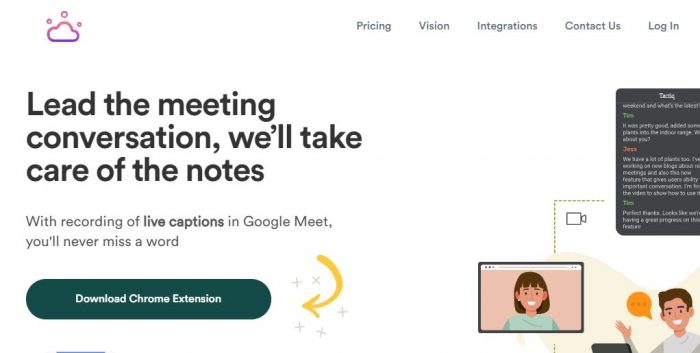 Tactiq is a live captions recorder for Google Meet. If you are looking for more detailed notes to be taken in your meetings Tactiq may be just for you.
The software allows you to hold your meeting with ease while the notes of your meeting are recoded through live captions. This allows you to focus on the meeting itself rest assured that the notes will be ready once you conclude the meeting.
You can highlight key items that were discussed and review the transcript at the end. These notes can be saved and shared as you wish with options to save to Google Docs, Slack, or Tactiq notes.
Pricing:
Tactiq offers a plan which is free of cost
Tactiq Pro plan is for $9/month
Tactiq Teams plan is for $20/month
9. Meetly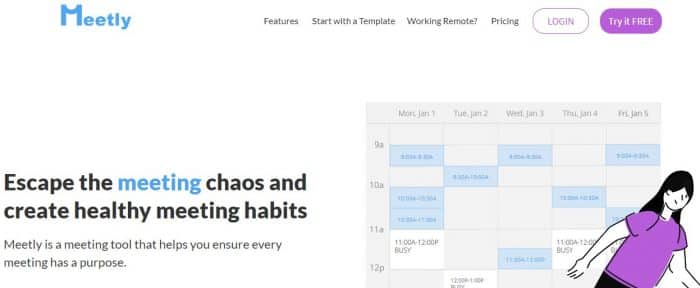 Meetly is a meeting-focused platform that allows you to easily create meeting agendas, share meeting notes, and assign any relevant action items discussed within the collaborative platform.
You can share and receive automatic meeting summary updates so that you and everyone on your team stay up to date with meetings and discussions even if they miss one.
The tool syncs with your Outlook calendar or Google making the entire process a breeze. Meetly also offers integrations with other applications like Monday.com, Slack, and Trello thus syncing your items with your workflow.
Pricing:
Free plan
A premium plan for $6/month, per user
10. MeetingKing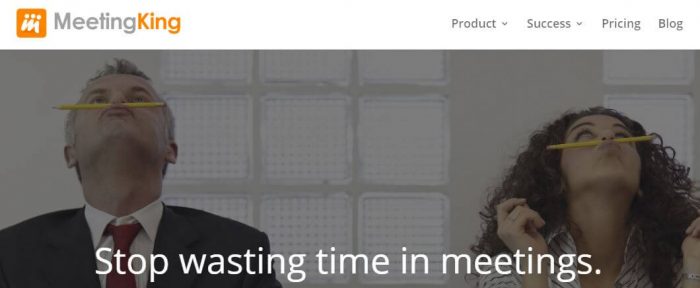 MeetingKing is a meeting agenda and meeting minutes application. The software lets you easily create your meeting agenda and prepare for your meeting efficiently and with ease.
With MeetingKing you can prepare for your meetings by creating meeting agendas in advance of the meeting. During the meeting, you can write notes and assign tasks to participants that are discussed. Post-meeting MeetingKing lets you email meeting minutes to other individuals and also track tasks that you had assigned previously.
Available integrations let you export tasks assigned and created during the meeting to different task managers and your calendar to streamline your processes.
Pricing:
Pro Single plan for $9.95/month for 1 user
Pro Small plan for $39.95/month for 5 users
Pro Medium plan for $64.95/month for 10 users
Pro Large plan for $124.95/month for 25 users
11. Hugo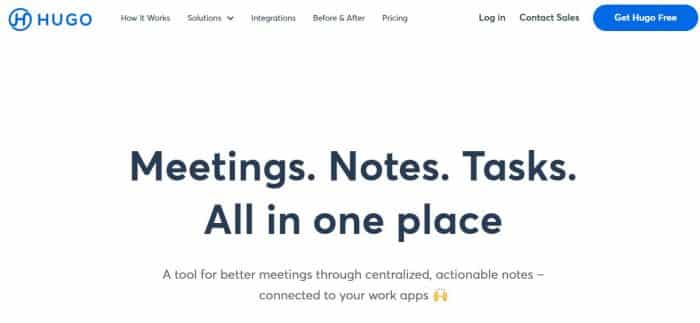 Finally, we have Hugo, a tool that allows you to hold better meetings with a centralized platform for your actionable notes which you can connect with your other work apps and tools.
With Hugo, you have the option to create multi-user notes with the ability to edit things in real-time.
You can connect your meeting with work tools that you or your organization are already using making streamlining your workflow.
Pricing:
The Basic plan is free of cost
The Pro plan is for $6/month, per user
12. FireFlies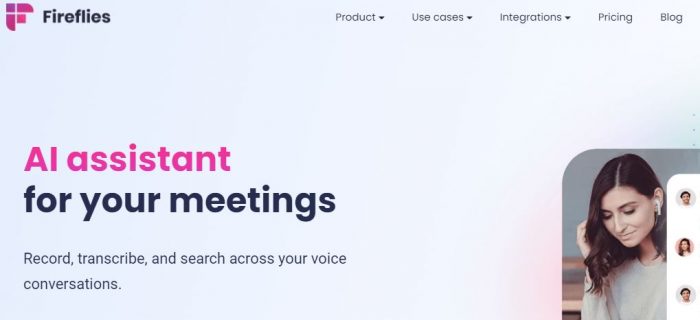 Fireflies.ai lets you record, transcribe, and search across your voice conversations. Fred, their meeting assistant, can generate the AI transcription and deliver it straight to your inbox within minutes of the meeting.
With Fireflies.ai, you are in complete control of your meetings. You can set up Fred (their AI meeting assistant) to join all your meetings automatically, or you can choose the ones you'd like him to transcribe.
Fireflies.ai can easily connect to your calendar and join meeting events that have a video-conferencing URL. Fireflies support all of the major video-conferencing providers including Zoom, Google Meet, MSFT Teams, Webex, GoToMeeting & more. You can also install the Fireflies.ai chrome extension to Capture & transcribe calls happening anywhere on your browser.
Here is a quick feature overview of Fireflies.ai:
Instantly Record meetings across all major web-conferencing platforms. Invite Fireflies or have it automatically capture them.
Transcribe live meetings or audio files that you upload. Skim the transcripts & listen to the audio simultaneously.
Collaborate better by letting you add comments, & flag important moments on calls for teammates to easily review.
Powerful Search Filters for action items, dates, metrics, and other important topics. Lets you complete tasks faster, like helping you review an hour-long call in less than 5 minutes.
Pricing:
Free plan
Pro plan at $10/month
Business plan at $19/month
Custom pricing plan is also available
Over to You!
There you have it. Our top picks for the best meeting notes apps available in the market to choose from.
Our recommendation is to go through them one by one and try their features through the evaluation plan, instead of paying up right away.
In case, we didn't mention your all-time favorite go-to application, feel free to holler up via our support email.
Happy nTasking!
---
More Reading: