An efficient Kanban tool can go a long way for the success and progress of your team. A Kanban tool helps teams visualize where they are spending time and provides analysis to easily identify and proactively address issues.
Because of this, incorporating a Kanban tool into your team can allow your company to reap multiple benefits.
However, there are many such tools to choose from. Which one is right for you?
We have made that decision easier for you by scouring the web and narrowing down the cream of the crop.
In this write-up, we will highlight the top Kanban tools available to you.
But before we get to our list it is important to properly understand what Kanban is and why implementing it will benefit your company and your team.
What is Kanban?
You can easily understand Kanban as a visual system that allows you to easily manage work, particularly as it moves through a process.
More precisely Kanban provides a visualization of a particular process or workflow as well as the work passing through that process.
The lean software development methodology, Kanban, helps manage the creation of products while focusing on the timely delivery of functionality while also managing the work in progress.
Core Kanban method practices
Visualize the flow of your work
Limit work in progress
Manage and improve the flow
Define and visualize your process policies
Implement feedback loops
Improve collaboratively through a scientific method
Benefits of using the Kanban system
Allows your team members the ability to focus
Creates increased efficiency
Improves productivity
Provides flexibility
You reduce wasted time as well as wasted work
You and your team are forced to focus on continuous delivery
What is a Kanban Board Software?
The Kanban Board Software can help you to visualize your workflows on an interactive Kanban board online. These software solutions help you create a digital Kanban board that is easy to share with the team and gives a better ability to manage the work stages from start to finish.
The software for Kanban boards can make team collaboration more efficient while working on any type of project. The Kanban software enables you to set work-in-progress limits, time tracking, assign tasks to team members, and help eliminate bottlenecks.
There are many benefits of Kanban online and offline tools, but Kanban software helps you to:
Visualize work stages and processes
Automate workflows
Reduce waste and utilize time in the best manner
Depicts the individual/team's capacity
Help showcase the work progress to the stakeholders
Picks for the Top Kanban Tools
Now that you understand what Kanban is, and how Kanban tools can help with your workflow and allow your team to work more efficiently.
Here are our top picks for the Kanban tools that you need to consider for your workforce.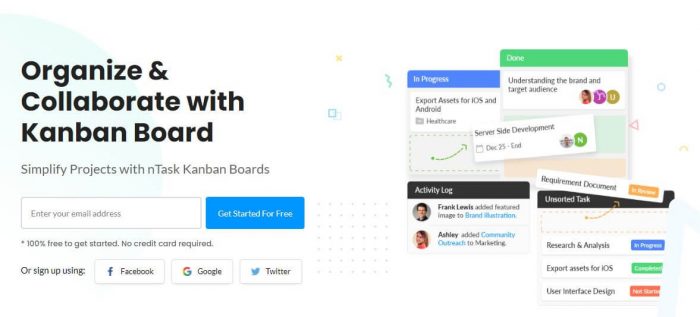 nTask is a robust project management software to date.
Since its inception, the program has undergone several overhauls to meet modern-day project managers' requirements – and that too is based on current Agile methodologies.
To that end, getting things done faster through various feature sets is no longer a matter of preference for end users. The nTask Kanban Tool is lined up with multiple options dedicated to different work environments where PMs can proceed with projects according to their unique workflow.
The software recently introduced an exclusive Kanban Board System for high-performance deadline-oriented processes. For a quick glance on nTask Kanban boards, check out this video:
You manage your tasks in any view you want, either: Kanban Board view, grid view, calendar view, list view, or on Gantt charts view. Try nTask Kanban Board Tool to organize your stuff and get a better view of your workflows in one glance. Try it free here.
Kanban Features:
Supports multiple team and workflow methods.
Create your own Kanban template or select from a variety of ready-to-use boards.
Organize, manage and deploy multiple teams via multiple Kanban boards/ lists.
Responsive drag and drop features for convenient cards shuffling.
Prioritize and de-prioritize processes based on their critical levels.
Data filtering via multiple overlays.
Option to upload files, images, and documents with multiple extensions.
Sync across multiple team accounts to keep everyone on the same page.
Multi-language support for diverse workflow (Available in seven languages).
Pricing:
The basic plan is free with unlimited tasks, timesheets, issue tracking, and more.
nTask Premium starts at $3/user per month. This plan includes the Project Management module, Kanban Boards, Gantt Charts, and Filters.
nTask Business starts at $8/user per month. The Business plan includes Kanban Templates, Custom Status, Risk Management module, Risk matrix, and many more.
For Enterprise solutions, contact nTask customer support today.
nTask is the Best Interactive Kanban Tool.

Manage all your tasks, projects, team collaboration and more in one place. Sign up today!
2. Monday.com

Monday.com is a popular planning tool with Kanban boards, as well as tracking options, collaboration features, and workflow automation features.
Monday.com provides a single platform where teams can plan, track, and execute tasks in a visual collaborative space.
Kanban Features:
Task, resource and document management
Gantt charts available
Workflow automation options
Timesheet tracking
Team collaboration ability
Supports agile methodology
Pricing:
Basic plan for $8 per month per user
Standard plan for $10 per month per user
Pro plan for $16 per month per user
Customizable enterprise plan
3. Trello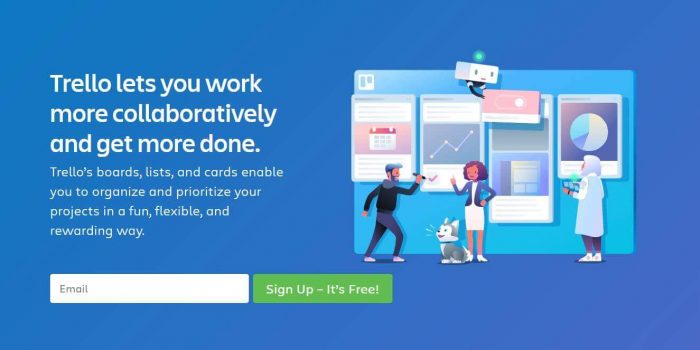 Trello is a popular choice among many as the go-to Kanban software. It is a project management tool based on the Kanban framework.
Trello allows teams to simplify all things task management by adopting a typical to-do list format.
The software allows for sharing boards across teams and different users enabling easy communication and collaboration.
Kanban Features:
Ability to create checklists with a progress meter
Easy organization through categories, labels, and tags
Email notifications
Real-time sync from different users
Options to upload attachments and files
Supports 10 different languages
Deadline reminders can be enabled
Data filtering
Pricing:
Free option
Business-class plan for $12.50 per user per month
Enterprise plan for $17.50 per user per month
Related:
The 11 Best Trello Alternatives for Kanban Project Management
4. Kanbanize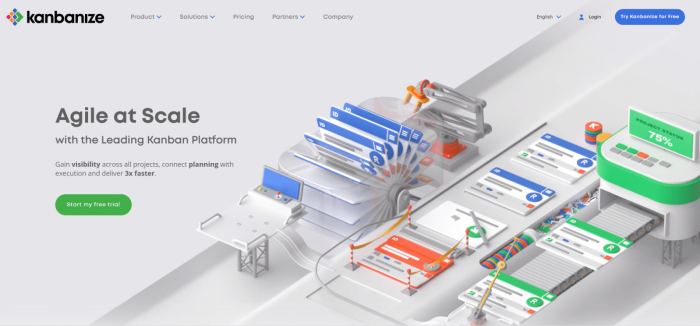 Kanbanize combines Kanban-style features with business automation into one platform and is a great Agile project management software.
Kanbanize makes it onto our list for its ability to improve workflow while providing a visualization of key elements and breaking them down into hierarchal levels of work items.
Kanban Features:
Powerful analytics
Customizable features
Kanban boards
Multiple workflows
Timeline view brings an agile approach to planning
Card links let you track cross-team dependencies
Ability to integrate with other apps you use
Pricing:
Annual plan for 15 users starting at $99 per month
Month by month plan for 15 users starting at $119 per month
5. Nuclino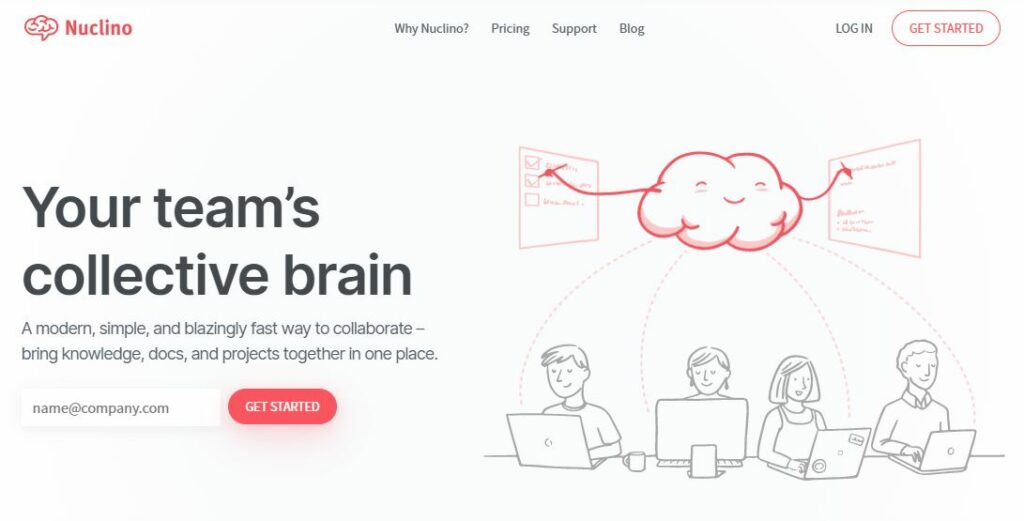 Nuclino is a unique Kanban tool that brings together Kanban-style project management and long-form content collaboration.
In Nuclino, every card on your board is its own long-form document that can be collaborated on in real time. You can add notes, create to-do lists, embed files, and more, managing and documenting your projects in one place. Feedback can be exchanged directly in Nuclino, preserving the context of every decision.
Kanban Features:
Kanban boards combined with long-form content
Custom fields for tracking assignees, due dates, tags, and more
Task lists and assignments
Real-time collaboration
Markdown commands and keyboard shortcuts
Drag-and-drop editor
Comments and @-mentions
Integrations with 40+ apps, including Slack, Google Drive, and Figma
Pricing:
Basic free plan
Paid subscriptions start from $5 per user, per month
6. ProProfs Project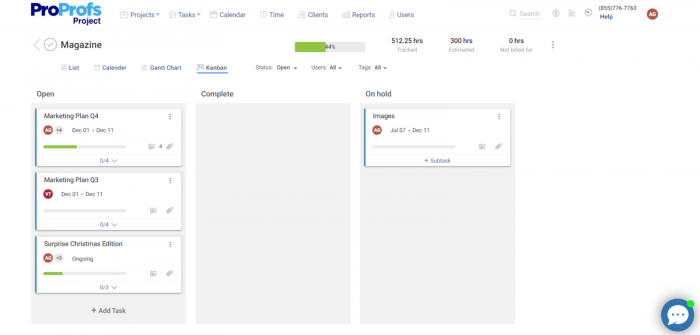 ProProfs Project is an online Kanban tool that offers all-in-one project management solutions for different businesses. The platform provides customizable Kanban boards for smooth workflow management. The tracking features, collaborative tools, & advanced reporting make it a popular choice for Kanban teams.
The software is great for remote teams looking to collaborate and complete projects on time and within budget.
Kanban Features:
Increased task visibility for better efficiency
Multiple workflow methodologies
Customizable Kanban boards
Responsive drag and drop features for ease of use
Real-time sync across all devices
Data filtering via multiple overlays
Pricing:
Free – no charge freemium plan
Essentials – $3 per user per month
Premium – $6 per user per month
7. Hygger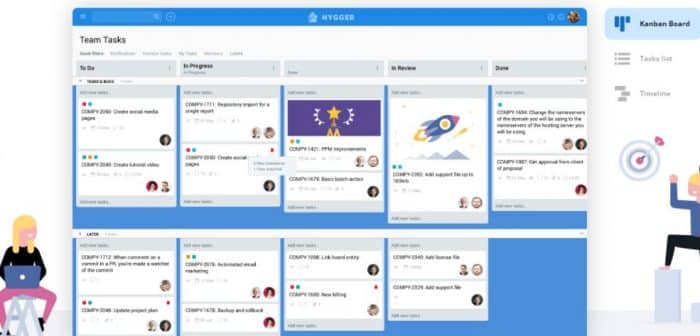 Hygger is a handy Kanban tool for software development teams that is loved both by tech and non-tech companies. The platform offers friendly Kanban boards with WIP limits, Swimlanes, time tracking, and Scrum support. Hygger allows applying the other kinds of project boards: a Sprint board, to-do lists, and a timeline.
The tool also offers powerful prioritization frameworks and robust roadmaps based on Gantt Charts, for advanced planning and scheduling.
Kanban Features:
Ability to create checklists

Swimlanes that split the board horizontally for easy tasks categorizing

WIP limits for defining roadblocks and inefficiencies

Prioritization processes

Roadmapping

Handy organization with labels and tags

Uploading attachments and files

Deadline reminders

Project planning abilities

Time tracking
Pricing:
Free option

Standard – $7 per user per month

Enterprise – $14 per user month
8. Bitrix24

Bitrix24 is a free online Kanban tool chosen by many businesses both large and small for their project management needs.
The software also is a great choice for remote teams that wish to keep in contact with each other as well as collaborate efficiently.
Kanban Features:
Collaboration features
Time tracking
Task management
Milestone and dependency tracking
Multi-board views
Project planning abilities
Pricing:
Free plan available
36% discount on a 2-year subscription
Start + plan for $15.36 per month for all users
CRM+ plan for $44.16 per month for all users
Project+ plan for $44.16 per month for all users
Standard plan for $63.36 per month for all users
Professional plan for $127.36 per month for all users
9. MeisterTask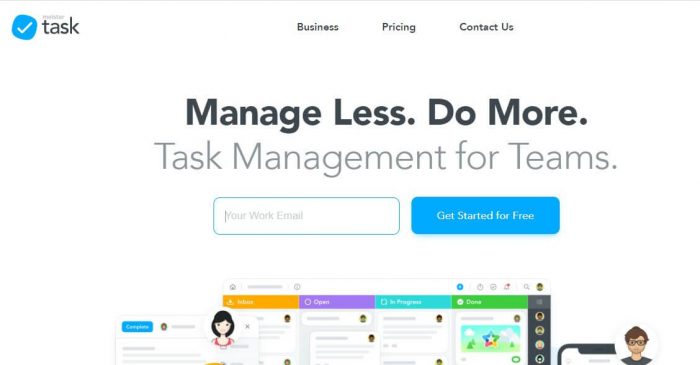 The next Kanban online tool on our list is the MeisterTask.
MeisterTask was created to meet the needs of agile project teams. The software accommodates different kinds of workflows including Kanban systems, software sprints as well as simple static project boards.
Kanban Features:
Time tracking software
Task management
Project planning and road mapping abilities
The software supports scrum, an important feature for agile teams
Milestone and dependency tracking options are available
The software includes tools to enable efficient collaboration
Multi-board views
Pricing:
Basic plan as a free agile tool
Pro plan for $4.19 per month
Business plan for $10.39 per month
Contact for custom enterprise plan
10. Taskworld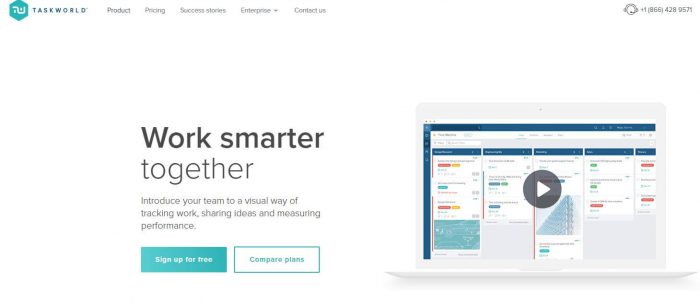 Up next is Taskworld, Taskworld is the best tool for Kanban boards while also allowing you to keep track of your work.
Although it should be noted that the iPad and iPhone versions of this tool could use some improvement.
Kanban Features:
Collaboration tools
Task management
Time tracking features
Project planning abilities
Road-mapping
The software also supports scrum
Milestone and dependency tracking
Pricing:
Free plan available
Pricing starts at $10 per month per user.
11. Productboard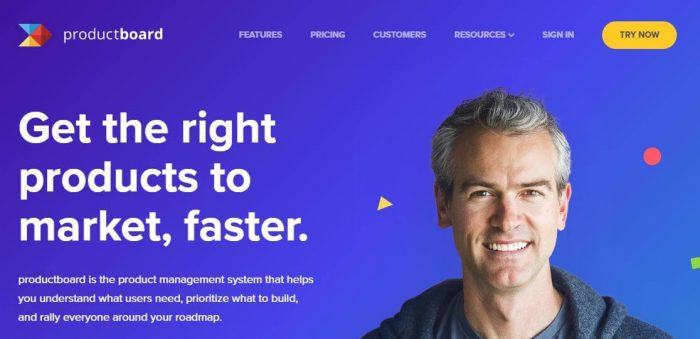 Next up is Productboard which is a Kanban product management system that allows your entire team to be aligned in the development cycle.
Customizable boards allow for teams to have the right balance of flexibility and guidance.
Kanban Features:
Dependency tracking options
Task management
Tools to aid your team to collaborate efficiently
KPI monitoring
Project planning
Kanban boards
Pricing:
Individual plan for $59 per month per user for 5 contributors
Team plan for $119 per user per month for 20 contributors
Business plan for $199 per user per month billed annually for 50 contributors
Contact for custom enterprise plan
12. Kanban One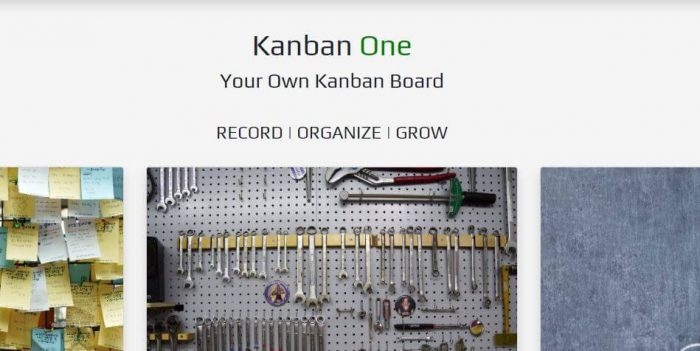 Kanban One follows the principles of the Kanban method by allowing you to visualize your activities on a virtual board.
The tool allows you to track your activities and calculate analytics, providing you the ability to improve your workflow, therefore making it a valid contender of our top picks for Kanban tools.
Kanban Features:
Time tracking abilities
Task management
Collaboration tools make it a great tool for teams
Monitoring of key performance indicators
Pricing:
The basic plan makes Kanban One the best free Kanban tool online
Pay as you go plan is billed monthly at €99 per month
Annual plan is billed yearly at €99
Check this out:
Scrumban Guide for Aspiring Agile Project Managers
13. Kanban Tool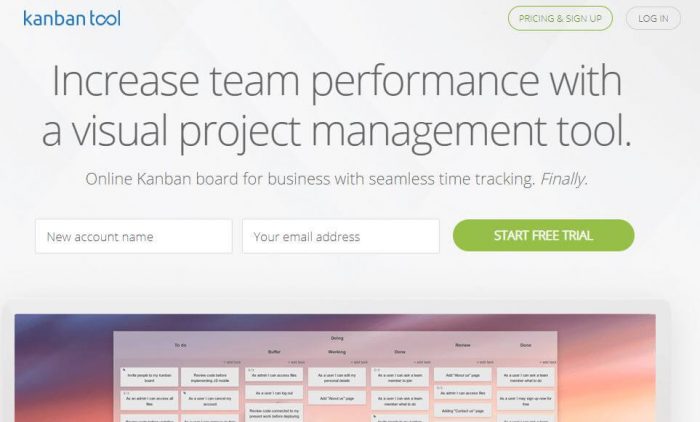 Kanban Tool aims to provide a Kanban board for business while simultaneously proving seamless time tracking.
Kanban Tool streamlines your planning with cards and tasks allowing you to know where your project stands and what needs to be done.
Kanban Features:
Kanban board allows you and your team to gain a visual overview of your work status
Collaboration and communication can be achieved in real-time
Visual management allows you to analyze and improve your processes
Identify issues with analytics and metrics
With cumulative flow diagrams plan and monitor performances
Pricing:
Free plan available
Team plan for $5 per user per month
Enterprise plan for $9 per user per month
14. Forecast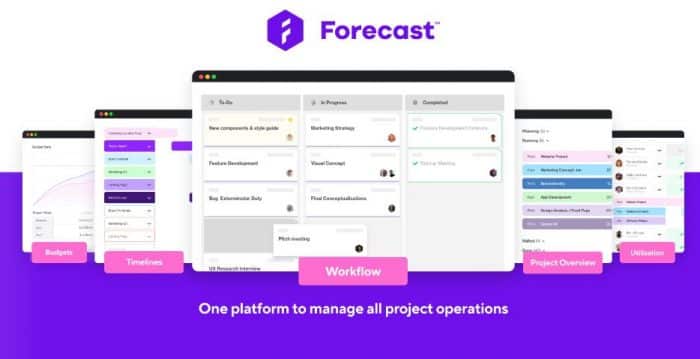 Forecast.app is also a great platform to manage your project workflows, especially if you've outgrown Trello. It goes beyond most of the Kanban board tools by offering you the ability to create project timelines, schedule resources, register time, and monitor budgets – all in sync with your boards.
Kanban Features:
Task cards with estimates, deadlines, task dependencies, file sharing, comment, and subtask section.
Project timelines in sync with your Kanban boards.
The ability to have one workflow for connected projects.
Task or project-based resource schedule across the entire portfolio.
Weekly to-do lists.
Timesheets.

Pricing:
Lite plan starting at $29 seat/month with min. 10 seats, including all mentioned above and more.
Pro plan starting at $49 seat/month with Retainer and Budget functionality in addition to everything in Lite.
Enterprise plan with everything in Pro, plus SLA, time locking, and enterprise integrations.
15. ProofHub

The next software on our list is ProofHub. ProofHub is a project planning software that implements the Kanban method.
ProofHub has an in-built Kanban project management tool for you, it provides a visualization of your entire project by allowing you to view tasks as they move through multiple stages on the Kanban board.
Kanban Features:
Task management allows you to have a clear distribution of responsibilities all housed in one platform
Option to break tasks into subtasks that are smaller and easier to manage
Prioritize, organize and customize tasks
Manage project progress by setting start and end dates
Option to create recurring tasks
Collaboration and communication features such as @mentions
Pricing:
Essential plan for $50 per month, when billed monthly
The ultimate control plan has a current offer for $99 per month when billed monthly
16. Asana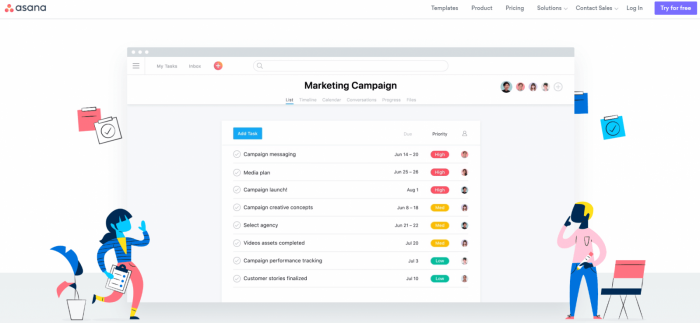 Asana focuses on workflow management and with its Kanban board feature, the software allows you and your team to manage projects efficiently and therefore is next on our list.
The software helps teams visualize all the work they need to complete as well as the progress of tasks they are working on.
Kanban Features:
Boards allow you to have an in-depth visual of your work and allows you to move work through the multiple stages of a project lifecycle
Timeline features let you plan and see how the pieces of your project fit together
Simplify workflows with automation features
Streamline work requests
Workload management
Integrate with your favorite apps
Pricing:
A basic plan for free
A premium plan for $10.99 per user per month (when billed annually)
Business plan for $24.99 per user per month (when billed annually)
Contact Asana for the enterprise plan
Find more apps like Asana:
The 20 Best Free Asana Alternatives of 2023
17. LeanKit

LeanKit is the next on our list as a Kanban software created explicitly for lean project management.
This Kanban project management tool helps businesses manage workflow processes, tasks, view progress, and much more, through their analytics, metrics, audit trails, and Kanban boards.
Kanban Features:
Collaboration tools
Task management
Project planning tools
Process and work visualization
Online Kanban boards
Visually communicate blocked work and identify and address risks efficiently
Pricing:
Free plan available
Pricing starts at $12 per month per user
18. KanbanFlow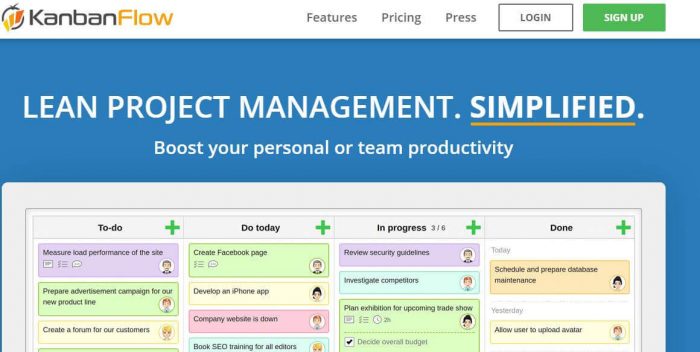 This Kanban project management tool is our next pick. This tool specifically is designed to track the time it takes for you and your team to complete specific tasks.
KanbanFlow is a simple Kanban tool that allows you to create lists and cards, customize these, and divide your Kanban board into sections for easy task management and workflow management.
Kanban Features:
Customizable workflow
Ability to create subtasks
Horizontal swim lanes provide you with a better overview of your tasks
Filter tasks you create by the user, labels, color, or due dates
Option to create recurring tasks
Documents and file attachments ability
Analytics and reporting features
Time tracking ability
Integrate with your favorite apps
Pricing:
Free plan available
Premium plan for $5 per user per month
19. Zoho Projects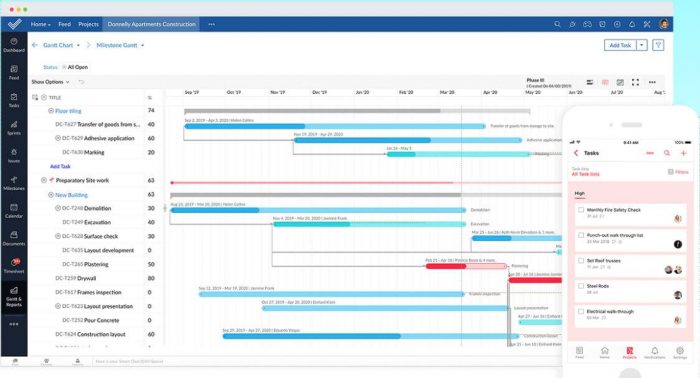 Zoho Projects takes the next spot in our lineup as a Kanban project management tool.
Kanban project management in Zoho Projects provides a visual overview of your project so you can be aware of who is assigned a particular task, what deadlines are closing in, and other such details.
Kanban Features:
Options to integrate with other software
Task automation options
Gantt charts give you an overview of the entire project
Timesheets
Pricing:
Free plan available
Standard plan for $3 per user per month. This plan starts with 6 users and goes up to 10 users.
Express plan for $4 per user per month. This plan starts with 12 users and can go up to 50 users.
Premium plan for $5 per user per month. This plan starts with 15 users and can go up to 100 users.
Enterprise plan for $6 per user per month. This plan starts with 20 users and can accommodate an unlimited number of users.
Find more apps like Zoho:
23 Best Zoho Alternatives to Use in 2023
20. Teamhood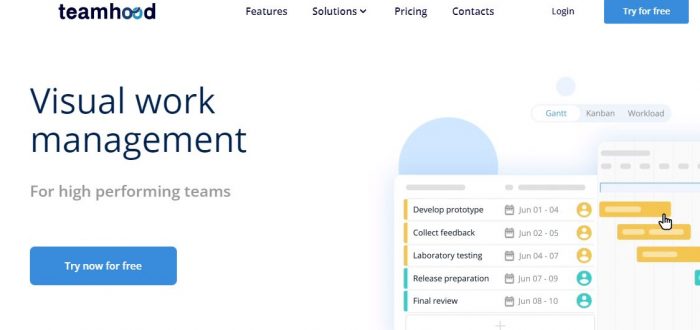 Teamhood is a Kanban solution that can help you optimize operations regardless of your industry or the type of size of your company and team.
Teamhood offers its users the option of whether they wish to use the Kanban framework. If they choose to do so they have the access to Kanban capabilities such as work prioritization, reporting, Kanban metrics, a configurable task board, and more.
Kanban Features:
Swimlanes and sub-swimlanes
Work in progress limits
Commitment points
Actionable Agile metrics
Statuses
Supports different methodologies such as Kanban, Agile, Waterfall, and Hybrid.
Pricing:
Teamhood offers a Premium plan starting at $13 per user, per month
The Professional plan costs $11 per user, per month
There is also an Enterprise plan which is customizable. For more details contact the sales team at Teamhood.
Frequently asked questions for Kanban Tools
Is Scrum Better than Kanban?
There is no simple answer to this question. But we have gone over the differences between the two in our post on Kanban vs Scrum. You can check it out at your discretion.
To highlight some major differences, here are some keynotes:
Kanban focuses on extensive planning whereas scrum provides the flexibility to make changes as you go.
Kanban is said to be the best for those projects that may have changing priorities whereas scrum is more catered to teams with stable priorities.
Kanban is based on the Kanban board as a tool whereas scrum incorporates a board, backlogs, and burn-downs.
Kanban's primary metric is a lead team whereas scrum's primary metric uses velocity.
Why Is It called Kanban?
Kanban is a Japanese word that can be roughly translated to "card you can see". The first Kanban system was started in the early 1940s by an industrial engineer and businessman called Taiichi Ohno.
The system was introduced for Toyota in its relay system to allow its just-in-time production lines to standardize their flow in parts.
What Is The goal in Kanban?
The goal of implementing Kanban is to be able to identify potential bottlenecks in your process and fix them so that your work can flow through the process effectively and efficiently.
Does Google have a Kanban Board?
Google does not include any in-built Kanban board but we have highlighted some great software and project management tools that have a Kanban board feature, and some of these software can integrate with the G Suite pack.
There you have it!
What else would you like to see on this list? Let us know through the comments section below. Don't forget to bookmark this post, as we will be adding more software recommendations to it later.
Feel free to share your suggestions at fwilson@ntaskmanager.com