In an ever-evolving digital world, staying on top of technical issues can be a daunting task. But fear not! We've done the hard work for you and identified the 7 best issue tracking tools for 2023. 
Whether you're in tech support or running a business, these issue-tracking tools will help you stay organized and on top of any problems that arise. Read on to find out which one is best for you!
What is issue-tracking software?
Issue tracking software is a tool used by teams and organizations to manage and track issues or problems that arise during the course of a project. It provides a centralized platform for tracking issues, assigning them to team members, setting priorities, and monitoring progress.
Issue tracking software enables teams to collaborate effectively and resolve issues in a timely manner, reducing the risk of delays, errors, and miscommunication. It also helps organizations improve their processes and identify areas for improvement by analyzing the patterns and trends of issues over time. Overall, issue tracking software is an essential tool for efficient project management and quality assurance.
How do Issue Trackers Work?
Issue trackers provide a centralized platform for teams to track, manage and resolve issues that arise during a project. Users capture and record issues, including details such as description, severity level, and attachments.
The issue tracker assigns issues to specific team members or groups and sets priorities. Once assigned, team members can communicate with one another, update progress, and provide status updates. The issue tracker allows managers and team members to monitor issues and identify patterns or trends. This data can be used to make informed decisions about resource allocation and process improvement.
Types of Issues that can be raised
Here are some of the types of issues that can be raised with issue tracking:
Bugs and errors in software or applications
Technical issues with hardware or infrastructure
User interface or user experience issues
Quality control and assurance issues
Compliance and regulatory issues
Customer complaints or feedback
Project management issues such as delays or missed deadlines 
Feature requests or enhancements
Security and privacy concerns
Communication and collaboration issues among team members
The 7 Best Issue-Tracking Software
Are you looking for the best issue tracking software? Look no further! We've rounded up the top 7 issue tracking software solutions to help you manage your projects and keep your team on track. From basic tools to more advanced solutions, we've got you covered. Read on to find the best fit for your team!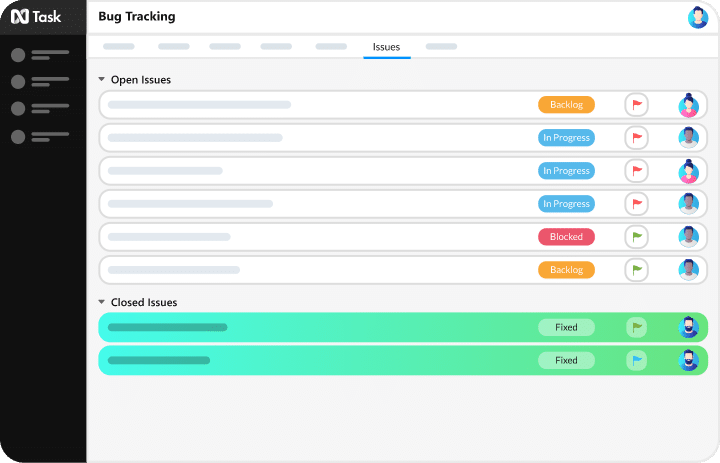 The nTask issue tracking app is designed to help streamline the process of managing multiple tasks and projects. It allows users to easily organize and track their tasks, set reminders and deadlines, view progress in real-time, assigns the task to other users, and receives alerts when status changes occur or items are due for completion.
The app also contains a variety of reports that provide summary data on progress such as total hours worked per user or completed/overdue tasks per project. Users can share files related to specific issues with each other directly from the app in a secure manner, ensuring confidential information remains secure. 
In addition to the task tracking capabilities the app also provides automated notifications to stakeholders when particular milestones have been reached or new items have been added so everyone is kept up-to-date on current project statuses.
Features
Creation of tasks with necessary details – Users will be able to create and add details such as task type, priority level, assignee, due date, etc. for each task created through the app
Assigning tasks – Users can assign tasks to other users in their team or organization using this app.
Commenting on tasks – Users have the capability to comment on specific task-related discussions and conversations under each respective task thread which will be helpful for tracking the progress of tasks between users within an organization or team
Task status updates– The app will provide real-time updates regarding changes made to a task including its status like completed, pending, assigned members, deadlines, etc., making it easier for all members in a group or team to stay informed about relevant task progress at any given moment.
Reporting & Analytics – The issue tracking application provides comprehensive reports and analytics based on user activities like the number of issues reported by a certain user(s), resolution time for various types of issues as well as overall performance metrics for teams/groups along with detailed insights about individual user contribution over a time period.
Pricing
Premium $3/user/month
Business $8/user/month
Enterprise custom/pricing
Easy Issue Tracking
Software: nTask!
2. Zendesk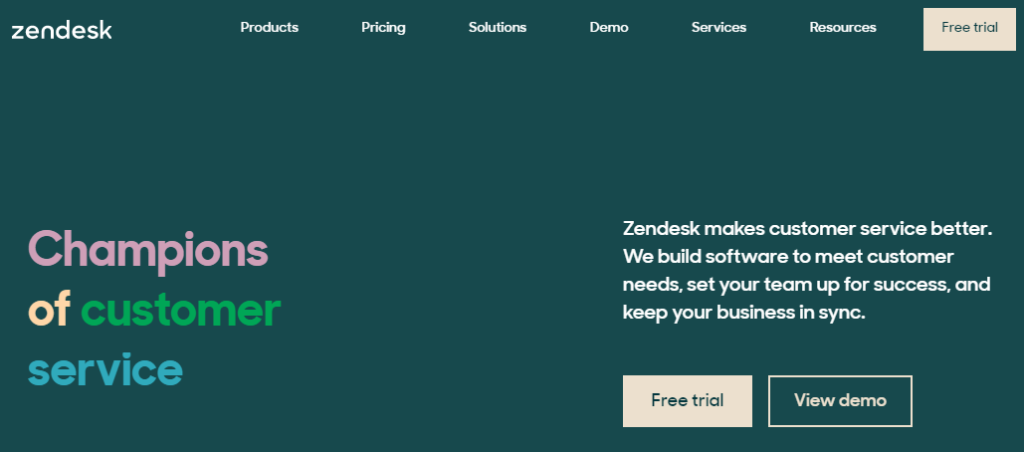 Zendesk is an issue tracking app, designed to provide customer service reps with a way to easily track, organize and prioritize customer support requests. The app allows users to create "tickets" which contain all of the pertinent information relating to a customer inquiry such as name, contact information, product details, and even file attachments.
Tickets can be assigned priority levels and also marked as resolved when needed. These tickets can then be searched or filtered by user-defined criteria for quick access and resolution of emergent issues. Zendesk also provides notifications so that users are kept up to date when changes occur within the ticketing system. 
Additionally, it integrates with popular third-party applications like Slack, Shopify, and Salesforce for a seamless experience in managing customer inquiries across different platforms simultaneously.
Features
Ticketing System: The ticketing system lets users quickly organize incoming customer inquiries or complaints into tickets that can be assigned, tracked, and managed easily.
Automated Workflows: This feature automates common tasks associated with managing tickets such as assigning new tickets or automatically escalating unresolved conversations after a certain period of time.
Knowledge Base: The knowledge base functions as an online library where customers can find answers to frequently asked questions and troubleshoot any issues they may be having without needing to contact support directly.
Self-Service Portal: This feature allows customers to submit requests for assistance and schedule appointments without contacting support staff directly. Customers can also track their requests from start to finish using this portal.
Reporting Tools: Zendesk's reporting tools allow managers or supervisors access comprehensive data on customer interactions with the company, so they can better understand the needs of their customers and optimize processes accordingly.
Pricing
Suite Team $49/month
Suite Growth $79/month
Suite Professional $99/month
3. Slack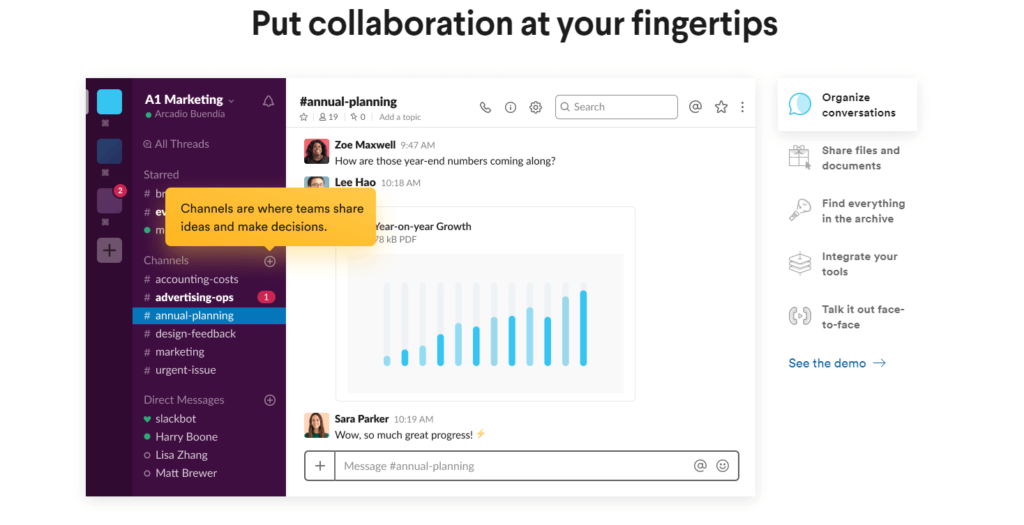 Slack is one of the best issue tracking software that is available today. It provides a powerful platform to manage and track issues across multiple teams. Slack's features are designed to help organizations collaborate more effectively and efficiently, allowing them to get more done with less effort. The main features of Slack include allotments, project plans, status updates, notifications, reminders, task assignments and customizations. 
Through these various functions, users can assign tasks to an appropriate team member as well as keep tabs on outstanding items for completion. In addition to this basic functionality, Slack also includes powerful analytics tools which allow businesses to visualize their projects in real-time from any device or browser so they can make changes quickly and ensure successful projects go according to plan.
Furthermore, Slack offers integration with other productivity apps such as Jira or GitHub so teams can easily auto-track issues from those sources directly into their workflow without delay or hassle. Finally, its mobile app allows teams to stay connected even when away from their desk; making sure that critical tasks remain up-to-date no matter where people are located. 
Features
Collaborative Issues Tracking: Slack's best issue tracker software allows teams to collaborate on issues in the same place, without having to switch between tools. Team members can easily share ideas, assign tasks, and work together directly within Slack. 
Centralized Issue Logging: With this feature, team members can log any type of issue with just a few clicks and even add relevant files or screenshots directly into the conversation for further clarity and details about the issue.
Split Task Management: The software gives teams the ability to split their task management responsibilities among different individuals for better organization and workflow efficiency. This way, everyone is held accountable for their respective tasks by assigning them to different owners in the channel who are responsible for completing them on time as mandated by stakeholders and other key individuals involved in resolving an issue quickly and efficiently.
Customizable Configurations: The best feature of Slack's tracking tool is its customizable configurations that enable users to customize how they would like their data presented so they can see updates or changes more clearly when editing various projects or assignments simultaneously from one central dashboard viewpoint.
Onboarding Feature: With Slack's onboarding feature, new employees can easily learn how to use the platform quickly by reading through simple instructions available on every page along with interactive tutorials provided by experienced user peers which help newcomers get up-to-speed faster than ever before.
4. ClickUp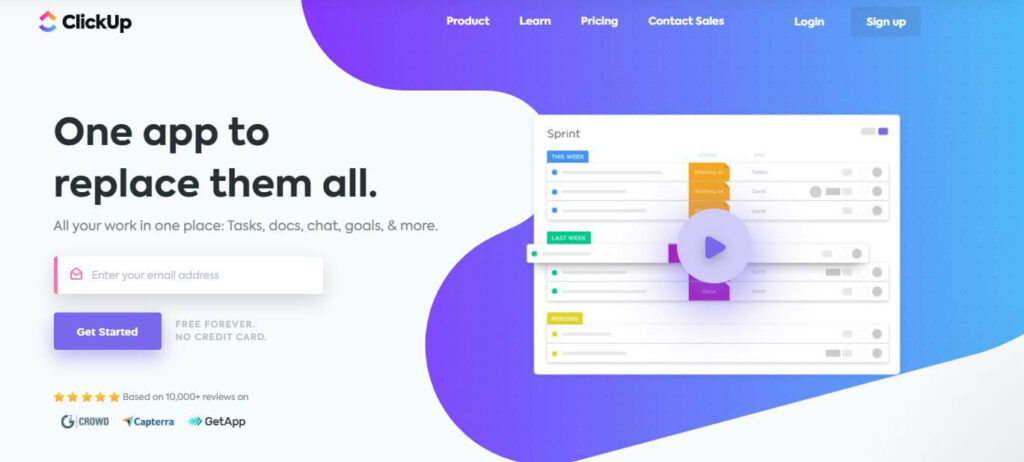 ClickUp is one of the best issue tracker software currently available in the market. It is a comprehensive tool that helps teams track and manage their projects effectively, while also providing real-time collaboration and task management capabilities.
With ClickUp, teams can create detailed issues with deadlines, assign tasks to users or groups, set specific due dates for each assignment, and view progress updates in an interactive timeline. Additionally, it offers powerful reporting capabilities so you can analyze performance data at any given point in time.
What's more, ClickUp integrates seamlessly with other project management tools like Slack, Asana, and Trello to give you a holistic picture of your team's workflows. Moreover, it comes with several pricing plans so businesses can choose a plan that best fits their budget constraints. Overall, if you're looking for reliable issue tracker software that provides useful features without breaking the bank – Clickup should be your go-to choice!
Features
Task Management: ClickUp helps to easily manage tasks, prioritize them, assign work to team members, keep track of deadlines, and get an overall view of the project timeline. It is especially useful for teams working on multiple projects simultaneously.
Time Tracking: ClickUp makes it easy to keep track of time spent on tasks and projects with automatic time-tracking features that allow you to see how much time each team member has invested in a project.
Collaboration Tools: The platform provides a range of collaboration tools such as task comments with instant notifications, automated reminders for upcoming due dates, conversation threads for quick conversations about any particular task, and more!
Customization Options: ClickUp offers custom views so users can organize their workspace according to their individual preferences as well as tag tasks from multiple different categories so they can be found quickly when needed later down the line.
Reporting & Analytics: ClickUp includes robust reporting & analytics capabilities that give teams visibility into the progress made on projects over time and across different departments or divisions in real-time! This allows managers and team lead to make informed decisions quickly without having to manually comb through large amounts of data manually every day!
Pricing
Free Forever – Free
Unlimited $5/month
Business $12/month
Business Plus $19/month
Enterprise custom/pricing
5. Github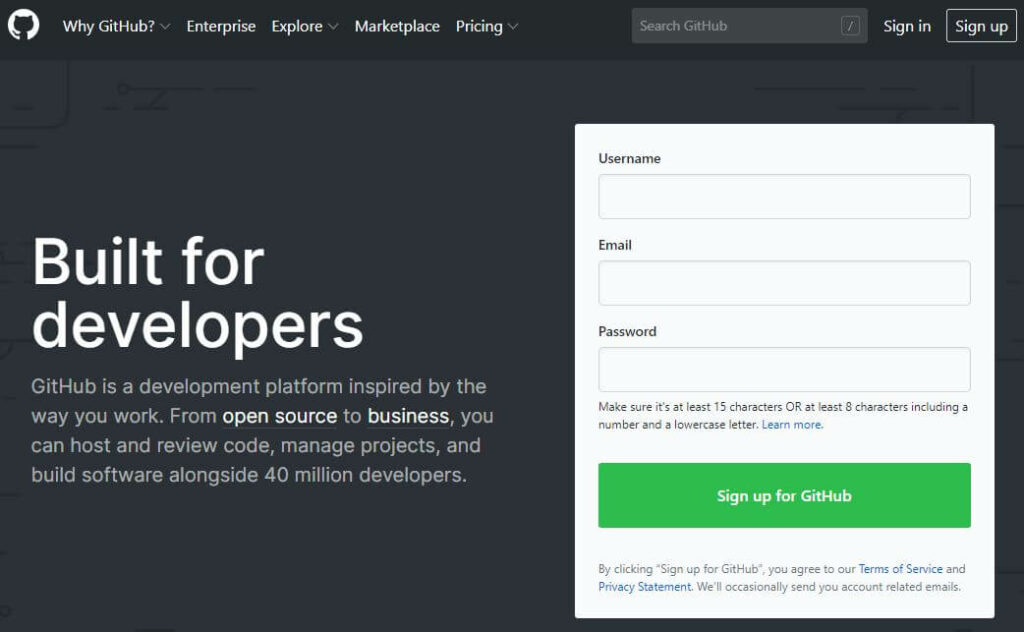 GitHub is widely regarded as one of the best issue tracking software available. This web-based version control system allows developers to store code, track and collaborate on projects, and even manage their own workflow. It's extremely easy to use, with an intuitive user interface that makes it a breeze to create issues or tasks for team members working on a project.
With GitHub, teams can easily assign tasks to each other and keep track of who is responsible for what. Each issue created can contain comments from other members of the team as well as attachments if needed. GitHub also gives users powerful tools such as assignment rules and labels which help them organize their workflows better and make sure everyone knows what needs to be done at any given time.
Developers also have access to automated notifications so any changes made are communicated quickly across all connected devices. Thanks to its robust features and ease of use, GitHub is widely considered the best issue tracking software available today!
Features
Issue Tracking: GitHub allows users to view open and closed issues, create new issues, assign tags to track and organize tasks, comment on existing tasks as well as add attachments for more detailed issue tracking and resolution.
Collaboration: The platform allows users to collaborate in real-time when working remotely with team members or other entities across the globe while providing visibility into project progress and automating workflows.
Flexibility: GitHub provides flexibility allowing customization of code repositories by incorporating tools that are already used within an organization such as Selenium, Amazon Web Services, Jenkins, etc., enabling teams to build software faster by leveraging existing toolsets they know and trust.
Security & Reliability: GitHub provides secure access control features with granular permissions levels so only authorized users can access projects while giving administrators detailed insights into user activity within their organization's repository.
Documentation & Insights: GitHub offers comprehensive documentation on how the system works along with integrated insights into the security aspects of their platform such as release notes updates on network performance etc., enabling organizations to make informed decisions about their software production practices
Pricing
Free $0/month
Team $3.67/month
Enterprise $19.25/month
6. LiveAgent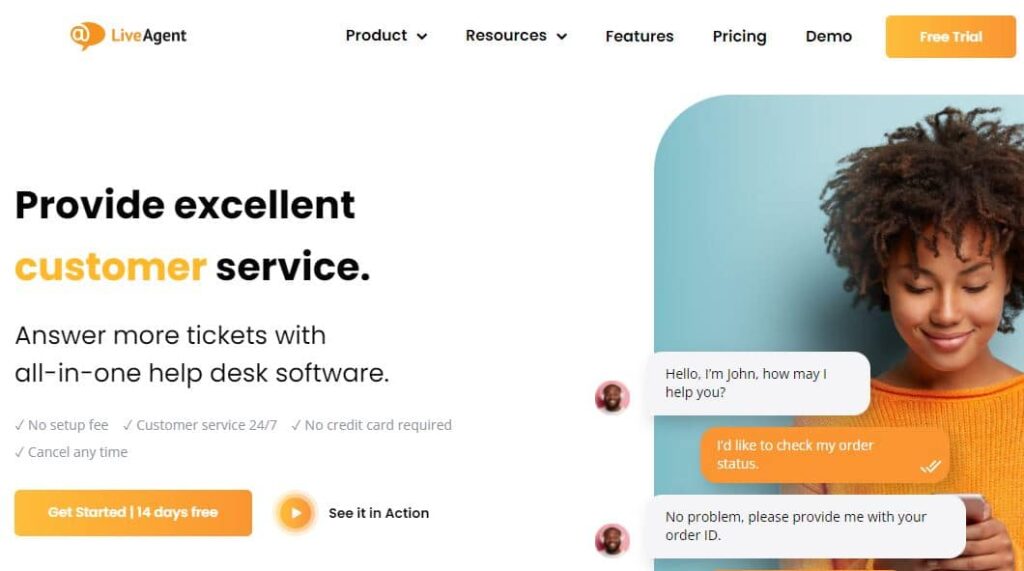 LiveAgent is a comprehensive and efficient issue tracking app that helps streamline and manage customer service issues. It enables businesses to quickly resolve customer inquiries, track progress and store all information in one place. The easy-to-use interface allows users to easily search for topics or add new ones without any clutter.
With features such as automatic ticket creation, internal notes, support level assignment, and more; it allows agents to stay on top of every single customer inquiry without fail. Additionally, LiveAgent's integrations with popular third-party platforms like Zendesk, Salesforce, and Freshdesk ensure the best possible customer experience while maintaining complete control over the workflow.
Overall, LiveAgent is an incredibly powerful issue-tracking solution perfect for businesses of any size looking to stay organized, efficient, and productive when managing customer service queries.
Features
Dashboard: A customizable dashboard that allows administrators to quickly access important data about their customer support team, including ticket statuses and response times.
Ticket Management: Create, manage, and monitor customer tickets with a single click, allowing the resolution of issues faster than ever before.
Automation: Automate common processes like ticket routing and assignment, ensuring tickets are routed to the right resource automatically.
Reporting & Analytics: Generate powerful reports on customer support performance while leveraging cutting-edge analytics tools such as machine learning to improve overall service levels.
Integrations: Integrate with third-party applications such as CRM software or cloud storage solutions to provide seamless cross-platform connectivity for customers and admins alike.
Customer Portal: Allow customers to submit requests easily via a self-service portal or contact form for quick resolution times without waiting in line for assistance from an agent or replying to back-and-forth emails with multiple questions asked by the agent just to get basic information from the customer.
Pricing
Free $0/month
Small $9/month
Medium $29/month
Large $49/month

7. SysAid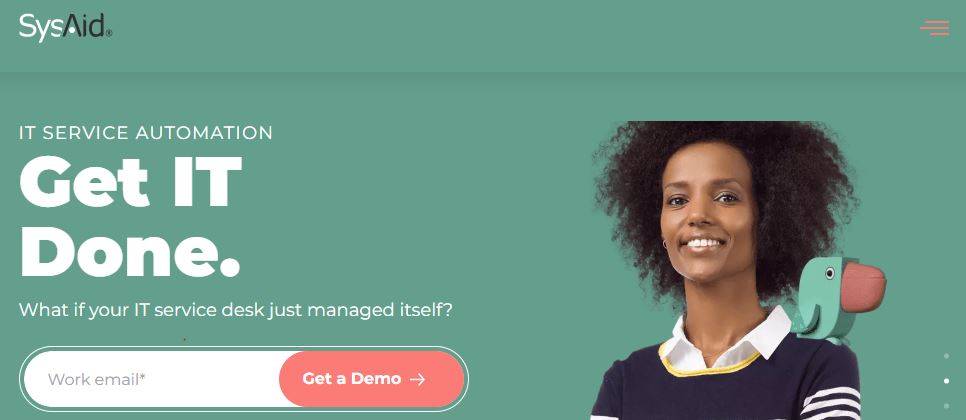 SysAid is a great option for businesses looking for an easy-to-use, streamlined issue tracking app. Its user interface is intuitive and allows users to quickly enter new issues or access existing ones with ease.
In addition, its customizability makes it possible for businesses to tailor the system to fit their specific needs. The search and filtering features enable users to easily find what they are looking for and make sure that no critical issues slip through the cracks.
With built-in escalation rules, SysAid can automatically alert relevant personnel when important tasks are overdue or require immediate action. It is also highly secure, utilizing two-factor authentication that helps keep your data safe from unauthorized access. By using SysAid's issue tracking app you can simplify your workflow while ensuring all tickets remain organized and efficiently managed in one central place.
Features
Issue Classification: The SysAid issue tracking app allows users to easily classify the issues they wish to track according to their category and severity.
Automated Status Updates: The app facilitates automated notifications and reminders that keep everyone in the loop as well as allow users to create workflow rules, monitor issues, and update status information faster than ever.
Mobile Accessibility: The app is accessible on mobile platforms such as iOS, Android, Windows Phone, and Blackberry devices giving users easy access regardless of their location.
Advanced Reports & Dashboards: With this feature, users can easily generate useful reports with graphs and charts that provide valuable insight into problem areas or where improvement is needed within the organization's workflows or processes.
SLA Management: Through this feature, organizations are able to accurately measure performance metrics for individual cases or for entire teams of workers by setting service level agreements (SLAs). This ensures compliance with organizational policies while minimizing costs associated with error resolution times or customer complaints due to lack of quality service delivery from staff members handling tasks within a set time period or deadline requirements from customers/clients/etc.
Pricing
Free trial and quotation pricing.
What are the benefits of issue tracker software?
Issue trackers can be an incredibly useful tool for any project, providing users with an organized system to track and monitor progress. In this article, we'll explore what issue tracking software is and the various benefits it offers.
1. Productivity
Issue tracking software has proven to be an invaluable asset for managing projects of all sizes. The main benefit of issue tracking software is its ability to improve productivity by streamlining workflows and enabling teams to stay abreast of the progress being made on any project.
Through automated notifications, teams can quickly respond to changes and remain up-to-date on the status of issues. This results in less time wasted on checking in with each other and more time dedicated to completing tasks.
Issue tracking software also allows team members to assign specific tasks or responsibilities so everyone is aware of who needs to accomplish what in order for a project to move forward successfully. It eliminates guesswork while ensuring that nothing slips through the cracks due to inadequate communication or clarity around roles and expectations.
Ultimately, this increased level of organization leads directly to improved efficiency, better collaboration between team members, and increased productivity overall.
2. Customer Satisfaction
Issue tracking software helps to build customer satisfaction by providing a comprehensive and transparent system for customers to communicate their issues, get support from product teams, and track the progress of resolution.
As customer complaints are tracked in one central location, it is easy for companies to go back and analyze the data collected which can help detect any recurring issues that need immediate attention. By keeping customers informed on the status of their requests throughout the entire process, they will feel heard, valued, and respected as users of your product or service.
Additionally, if an issue requires more than one party's input or expertise (i.e., two internal departments or both client-side team members), then having an organized system in place will ensure each person knows when it is their turn to address the request accurately and efficiently—thus reducing frustration for all involved parties. The result? Customers remain satisfied with your products/services, boosting loyalty over time!
3. Measurable customer support performance
Issue tracking software provides numerous benefits for customer support teams, one of which is the ability to measure and analyze performance metrics. Using issue tracking software, customer service teams can measure response times, the number of issues resolved in a given period or by individual agents, the total resolution time for each issue, and other key metrics to identify regular trends or outliers in their performance.
These performance metrics provide invaluable feedback to the customer service team on their efficiency and effectiveness at resolving customer issues. This feedback enables them to make informed decisions that improve overall customer satisfaction and help maximize productivity.
In addition, measuring these performance metrics regularly can help the team quickly identify potential problems before they become larger issues that could have an even bigger impact on customers' experiences with the brand.
What are the key features of an issue-tracking tool?
An issue-tracking tool is a software application that helps organizations manage and track issues, bugs, and tasks related to their products or services. Some key features of an issue-tracking tool include:
1. Apps and integrations
Apps and integrations are essential features of any issue-tracking tool. These can greatly enhance the efficiency and effectiveness of the tool. Apps provide an easy and intuitive way to access key information like project progress, tasks, notifications, and more from within the app itself.
Integrations allow for tighter integration with other tools such as Slack or Trello, enabling a streamlined workflow across multiple products or services. For example, an issue tracking system could integrate with Slack so that users can alert team members about progress on tasks directly from their messaging platform.
Other potential integrations include email, time trackers, and AI-powered bots for automating certain processes, or analytics platforms for data visualization purposes. All these features enable users to shorten the amount of time they spend looking up various pieces of information related to their work – allowing them to spend more time actually working on completing those tasks!
2. Conversational support
Conversational support is an increasingly valuable feature of an issue-tracking tool. This allows users to quickly and accurately describe their issues directly to the software, eliminating much of the manual process of attempting to categorize issues manually.
Once an issue is entered into the system, conversational support can help guide users in providing more detail or supporting evidence that would help a customer service representative better understand and address the query. With conversational support, users gain valuable time in dealing with customer service representatives who may not have all the information they need.
In addition, this feature helps streamline processes by automatically classifying categories and tags associated with each query, reducing manual labor for customer service representatives when identifying necessary follow-up steps needed for resolution. By utilizing a conversational support feature within an issue-tracking tool, businesses can quickly provide customers with accurate resolutions that are tailored to their needs in a timely manner.
3. AI and automation
AI and automation are two key features of an issue-tracking tool. Using AI, the tool is able to identify complex patterns in user data, and quickly isolate issues from other tasks and workflows, so you can zero in on the source of a problem in no time.
Automation allows for more efficient tracking and filing of issues by eliminating manual processes such as logging every step taken during resolution attempts. Automated alerts can be set up to ensure that problems are identified as soon as possible to minimize any disruption or delays in workflow or customer service operations.
Automation also helps users stay on top of their assigned tasks by following predefined escalation paths when necessary and empowering IT teams with greater visibility over their projects and resources while faster addressing potential problems before they become catastrophic failures.
4. Analytics and reporting
Analytics and reporting are essential features of an issue-tracking tool. It allows users to get a better understanding of their system's performance and how it is trending over time. Analytics offer insights into the number of open issues, overall progress on resolving them, which teams or individuals are resolving most issues, key sources of resolution delays, and other important information related to project progress.
Reporting allows users to create personalized reports that can be shared with stakeholders for greater transparency and collaboration. Reports can include summaries, charts, and graphs that help visualize open issues status as well as team performance at resolving them efficiently. These reports provide invaluable data for planning future initiatives and making informed decisions about resource allocation in order to maximize the effectiveness of bug-fixing processes.
5. Total cost of ownership
The total cost of ownership in issue tracking software can be difficult to calculate but can range from free open-source offerings to large enterprise-level packages costing several thousand dollars. Factors such as the number of users, hosting requirements, and the features included can all affect the end cost.
For example, most open-source solutions are provided for free but require someone with experience to install and configure them. This means additional costs in terms of time from an IT staff member or consultant who is knowledgeable about issue tracking software. Attendance on related online forums may also be required if technical support is needed during configuration or when running into issues with certain features.
6. Time to value
Time to value in issue tracking software is a metric that measures the amount of time it takes for an organization to see a return on investment (ROI) from its investment in issue tracking software. This metric is used as an indicator of how successful the organization was in selecting and utilizing the right solution by measuring both quantitative and qualitative benefits over time.
Depending on the business need and type of software, acceptable Time-to-Value metrics can differ significantly ranging from weeks to months or even years. The amount of time required for full ROI realization is often dependent upon multiple aspects such as end-user adoption, data quality, system reliability, support resources available, etc.
Ideally measured using benchmarking tools or surveys along with improvements observed over time in customer satisfaction ratings and Cost Reduction Scorecards – Time to Value allows organizations to accurately measure their progress against set targets over predefined intervals or milestones for realizing higher levels of productivity gains faster compared with manual processes used previously.
7. Scalability
Issue tracking software is one of the most important tools for any organization. It helps in keeping track of and improving, all types of issues within an organization like customer support tickets, bug reports, and feature requests. Having scalable issue tracking software provides many benefits to organizations by allowing them to plan and manage resources more effectively as their business grows.
Scalability also helps organizations optimize their process for handling ever-increasing numbers of issues and ensure that those issues are addressed quickly and efficiently. To achieve scalability in an issue-tracking system, companies should look for features like automated workflow routing which can be adapted to their own unique processes as needed:
Custom data fields
Multiple user access levels so that each member has access only to relevant information
Built-in reporting capabilities
Real-time status updates across departments
Integration with other applications such as CRM systems or email programs
Comprehensive security measures
Ability to search by various criteria such as assignee or status.
Taking advantage of these features it will make a company's issue-tracking system much more efficient and effective over time.
8. The customer experience
Customer experience with issue-tracking software typically starts with researching the different options available. Customers usually want to know what features are available, how easy it is to use and set up, and most importantly how well it can work within their existing systems.
After researching, customers decide which software they'd like to purchase. Once they have the software, customers then need to install it on their computers/servers. This process can be as simple or complex as needed depending on the customer's IT infrastructure.
Finally, customers start using the software by entering in issues that need tracking throughout their organization and assigning them tasks accordingly. Depending on the type of issue tracker used by a customer, this process can involve anything from logging into a web interface for entering tasks, creating email notifications for new issues, or assigning roles to various employees within an organization for workflow management purposes.
The customer experience with issue tracking software ultimately comes down to ease of use and task management effectiveness of implementation – both are key components for great user experience when dealing with such an important tool in any business environment today.
How to choose the best issue-tracking system?
Step 1: Prioritize Your Issue-Tracking Needs. Before you start looking for a system, it is important to consider what features are essential for an issue-tracking system and what features would be nice and not necessary. This will help you narrow down your options before making a final decision.
Step 2: Consider Compatibility with Other Systems. If you have other systems that are already in place, look for an issue tracking system that can integrate easily with them. This compatibility should also include any mobile devices that users might access the system from as well as any external source code repositories or other third-party services they might use in conjunction with the system.
Step 3: Read Reviews & Get Recommendations From Others Who Use It. Allow time to review some of the different issue-tracking systems on the market today by reading reviews online, talking to people who currently use them, or contacting vendors directly prior to making a decision about which one best fits your needs.
Why is an issue tracker important?
An issue tracker is a tool used by software development teams to manage and address reported issues or bugs. They are designed for streamlining the process of tracking, recording, and resolving any customer-reported bug filed through a centralized system.
Issue trackers are essential for project management since they provide an overview of all aspects related to the problem from its submitted report, assigned members, code revisions, testing cycles and more. This helps in quickly addressing any customer complaints as soon as possible.
Additionally, it can improve product quality since developers gain better insights into problems that customers experience with their products and pinpoint underlying issues before they become larger ones. Furthermore, issue trackers help in preventing future similar problems from happening since teams can review past resolutions which would be important when creating new features or updating existing ones.
All these reasons make issue trackers a key component needed within modern software development workflows which allows teams to efficiently coordinate tasks and stay on top of their projects.
How much does issue tracking software cost?
Issue tracking software cost can vary greatly depending on the features and capacity needed.
Generally, free issue tracking software has basic features such as project/task management, bug/issue tracking, time-tracking and team collaboration.
Some of the commercial issue trackers will range from $5 to $50 per user per month for SaaS products like JIRA or Servicenow.
Commercial enterprise-level solutions might cost hundreds or thousands of dollars in upfront licensing fees plus annual maintenance contracts that add an additional 20% – 30% to the total price tag.
How does issue-tracking software help in customer service?
Issue-tracking software helps in customer service by providing an organized system for tracking and responding to customer inquiries, issues, and complaints. This type of software streamlines the process of submitting and managing those inquiries so that customers have access to help quickly.
It typically includes features such as ticketing systems, email notification or workflow management tools, and automated responses so that customer service staff can respond to customers as soon as possible.
Issue-tracking software also makes it easier for all members of a team to see what requests are pending, what tasks need to be completed next, and which ones need special attention. Additionally, issue-tracking software provides a centralized database where all communication between the company and its customers can be tracked easily for future reference or analysis.