Ever been in a situation where one app isn't getting integrated with another? Or sharing data is hard so you have to manually transfer it? Well, with integrated workflow apps, avoid that situation forever.
Yeah, you heard it right! In this blog, we will tell you some top integrated workflow apps to use in 2022.
However, let's start from scratch and begin with what is a workflow app first.
What is a workflow app?
Gone are the days when companies used to handle their data manually. With the advancement in technology and companies having a bulk of data to handle, the shift is towards workflow apps.
A workflow app helps to manage and monitor a defined set of tasks in a particular sequence. Thus, these apps help to handle the business processes, documents, and other things in an organized and automated manner.
Thus, workflow management is the process of managing business operations and documents.
However, for effective workflow automation, you need to have an integrated system.
So, how does that work?
What are integrated workflow apps?
Workflow integration is the process of connecting various business systems in one place for the smooth transfer of data between various platforms. Thus, such apps ease the process of sharing and maintaining a record of data.
As customers' requirements increase so do the need of having a bucket full of apps. However, most applications are not designed to seamlessly communicate with each other. Therefore, an integrated workflow app is needed to alleviate the process.
So, you no longer need a developer to create custom links and integrate apps. It can be done without any hustle and code with the workflow integration platforms.
Luckily, there are plenty of apps to make it easier to handle such huge data. However, let's first skim through the benefits of having integrated workflow apps.
Benefits of integrated workflow apps
Having these apps would prevail the following benefits to your company:
Ease in sharing and transferring data
An automated workflow saves a lot of time
Fewer chances of error
Better flow up
Improved productivity
Get a full picture of the workflow
Agile management of documents and business processes
Avoid repetition of tasks
Streamlined workflow
Synchronize all tasks
Thus, it is pivotal for organizations to have integrated workflow apps to magnify the process.
In this blog, we have jotted down a list of the top-notch integrated workflow apps for you!
So, let's go through each!
Best 7 integrated workflow apps to use in 2022
Let's find out about the best integrated workflow apps:
1. Zapier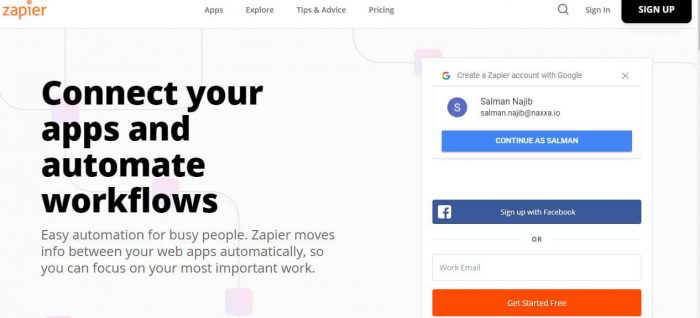 Zapier is one of the best apps on our list. Zapier allows you to have integrated workflow in just a few clicks. Thus, automating tasks and streamlining workflow doesn't require you to be a developer. All you need to do is create a Zap and start the integration.
So, how to create a Zap?
In Zapier a Trigger and Action are two prime elements to create a Zap.
What are a trigger and actions?
Trigger – Telling the Zap when to begin doing something. It involves all your daily repetitive tasks like email or responding to feedback.
Action – What Zap does once it is triggered. You can create plenty of actions for a single day.
There are plenty of other ways to create Zaps. Thus, you can integrate any two or more apps and automate your workflow.
Some of the prominent features of Zapier are:
Features
Use Zaps to transfer data between apps
Automate multiple tasks with a single trigger
Add filters to run zaps the way you want
Zap history to keep a check on your zap
Formatter split text tool for reformatting
Multiple outcomes with one Zap
Webhooks for tailoring something to a custom tool
Choose from thousands of Zap templates
Pricing
Free Forever $0
Starter $19.99 per month
Professional $49 per month
Team $299 per month
Company $599 per month
Zap up your enterprise and dust of many tasks from your shoulders now! Many big companies like nTask, Adobe, and HubSpot use Zapier to automate workflow.
2. Automate.io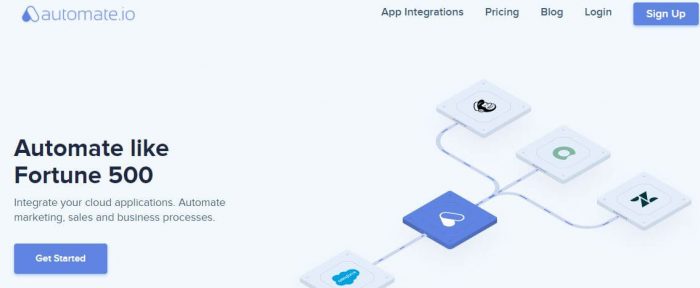 Automate.io is trusted by 30,000+ organizations for a mechanized workflow. You can create a one-to-one workflow or just sync data between various apps. In automate.io you can create two types of workflows:
A simple workflow like Zapier includes two steps i-e Trigger and Action. Thus, a trigger is the "to do" task and action creates a database item.
Complex workflows are created among multiple apps and involve the following steps:
Step 1: Trigger
Step 2: Action
Step 3: Delay
Step 4: Condition
Step 5: Action
Thus, you can filter it out and create it the way you want for perfect automation.
Interesting? Right?
So, let's take a look at some of the prime features of Automate.io.
Features
Simply drag and drop to create integrations
200+ cloud connectors
Format data or filter out the workflow as desired
Sharing and collaboration
Ensured security and reliability
Pre-built templates
Pricing
Free $0 per month
Personal $9.99 per month
Professional $19 per month
Startup $39 per month
Growth $79 per month
Business $159 per month
So, what's the wait, connect your cloud apps and automate your workflow in minutes with automate.io!
3. Integrify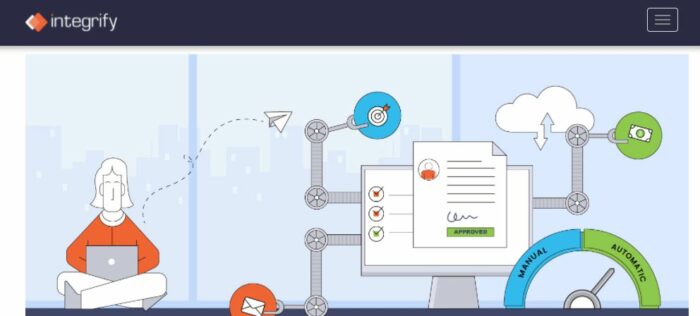 The third one on our list is Integrify. So, if you are looking for a low-code, easy-to-use software with extreme flexibility this app is another great pick for you. You can integrate apps into your existing enterprise infrastructure via:
Open API programmatically helps to launch processes, check statuses, complete tasks, etc.
It is a serverless computing service. AWS Lambda runs your code in response to a trigger and automatically manages the tasks.
Integrify provides a huge range of features to streamline processes and increase productivity.
Some of the distinguishing features are:
Features
Unlimited forms and processes
Expandable storage
Free and pre-built process apps
Audit trails
API and AWS Lambda integration
Pricing
The pricing system in Integrify is subscription-based. So, you can request pricing at its website as per your needs.
Therefore, Integrify is another great platform to integrate your workflow smoothly.
4. Zoho Flow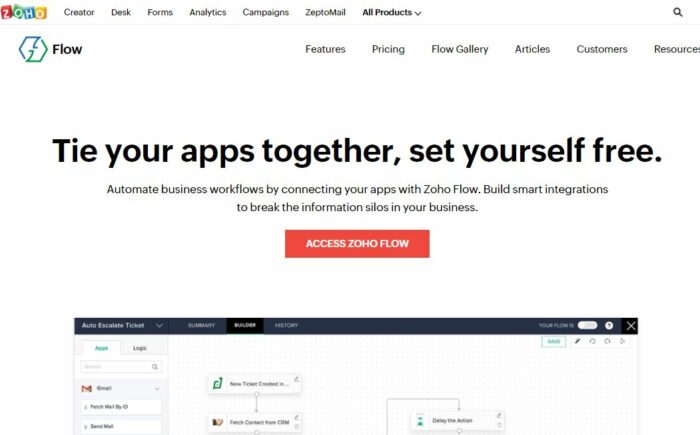 Create a dynamic flow with Zoho Flow automation. Zoho Flow allows you to integrate all your apps with zero code. Thus, like many other integrated workflow apps, automate your workflow by creating a trigger and dropping the actions onto the builder.
So, no need to manually manage your tasks when you can Zoho Flow them.
Zoho Flow has various features. Some of them are:
Features
Add custom workflow variables
Streamline workflows
Reformat data
Add advanced decision trees
Monitor your history log and identify problems instantly
Dashboard or complete visibility
Collaborate and coordinate with your team
In-build templates
Pricing
Standard $10 per month
Professional $24 per month
5. Kissflow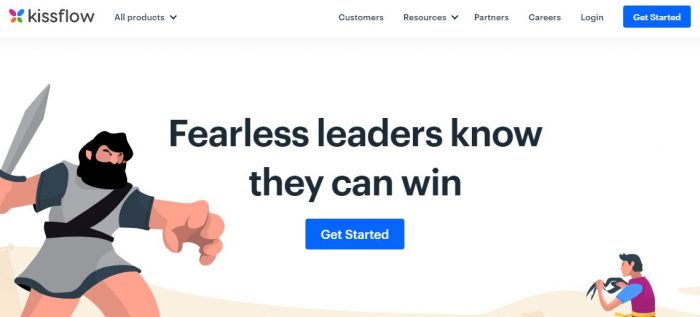 More than 10,000 companies including Fortune 500s use Kissflow for an integrated workflow. Kissflow is a zero-code tool to manage and streamline business processes. This powerful tool is being used by over 2 million people in 160 countries. Therefore, manage all your workflows on a single platform and empower your team.
It has a wide range of features for effectively managing your business processes. Some of them are:
Features
Visual form and workflow designer
Third-party integrations
SLA and Escalations
Ticketing system
Automated workflow routing
Contextual Collaboration
Algorithm task assignment
Pricing
Basic $10 per user per month
Advanced $9.90 per user per month
Fully loaded $19 per user per month
Thus, optimize your business processes with Kissflow now!
6. Integromat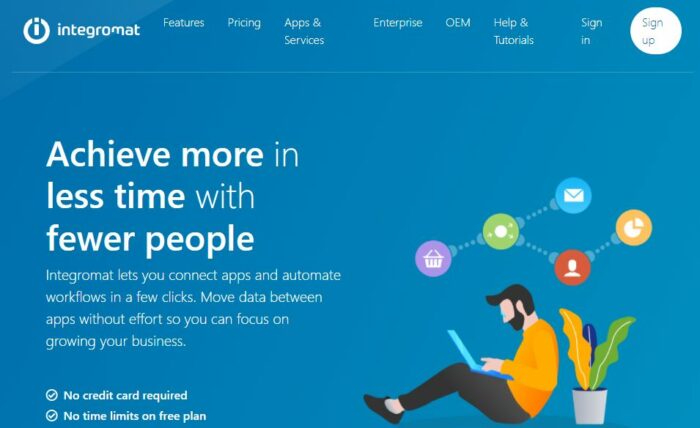 Integromat creates an integrated workflow process with zero effort. It allows you to streamline business processes in just a few clicks. Integromat is trusted by several big companies like Adidas, Uber, and Cisco for automating tasks. The aim of it is to help you achieve more in less time with fewer people.
Some of the prime features of Integromat are:
Features
Full-fledge visualization
Track all your data
Functions to work with texts, numbers, and dates
Built-in routers
Error handlers
Aggregators and iterators
1500 ready to use templates
Execution scheduling
39 filters
Connect with mobile apps
Pricing
Free $0 per month
Basic $9 per month
Standard $29 per month
Business $99 per month
Platinum $299 per month
Therefore, set your business online and streamline your activities effortlessly now!
7. n8n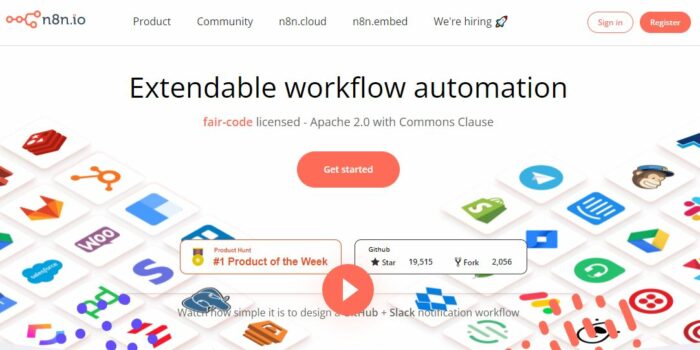 n8n allows you to get connected with more than 200 apps to integrate your workflow. Like all other apps, n8n is also simple to use with no complex coding. With this tool, you can design powerful workflows and create custom integrations. Moreover, you can also use n8n cloud which is a fully managed solution.
It has a myriad of features. Some of them are:
Features
Free and open
Easily extendable
Decide who gets access to your data
Sync data with over 200 apps
Design workflows
Create custom integrations
Pricing
You can either sign up for its cloud version or install the desktop app.
So, alleviate your integrated workflow with n8n now!
Conclusion
Alas! These were our top 7 picks for integrated workflow apps to use in 2022. choose the app that best fits your business needs and streamline all your business in just a few clicks. All of these apps are easy to use and integrate with your applications.
Thus, no need to do manually what can be done automatically. Hope you enjoyed this blog! Do let us know if you know of any other workflow integrated apps that work well.
---
Also Read These: