Have you ever been interrupted while working on a project, which caused you to lose interest and slow down?
Unfortunately, most of us have been there and experienced such happenings.
But luckily, there is a process to solve these problems in real time without slowing down the team's productivity.
Incident management is figuring out what went wrong and how to fix it soon.
That means more time will be spent making an impact and finishing the project.
This post will explore incident management, comparing standards for different incident management software tools and listing such programs for you to start with.
Incident management
made easy!
What is Incident Management?
The process of discovering, evaluating, and finding solutions to problems inside an organization is called "incident management."
It requires the synchronization of people, procedures, and technology to reduce the effect of an event and resume regular operations as fast as feasible.
The process may involve understanding the cause of an incident, choosing the proper reaction to the occurrence, and creating a plan to resolve the issue and prevent it from occurring again.
Comparison Standards for Different Incident Management Software
When comparing several pieces of software for a review, what do we look for specifically? Let's find out.
1. User Interface
Is the item sequence easy to understand, even for people who aren't very tech-savvy? Is it clear and appealing to the eye? Does it appear and execute like modern-day incident management software?
2. Usability
Is it simple to pick up and get good at? Does the company provide high-quality user and technical support, a knowledge base, instructional videos, and training? Is there a community or forum centered on the product that can be found online?
3. Features and Capabilities:
System of Notifications That Can Be Modified And Merged – Is it possible for the tool to collect incident alerts from various sources, such as chats, emails, phone calls, and others, arrange them, and then notify the necessary groups? Are these settings easy to understand and adjustable?
Issue Categorization – Does the tool provide a comprehensive framework for assessing issues? Is it possible to indicate a problem in greater detail using keywords that will aid in further analysis?
Tools for the Investigation – Does the program include the following features: a report or a sequence of events for each occurrence; instructions for corrective actions; a record of findings; other action management items; and so on? Does using the program speed up the process of finding a resolution?
Reporting and Analytical Tools – Is the output of the reporting system detailed, readable, and modifiable? Is it possible to import and export findings using tools provided by a third party as required?
Problem Management – After an event has been resolved, does the software provide any procedures or instructions for resolving the issue at its core? After the incident lifecycle has concluded, can the tool lead to the subsequent step?
4. 3rd Party App Integration(s)
Is it simple to link up with various other tools?
Is it possible to import objectives and goals created in a different software? Does it interface with other software you already use, such as software for managing assets or ticketing systems, or does it require additional setup?
5. Pricing
How well does the pricing correspond to the functionality, features, and use case that it supports? Are they providing clear, transparent, and flexible pricing?
9 Best Incident Management Software In 2023
Details about the incident management software chosen for this list are provided below to help you make an informed decision.
(Best for Small To Medium Level Businesses and Enterprises)
At its core, nTask is a project management tool emphasizing budget, timesheet, and other managerial aspects of the project.
The million-dollar question is: Where does incident management fit in with nTask Manager?
This incident management software has a dedicated 'Risk Management' module where team leads can identify incidents or risks and create separate tasks for mitigation purposes. Likewise, team members can identify incidents or risks and report them to their managers for dedicated resolution.
nTask is available as a WebOS app and on Android and iOS stores. The latter comes as a dedicated application for worldwide users.
Price-wise, we're looking at a high feasibility margin, where this incident management software is available for as low as $3 per user/ per month (*when billed annually).
2. HaloITSM
(Best for Enterprises)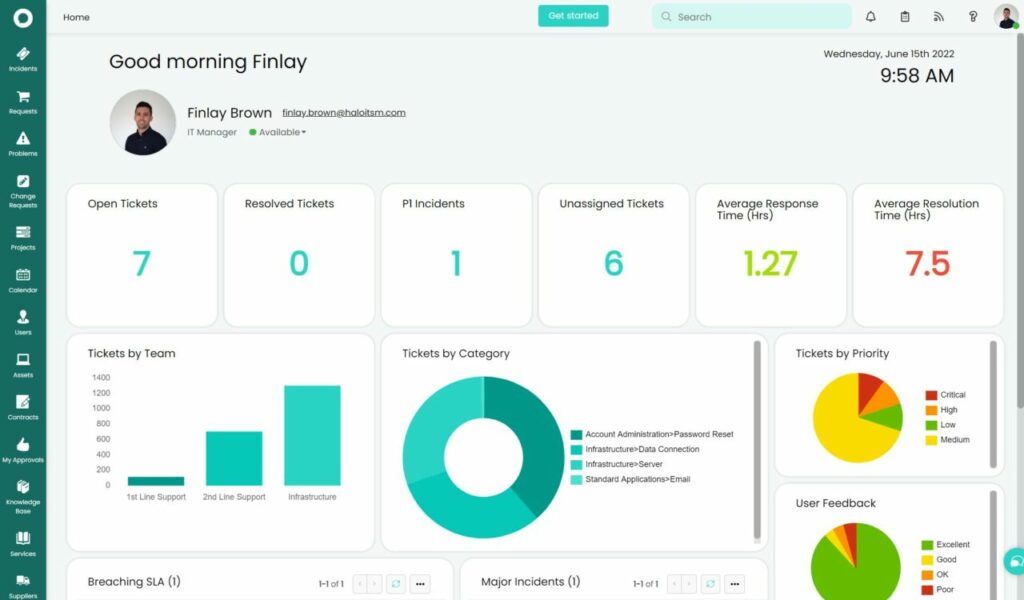 The industry-leading IT service management (ITSM) system known as HaloITSM can fulfill all of your service management requirements, from incident management to enterprise service management, thanks to its comprehensive functionality.
Customers such as Siemens, the University of Cambridge, NHS, and Suzuki are among those who use this software that has won multiple awards.
By using HaloITSM, you can swiftly return to regular service operation, thereby minimizing the negative impact that the disruption had on business operations and maximizing the degree of service quality that was achieved.
With ITIL-aligned processes that make it simple to handle problems and adhere to service level agreements (SLAs), HaloITSM facilitates you to deliver faster resolutions.
Features that stand out include "workflow automation for incident management, a do-it-yourself knowledge base with detailed keyword indexing, a fully customizable and white-label self-service portal, change control tools, and CMDB/configuration management". All of these features can be found in the self-service portal.
The price of HaloITSM starts at $29 per user each month and includes a free trial period of 30 days.
3. Opsgenie
(Best Known for Plugins and Integrations)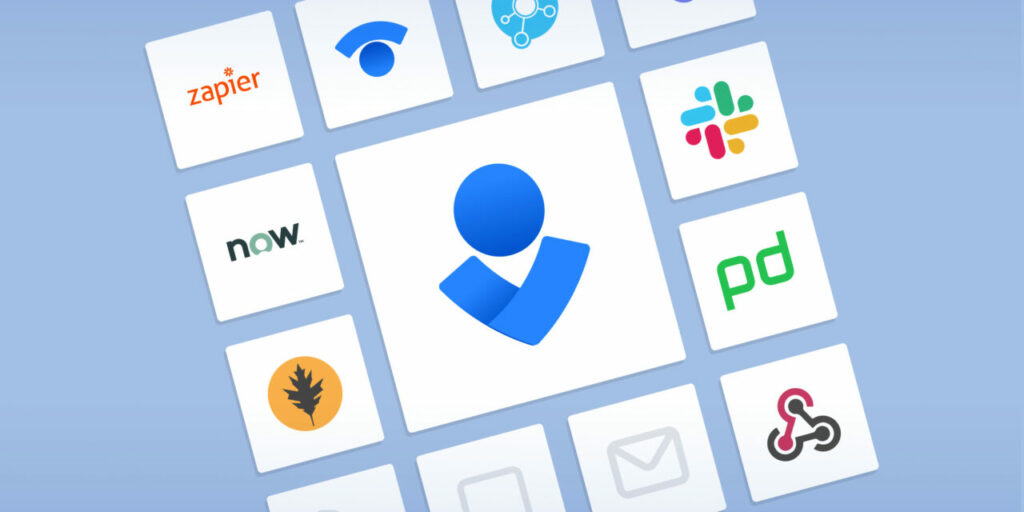 Opsgenie is a software tool for incident management that enables you to manage critical incidents for your always-on services.
The software can notify you promptly of any IT or DevOps concerns through various channels, such as phone and email, which allows you to cut down on unnecessary downtime.
You can plan on-call rotations and personalize your dashboard to meet your team's requirements on the user-friendly interface accessed from a desktop computer and a mobile device.
Opsgenie gives you access to a wealth of plugins and connectors, which helps you completely round out your team's application management capabilities.
Your team can receive instant alerts regarding significant incidents if the tool integrates with other messaging and alert tools such as Slack, Flock, and Hipchat.
Additionally, the tool interfaces with automation technologies like Jenkins, Bitbucket, and GitHub, enabling you to define the application testing jobs you need to perform.
There is a little learning curve associated with Opsgenie, and it may take some time to adapt across your organization; hence, an onboarding program would be excellent.
Opsgenie has a paid edition that starts at $9 per user per month and a free version that supports up to 5 users.
4. NinjaOne (Previously Known as NinjaRMM)
(Best for Endpoint Management)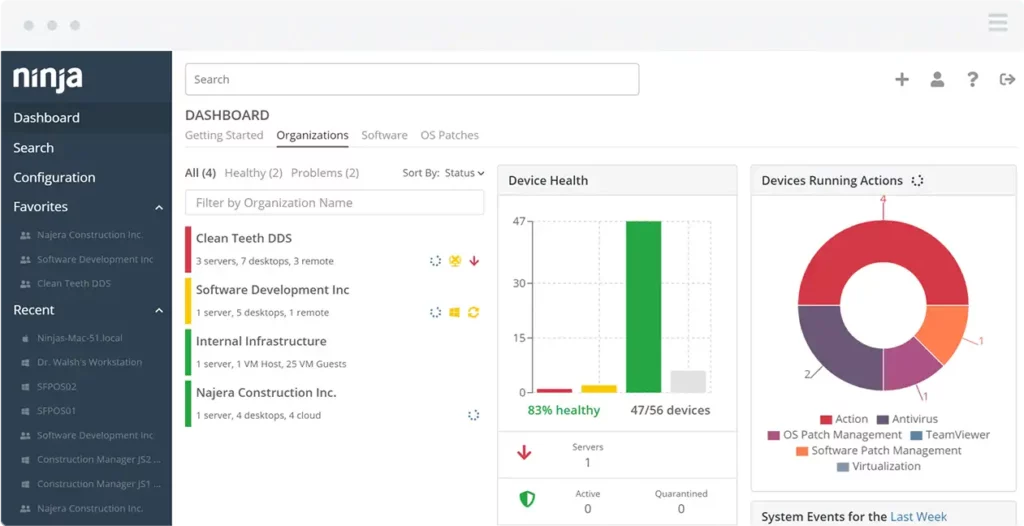 G2 Crowd has ranked NinjaOne as the number one best remote monitoring and management (RMM) solution in eight different criteria, including ease of use, support quality, overall satisfaction, and product direction.
This is a real-time endpoint management solution that allows for the management of updates and patches.
The fact that NinjaRMM has a favourites list, an easy-to-understand and comprehensive dashboard design, and live updates for both the workstations and servers contributed to the company's high score in the Usability evaluation criterion.
As this incident software is still relatively new to the sector, it may give the impression that it lacks some features compared to the other options on this list. Despite this, their plan is comprehensive, and they provide updates regularly.
NinjaRMM provides a free trial period of 30 days and has a starting price of $3 per user each month.
5. Fusion Framework System
(Best for Businesses Seeking Operational Resilience)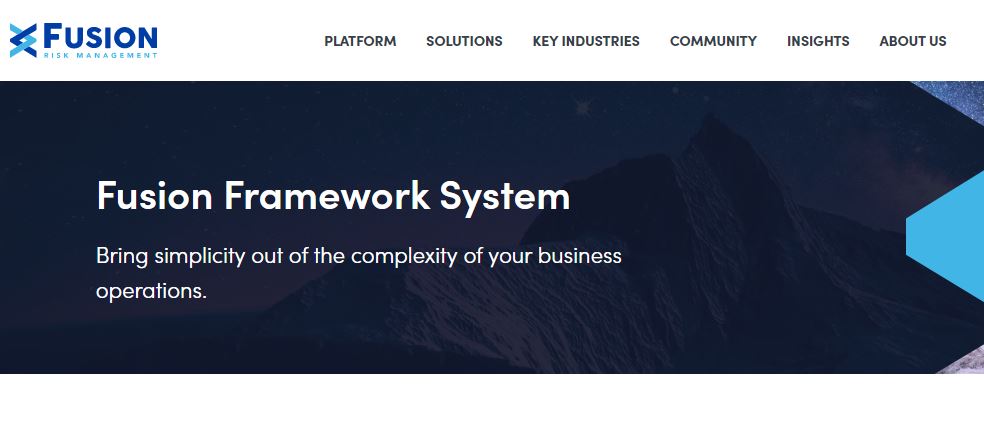 The Fusion Framework System is a cloud-based risk management and resilience platform that offers a variety of solutions not only for crisis and incident management but also for operational resilience, business continuity, and disaster recovery.
The primary function that allows you to build, organize, and carry out plans to deal with crises and disasters using data-driven and dynamic tactics is known as plan management.
The software allows businesses to generate answers for various crises and occurrences. It gives you valuable and actionable insights that allow you to adjust fast and efficiently to changing conditions while avoiding costly disruptions to vital operations and services.
Issue identification, task management, reaction planning, communication planning, plan management, and emergency operations are some of the essential functions that may be executed using this program.
Furthermore, Fusion can integrate with various emergency notification systems, configuration management databases, and situational intelligence platforms, including Onsolve, EveryBridge, AlertMedia, and ServiceNOW.
Pricing information about Fusion is accessible upon request, and the website also allows you to submit a request for a demonstration of the software.
(Best for Small to Medium Size Businesses)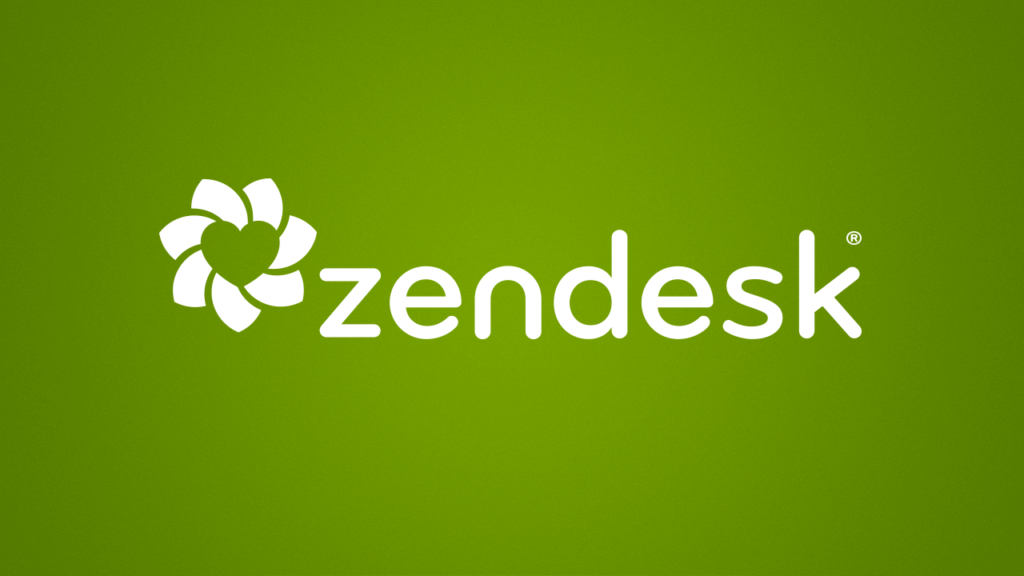 Your team may work more efficiently with the Zendesk Support Suite because the program provides tools and processes designed to operate across all channels.
When compared to the cost of other commercial tools, Zendesk's monthly fees are a steal. Naturally, you can include other items or services in your plan, but doing so will increase expenses.
Zendesk received a high score in an evaluation of Value for Cost because of the low cost per item and the plan's flexibility.
Integrations comprise "Zoom", Kaizo, Productboard, SessionStack, Amazon Connect, Nicereply, "CloudTalk," Harvester, TypeGenie, Zoho CRM, Snapchat, Capsule CRM, "Google Hangouts," Mailchimp Activity, ChargeDesk, "Nutshell," Gainsight, SendSafely, "TeamViewer," and hundreds of others. Integrations are available for free.
One of the drawbacks of Zendesk is that it appears to be most suitable for use by small and medium-sized organizations. If you routinely deal with thousands of daily occurrences, the business may be at risk of overloading.
The basic plan for Zendesk costs $5 per user each month, and the platform also offers a free demo and a free trial period of 30 days.
7. ManageEngine ServiceDesk Plus
(Best For Multi-channel Incident Logging)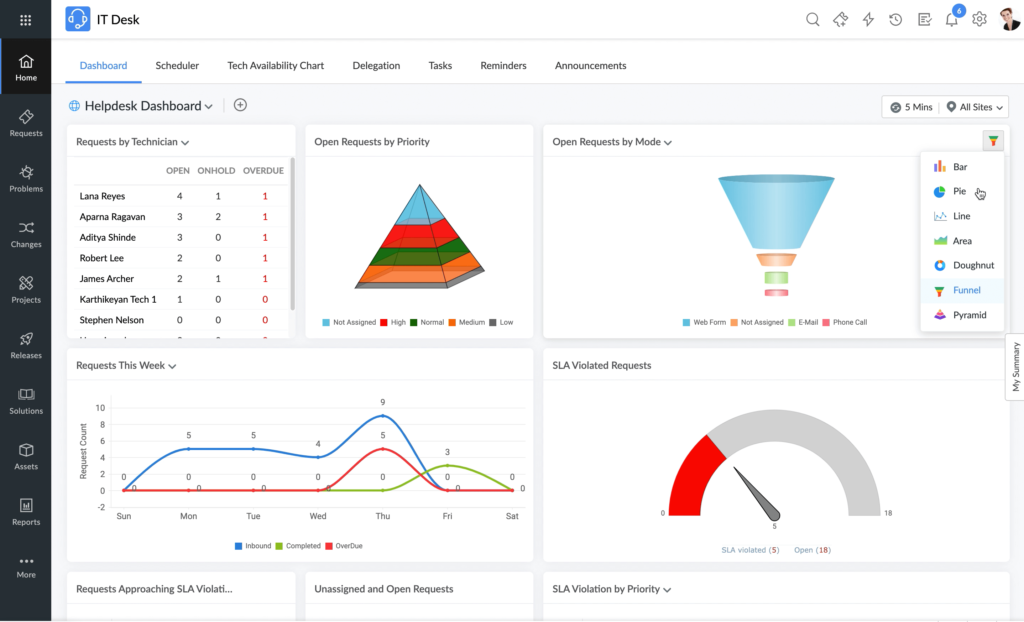 ManageEngine, the enterprise IT management business of Zoho Corporation, has developed a solution for IT service desk management (ITSM) called ServiceDesk Plus.
Pink Elephant has awarded ServiceDesk Plus ITIL® 4 compatibility certification for its Incident Management technique. This certification was granted because ServiceDesk Plus satisfied all of the evaluation criteria.
The product's incident module is built with a wide variety of features and capabilities, such as multi-channel incident logging, incident forms that may be customized, and automatic ticket workflow for problem resolution that is both consistent and optimized.
End users can create tickets through various channels, including email, voice calls, online chat, and a web-based self-service portal. The tickets that are created from emails are done so automatically.
ServiceDesk Plus's customizable incident templates make it easier to collect the pertinent information a requester may have to offer when the ticket is being created.
ServiceDesk Plus enables service desk teams to perform a wide range of activities on incoming tickets using no-code automation. These activities include categorization, prioritization, and technician assignment based on ticket parameters.
The starting price for ServiceDesk Plus is $58 per technician per month. In addition, they provide a free edition that can be used by up to 5 technicians, a free trial that lasts for 30 days, and an online meetup. Also, a personalized demonstration can be organized.
8. Spiceworks Help Desk
(Best For for Use In a Self-service Portal)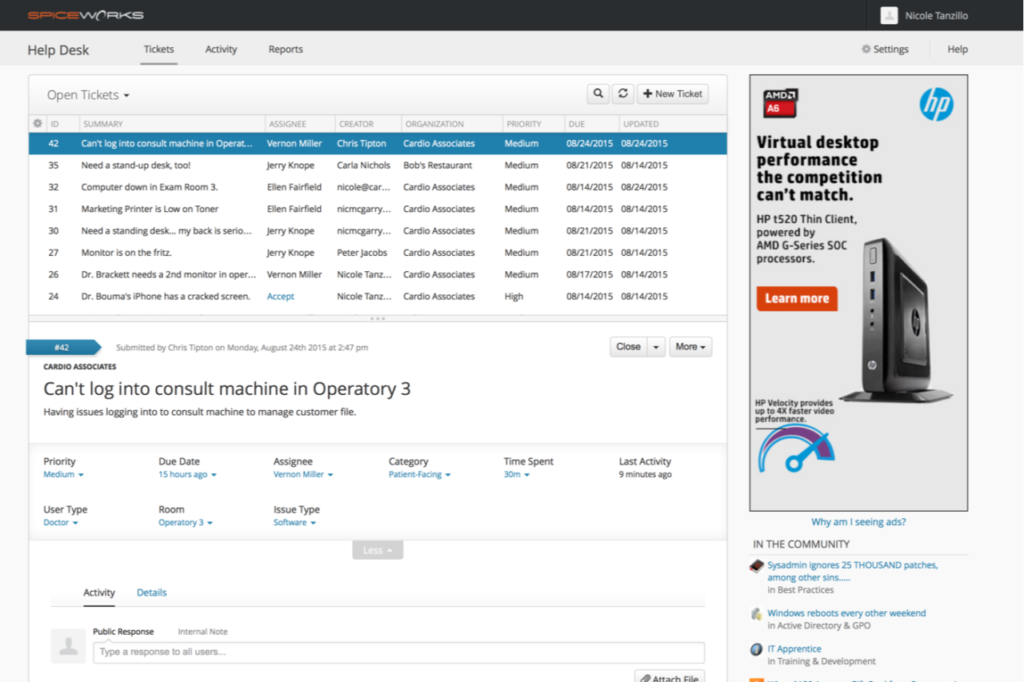 Spiceworks is designed to assist users in streamlining and maintaining tight control over IT incidents and tasks.
Users can quickly accept tickets, reply to them, add private comments, and close them out. Furthermore, you may integrate with Active Directory, access a user portal that can be customized, and use custom fields to track only the necessary information.
Spiceworks is a clear frontrunner in the Value for Cost category of the evaluation criteria that is being considered because it is a free tool.
Spiceworks does not impose a monthly fee for its users; instead, it generates revenue through advertisements sold to interested information technology companies. These advertisements will appear as the user works with the tool.
You can connect tools to Spiceworks' system by using their Application Programming Interface (API), or you can browse already available integrations in their App Centre.
In the App Centre, you'll find things like Help Desk PowerPack," Intel AMT" Terminal, Portal Tweaks, SQL Server Monitor, Intel Maintenance Manager, Friendly Network Scan Entries, "TeamViewer," and SQL Server R2 Monitor, among other things. Besides, Spiceworks is compatible with mobile platforms.
A lack of third-party integration options is one of the few minor drawbacks of using Spiceworks. You may have noticed above that they provide many plugins and the vast majority of them are also produced by or for the Spiceworks team.
There's a possibility that the tools you use in your everyday process won't integrate properly.
Spiceworks is free of any cost.
9. Issuetrak
(Best for Workflow Management)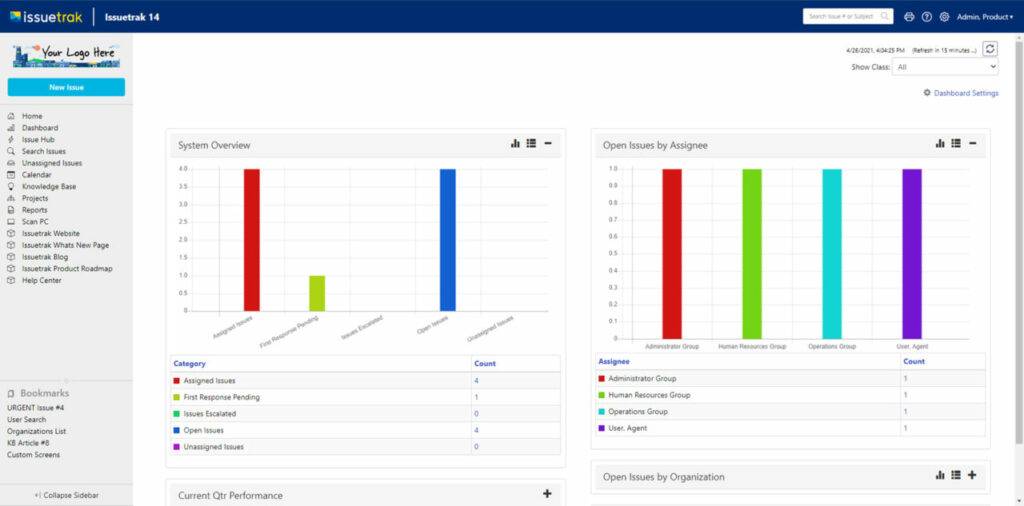 Issuetrak has a proven record of 25 years in the industry, having developed cutting-edge software for tracking issues and managing processes for businesses of all kinds.
With this software, users can set up fixed schedule submissions for problems that occur consistently, such as requests for routine maintenance.
The capacity of Issuetrak to precisely classify any problems encountered is one of the features that consumers will value the most. A comprehensive list of problem categories is intended to address any problem situations you may imagine.
Issuetrak allows administrators to integrate other third-party applications with its Application Programming Interface (API).
However, Issuetrak did not provide a list of the programs or plugins they support on their website.
Issuetrak offers a free trial and a starting price of $59 per user per month.
Conclusion
In conclusion, incident management software is a valuable tool for organizations of all sizes, as it allows them to effectively track and manage incidents in a centralized and organized manner.
With incident reporting, assignment and escalation, communication and collaboration, and incident resolution tracking features, incident management software can help organizations streamline their incident response process and improve overall service delivery.