For an excellent and established career in human resources or recruitment, you need to check out these certifications. Depending on the industry you're in, they may not be the cream of the crop, but they are well enough to give you a head start in no time. And do bear in mind, consistency and hard work don't have a substitute. You're going to have to earn these certifications to be able to land a decent job.
Usually, we associate HR people with someone who sits in a remote corner, issues memorandums and overlooks sneaky operations of the company. It may be right in some context, but that's not what all a Human Resource expert does. In bigger companies, they emphasize a lot on the "human" aspect of everything and managing human beings as a resource.
After all, we are a complex blend of chemicals and emotions. It is the job of a human resource manager to keep the "resources" working at their optimal levels. Of course, keeping a record of attendance, office policies and many other principles also fall under the category of HR. But then again, there's a lot more to it than meets the eye!
Human resource management also includes specific tools and techniques that are directly connected with the reputation of the organization. On that note, there have been numerous relatable instances in a person's life where the people from the human resource department didn't fulfill their duties.
People lose their jobs, get demotivated over favoritism and a lot of bad things can happen. The point is that HR is a serious business and comes with a lot of responsibilities.
The following sections provide detailing of the top HR and talent acquisition certifications in accordance with job site searches.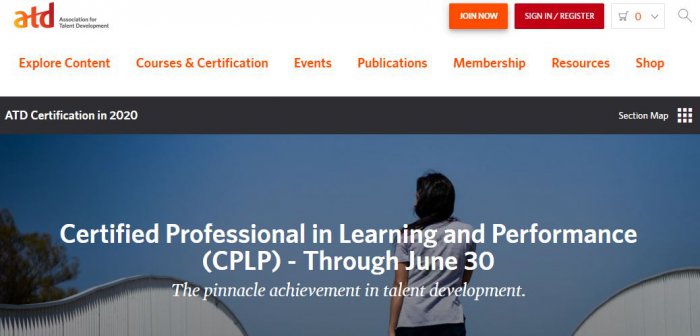 The Association for Talent Development (ATD), formerly known as the American Society for Training & Development, claims that they are the world's largest association geared and headed towards the training and development profession. ATD provides the CPLP and the new Associate Professional in Talent Development (APTD) credentials.
To qualify for the CPLP, you should have four to five years of work experience, depending upon the education level. CPLP certification requires you to pass a knowledge exam and a skills application exam which is not so difficult. ATD members pay a $950 registration fee; the nonmember cost is $1,450. See the CPLP Candidate Handbook for complete details.

You can advance your HR career by earning the Professional in Human Resources (PHR) from the HR Certification Institute (HRCI).
The PHR elaborates on your skill sets and mastery of the technical and operational characteristics of HR management, including U.S. rules and regulations.
The PHR is for those HR professionals who have experience with program implementation and development, have a tactical/logistical and strategical orientation, are accountable to another HR professional within the premises of this organization, and have duties and assignments that focus on the HR department rather than the whole organization.
Eligibility Criterion:
To check your eligibility criteria for PHR certification you must meet one of the following conditions for education and experience:
You must have at least one year of technical experience in a professional-level HR position + a Master's degree or higher,
Have a minimum two years of working experience in a professional-level HR position + a Bachelor's degree, OR
You have at least three and a half years of experience in a professional-level HR position + a high school diploma.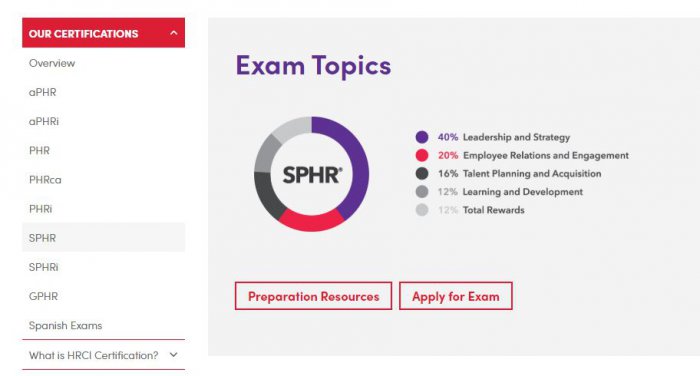 The Senior Professional in Human Resources (SPHR) certification is normally individuals who are at a senior position. Of course, the name suggests it, but that amount of "seniority" comes with a certain degree of mastery in strategic policymaking, a whole lot of previous work experience and strong references.
HR Certification Institute claims sole ownership of the badge. This certification raises the bar of your professional abilities and helps to take things to the next level. The SPHR certification is more likely the cherry on the top for a person who wants to gain knowledge and who wants an up-gradation in his job.
Eligibility Criteria:
Following is the eligibility criterion for 'Senior Professional in Human Resources' certification. As mentioned earlier, since this is a senior/ advance level certification, you cannot directly sign up for the exam. There are prerequisites and certain requirements to be adhered to:
A person who is intended to attain this certification must have a minimum of four, five or seven years of professional-level HR work experience that highly dependents on educational background
Both online and by post submission and approval of the application
Pass a high-stakes assessment that contains very complex and complicated topics.
A person must maintain the required credential via continuing professional development credits or passing of the afore-mentioned assessment again.
Want to be Project Management Certified? Check out the best certifications here:
15 Best Project Management Certifications and Courses of 2022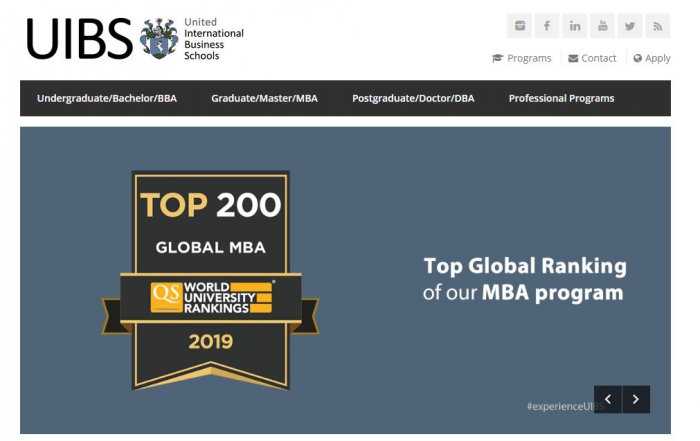 Moving on, the next certification on the list of best human resource management certifications of the year 2020 is UIBS. This is not exactly a "certification" per se, because UIBS is in other words known as the United International Business School chain. Here, you can launch your professional career with a Graduate Certificate in Human Resource Management.
UIBS is a top-notch certification which is very handy for acquiring relatively more technical skills than other certifications.
It is dedicated to helping people hone their careers in HR and other business administration related fields since 2002. United International Business Schools (UIBS) is undoubtedly an independent private education institution and it has campuses in Europe and Asia as well.
UIBS offers very flexible accounting, business and management studies at the Undergraduate (Bachelor/BBA) and (Post) Graduate (Master/MBA and Doctor/DBA) level leading to private (programmatically-accredited) degrees and certifications and to American regionally-accredited and European state-recognized (authentic) degrees in-accordance with our academic partners.
Key Features of Getting a Certification from UIBS:
Professionally experienced professors.
Interactive and vibrant teaching methods.
The truly global community that enhances your communication skills and community.
Transfer between campuses is very easy and convenient.
Multiple starting dates for students' ease and comfort.
But wait, there's more. Take a look at some of the admission requirements below:
An application form. Can be obtained from UIBS website easily.
Make sure that the application fee is ready
Curriculum vitae/ resume
Photocopy of your valid passport or computerized national identity card (CNIC).
In many countries, instead of a CNIC, a driver's license or some other alternative document is considered as proof of identity. Check with the authorities to see which document you'd, later on, need to submit.
Copies of all relevant documents that include degrees, diplomas, certificates, and transcripts
Reference letter of motivation or character certificate stating your career objectives and program expectations
A passport-size photograph. Even though it is a headshot, wearing formal clothes will leave a nice impression on the application reviewers afterward.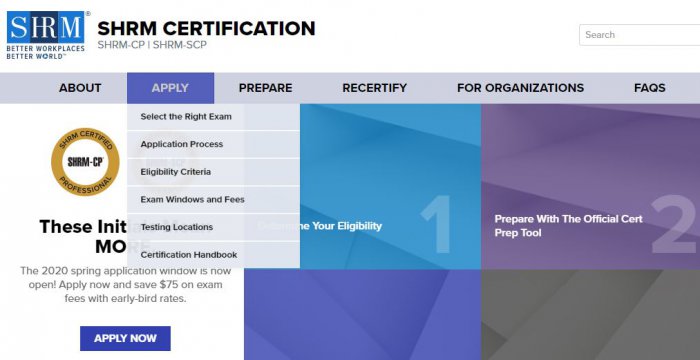 The SHRM-SCP certification determines HR professionals with upgraded and advanced knowledge and professional tools and techniques of HR strategical plan, particularly how these strategies meet with company goals.
An SHRM-SCP certified individual acts as an HR lead and is well equipped in dealing with employee performance or efficiency metrics. The person is also expected to be aligned with key performance indicators of all employees at a human level.
The SHRM-SCP certification bridges the gap between an organization and its success ratio. In other words, these certifications primarily play a vital role in communication with the employees. Thus an organization is in huge benefit if its HR manager is SHRM certified professional because it is very handy for the successful execution, deployment, and installation of the project.
Work/academic requirements for the SHRM-SCP proceed with five or six years of working experience for those who have less than a bachelor's degree program. More of the details, such as exam length, number of questions other queries and cost of the certification is the same as for the SHRM-CP.
Conclusion:
Some other sources of HR and talent acquisitions certifications programs are the Talent Management Institute (TMI), the National Association for Health Care Recruitment (NAHCR) and the National Association of Personnel Services (NAPS). If you are willing to put in some extra effort, you can get in touch with "real" HR professionals at LinkedIn. Some of them might be willing to share a few tips with you, mentor you or nudge you in the right direction towards your career path.
If you have a certification in Human Resource Management, we would love for you to share your thoughts in the comments section below. You can also write to us at fwilson@ntaskmanager.com for sharing insightful tips about this topic.