For an excellent and established career in human resources or recruitment, you need to check out these certifications. Depending on the industry you're in, they may not be the cream of the crop, but they are well enough to give you a head start in no time. And do bear in mind, consistency and hard work don't have a substitute. You're going to have to earn these certifications to be able to land a decent job.
Usually, we associate HR people with someone who sits in a remote corner, issues memorandums, and overlooks the sneaky operations of the company. It may be right in some contexts, but that's not what a Human Resource expert does. In bigger companies, they emphasize a lot on the "human" aspect of everything and manage human beings as a resource.
After all, we are a complex blend of chemicals and emotions. It is the job of a human resource manager to keep the "resources" working at their optimal levels. Of course, keeping a record of attendance, office policies and many other principles also fall under the category of HR. But then again, there's a lot more to it than meets the eye!
Human resource management also includes specific tools and techniques that are directly connected with the reputation of the organization. On that note, there have been numerous relatable instances in a person's life where the people from the human resource department didn't fulfill their duties.
People lose their jobs, get demotivated over favoritism and a lot of bad things can happen. The point is that HR is a serious business and comes with a lot of responsibilities.
5 Key Considerations When Choosing a Human Resources Management Certification Program 
Choosing a Human Resources Management (HRM) certification program is a decision that requires thoughtful consideration and research – just like any other investment. Don't take this lightly; investing in the right program can have huge rewards and help you reach your career goals. Take the time to explore your options, compare features, and find the certification that best fits your ambitions.
Certification programs are not your average one-size-fits-all training. They are tailored to a specific audience, providing knowledge and solutions that can be tailored to any organization or person's unique needs. With this specialized training, you can unlock the power of custom-crafted knowledge and solutions to help your business reach its goals.
Here are a few factors that you should consider:
1. Subject matter suitability
If you're looking for an HRM course that suits your current or future organization perfectly, you have to make sure its topics and knowledge are tailored to its size, type, and industry. For instance, if you work in a start-up with a small HR team, it's best to go for a certification program that focuses on people management and people processes, instead of implementing HR technology.
2. Learning accessibility and flexibility
As an HR professional, juggling numerous responsibilities can be tough – particularly when trying to fit in studying for a certification program. That's why it's important to take into account the learning accessibility and flexibility of the course on offer. Does it provide course materials accessible through different devices? And is the program self-paced or does it require following a strict schedule? These are all essential questions to ask when selecting an HRM certification program.
3. Learning Format
The learning format you choose can affect how well you learn and retain knowledge. Some people prefer traditional classrooms with in-person lessons, while others opt for online learning from home. There is no best format; it depends on what works best for you.
4. Community Availability
Including a social component in your learning journey can be beneficial and enjoyable. As an HR manager, having access to a community of other HR professionals can help with understanding certain issues and asking questions. Many HRM certificate programs offer the chance to join such a global community, where participants can share their experiences and collaborate to solve problems. This is useful if you prefer to learn from peers alongside the official curriculum.
5. Core HRM Skills Focus
An HRM certification program differs from a general HR certification program in that it places more emphasis on management and leadership skills. An ideal HRM certification should cover leadership skills in detail, including topics such as how to build vision and strategy. Additionally, the program should also include instruction on other key skills such as strategic thinking and people management. This combination of core competencies is what gives an individual the knowledge and confidence to effectively manage teams or departments within an organization.
The following sections provide detailing of the top HR and talent acquisition certifications in accordance with job site searches.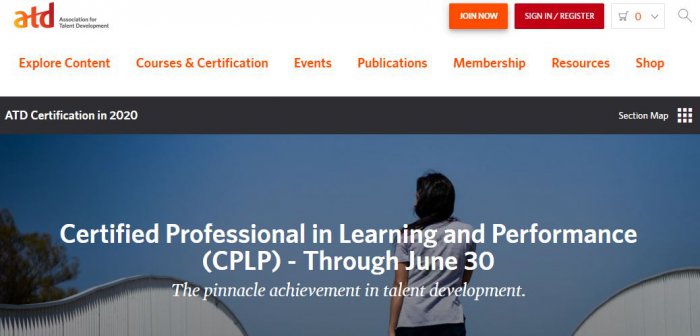 The Association for Talent Development (ATD), formerly known as the American Society for Training & Development, claims that they are the world's largest association geared and headed toward the training and development profession. ATD provides the CPLP and the new Associate Professional in Talent Development (APTD) credentials.
To qualify for the CPLP, you should have four to five years of work experience, depending upon your education level. CPLP certification requires you to pass a knowledge exam and a skills application exam which is not so difficult. ATD members pay a $950 registration fee; the nonmember cost is $1,450. See the CPLP Candidate Handbook for complete details.

You can advance your HR career by earning a Professional in Human Resources (PHR) from the HR Certification Institute (HRCI).
The PHR elaborates on your skill sets and mastery of the technical and operational characteristics of HR management, including U.S. rules and regulations.
The PHR is for those HR professionals who have experience with program implementation and development, have a tactical/logistical and strategical orientation, are accountable to another HR professional within the premises of this organization, and have duties and assignments that focus on the HR department rather than the whole organization.
Eligibility Criterion:
To check your eligibility criteria for PHR certification you must meet one of the following conditions for education and experience:
You must have at least one year of technical experience in a professional-level HR position + a Master's degree or higher,
Have a minimum of two years of working experience in a professional-level HR position + a Bachelor's degree, OR
You have at least three and a half years of experience in a professional-level HR position + a high school diploma.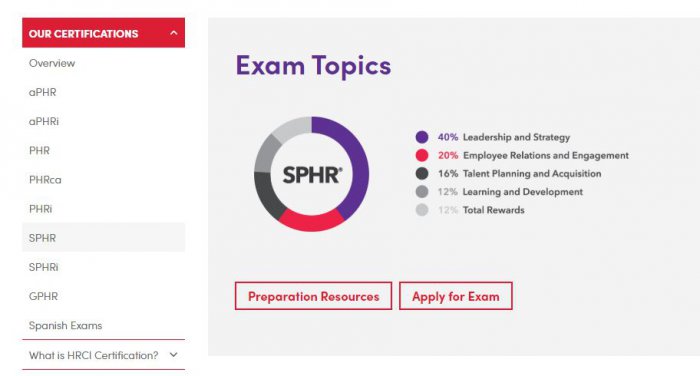 The Senior Professional in Human Resources (SPHR) certification is normally for individuals who are in a senior position. Of course, the name suggests it, but that amount of "seniority" comes with a certain degree of mastery in strategic policymaking, a whole lot of previous work experience, and strong references.
HR Certification Institute claims sole ownership of the badge. This certification raises the bar of your professional abilities and helps to take things to the next level. The SPHR certification is more likely the cherry on the top for a person who wants to gain knowledge and who wants an up-gradation in his job.
Eligibility Criteria:
Following is the eligibility criterion for the 'Senior Professional in Human Resources' certification. As mentioned earlier, since this is a senior/advanced level certification, you cannot directly sign up for the exam. There are prerequisites and certain requirements to be adhered to:
A person who is intended to attain this certification must have a minimum of four, five, or seven years of professional-level HR work experience that highly dependent on educational background
Both online and by post-submission and approval of the application
Pass a high-stakes assessment that contains very complex and complicated topics.
A person must maintain the required credentials via continuing professional development credits or passing the aforementioned assessment again.
Want to be Project Management Certified? Check out the best certifications here:
15 Best Project Management Certifications and Courses of 2023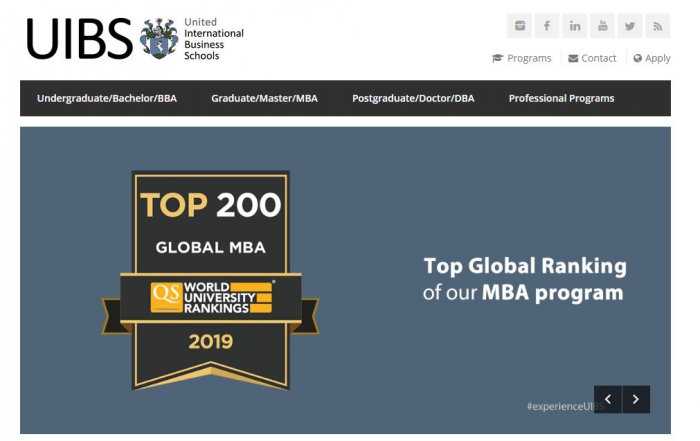 Moving on, the next certification on the list of best human resource management certifications of the year 2023 is UIBS. This is not exactly a "certification" per se, because UIBS is in other words known as the United International Business School chain. Here, you can launch your professional career with a Graduate Certificate in Human Resource Management.
UIBS is a top-notch certification that is very handy for acquiring relatively more technical skills than other certifications.
It is dedicated to helping people hone their careers in HR and other business administration-related fields since 2002. United International Business Schools (UIBS) is undoubtedly an independent private education institution and it has campuses in Europe and Asia as well.
UIBS offers very flexible accounting, business and management studies at the Undergraduate (Bachelor/BBA) and (Post) Graduate (Master/MBA and Doctor/DBA) levels leading to private (programmatically accredited) degrees and certifications and to American regionally-accredited and European state-recognized (authentic) degrees in-accordance with our academic partners.
Key Features of Getting a Certification from UIBS:
Professionally experienced professors.
Interactive and vibrant teaching methods.
The truly global community enhances your communication skills and community.
Transfer between campuses is very easy and convenient.
Multiple starting dates for students' ease and comfort.
But wait, there's more. Take a look at some of the admission requirements below:
An application form. Can be obtained from the UIBS website easily.
Make sure that the application fee is ready
Curriculum vitae/ resume
Photocopy of your valid passport or computerized national identity card (CNIC).
In many countries, instead of a CNIC, a driver's license or some other alternative document is considered proof of identity. Check with the authorities to see which document you'd, later on, need to submit.
Copies of all relevant documents that include degrees, diplomas, certificates, and transcripts
Reference letter of motivation or character certificate stating your career objectives and program expectations
A passport-size photograph. Even though it is a headshot, wearing formal clothes will leave a nice impression on the application reviewers afterward.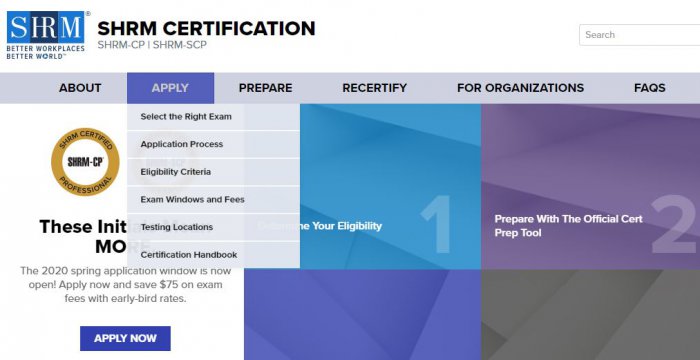 The SHRM-SCP certification determines HR professionals with upgraded and advanced knowledge and professional tools and techniques of HR strategical plan, particularly how these strategies meet with company goals.
An SHRM-SCP-certified individual acts as an HR lead and is well-equipped in dealing with employee performance or efficiency metrics. The person is also expected to be aligned with key performance indicators of all employees at a human level.
The SHRM-SCP certification bridges the gap between an organization and its success ratio. In other words, these certifications primarily play a vital role in communication with the employees. Thus an organization is of huge benefit if its HR manager is SHRM certified professional because it is very handy for the successful execution, deployment, and installation of the project.
Work/academic requirements for the SHRM-SCP proceed with five or six years of working experience for those who have less than a bachelor's degree program. More of the details, such as exam length, number of questions other queries, and cost of the certification is the same as for the SHRM-CP.
Looking for The Best Online Human Resource Certificate?
Human resources (HR) is a competitive field. With more and more individuals specializing in the field, the competition is getting tougher and tougher. You can, however, speed up your journey in HR with the best online human resources certificate. Once the best online human resources certificate is added to your resume, you will definitely see a change in how your career progresses. 
If you are looking for certifications that can help kickstart your professional journey then following certifications are the ones you should start with:
SHRM Certification
HRCI Certification
Human Resource Management
Certificate in Human Resources Management
Calgary University Human Resources Management Certificate
Simon Fraser Human Resources Management Certificate
Certified Professional in Talent Development (CPTD)
These certificates are just the tip of the iceberg, once you start exploring you will find different types of certifications suitable for different HR professionals. The following section will give you a rundown of all the types of certifications available in HR, take a look. 
Types of HR Professional Certification
If you are looking for HR professional certification that can help advance your career then it may be better if you develop an understanding of different types of HR professional certification. Take a look at the different types of certification available to you and which ones are the best in each category.
Entry Level HR Professional Certification:
If you have just started your career in HR and are looking for certifications that can add to your resume as well as your skills that entry-level HR certifications are the way to go. The certifications are specially for beginner-level individuals with little to no experience. 
You can complete these certifications in a couple or so months and kickstart your HR journey.
Some certifications for entry-level HR are:
Associate Professional in Human Resources (APHR)
Professional In Human Resources (PHR)
Talent Management Practitioner
Certifications For Career Advancement:
If you are already working in the HR field and are looking for ways to advance your career then these certifications are the ones you need. With these certifications under your belt, you will be able to validate your skills and knowledge of the field.
These certifications are at an advanced level and require more demanding than entry-level certifications.
Some valuable certifications of this type are:
SHRM Certified Professional
SHRM Senior Certified Professional
Certified Professional In Talent management
HR Specialty Certifications:
HR professionals have a broad range of responsibilities. Their duty is not limited to one area or one aspect of the department, their roles and responsibilities are much deeper than they may seem. 
This is where specialty certifications come in. If you have a specific area that you want to specialize in then HR Specialty Certifications are the way to go.
Here is a list of specialty certifications that can help you specialize in the area of your choice:
Associate Professional in Talent Development Credential (APTD)
HR Department of One
Professional in Human Resources
International HR Certifications:
With the advent of remote and hybrid modes of working, working across borders is no big deal. But to be able to excel in the country of your choice, you have to have an understanding of its work culture and how things work there.
In such cases, having an international certification can boost your chances of success. Here are some international certifications useful for HR professionals:
Professional in Human Resources – International
Associate Professional in Human Resources – International
Global Professional in Human Resources
What Are The Benefits of HR Management Certification?
Gain a competitive edge and expand your career prospects by obtaining an HR Management Certification. These certifications provide invaluable benefits that can help you stand out from the rest and give you the recognition you deserve.
1. Adds Professional Cachet to Your Credentials
Certification proves your HR knowledge, making your profile more attractive to employers. With a certification, you can unlock doors to better jobs or promotions that may have previously been unavailable to you. Moreover, these certifications are not bound by geographical or professional boundaries, granting you access to many opportunities worldwide. 
2. Improves Your Career Prospects
A human resources management certification makes your expertise more visible and boosts your credibility among your peers – essential for job changes and promotions. Showcase your skills and prove that you are the best person for the job with a reliable certification!
3. Unleash Your Inner Leader
Leadership is a highly sought-after trait in the HR field – and not just having a certification, but actually going through the process of developing it. From making presentations to researching and writing papers, your journey to certification will create a wellspring of leadership competencies.
4. Increase Your Earning Potential
Achieving human resources management certification is an investment that pays off in more ways than one. Not only does it help you professionally, it can also increase your salary prospects in meaningful ways – from managerial roles in organizations to starting up your own business.
5. Boost Your Credibility
The brand behind the certification speaks volumes about its value and worth. With a legitimate human resources certificate from a reputable institute, employers and clients alike will view you as more credible than an unqualified candidate – in other words, you'll be seen as a leader, manager, and valuable addition to the workforce –
6. Up Your Confidence Level
Level up your professional game with a certification, and show employers that you've got the skills to take charge. From improved communication strategies to more efficient decision-making processes, you'll be able to confidently navigate all of your interactions with finesse and flair, setting yourself up as a shining star in any organization.
FAQ's
1. How do I get into human resources certification?
If you are finding it difficult to get started with HR certifications, your best bet would be to start with beginner-level certifications. These human resources certifications are designed to help entry-level HR individuals with optimizing their skills and improve their competency. 
Once you get a hang of your field, you can move on to more specialized courses to advance your career.
2. Where can I find the best HR certification?
Here is a list of some of the best HR certifications:
1. HRCI Certification
2. Certificate in Human Resouce Management
3. SHRM Certification
4. Human Resources Certificate Program
Although there are hundreds of other options, the ones mentioned above are the most renowned and valuable hr professional certifications. You can find these courses online by going to the organization's website. You will have to pay for the course of your choice and then take an exam to get the certification.
Conclusion:
Some other sources of HR and talent acquisitions certifications programs are the Talent Management Institute (TMI), the National Association for Health Care Recruitment (NAHCR), and the National Association of Personnel Services (NAPS). If you are willing to put in some extra effort, you can get in touch with "real" HR professionals at LinkedIn. Some of them might be willing to share a few tips with you, mentor you or nudge you in the right direction toward your career path.
If you have a certification in Human Resource Management, we would love for you to share your thoughts in the comments section below. You can also write to us at fwilson@ntaskmanager.com for sharing insightful tips about this topic.