Looking for the right Highrise CRM alternative is a crucial task since there are a lot of various options available in the market these days. Since Highrise is a customer relationship and resource management software – and that too with an abundance of features, we think you might like these alternatives as a backup solution.
This write-up rounds of best Highrise CRM alternatives to date, and the reason why you might fall in love with them. Read on…
One of the best things about the modern world is the absence of a monopoly.
Gone are the days when there was one specific product or service to meet customers' standards. Right now, it is the age of alternatives, choices, and options. If you are looking for a Highrise alternative, this article will fill you in on a handful of software solutions.
Also, on a side note, we don't have any beef against Highrise CRM. It is remarkable software. However, like all other programs, Highrise CRM is not perfect. There are some shortcomings. There is also a possibility that your business requirements could be different, it's important to know what CRM is and what it can deliver.
Therefore, there is no harm in looking up a suitable Highrise CRM alternative. Let's take a detailed look at what this software and its alternatives are all about.
What is Highrise CRM?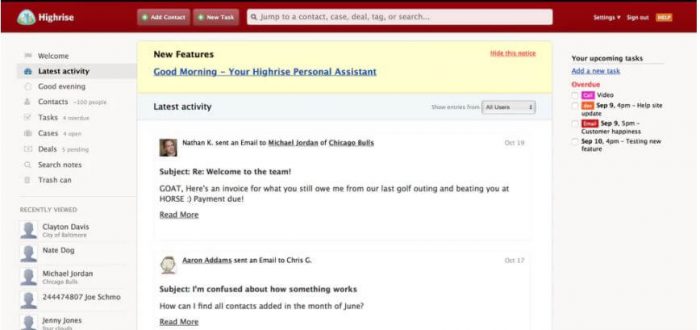 Highrise CRM is a popular software among the sales teams of many companies. The program was easier to use and had advanced functionalities as compared to other CRM software.
However, in 2018, its parent company Basecamp announced that Highrise CRM will not be updated any further. Highrise users have been reportedly looking for other software applications to fill in the gaps since then.
As easy as the internet has made it, finding the perfect Highrise alternative does require some guidance. Different software have different specialties; it makes it a little harder to look for a program that perfectly fills the digital footprint of its former adversary.
Below are the top 7 Highrise CRM alternatives that can do wonders for your sales team.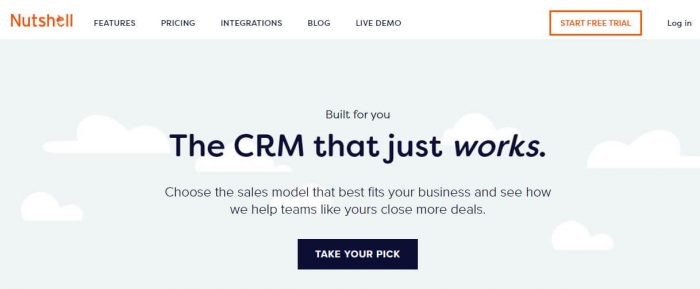 If I have to say something about Nutshell in a "nutshell", it would be that it simplifies the sales process. The app is beneficial to Small and medium-sized businesses. Nutshell helps these businesses to win more offers quickly and conveniently.
It is easily integrated with Google G Suite/Gmail and Microsoft Office/Outlook. That way, you do not have to do any software changes in your business. Nutshell simply allows you to carry the process from where it needs to be.
The common problem with most of the CRM software is that they are not easy to operate for the sales team. Nutshell eliminates this hindrance and allows the sales team to manage their operations efficiently.
The program also extends support via email. The premium options extended through Nutshell Pro and Pro+ plans are a great way to utilize added features. The base version is good too, but the meat of the game is in paid plans.
Key Features:
Team collaboration
Sales automation
Contact management
Interactive map view for segmented demographics and customer response in different areas
Customizable reports
Multiple sales pipelines
Pricing
Annual Subscription: $19 Per user /Month
Learn about the best sales tools of 2022:
14 Best Sales Tools to Boost Revenue and Efficiency in 2022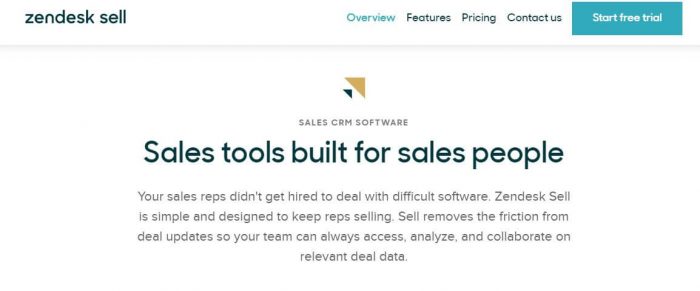 Base CRM was quite popular ever since its inception as a sales tool. In September 2018, Zendesk acquired FutureSimple Inc., the company behind Base. They also took the liberty of rebranding it.
Currently known as Zendesk Sell, the program takes whatever Nutshell has to offer to the next level. If Nutshell CRM, as a Highrise Alternative, was not doing the job for you, then Zendesk Sell has got it all covered.
Usage wise, this app is slightly heavier than the former CRM applications. We attribute resource consumption to an abundance of features that require simultaneous processor power.
Base CRM is the perfect fit for streamlining your sales operations. The software offers a professional approach to the organization's sales operations. Sales reps can interact with customers quickly. In addition, the sales team can reportedly manage data efficiently and have all the sales information available to them in a matter of seconds.
The reason why Base excels in CRM is its ability to forecast sales. This standalone feature is perfect for drawing accurate estimates. Base helps the business to make better sales decisions by applying its artificial intelligence capabilities.
Key Features:
Follow-ups
Email 360° overview
Mass mailing
Tracking
Lead and opportunity scoring
Automated events
Territory smart lists
Full-featured mobile apps
Pricing
$45 user/month for Base Starter
Per-user $145 user/month for Base Enterprise

Formerly known as 'ProsperWorks', Copper is another ingenious solution when it comes to a feasible Highrise CRM alternative.
Besides a name overhaul, the owners of Copper CRM have reportedly introduced new features to introduce a revamped customer relationship management experience. The software is a good tool for small and medium-sized businesses that do not have vast amounts of data to be processed.
Copper CRM's regular plans are well enough to fulfill a medium-sized business experience. However, if you want to take it to the next level, the business plan is there to meet all the robust requirements. Copper Business assists the sales team to track the transactions efficiently and anticipate the customer demand timely.
Key Features:
G Suite integration
Multiple pipelines
Email templates
Leaderboard
Goal tracking
Pricing
$45/user per month for Base Starter

Insightly is designed with two specific objectives in mind – i.e. to manage a lot of data and to make it as user-friendly as possible. The program helps the sales team to have the required information at their disposal whenever it is required.
Insightly's simple user interface comes with a minimalistic design. All the buttons and functions are where you need them to be. The clutter-free environment is great for getting things done on time.
Insightly is a strong contender as a notable Highrise CRM alternative. It does not support live support. However, you can have your sales team contact your customers through regular phone and email channels.
Insightly CRM is best suited for small, medium, and large businesses.
Key Features:
Workflow automation
Relationship lining
Task and Event management
Pricing
$29 per user/month (Insightly Plus)
$99 per user/month (Insightly Business)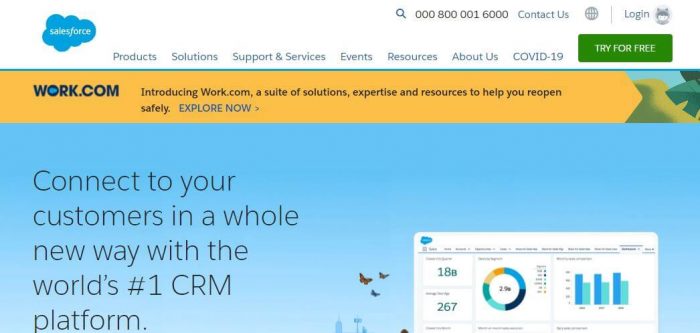 Salesforce is an award-winning software. To some users, the award nomination and a smooth track record for software is more than enough. But it would be better if you know about Salesforce Sales Cloud in detail before making any decisions.
Salesforce is one of the most recommended and used software in the CRM category. On that note, it is a great Highrise CRM alternative on this list. The program holds a large fan base in not only small business communities, but enterprise sectors are also utilizing the app's features to the full extent.
It is a powerful software that offers solutions ranging from analytics, marketing services, and community cloud for additional storage and backups. It allows the sales reps to make a variety of critical decisions based on insights, forecasting, and territory models provided by Salesforce.
The only downside to using this fantastic software is that it is not that easy to use. A lot of technical knowledge is required to implement it and use it to its full potential.
Other than that, it is a complete sales team tool for large firms. Salesforce is the perfect Highrise alternative for both small and large companies.
Key Features:
Quoting features
Sales leaderboards
Visual workflow designer
Sales pipeline activity
Tracking
Contact management
Workflow automation
Email tracking
Pricing
Annual subscription $25 per month for the 'Essentials' plan (up to 5 users)
$300 per user/month for 'Lightning Unlimited'
Check this out:
11 Best Calendar Apps To Supercharge Your Productivity in 2022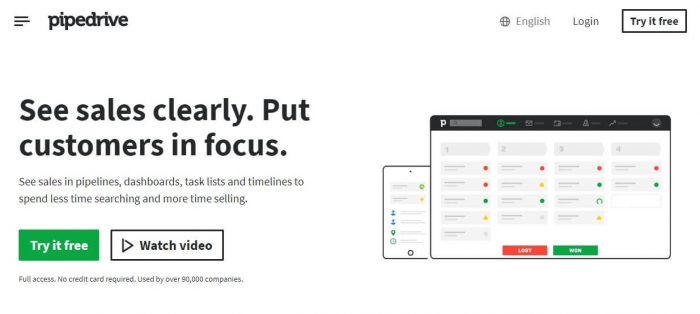 Pipedrive is another widely used CRM these days. Most of the power users are from the startup sector since Pipedrive is suitable for small companies on a budget. Nonetheless, it is a great tool for solopreneurs and developing businesses that do not have a lot of customer data.
The software has great features to connect you with suppliers. It streamlines the process of interacting with the vendors.
From a general point of view, people from sales teams like the ease of use that Pipedrive has to offer. This app is like a personal assistant as it can help to customize a lot of things that other CRMs don't allow by default.
Key Features:
Sales pipeline
Project management
Tracking
Sales reporting
Pricing
Annual subscription $12.5/user per month for the silver package
Monthly subscription $15/user per month for the silver package
Gold and Platinum subscription models are also available.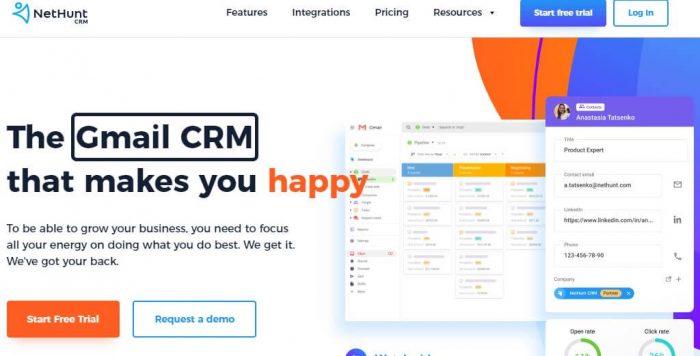 NetHunt is an impressive CRM solution for anyone looking for a Highrise CRM alternative. This program offers a new take on the CRM software user experience. How so?
If you must know, NetHunt CRM turns your Gmail inbox into a CRM hub. This small transition not only allows full control of your CRM functions through a Gmail account, but the transition itself is a great way of centralizing sales strategies.
The software is a convenient CRM for handling sales material, content, and marketing via emails. The default integration with Gmail is a nice twist because you don't have to switch between two different apps to do the same thing. Everything can be done and monitored through one Gmail account.
Key Features:
Business records
Follow-ups
Email overview
Mass mailing
Pricing
Annual subscription $24/user per month
Monthly subscription $30/user per month
Pro and Pro+ subscription models are also available
Over to You!
CRM software solutions are a dime a dozen these days in the online and real-world industries. Chances are that you could be using a different program that's not mentioned on this list. If that's the case, we'd love to know all about it.
Make sure that you bookmark this post besides commenting on your Highrise CRM alternatives' user experience. We will be adding a couple of extensions in days to come.
More Readings: