Gantt Charts. The two words have recently been on a meteoric rise in the world of project management. Everybody is in search of Gantt Charts. Quora is full of scouting inquiries circling around "what is the best Gantt Chart software?"
All in all, small businesses and large, have become increasingly cognizant of what an absolute necessity Gantt Charts have become for managing workflow and adding products to the practice of project management.
This is why we decided to formulate a list of 37 project management tools that offer dynamic Gantt Charts as an innate part of their application.
Before we dive right into the list, for those of you who do not know what Gantt Charts are or for those who know what they are but are not quite sure how useful Gantt Charts can be, let's take a quick overview.
What is a Gantt Chart and Why is it Important?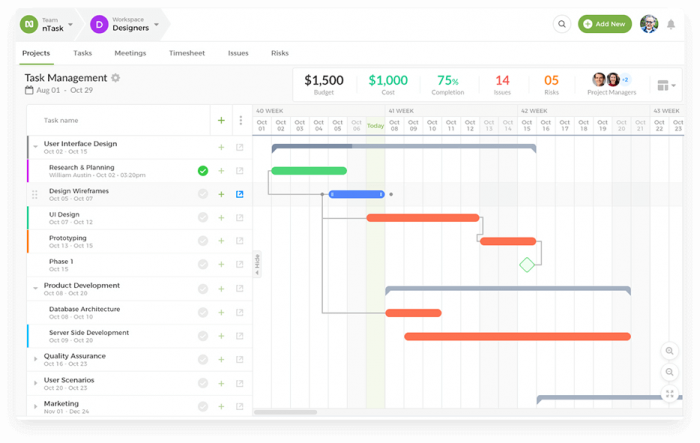 What is a Gantt Chart? In simpler terms, Gantt Charts are a visual demonstration of task progress scheduled on a given timeline. It is a bar chart that shows you which activities or tasks need to be completed, by who, and by when.
Why are Gantt Charts important? This graphical depiction of task status in relation to its deadline is a quick summary view that erases the hassle of constantly referring back and forth to each task detail individually.
How do you read a Gantt Chart?
A Gantt Chart is made up of a series of rows and columns with bars that run in a horizontal direction. The bars represent tasks or projects listed in the column on the left. The length of the bar signifies how far along is the activity in terms of its schedule. Whereas the columns extending parallel to the bars denote the time period.
Benefits of using a Gantt Chart
From startups to global brands, Gantt Charts have fallen into popular use to help teams in tracking results, improving team communication, and increasing project productivity. And that is just the tip of the iceberg. The benefits of using a Gantt Chart do not end here.
When used the right way, Gantt Charts help you:
Discern the critical path of a project
Ensure task accountability; who is working on which task
Track the progress of a project and each task within the project
Gain a quick and clear view of a project outline
Determine what activities need to be planned versus activities that have been completed
Conduct efficient resource management by deciding which task should be assigned to which expertise.
Set milestones and task dependencies on a given timeline
Gantt Charts are not always the most convenient method of improving time and project management. How so? Well, for starters, not all of your favorite project management tools out there, provide a Gantt Chart feature. And those that do, are not very flexible or easy to use.
Here is a list of 37 of the best Gantt Chart software that is easy to use and worth spending your money on: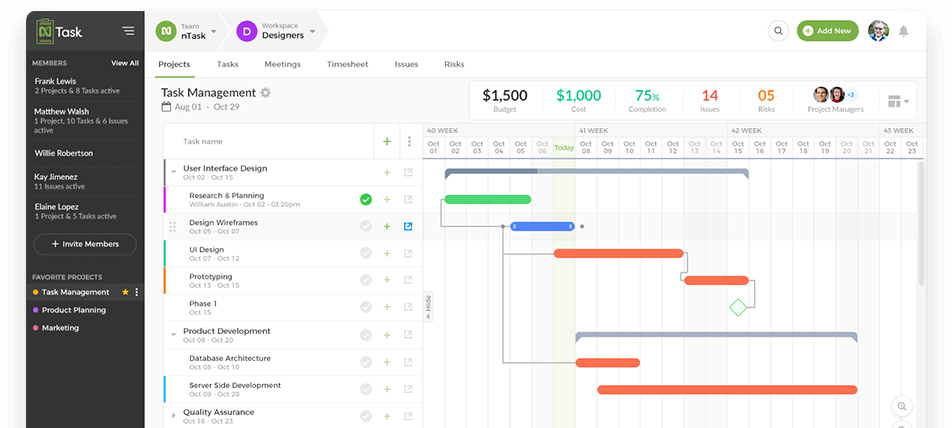 nTask is the perfect solution for businesses of all types (both for IT and software projects) for teams of all sizes (one-person user or a group of 50). It has everything you expect to find in a project management tool, starting from simple task management to efficient time tracking, extending from interactive team collaboration to quick meeting management, and on top of everything, effective risk & issue tracking to keep projects afloat.
What makes nTask an effortlessly pleasing tool to use is its user-friendly interface. No complex functionality or convoluted mechanisms for accessing one feature over another. It is so simple that users from any background can get a handle on it in less than a week.
Speaking of simplicity, nTask Gantt Charts are no exception.
Key Features:
Here's what you can do with the delightfully-simple Gantt Charts of nTask :
Gantt Charts in nTask is a self-generating feature, removing the extra work from your shoulders to make room for other more important tasks.
In a simple, single-click process, you can quickly share fully formed Gantt Charts with project managers, clients, or any external party via Email. Or even better, use the Public Link option to directly share the link of your application page consisting of a Gantt Chart.
With visually engaging icons that represent due dates, start dates, and the current date, you can easily track the progress of each task present within a project. The icons are subjected to automatic color change depending on the progress of a task. If a project has exceeded its due date, the icon on the bar specific to that task will turn red. If a task has been completed on time, the icon will turn green.
To keep monetary aspects in check, you can carry out expense tracking for each project as well. The Gantt chart collects data inserted by you in the resource manager feature of nTask and displays the total cost of a project at any given point of its life cycle.
Assigning tasks and avoiding project delays is not enough. Gantt Charts in nTask give you a quick summary of the total number of identified risks and issues posing a likely impediment to the stability of your project
You can also create a copy of your project roadmap. With a single click on an easily locatable action button called 'Copy', nTask creates an instant project duplicate, transferring all your tasks and task details alongside.
Pricing:
Free forever basic plan
Premium Version – Starting at $3 per user/month. Unlimited workspaces, unlimited projects, unlimited storage.
Business Version – Starting at $8/user/month. Unlimited risks, custom fields, and user permissions.
2. ProofHub

Whether your part of a growing business or a remote setup, ProofHub will solve all your needs with its abundantly rich project management features. It is a 2-in-1 collaboration tool that helps unifies team communication and enables them to work smarter.
In its sea of powerful features, comes floating the neatly designed feature of Gantt Charts as well. Inspired to strengthen team collaboration, ProofHub Gantt Charts were built for the sole purpose of speeding up the workflow, eliminating project delays, and enhancing team motivation.
Key Features:
Set dependencies between sequential tasks, so you can check which on-going activity is dependent on the completion of a precursor task
Quantify the progress of a task against a visually convenient timeline. So, you and your team are constantly aware of which task needs is pending and which is completed
Gain a clear and concise view of a consolidated timeline under which all projects and tasks can be scheduled, assigned and iterated.
Export Gantt Charts to external parties and clients in the form of a PDF and a printed version.
Drag-and-drop tasks from one section to another for quick transfer in terms of scheduling, repetition, setting dependencies or creating overlapping due dates.
Highlight the critical path on the chart so as to identify tasks with extending impact on the overall progress of the project
Pricing:
$45/month – Unlimited users, 40 projects, 150 MB storage
---
3. Teamwork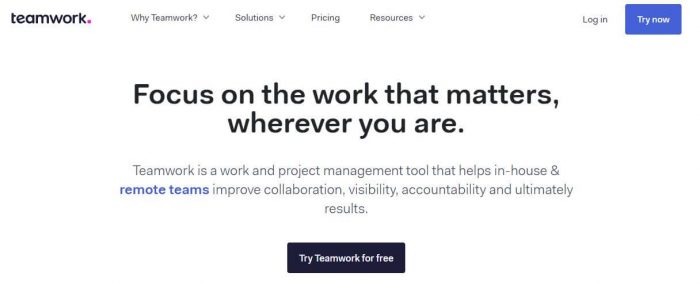 Teamwork is one of the best Gantt chart software tools out there. A project management tool for agencies and creatives, enterprises, and teams of varying scopes, Teamwork is quite the popular name in the world of project management. It offers three world-class products, Teamwork Desk, Teamwork Projects and Teamwork Chat that can be inter-linked to streamline your team collaboration and workflow.
Teamwork offers a wide array of integrations with your most favorite apps available such as Slack, Gmail, Google Calendar, Dropbox, Box, Harvest, HubSpot, Time Doctor, Hubstaff and many more.
Only recently, a few years ago Teamwork introduced Gantt Charts to their Teamwork Projects tool on popular customer demand. Much like the application itself, Teamwork Gantt Charts are flexible and intuitive to use.
Key Features:
Create sequential and parallel relationships between tasks with flexible drag-and-drop ability from one column to another.
Assign each task to a specific team member within the Gantt Chart view. You can color-code each task according to their assignee
Monitor invalid task dependencies that automatically highlight in red on your behalf
Collapse and break down your project into lists containing high priority tasks and tasks that are not functional
Manually govern the progress of each task by changing the % levels in the progress meter next to each taskbar
Gain a magnified 6-level zoom-in view of tasks, sub-tasks, and milestones to limit screen clutter and grant maximum legibility.
Pricing:
Pro version – $9 per user/month. 50 users, 100GB file space, and 300 projects
---
4. Smartsheet

Smartsheet is another infamous contender in the Hall of Project Management tools. But it's not just any project management tool equipped with a bundle of impressive features. Smartsheet offers a generous range of Smartsheet Solutions that cater to a diverse number of roles and industries such as Sales, IT & Ops, Software Development, Marketing, and Human Resources.
Smartsheet offers a high-performance Gantt Chart feature. Though it is not quite the visually appealing interface many users would prefer but with the help of their Gantt Chart Instructional Video, teams can bring inordinate levels of work efficiency once they learn how to use them.
Key Features:
Save time and use Smartsheet free Gantt Chart template to get a head start in creating your project roadmap.
Create a cohesive network of predecessor tasks, task dependencies, and milestones for each project
Make real-time edits such as new due dates, task details, task assignees and task duration with the easy drag-and-drop option
Color code each task category to quickly locate and assess the task you need to refer
Track progress of each task by adding messages, attaching files and changing task status in separate columns dedicated for each function
Use the Hierarchy option to indent rows and create a ranking relationship between sub-tasks.
Share Gantt Charts with team members, clients, and customers outside the application
Pricing:
Individual Plan – $14 per user/month.
---
5. Workzone

Workzone is another powerful tool that doesn't lag far behind in claiming the prize for fully-featured project management that lets you do anything anytime. It's been in the business for 15+ years, helping organizations such as Sephora, DKNY, and UPenn to organize and get work done on time.
Users commend Workzone for its easy-to-use approach. Keeping customer usability in mind, each feature present in Workzone was designed to accommodate users from all backgrounds. And the same thinking is applied to the Gantt Chart feature.
Key Features:
Gain a flexible but percipient insight of all project timelines in an orderly structured view
Review and monitor the status of each task and task assignee with separate columns aligned in uniform prose for easy reading
View task reports and assess what part of the workload is done and what needs to be completed by expanding the dashboard into larger more generous views.
Create projects and tasks on separate boards which are then transferred into an auto-generating Gantt Chart view
Pricing:
Team Plan – $24 per user/month.
---
6. TeamGantt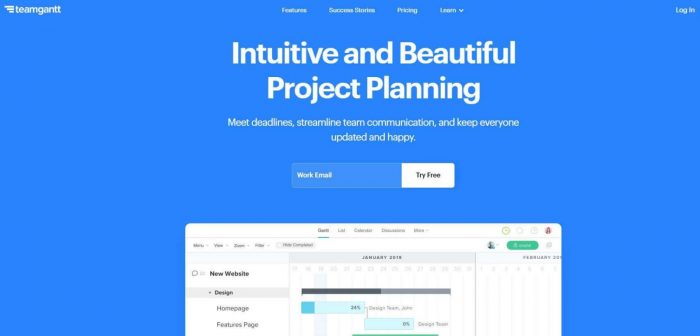 TeamGantt is one of the best Gantt Chart Software out there. Given its name, TeamGantt is a software created to help teams hit deadlines, manage resources and perform expense tracking using only Gantt Charts. Sounds too ambitious right? In TeamGantt it isn't and in fact very much do-able.
Strictly speaking, although TeamGantt is not a project management tool, it was creatively built to have all such features that combine the practices of project management within a Gantt Chart. Users can use sticky notes to store key points, upload files and attachments for comprehensive team collaboration and track total billable hours logged on each task and project.
Key Features:
Edit creation & due dates, the order of tasks, and their timelines with flexible drag-and-drop ability.
Switch from Gantt view to calendar and list view to see all your tasks by day, week or month
Manage team workload by seeing who is working on how many tasks via the Availability tab
Use baseline reports to compare planned timelines with the actual timeline of each task
Create project dependencies to formulate an order in which each task should be performed
Export Gantt Charts into PDFs and Excel sheets to share with clients and/or in meetings
Communicate with your team and discuss minute-to-minute task details using Chat feature
Pricing:
Standard Plan – $39/ month. Up to 5 users. Unlimited Projects
---
7. Instagantt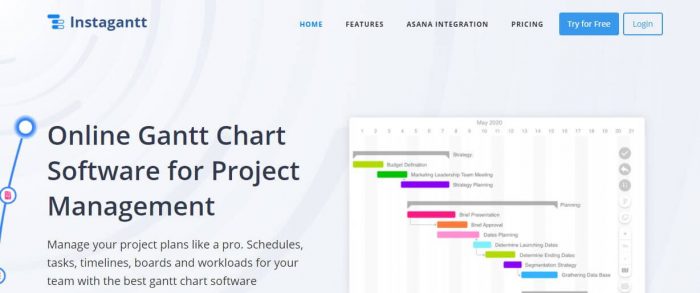 If you are an avid Asana fan and cannot think of switching over to another task management tool just for their lack of Gantt Charts, Instagantt meets your needs. Like Ganttify completes Bitrix24, Instagantt makes Asana a Gantt chart software through easy integration.
With a number of useful features creating the Gantt chart module, Instagantt makes work easy for Asana users through the easy setup for tasks, user assignment, scheduling, modification in workflows, setting milestones, and a lot more.
With a separate row dedicated to each user, it allows for reassignment of tasks between users as well as altering tasks and their dependencies on their own.
Key Features:
Work with ease and transparency when creating workflows through its drag and drop feature
Efficiently set up tasks and their dependencies so you can realign relationships and modify tasks without affecting your work plan
Have a separate timeline for each user or resource with tasks, subtasks, and milestones
Drag and drop horizontally to change dates and time interval for the tasks and vertically to change task assignee
Customized color-coding to chart bars to display progress for projects
Set, change and monitor the progress of your tasks and sections as a percent
Set and define special events in the Gantt chart
Swift conversion of tasks into milestones
Export charts as images or spreadsheets and embed
Pricing:
7 days of a free trial. Single user $7 per month (full-featured, unlimited projects per workbook, unlimited workbooks) and multiple users $5 per month (full-featured, unlimited projects, unlimited workbooks, user management)
---
8. Paymo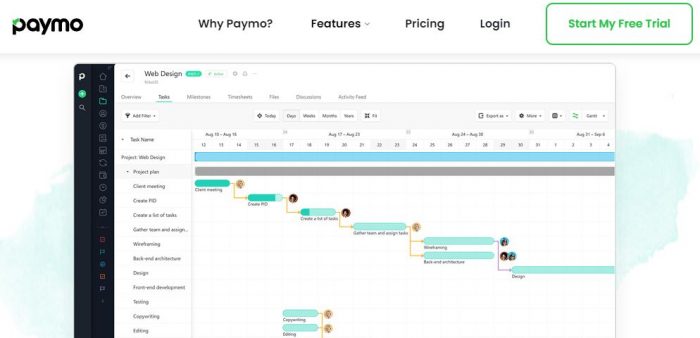 Another great application that you can use as your Gantt charting daily driver is Paymo. The application is an amazing project management application that allows small businesses and freelancers to help flourish their businesses with ease.
The application has many different functionalities that help its users to stop using many different applications for a single project and stick to its amazing interface, which was designed to unify the whole process of project management.
Let's take a look at some other features that Paymo has to offer.
Key Features
Task management
Resource management
Time tracking
Mobile apps
Personalization
Project management
Team management
Financial management
Timesheet reporting
Adaptable dashboard
Pricing
Check out the free plan or the free trial if you don't want to throw money at it just yet
If you are ready to pay the company, you can get a subscription for as low as $11.95/month/user
---
9. Easy Projects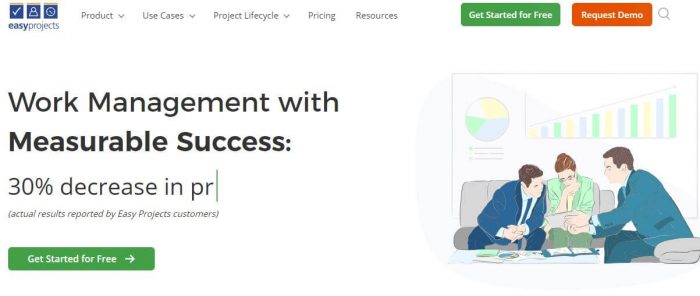 Another tool lined up in our best Gantt chart software list is the powerful yet user-friendly project management tool, Easy Projects. A cloud-based project planning software, Easy Projects comprises a feature set that allows for effective project planning and execution.
Powerful modules such as Gantt chart, Resource Loading Simulations, and Project Calendar give you a visual perspective on your project progress and team management. Through a drag-and-drop interface, you can reorganize your workflow at any time without affecting the timeline.
Plus, it is intelligent enough to detect the resources available for potential task assignments.
Key Features:
User-friendly, drag-and-drop for easy placement of items onto the timeline during project planning
Efficiently detects and shows user available for tasks depending on their task assignment
Swift modification in projects schedule without affecting program flow
Allows for adding and changing dependencies between tasks so you can alter project sequence on the go
View and monitor the critical path for the projects, the time needed for activities and anticipated project handover
Track project and task progress efficiently on the timeline visually
Pricing:
14 days of a free trial. Easy Projects offers a Pro plan at $24 per user per month and a customized Enterprise plan.
---
10. SmartDraw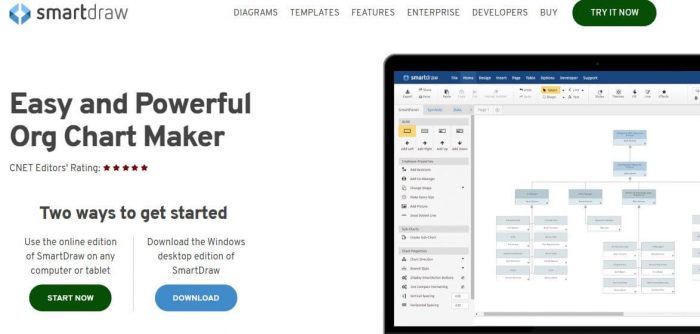 Best suited for Enterprise level projects, SmartDraw is a great Gantt chart software that lets you create and customize Gantt charts, project charts, project schedules, and much more to help you optimize your project management cycle.
It comes with the option of online usage or a downloadable desktop edition. It is a powerful alternative to the classic MS Visio that seems to have held its mark in the diagramming industry for decades.
With thousands of templates for more than 70 different types of diagrams and over 34,000 symbols for multiple fields including engineering, software design, healthcare and the standard shapes used for flowcharts, organization charts and more, SmartDraw helps you with projects for multiple departments in a single organization.
What's more? You and your team can collaborate on the visual pieces. It comes in multiple languages and many integrations.
Key Features:
Creation of a WBS (work breakdown structure) to define work into manageable tasks
Create fields for tasks, resources, start and end dates, percent completion and more
Create dependencies between the tasks for relationship identification
Share created Gantt chart and other plans with the team
Pricing:
Single User one-time purchase at $297 and multiple users for 5+ users from $595 billed annually.
---
11. Tom's Planner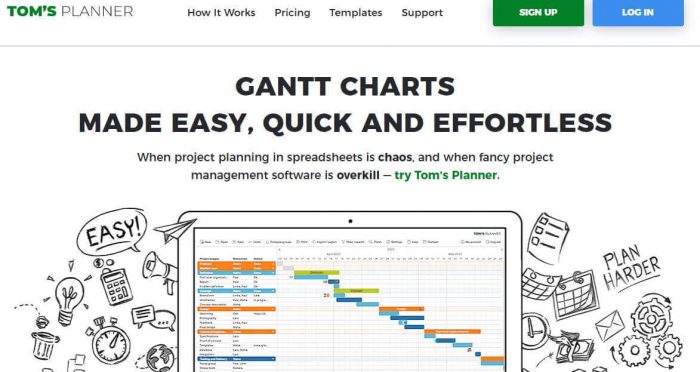 Tom's Planner is a web-based project planning tool that provides a well-designed Gantt Chart fit for personal, professional and enterprise use. You can list out activities, the resources the activities are assigned to and corresponding statuses neatly in columns.
Plus, with a drag and drop feature, you can easily move tasks and milestones across the Gantt chart for easy project rescheduling. It comes with a set of interesting and fun icons you can assign to resources, milestones, activities, and more that are also used for search and filter purposes.
Simple and with a focused layout, Tom's Planner is one of the best Gantt Chart software out there.
Key Features:
Provides different columns for listing project stages, activities, resources, statuses
Easy-to-use timeline to track activity progress.
Comprehensive scheduling with online and local schedule options and templates.
Invite other resources for collaborating on the schedule.
Fun images for depicting milestones on the timeline.
Easy embedding of an existing schedule on a web or intranet page.
You can create new schedules from existing ones through the Copy function to save time.
Powerful search and filter option.
Search for users/resources, project stages, milestones, and other fields
Includes color coding for tasks and activities
Allows for exporting to an image to include in reports and presentations
Pricing:
Personal (Free), Professional ($9.95 per month), and Unlimited ($19.95 per month) plans.
nTask is the most beautifully designed online Gantt Chart tool

Visualize team progress with interactive Gantt charts in nTask project management software. Signup Now!
---
12. Hansoft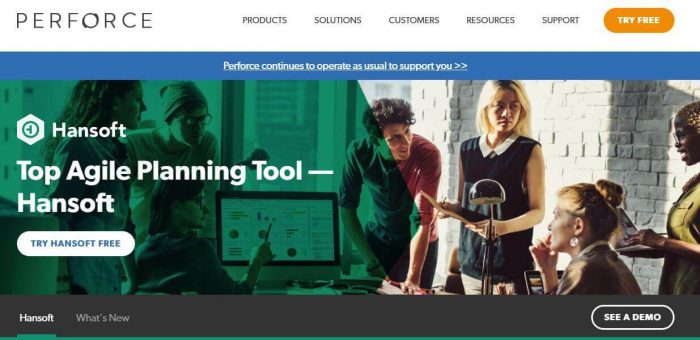 Hansoft is an all in one, fully-featured Agile project management tool that offers a load of features perfect for small to large organizations. Supporting Scrum and Kanban, Hansoft is one of the best Gantt Chart software you can get your hands on.
It offers great features including customized, visual dashboards, Kanban boards, to­-do lists, customized reporting, efficient resource allocations to tasks and numerous integrations. One of its powerful modules is, no doubt, its Gantt charts. Easily monitor and manage your projects with a crystal-clear interface and effective team collaboration.
Key Features:
Create scheduled Items easily with simplified navigation
Link scheduled items and define relationships and dependencies
Use Kanban boards and backlogs for the complete Agile approach
Resource leveling for optimized usage of resources for tasks
Split scheduled items for easily completing tasks
Monitor workflow and task progress through the percentage of completion
Establish multiple assignments and fixed work/duration
Option to set Items as "Out of Office"
The critical path to define project flow
Activities, resources and other factors affecting deadlines
Set different baselines for specific projects
Pricing:
Free trial. Contact support for pricing information.
---
13. Clarizen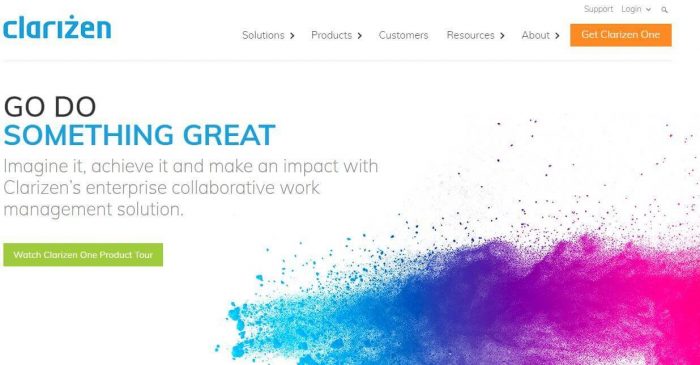 Up your project management game with Clarizen, a project management tool that comes with a comprehensive and simplified yet powerful set of features.
Ensure timely project delivery and team productivity with this tool that happens to be one of the best Gantt chart software. Through the Gantt chart it offers, teams can streamline projects making it easier to monitor activities, milestones, and relevant project items.
Key Features:
Drag and drop mechanism for editing project workflow catering to multiple projects
Stretch bars to change the start and due dates and reorder work items
Create dependencies between work items
Grid view to easily view changes
Color-coding for representing projects, milestones, tasks, and progress with different colors
Share created Gantt charts through email as a link or a view-only widget
Ability to add Gantt charts to web pages for a view-only, real-time performance report
Ability to print the work plan as Gantt charts
Pricing:
Clarizen offers an Enterprise Edition and an Unlimited Edition. Contact sales for a quote.
---
14. Redbooth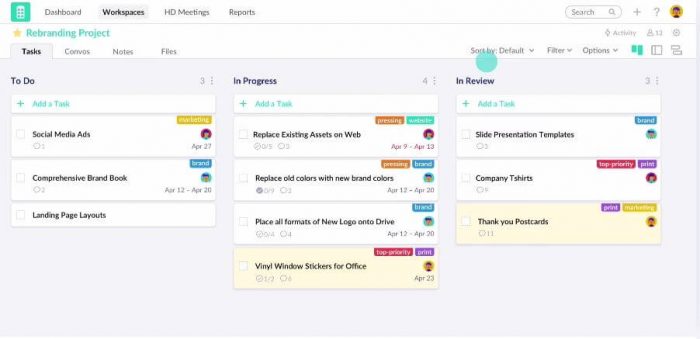 Redbooth happens to be one of our best Gantt chart software for the number of uses the Gantt chart feature lends to users. You can manage tasks, their dependencies, and even mark tasks as urgent on the timeline.
A unique feature that we don't see in other Gantt chart tools: it displays multiple assignees of the same task. What's more? You can display projects spanning 2 years, which means the past as well as the coming year. How cool is that?
Key Features:
Tasks with defined start and end dates are displayed except for recurring tasks
Modifiable handles to edit the start and due dates
Exclamation icon for marking urgent tasks
Ability to show or hide resolved tasks under Options
Color-coded bars to display tasks whereby active tasks are blue, overdue tasks are red and resolved tasks are green
View by days, weeks, or months
Displays details for projects for the duration of the last year and the coming year
Displays multiple assignees on the timeline with the avatar of the first assignee and a small green icon indicating multiple assignees
Pricing:
Redbooth provides Pro ($9 per user per month), Business ($15 per user per month) and Enterprise (by quotation) plans.
---
15. GanttPRO

If you are looking for a tool that not only offers Gantt charts for efficient project planning and monitoring but encompasses features to save you time, look no further than GanttPRO.
GanttPRO has to be one of the best Gantt chart software out there ready to win user's credibility due to its numerous project management features especially Gantt charts.
It offers templates for project Gantt charts that save you time and redundant efforts let you re-order work elements and phases as required and even offers the feature of Critical Path, which is the shortest time of project completion.
Key Features:
Ten free customizable templates for Gantt charts
Organize tasks via drag and drop
Stretchable handles to set and change the start and due dates
Reorder work items including tasks, issues, and milestones
Create dependencies between tasks
Color-coding for representing projects, milestones, tasks, issues, and progress with different colors
Set and monitor the percentage of the task completion
Displays status to team members
Critical Path to view the shortest time in which a project can be completed and the goals
Pricing:
GanttPRO offers a single ($15 per user per month) and three team plans (starting at $7.90 per user per month).
---
16. Wrike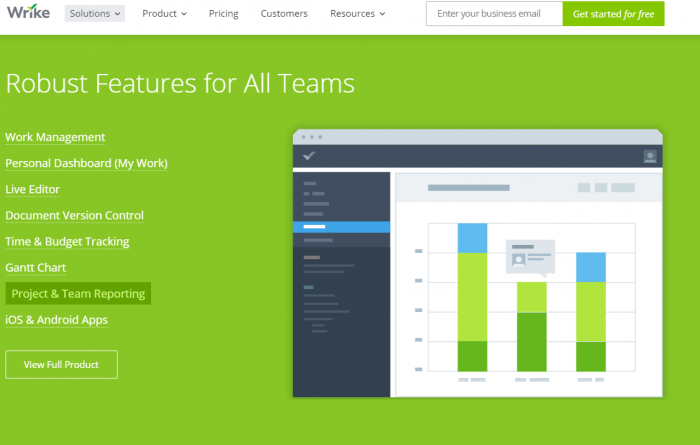 Wrike needs no introduction, be it project management, collaboration channels, or simple task management – but did you know it also offers one of the best Gantt chart feature sets?
With so many options to offer ranging from an intuitive and classy interface to robust and powerful modules, this tool is one of the all-under-one-roof solutions.
Multiple pane views for viewing and monitoring information, task organization and prioritization tools, team engagement and collaboration, customizable reports and more – what is there not in Wrike? A cherry on top – it is also one of the best Gantt chart software reigning the field.
Key Features:
Open project or folder in Gantt view for automatic translation of project elements on the view
Open tasks directly from the Gantt chart
Scheduled tasks as bars for start to end dates on the timeline
A separate section in view for all tasks, including tasks that have not been scheduled.
'Backlogged' tasks with scheduled subtasks are shown on the timeline, represented by bars with striped diagonal lines which spans the time period between the earliest subtask's start date to the latest subtask's end date
Hide folders and projects without tasks
Add or remove columns
Expand and collapse folders, projects, and individual items
Color-coding for project-related entities
Pricing:
Wrike offers Free, Professional ($9.80 per user per month), Business ($ 24.80 per user per month), Marketers ($ 34.60 per user per month) and Enterprise (customized) plans.
---
17. Avaza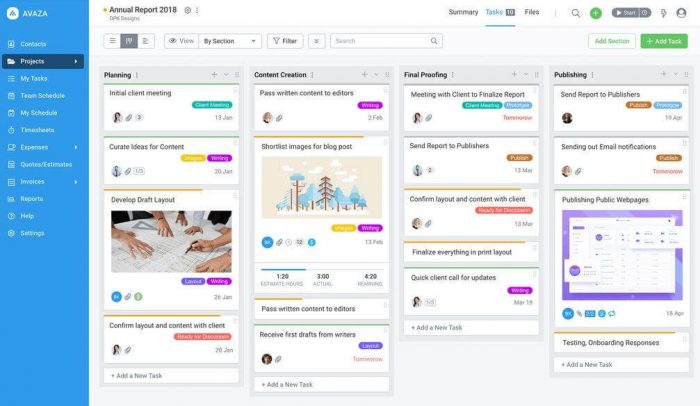 #16 on our list of the best Gantt chart software is Avaza.
Sometimes, we need an all-in-one solution that takes care of our project development lifecycle right from the beginning to the end, which means quotation to project delivery and monitoring to invoices. That is what Avaza offers – a tool that helps you simplify complex tasks and projects by letting you break them down via to-do lists and Gantt charts.
With the Gantt chart features Avaza provides, you can have a better chance of monitoring and improvising multiple projects through tasks and dependencies on the timeline. It supports auto-scheduling so you don't have to worry about changes in one activity especially if there are dependencies on it.
Key Features:
Gantt chart management through drag and drop
Create task dependencies and a visual representation of the dependencies
Removal of dependency lines from the Gantt through double click
Auto scheduling of dependent tasks by modifying due dates of earlier tasks
Color-coding for different tasks
Pricing:
Avaza offers Free, Startup ($9.95 per month), Basic ($19.95 per month) and Business ($39.95 per month) plans.
---
18. ProProfs Project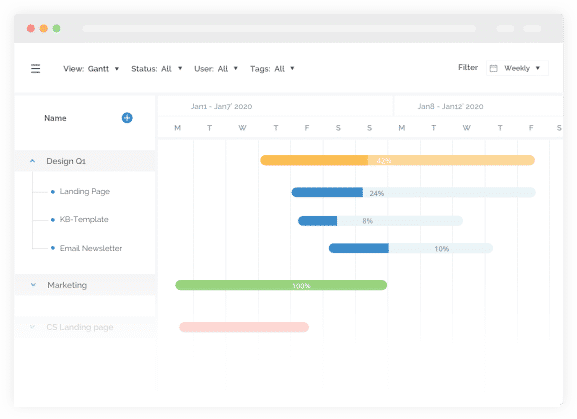 ProProfs Project is a popular Gantt chart software that helps you plan and execute projects of all sizes in the most hassle-free manner. With this tool, you get a simple and easy-to-understand real-time view of the project activities, including tasks and events, durations, and due dates. You can visualize milestones, assign tasks to team members, see overlapping activities, create realistic workflows, and track project progress along the way.
With so many benefits, ProProfs Project is the best solution to always know what's going on in your projects, and get more clarity and control on task management.
That's why this Gantt chart tool is preferred by many creative project managers, team leads, HR managers, designers, operation managers, CEOs, and CTOs, belonging to various industries. They trust this tool to keep the team motivated to finish the work scheduled on a specific day and ensure the projects are completed on time.
Key Features:
Here is a complete list of features that comes with ProProfs Project that can help you take your project management to the next level:
Single dashboard to organize, schedule, and monitor tasks using the accurate visualization of tasks, sub-task, project activities.
Assign tasks to relevant team members and monitor their performance by tracking the time individuals spend on various tasks.
Drag and drop editor to plan projects and manage daily tasks effectively.
Assign different roles and task permissions to the team members.
Establish task dependencies for more coherent and transparent task planning.
Set reminders and alerts to get timely updates on projects.
Team collaboration with file sharing and leaving feedbacks using comments, tasks, etc.
Access to insightful reports to track task progress and see how your team is managing deliverables.
Calculate billable hours, generate invoices, and share them with the client in a single click.
Pricing:
'Essentials' Plan at $2/ user/ month
'Premium' plan at $4/user/month
15-day free trial for both plans.
---
19. Freedcamp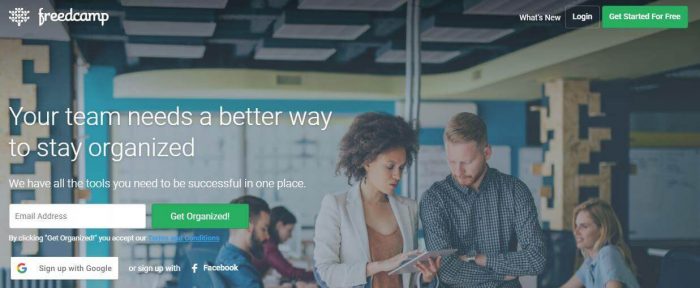 Freedcamp is amongst the favorite project management tools for users that love Kanban. A cloud-based project management software, Freedcamp offers Kanban boards for task management making updates and collaboration effective and efficient for the teams involved.
Among the task and project management features Freedcamp provides, it also happens to be one of the best Gantt chart software you can adopt today. Recently, it has updated its Gantt module making even more options available to users including task editing on Gantt charts and support for Gantt view on Task boards.
Key Features:
Gantt view support on Tasks Board
Empty task groups inside projects and on Tasks Board are hidden in Gantt view
Avatar of an assigned user is displayed on the Gantt's left panel
Comments link and comments count for Gantt tasks similar to those in List and Kanban views
Critical Path for the shortest time of project completion
Task dependencies between consecutively timed tasks, subtasks, and task groups
Displays full task/subtask title on mouse hover
Pagination for Gantt view is enabled on Tasks Board
Gantt is visible for all users in the projects group where Gantt is enabled
Allows for editing a task and its priority on Gantt
Pricing:
Freedcamp offers Free, Minimalist ($1.49 per user per month), Freelancer ($3.49 per user per month), Business ($7.49 per user per month), and Enterprise ($16.99 per user per month) plans.
---
20. Teamweek

Teamweek is quite a cost-effective alternative if you were not able to decide on a Gantt Chart Software from the aforementioned list.
Wait! Don't bite the bullet yet; this might just be the thing you needed for your workspace.
Teamweek features a sleek minimal interface with a superb combination of drag and drop modules. It is sort of like Trello Boards, but with the added integration with the former as well.
Team members can be added or kicked from Teamweek easily. Other than that, you can filter your tasks as per the nature of the project, monitor other people's activities and estimate your work completion duration on an 'in-progress' shift.
Key Features:
Elegant, simple, and easy-to-use interface
Team & idea management
Drag & drop functionality in the latest version
Multiple price brackets for customers' convenience
Based on Agile project management
An estimate of task completion duration
Free and paid templates on the go
Pricing:
Perhaps the best thing about Teamweek is its availability at different price ranges. For the "Free" version starting at $0, you get to add a minimum of 5 team members. The price scales up as the demand spikes; $35/M for a team of 10 people; $70+ for a team of 20 people – so on and so forth.
---
21. Zoho Projects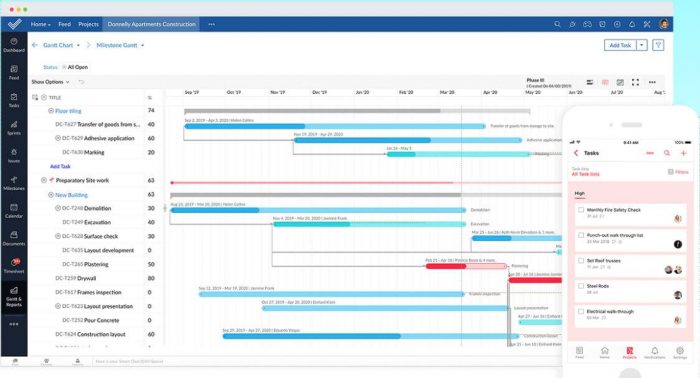 Zoho Projects integrates different functionalities apart from just the "Gantt Chart" feature. The software has an overall user base of 35 Million, with the exception of a slightly less percentage of active users. However, the program offers great alternatives to help individuals deliver projects on time.
Take the cloud-based management feature as an added perk; you won't have to worry about losing your data anytime. You can plan your projects, add them to the "in progress" category, or schedule them for near-future availability. The point is that Zoho Projects helps to get things done faster.
Key Features:
Zoho's Gantt chart software comes in the form of different plans. The "Standard" plan provides convenient perks to work with.
Project Template Creation is Limited to 5 In Standard Plan
Read-Only Access to Timesheet Reports, User Reports & Vice Versa
Synchronization of Project Boards with Google Tasks
Time Tracking
In addition to the aforementioned "Standard Plan" feature, this plan also integrates the basic level functionality with Zapier and other Zoho apps. The Express and Premium Zoho Projects Plans are introduced with additional features; such as but not limited to:
Task Management boards can be customized
Ability to add subtasks to main tasks
Auto timer reminders
Read-Write report access
Invoice management & ability to export worksheets
Pricing:
Just like Teamweek and many of the aforementioned counterparts, the Standard Plan is introduced at a basic price of $20. As you move along, Express and Premium plans are followed by $40 and above.
Of course, a lot of users have a gripe with the Zoho Projects pricing scale. Since reports are write-locked, many users prefer going for other alternative Gantt Chart software. You could, however, give it a shot. If it's not your cup of team, move along to the next recommended option below.
---
22. Cacoo By Nulab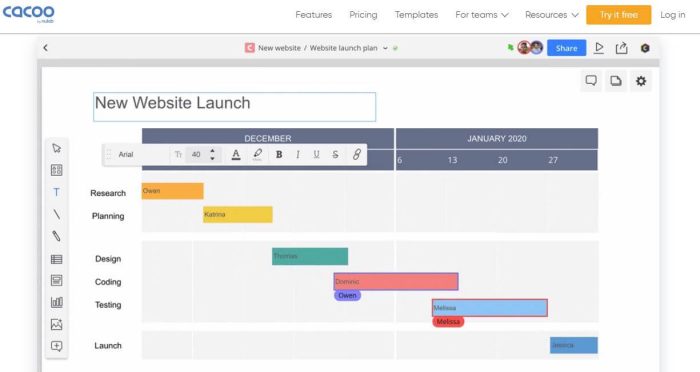 Cacoo ranks #20 in my list of the best Gantt chart software, apart from the fact that its name rhymes with Cuckoo. Nulab Co. has created a bundle of other programs for peer to peer task management, but Cacoo has always been one step ahead on users' personal lists.
You can brainstorm ideas by collaborating with team members on dedicated work boards; coordinate tasks and teams from the convenience of a single sheet; integrate powerful third-party app resources and export your work in a multi-program compatible format. Cacoo also has the added benefit of embedding links, easy sharing, and other perks that make the deal worthwhile.
Perhaps one of the main highlights of Cacoo can be summed up as multi-user workspace, and real-time collaboration inclusive of constant synchronization.
Key Features:
Multi-user workspace with access and privilege granting at sub-user level
Multi-version diagram creation for easy project comprehension
Free customizable templates
Same board collaboration for organizational charting
Flow charts, mind maps, and other add-ons
Pricing:
The basic level user-friendly version is available at an introductory price of $4.95 per month. You can opt-in for additional features, depending on your work requirements at a flat rate of $18 Per Month.
---
23. Agantty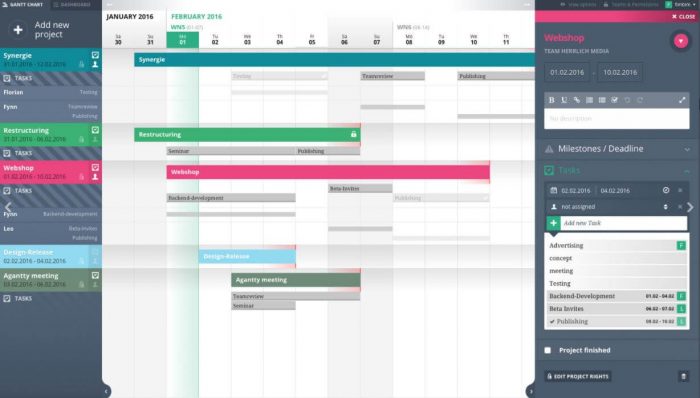 Agantty's foundations were laid back in 2013 as a German startup. They have since improved the quality of services by not only adding constantly updated features at a very low price but also through other convenient add-ons.
However, Agantty maintains constant encouraging feedback from people mainly from the freelancing industry. The earlies versions of this program focused on productivity reporting through Gantt Chart; cost and time for tasks completions report and other basic components. As the market trend shifted, Agantty focused more on the Agile Framework.
The latest version of this program is ideal for freelancers looking for business hours support channels, Kanban boards, and client management portal.
Key Features:
Suitable for freelancers with time management & Project Management challenges
Clean minimalistic UI
The useful division between work boards, Gantt charts, and to-do lists
Tasks remain isolated and do not overlap with one another
Easy project management through time tracking and priority reporting
Client resource management
Collaboration with Kanban boards
Pricing:
The basic version for Agantty is free. However, you can pay for add-ons if you are looking to get by with extra convenience and time management-related perks.
---
24. ProjectPlace by Planview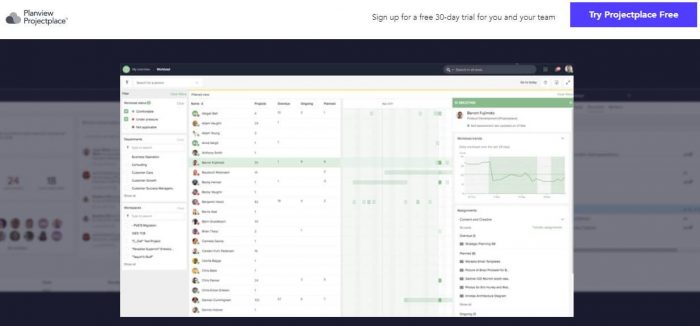 ProjectPlace by Planview comes off as an installer with many bundled features for users from SMB and Freelancing industry. Aside from Gantt Chart reports, the functionality goes from goal creation n' planning and all the way to team view collaboration, to-do lists, task management, and vice versa.
ProjectPlace is also integrated with Kanban boards for individuals who like to stay in control of their day-to-day time-dependent schedule. If you are a team member or a team lead with a heavy reliance on task management software, this program is lined up with an abundance of nifty features to go for.
Key Features:
Visual Tracking System: Everyone can get engaged easily through the visual diagrammatic representation of the current list of tasks
Goal-Oriented Approach for Milestone Setup, Activity Tracking, Task Planning – so on and so forth
Timestamp Creation for Sprint Management
Synchronous Document, Communication and Project Management through a Cloud-Based Backup System
Android and iOS apps available
Pricing:
ProjectPlace comes it a basic price of $29.99 per month. You can dole out some extra cash if you are looking to pay for annual uninterrupted services.
---
25. Bitrix24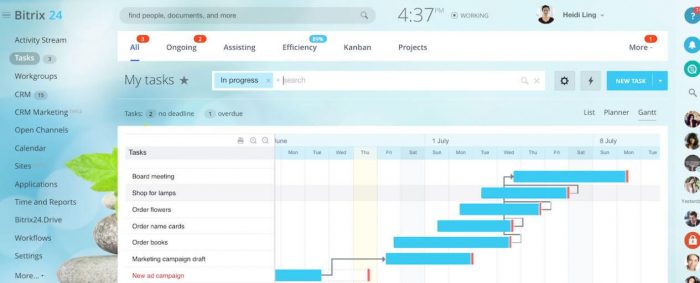 The Bitrix24 also introduced a Gantt chart tool that enables you to create task dependencies for free. You can create start to finish, finish to start, start to start, and finish to finish on the Bitrix24 application. Moreover, this application also supports the lags and leads for the task dependencies. It lets you easily export your Gantt charts to MS Excel or Google Sheets.
Bitrix24 is more of a communication and work management tool for any business. It's UI is designed with team members on the right and tasks on the left. You can use the Bitrix24 Gantt charts for free for up to 12 users. The good thing about the Bitrix24 Gantt chart is that you can view the progress of multiple projects.
Key Features:
Free unlimited projects
Create as many Gantt charts
5GB storage of Bitrix cloud
Android and iOS apps
Multi-project view
Open source code and API's
Create task dependencies
Ability to create subtasks
Pricing:
Free basic version
Special plans starting at $19/month
Business plan starting at $79/month
---
26. Microsoft Project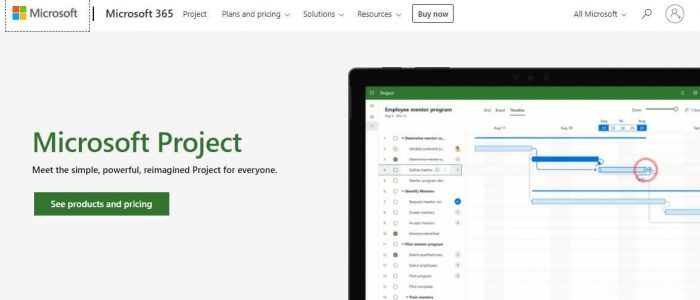 The next contender on the list for best Gantt Chart software is Microsoft Project. Yes, it's a big company. Folks under Bill Gates' tutelage have enough technical prowess to offer products to just about anyone in the industry.
Microsoft Project was basically incepted as a project management tool. Seeing the variances in requirements, user feedback, and whatever the competitors were offering, MS Project went under a few changes.
Gantt Charts are primarily NOT the main highlight of this software. Microsoft knows that. However, they took the Critical Path Method and other workflow-related factors into account.
For instance, the tool is perfect for managing resources, multiple project timelines, budget, and overall strategic planning-related elements. These elements are part of the Critical Path Method. Since CPM is the bane of Gantt Charts, therefore Microsoft Project is hailed as a valuable resource for Gantt Chart aficionados.
Key Features:
Create to-do lists, checklists, and much more.
Supports multiple format file attachments.
Plan and execute the budget, resources, and teams specific to multiple projects.
Simultaneously overlook different ongoing projects.
Utilize free MS Project templates to start projects on the go.
Track progress through a detailed reporting system.
Built for project and program managers responsible for managing timelines.
Pricing:
Supports a Pay-as-you-go Plan.
Costs $9 per user/ per month.
---
27. Toggl Plan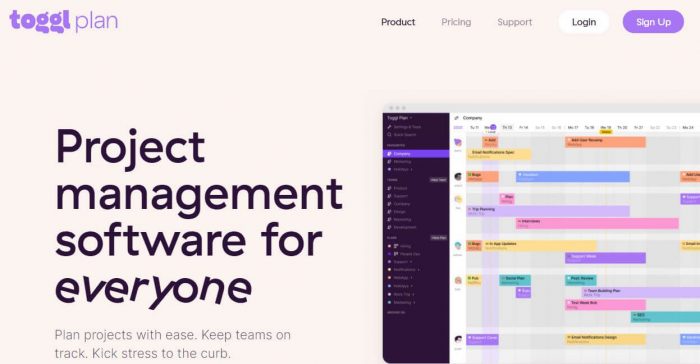 Toggl Plan is a visually aesthetic project management tool with a totally free Gantt Chart feature. Some of the nTask team members like visually appealing software which have great design sense. Such users prefer using Toggl Plan over other Gantt Chart solutions.
On a grander scale, if we take design preference to the next level, Toggl Plan has a lot to offer. Beyond the minimalistic design, the button placement is right where you would expect. It's a clutter-free UI, with plenty of functions lying underneath each button, etc.
By comparison, Toggl Plan's Gantt Chart looks similar to Microsoft Project and Project Planner. You can see task dependencies, timelines, and task priority through color notations.
Since Toggl Plan is free to sign up, you can take it for a spin – i.e. if you are looking to test the program for the entirety of its Gantt Charts, alone.
One of the distinct features of this tool is the public access link to online Gantt charts. More specifically, YOUR online Gantt Charts that you would like to share with stakeholders, 3rd parties, etc. The viewers do not need to sign up for a free or paid plan if they are looking to view those public Gantt charts anytime.
Key Features:
Share your Toggl Plan Gantt Charts with 3rd parties via public access links.
Fully interactive experience. All thanks to a convenient drag and drop feature.
Visually attractive design with a minimalistic next-gen overlay.
Collaborate with team members in real-time.
Oversee project timelines and dependencies as a project/program manager.
Pricing:
Toggl Plan comes with a free sign up plan.
Monthly Premium costs $9 per user/ per month.
Annual Premium Plan costs $8 per user for 12 months.
---
28. ProjectManager.com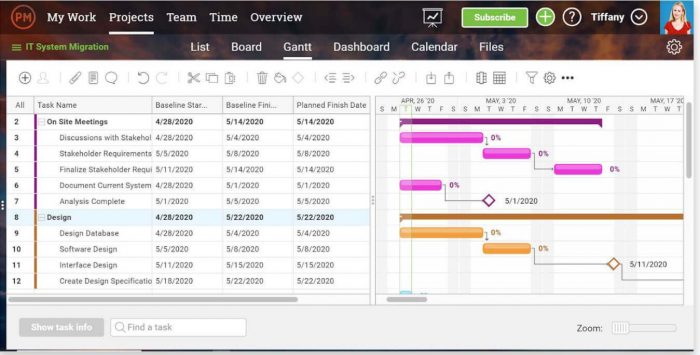 ProjectManager.com specializes in Project Management software that's used by the likes of Volvo, the United Nations, and NASA. Their Gantt Chart Software enables teams to easily plan, share, and assign work. You can also track performance in one view.
ProjectManager.com makes collaboration simple—your team can attach comments, files, and documents directly to the task line on the Gantt chart. When one team member updates a task, automatic email alerts are sent to update the right people at the right time.
The cloud-based software can even import MS Project and Excel files, and it works on both Mac and PC. Plus, it has all the features of Microsoft Project, yet is more intuitive and easier to use. This means you can save time on training for your team.
Key Features
Task collaboration
Plan, schedule, and assign work
Export, import, and share Gantt charts
Work scheduling
Collaboration
Track performance of the project
Set baseline, milestones, and dependencies
Pricing
ProjectManager.com offers a 30-day free trial and has three pricing plans.
Starter ($15 per user/month, starts with 5 users)

Create project plans
Manage personal projects using calendars, task lists, Gantt charts, and kanban boards

Team ($20 per user/month, starts with 10 users)

Manage projects using calendars, task lists, Gantt charts, and Kanban boards
Manage teams with timesheets, skill sorting, and holiday tracking

Business ($25 per user/month, starts with 15 users)

Unlimited access to all features plus product training and support
Manage an unlimited number of projects
---
29. Celoxis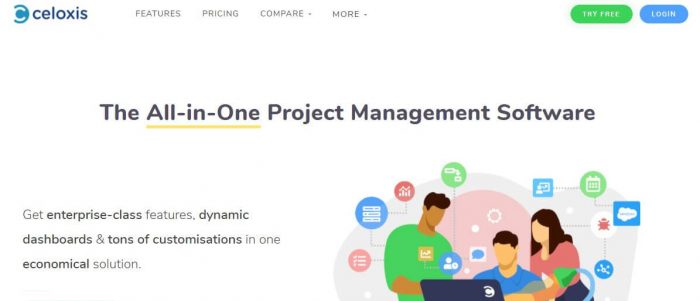 Celoxis is a project management solution and one of the most comprehensive tools on the market.
You can get the most out of this platform with Celoxis' support services. These services include comprehensive documentation, access to a knowledge base and an online community, onboarding programs, training modules, and email-based support.
The software is a great tool with the ability to gain from interactive Gantt charts that are among the fastest in the industry.
Key Features:
Activity management and tracking
Issue tracking and management
Planning tools
Project budgeting
Real-time reporting
Risk assessment
Task management and scheduling
Workflow management
Pricing:
You can access Celoxis Basic at $22.50/user/ per month (*billed annually)
You can also get the software for on-premise use at $450
---
30. Inspire Planner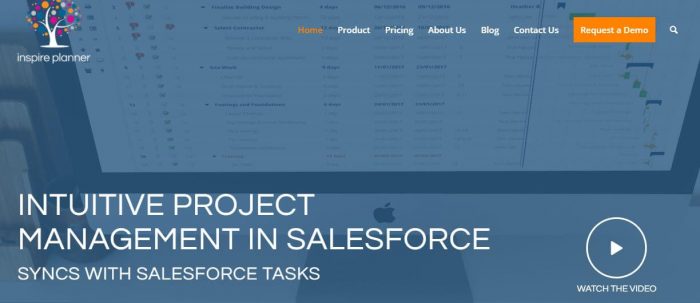 If you use Salesforce, it might be a better idea to consider Salesforce-native Gantt chart software.
Inspire Planner is one of the preferred project management apps built specifically for Salesforce. It is successfully used across multiple industries by companies of all sizes, ranging from small businesses to Fortune 500 companies for customer onboarding, PSA, and projects of any shape and size.
If you are currently using traditional project management apps like Microsoft Project, Smartsheet, or a similar tool but want to integrate your projects in Salesforce, Inspire Planner can be an ideal choice.
Key Features:
Inspire Planner's Gantt Chart supports 4 main types of predecessors and multiple dependencies through a simple drag and drop interface
Get really specific in sequencing your tasks by using lag time, constraints, slack, milestones, and more
Schedule baseline and see your critical path map
Save time by utilizing automatically launching projects from templates with predefined predecessors
Automatically assign tasks based on Resource roles
Quickly see the status of several projects in a single Gantt chart
Full integration with native Salesforce Tasks
Easily share your Gantt chart with non-Salesforce users through a proprietary external portal or export in PDF and Excel
100% Salesforce-native, allows customizations through standard Salesforce configuration
Pricing Plans:
$25/user/month billed annually
They also support nonprofits by offering them 10 free licenses and further discounts
You can try to Inspire Planner with a full 30-day free trial on Salesforce AppExchange
---
31. Project Insight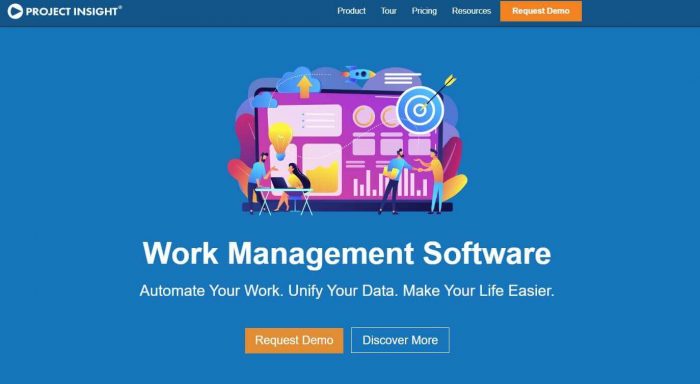 Project Insight is an incredible project management software that allows you to have a web-based solution for all sorts of project management activities.
The software is a fairly intuitive and easy-to-use tool that allows you to create a central hub for all ongoing tasks and processes.
Ultimately, Project Insight helps to increase the performance and productivity of the development team by a long shot. Here's what we liked the most about this tool so far.
Key Features
Auto-Alerts
Billable and Non-Billable Work Items
Calendars
Cross-Project Resource Allocation
Customization Capabilities
Document Management
Executive Dashboards
File Sharing
In-Line Editing
Interactive Gantt Charts
Mobile App for iPhone and Android
Personal Calendars
Professional Services Management
Project Portfolio Management
Project Scorecards
Real-Time Team Updates
Risk Management
Pricing
There is a free trial of the software available for use if you want to check out the software before deciding on purchasing a subscription to the software.
The Enterprise version of the software is priced at $65/user/month.
If you want to purchase the Platform subscription of the software, you need to contact the company so that they can custom tailor a subscription for you according to your needs and requirements.
---
32. Monday.com

Monday.com is a feature-rich project management tool that helps you and your team plan and manage your project.
The software offers productivity tools including features such as time-tracking abilities, task management, automation, and more.
Monday.com is easy-to-use this reducing onboarding time for you and your team and also provides flexibility thus giving the ability to customize workflows according to your processes.
Key Features:
View data as a map, calendar, timeline, Kanban, or Gantt chart
Collaborate effectively with your team
Gets updates and stay on track of all progress, budget approvals, and more
Customize your workflows according to your project management methodology of choice
Project dashboard outlining the status of your projects visible at a glance.
Pricing:
The basic plan is for $8/month, per user
The standard plan is for $10/month, per user
The pro plan is for $16/month, per user
---
33. Mavenlink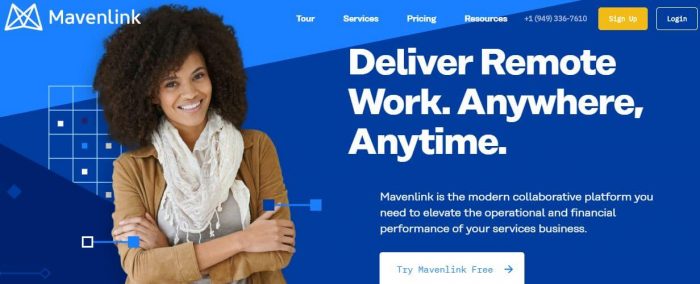 Mavenlink is a cloud-based project management tool.
The software offers interactive, dynamic Gantt charts that are aimed at proving you and your team with project management and visibility.
With Mavenlink's Gantt chart feature, you and your team can get a clear visual representation of your project's timeline. You can view the entire project including the tasks that are part of the project and any project milestones.
Key Features:
Gantt chart uses a drag-and-drop interface
Ability to create task dependencies that are displayed on the Gantt chart interface.
Ability to easily reset or change deadlines for the project as well as any milestones associated with the schedule.
Ability to compare project timelines against a plan or baseline.
Task management
Team collaboration
Time and expense tracking
Utilization reporting
Pricing:
For details about pricing contact the Mavenlink support team.
---
34. GoodDay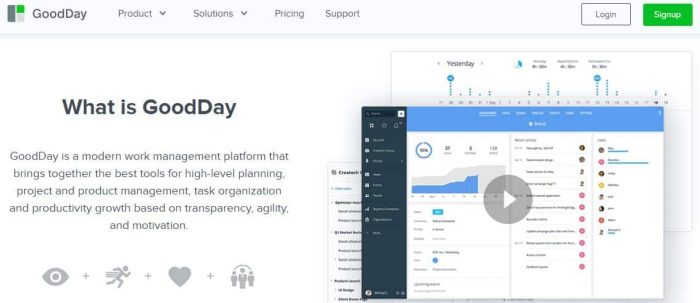 Last but not in any way, least, the project management software which we are going to talk about in this post is GoodDay.
This one is a cloud-based solution with a solid reputation for helping users with deadline-oriented processes. This highly intuitive, product, work, and project management software is perfect for every type of company varying over different hierarchies; either small, medium, or enterprise level.
The application is a powerful solution that helps you to perform your tasks, high-level project planning processes, productivity, and project management activities. rather easily and without any obstructions or intrusions.
To that end, GoodDay reportedly has a robust architecture that helps to automate the work management aspect of different businesses in the organizational paradigm and also enables the companies to link their goals, milestones, and strategies with their execution strategies.
Key Features:
Capacity Management
Dependency Tracking
Milestone Tracking
Task Management
Bug Tracking
Backlog Management
Task Management
Workflow Management
Pricing:
There isn't a free trial of the software available for use, but if you want to check out the software with limited functionality and without paying a single dime, try the free version and get the feel of the software
If you want to purchase the Professional subscription of the software with way more functionalities than the free version, you need to pay $6/ user/ month
If you want the company to create a custom subscription for you according to your needs and requirements, you need to contact the company and get the Enterprise subscription
---
35. Priority matrix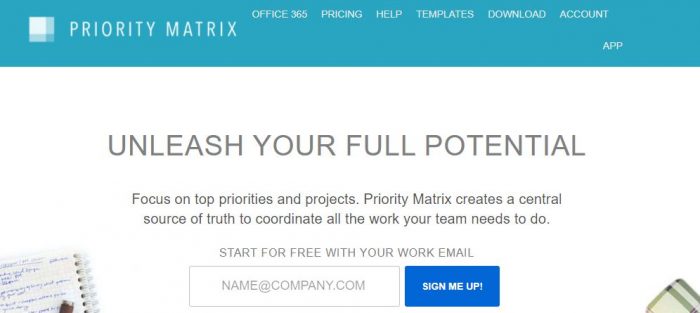 Another item on the list is the Priority Matrix. The software is an incredible project and priority management tool that allows different businesses to manage their tasks and processes and helps them to have real-time visibility on any and every activity that happens in the project development process.
The software is based on the Eisenhower method that directs the system to help the clients categorize their tasks as per the severity of their execution. These categories can be critical, immediate or non-immediate, or you can even select the category 'uncategorized'.
But the thing that we are interested in is the Gantt charting feature that the company takes pride in. This feature allows you to see all of your tasks and processes more clearly and helps you be in more control over the whole shindig.
Key Features
Assignment Management
Collaboration
Document Management
File Sharing
Issue Management
Action Item Tracking
Benefits Realization
Deliverables Management
Email Integration
Gantt Charts
Knowledge Management
Pricing
There is a free trial of the tool available if you want to check out the software before considering buying the subscription
Paid pricing starts at $8/month
---
36. Orangescrum

Another Gantt chart tool we have in our list called Orangescrum. The application is an online collaborative work environment, which is perfect for all remote teams of any size. You can use the application to bring your teams closer together through collaboration and be on top of the game in the market.
Through the Gantt charting feature, you can take a closer eye on all of the tasks that your team is performing as part of the project development process, and it also helps to keep an eye on their productivity as they do so.
Key Features
Gantt charting
Google Drive and Dropbox
Kanban view
Open-source version
Task Management
Task template
Google Calendar integration
Hosting included
Pricing
There is a free trial of the tool available if you want to check it out first
Paid pricing of this incredible tool starts at $9/month
---
37. Notion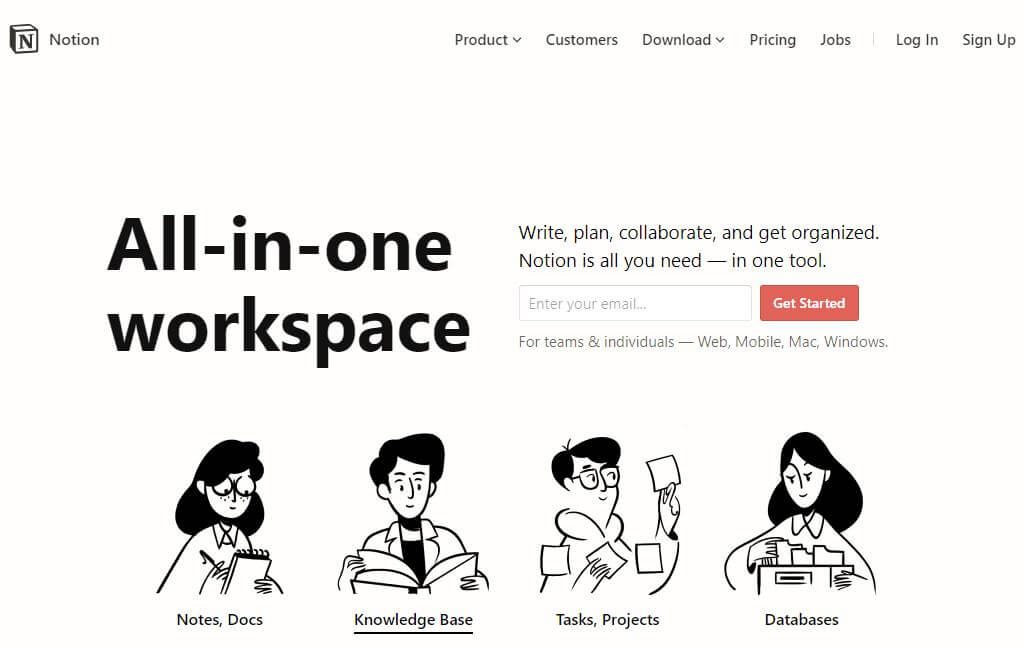 Another great application on the list is Notion. The software is a workflow and project management tool that allows different companies to streamline their daily operations related to lead management, goal setting, status tracking, and much more on a centralized interface/platform.
The application also enables users to use the efficient drag-and-drop interface to rearrange, organize, and develop different plans, thoughts, or ideas.
The software also allows different companies and businesses to create and maintain a proper knowledge base for many topics necessary for the development team.
This knowledge base includes coding guidelines, task instructions, and HR workflows, among many else.
This application also has some other premium features like Kanban boards and a built-in calendar. These features help the users to effectively create roadmaps for the project or product development at hand and also help to monitor different tasks based on the following metrics.
Category
Status
Assigned team members
Priority
One thing you must understand is that when you use this application, you can easily enhance the team collaboration between your team members.
This can be done by team members adding different comments on projects and tasks so that there is a proper dialogue and discussion with all of the team members.
Also, this application comes with an incredible API that helps different companies and businesses to integrate the core system with third-party solutions that can help the overall development process.
Key Features
Forecasting
Gantt/Timeline View
Guest Access
Idea Management
Issue Management
Knowledge Base Management
Meeting Management
Milestone Tracking
Multi-Device Support
Multiple Projects
File Sharing
Full-Text Search
Goal Setting / Tracking
Handwriting Recognition
Pricing
The application has a free trial and a free plan to ensure that you get a taste and a proper experience of what this tool has to offer without spending any money
If you want to purchase a paid subscription to the application, then the paid pricing starts at $4/month/billed annually
---
Desktop Gantt Chart Software vs Online Gantt Chart Software
How teams work has radically improved since project management software was first introduced.
Desktop Gantt chart software is most suitable for project managers who wish to manage projects individually. Desktop Gantt chart software normally offers one local version per user.
On the other hand, …
Online Gantt chart software solutions provide the added capability of project planning and collaboration. The best part of online Gantt Chart software solutions is that it's 100% online and as it's on the cloud anyone who has been given rights can access the Gantt Chart, edit tasks, and attach relevant files. This is accessible and viewable for all relevant stakeholders who are working as part of the online team.
To apply the cherry on the cake, costs are dramatically less than the desktop versions as there exist no server installation costs or maintenance.
Frequently Asked Questions
Why is it Called a Gantt Chart?
The Gantt chart is named so after Henry Laurence who introduced the first Gantt chart around 1910-1915.
What are the Main Features of a Gantt Chart?
Although Gantt charts may vary in design and detail, certain components are present in any given Gantt chart.
As Gantt charts are the graphical representation of the project schedule the first main element of a Gantt chart is the dates. These dates indicate when the project will start and end but also when the tasks of the project will take place.
Gantt charts also include what tasks are part of the project. Depending on the detail of your plan or your Gantt chart you may also be able to view the sub-tasks of these tasks.
These tasks are indicated on the graphical display of the Gantt chart in the form of bars. These bars correspond with the dates that the tasks are to be completed and indicate a single task or sub-task.
Gantt charts also usually include or allow you to add milestones. Milestones are essential to the successful completion of a project and are depicted by a diamond icon on most Gantt charts, although certain Gantt charts may use different shapes.
Gantt charts also allow you to indicate task dependencies. Task dependencies show those links between tasks that illustrate which tasks need to be completed before another can begin.
If your Gantt chart is detailed, you may also be able to view the resources that are working on the project or even on individual tasks.
Who Invented the Gantt Chart?
Henry Laurence Gantt introduced the first chronological chart as a system for project management.
What are the Some Disadvantages of Using Gantt Charts?
Here are some of the most important disadvantages that you may experience while using Gantt charts:
Updating Charts is time-consuming
There is no overall view where you can see everything in a single glance; you need to scroll and Click additional buttons to view the remaining items on the page
There is no proper option to re-align the tasks from one section to another, you have to do it all manually
Requires more effort for Creating and Managing the Chart as compared to simply using an alternative method to view your data
All Tasks are not visible in a single view of a Gantt Chart Interface. You have to cycle between viewing options to see everything
Not easy to calculate aggregates
Conclusion
While we understand every list of best ranking software must have a single winner, we leave that decision up to you. Which Gantt chart software do you think best serves your needs? Let us know in the comments below.