The significance of customer experience is unavoidable in today's competitive digital world. Customers want fast, courteous services, and businesses are looking for other ways to deliver them.
Companies that invest in their customers with a coherent plan for their customers' future outperform their competitors by more than twice as much.
While hiring the right people is essential, businesses must consider their support tools to help them serve their customers. When a company's client base expands, it looks to solutions such as help desk software to improve customer support.
Help desk software enables a support team to organize and handle many customer tickets properly. 
Freshdesk provides a wide menu of features as an omnichannel customer care platform, providing you with everything you need to give exceptional customer assistance without the fuss. Freshdesk allows you to engage clients at every touchpoint and automate customer service operations while providing collaborative help from a single platform.
With Freshdesk, you can centralize your customer interactions, automate repetitive tasks, communicate with other teams to address issues quicker, and much more.
HP, DHL, American Express, and Pearson are among its clients.
There is no denying that Freshdesk could be a useful tool for certain organizations but not for all. Let's look at limitations and why businesses are looking for Freshdesk alternatives. Later there is a list of best substitutes to help you choose the best.
Why Look For Freshdesk Alternatives?
Despite its strength and popularity, many users are reluctant to utilize Freshdesk since it does not suit their functional and financial needs. Let's look at some of the Freshdesk limitations that make most businesses look for an alternative.
Most teams will require specific training to make sense of it, so set aside the time and cash for that
There is no SMS marketing support
It does not have Instagram integration
The tool might be difficult to use at first
Basic plans lack key help desk features such as team dashboards, chatbots, and social signals.
To use all features, you must purchase premium plans (which are expensive)
Internal collaboration is not as seamless as it is with some of Freshdesk's competitors
The technical support is not the best
The customer portal cannot be tailored to each client.
Automation is difficult to set up and use.
The core functionalities are not sufficiently effective
5 Best Freshdesk Alternatives You Need To Try In 2023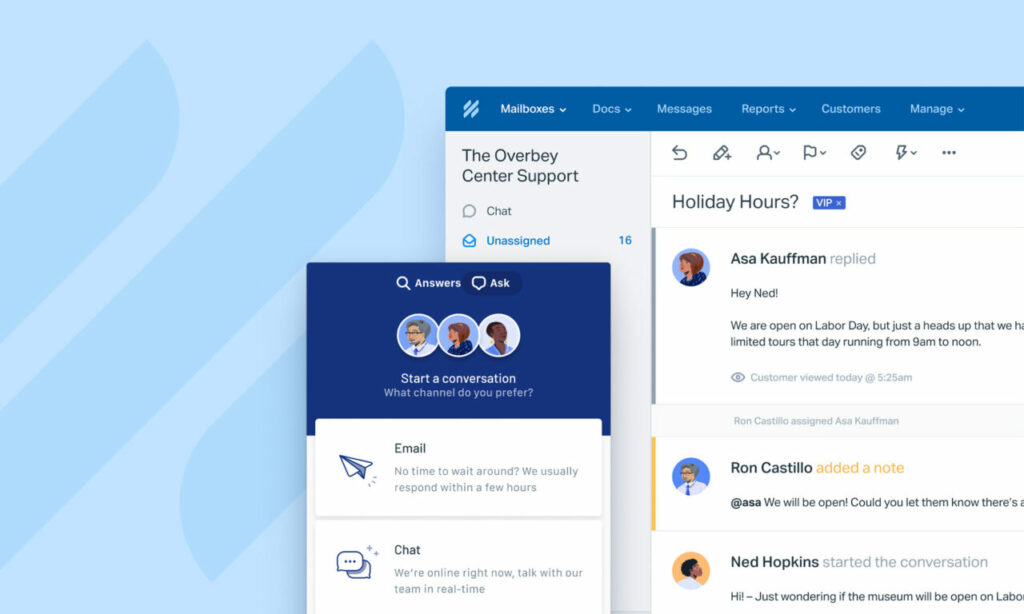 Help Scout aims to assist customer-centric enterprises in offering world-class customer service by providing advanced support solutions. This helpdesk software solution is suitable for all sizes of businesses and can support corporations with more than 500 users.
The emphasis on customer support differentiates Help Scout from competitors. Help Scout offers email and chat support 24 hours a day, seven days a week, and customer service education through HelpU to help businesses thrive by providing great customer service.
Features
You can manage email, chat, and phone conversations in one shared inbox
Use private notes, collision detection, saved replies, and tags to collaborate with your team
Create strong automated processes based on if/then logic to manage repeated chores
Quickly create knowledge-base articles that are personalized with categories and linked content
Launch a branded help center website that works on any device, includes a built-in SSL and is optimized for search
Engage with customers, solving support requests and requesting feedback through in-app messaging
Provide self-service live chat alternatives with rapid responses, a chatbot, and simple escalation
Use detailed reporting to assess your team's volume by channel, busiest hours, and trending subjects
Pros & Cons
Pros
Cons
– Client communication is quick and simple
– Quick learning curve
– Excellent cooperation hub that allows them to consult with others
– Allows for the building and hosting of large knowledgebases
Limited customization Specific pages
Pricing
Plans cost between $20 and $35 per agent each month and are billed yearly. A customized business plan is available.
HelpScout is the Best Helpdesk Alternative if
Your company appreciates having access to software customer service and education
You want features that are clutter-free and that your staff can quickly and easily learn to use
You are looking for a low-cost option that simply provides the basics
You manage a non-profit or startup business and want to save money

You could be familiar with Zoho as an email service provider, CRM provider, or even website builder. If this is the case, it may be no surprise that Zoho offers a support desk service.
Zoho Desk is a ticketing system designed and built primarily to boost customer support efficiency. It allows for the quick assignment of issues to the appropriate agent. The ticket progress is immediately communicated to both customer care professionals and consumers.
"Zia," the artificial intelligence, is a unique and noteworthy feature of Zoho Desk that is especially beneficial to customer service teams.
Zia can assist customers in quickly finding solutions, auto-tag tickets, and suggesting relevant Knowledge Base solutions for ticket response.
Features
Support tickets can be collected by email, social media, live chat, phone, or web form
Create a branded, searchable help center complete with knowledge base articles and a community forum
Use Zia, an AI-powered assistant that can converse with consumers, answer their queries, and even execute simple chores, to free up customer care personnel
Keep track of how much time agents spend on client issues and tasks
To guarantee that processes are consistent, predictable, and efficient, use Blueprint to specify process specifics
Automate repetitious tasks such as ticket assignment, SLAs, escalation, and workflows
Using custom APIs, integrate with other Zoho apps and third-party tools
Pros & Cons
Pros
Cons
– Easy Ticket management Effective team collaboration
– Help Desk with Multiple Channels
– Social assistance integration that is simple to use
– AI SupportAn integrated assistance center strategy
– Customer service can be improved
– Task automation is not effective Lawithof compatibility for some apple products
Pricing
Free
Standard package-$12
Professional package-$20
Enterprise package-$36
ZohoDesk is the Best Helpdesk alternative if
Your organization aims to provide comprehensive self-service options
You need artificial intelligence-assisted software
Your organization manages complicated cross-functional service procedures that must be consistent and efficient
You use Zoho CRM and need a support desk with deep integration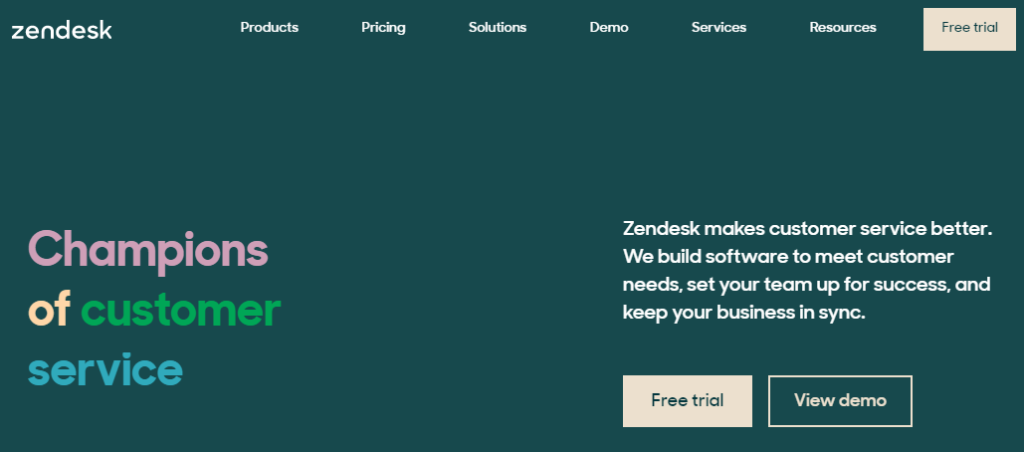 ZenDesk is a popular Freshdesk alternative and a powerful cloud-based customer support platform that promotes seamless communication between the organization and its customers.
ZenDesk is a useful tool but is more expensive than the other solutions mentioned in this post. 
One of Zendesk's selling points is the ability to help your support agents, making their jobs easier, happier, and more fulfilled. ZenDesk Support comes with ZenDesk Guide, a self-service knowledge source.
Features
Integrate with your website, email, Facebook, Twitter, and other services
Improve agent efficiency and effectiveness by utilizing agent productivity tools such as guided mode, customer context, and teamwork
100+ distinct Zendesk APIs and 500+ public app connections, including HubSpot, Shopify, and Salesforce
Create your own Zendesk App or channel integration for your company's exclusive usage
Create a knowledge base where users may browse for content and access helpdesk forms
CSAT and NPS scores provide valuable customer insights
Pros & Cons
Pros
Cons
– Numerous customization options.
Effective reporting and analytics integration with third-party apps and systems is strong
– Multiple languages are supported
– Brimming with sophisticated features
– Expensive pricing strategies
– Not For e-commerce and small organizations
– The learning curve is steep
Pricing
The Suite Team plan costs $49/per month
The Suite Growth plan costs $79 /per month
The Suite Professional package costs $99 /per month
ZenDesk is the Best Helpdesk Alternative if
You are seeking a simple, low-cost platform
You want something that will allow you to get up and running quickly
The ability to add features such as self-service answers, chat, voice support, and community forums as needed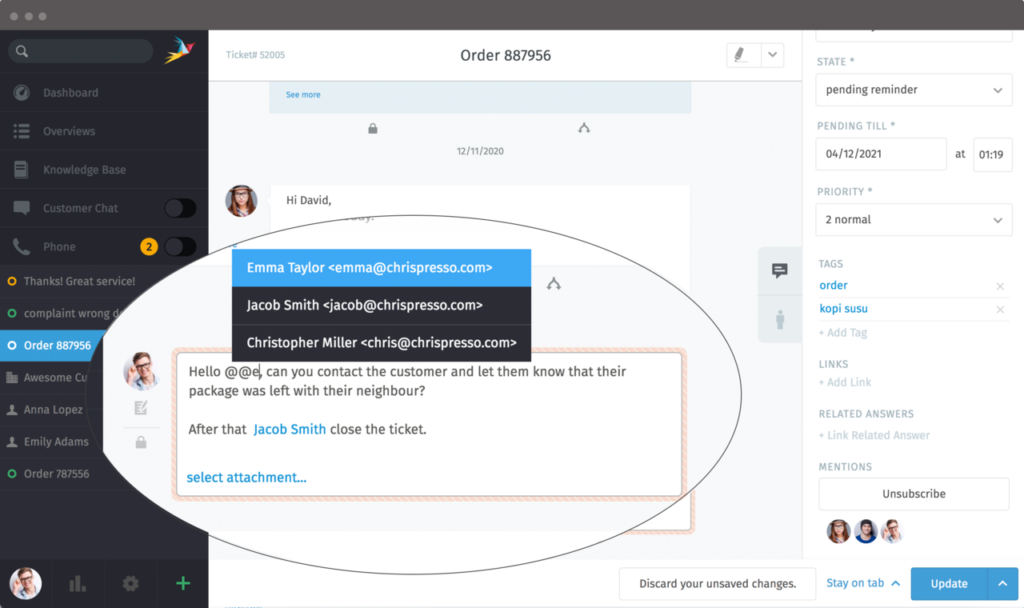 Zammad is a popular tool that is a functional and effective open-source customer support system.
This help desk and ticketing software assist businesses in connecting all of their communication channels, granting user rights easily, and receiving useful reporting.
Zammad has many innovative features for managing seamless customer communication across multiple channels such as Twitter, Facebook, Chat, Email, etc. Because of its simplicity, intuitiveness, and agility, this powerful program is regarded as one of the top Freshdesk alternatives.
Features
Agents are given a personalized list of activities that must be fulfilled
Multitask with concurrent ticket processing to avoid losing support requests as new ones arrive
Attributes can be customized at the ticket, customer, or organizational levels
Incorporate a phone system for incoming and outgoing calls
To manage support queries across channels and integrate with chat and social media
Easily integrate contact or feedback forms to generate tickets from messages
With support for nine languages, you may select your chosen language for your interface
Full-text search allows you to quickly explore tickets and attachments
Customers can use the customer interface to track support time and submit information to tickets
Pros & Cons
Pros
Cons
– Simple to use
– Diverse InterfaceReliable information and assistance
– Communication via several channels
– Instructions and self-service
– Automation through LDAP/Exchange
– Difficult installation
– Complex UI
Pricing
The Starter package costs 5€
The Professional package costs 15€
The Plus package costs 24€
Use Zammad If
You are looking for an open-source help desk and support software
You are not an enterprise customer and require a basic solution to handle up to 25 support workers
The majority of your support queries originate from social media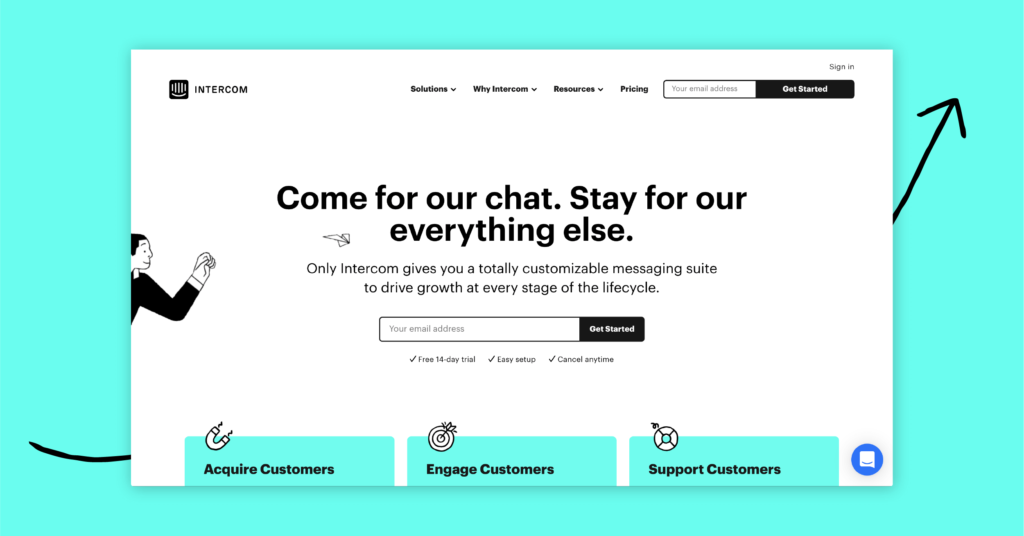 Intercom is one of the most well-known Freshdesk competitors. Although it is not the same as Freshdesk, it is an excellent option for some teams. Intercom is heavily focused on client relationship management.
Intercom is a versatile business messenger focused on proactive sales and marketing. It also provides clients with in-app communications. Customers can also utilize the messenger to contact customer service. Custom bots and product tours are two more new Intercom capabilities.
Intercom reduces support tickets by providing tools that assist customers in obtaining the assistance they want before escalating to a human agent.
Features
With Business Messenger installed on your website, you can provide a good human support experience
In one consolidated inbox, you can manage and respond to email, social, and website discussions
Use targeted outgoing communications to provide brief suggestions and keep consumers updated on planned disruptions
With assignment rules, ticketing procedures, and other features, you can route and prioritize discussions
Show them what is new by giving them an interactive product tour
Use a mobile carousel to interact with mobile consumers and answer frequently asked questions within your app
Using customer data, create knowledge base articles and offer them to particular users
Custom bots may be used to collect data, prioritize pressing issues, and link customers with members of your staff
Resolution Bot can assist you in resolving difficulties while you are away from your desk
Pros & Cons
Pros
Cons
– The interface is clean and modern
– A feature-rich business messenger with marketing and support capabilities
– Bots can be used for sophisticated automation
– Outbound messages to customers that are targeted and proactive.
– Pricing issues
– Not as strong as some other optionsPoor analytics
Pricing
Basic package options are $39 and $99 per month. Larger business plans begin at $499 per month.
Intercom is Best Freshdesk Alternative, given that…
Your business needs efficient customer service
Your organization is devoted to providing proactive assistance to increase the number of support tickets
You want to scale your help by leveraging numerous self-service options
You want the ability to customize your bundle with add-ons like product tours and advanced lead generation
Which is the Best Freshdesk Alternative?
Different variables must be considered when selecting the best Freshdesk replacement for your firm.
First, decide which features are essential and which are optional. 
The product that provides exactly the functionality you want at a reasonable price is the best match for your customer support staff. Fortunately for you, all of the tools featured in this list provide a free trial period, making it easy for you to make an informed decision.