Since its creation in 2011, Wunderlist has helped millions of people organize their ideas and execute them perfectly. In June 2015, however, Microsoft announced the acquisition of your beloved app, eventually to be replaced by Microsoft To-Do.
The transition is still under-works though, but if you are an avid user of Wunderlist, you need Wunderlist alternatives (no, it's not Microsoft To-Do).
Before exploring the best alternatives to Wunderlist, let's first address some of the limitations Wunderlist came with.
Features Missing in Wunderlist Core App Or Most of the Sloppy Wunderlist Alternatives:
Although Wunderlist is considered to be one of the top to-do list apps, it has its own pitfalls. Some of the biggest limitations one can encounter when using Wunderlist are:
No Native Time Tracking
Wunderlist doesn't come with a built-in time tracking module to track time associated with your tasks
No Calendar View
There is no built-in calendar view for scheduling your tasks in Wunderlist. The tool provides Calendar integrations though
No Location-Based Reminders
For a to-do list manager, location-based reminders are a must. This important feature is missing from Wunderlist
Wunderlist is No-More!
That's sad news for the Wunderlist lovers that the app ceases to exist, as it is taken over by Microsoft. Now, the Wunderlist users are prompted to automatically shift to Microsoft To-Do. Many people are not comfortable with the Microsoft environment, so there is a way to migrate your data to other applications.
See, what you need to do now:
Wunderlist Is Shutting Down: How To Export Data From Wunderlist?
Here Are The Top Wunderlist Alternatives
All these reasons call for a Wunderlist alternative which fills the gaps left by the tool. Let's have a look at a roundup of some of the top Wunderlist alternatives: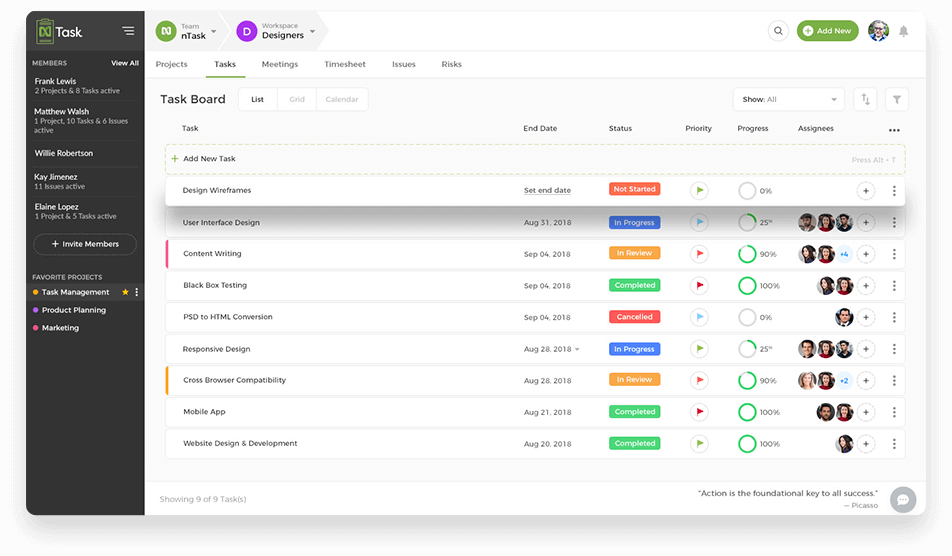 Our pick for the best Wunderlist alternatives is, without a doubt, nTask.
Call us biased, but it's not mere speculation. nTask gives us all the right reasons to make this decision. This free Wunderlist alternative is a lot more than just a simple to-do list manager. It provides an elaborate task management solution to help you deal with your to-dos smartly.
The tool comes equipped with native modules that eliminate the need to integrate heavy third-party apps to get more done. These modules range from basic to-do list and task management, to more complex issues and risks management.
Furthermore, nTask also comes with native timesheet management to help you track time associated with your tasks to take better decisions. The automatically generated timesheets also facilitate easy billing of clients through individual logged hours.
Key Features
Task management, including recurring tasks management
Multiple task assignees to define a workload
Task priority level, due dates, status, and color labels
Elaborate meeting management, including agenda and follow-up actions
Automatically generated weekly timesheets
Issue tracking and management for timely identification and resolution of issues
Risks management through risk matrix and other key risk management features
Team specific workspaces to monitor multiple projects simultaneously
Comments within tasks and file attachments to collaborate seamlessly
Alerts, notifications, and reminders to keep teams on track
Third-party application integrations
iOS and Android mobile apps, along with a web version
Pricing
nTask comes with following subscription plans:
Free – Unlimited workspaces, unlimited tasks, and meetings, timesheet management, and more
Premium – unlimited projects starting at $3 per user/month
Looking for the best free Wunderlist alternative?

Take a look at why teams trust nTask for to do lists and task management.
2. Monday.com (formerly DaPulse)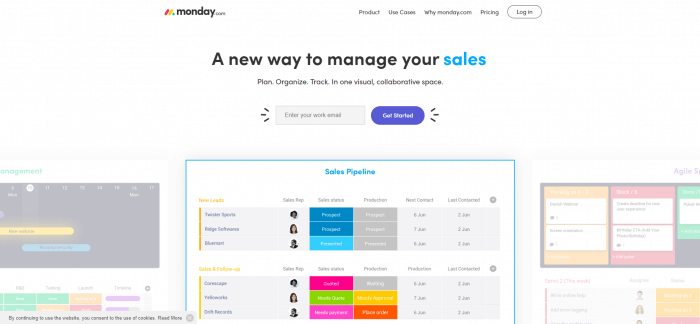 "Monday" has always been a feared norm for people because it is the start of the week; things jump off to a hectic start for most, and a lot of stuff goes unmanaged.
The developers of Monday, formerly DaPulse, created a state-of-the-art cloud-based PM software for this very purpose – i.e. to assist teammates across any scale to get by with their daily tasks.
The software features a sleek color-coded combination of work boards. Teams can organize their activities as per project priorities come by. Once a task is successfully completed, it can be omitted easily. The pending boards can be reorganized if their priority escalates or deescalates respectively.
Besides the "to-do" and GTD aspect, Monday offers native integration of Status messages inside project boards, the timeline for schedules and different communication methods.
Key Features
Create project boards for centralized management and monitoring across teams
Color-coded combination of tasks for a visually stunning appeal
Set status messages by pulling up from default message list (In progress, working on it and done), or create new ones
Cloud based data backup support for easy remote access from anywhere in the world
Project managers can also invite clients besides team members to assess their progress
Pricing
Basic Version: $5 per month for limited perks
Standard Version: $8 per month with additional data storage and other features
Pro Version: $12 per month with unlimited everything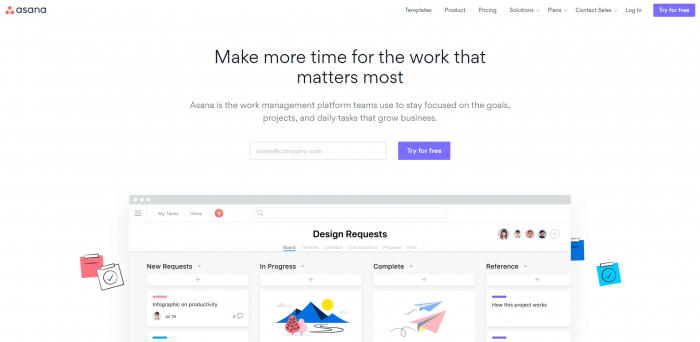 On #2 in our list of the best free Wunderlist alternatives, we have Asana. A powerful work management platform, Asana comes with a flexible feature set that fits with a team of any size and type, Asana is one of the best alternatives to Wunderlist one can get their hands on.
The built-in extensive library of templates that Asana comes with provides teams with means to quickly gear up, without building everything from scratch. Use the timeline functionality to map out your project schedule in front of you and manage tasks in a better way.
The tool also provides a separate feature set for agile teams to implement it as smoothly as possible. These features include sprint planning, bug tracking, and conversations with team members.
Key Features
To-do lists management, along with single task assignee
Built-in project templates to get started
Kanban boards for visualizing the work progress
Project timeline to schedule tasks over time
Due dates and priorities for deadline management
Real-time status updates, along with project reports
Conversations with team members, plus file attachments
Multiple third-party application integrations
Pricing
Asana offers the following plans:
Basic – free for individuals or teams just starting up. Tasks, multiple views, assignees, and due dates
Premium – at $9.99 per user/month, timeline, advanced search and reporting, task dependencies, milestones, and more
Business – at $19.99 per user/month, everything in Premium plus portfolios, custom fields, and more
Enterprise – custom plan, everything in Business plus native integrations, priority support, and other advanced features
---

ProofHub is just the perfect Wunderlist alternative. As the complete project management tool, ProofHub gives you a central place to plan your projects, collaborate with remote teams, manage your tasks, and stay in ultimate control of everything.
The easy-to-use interface makes onboarding for new team members effortless. You can carry out discussions in real-time virtually from anywhere. ProofHub makes file-sharing quick and hassle-free and also integrates with third-party apps to give you a shared space to store and access all your data securely.
Besides all this, the powerful reporting and time tracking capabilities make ProofHub an ideal tool for teams and managers that like to stay on top of their projects and tasks. The simple, no per-user pricing works as an icing on the cake.
Key features:
Multiple views for added flexibility
Custom roles
Task management (to-do lists, custom workflows, and kanban boards)
Gantt charts and project timeline
Online proofing
In-built chat app
Real-time discussions
Automatic timer and timesheets
Custom reporting feature
Third-party integrations
@ mentions and announcements
Pricing:
Free trial
Essential plan at $50/month
Ultimate control plan at $99/month
---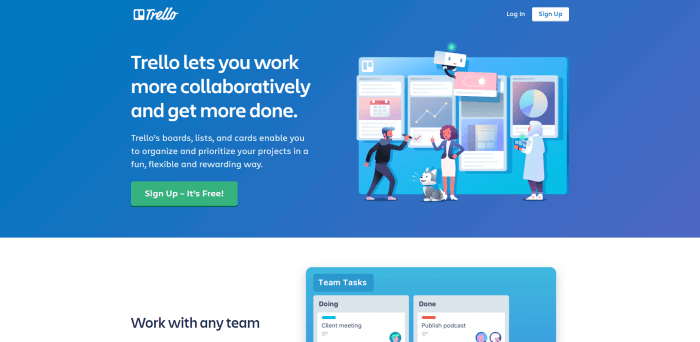 Another one of the popular Wunderlist alternatives is Trello. A simple, flexible and free project management tool, Trello comes with a layout resembling a pinboard. It makes task management easy by allowing you to create personalized boards, according to your individual projects.
Within these boards, you can create unlimited lists, which further consist of small cards that act as individual tasks or to-dos. Movement of these cards from one category to another helps in workflow visualization and makes it easy to track progress.
The tool comes with customized options to arrange the cards the way you want – assign tasks, set due dates, set priority levels, upload attachments etc. all to provide maximum control.
Key Features
Customized Kanban boards with multiple invitees
Comments within tasks, and file attachments
Priority levels, due dates, and color labels
Easy drag and drop functionality to show progress
Multiple task assignees
Email notifications to stay on track
Personalized access to boards
Third-party application power-ups
Pricing
You can choose from following Trello plans:
Free – basic plan, unlimited boards, unlimited cards and lists, 10MB per file attachment, and 1 power-up per board
Business Class – at $9.99 per user/month, everything in Free, plus unlimited power-ups, priority support, and more
Enterprise – at $20.83 per user/month for 300 users, all the advanced Trello features
---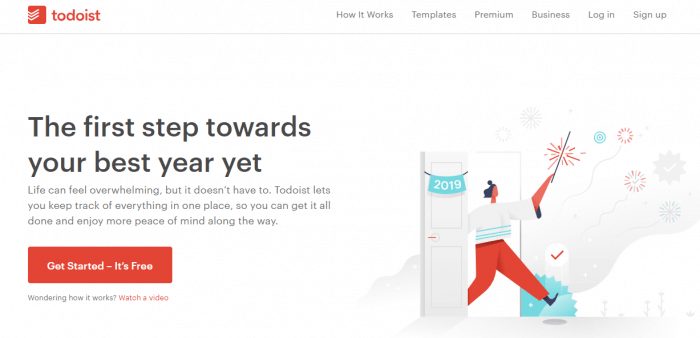 Todoist is, undeniably, one of the top to do list apps out there, which only makes sense to include it in this review of best alternatives to Wunderlist. The tool lets you create, organize and prioritize tasks, create subtasks and dependencies, as well as create projects and subprojects to let you track your work progress down to even the most minute details.
You can label and customize your tasks through color codes and add due dates to keep track of the deadlines. A powerful feature that comes with Todoist is the AI-powered feature known as Smart Schedule. Through Smart Schedule, the app suggests optimum dates for scheduling and rescheduling existing tasks.
In addition, you earn Todoist Karma points and level up, each time you complete a task. These points and levels are demonstrated on graphs. You can monitor your progress through these graphs with differently colored projects.
Key Features
Tasks and subtasks management, along with recurring tasks
Tasks creation directly from your email inbox
Set priority levels for your tasks to identify what needs to be done next
Native project templates for quickly getting started
Project sharing for online team collaboration
Task comments for providing timely feedback on critical matters
Email notifications, SMS, and email reminders
Customizable filters to keep the focus on certain things only
User management for improved user access and permissions
Project progress tracking through Karma points and streaks
Pricing
There are 3 plans Todoist currently offers to users:
Free – for starters, up to 80 projects, and 5 people per project
Premium – at $3 per month (billed annually), 300 projects, 25 people per project, reminders, comments and file attachments, with other features
Business – at $5 per user/month (billed annually), 500 projects, 50 people per project, team inbox, and more
---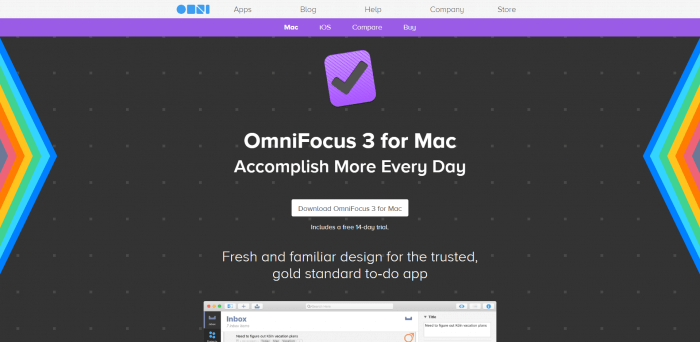 OmniFocus is a GTD app that can be a great Wunderlist alternative. It comes with a myriad of options to help you increase your productivity while getting things done. The tool provides enough room for customization to organize and manage your tasks the way you want.
Through color-coded labels and customized tags, give context to your tasks and track your progress in an efficient way. They also allow to create a smooth workflow and quickly access the tasks whenever required.
The only drawback of the tool is the lack of cross-platform support. OmniFocus is strictly iOS and Mac-based.
Key Features
Projects and tasks management, plus repeating tasks set up
Customized tags according to location, priority, or energy levels
Perspectives to keep focus on important things
Forecast for future tasks on the basis of current order of the actions
Notification reminders to stay on track
Light and dark modes to match with preferences
Calendar integration to stay in sync with what's coming next
Batch editing to edit multiple items simultaneously
Pricing
Omnifocus provides two different pricing models for Mac and iOS.
For iOS:
Pro Plan – $74.99
Standard Plan – $49.99
For Mac:
Pro Plan – $99.99
Standard Plan – $49.99
---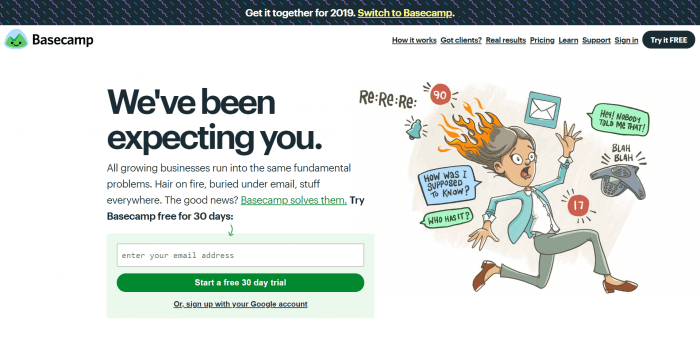 Basecamp comes as one of the better alternatives to Wunderlist in our recommendation list. The program offers a slew of project management tools alongside several reiterations of competitor software features.
The developers wanted to create "everything Wunderlist", and what a typical to-do-list app would offer – but in a much better way. Since its release, the software has undergone several updates.
Basecamp is also popular due to its widespread user base scattered across iOS, Android, PC and Mac stations. In addition, there is seamless integration between 3rd party apps and Basecamp 3; it makes collaborating with team members across project boards and different demographics a lot easier than anticipated.
Key Features
Instantly send messages to team members on ASAP basis. Members can share files, carry out group chats and comment/ applause underneath project boards as passive critique.
Basecamp features a dedicated "Campfire" feature as a metaphor for group chat around real life campfires. Members can use "@" function to send personalized notifications to teammates who need to be called out.
Communicate with fellow team members through "Pings". They are not detailed messages but more than enough to know what's going on through chats, code messages, and IMs.
Create To-Do-Lists for yourself and fellow team members. In addition, project managers can take the lead by creating a to-do-list for the entire board to follow through a specific time period.
Basecamp is backed up by a record 7 minute response time customer service. Any missing feature, technical problem or bug can be reported to the developers without the slightest inclination of long delays.
Pricing
Besides a 30-day trial period, Basecamp has a flat price model, i.e. $99 per month for unlimited features, users and file sharing.
---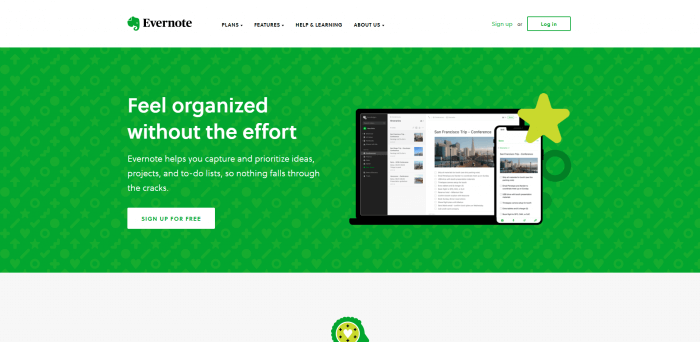 Since its release, Evernote has undergone a lot of changes to become one of the most convenient and sought out to-do-list applications of all time. No wonder that it is highlighted in this post as one of the best Wunderlist alternatives available online.
Based on our audience needs, we will focus more on Evernote Business features. However, if you are interested in seamless integration of the app with your mobile device, simply go for the basic version. Nonetheless, there is a multitude of features to help Plan, Execute and Deploy to-do-lists of any orientation on time.
Besides the "to-do-list" aspect, Evernote complements the GTD side of projects through annotating, document searching, integrated file sharing, editing and so much more. Some of the key highlights of this application are appended below. And yes! It is available to Mac, Android, iOS and PC users.
Key Features
Simple file uploading and sharing in multiple formats. Project members can further comment on the document to stay on the same page.
Create separate notes and further organize them into notebooks if need be.
Different text formatting options ranging from color to font size and style.
Insert tables, checklists, and checkboxes for creating a versatile to-do-list.
"Clip" important text and videos from your mobile device and upload it to Evernote as additional information.
Pricing
Evernote Basic: Free
Plus: $7.99 per month
Premium: $14.99 per month
---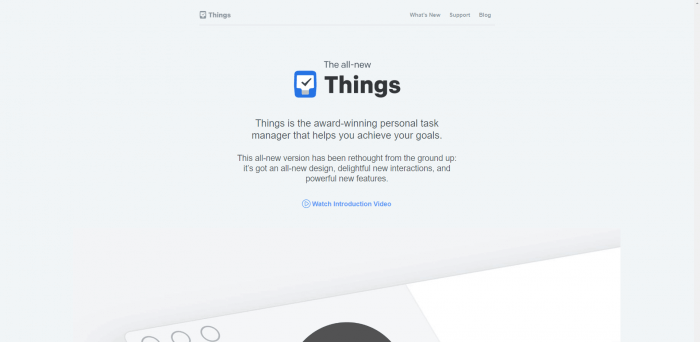 Developed and marketed by Cultured Code, a German software company; Things 3 follows up in this list as one of the best Wunderlist alternatives to date. Sadly, it is restricted to iOS users only. If you are an Android, PC, or Linux user, scroll up or down this page to lookup better alternatives to Wunderlist.
Regardless, Things 3 makes up for the lack of multi-OS support by offering many advanced level features for complex project management. Yes, of course, there is native support for 'to-do-list' workaholics who wish to organize, plan, and execute their tasks on a daily basis.
This application has a typical dual pane window. The right side appends menus, lists, and subfolders which are opened in the left pane. Besides a spick n' span UI. Things 3's learning curve is smooth. You will get used to it in no time.
Key Features
Create basic level To-Do-List with checkboxes and commenting for personal use
Write notes in project boards; get comments from team members and progress uniformly
Ability to create complex to-do-lists with the multi text formatting style
Organize thoughts through an 'all in one place' format option
Plan your vacation trips, company agenda, and such other activities
Seamless integration across all iOS devices relay user end changes effective immediately
Pricing
For iPhone Users: $10
Things 3 for iPad: $20
For Mac Users: $50
---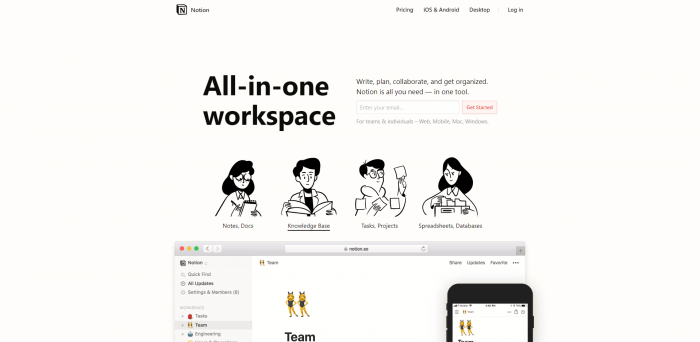 As one of the best alternatives to Wunderlist, some users reportedly suggest that Notion is even giving a tough time to 'Evernote' and 'Bear'. The application is tailored to fulfill the needs of metrics for hungry professionals. If you are a financial adviser or a manager who depends on numbers and group planned stakeholder activities a lot, this is the right kind of Wunderlist alternative for you.
Notion can engage teams through collaborated project boards, dedicated sub-tasks within a project, and a sleek Kanban board format. Plus, if you are a paid user, you can get unlimited cloud backup storage capacity for any number of projects at hand.
This program also takes simple note-taking one step further by offering many cool new features.
Key Features
Customize your dashboard the way you want
Append data source connectors for a visual overhaul of ongoing projects
Drag and drop your most wanted activities in different window panes
View financial reports; comment and share with your team members
Pricing
Starter Version: $23 per month
Small Teams Version: $89 per month
All Other Advanced Versions: $179 to $339 per month
---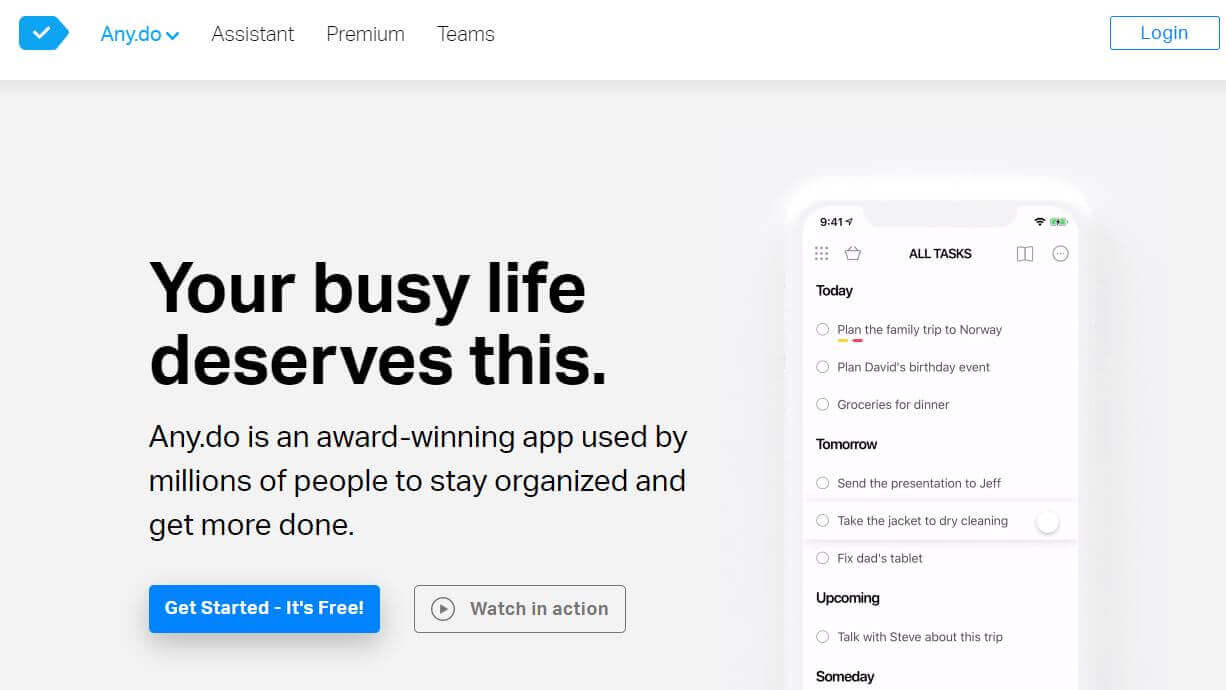 One of the most amazing alternatives to Wunderlist if you're not a fan, is Any.do. What makes it great is the fact that it contains all of the amazing features that pulled people towards Wunderlist.
For Example, Any.do comes with an amazing list support feature that will let you create more than one list for various types of reminders and your to-dos.
It even allows the clients to break down bigger and more complex tasks into smaller subtasks that make those subtasks easier to be managed and accomplished.
Another thing Any.do is the fact that you can leave personalized comments and notes with attachments on tasks that promotes inter-team communication. Also, you have support for various platforms with Any.do, which is always great.
Key Features
Task list organization
Automated reminders
iOS and Android apps
Multi-device sync
Daily planner
File uploads and attachments
Comments
Shareable to-do lists
Task notes
Subtasks
Pricing
Basic: Free
Premium: ($2.99/month, $26.99/year)
Business: ($2.99/user/month, or $26.99/user/year)
---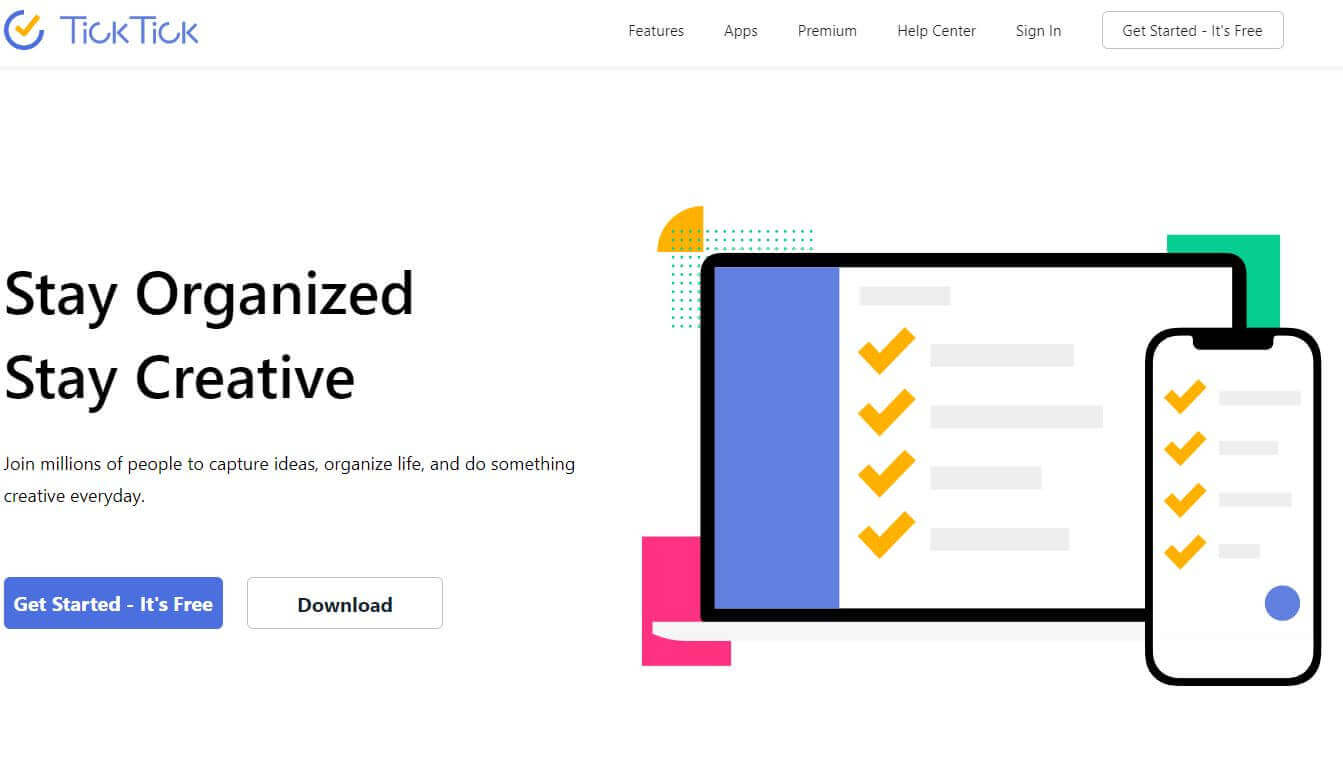 Another app that works a lot like Wunderlist is TickTick. It incorporates almost every important feature from Wunderlist like list sharing, task delegation and list support. It also contains features like communication through comments on any and every task.
The best thing about this service or app is that it's free and a lot of fun for the clients to use. Plus, it's always amazing when an amazing app is available to be used on every platform.
Key Features
Pomo Timer
Collaboration
Habit Builder
File Sharing
Notes Management
Pricing
Basic: Free
Subscription Based: ($2.99/month or $27.99/year)
---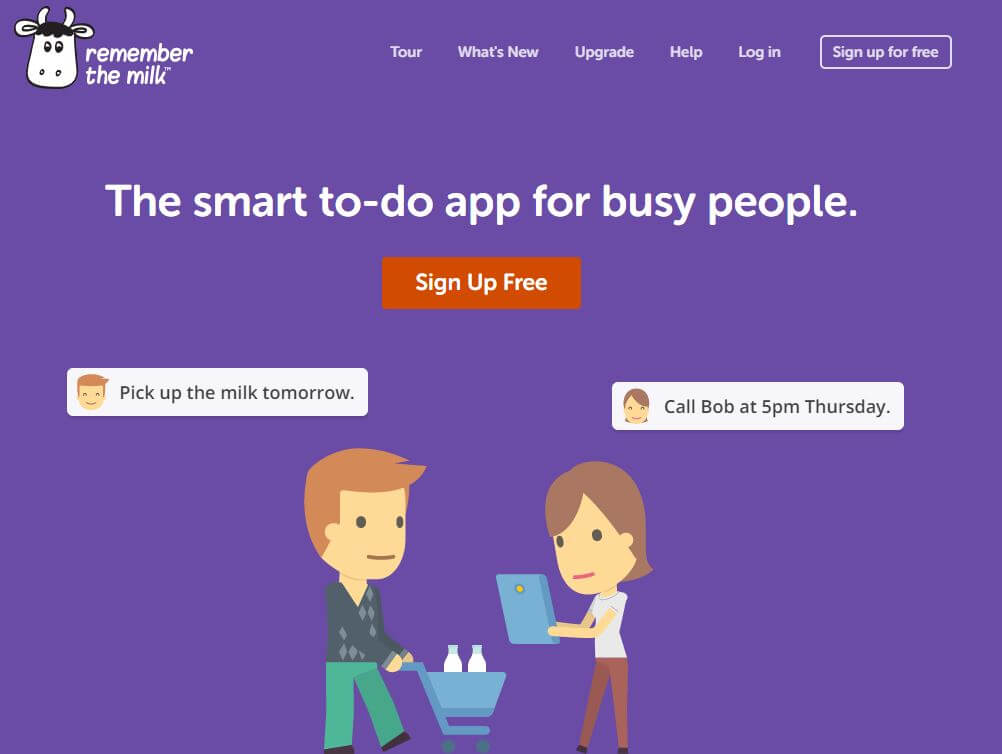 Yeah, you read the name right. Remember The Milk is an awkwardly named application but its an amazingly useful listing app and a reminder service. This application is an incredible alternative to Wunderlist just like all of the other applications mentioned in this article.
Remember The Milk has some amazing features like separation of your to-do lists and project or interest reminders. You can even delegate specific tasks to your users which comes in very handy when you are working in the project management paradigm.
While this application doesn't offer attachment support for files and comments to be joined to the tasks, it has a Notes feature that can act as a substitute for them.
Key Features
Smart Lists
Sync with Microsoft Outlook with MilkSync
Reminders
Evernote integration
Badges and widgets on your mobile device
Early access to new features with our tester program
Pricing
Basic: Free
Subscription-based: $25.00/year
---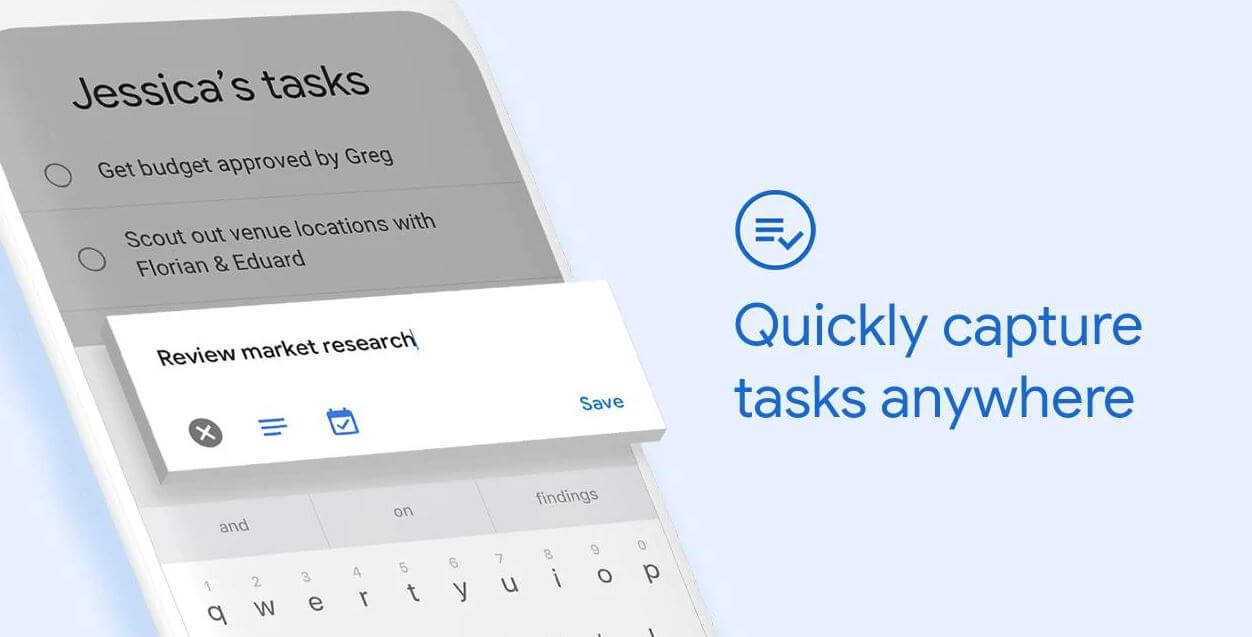 Related to an amazing family of application from Google, Google Tasks is no exception. It is an incredibly intuitive application that is perfect for you if your team members are little in number. It's certainly in the running for the best task management applications out there right now.
It contains certain incredible features like multi-platform support, adding tasks within tasks, creates reminders and so much more.
While task management applications like Wunderlist spend more time focusing on every little detail of your professional and personal life, Google Tasks just focusses on the more important stuff. In addition to that, it has a beautifully simple user interface that is easy to use and gorgeous to look at.
Key Features
Tasks from emails
Subtasks
Due dates and notifications
Details
Great for simple to-do list management
Easy-to-use interface
Pricing
---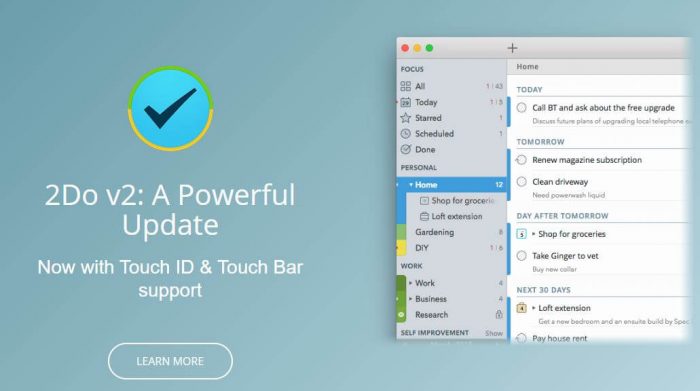 This application is a cool Wunderlist alternative for your task management. You can get control of your tasks with 2Do app. It offers rich features such as; tags, location setting, select date range, sorting, focus tasks and many more.
It helps you to get your work done with speed, where you can add multiple tasks in a matter of seconds from your mobile app. You can stay at the top of your daily chores with its GTD tool and make you more productive with smooth workflows.
You can easily sync your data on the cloud using Dropbox, CalDAV, and Toodledo. The 2Do application is available on Mac, iOS, and Android.
Key Features
Ability to create a smart list
Set multiple notifications for the tasks
Create projects and assign tags
Batch editing
App data protection and backups
Dynamic text search for tasks
Pricing
Free app with In-app purchasing
MacOS license starting at $49.99 for up to 5 users.
---

Toodledo is a powerful application that can work as a Wunderlist alternative to make your life easier and more productive. It is more than just a to-do list item management application where you can keep your important notes, create outlines, track habits and make custom task lists. It makes it easy to collaborate with your team or, with friends and family on particular tasks. You can easily synchronize and store your data on multiple devices with the help of Toodledo application.
Now you cannot forget about your tasks and responsibilities with real-time notifications and app reminders in Toodledo. Moreover, you can set a location-based alarm which gives you a notification when you are near the location of your next task. Toodledo provides an application on Android, iOS, and Desktop.
Key Features
Task protection with passcodes
Create smart to-do list items
Sorting, filters, search and drill down the tasks
Map view for the tasks
Start/stop timer for the task
Assign goals to the work and save in a folder
Track priorities, start and end dates, set a status of tasks
Pricing
Free basic plan
Paid plans start at 2.99/user per month
---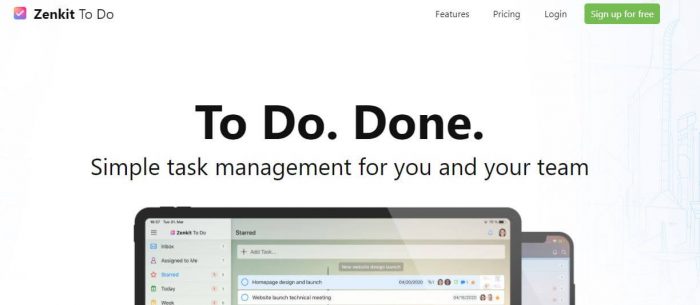 Wunderlist Alternatives are not too hard to locate – you just need to keep an eye out on the top project management apps available in the market. Zenkit To-Do is one of the close alternatives to Wunderlist that is introduced recently in the software-based project management industry.
It is an ideal option for teams and individuals who like to use a visual tasks and project management tool, just like Wunderlist. It works well for bloggers, sales and marketing teams, project and product managers, creatives department, and many more.
The Zenkit approach is more of a Kanban app which is an alternate way of viewing your tasks on the boards. If you love Kanban boards, we will recommend you to use Zenkit to manage your to-do lists. Zenkit just launched their iOS app, now you can easily manage your tasks on the go.
Adapting to the Zenkit environment requires some knowledge about the tool which is not easy for everyone. So, you can watch Zenkit Tutorials in order to get started.
Key Features
Inbox for team tasks
Mark your task as a favorite for help in the search
Manage multiple projects with the help of a calendar
Gantt charts for scheduling complex projects
Create and manage to-do list like Wunderlist
Create sub-tasks and perform bulk actions
Zapier integration
Two-factor autentication
Pricing
Free basic plan
Zenkit Plus yearly plan at $108/user/year
Zenkit Business yearly plan is priced at $348/user/year
---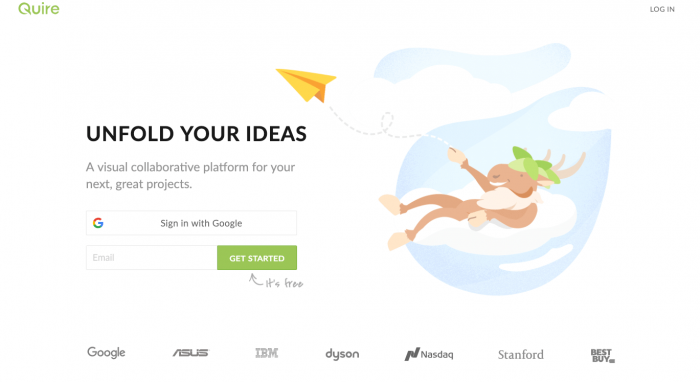 Quire is a useful visual task management and to-do list app for personal use or team collaboration. The app has earned countless positive reviews from business owners and is one of the most highly recommended task management software. With an intuitive and user- friendly interface, new users can quickly maneuver around like a pro, on both the web browser and the mobile app.
Quire offers multiple features that make collaboration easy. The nested task list provides a unique hierarchical structure with unlimited levels of tasks and subtasks to let teams jot down their ideas and break down a big goal into doable smaller tasks.
The Kanban board helps users narrow down and visualize their workflow. Sublists allow users to have their own personal view of the main task list.
Another feature is Peekaboo. It is used to separate immediate and postponed tasks. By peekaboo-ing tasks, users can keep moving forward with their goal instead of getting distracted by the overwhelming task list.
Key Features
List view with endless tasks and subtasks
Kanban board
Multiple assignees
Comments area, update in real-time, allowing me to discuss matters with teammates
Set due dates
Set priorities and reminders
Add tags, great for organizing tasks (filtering and sorting)
Migrate from other tools: Asana, Trello, Wunderlist, etc
Clean interface: minimalistic
Desktop + mobile app quick sync
Pricing
Free No subscription or upgrade needed.
---
20. Ike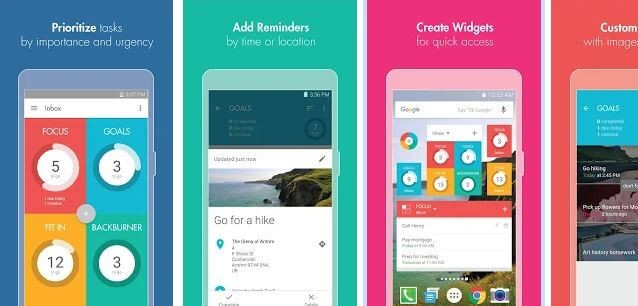 Another entry on this list is Ike which is a to-do list app but with an additional feature that is not present in any other app on this list including Wunderlist. That feature is the Priority matrix.
What is it?
Well most of us don't realize how much time and energy we are exerting on our daily tasks. This is a bad practice as we could easily get bogged down with humongous amounts of tasks on our plate if we don't prioritize our work. This is where the priority matrix comes into its own and saves the day by pointing out the more important tasks to be completed first.
It's an amazing application with a fresh take on the task management paradigm. The only flaw in its almost perfect armor is that it only runs on Android.
Key Features
Quick and easy checklist management
Customized themes for setting backgrounds
Task priority and due dates
File attachments and additional notes with tasks
In-app reminder notifications
Customizable celebrations when tasks are accomplished
Pricing
Basic: Free
Pro: $2/month
---
21. WeDo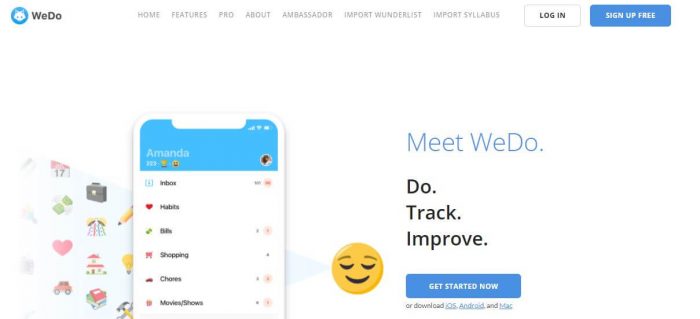 WeDo is another Wunderlist alternative that can fulfill your need for team collaboration and task management. It is an easy to use collaboration platform that can help your team in creating, managing and sharing tasks with the respective team member. You can even create a checklist and keep track of the task progress with this user-friendly tool.
This application is for everyone, from personal to professional use. You can organize your work, make a list of grocery, manage your studies and your to do items with just WeDo app. There is no need to remember your tasks all the time, as WeDo will help you with constant task reminders to make task execution for yourself.
WeDo not only takes care of your task management but makes you productive with their wellness-focused approach. This app can help you improve your life by giving insights on your mood and how you have spent your time.
Key Features
Create and edit tasks
Task tracking and management
One-click import from Wunderlist.
Available on iOS, iPad, Android, Mac and Web
Create folders, attach files and set theme
Enables you to create the custom habit list
Set due dates and reminders
Sub Tasks and set priorities
Add notes to tasks and receive instant notifications
Pricing
Free trial and monthly package at $4.99/month
Annual package at $3.33/month
Lifetime package at $159.99
Wunderlist vs Todoist vs nTask: Why we believe you should opt for us if you're moving away from Wunderlist
Wunderlist vs Todoist used to be a hot discussion a couple of years back.
But…
Wunderlist has shut down operations in early 2020.
So, you need a Wunderlist alternative to manage your project and task management needs.
So, why not opt for nTask?
nTask is a cloud-based project and task management platform used to plan and manage projects both for individuals and businesses of all shapes and forms.
nTask offers features that allow teams to keep all their documents in one place.
Nifty, eh?
That is just the start – If you were looking at the Todoist app currently as an alternative to Wunderlist then trust me you were not on the best of tracks.
You can read about the complete feature set that nTask provides, plus how can you Rock your first week with nTask here…
---
For updated Wunderlist Alternatives, be sure to check this post from time to time. If you are already using one of the aforementioned apps, we'd love to hear your thoughts in the comments section below. Alternatively, you can also send us an email.
Some Other Useful Reads on the nTask Blog