In this blog, we will discuss some of the best free mind map software solutions you can use today.
What Is Mind Map Software?
Mind map software is a powerful tool that allows you to organize, visualize, and share your ideas in an intuitive way. It's an essential tool for brainstorming, problem-solving, goal-setting, and project planning. With the right mind map software solution, you can quickly map out complex ideas and visualize them in a simple, easy-to-understand way.
At its core, mind map software helps to break down complex tasks into manageable chunks so that you can tackle them more efficiently. It can also be used to create flowcharts or diagrams to better illustrate connections between concepts. With the help of mind mapping tools, teams can collaborate on projects more effectively by seeing how their individual ideas fit together.
The best free mind map software solutions for 2023 offer features like collaboration tools, cloud storage integration, advanced customization options, and more. They make it easy to capture ideas and quickly develop a plan of action without breaking the bank. Whether you're looking for a basic solution or something more robust and feature-rich – there's sure to be an option that fits your needs perfectly!
How To Select The Best Free Mind Mapping Software?
Compare features between different free mind mapping software options. Consider the level of customization available, the range of features included, and how user-friendly each option is.
Identify which map type or types would suit your needs best; This will depend primarily on what you are trying to achieve with your mind map and how complex it is likely to be. Some programs offer a choice of a handful of different map types while others may have many more options from which to choose.
Check reviews online to get an idea of what other users think about the software's performance in practice: If there are any outstanding problems or issues that have been highlighted, consider whether these could affect your experience when using the program yourself before deciding whether it's right for you.
Download demos or trial versions so you can experiment with each program; This should give you a better insight into how they work in practice and allow you to make an informed decision on which one would be most suitable for your purposes without having to lay out any money upfront.
Take into account compatibility issues with other programs: Ensure that any mind mapping software you use integrates smoothly into existing platforms like MS Word, Excel, etc., as well as being able to export files in accessible formats such as pdf or jpeg so that others can view them easily too if needed.
Ensure technical support is provided by the developers/vendors behind each product: Periodic updates should also be available so that bugs are fixed quickly and new features are added whenever necessary
13 Best Free Mind Map Software 2023
Here are some of the best free mind map software that can help you brainstorm ideas for your business.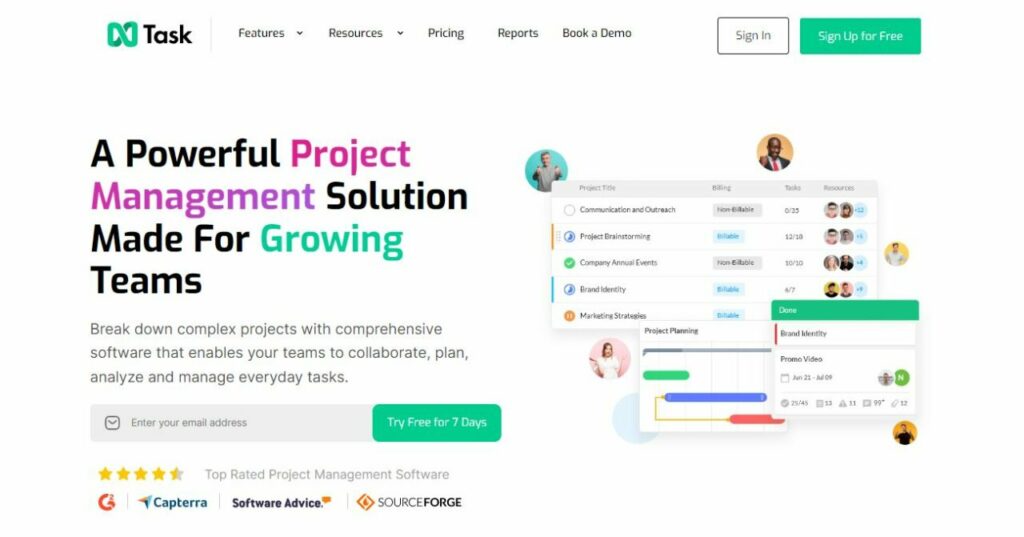 nTask's best free mind map software helps increase productivity by allowing users to quickly and easily create visual representations of complex tasks. It enables them to organize their thoughts, prioritize tasks, plan projects, and break down large objectives into smaller goals. It also provides a collaborative platform to collaborate with others in real time. Task mind map software is an effective tool for problem-solving because it allows users to visualize the entire process and identify points of confusion or opportunities for optimization.
This makes it easier to identify new solutions that may otherwise go unnoticed. Task mind map software can be used for both personal and professional settings, making it a great tool for any organization that needs help managing complex tasks efficiently and effectively.
Key Features
Visualization: The software should allow users to create visual representations of their tasks and ideas, allowing them to brainstorm and explore new directions.
Structured View: The software should enable users to easily organize their tasks in a hierarchical manner, so they can logically group related items together and clearly see the big picture.
Tags/Categories: Users should be able to tag different elements for easier categorization and filtering when searching through tasks or references later on.
Personal Dashboard: A customizable dashboard that displays only relevant content like unfinished tasks, important projects or upcoming deadlines is essential for efficiently managing workloads.
Interoperability: It's important that the software integrates with other programs like Dropbox or Google Drive so users can quickly share files or find resources related to particular tasks without leaving the platform itself.
Collaboration Tools: Letting multiple people work on the same project at once is an invaluable feature, with communication tools such as chatrooms making it easy to coordinate efforts between colleagues working remotely or in separate locations around the world
Pricing
Pro $3/month
Business $8/month
Enterprise custom/month
Integrations
Slack
Google Calendar
Microsoft Teams
Zoom
Ratings:
G2 rating: 4.4
Capterra rating: 4.2
Robust Idea Management
& Team Collaboration!
2. Coggle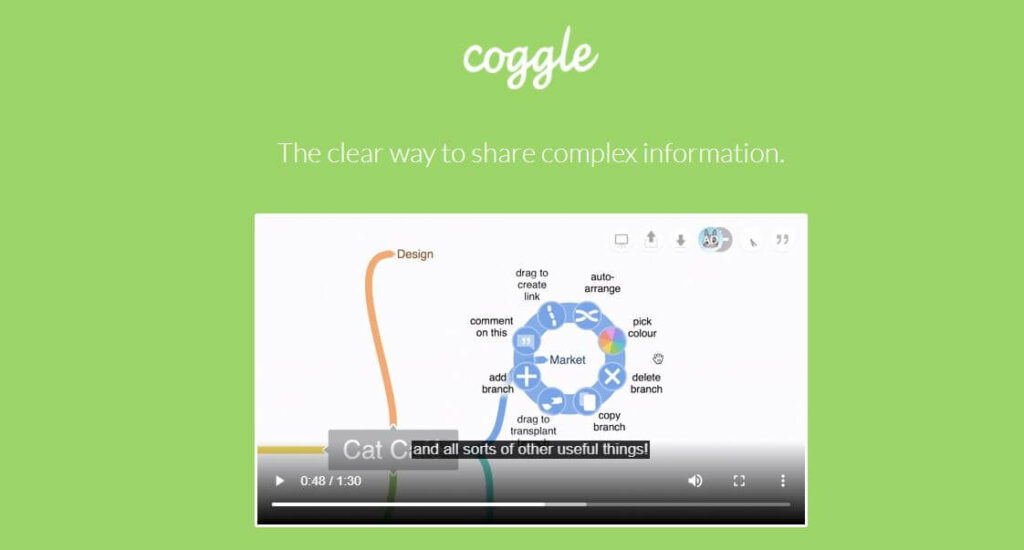 Coggle is one of the best free mind map software that allows users to create visual representations of their ideas. It is an online tool that provides users with an easy way to structure their thoughts, organize information, and brainstorm new ideas. The platform offers a simple drag-and-drop interface where users can add text, images, and other elements like arrows or pins to create custom mind maps.
Coggle's features include customizable styling options as well as collaboration tools so multiple people can work on the same project at the same time. It also offers an array of templates that allow even beginners to make creative mind maps in no time. With its intuitive design language and powerful features, Coggle is perfect for streamlining any team's workflow from idea creation to implementation – making it a valuable asset for any organization looking to collaborate more effectively on projects.
Key Features
Create Mind Maps: Coggle allows users to easily create and share mind maps with others, which can be used to visually organize ideas and brainstorm new concepts.
Collaborate In Real-Time: The software supports real-time collaboration, allowing multiple people to work on a single mind map at the same time.
Organize Ideas: Each mind map created in Coggle helps organize thoughts more clearly, allowing for further exploration of topics that may have gone overlooked before.
Presentation Mode: Presentations can be made from any mind map created with Coggle, providing users with an easy way to make sophisticated presentations quickly and efficiently without having to use a separate presentation program or slideshow toolset.
Customizable Colors & Styling: Users can customize their mind maps using various colors and styling options available within the software, making it easier than ever to create unique visuals for projects or presentations without needing additional design skills or experience—just click and go!
Seamless Sharing Options: With its seamless sharing capabilities, users can share their work privately, or they can make it public so anyone across the web may view their creations quickly and easily via links or embed codes embedded right into the software itself.
Pricing
Free for up to 3 private diagrams.
Awesome: $5/month.
Organization: $8/member/month.
Integrations
Ratings
3. Mural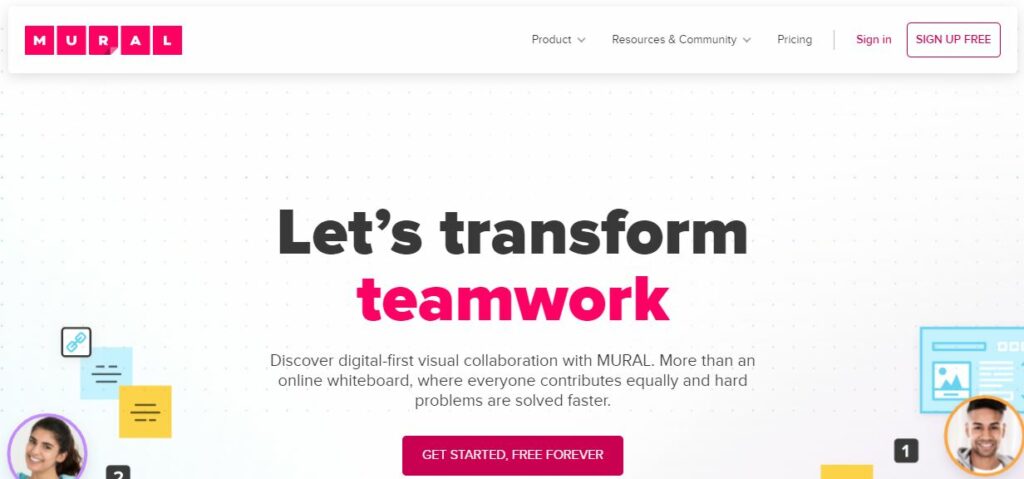 Mural best free mind map software is a tool that helps organize and visualize ideas. It enables users to create visual representations of their thoughts and brainstorm creative solutions to problems. Mural lets users draw diagrams, add sticky notes, and upload documents in order to share their ideas with anyone.
The software also offers templates that can be utilized by teams in order to collaborate effectively on projects. With the help of Mural, users can generate new ideas quicker than ever before while staying organized throughout the entire process. Additionally, it allows members of a team to access documents from any device connected to the internet as well as comment on individual elements within team projects without having to leave their current workspace.
Key Features
Ability to create custom mural mind maps. Mural mind map software enables users to quickly and easily visualize complex concepts and relationships by creating diagrams with linked nodes, outlines, or boxes containing text or images.
Real-time collaboration capabilities. With Mural's collaborative features, users can invite their colleagues, friends, or family members to work together in the same space at the same time using voice and video chat technology.
Branching capability for deeper exploration of mind maps. Branching capabilities allow users to dig deeper into each node of the map in order to gain a better understanding of how all elements are connected in a topic they are exploring through visual representation of brainstorming ideas.
Flexible design options for personalization purposes including font size selection, color choices, background customization, and more. Users can customize their mural mind maps with flexible design options for personalization purposes such as font size selection, color choices, background customization options (i.e., light/dark mode), link type selections from arrows/boxes/circles, etc., among others.
Space organization tools allow efficient navigation across multiple murals simultaneously. This feature enables users to access different murals within one workspace faster by organizing them conveniently into small panels which are easy on the eye but still robust enough that contain crucial information about the project being explored.
Pricing
Free $0/usd
Team+ $9.99/USD
Business $17.99/USD
Enterprise custom/pricing
Integrations
Asana
Trello
Airtable
Google Sheets
Google Forms
Azura DeVops
Typeform
Miro
Slack
Ratings
4. Scapple

Scapple is a free mind mapping software designed to help people organize and visualize their ideas in an intuitive way. Unlike traditional linear text-based systems, Scapple enables users to create diagrams with nodes and branches, which allows them to link related topics and subtopics together. The software utilizes a rich color palette that can be used to further differentiate between different sections of the map as well as illustrate key concepts.
Additionally, it offers templates that can provide starting points for most types of maps, ensuring users never have to start from scratch when creating their own designs. Its interactive interface also allows users to quickly move information around or add additional branches without needing coding knowledge or complex user commands. All these features make Scapple a powerful tool for planning, brainstorming, and optimizing business processes.
Key Features
Create Mind Maps: Scapple lets you create nearly any kind of diagram or idea map quickly and easily. You can move notes around, connect them with lines, add photos, draw shapes, or color code your thoughts however you wish.
Simplified Workflow: Scapple's streamlined workflow makes it easier for users to capture their ideas quickly and efficiently. With just a few clicks you can start creating your mind map or brainstorming session right away!
Collaborative Editing: Multiple people can edit the same mind map at the same time so that everyone involved in the project has access to all of the information they need.
Exportable Diagrams & Digital Notebooks: Your diagrams and digital notebooks created in Scapple are exportable as PDFs or images so that they can be shared with others easily. Additionally, they are also printable if needed!
Pricing
A standard license to use Scapple will cost you $18. An educational license costs $14.40.
Ratings
5. MindMup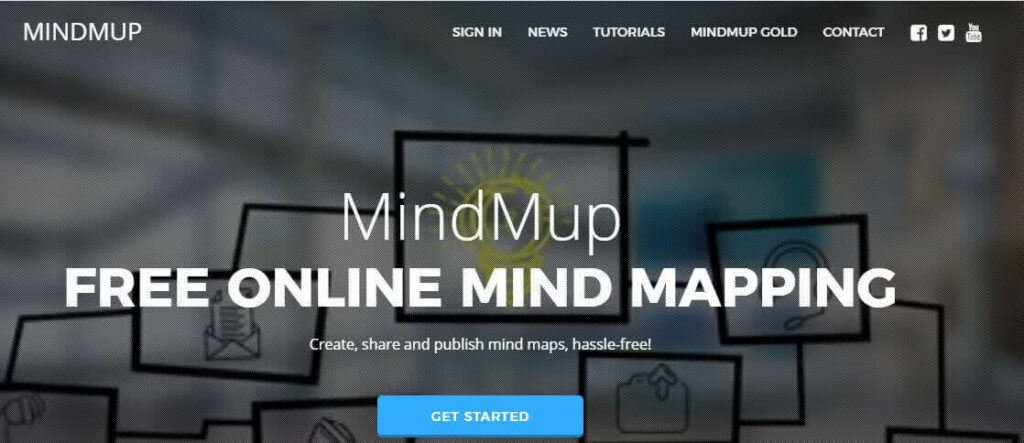 MindMup is a mind mapping software that helps individuals and teams organize and visualize their ideas in an easy-to-follow visual space. This software is meant to help unleash creativity, manage tasks, and become more efficient in your daily activities.
Its interactive, intuitive interface allows participants to brainstorm together while swiftly creating links between related topics, objects, and notes. MindMup also offers the option of adding detailed information such as images or diagrams into the mind map for further explanation or feedback. This powerful tool can be used to design presentations and reports quickly so that everyone involved can understand exactly what you are trying to project on paper.
Key Features
Ability to map out ideas, concepts, and connections quickly: Minmup's mind mapping software has the ability to easily capture ideas, thoughts, and connections that can be shared in a visually appealing way.
Allow users to brainstorm effectively: With Minmup's mind mapping software, users can quickly brainstorm their ideas in an organized fashion with ease while tracking progress over time.
Organize complex information in a simple visual layout: Minmup's mind mapping software helps users make sense of complex information by organizing it into clear visuals that are easy to understand and follow.
Improve communication between teams: By using Minmup's mind mapping software teams are able to clearly communicate their ideas or plans through visual aid which improves comprehension and results in successful collaborations among team members.
Share maps with colleagues: With Minmups Mind Mapping Software you can easily save your maps online and share them with colleagues for review or discussion purposes at any time from anywhere via the web-based platform provided by MindMup Software Solution Pvt Ltd.
Pricing
Personal Gold $2.99/month
Team Gold $50/year
Organizational Gold $100/year
Ratings
Get App: 4.7
Capterra: 4.7
6. Mindomo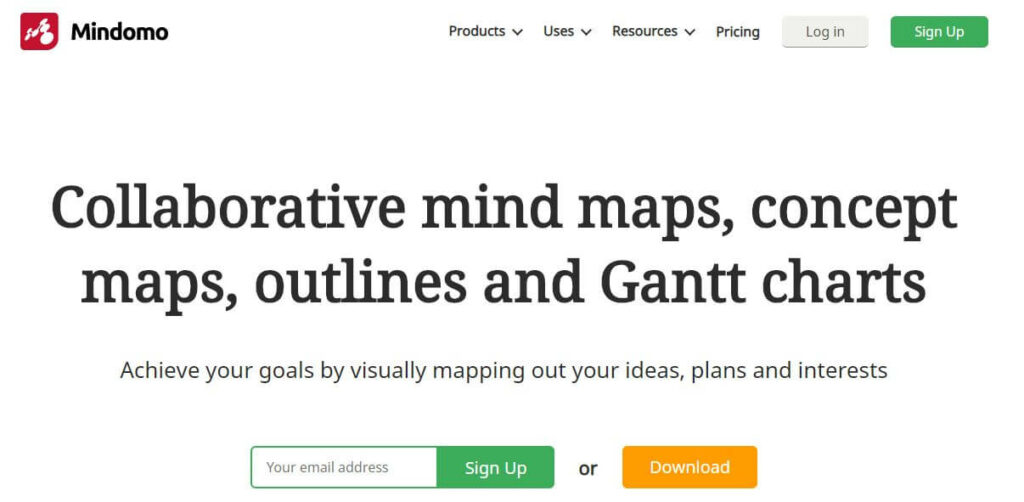 Mindomo is a mind mapping software that helps users visualize their ideas and thoughts in an organized way. It allows users to create diagrams and visual representations of information using shapes, symbols, text, images, and more. Mindomo's features include collaboration tools for teams to work together on projects, unlimited cloud storage for files and ideas as well as a library of over 500 ready-to-use templates.
The software also offers built-in integrations with services like Dropbox, Microsoft Office 365, Google Drive, and Salesforce. Mindomo makes it easier for its users to brainstorm ideas, structure data and solve complex problems quickly by visualizing the relationships between concepts in clear diagrams.
Key Features
Create and edit maps: Mindomo allows users to easily create and edit maps to visually organize insights, ideas, data, and tasks in an effective manner.
Collaborate with others: Mindomo offers a range of collaboration features that allow team members to work together on projects by assigning tasks, commenting on elements of the map, or exchanging opinions through chat-style discussions.
Share publicly or privately: Users can set share settings for their mind maps, allowing them to be accessible publicly or only by people they have invited themselves.
Integrate with other applications: Mindomo has seamless integration capabilities for popular programs like Microsoft Office and Google Apps that make sharing information among these platforms easier than ever before.
Store securely in the cloud: All information stored within the platform is secure from data breaches because it is stored on encrypted servers in multiple locations across the world at all times.
Pricing
Premium €5.5/month
Professional €13.5/month
Team €16.5/month
Integrations
Google Drive
Google Workspace
Dropbox Business
Microsoft 365
OneDrive
Microsoft Teams
Evernote
Moodle
Canvas
Blackboard
Ratings
Get App: 4.7
Capterrra: 4.7
7. Canva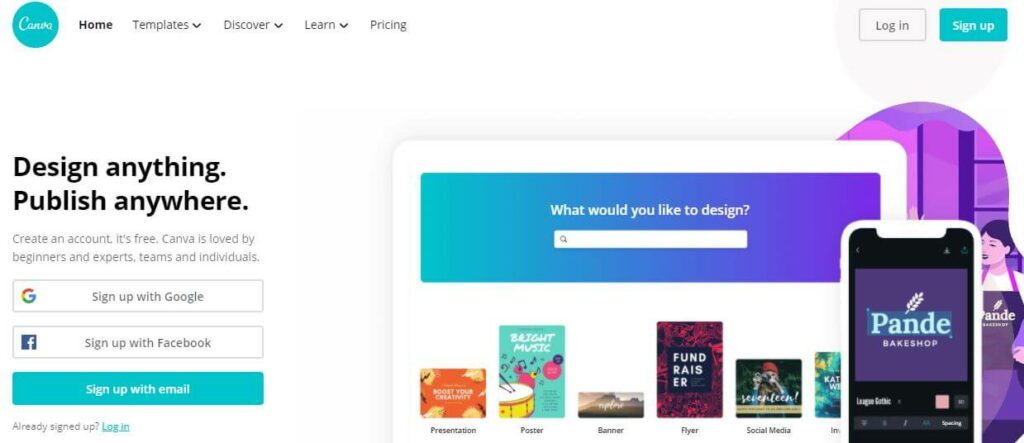 Canva free mind map software is an online tool that allows users to create visually appealing and organized mind maps. With it, users can quickly and easily organize ideas, information, or tasks into color-coded diagrams. It gives users the ability to draw out relationships between different pieces of data or thoughts expressed within the map. It also provides templates for common uses such as project management, decision-making, and brainstorming.
Canva's intuitive drag-and-drop feature makes it easy for any user to create a great-looking mind map in minutes with its large selection of shapes, colors, and fonts available. Additionally, Canva offers a mobile app so users can take advantage of their service anytime and anywhere on their devices.
Key Features
Drag and Drop Interface: Canva-free mind map software has a simple drag-and-drop interface that makes it easy to create mind maps quickly and intuitively.
Customization Options: Users can customize their mind maps with different colors, shapes, backgrounds, fonts, and more.
Collaboration Features: Canva free mind mapping software includes collaboration features such as shared editing rights or the ability to comment on each others' work in real-time.
Export/Import Options: The software also allows users to export their finished work in various formats such as PDF or PNG, making it easy to share with colleagues or use them outside of the Canva platform. Additionally, users can import images into their maps for custom visuals without having to leave the platform.
Comprehensive Help Resources: The documentation page includes videos and tutorials that help guide new users through the basics of using Canva's tools and features so they can start creating beautiful designs right away.
Pricing
Canva Free $0.00/month
Canva Pro $54.99/month
Canva for Teams $84.90/month
Integrations
Google Drive
Slack
Powerpoint
Dropbox Business
WordPress
Asana
OneDrive
Box
HootSuite
LinkedIn
Twitter
Ratings
8. Gitmind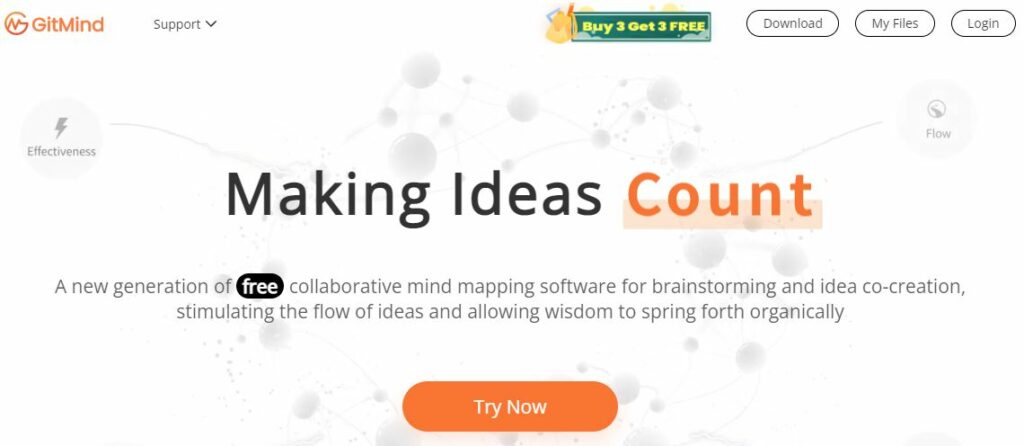 Gitmind is a free mind map software available on the internet. It helps individuals brainstorm and better organize their ideas. Gitmind allows users to create colorful, graphical maps that connect ideas and concepts visually, giving them an at-a-glance overview of a topic. With its drag-and-drop interface, users can easily draw branches to denote relationships between topics and include notes, images, or links as they build their maps.
The intuitive editing experience allows users to quickly add new nodes, move items around the map or change branch structure without any fuss. Additionally, it lets users save files locally or sync with other databases so that information can be accessed from anywhere in the world with an internet connection.
Key Features
Simple Interface: Gitmind has an intuitive interface with easily accessible tools and icons that make creating a mind map simpler and faster.
Collaboration: Gitmind allows multiple people to collaborate in real-time on projects or presentations with its sharing features which include share links and invite team members functions.
Versatility: Gitmind can be used for brainstorming sessions, project management, data visualization, note-taking, task tracking, etc. With its wide library of templates available for the quick start of any project, it can be used by professionals from any industry such as education, finance, marketing, and more.
Freedom: With no download required, Gitmind can be accessed from anywhere in the world providing full flexibility for users to get started right away using their favorite device (computers, smartphones )
Security: In addition to having secure data storage options, Gitmind also provides a password protection feature with a two-factor authentication system making sure the user's data responsibility remains in safe hands.
Pricing
Basic – Free
3 Year $3.19
Annual $4.08
Monthly $9
Ratings
9. Figma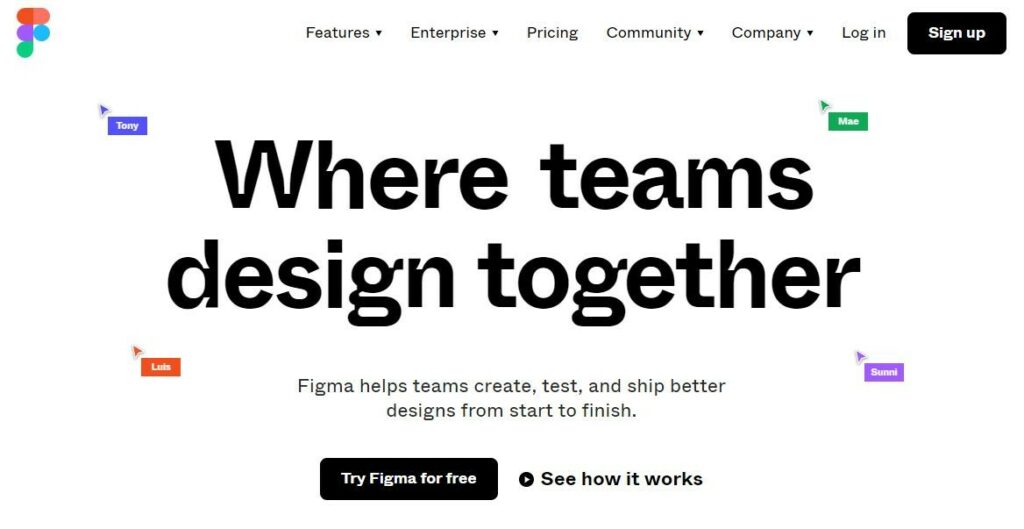 Figma is a free mind map software created to help people organize their thoughts and ideas. This cloud-based software offers users quick and easy ways to store, share, collaborate on and present thought maps. With Figma's intuitive user interface, users can quickly create an organized flowchart of their ideas and easily manage tasks with its interactive features.
The versatile format allows for numerous layouts based on the unique needs of each project, which makes it perfect for teams of any size. Additionally, Figma offers advanced features such as automatic resizing when zooming in or out, auto-exporting to other programs like Microsoft Word, real-time collaboration with team members from all over the world, 3D rendering capabilities, and more.
Key Features
Easy to use drag & drop interface: Figma's intuitive user interface allows users to easily create mind maps with a simple drag and drop of icons, text boxes, images, and other elements.
Data import/export capabilities: Users have the ability to import data from external sources or export information directly from the app in formats like TXT, CSV, and PDF.
Multi-user collaboration: Multiple users can access the same document and make changes at once, creating an easy way for teams to collaborate on projects without having to be in the same location.
Real-time synchronization: Figma's synchronizing features ensure that all mind maps open simultaneously across devices and platforms, letting everyone get involved on their own individual terms.
Multiple view options: An unlimited number of view settings can be customized for each person who is accessing the document at any given time based on how they want it displayed (grid/diagram).
Pricing
Starter – Free
Figma Professional $12/month
Figma Organization $45/month
Integrations
Ratings
10. MindMeister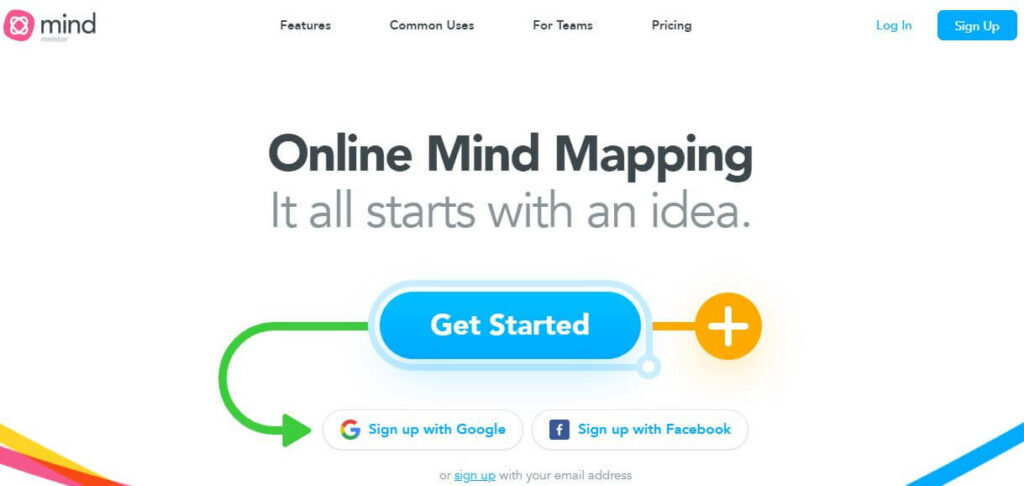 MindMeister mind map software is an advanced, collaborative mind mapping tool that is available both on the web and as a mobile app. It allows users to easily brainstorm ideas and organize them into logical structures, allowing teams or individuals to quickly and efficiently carry out tasks such as project planning, concept mapping, or decision-making.
With MindMeister's intuitive user interface and powerful features, you can quickly create detailed maps representing any kind of data structure imaginable. The software includes numerous built-in templates for specific types of maps—such as SWOT analysis, process flowcharts, mind maps for meetings—as well as the ability to add custom images, videos, and hyperlinks to enhance your maps. Its various collaboration features make it ideal for working on projects with remote team members in real time.
Key Features
Create new mind maps with a blank canvas: Mindmeister offers users the ability to start a project from scratch, allowing them to easily create diagrams by dragging and dropping various elements onto the interface of their choice.
Add shapes and images: MindMeister also allows you to upload images and shapes quickly while creating a custom look for your project without having to draw it from scratch.
Collaborate in real-time: With MindMeister, multiple users can work together on one document at the same time, with changes being seen freshly in real-time as each user makes them.
Share across social networks: Depending on your plan, you can share MindMeister projects via Twitter or Facebook, enabling easy collaboration with outside parties if desired.
Export into different formats: Easily export and print out MindMeister projects into PDFs or HTML pages for sharing or further editing purposes depending on user needs
Pricing
Basic Free
Personal $2.49/month
Pro $4.19/month
Business $6.29/month
Integrations
Microsoft Teams
Google Teams
Ratings
Get App: 4.7
Software Advice: 4.5
11. InfoRapid
InfoRapid Mind Map Software is a powerful program that allows users to create professional-looking mind maps for their projects. It offers a wide range of features such as an intuitive interface, easy drag-and-drop editing, a comprehensive symbols library, and a variety of tools for customizing the look of the maps.
The user can organize ideas, tasks, and plans logically using this software. Additionally, it has collaboration options for teams that need to work together on complex projects. It even provides online backup options so that all your data is secured in the cloud. With InfoRapid Mind Map you can easily create stunning visuals with minimal effort, enabling you to visualize information in an effective way and save time while doing it.
Key Features
Create multiple mind maps quickly and easily, with support for a variety of different visual designs to suit your needs.
Use InfoRapid's powerful search feature to look up information related to specific topics in your mind map.
Easily keep track of revisions in your mind map and share them with colleagues or team members through secure links.
Add additional notes, images, and media to your maps in order to give each node more depth and richness.
Utilize different layouts including tree diagrams, swimlanes, radial diagrams, spaghetti diagrams, brainstorms and more for increased flexibility when representing information visually.
Export out completed mind maps into various formats such as HTML, word docs or PDFs for further analysis or publishing online.
Pricing
12. InVision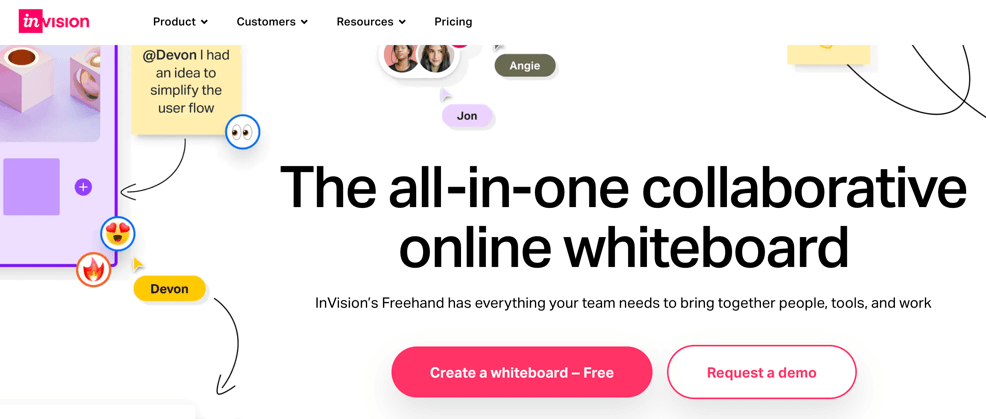 InVision is a powerful mind-mapping software that can help users visually organize their ideas in order to come up with creative solutions for any task or project. It allows users to brainstorm, create and edit link maps, and manage complex projects with ease. With its intuitive drag-and-drop design, InVision makes it easy for users to map out their thoughts in a comprehensive way.
By quickly adding visuals such as shapes, colors, labels, and icons, the user can easily work to identify relationships between different components of their project. Additionally, it provides useful features such as linking directly from one fact or idea to another; this enables users to gain deeper insight into how all elements of the project are connected. Thanks to its export options in formats like PDFs and images, sharing this information has never been easier!
Key Features:
Easy-to-use workspace: InVision Mind Mapping software provides a simple, intuitive workspace that allows users to easily create, modify and organize their mind maps.
Flexible design options: Invision Mind Mapping software offers flexible design options, enabling users to customize their mind map according to individual needs and preferences.
Ability to add notes: Users are able to add text notes or images to any branch of the mind map in order to further explain the topic or share additional information with others who view the map.
Comprehensive visual representation: Invision's visual tools enable users to create a comprehensive visual representation of ideas quickly and easily by using text boxes, shapes, lines, arrows,, and colors for clarity in understanding relationships between concepts within the mind map.
Shareable maps: The software also enables users to share their completed maps with others through email or by printing them out for physical distribution or presentation purposes
Pricing
Basic – Free
Pro – $7.95/month
Enterprise custom/pricing
Ratings
13. Venngage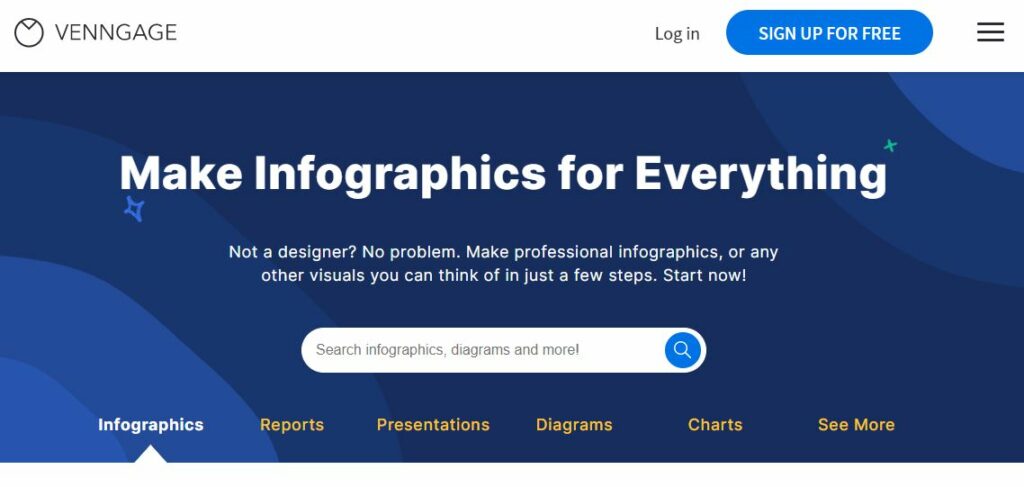 Venngage is a powerful mind mapping software that businesses and individuals can use to create visual representations of concepts and ideas. With an intuitive interface and a range of options, Venngage allows users to easily create professional-looking maps quickly.
It offers specialized templates for different types of flowcharts and diagrams, allowing users to customize the look of their documents with little effort. With features such as data linking, image insertion, printing capabilities, collaboration tools, and more.
Venngage can be used to quickly communicate complex relationships among data in an easy-to-understand manner. Its drag-and-drop design makes it easy for anyone to make engaging visuals without any coding or design skills. Additionally, Venngage provides detailed analytics so users can track the effectiveness of their maps over time.
Key Features:
Create Maps: Easily create maps with Venngage's built-in templates and tools. Customize the map design with shapes, colors, images, and text to communicate your ideas in a visually appealing way.
Collaborate with Others: Invite colleagues or team members to collaborate on the same map in real-time or assign individual tasks so that everyone is working towards one goal.
Monitor Progress: View the progress of each task while also tracking who is responsible for completing it and when it's due through Venngage's progress tracking feature.
Export & Publish: Once a mind map is complete, easily export it as an image file or publish it online as a PDF or interactive web version that can be shared with anyone around the world instantly via link or embed code.
Pricing
Free $0/month
Premium $16/month
Business $39/month
Enterprise $499/month
Ratings
FAQs
How To Create A Basic Mind Map?
A mind map is a great way to organize your thoughts and ideas, allowing you to have a visual representation of the connections between them. To create a basic mind map, start by writing down the central idea or topic in the center of the map.

Next, draw branches outward from this main topic to indicate related topics or ideas that link back to it. You can then further expand on each branch with additional information. As you do so, be sure to use different colors and images to help differentiate each thought and make it easier for you to identify what is related and what isn't.
How To Use Mind Mapping For Creativity And Problem-Solving?
Mind mapping is a great way to unlock creativity and help problem-solve. It is done by gathering ideas, expanding on them, and then organizing those ideas into a structured format. To begin, create a central idea or theme in the center of your page.

From there, move outward by clustering related ideas together with lines or arrows and symbols for further classification. This allows you to visualize connections between each element more clearly so that you can better assess any potential problems or solutions that may arise in the process of problem-solving.
How To Use Mind Mapping For Planning And Organizing?
Mind mapping is a great tool for planning and organizing. It helps to create associations between different ideas and allows users to map out complex problems in an organized way. To use mind mapping, start by writing down the main topic or idea in the center of your page.

Then add related topics or ideas around the central topic that branch off from it. As you brainstorm, draw arrows pointing from one branch off-topic to another so that connections are more easily visible when viewing the entire diagram. Once your brainstorming session is complete, you can make modifications and revisions to the diagram as needed until everything looks neat and
How to Make a Mind Map in Microsoft Word?
There are a few ways to create a mind map in Microsoft Word. One way is to use the SmartArt graphics feature. This allows you to select a template of your choice and customize it as needed. You can also create your own using shapes, pictures, and lines to connect them together.

To make it more visually appealing, you can also add colors and fonts that match the theme of your mind map. Finally, if you're looking for pre-made designs, there are numerous plugins available online that can help speed up the process.
Conclusion
After reviewing the top free mind map software solutions for 2023, it is clear that there are many great options available. From powerful tools like MindMeister and FreeMind to easy-to-use tools like Coggle and Bubbl.us, there is something for everyone. Each platform offers unique features and capabilities to help you create effective mind maps that are both visually appealing and easy to navigate. So go ahead and choose the best one for your needs!
More Readings: