CRM or Customer Relationship Management Software is aimed at providing teams with the ability to better provide for their clients and keep them productive and organized.
CRM software allows you to produce, manage, and organize data in a way that boosts income and sales. However, such tools can sometimes be expensive and thus your organization may not be able to invest in a CRM tool that will help your team.
That is why we have come up with this list of the best free CRM software for you to consider. The free CRM software will help you with your customer management while also not breaking the bank.
So, let's get right to it!
Our List of the Best Free CRM Software of 2022
Let's take a look at our top picks for the best free CRM software for your business to choose from in 2022.
1. Zoho CRM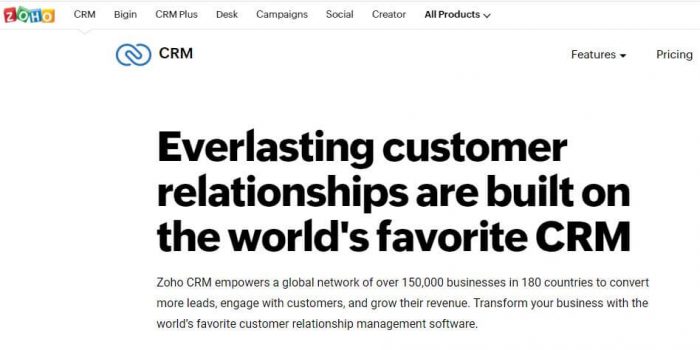 One of our picks for the best free CRM software is Zoho CRM. Zoho CRM has connections with the Zoho Suite- which includes Zoho Campaigns for email marketing—and its workflow rules, which automate activities, making it a great choice.
It also does a good job of covering the basics: you can import and manage contacts, update deals and assignments, log conversations and emails, and even modify the layout of the pages.
Although Zoho CRM's free subscription does not include bulk emailing, you can use Zoho Campaigns to send up to 12,000 bulk emails per month to 2,000 contacts for free.
Online visitor monitoring and web-to-lead forms are included in Zoho's CRM, which may help firms with significant website traffic produce leads.
The ability to define workflow rules, which frees up time for staff to cultivate connections, is perhaps the most competitive of Zoho CRM's numerous capabilities.
Pricing:
Zoho CRM has a free edition for up to 3 users.
You can also update to the Standard plan which starts at $14/month, per user
The Professional plan costs $23/month, per user
The Enterprise plan costs $40/month, per user
The Ultimate plan costs $52/month, per user
See this:
Zoho Projects Review, Features Pricing (*2022 Updated Guide)
2. Agile CRM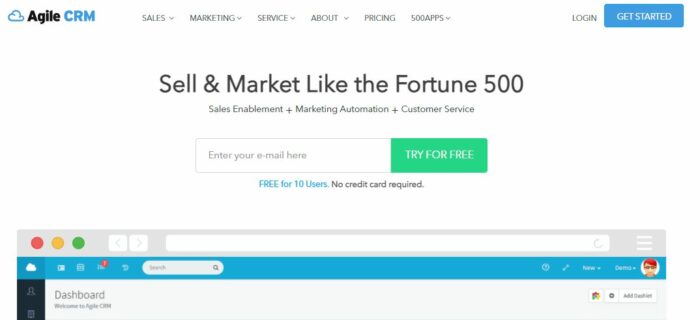 Agile CRM combines sales, marketing, and customer support into a single platform, allowing diverse teams to cooperate on transactions and customer information more easily.
It can also handle an endless number of tasks and transactions. It also includes lead scoring, email monitoring, site interaction, a landing page builder, and support desk capabilities, among other things.
Agile CRM's free package has limitations such as a 10-user restriction and a 1,000-contact and company limit. It also only allows for one third-party connector, restricting your possibilities for expanding its functionality.
Pricing:
Agile CRM offers a free plan for up to 10 users
The Starter plan starts at $8.99
The Regular plan starts at $29.99
The Enterprise plan starts at $79.99
3. HubSpot CRM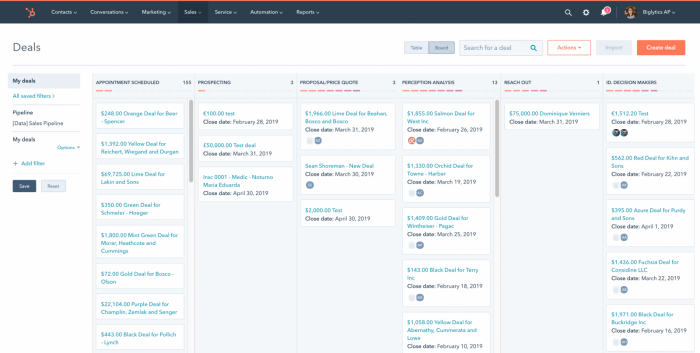 HubSpot CRM has a broad range of sales, marketing, and customer care tools that aren't often seen in free CRM software.
Unlimited users, one million stored contacts, chatbots, landing pages, ad managers, and customizable dashboards are just a few of the features available.
You may also use the app to make voice-over-internet-protocol (VoIP) calls to prospects, send bulk emails, view productivity data, and create a sales document library.
Unfortunately, HubSpot CRM's free subscription does not provide workflow automation. It also has limited customer service options, such as community assistance and self-help sites.
Pricing:
HubSpot offers some free CRM tools
You can update to premium plans for advanced CRM tools
For more details on available pricing options check out the website or get in contact with Hubspot's sales team
4. Insightly CRM

Insightly is a cloud-based customer relationship management system that provides small and mid-sized organizations with a variety of tools for marketing campaigns, sales process management, project management, and interfaces with popular programs, such as; Microsoft Outlook and Gmail.
Insightly's call management, sophisticated reporting, project management, workflow automation, quotation creation, sales possibilities management, lead management, email monitoring, contact management, and relationship linking features have attracted more than 1.5 million users.
Not all of these capabilities, however, are available for free. Instead, they're spread over three versions and pricing plans.
Accounting connectors, bespoke reports and charts, bulk email and custom email templates, and self-service support are all included in this free CRM system.
Pricing:
Insightly's original plan is free of cost for up to 2 users
The Plus plan starts at $29/month, per user
The Professional plan costs $49/month, per user
The Enterprise plan costs $99/month, per user
5. Freshworks CRM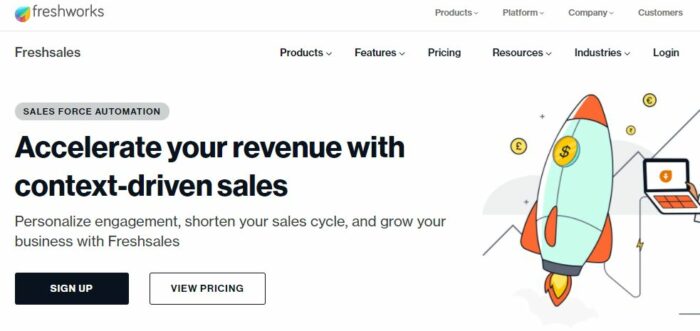 Freshworks CRM's free plan includes a competitive feature set, with in-built calls, unlimited users, and a robust support package among the features.
Contact management, phone and email logging, deal status, and customer-facing chat capability are all part of the fundamental CRM features.
The program enables you to import new data and amend transactions, making managing contacts and deals simple.
Although complex capabilities such as custom fields aren't accessible, small teams can still benefit from the built-in phone and call and email logging functions.
Although lead generation is restricted, Freshworks can gather leads from web forms, which is useful if your website receives a lot of traffic.
Pricing:
Freshworks CRM offers a free plan
The Growth plan costs $15/month, per user
The Pro plan starts at $39/month, per user
The Enterprise plan costs $69/month, per user
6. Engagebay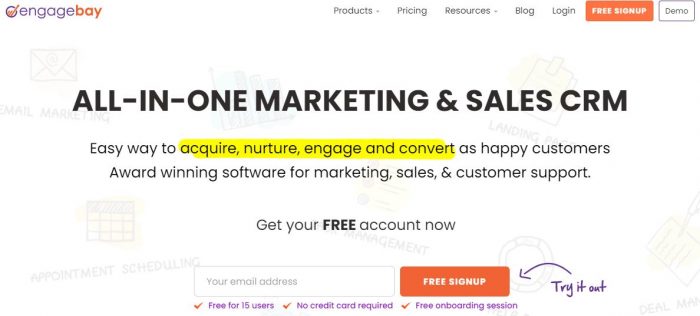 Engagebay is known for its simplicity and affordability. This software combines marketing, sales automation, and customer relationship management into a single platform. It's quite simple to use.
Engagebay also gives you the tools you need to discover high-quality leads so you can focus your time and money on where they'll be most effective.
Engagebay makes it simple to go through your leads and assess their quality based on a variety of factors such as consumer involvement, behavior, and geography.
You may also develop an automated marketing funnel, deploy personalized email campaigns, and create and publish appealing landing sites.
Engagebay is perfect for small businesses and startups who want to find, nurture, and convert leads into paying customers. To capture the names, email addresses, and/or phone numbers of your leads, you may develop and execute lead-generating forms and popups.
Pricing:
Engagebay offers its CRM tools for free
You can upgrade to the Basic plan for $11.99/month, per user
The Growth plan starts at $39.99/month, per user
The Pro plan costs $63.99/month, per user
7. Capsule CRM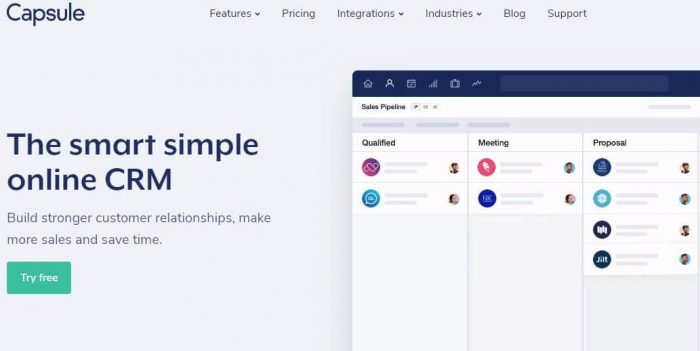 Capsule CRM is up next. The user interface of Capsule CRM is simple. If you like, you may modify the color scheme and add a logo.
Capsule CRM allows you to customize the fields for persons, organizations, and opportunities, which is useful for customizing data capturing to your specific needs.
'Tracks' is another useful function. This allows you to construct a group of action reminders for chances that you may use them again and again.
Using a few clicks, you can add contacts, opportunities, and tasks directly from your inbox with Capsule CRM's email add-on. It will also store all ongoing email threads to that contact's record automatically.
The free Capsule CRM plan only allows for 250 contacts. The contact limit is increased to 50,000 when you upgrade to a paid plan.
Pricing:
Capsule CRM's starter plan is free of cost for up to 2 users
The Professional plan costs $18/per user, per month
The Team's plan costs $36/month, per user
The Enterprise plan costs $54/month, per user
8. amoCRM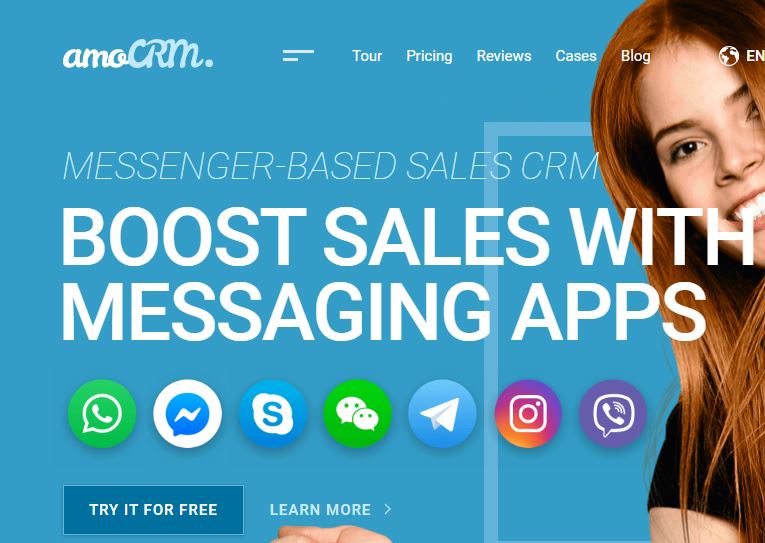 If you're looking for CRM software to help your business management, amoCRM is the product you're in need of. Focused on centralizing communication and providing multiple integrations, amoCRM is a multifunctional platform, creating a better connection between your company and your customers.
With a sales automation system, tools that help with lead generation, and also providing KPIs that are capable of helping with marketing campaigns, amoCRM positions itself as a competitive addition that every company should be looking to adopt.
With a simple setup process, it's practical to get your customer database working. With a couple of minutes, you're able to get access to a myriad of different services, all of them that are already included in that basic fee.
Pricing:
Free Trial for 14 days, where it's possible to use the full version of the product;
Basic plan for $15 per user per month;
Advanced plan for $25 per user per month;
Enterprise plan for $45 per user per month.
The pricing plans are completely flexible and scalable, being a possibility to up or down as per your business requirements.
Conclusion
And there you have it! our top picks for the best free CRM software for your business are available in the year 2022.
It is important to keep in mind that you may want to consider upgrading to a paid plan for your CRM software to ensure you get all the features that you need for your team and your organization.
In this list, we have tried to incorporate all types of free CRM software that provide all types of capabilities and functionalities but also offer upgrades for more advanced features.
---
You May Also Like: