Every type of organization requires the ability to share and collaborate on the same information to get things done, and that is where file-sharing apps come into play.
Without the perfect file sharing apps, this sharing and collaborating often becomes a hassle with the time required and the risk of leaking information attached to it.
That is why we have curated this list of our top picks for file sharing apps so you can make an informed decision about which software will meet your needs.
So, without further ado, here is our list for the 14 top file sharing apps for startups in 2023: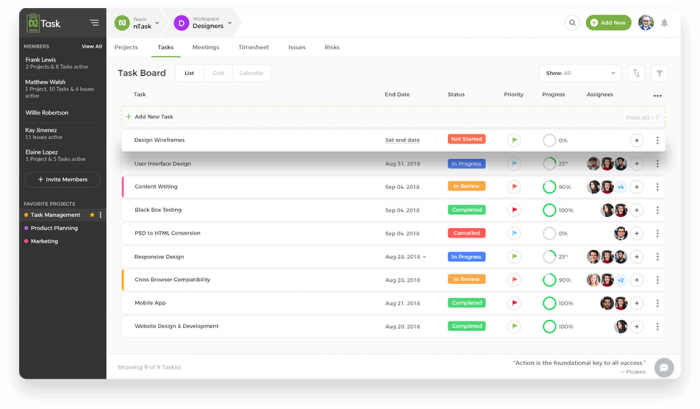 When thinking of file sharing apps, nTask first comes to mind. The software provides a single platform that helps run all your tasks and projects and is an all-inclusive project management tool.
The software also allows for stress-free online collaboration with file-sharing capabilities and is specifically tailored to your needs in mind.
With nTask, a project manager's responsibilities and activities are seamlessly incorporated, making your life all that much easier.
Share files and manage documents with nTask.

Manage all your tasks, projects, meetings, timesheets and more in one place. Sign up today!
Features:
Schedule your projects, tasks, meetings, timesheets and more

Link meetings to a particular task
Develop clear meeting agendas to keep it precise and effective
Add time to your team meetings and communicate with the meeting participants to get them on one page
Create meetings and repeat them based on a pre-defined time interval without any hassle of scheduling again

Invite your team or other attendees for easy meeting management

Invite as many people as you want from your workspace to meetings through personalized email invites
Sync meetings with your calendar

Collaborate with your team on projects, tasks, timesheets, issues and more

Jot down all the key discussion points during a meeting
Easily decide the follow-up actions that need to be taken along with a date which you need them done by
Final decisions can also be added to your nTask meetings

Track everything in your workspaces and manage your team without much effort

Convert follow-ups to tasks
Share minutes of your meeting with all the attendees
Publish meetings

nTask allows you to easily plan your projects, tasks, timesheets, etc.

Systematically create and manage to-do lists
Identify dependencies with nTask and highlight them accordingly
Set start and end dates for any particular task

Have the ability to easily assign tasks to your team and collaborate in real-time

nTask allows you to assign multiple assignees allowing quicker task allocation
Collaboration features allow you to easily collaborate with your team in real-time
Options available to attach files to your tasks

Keep track of all your task activities and updates

Track task progress with nTask's robust progress reports
Customize the status of tasks to keep everyone in the loop
Segregate your tasks into respective categories and add labels and filters for clarity

nTask provides visualization features allowing you to visualize your progress

Gantt charts allow you to schedule and track project performance
nTask's calendar allows you to plan your events

nTask allows for planning and budgeting

Options to track non-billable resources, initiatives and tasks within your project allow you to optimize your operations
flexible provisions are available for T&M costs
you can set up reminders to be sent right to your inbox for when projects are nearing project depletion.

nTask allows for tracking of your projects, timesheets, meetings, etc all in one place

Automatic web timers allow you to set recurring tasks
The nTask mobile app allows you to track more effectively and stay updated even on the go
There are also options to update time entries manually to allow you to time track according to your needs.

Reporting options

One-click timesheet report submissions are available allowing teams to submit timesheets to managers and allowing remote teams to simplify this task
Team members can manually send timesheets for approval allowing you to avoid any potential bottlenecks
Team members also have the option to correct any errors in the times reported by withdrawing the sent timesheets

Your timesheets and tools are all integrated and sharable through nTask.
Plan your entire project with nTask

Set a total budget for your project and log billable hours
Resource allocation
Easily assign a project manager
Assign distinct roles to each team member
Pricing:
Basic plan for free

Issues tracking
Timesheets
Meetings
Unlimited tasks
Unlimited workspaces
Limit of 5 members per team
100 MB storage

Premium $3 per month

Everything provided in the basic plan, plus
5 GB storage
Projects
Gantt
Bulk Actions
Custom filters

Business plan for $8 per month

Everything provided in the premium plan, plus
10 GB storage
Save custom filters
Risk management
Custom roles and permissions

Enterprise plan customizable plan

Everything in business, plus
Custom onboarding
Dedicated account manager
Dedicated cloud
2. Dropbox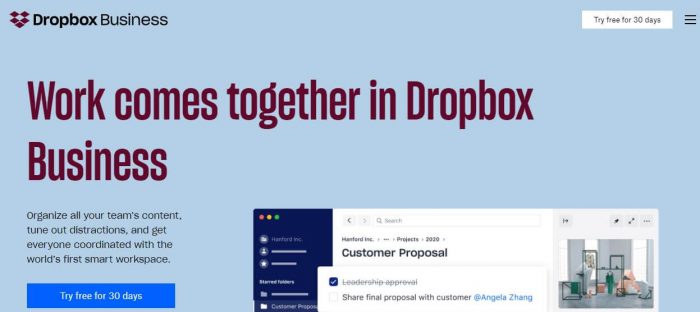 Dropbox is a cloud-based tool designed to help businesses with file sharing. The platform is popular among many as a leading file sharing and file storage system.
Dropbox allows its users both individually and as teams, to access files on secure servers from their own devices, wherever they may be.
Features:
Ability to store your files in a single space and access them from anywhere
Any changes to files or documents will sync across your accounts
Create and edit work directly in your Dropbox
Smart content suggestions allow you to easily jump back into files you need
Plan meetings with calendar integration
Starred folders allow you to highlight folders you use most often
Get notified of progress updates and other activities on your files
Integrate other tools to Dropbox
Pricing:
There are plans available for individuals and teams
Standard plan for teams for $12.50 per user per month
Advanced plan for teams for $20 per user per month
3. OneDrive

OneDrive is another file storage software, that creates a platform allowing your team to work together and share information from their respective devices, making collaboration easy.
The software provides the ability for you to organize all your work and information in a single platform and control your project and workflow.
Features:
Options to access, share and edit files from all your devices
Creates backups and protects files that are uploaded
Share files and collaborate in real-time
Large storage space available for all your storage needs
Pricing:
Plan 1 at $5 per user per month
Plan 2 $10 per user per month
Microsoft 365 Business basic plan $5 per user per month
Microsoft 365 Business standard plan $12.50 per user per month
Check it out:
Best Cloud Storages to Use in 2023
4. Google Drive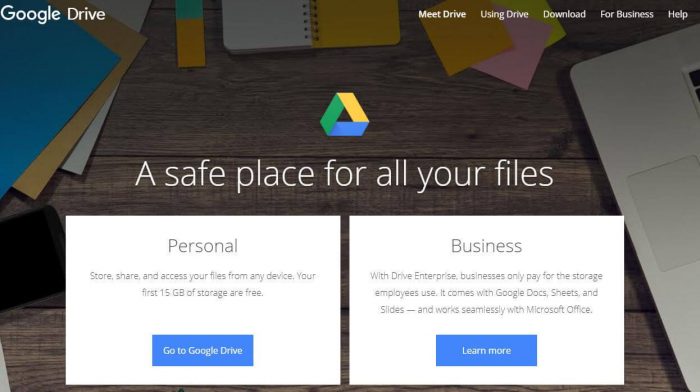 Developed by Google, Google Drive is a file storage and synchronization service and is perfect for remote teams.
Popular among many as the go-to cloud storage service, Google Drive provides its users the facility to upload photos, files and documents into the drive and then access these from any device.
Moreover, Google Drive also offers applications with offline abilities for your devices. With the software, you can incorporate Google Docs, Google Sheets, Google Slides, all of which are part of the Office Suite.
The files created and edited in the software can be uploaded and saved to Google Drive from any device and then can be accessed by your team members from their own devices.
Features:
Google Drive integrates with cloud-native apps allowing you to collaborate effectively in real-time with your team
Google Drive also integrates with other software to allow you to integrate the tools already in use with Drive for easy workflow
Search capabilities cut time drastically allowing you to find your files faster without sifting through loads of documents
Video conferencing ability
Pricing:
G Suite Essentials plan is $10 per user per month
G Suite Enterprise Essentials plan is $20 per user per month
Currently, Google Drive is offering the plans for free through till September 30, 2020
5. Box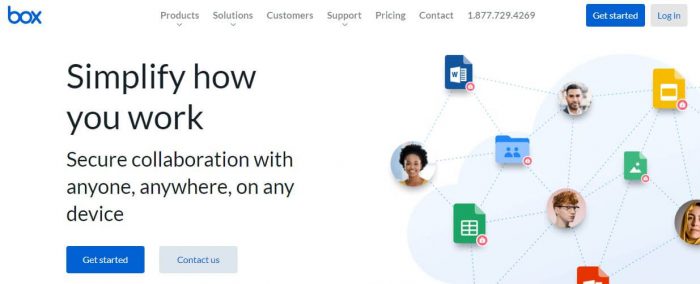 Box is basically a file-sharing software solution. The software is cloud-based file storage aimed at helping teams to store and share files, and have easy access to them from a centralized platform.
Box allows you to access the stored files or share files from any device making it ideal for remote teams and teams located in different locations.
Features:
Gives teams one platform to securely communicate and collaborate on tasks
Access and work with files all stored in Box from any device
Automate processes freeing up your time for other focus areas
Take notes in meetings, review and collaborate on project plans in real-time
Integrate with other software in use
Pricing:
Starter plan for $7 per month per user
Business plan for $20 per month per user
Business plus plan for $33 per month per user
Enterprise plan for $47 per month per user
6. FileCloud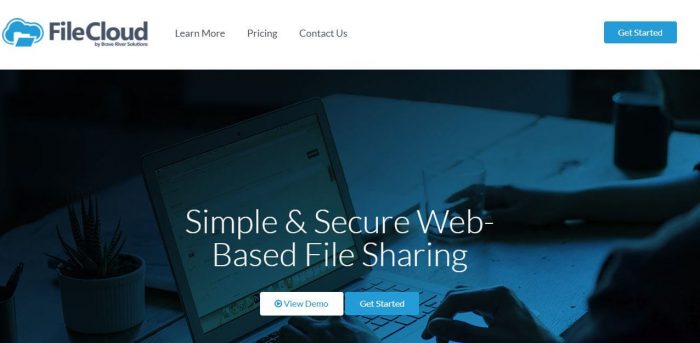 FileCloud is a web-based software solution for file sharing. The software provides you the option to save and share files on a self-hosted server or a web-based platform.
Moreover, FileCloud backs all your data so you can easily collaborate with others by giving them access to space specifically created for this purpose.
Features:
Ability to send large files
Secure web-based file sharing
User-friendly application for file transfer
Multiple permission levels allow you to create appropriate access levels for different levels of employees in your workspace
Alerts for time-sensitive uploads
Option to brand your FileCloud with your company logo
Pricing:
Level 1 plan for $129 per month for 5 user accounts
Level 2 plan for $199 per month for 10 user accounts
Level 3 plan for $279 per month for up to 25 user accounts
7. ShareFile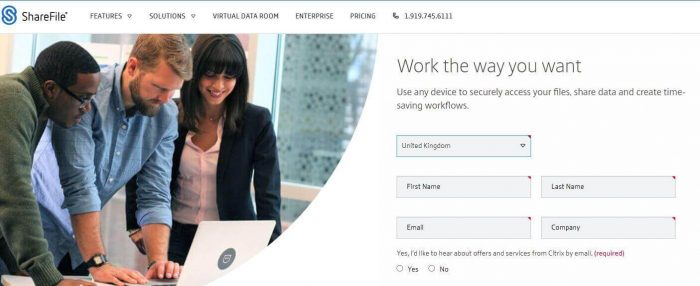 ShareFile is another secure file transfer software suite.
The software's interface is user-friendly and easy to understand, offering an array of advanced sharing features.
ShareFile aims at being the go-to file sharing option, offering both individual and professional file sharing options and capabilities able to cater to all size businesses.
Features:
Store, send and sync files without restrictions
Connect to your content, with a secure point of access to all your data from any device
Ability to collaborate with customizable workflows and Office 365 integration
Options to encrypt emails
Legally binding e-signatures
Pricing:
Standard plan for $50 per month for 5 users, and a supplementary $9.90 for each additional user
Advanced plan for $77 per month for 5 users, and a supplementary $15.30 for each additional user
Premium plan for $122 per month for 5 users, and a supplementary $24.30 per additional user
Virtual data room for $338 per month with advanced security, sharing, and control for sensitive data
8. Synology Drive
Now known as simply Synology is a tool aimed to sync files between your computer and Synology NAS.
The software allows for your important files and documents to be available from any location.
Features:
Seamless syncing and backups
Access and share files wherever you are
Collaborate on documents in real-time
Streamline cross-office file sharing
Pricing:
For pricing, contact Synology on their website.
9. Slack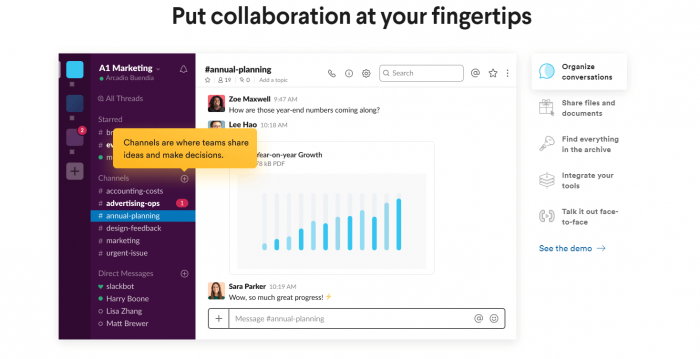 Slack focuses on teamwork through an effective understanding of the workplace.
Slack aims to help the collaboration of teams with a centralized platform so that all communication and file-sharing can take place flawlessly and easily.
Features:
Channels allow for users to remain organized and focus on the work at hand by providing a centralized space for communication, file sharing and such
Shared channels allow for team collaboration whether that be within your company or collaboration with those of another company
Communicate better with your entire team with messaging and have the option to make these conversations private.
Receive important updates, discuss them, and then go on to take necessary action all in one platform.
Workflow builder allows for you to automate routine communication and actions freeing up your time to focus on other tasks
Pricing:
Standard plan for $8 per person per month
Plus plan for $15 per person per month
Enterprise grid plan for the customizable option
Find more apps like Slack:
The 9 Best Alternatives For Slack To Ensure Effective Project Management
10. Internxt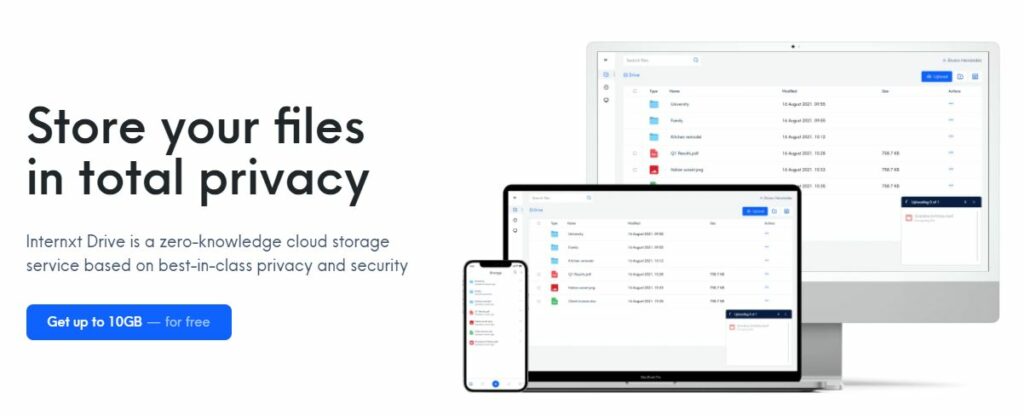 Internxt is a fully encrypted, open-source cloud storage service designed to keep user data safe and sound, well out of reach of hackers and data collectors. 
All files uploaded to Internxt's cloud are end-to-end encrypted and scattered across a distributed network which ultimately means not even Internxt can access your team's data! Internxt is perfect for companies concerned with sending files safely thanks to password-protected and encrypted sharing links with enabled share limits.
A modern, ethical, and more secure cloud alternative to Big Tech services, Internxt is exceptionally private, making it the number one option for startups working with sensitive information and confidential files.
Features:
No unauthorized access to user information
All data uploaded, stored, and shared is end-to-end encrypted
Built-in redundancy on a unique distributed network
100% Open-source and independently verifiable Git-Hub
Password-protected links allow users to limit how many times files are shared
Simple scheduled automatic backups
Fast transfer speeds and no upload or download limits
Compatible with all devices and operating systems (including Linux)
Pricing:
Free 10GB plan for all users
20GB plan for $0.99 per month
200GB plan for $4.49 per month
2TB plan for $9.99 per month
Annual and business plans are also available
11. Zoho Projects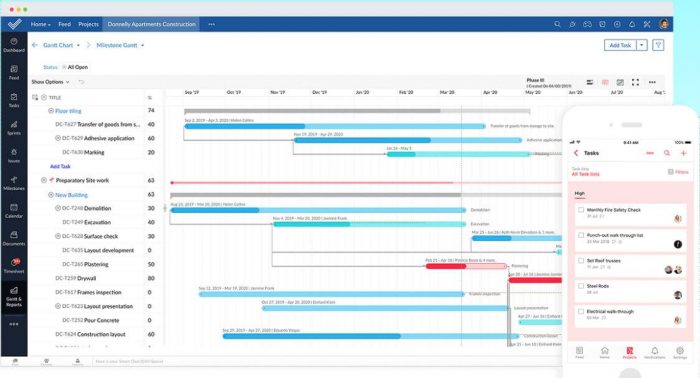 Zoho Projects is more oriented toward project-oriented teams. It ranks number 10 in our best file sharing apps roundup. The tool along with file sharing has a strong focus on project management.
Zoho provides multiple software solutions for different needs but we will focus on Zoho Projects and its file sharing solution.
Features:
Updates appear as posts in the feed. Options available to add comments to existing topics or make fresh status posts
Post queries or topics for discussions with your team
Add attachments for easy file sharing
Create public or private rooms for discussions
Set up a knowledge base to store all the information needed to run your project to help newcomer onboarding
Pricing:
Free plan
Standard plan $3 per user per month
Express plan for $4 per month per user
Premium plan $5 per month per user
Enterprise plan $6 per user per month
Related:
23 Best Zoho Alternatives to Use in 2023
12. Files.com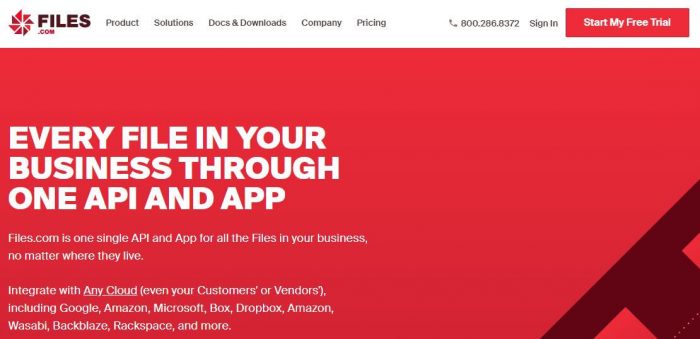 The next file sharing app on our list is Files.com. Files.com is a single API and app for all the files in your business.
The software is a file manager based in the cloud and provides file storage as well as a secure means to share files via links.
Furthermore, while providing storage space for files, Files.com also allows users to use the system as an interface to other software, therefore allowing for integration and easy collaboration.
Features:
Cloud storage, gateway and MFT
Accessible on a web, mobile, and desktop app
Share and collaborate on files with ease
Inbound file inboxes and file requests
Securely send file links via E-Mail
Low or no-code automation available
Security for your files is provided
Pricing:
Starter plan for $10 per month per user
Power plan for $15 per month per user
Premier plan for $20 per month per user
Custom plan available
13. eFileCabinet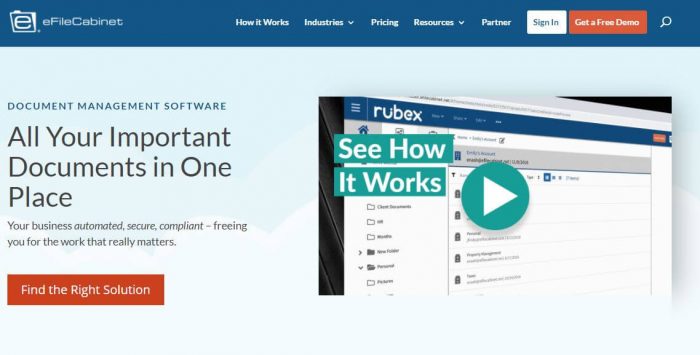 eFileCabinet is the next file sharing app on our list. The software allows for customized workflow automation and document approvals. As well as allows for file sharing and organizing with real-time dashboards.
Moreover, the software can also integrate with your other tools and applications for streamlined processes.
Features:
Portfolios for your most used documents
Folder templates
Full-text search
Automated workflows
Instant file retrieval
Browser-based interface
Encrypted file sharing and requests
Option to create role-based permissions
Pricing:
Advantage plan starting at $55 per month per user
Business plan for $99 per month per user
Unlimited plan for $199 per month per user
14. TitanFile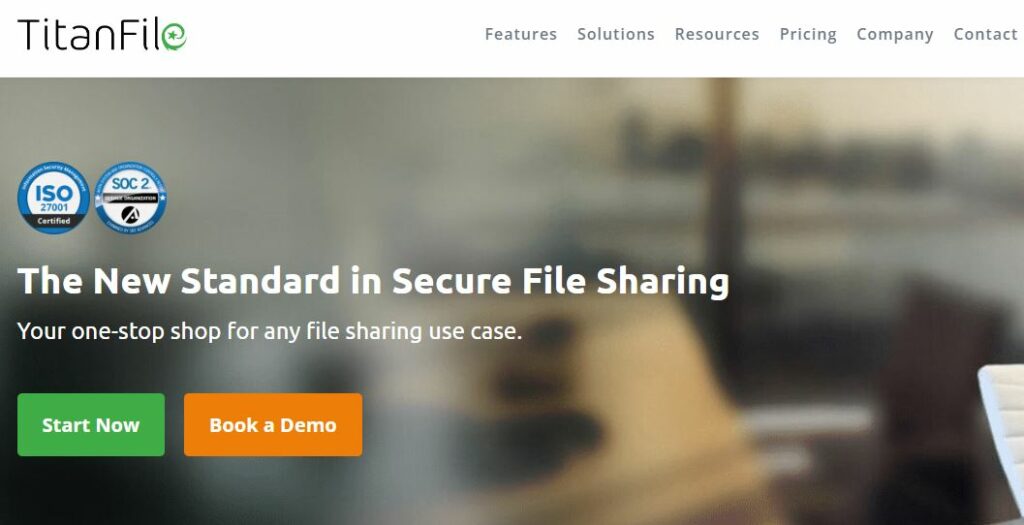 TitanFile is an award-winning secure file-sharing platform that performs as a "One-stop-shop" for businesses of all sizes. The platform makes secure client communication and large file transfers easy, fast, and secure. TitanFile's state-of-the-art security features, compliance certifications, and attestations make it one of the most secure cloud-based file-sharing software on the market.
Features:
Large file sharing, folder uploads, and unlimited storage
Access documents across all devices
Audit logs provide email delivery reports and track file activity
Automatic file encryption in transit and at rest
Collaborate and share files with clients in one centralized location
Document watermarking
DocuSign integration
ISO 27001, 27017, 27017, and SOC 2 Type II certified
PIPEDA, GDPR, and HIPAA compliant
Pricing:
Free 15-day trial with full access to features
Starter plan (2 user min.) for $18 per user per month
Individual plan for solo practitioners for $24 per user per month
Pro plan for teams for $26 per user per month
Enterprise plans (50 users min.) available for custom pricing"
Conclusion
So, there you have it, our top picks for the best file sharing apps that you need to consider when choosing an efficient way of working. We hope this list will help you in making your decision.
So, get to it, and don't forget to recommend your favorite tool in the comments section below – i.e. if it is not on the list.