Evernote is one of the popular to-do list apps that is designed to help take notes, organize and prioritize ideas, and create lists to keep productive and on track. This article will highlight the best Evernote alternatives for notes and task management.
Although the options Evernote offers can be very helpful, there are some areas where it could introduce potentially more useful features.
Some of the more prominent features Evernote lacks and which can be found in other apps include task creation and management including time tracking. For a tool that merely lets you jot down ideas without giving you options for listing tasks or monitoring progress, the price is a little steep.
Check out the following tools as your Evernote alternatives or Evernote replacement today. These can be a better deal for notetaking and productivity apps.
The 24 Best Evernote Alternatives of 2023:
Table of Contents
The Best Evernote Alternatives for 2023: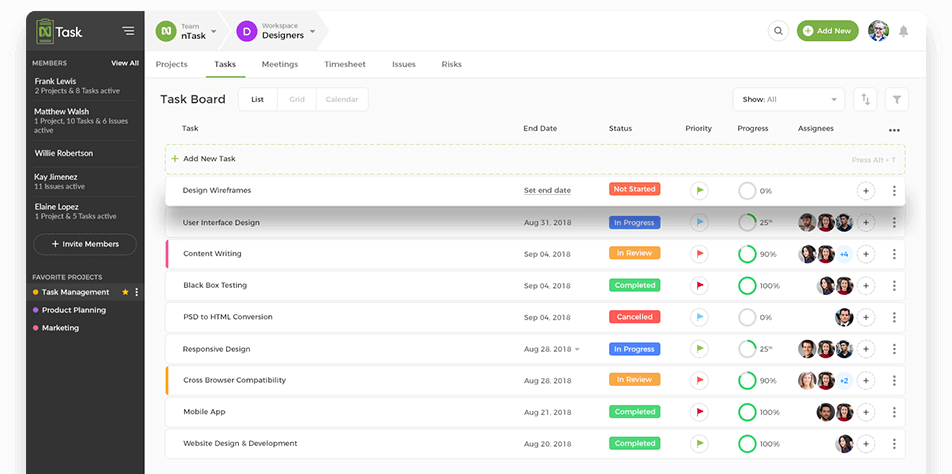 The first on our list of the best Evernote alternatives is nTask. As a task management software, this tool offers one of the best deals when it comes to the price vs value comparison.
You can use this app to work with teams or keep a track of your productivity levels. Comprehensive task and project management modules help you break down your work into easily manageable pieces. nTask is a great choice if you're looking for an all-in-one tool that works for your personal needs as well as a complete project management software.
You can take notes as tasks and assign them to project folders as lists. Plus, you can attach any kind of file, image, or document, as additional notes to a task.
In addition, you can track your progress and even share your ideas/tasks with teams and third parties. All of this is at one of the most competitive prices the app market has seen in a while.
Key Features
Here is what you get with nTask:
Task management options include creating, assigning, organizing, prioritizing, and sharing tasks with multiple statuses.
Alerts, notifications, and reminders to stay on track.
Project management capabilities that include but are not limited to creating and assigning projects, using Gantt charts, project reports, and project timelines to manage and monitor project progress.
Multiple team-specific workspaces that can be managed and monitored simultaneously.
Flexible comments including commenting on tasks to projects and converting comments to tasks using Slack.
Meeting management module including arranging and scheduling meetings (one time or recurring), send invites to attendees, add meeting details and specifying follow-up procedures.
Issue management module to facilitate the identification and listing down of issues related to multiple tasks. List down the issue along with the Issue owner and relevant details to track issue maintenance.
Timesheets management module for creating and managing team-specific sections for employee task efforts and payroll.
Risk management module helps you identify and keep track of potential risks. Arrange risks in lists and assign a risk owner in order to track risk management.
Powerful search and filter tools to search for tasks, projects, meetings, issues, and risks.
Filter option to save more frequent searches.
Two-Factor Authentication for extensive security
Third-party access.
Mobile apps for iOS and Android.
Pricing
nTask offers the following pricing plans:
Free plan
Premium starting at $3 per user per month
Looking for the perfect Evernote alternative?

See for yourself why Evernote users are switching to nTask. Create unlimited, tasks, meetings, risks, issues & more.
2. Todoist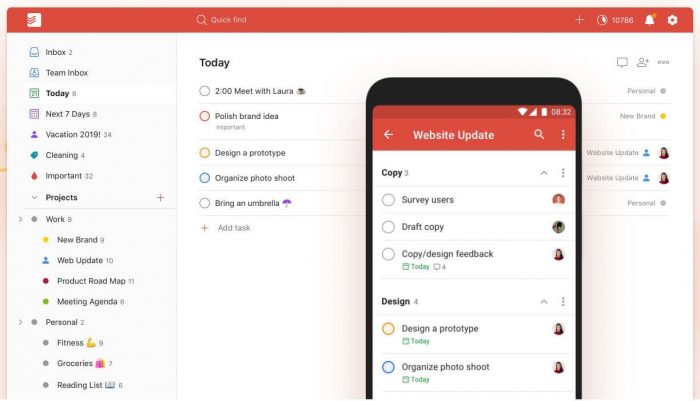 At a very reasonable price compared to Evernote, Todoist can easily be considered as a great Evernote alternatives.
Making use of a multitude of options, Todoist helps you capture ideas, and manage them as tasks and projects. You can stay organized while measuring tasks progress with visuals.
In order to help you keep going, Todoist makes use of fun features such as Karma points and levels. It also helps you save time by offering templates you can adapt instantly without worrying about the layout.
To keep a better view of the more important matters at hand, you can color-code tasks and prioritize them. Plus, Todoist is not just for personal use. You can delegate tasks to other team members to expedite the process.
Also, with automated reminders and backup of data, you do not have to worry about missing out on tasks or losing any sort of data.
Key Features
Use Todoist in the following ways to stay productive:
Centralized view to keep track of all the tasks and their progress.
Capture, organize and prioritize your tasks and projects and organize tasks.
Map out your projects and goals step by step with project sections and sub-tasks.
Assign due dates and recurring due dates to set repetitive tasks easily.
Keep monitoring the day planned and check completed tasks with and without visualizations.
Highlight important tasks with color-coded priority levels.
Delegate tasks to people.
Stay on track with Todoist Karma points, streaks, and levels.
Select from various templates to get started quickly.
Automated reminders as per date, time and location.
Automatic backup of data.
Mobile apps for iOS and Android.
Pricing
Todoist offers the following plans:
Free.
Premium at $3 per month.
Customized Business plan.
---
3. Keep and Share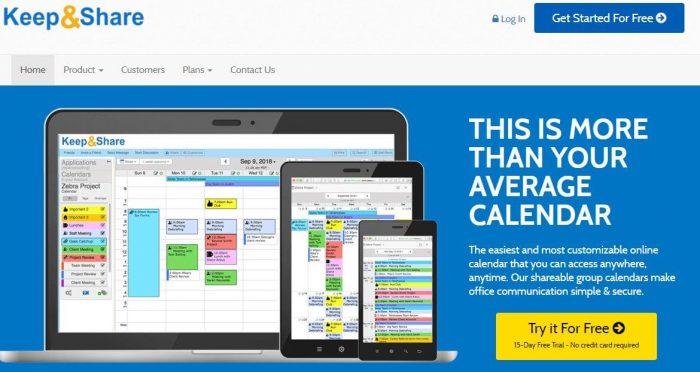 Keep and Share is another fine example of the best Evernote alternatives. This is primarily due to a larger set of features it offers and, more or less, priced in close proximity with Evernote. To begin with, you can start your day with a to-do list in the form of text, images, or other files with Keep and Share.
Neatly placed on your calendar, your notes can be written directly or uploaded. You can even collaborate on them with your friends and family. This makes it easier to carry out a combined task. The tasks can be set with multiple statuses depicting how much is left to be done.
If you run and/or manage a website, you can even embed these files there and set them as downloadable. Selective sharing of tasks ensures your lists stay discreet and your plans secure.
Discussions and sending group messages is another perk this tool offers.
Key Features
Keep and Share has you covered with the following features:
Task management including task creation with start and due dates, checking off tasks directly from the calendar, organizing and prioritizing tasks.
Directly write documents in Keep and Share's word processor, and share them.
Upload and share any type of file including Excel, Word, and PDFs through selective sharing.
Upload photos from off-site and access them online instantly.
Filter tasks in your calendar via the corresponding status with options of Current, Future, Overdue, and "Assigned to me".
Overlay To-Do Lists on your calendar (including shared lists).
Send a daily copy of your To-Do List to yourself and others.
Add files and documents to your calendar and events.
Allow download of files from your website, newsletters and more.
One comments section.
Embed your files on websites.
Create discussions online with full word-processing features.
Stay updated with email and text message notifications.
Add photos, screenshots, and color-coding to your discussion topics.
Use "Send Message" to send direct messages to group members.
Allows multiple people to contribute photos to one library or album.
Create personalized tags to group and identify photos.
Mobile apps for iOS and Android.
Pricing
Keep and Share brings you the following plans:
Basic, free for lifetime.
Solo at $9 per month.
Team with 5 plans ranging from $19 per month to $149 per month.
---
4. Casual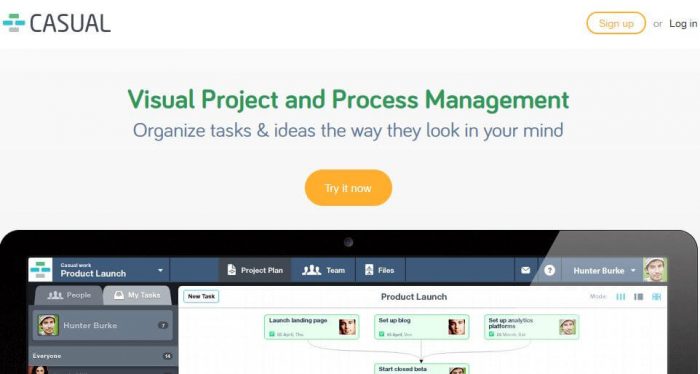 The 4th place on this roundup of the best Evernote alternatives goes to Casual. With Casual, you can do more than just take notes and share them with others.
It offers features that let you illustrate tasks to be done through visual representations. It helps you covers multiple stages of tasks from inception to planning. The best part is you can draw tasks as well as connect them with their dependent tasks through easy and effective flowcharts.
Another great feature is that without having to draw from scratch each time, you can use created tasks and snippets of existing flowcharts to create new lists.
If you are working in teams, you can easily assign the tasks to individual team members. Pick one of the pricing plans and start off with Casual for personal use and professional collaboration.
Key Features
Make use of the following features with Casual:
Manage tasks through creation, assignment, and prioritization.
Option to view tasks through lists and flowcharts
Manage project workflows via re-usable project creation, milestones, sub-processes, timelines, charts and visual project summary.
Summary reports.
Team notifications.
Team management and collaboration through messaging and file share.
Automatic backup.
SSL security.
Mobile apps for iOS and Android.
Pricing
Select one of the following plans offered by Casual:
Free trial.
Personal at $7 per month.
Group at $21 per month.
Team at $35 per month.
Department at $70 per month.
Enterprise at $133 per month.
---
5. Turtl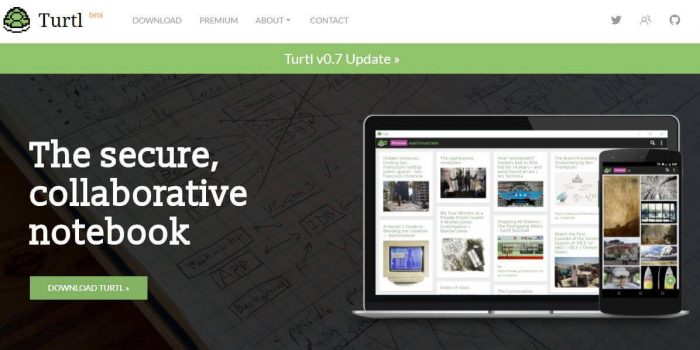 Turtl grabs the 5th spot on our roundup of top Evernote alternatives.
Turtl is more than just an online notepad as it helps you store just about anything including bookmarks, passwords, files, and lists. This all in one store is your perfect Evernote replacement especially if you are looking for a free app with a detailed feature list.
You can share lists with teams and ensure a backup to prevent any loss of information.
One of the best features is TeX math rendering, which can be particularly helpful if you are in the Mathematics domain – professors and students alike.
Also, you can write fully formatted notes in the Markdown format directly. This saves you the extra step of refining your notes into a refined document before sharing.
Key Features
Here are some of the features Turtl offers to make your life easy:
Write, organize and share notes including the option to directly write notes easily using Markdown format.
Different note types including text, bookmark, password, image, and file/document.
Attach photos, files, and documents to notes.
Search your notes with text queries or using tags.
TeX math rendering for mathematical calculations.
Multiple translations (German, Spanish, French, and more).
Keep your profile backed up with import/export.
Client-side cryptography to keep all of your data safe.
Securely share with anyone without compromising the security of your data.
Sharing with different permissions ranging from read-only to full ownership of shared content.
Full-text search, filtering by tag (or lack of tag), and sort by create/edit date.
A browser extension for easy bookmarking on desktop.
RTL text support for various languages.
Export/import your entire profile for backup purposes or to move between servers.
Semi-offline mode.
Open-source server to host your own Turtl data.
Mobile app for Android (app for iOS coming soon).
Pricing
Turtl is entirely free at the moment.
---
6. Dropbox Paper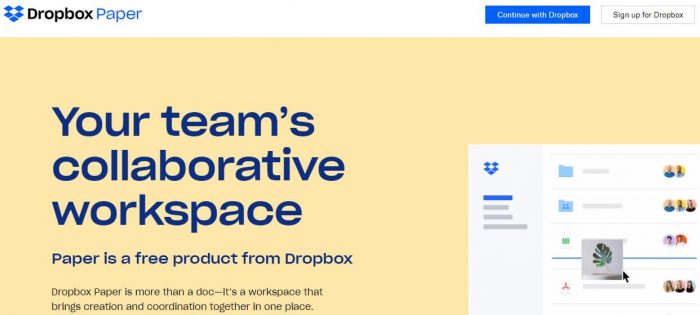 Dropbox Paper provides a neat interface and is a beautiful addition to the best Evernote alternatives. Simple to use the tool, Dropbox Paper doesn't swamp you with complicated features. It provides a shared, collaborative space to connect with your team and work on different ideas simultaneously.
Instantly invite team members and assign them to-dos to ensure accountability. You can also set due dates to define the level of urgency. Easily attach files and add comments to give more context to your document and make things clear for everyone to understand.
A fun part about Dropbox Paper is that you can add emojis to better express your feelings and give feedback with better visualizations.
Furthermore, you can connect your calendar with Dropbox Paper to keep an eye on all of your deadlines, including meetings, so that you never have to miss an update.
Key Features
Checklists management to keep track of all the work that needs to be done.
Task assignment, along with due dates to further make things clear.
File attachments, comments, and team mentions inside documents.
Emoji support to accurately depict the feelings.
Google Calendar integration to connect relevant documents needed at a particular meeting.
Attachment of any link from any website into your document.
Instant conversion of a document into a presentation for your professional needs.
Text formatting toolbar to quickly make changes to your document.
Android and iOS apps to take your work wherever you go.
Pricing
---
7. Notion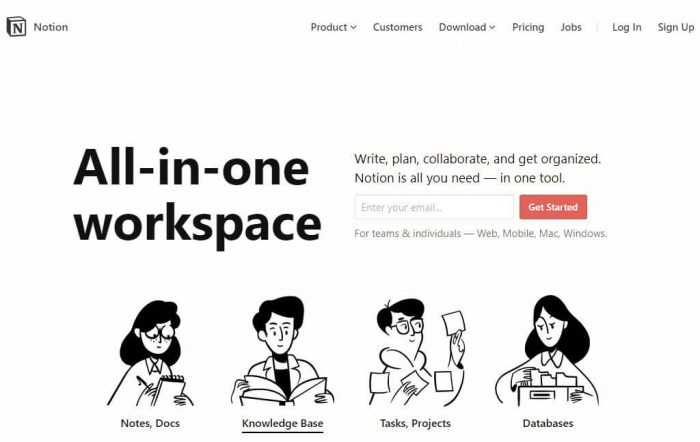 If you're looking for a powerful, all in one Evernote alternative, Notion is for you. The tool combines together multiple functionalities into a single solution, so you don't have to switch applications to get things done.
Through native templates, you can quickly get started. These templates range from simple to-do lists, notes, and drafts, to more elaborate tasks and issues. These templates give your team a head start and eliminate the hassle of building everything from scratch.
Notion also comes with a knowledge base which acts as a centralized location to store all of your critical team data to be accessed instantly whenever required. Another useful feature of the tool is the functionality of the spreadsheet. You can keep track of your workflows through spreadsheets, and use them for lightweight CRM.
Key Features
Drag and drop interface to easily manage everything.
Customizable dashboard for evaluating the project performance through charts.
Tasks and Projects management through Kanban boards, lists view, and calendar view.
Spreadsheets and databases for keeping track of workflows.
Extensive library of built-in templates.
Slash commands to perform shortcuts in one easy step.
Offline access and syncing with multiple devices.
Third-party application integrations.
Pricing
You can easily pick any of the plans according to your needs:
Free plan.
Personal at flat $4 per month.
Team at $8 per member/month.
Enterprise at $16 per member/month.
See also:
15 Best Free Wunderlist Alternatives of 2022
---
8. Bear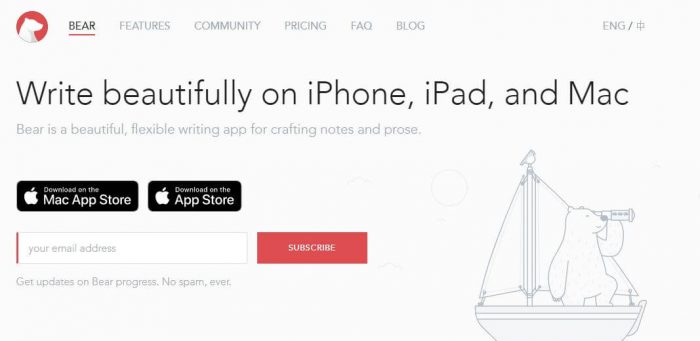 The next addition in this review of best Evernote alternatives is a beautiful tool designed for Mac and iOS devices – Bear. The aesthetically pleasing design and smooth interface of the toolsets it apart from other note-taking applications.
There are many useful features the tool comes with to help you with your note writing. For instance, the note linking functionality allows you to build a workflow, which can further be organized by assigning hashtags.
Another interesting feature of the application is that you can easily set word counts and reading times to your articles. Furthermore, you can also convert your writing into PDF or Word docs in a jiffy and share them with anyone you like.
In addition to this, multiple themes and dark and light mode allow you to customize your writing the way you want.
Key Features
Quick notes for jotting down ideas before they slip your mind.
Focus mode to concentrate only on the current note.
To-do list management within individual notes to keep track.
Hashtags for organizing tasks effectively.
Word count limit and reading times to set with your writings.
Multiple themes to match your preferences.
Different export options, like HTML, PDF, Doc, and more.
Multi-device sync to take your work on the go.
Pricing
Free for most of the application's features
Pro subscription at $1.49 monthly, or $14.99 annually
---
9. Zoho Notebook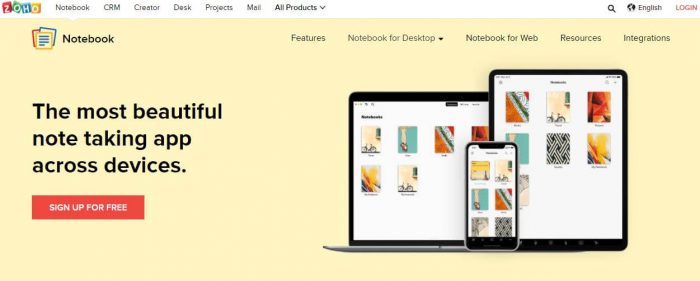 On #9, we have Zoho Notebook. It may not be the ultimate Evernote alternatives, but still has lots to bring to the table. If you're looking for a simple to use note-taking app that is free from the frustration of add-ons, Zoho Notebook might be best suited for you.
Jot down your notes easily through Text Cards and create to-do lists within those cards to further make things streamlined for you. You can also clip any text or images you find online with the Text Card through web clipping functionality.
For your meetings, lectures, or conversations, Zoho Notebook comes with a dedicated audio card through which you can easily record them. If you're using iOS 10 and above, these audios will be automatically transcribed for you to easily text-search them.
If you're prone to messier note management, the Smart Card functionality is for you. It lets you quickly add context to any type of content you save in your notebook. Saved a link to your favorite recipe? Smart Card will automatically create a list of ingredients and a step-by-step guide to execute it successfully.
Key Features
Checklists management through easy drag and drop interface.
Audio Card for recording meetings, lectures, or conversations.
Photo Card for quickly capturing moments and scanning important documents.
Web clipping feature to clip text or images with your text cards.
Sketch card for hand-written notes and visual sketches for whatever comes in your mind.
Easy adding of PDF, Word doc, and spreadsheets to your notebooks.
Cross-platform support
Pricing
---
10. Google Keep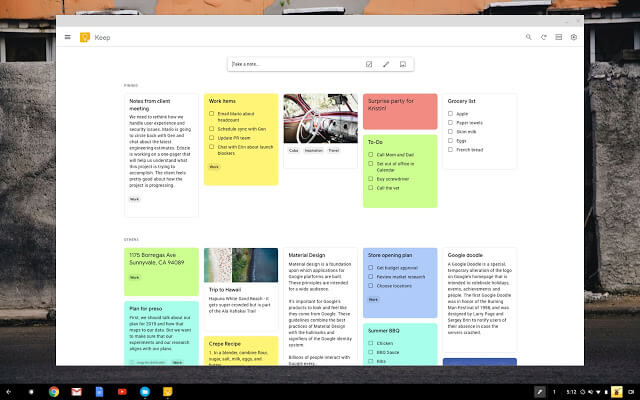 If quickly creating simple to-do lists is your forte, Google Keep is what you need right now. Although like other Evernote alternatives, Google Keep doesn't have a powerful set of features, it still passes as an easy note-taking platform.
Primarily, you can make quick lists in Google Keep which can be accessed from any device. You can write all your important to-dos, save pictures and voice notes, and check off the tasks that you've successfully done. The application is connected to Google Drive which further makes syncing with multiple devices easy.
Key Features
Instant creation of to-dos.
Lists sharing with collaborators.
Notes archiving to keep focus only on important tasks.
Reminders with each task to stay updated.
Transcribe text from the uploaded images.
Grid and list view of notes to cater to individual preferences.
Customized labels to organize tasks in a better way.
Pin important notes to keep them on top.
Audio notes for recording ideas.
Pricing
Google Keep is free for all.
Looking for the perfect Evernote alternative?

See for yourself why Evernote users are switching to nTask. Create unlimited, tasks, meetings, risks, issues & more.
---
11. Box Notes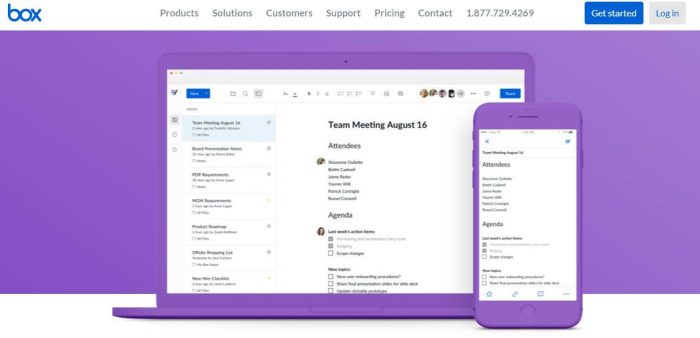 Box Notes is a real-time note-taking app from Box and is a good Evernote alternatives.
The app lets you collaboratively edit notes with your team, with formatting tools and with the capability to add comments. The app's editor is perfect for quickly jotting down meeting notes, write a newsletter or organize business reviews.
Built for enterprises, this app is a good way to record meeting notes, plan projects, brainstorm ideas collaboratively and create clear to do lists; hence it's a solid Evernote alternative. Box has a version control feature as well; users can manage to reference changes and move back to old versions at any given time.
The best part is the app has a desktop version as well. If you'd like to try it out yourself, you may signup for a 10GB free personal account with Box and download the desktop or mobile app.

Features
Free 10 GB of storage
Desktop Application
Ability to write collaborative notes
Ability to oversee Box notes usage from Box.com admin console
Versioning Capacity
Pricing
Box Personal Pro: $11.50 a month for 100 GB of storage
Business Plan Option: $17.30 a month (minimum of three users) with unlimited storage
---
12. Note Joy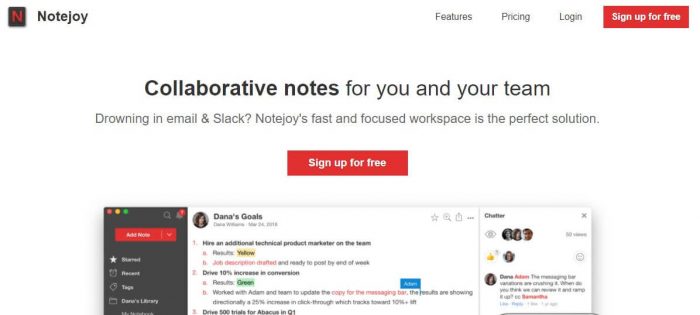 If you need a beautiful team collaboration app then Notejoy is the right Evernote Alternatives for you.
It's available on PC, MAC, web, iPhone has built an impressive set of collaboration features that takes it a level above Evernote. You have the ability to edit notes together in real-time, react with Emojis and have threaded comment discussions.
The app allows teams to collaborate productively with a focused workspace.
Features
Easy to use
You can mandate the usage for every client
You can create client logins so that they can seamlessly integrate their changes in the shape of support tickets in the app
You can keep documentation for processes in one location and keep a track that what was updated and by whom
Pricing
Notejoy pricing starts at $100.00 per year per user. There is a free version of the app as well in case you are looking for a free Evernote alternative.
---
13. Microsoft OneNote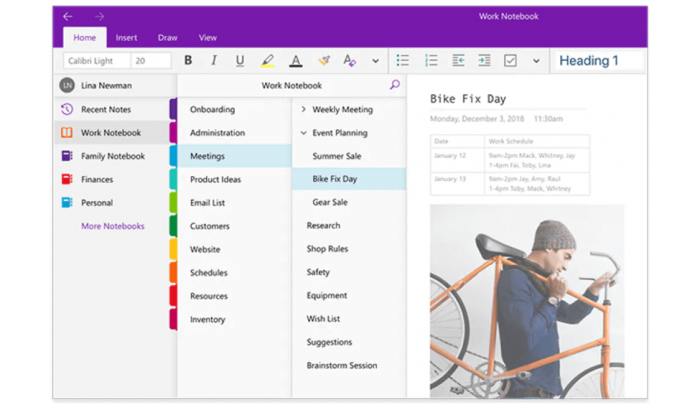 Microsoft is improving its products day by day, especially in terms of user experience. If you want to use a cool note-taking app that seems good to your eyes and simple to use, then Microsoft OneNote is a good Evernote alternative. Microsoft recently removed the premium package and makes it all free.
Microsoft OneNote is a useful personal note-taking application where you can gather, draw, organize, and share your notes with others in your loop. You can easily save and share images, videos, audio files, and notes files on OneNote which will not be that smooth on Evernote.
You can use Microsoft OneNote on Android and iOS devices. You can also integrate it with SkyDrive to make it easier to use across devices.
Key Features:
Create and organize content across notes, pages, and sections
Assign tags to your important to-do list items
Draw your thoughts with the stylus or your desktop mouse
Record audio files, download online videos as an attachment
Clip and save content with just one click
Share your notes with your friends and family, or colleagues
Pricing
---
14. Clickup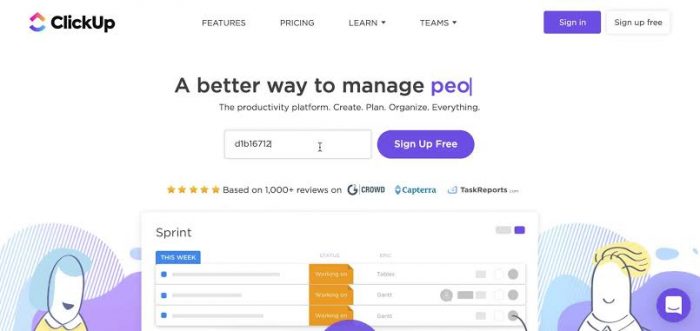 Next up on our best Evernote alternatives list is Clickup. It can work as your all-in-one application for managing your tasks, projects, and to-do lists.
Clickup is a project and task management application that can work well as your note-taking software and enables you to collaborate with your team on tasks. It is a cloud-based platform that is used by businesses across different industries. Your business can benefit from using this application for team communication, collaboration, project management, note management software, meeting management, and task assignment.
While using Clickup application for your task management and note-taking, your team can set custom notifications and stay on track to not miss out on anything on your calendar. It is a good application from managing a simple to-do list to complex projects.
Key Features:
Simple user interface
Create and collaborate on to-do lists
Task creation and management
Save your task notes and assign multiple team members
Create and share docs, task, and notes
Create custom reminders
Pricing:
Free plan
Unlimited plan at $5/user per month
Business plan at $9/user per month
---
15. Boostnote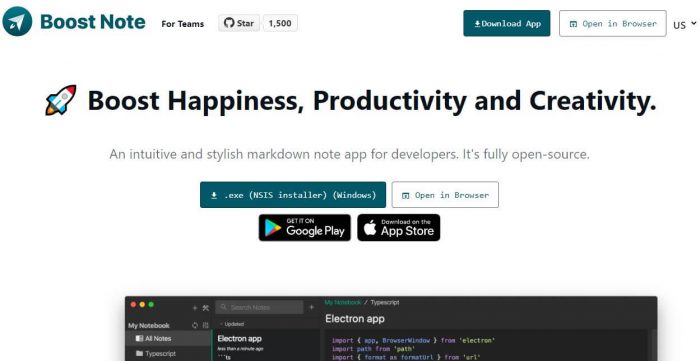 As an Evernote alternative, Boostnote has got a lot more going on than rhyming syllables. While it's true that the latter is a note-taking app, it does have a few "loose ends".
Don't get us wrong, those loose ends are part of the Boostnote pros. This one's an open-source note-taking application for programmers and developers. Boostnote devs kept it open source to help the app shine in terms of features, while competent contributors can add value to the program's code.
Having said that, Boostnote is a nice fit for developers because they are often boggled with a multitude of code snippets and ideas. For such individuals, Evernote could become a cluttered mess in no time.
Therefore, this tool seems like a nice fit for both work and play.
Boostnote is the beefier version of Microsoft One Note. PC/Windows programmers prefer using One Note because it helps them to organize their to-do-lists and program-related items chapter-wise.
Boostnote does the same, but the program is maintained for Linux/ Ubuntu systems. On that note, this app has a few main features that outshine Microsoft One Note by a few notches.
Key Features:
Built under the Electron framework, hence delivering faster response time as compared to Microsoft One Note.
Constantly open for development. Updates don't have to wait a quarter!
Code-like interface. Programmers and devs can take 'markdown' notes in the form of code snippets.
Multiple hotkeys and shortcut key support.
Comes with two UI themes – i.e. Dark, and Light for convenient user experience.
Boostnote is available for Windows, Mac OSX, Android, and iOS. However, the app's focus is on Linux users.
Pricing:
Boostnote Basic is free of cost
Boostnote Premium comes at a mere $3.00 per month.
---
16. ZenKit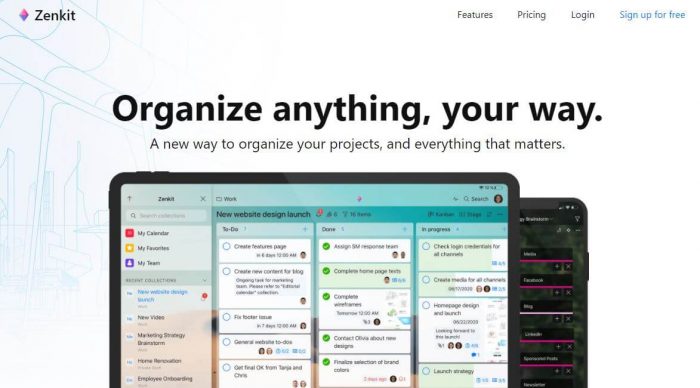 As one of the best Evernote alternatives out there right now, you can take ZenKit as an app on steroids.
ZenKit takes whatever Evernote has to offer and polishes the base features with a bundle of its own. Think about managing notes, todo lists, programs, tasks, and teams – yes, teams, at a grander scale. That's one part of the bargain.
The remainder of ZenKit armory is lined up with the ability to publish your personal ZenKit Collection on the company's website. Don't worry, privacy is a top-notch priority. Your ZenKit Collection remains safe and accessible to those that you prefer sharing with.
The one size fits all mentality is further circumvented with enabling stakeholders to interact with a project's ZenKit Collection. As a result, to-do lists, note-taking, and many other elements of PM are compartmentalized in a better, and professional way.
This app aggressively supports mobile devices. iPads users can enjoy the benefit of the split-screen feature.
Key Features:
Built on the PWA framework to encourage mobile users with a custom phone, and tablet interface.
No need for any coding skills to use ZenKit.
Integrates with Microsoft Teams, Microsoft Login, and many other 3rd party apps.
Open API for public access.
Supports notetaking, todo lists, and other project deliverables.
Supports Calendar, Team inbox collaboration and the ability to mark as 'Favorite'
Offers checklists and labels for easy project/ task management.
Pricing:
ZenKit has a free trial and Personal program at no charge!
Paid plans start with ZenKit Plus and ZenKit Business at $9 and $29 per user/ per month.
---
17. Otter Notes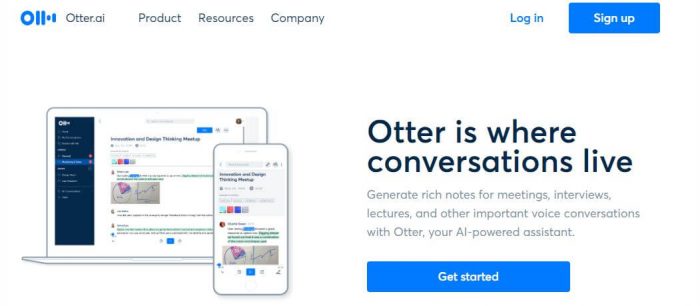 Also known as Otter Voice Notes, this app takes whatever user experience that Evernote has to offer and takes it to the next level. Yes, you guessed it right, we are talking about creating, leaving, sending, and using voice notes for you and your team.
The developers of Otter Notes reportedly believed that text isn't always the best form of conveying important information. Text messages are indeed void of the 'contextual tone' that voice messages come from. For that very reason, messages are often misinterpreted since their interpretation entirely depends on the receiver.
Other added functionalities of Otter Voice Notes vary over different forms of collaboration aspects. For instance, you can create voice notes and share them with your team to refer to. These notes can be Searched, Played, Edited, and organized as workflow evolves from one milestone to another.
Overall it is a simple, but one of the best Evernote alternatives to date.
Key Features:
Organize and sort your Otter Voice Notes by recorded dates, time stamps, file lengths, etc.
Comes with cross-platform speaker identification.
Create Live Notes during meetings for effective team collaboration.
You can also create assignees to transcript voice notes in real-time.
Contains an in-built search function for easy voice notes file allocation.
Pricing:
Otter Notes' free plan supports limited data storage and up to 600 minutes of voice notes transcription.
Paid premium plan starts at $9.99 per month alongside 6000 minutes of audio storage and transmission facility for all teams.
---
18. Tettra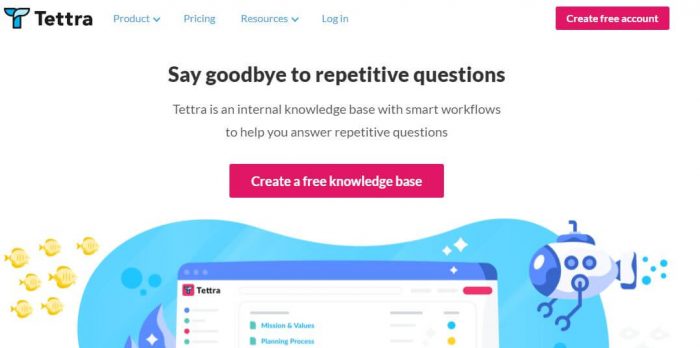 Tettra may sound like the classic game: 'Tetris', which amassed a cult-like following a few decades ago, this tool is meant for some hardcore notetaking.
Think big; think something next level. Think about maintaining notes through a dedicated company Wiki tool. That's what Tettra is.
And wait, there's more…
Companies use it to share notes, document projects and make new employee onboarding easier. The Slack integration lets you document and accesses information without ever leaving Slack, while the integrations with Google Drive, GitHub, and Zapier keep everything organized.
Key Features:
Game changer for Agile teams. All thanks to 3rd party integrations, Tettra makes it easier to communicate, connect, and manage more than just notes on the get-go.
Ideal for deep platforming.
Offers a search feature to look up important notes and conversations.
Use permissions to grant security levels to different users.
Contains interactive reports with multiple file extension support.
Pricing:
Basic free plan for up to 5 users
Scaling plan at $99/month for up to 10 users
Enterprise custom plan
---
19. Quip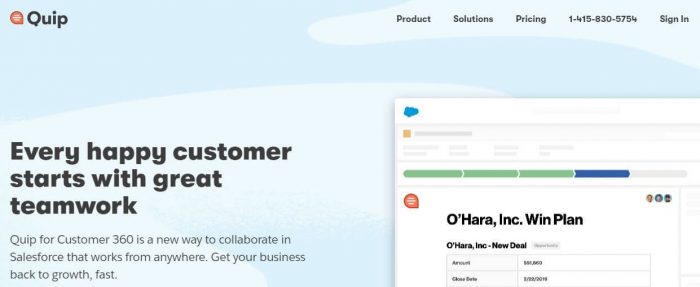 Quip is designed to make your work more organized and structured in no time. With salesforce data and a collaborative workspace, your business is bound to reach new heights.
Salesforce records will assist you in your progress with planning and automation tools. These documentation tools will also let you make critical decisions with more intelligence and intuition.
With your data being very sacred to Quip, your work is secured. Quip shield features will allow you to trust its transparency and trust.
Features:
Planning and documenting
Spreadsheets and other charts would evaluate the numbers to assist your decision-making.
Collaborative and communicative digital environment.
Streamline your workflow in a team.
Pricing:
Starter plan – $10 a month.
Quip plus – $25 per month.
Salesforce anywhere advanced – $100 per month.
---
20. CintaNote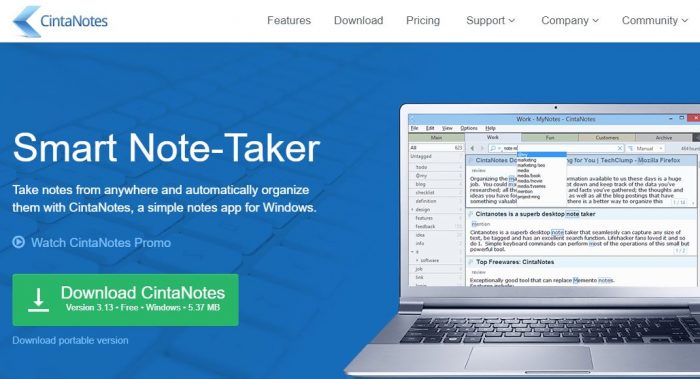 CintaNote is a smart note-taker for Windows. You can take documents and files from anywhere anytime and compose them into your CintaNotes.
You can collect the data from any application and import that file on CintaNotes to have one platform. This would make your access to all information easy and convenient. The ergonomic design is super easy to use and lightweight. It can be easily installed and the working is no hard either.
Features:
Take notes from anywhere anytime.
You can attach images to your notes for more visual application.
Synchronization on other apps is also easy.
Organize your notes into sections and notebooks.
Tagging and highlighting are other key features of CintaNotes.
You can get access to your notes offline as well.
You can also encrypt your notes with a password for security purposes.
Pricing:
Pro Plan – $39 per month
Lifetime plan – $119
---
21. Hive Notes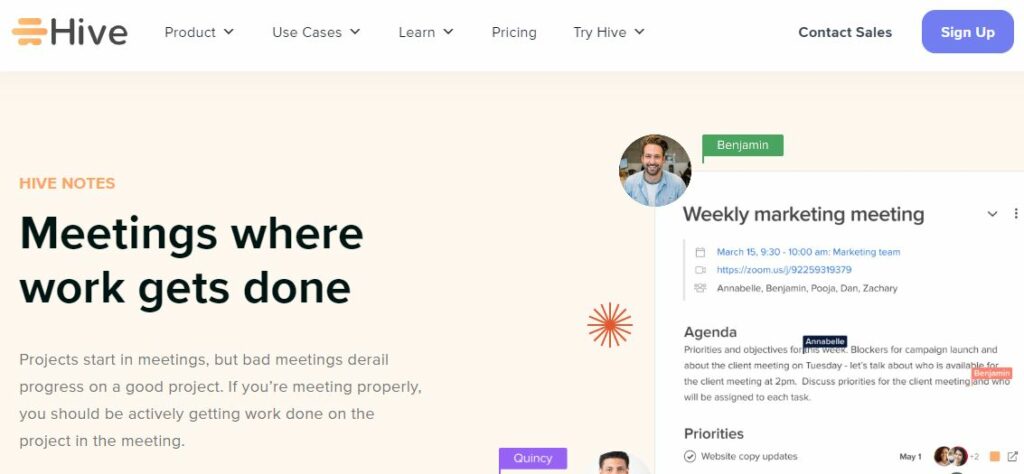 Hive Notes is a part of Hive's elaborate solutions. It offers a combination of project management and note-taking under one umbrella. You can sync your notes with individual meetings scheduled via Google or outlook calendar. You can then note essential points as soon as you enter the meeting.
You can assign tasks to different attendees and collaborate in real-time, as in Google Docs. The tasks assigned to a resource show up in "My Actions."
The app links project and task management with note-taking to streamline the whole process. You can make the whole experience more seamless by using keyboard shortcuts to navigate through the app.
Hive Notes is a great option if you are looking for an all-in-one solution.
Key Features:
Create and share notes in meetings in real-time
Share the meeting agenda to make sure everyone is on the same page
Turn notes into tasks, assign tasks to attendees, set deadlines, and define the steps ahead
Use private notes to add personal points, comments, etc.
Share your notes with everyone on the team
Offers 1000+ integrations
Android and iOS app
Pricing:
Hive Notes has the following pricing plans to offer:
Solo, available for free forever
Teams, priced at $12 per user per month
The enterprise plan is available at custom pricing
---
22. Joplin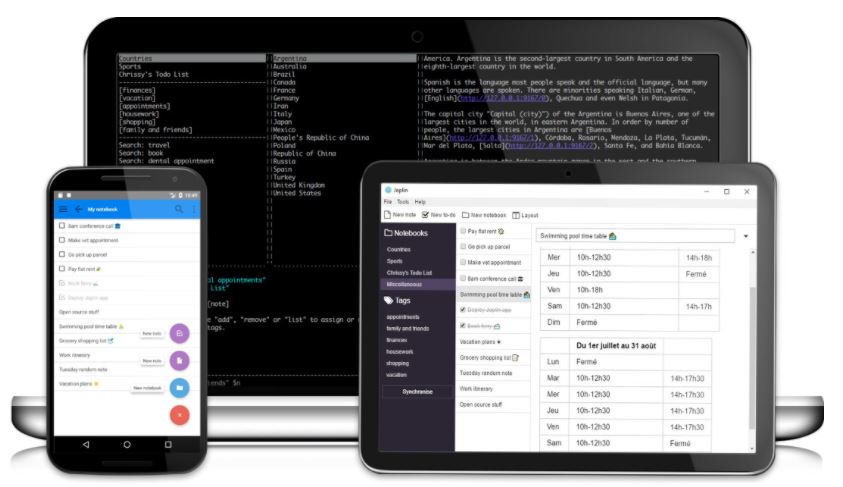 Joplin is an open-source Evernote alternative with a myriad of features for note-taking. It is a user-friendly tool with no upload limit and importing options.
You can organize your notes by dividing them into notebooks and subnotebooks. The biggest advantage of using Joplin for note-taking is that you can transfer your data/ notes from other note-taking apps such as Evernote.
You can also use Joplin Cloud to store your data at the price of $1.99 per month, with 1 GB of storage space. You can also sync your notes via Dropbox, Microsoft OneDrive, Nextcloud, etc.
In addition to simple text, you can also add pictures, videos, audio, create diagrams, etc. With its top-notch features, you can easily search for notes and copy, tag, or modify them.  
Key Features:
Insert images, videos, PDFs, and audio files
Create mathematical expressions
Capture photos and add them to your notes
Collaborate with others vis Joplin Cloud
Save web pages, etc., with the web clipper extension
Customization options with plugins, themes, and text editors
Sync notes across devices and accesses them wherever, whenever
End-to-end- encryption for security
Pricing:
Joplin is available for free. To access Joplin Cloud, however, you will have to subscribe to its monthly package, available at $1.99 per month for 1 GB of storage.
---
23. Simplenote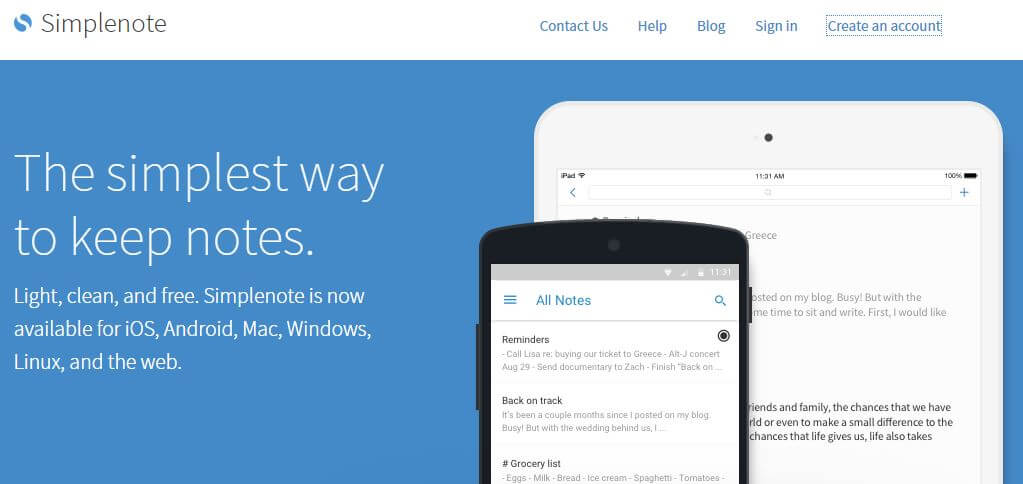 Simplenote, as the name suggests, is the easiest option for note-taking. Simplenote itself claims to offer, "The simplest way to keep notes." The best part about Simplenote is that it keeps all your notes synced across different devices, be it iOS, Android, Linux, MAC, or Windows.
Its search and retrieval features are quick and efficient. You can easily find your notes with search tags. Simplenote instantly displays a list showcasing the relevant results.
You can also share your notes with others and invite them to co-author or edit your notes with you.
If you are looking for a simple Evernote alternative with only text-based notes, then Simplenote is the right option.
Key Features:
Sync notes across devices
Add search tags for quick and easy retrieval
Supports Markdown format
No limit on storage
You can publish your notes publicly
Shows a notes list on the left sidebar
Pricing:
Simplenote does not cost anything. It is completely free.
---
24. Ulysses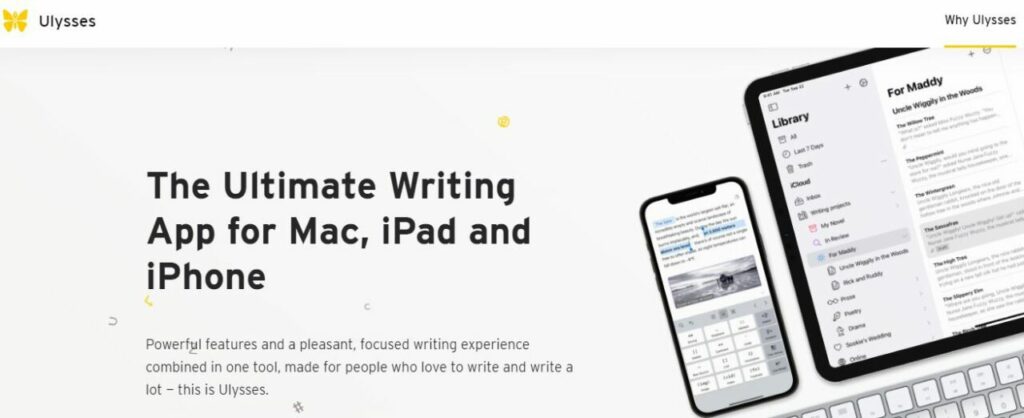 Ulysses is our next choice for the best note-taking app. The online app offers smooth and efficient features that can help reduce stress and improve organization. 
Specifically designed for Apple users, the app is user-friendly and allows for easy storage and management of notes.
With its intuitive interface, Ulysses makes it easy to create, edit, and organize notes, documents, and other content.
One of the key features of Ulysses is its robust organization system, which allows you to group your notes into folders and subfolders, and tag them for easy searching and sorting. This makes it easy to keep track of different projects and ideas and to quickly find the information you need.
Additionally, the app integrates with third-party apps, making it easy to share information with team members.
Key Features:
Built-in proofreader
Editing assistant
Turn text into PDFs, word documents, etc.
Monitor writing behavior
Syncs across devices
Pricing:
Users can download the Ulysses app at $39.99 per year or $5.99 per month.
Which is the best note-taking app for students?
When it comes to the best note-taking app for students there are plenty of options available in the market. Finding the right tool, however, largely depends on students' requirements, and their personal preferences.
Some popular options available on the internet include:
Evernote
OneNote
Bear
Notion
Simplenote
All of these apps are loaded with efficient features and a variety of solutions that make it easy to create, store, organize and manage notes.
If, however, users are looking for all-in-one project management and note-taking software then nTask should be your first choice. The app is a robust solution for all your management needs, from note taking and project management to time tracking and data visualization. With nTask, everything is available on one platform.  
What is the best Evernote replacement?
While Evernote is a widely popular note-taking app known for its robust organization and productivity features, it may not be the best fit for everyone's needs.
Some users may find that they need more specific features, a different user interface, or better pricing options. If you're looking for a tool that offers similar or better features than the Evernote task management solution, then there are several alternatives you can consider. Apps such as OneNote, Google Keep, Notion, Bear, and Simplenote are among the best Evernote replacements available on the internet. 
These apps offer similar features such as organization, note-taking, and collaboration options but with different pricing plans and user interfaces.
If, however, you are looking for an all-in-one Evernote task management project management and note-taking replacement then nTask is the app for you. The app offers everything you need for clean and organized note-taking, project management, and much more.
FAQs
What is better than OneNote task management?
Microsoft OneNote is a popular note-taking and organization tool, but it may not always be the best fit for everyone's needs. Some users may find that they need more robust task management features or OneNote task management may simply not be the tool that fits their requirements. 
If you're looking for a tool that offers better task management than OneNote, there are several alternatives you can consider, including apps such as nTask, Todoist, Trello, and Notion.
Ultimately, the decision rests on users' shoulders but these apps are a one-stop shop for task management, note-taking, and much more. 
What are the benefits of using project management and note-taking software for students?
Using project management and note-taking software can be beneficial for students in myriad ways, including
1. Organization: By using a tool for note-taking and project management, students can easily organize and structure their notes, assignments, and tasks in a way that makes sense to them.
2. Time Management: These apps can help students set deadlines, prioritize tasks, and manage their time more effectively.
3. Collaboration: Many project management and note-taking software offer collaboration features that allow students to share notes and work on group projects together.
4. Monitoring: Project management software helps students monitor their progress and stay on top of their tasks and deadlines.
5. Less Stress: By having all their information and tasks organized in one place, students can feel less overwhelmed and stressed out, ultimately leading to better performance.
Also read: