No matter what task you are undertaking, you need a solid plan to back up all the steps in the process. Having a firm and reliable plan means you have laid out a blueprint of the whole process and are fully armed to counter any situation that poses a threat to the successful progression of your task.
Much like any other process in the business arena, event management requires a detailed plan that outlines every phase of the event. It takes meticulous planning and careful attention to detail to make sure every bit of the plan is prim and pristine.
The arduous task requires a lot of manual labor, fortunately, times have changed, and we are blessed with the miraculous invention of event planning software. These tools are a gateway to simpler and easier event planning, without all the fuss.
In this article, we will walk you through a list of some of the best event planning software in town. We also highlight some of the key features of these tools along with the pricing details.
What Is an Event Planning Software?
Captain America has the Vibranium shield, Thor has Mjolnir, Harry Potter has his magical wand; event managers, on the other hand, have event planning and management software. The tools work like magic, helping them manage activities with minimum effort and time.
An event planning software is a digital tool designed to help users plan their events with ease. The planning solutions help in a variety of ways to make sure that everything runs smoothly on D-day. Some key functionalities of these software includes:
Developing a schedule for the event
Assigning resources to tasks
Tracking progress
Budget allocation, management, and tracking
Developing a layout and much more
It has been noted that the use of an apt tool for the purpose can help increase event attendance by 20%, increase productivity by 27%, and decrease costs by 20-30%. The statistics are proof of the efficiency of these tools.
Top 7 Event Planning Software Of 2022
We have compiled a list of some of the most popular and efficient event planning software in the market. These tools are guaranteed to help you every step of the way, streamlining the whole process for better productivity.
Without further ado, let's take a look at the list of the best event management software: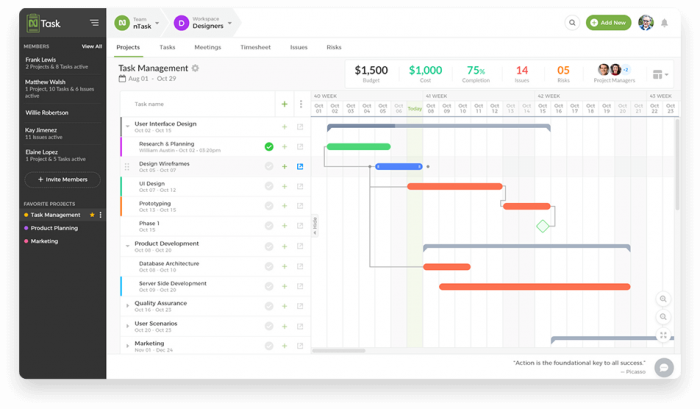 nTask is, undoubtedly, one of the top event management software and that is why it is our first pick for the list. In a very short time, the management tool has acquired praises from users all over the world. As of this moment, nTask supports 250,000+ teams, helping them manage business processes with efficiency. It has also effectively added to teams' productivity and efficiency rates.
The management tool has very quickly made a place for itself in the competent management industry. Its user-friendly interface, eye-catching design, swift onboarding process, 24/7 customer support, and affordable pricing are some of the features that make it simply irresistible.
It is a comprehensive tool offering a wide range of options for its users. nTask's suite of management solutions offers optimum features for event planning and management.
Key Features:
Divide project into tasks and subtasks
Allocate resources to tasks
Set deadlines, start, and end dates for tasks
Track your progress
View details at a glance via Gantt charts, Kanban boards, etc.
Communicate with your team via task comments
Share files, images, videos, etc.
Set priority status for each task
Workflow customization
Integrate with other apps
Notification, alerts, and reminders
Pricing:
Basic plan – available for free forever
Premium plan – $3 per user per month
Business plan – $8 per user per month
Enterprise plan – Custom pricing
Try a simple event planning tool.

Manage events, projects, tasks, meetings, and teams, all in one place. Sign up today!
2. Eventbrite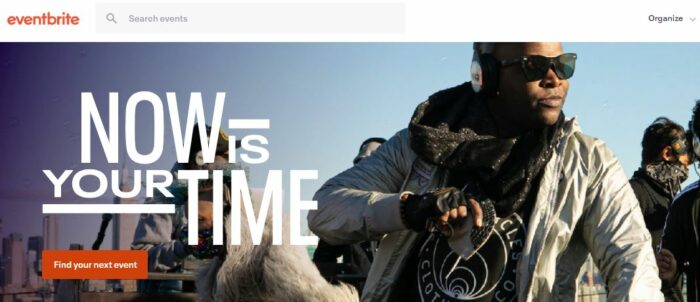 Eventbrite has landed on number two on our list. The tool is specially designed to help teams organize events with efficiency. Teams can organize small or big events with customization features.
Eventbrite is a cloud-based digital tool that helps users organize, manage and track events and attendees. The tool is an all-in-one solution helping users every step of event planning, organization, management, and execution.
Key Features:
Event creation and ticketing solutions
Sell tickets from your own website
Customizations features for event pages
Customized emails and templates
Targeted email campaigns and social media ads
organize virtual events
Engagement tools to attract attendees
Huge attendee marketplace
Analytics and reports
Mobile app
Pricing:
Essential – 2% fee per ticket + $0.79
Professional – 5% fee per ticket + $1.59
Premium – Custom pricing
3. Cvent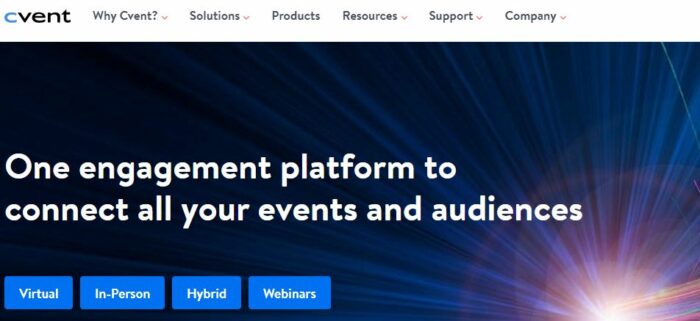 Cvent is our third pick for the list of top event management software. Cvent is an all-in-one event planning tool that helps users source event venues, develop online registration processes, manage budgets and payments, etc.
The tool handles everything from the very start of the event organization process till the end. Cvent also provides insights to help you improve the processes and hence adds to your productivity. Using Cvent for your events can double registrations, increase the attendance rate by 83% and save you 400k in virtual going virtual.
Key Features:
Organize in-person, virtual, and hybrid events as well as webinars
personalized marketing and fully branded websites
Automate promotions and communications
Manage speakers, sponsors, and exhibitors in one place
Communicate and engage in-person and online attendees
Track expenditure
Collect feedback and insights to improve processes
Pricing:
Cvent offers variable pricing plans on the basis of annual registration volume and advanced features activated
4. Boomset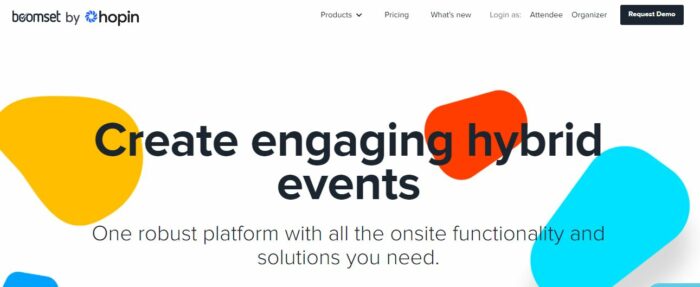 Boomset is another efficient tool designed to help users organize engaging in-person and hybrid events. The solution is a one-stop shop for all your event planning and management needs. Its advanced features cover a wide range of tasks starting from the very onset of the process till the end.
Not only does it prove helpful in event organization but also helps in attracting leads. The tool also provides foolproof security with facial recognition and RFID-enabled wristbands.
Key Features:
Event registration pages
Self-check-in available through native iOS & Android apps
Card scanning for lead generation
Entry through QR code scanning
Control access to sessions
Track attendance with RFID/UHF/NFC
Facial recognition check-in
Cashless payment
Track sales and check-in/check-out data
Attendee Analytics and Reports
Pricing:
Growth – $4000 for 1000 registrations
Business – Custom pricing
Enterprise – Custom pricing
5. Trello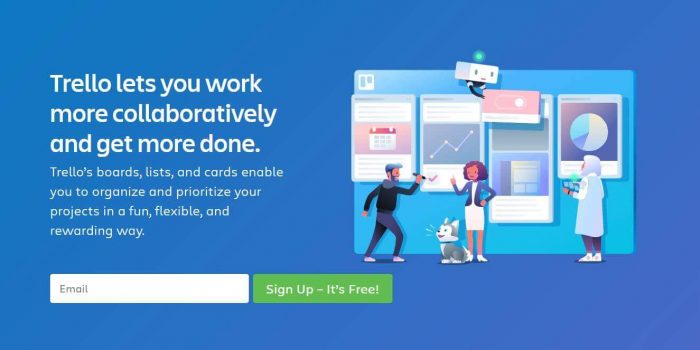 Trello is a renowned project management tool, famous for its top-notch management features. The tool is especially helpful in getting a big picture of the event and keeping everyone in the loop. It offers communication and task management features to help team members accomplish tasks within the set timeframe.
With the help of the tool, users can schedule tasks and make sure that everyone is on the same page.
Key Features:
Intuitive management features
Multiple viewing options
Use Trello cards to keep everything organized
Built-in automation tool called Butler
Integrate other tools
Manage deadlines
Allocate resources to tasks
Pricing:
Free – $0
Standard – $5 per user per month billed annually
Premium – $10 per user per month billed annually
Enterprise – $17.50 per user per month billed annually
6. Whova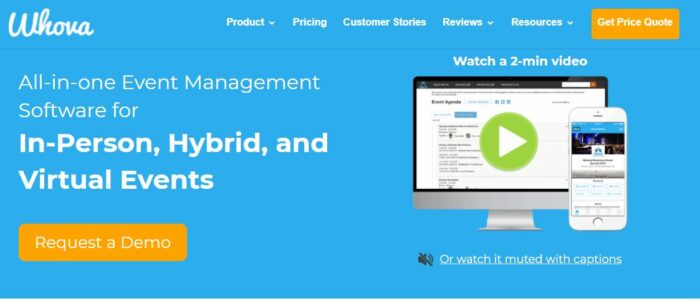 Whova is our 6th pick for the list of best event planning software. The tool offers comprehensive features for different types of events, including hybrid, in-person, and virtual events. The award-winning management event system works efficiently for various facets of event organization including event registration, marketing, and management.
Key Features:
Manage speaker information
Create name badges for attendees
Manage and track attendance
Online tool for liability concerns
Realtime polling and voting
Event activity social wall
Analytics and reports
Pricing:
For pricing information, visit Whova and request a custom pricing quote.
7. Monday.com

Monday is another top event management software and is our last pick for this list. The tool has been making rounds in the digital management market with its efficient management solution, helping teams plan, manage and execute projects without any difficulty.
With the help of this software, teams can stay connected, plan together and accomplish goals together. Monday has a solution for everything you might need for the successful planning and organization of an event.
Key Features:
200+ templates
Customizable workflows
Multiple viewing options
Work OS – collaborative canvas by monday.com
Get notifications, alerts, etc.
Workflow automation capabilities
40+ integrations
Drag and drop functionality
Searchable history
24/7 customer support
Communication and collaboration features
Pricing:
Individual – Free forever
Basic – $8 per seat per month
Standard – $10 per seat per month
Pro – $16 per seat per month
Enterprise – Custom pricing
How to choose the best event management software for your event?
While looking for the best event management software for your event, you might want a little know-how of must-have event management features. When selecting a tool, make sure that it has the following features:
Safe and featureful event ticketing
Real-time reporting and analytics
White label branding
Attendee management
Customization options
Third-party integrations
Ability to host audiences on a single platform
Conclusion
Using the right event planning and management software can take a lot of the burden off your shoulder. Not only can it reduce manual effort but also add to the productivity and efficiency of a team. With the right tool in hand, teams can organize events with precision and execute successful events easily.
That's a wrap from our side. Let us know if your tool made it to the list, email us at fwilsom@ntaskmanager.com. We would love to hear from you.
Goodbye!