In the organizational paradigm nowadays, it doesn't matter that you have 10 employees or 1,000, you don't have time to maintain the schedules of every individual because of the fast pace of the market. Why? Because it's simply too frustrating to maintain all of those varying schedules. This post will tell you about the best employee scheduling software.
Luckily, it's the 21st century and things have moved far away from those old-school time stamps which you had to monitor as a manager. You need an application. An application that would take care of all of your scheduling needs related to your company.
There are a million different options for every type of software when browsing the market, so it's very important to know which application will better suit you, your team, and your business. Here are 9 different employee scheduling applications for you to look at.
Best Employee Scheduling Software to Use in 2022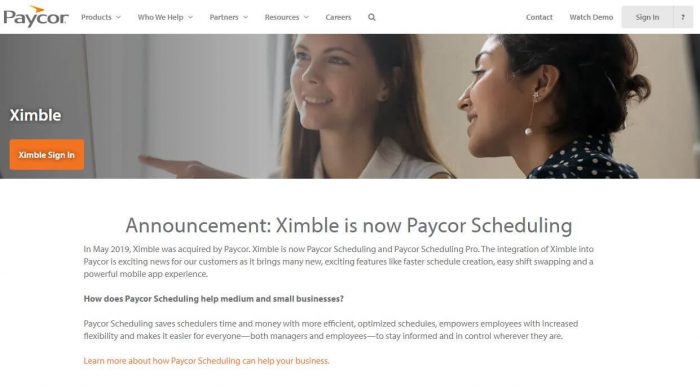 One of the best employee scheduling software in the market right now is Ximble. It covers all your scheduling needs with its easy-to-use scheduler that enables you to repeat the schedule templates for all your recurring processes.
In addition to this scheduler feature, Ximble also has a staff management feature that helps you track all of the time-off requests and availability of the team members on a specific date or time.
Key Features
Support for multiple locations and time zones
Notifications via email and text messaging
Drag-and-drop scheduling
Reports
Auto scheduler with priority ranking
Auto alerts for overtime, maximum hours per week, etc.
Overtime limits
Support for multiple currencies
Calendar sync – Google Cal, Facebook, Outlook
Shift swaps & open shift pickups
Web-based access
Mobile apps
Employee scheduling
Email notifications
Payroll export
Integrated time clocking
Support for a fingerprint scanner
Pricing
Free Trial is available
Core: $1.00/user/month
Advanced Scheduling: $2.00/user/month
Advanced Time Tracking: $3.00/user/month
Base Fee: $15.00/user/month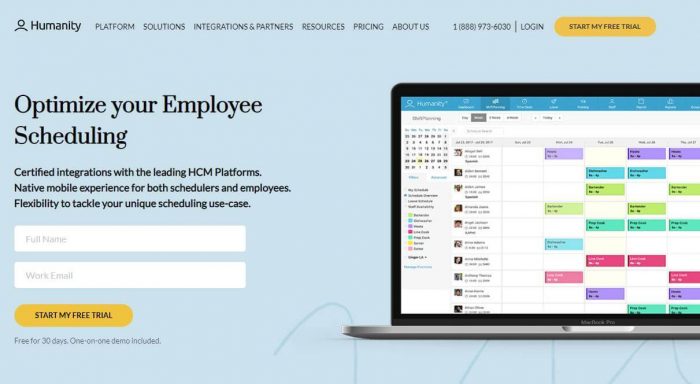 Humanity sets it apart from every other item on this list, just because of how easy and intuitive employee scheduling software.
The interface is very user-friendly from the moment you start using the application and the applications associated with it enable you to edit and check all of the schedules of your employees from any mobile device you have.
One of the best things about this platform is the Customer support which is one of the best in the business.
Key Features
24/7 access online for both Schedulers & Employees
Calendar Sync – Outlook, iCal, Google Calendar, etc.
Employee shift reminders via email, SMS, and push notifications
Intuitive, easy-to-use interface
Online and mobile time clocking
Perfect for multiple locations and departments
Shift trading
Workday Approved shift scheduling software
24/7 access online for both schedulers and employees
Centralized file sharing and staff communication
Free account setup and onboarding
Leave management
Payroll integration with 3rd party payroll providers
Real-time updates to schedules
Staff training
iOS and Android applications
Pricing
Free Trial is available
Starter: $3/user/month
Classic: $4/user/month

Connecteam offers an intuitive employee scheduling app for the deskless workforce.
Save time and effort on planning and oversee execution with Connecteam's employee scheduling software and its advanced features. With a user-friendly interface and no training needed, you and your team can get started within minutes of downloading the app.
Apart from how easy Connecteam is to use, they have a friendly Customer Support teams out there and they reply to customer inquiries promptly.
Key Features
24/7 access online for both Schedulers & Employees

Employee shift reminders via email, SMS, and push notifications

Open shifts that are up for grabs

Detailed shift information, including time and place, tasks that should be performed, additional notes, attachments, and more

Intuitive, easy-to-use interface

Online and mobile time clocking with GPS and geofencing

Full visibility with real-time status updates and notifications

Communication features for shift specific messaging boards, embedded in-app chat, employee directory, and more

Control your overall operations with color-coded status badges and message-notes of all your ongoing service calls in a single place

Easily duplicate, drag & drop, use templates, bulk actions

Real-time updates to schedules

Mobile interface for managers on-the-go

iOS and Android applications
Pricing
Free 14-day trial

Free plan

Basic: $29/month for up to 200 users

Advanced: $59/month for up to 200 users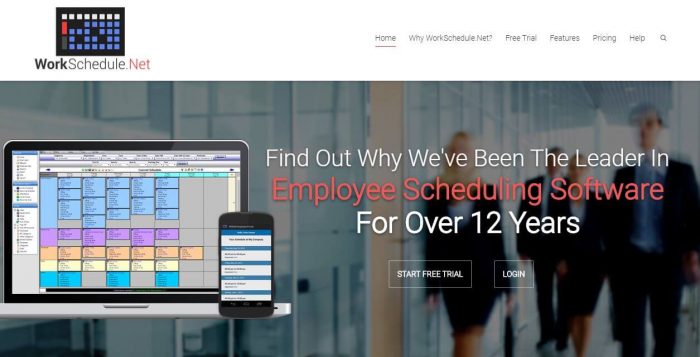 This application is the perfect fit for you if you are a fan of all of your scheduling information to be on the same page. The software allows you and even your employees to track and monitor all of the scheduling information which is updated in real-time.
One of the best things about this employee scheduling software is the time block editor that is embedded in the software and is quite incomparable when it comes to scheduling stuff three levels deep and on top of that it can schedule multiple entries at once while it goes that deep.
The application has an amazing mobile version that has a wide variety of features to take care of your scheduling needs on the go.
Key Features
Automated Scheduling
Group Scheduling
Mobile Access
Reporting/Analytics
Schedule Distribution
Shift Scheduling
Time Clock
Vacation / Leave Tracking
Employee Database
Messaging
Payroll Management
Resource Management
Scheduling
Shift Swapping
Time Tracking
Pricing
Free Trial is available
Contact the company for a price quote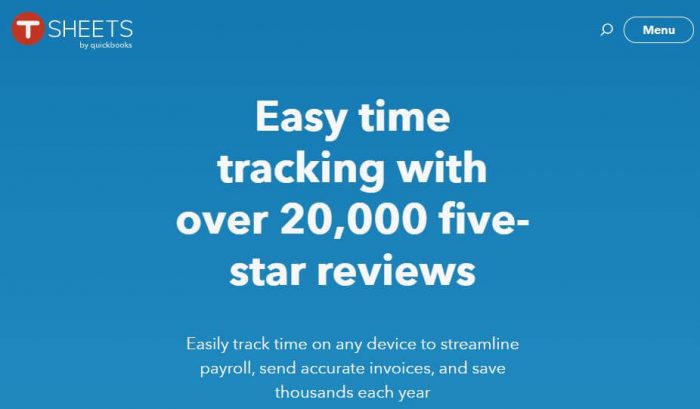 Another great employee scheduling software for your time tracking and scheduling needs is TSheets. The mobile version of the software sends out a push notification to your devices that let you know about any upcoming shifts or any updates if the shift gets changed.
It also notifies you when the employee is late, or they forget to clock-in at the start of the day. The mobile application also comes with two special features. One of the features is a GPS Time Tracker that allows you to keep an eye on the locations of the employees throughout the day from clock-in to out.
The other feature that the applications consist of is the ability to attach different attachments like pictures to the timesheets.
Key Features
Absence management
Accounting integration
Activity management
Android app
Approval process control
Attendance management
Automatic notifications
Billable hours tracking
Calendar sync with Google
Custom fields
Access Control
Activity dashboard
Activity tracking
Application integration
Assignment management
Audit trail
Automatic reminders
Biometric facial recognition
Clock in /out
Pricing
Free Trial is available
Subscription: $8/user + $20 base fee/month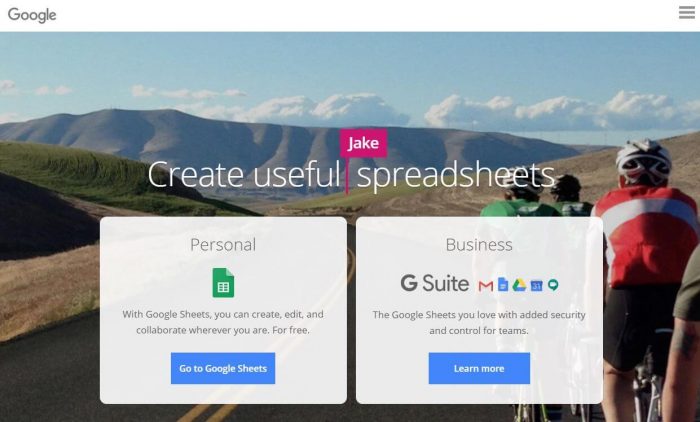 As a part of Google's family of applications, Google Sheets is an amazing scheduling tool with its pre-fixed rows and custom columns that give you an amazing array of options for scheduling.
Using this tool, you can assign a custom column to every employee working in your company and it can work well as employee scheduling software.
This will help you get all of the information you need, spread out in one spreadsheet. If you're not a fan of that, you can also assign a whole single sheet to on employee and divide the rest of the columns of the page by days of the week.
In whichever way you use the application, you can rest assured that Google Sheets will keep all of the information you throw at it, neat and easy to read.
Key Features
Create powerful spreadsheets
Templates
Edit in real-time
Explorer panel
Built-in formulas
Share with anyone
Chat & comment
Add-ons
Pricing
Free Trial is available
Basic: $5.00/user/month
Business: $10.00/user/month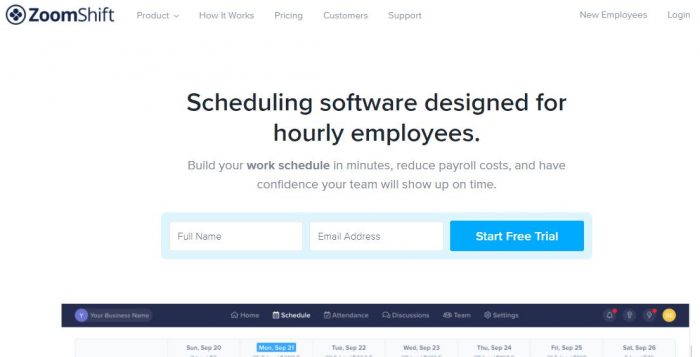 ZoomShift is an employee scheduling software designed for hourly employees. It allows for better time management so that milestones can be easily viewed and schedule work in minutes. Employees can clock-in for assigned shifts using the web time clock or mobile time clock and management can edit timesheets on the fly from the free iOS and Android apps.
ZoomShift will help you to keep your team on the same page, you can invite your team to check their schedule and manage their availability. The drag and drop schedule builder makes it extremely easy for you to create your schedule. You also have the option to share the schedule via text, email to remind your team and keep them updated.
Plus, the app communication features allow for real-time discussion between team members to increase productivity and improve the quality of work.
Key Features
Drag and drop schedule builder

Team collaboration

Share schedule via email, push, text

Track your entire schedule via phone or web

Free iPhone and Android app

Customizable time clock software and app.

Geofencing Time Clock.

Easy to use the clock in and clock out functionality.

Prevent Timesheet Errors

Run payroll faster
Pricing
Free trial of 14 days.

Starter plan is $2 per user/month.

Premium Plan is $4 per user/month

Enterprise plan is custom per user/month.

If you're struggling with attendance at your company, TimeCamp is right here to help. It's an employee schedule software focused primarily on accurate, automatic time tracking. But if users prefer, they can fill their timesheets with computer activities with few simple clicks.
TimeCamp also provides teams with robust reporting that allows them to analyze their performance and productivity improvement. Billable hours and budgeting features prevent from project overspending and streamline payroll processes.
Key features
Automatic time tracking available as web timer, desktop app, mobile app and browser extensions
Timesheets – daily and weekly view,
Reporting – templates plus customizable ones,
Project tree structure with tags for better transparency,
Guests – invite your customers to let them know how much time you spend on their projects,
Billing rates – perfect for payroll and budgeting,
Attendance module – tracks employee's vacation, holiday, sick leaves etc.
Computer activity tracking – streamlines timesheet filling
Custom user roles – various permission levels,
Timesheet approvals
Free plan for unlimited users
Pricing
Free trial available
Free plan – $0 for unlimited users,
Basic – $5.25 user/month
Pro – $7.50 user/moth
Entreprise – custom pricing
Related:
12 Best TimeCamp Alternatives (2022 Review)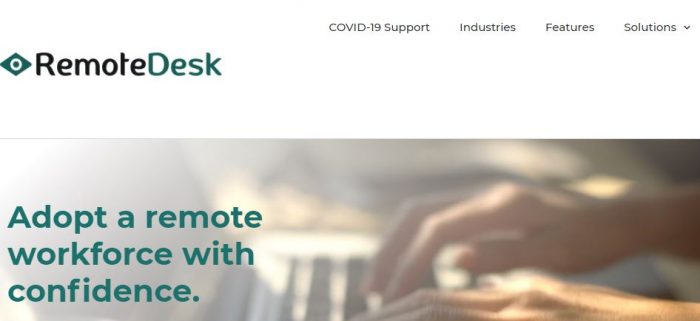 RemoteDesk, an employee monitoring software, helps you achieve remote workforce management effectively. It's the world's advanced solution that monitors remote agents, providing security, and free work-from-home compliance.
The software lets organizations secure data with real-time notifications. The RemoteDesk time tracking tool helps reclaim lost employee time. It continuously verifies employees' identities and tracks their performance, automatically alerting the supervisor of any breaches in compliance.
RemoteDesk successfully caters to legal, finance & banking, telecom, healthcare industries. The main focus to target these industries is protecting their highly sensitive data and providing a clean-desk remote environment.
Key Features
RemoteDesk is the only automated monitoring solution that continuously secures the identities of remote agents.

It can detect the use of prohibited items such as mobile phones and cameras.

RemoteDesk's Room Scan feature helps organizations enforce a Clean Desk Environment within an Agent's remote workspace.

Monitoring desktop activity is possible by way of intermittent desktop screenshots.

RemoteDesk implements AI to monitor and ensure policy compliance even when the employee is offline.

It distinguishes between idle and active time spent during a monitoring session to determine billable and non-billable hours.

RemoteDesk's desktop monitoring ability helps scan and detect unauthorized apps like spyware, malware, viruses, keyloggers, and screen readers to avoid data breaches or data threats.

It tracks applications, links, and browsers visited by a remote agent during a session.

It monitors the number of breaks an agent takes during a session as well as idle time and keystroke dynamics.

Its time tracking tool allows you to access reports that record an agent's productive and unproductive hours.
Pricing
Level 0- Nada $10

Level 1- Lite $20

Level 2- Pro $30

Level 3- Max $40
Conclusion:
Obviously, the aforementioned employee scheduling software are just a handful of recommendations that we could come up with. There are plenty more fish in the sea. If you have a top pick among best employee scheduling applications to use in the year 2021, feel free to share it through the comments section below.
---
More Readings: