We live in a digital age with new technologies emerging every second of the day. The internet penetration rate has reached an all-time high of 59%. With the increase in online traffic and internet businesses taking the world by storm, digital data has also reached a record high.
Unlike olden times, digital data is no longer limited to megabytes or gigabytes, around 2.5 quintillion bytes of data is created every day. Managing this humongous amount of data is a Herculean task. Dividing your data into different folders is no longer a feasible option, you need efficient solutions that can not only help you store data but also, manage and organize it.
Fortunately, we are blessed with a wide range of Data management software designed to help your business grow beyond leaps and bounds. An efficient Data management software facilitates your organization by providing a unified platform for data management.
As we mentioned earlier, there are hundreds of Data management software making waves around the world. However, finding the right product data management software for your organization requires careful assessment of your needs and the features offered by the software as well as the predefined budget of your company.
Here, we will walk you through some of the best data management software in the market with a brief explanation of their core features and pricing details. However, before we jump into the list of best data management software, let us understand the basics of data management software.
What Is Data Management Software?
What is data management software? Data management software is software that acts as a database for the storage of information. Its function, however, is not limited to data storage only, it plays a critical role in the integration and management of data acquired from various resources.
The insights obtained from efficient data management software can help you:
Determine the risks involved in the ongoing processes
Identify user behavior
Provide security to your data
Handle interactive queries
Unify data from different resources
Besides the pointers listed above, data management programs can come in handy while creating marketing strategies for the company. The information gathered from product data management software can help you improve your marketing tactics for more targeted promotions.
In essence, data management software offers a wide array of features for the growth and development of your business.
Types of data organization software
There are various different types of data organization software available on the internet. Here is a short intro to some of the most important ones:
Data Mining and Machine Learning Platforms: These systems are designed for advanced data analysis, such as identifying patterns and trends in large data sets.
Data Warehousing Systems: These systems are designed to store and manage large amounts of historical data from various sources. They are commonly used for business intelligence and data mining.
Data Visualization and Business Intelligence Tools: These systems allow users to create visualizations and dashboards to gain insights from data.
Cloud Data Management Platforms: These systems are designed to manage, store and process data on the cloud, and usually provide a set of services to manage data, such as data integration, governance, security, and analytics.
Big data processing and analytics platforms: These systems allow organizations to process and analyze large amounts of data in real-time.
Master Data Management (MDM): These systems are designed to manage and maintain a consistent view of key data elements across an organization. They are commonly used to ensure data quality, and consistency, and to provide a single point of reference for data.
Looking for the best data management system?
Data management software has become a need of time. With the vast amount of data being produced every second of our day, security concerns, data organization, and management have become the primary concern of businesses all over the world.
Add in the need for remote data visualization and in-depth analysis, and it becomes absolutely impossible to work on a project without cloud data management software in place.
If you are one of those looking for a tool that can help you organize, manage, and store your data then you have come to the right place. In the section below, we will be discussing some of the best, most renowned cloud data management software available in the market.
Take a look at the list and identify the tool that suits your requirements best.
Once you find the tool of your choice, do not hesitate to secure precious information and optimize your work by signing up for the tool.
However, remember that there are quite a few options available on the market, each with its own strengths and weaknesses. The best system for you will depend on your specific needs and use case. So, make sure to choose wisely!
List Of Top 10 Best Data Management Software
Over the past, data management has become a critical part of companies be it small startups or multinational organizations. The importance of organizing and storing data has made it imperative for companies to adopt data management programs.
Since there are tons of options available in the market, it can be difficult to pick and choose one that suits you best. Obviously, going through each one of them separately will not be a wise decision. To simplify the task for you, we have compiled a list of some of the most popular data management programs along with their features and pricing details.
Here is the list of some of the most popular product data management software: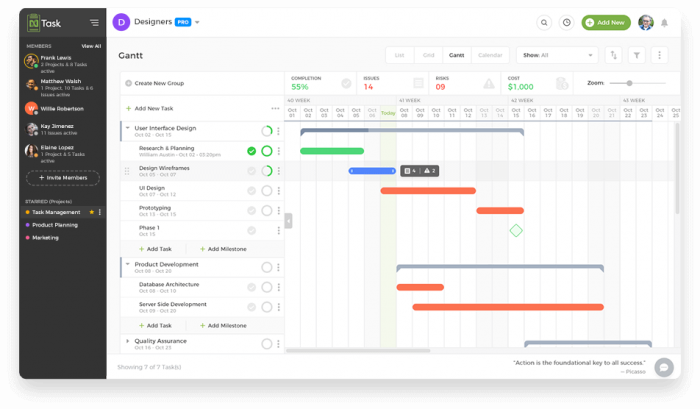 Starting off with one of the best data management software in town. nTask is basically a project management software loaded with management modules designed to help your business climb the ladders of success without any hiccups.
nTask has taken the top spot on our list because its management solutions go beyond the limits of data and encompass all the processes in a business.
nTask offers a total of seven management modules, all full of countless advanced features making your work life a piece of cake. The software can help you complete your tasks much more efficiently. It is also one of the best options when it comes to enhancing productivity and improving your work quality.
Simplify project management
with nTask today!
Even though nTask is relatively new software, it has quickly garnered the trust of some of the most reputable companies out there. As of now, nTask is helping 250,000 companies across 155 countries manage and organize their work.
With nTask, you can communicate and collaborate with your team, create and assign tasks, track your progress over time, and do so much more. nTask's virtual tools are of particular significance in data management since they offer you a visual report of all the happening taking place in your projects.
What makes nTask even better is that it offers free demos for a quick overview of the tool. Also, users can sign up for a free trial of 14 days to learn more about the software before they officially log in to the tool.
Key Features:
Create and assign tasks with set deadlines, start and end dates
Share documents with team members quickly and easily
Visual reports vis Gantt charts and Kanban boards
Use meeting module to share meeting agenda and relevant information
Tracking software helps you stay on top of your deadlines
Issues tracking helps you identify and resolve issues
Search and filters help you narrow down your searches
Third-party integrations unify your workspace for faster working
Two-factor authentication keeps your data safe and secure
Available on iOS and Android
Pricing:
Basic plan – available for free forever
Premium plan – $3 per user per month
Business plan – $8 per user per month
Enterprise plan – Custom pricing
Data Management With Ease
Using nTask!
2. Microsoft SQL Server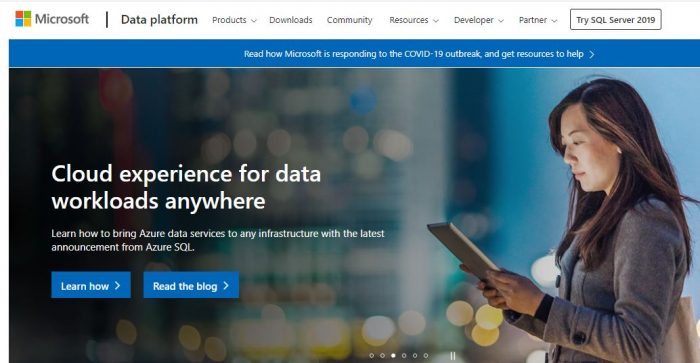 Microsoft is a strong company and it has gained the upper hand in the technological realm with its advanced tools one of which is the Microsoft SQL Server. The platform is one of the best when it comes to efficient data management.
The software can help you structure your data, query, and analyze it for more streamlined working in the future.
Key Features:
Provides insights into your business by querying across relational, non-relational, structured, and unstructured data for a bird's eye view of your business.
Open-source support allows you to choose your language and platform best suited to your requirements.
Microsoft SQL server's database is rated as the least vulnerable over the last nine years and is one of the most secure of all.
SQL Server Reporting Services help you turn data into answers using its enterprise reporting capabilities.
Power BI Report Server gives your users access to rich, interactive Power BI reports on any device.
Improve the stability and response time of your database with breakthrough scalability and performance of Microsoft SQL Server.
Allows integration with third-party apps
Pricing:
Express- $0
Web – Pricing depends on your hosting partner
Developer – $0
Standard-CAL – $209
Standard-server – $899
Standard-per core – $3586
Enterprise – $13758
3. Profisee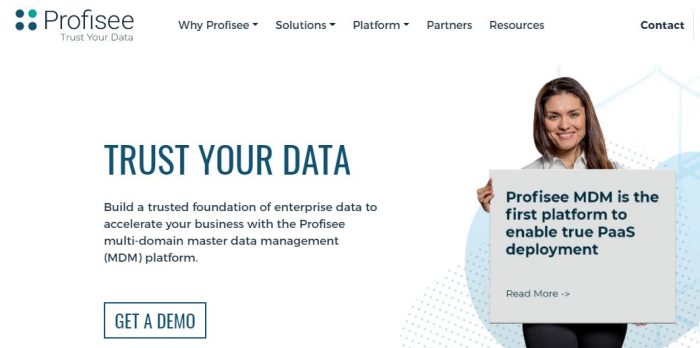 Profisee is an affordable data management solution with no compromises on the features or quality of data management. The platform has a user-friendly interface that makes the onboarding process quick and easy for professionals as well as non-professionals.
Profisee should be one of your first choices if you are looking for an inexpensive yet efficient solution for your data management needs.
Key Features:
Identify and group sets of duplicate records using fuzzy matching logic to create a distinct set of data.
Automatically create and populate golden records with the best information available across source systems.
Logically combine duplicate records, and update source systems with that same logical merge.
Define data quality rules that can identify existing invalid data and prevent new data quality issues from being created.
Easily integrate with third-party data services to standardize common data such as Businesses, Addresses, Names, Email Addresses, and Phone Numbers.
Define rules to automatically perform data calculations and assignments. Leverage third-party data services to enrich the information you already have.
Pricing:
Contact team Profisee for pricing details.
4. IBM Infosphere Master Data Management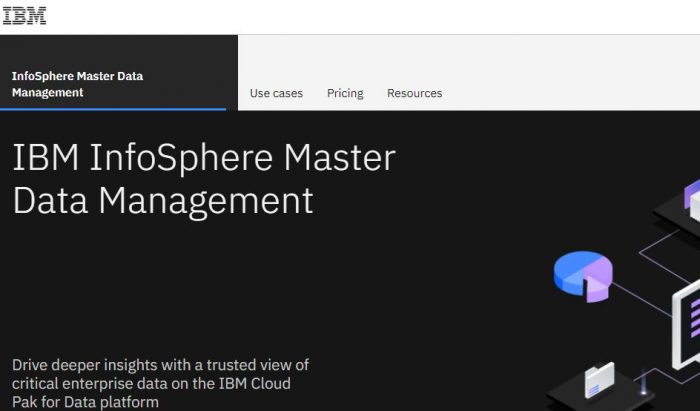 IBM Infosphere Master Data Management is our fourth pick for the best data management software. IBM is a reputable brand that has been in the technological realm for decades now. Its features are second to none and are probably the best amongst the ones in the top tier.
Master data refers to core information that moves your business, managing such a huge amount of data requires precision and accuracy, both of which are at the heart of IBM Infosphere Master Data Management Software.
The software displays all your data in a structured manner so that you can gather insights and create strategies for future work.
Key Features:
Provides comprehensive matching capabilities for reconciling data differences, giving you the most up-to-date and accurate view of data.
IBM Master Data Management for IBM Cloud Pak for Data offers you a suite of software that combines trusted master data views with complimentary services for data management, analytics, data science, and AI.
Delivers accurate, near real-time views of your critical master data
Supports a range of industries with multiple editions and deployment models
Allows users to explore and collaborate with self-service data access.
Includes dashboards and proactive alerts to monitor master data quality.
Fain flexibility with the deployment model of your choice for 360-degree customer data,
Users can explore, match and analyze data with IBM's functional dashboard.
Pricing:
IBM Infosphere Master Data Management offers different pricing plans. The pricing for Master Data Management on Cloud, Managed and Development and Testing start at $31,000 per month. Contact the vendor for pricing details on other plans.
5. Ataccama

Ataccama is another software on our list of the best product data management software. Ataccama is an all-in-one solution for data management offering a list of unique features. Its transactional environment is designed to provide you with consistent, accurate, and up-to-date data across a wide range of platforms.
The software is not only fast and reliable but also comes with a user-friendly interface that allows you to integrate your work on the platform ever so smoothly and quickly.
It is designed in such a way that it can handle large amounts of data without any gaps or misses. The platform provides quality data management solutions with efficient safety and security.
Key Features:
Unifies Data Governance, Data Quality, and Master Data Management into a single, AI-powered fabric across hybrid and cloud environments.
Automated data quality checks, monitoring, anomaly detection, and remediation
Centralized reference data management, authoring, hierarchies, and synchronization
Multidomain mastering, stewardship, AI matching, flexible data providing
Data catalog offers automated data discovery, business glossary, and data marketplace
Discover, analyze, and understand critical patterns in your data with data profiling.
Flexible data extraction, transformation, and providing.
Pricing:
Contact team Ataccama for pricing details.
6. Microsoft Azure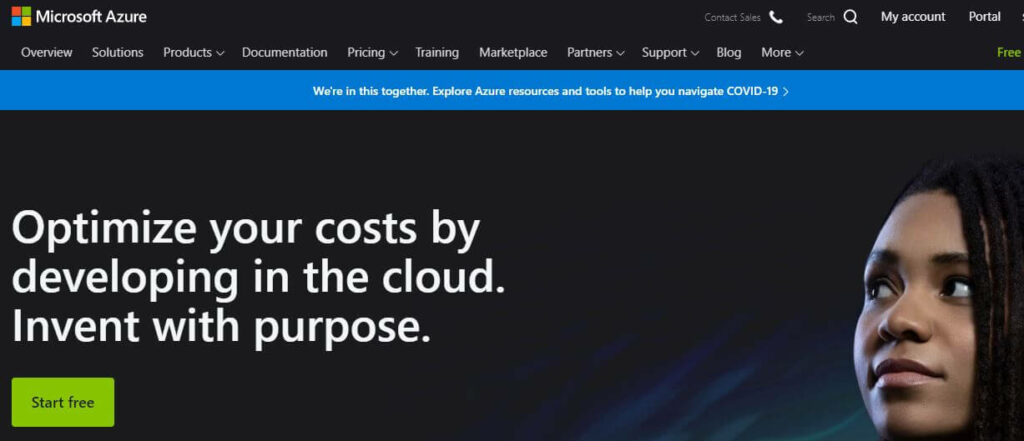 Microsoft Azure is another entry from Microsoft on the list of top data management software of 2023. The application is a cloud-based data management software that allows you to have handy analytical tools needed to store data on the Microsoft Azure cloud.
The application allows you to have multiple warehouse/ database styles with many different data tools to manage every ounce of data you have.
Here are some of the features that this incredible database management tool offers to its clientele around the world.
Key Features
Blob storage to make sure that your data is managed according to your analytics needs
Standard SQL Databases
NoSQL-style table storage options
Private Cloud Deployments
Virtual Machine-based SQL servers
The application also provides a data explorer to enable the users to perform real-time tests on substantial data streams without having to pre-process everything
Pricing
There are no predefined pricing packages for this fantastic data management software, but if you want a software subscription according to your needs and requirements, then you have to call the company and let them know what you are looking for
7. Amazon Web Services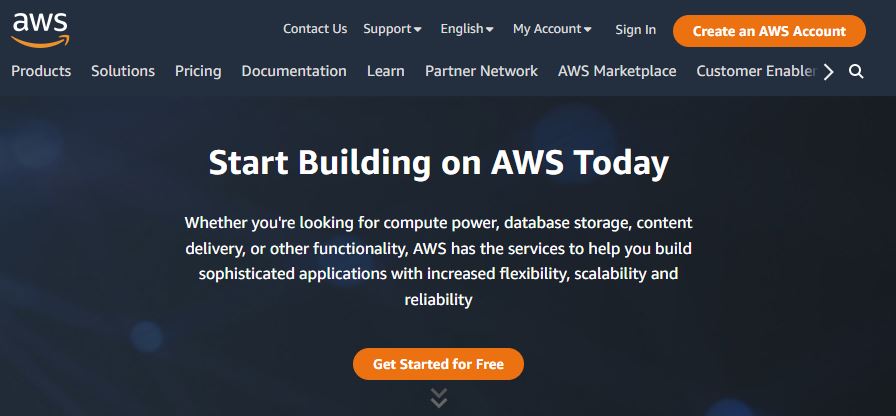 Another incredible cloud-based data management software is Amazon Web Services. This cloud data management software offers various tools that allow you to put all of your own or your company's data into a cloud-data management track.
The application is a subsidiary of Amazon that allows you to perform your own on-demand cloud computing platform computations.
You can pay for this cloud-computing platform and the APIs you use along the way on a pay-as-you-go basis.
Some of the salient services offered by Amazon Web Services are as follows.
Key Features
Amazon Athena for SQL-based Analytics
Amazon Glacier for longstanding backup and storage
Amazon S3 for intermediate storage
Amazon Redshift for Data Warehousing
Amazon Quicksight allows the user to Dashboard Construction and Data Visualization
Amazon S3 for temporary storage
Pricing
One of the best things about Amazon web services is that they offer all their services at different prices. These prices are different because they depend on your implementation of those services. So, if you want a price plan from the company, all you have to do is call them and ask for a price quote according to your needs and requirements.
8. Google Cloud Platform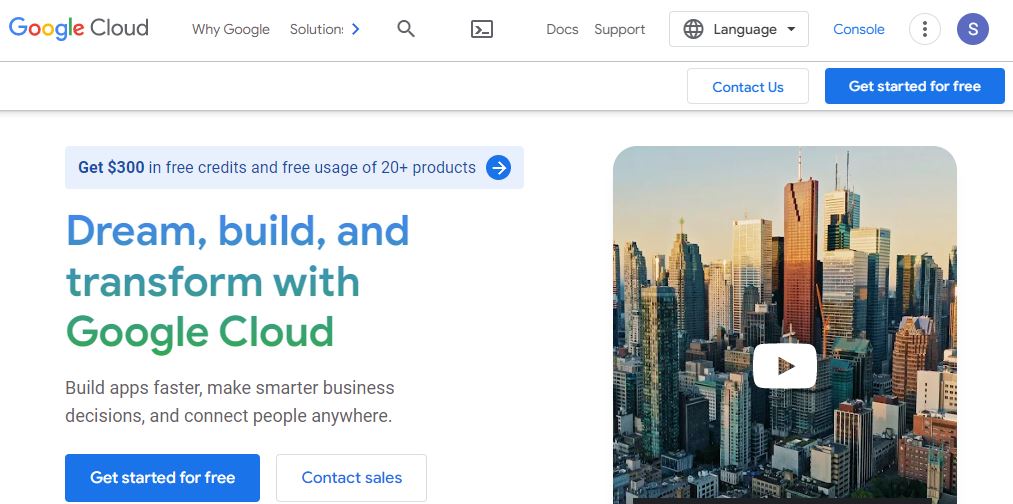 When it comes to cloud data management, one of the biggest names in the market is Google Cloud Platform. It offers various tools that allow users to easily enforce cloud-based data management for themselves and their companies.
These tools come with a workflow manager that ensures that all of the different components work together and nothing is missed.
Let's take a look at some of the features and functionalities offered by the Google Cloud Platform.
Key Features
Cloud Datalab for code-based Data Science
Google BigQuery for tabular data storage
Cloud BigTable for NoSQL database-style storage
Google Data Studio for GUI (Graphical User Interface) based analysis and Dashboard construction
ML Engine for advanced analysis through Machine Learning and Artificial Intelligence to enable users to properly embed the tools in their business so that these tools can learn and adapt according to their needs and requirements
Cloud Pub and Cloud Data Transfer for the intake of data so that the data is adequately managed and curated accordingly
Connections to BI tools like Tableau, Looker, and Power BI, so that you can easily connect different tools, and there is no need to involve a third-party application
Pricing
The tool can allow you to connect a lot of different other data sources together so that you can easily manage all of the data in one place, and if you want to purchase a Google Cloud Platform subscription for you and your business, then you need to contact the company and get a price quote
9. Tableau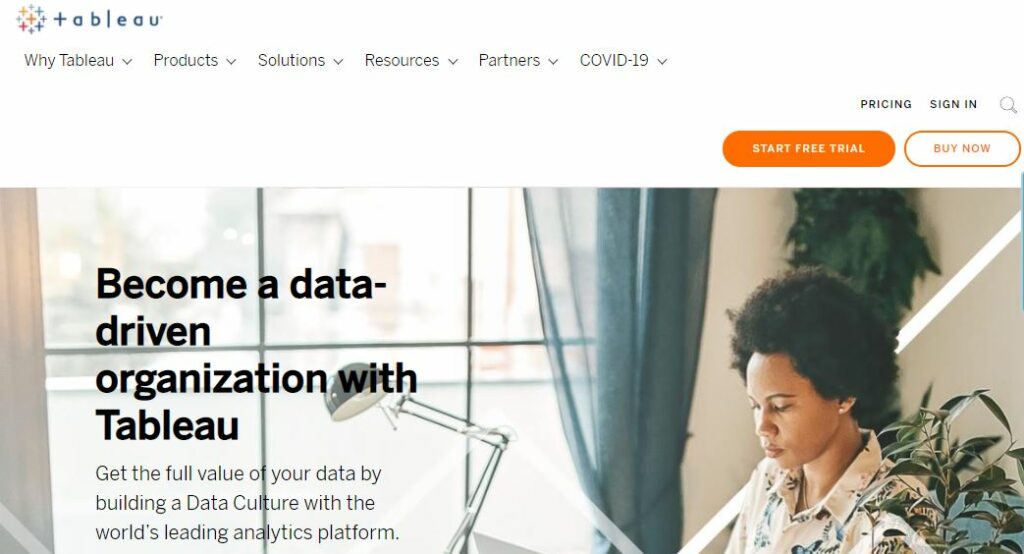 Tableau is another data organization software that allows users to visualize and better understand data. The tool offers an intuitive drag-and-drop interface using which users can easily create interactive dashboards, charts, and reports to uncover insights and make data-driven decisions.
The tool also offers advanced analytics capabilities, such as forecasting and statistical modeling, as well as the ability to collaborate and share data with others.
With powerful analytics obtained from the tool, users can make data-driven decisions that are more effective and profitable.
Key Features
Fully integrated AI/ML capabilities, governance and data management, visual storytelling, and collaboration
Built-in visual best practices
Connects to a wide variety of data sources including Excel, SQL databases, and cloud services
Interactive and visually appealing visualizations, dashboards, and reports
Advanced data analysis tools
Forecasting and statistical modeling capabilities
Share and collaborate on visualizations and analyses easily
Pricing
Tableau Creator – $70 per user per month
Tableau Explorer – $42 per user per month
Tableau Viewer – $15 per user per month
10. Razor SQL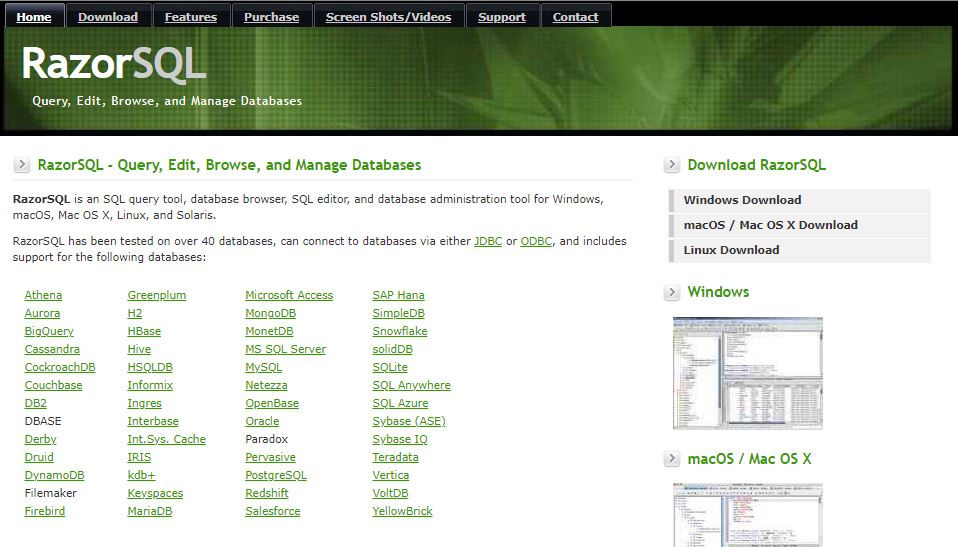 Razor SQL is an all-in-one data management solution that allows users to access and manage different types of databases. It offers a powerful, feature-rich, and user-friendly interface which makes it one of the most popular database management solutions available.
Razor SQL supports a variety of different database platforms such as Oracle, DB2, Microsoft SQL Server, Sybase ASE, Sybase ASA/SQL Anywhere, PostgreSQL, Derby (Apache Cloudscape), MySQL and more.
It provides features for both developers and administrators for controlling databases from their own desktop machines.
The software offers sophisticated tools for query optimization, database designing and versioning control. It also includes an inbuilt form builder feature which can help to quickly develop forms for entering or updating data stored in your chosen database platform with ease.
Additionally, RazorSQL includes tools like schema browsers for exploring database objects such as tables views indexes constraints etc., ER diagrams editors for creating graphical representations of your database structure and visual query builders to build complex queries without having any programming knowledge or background.
Moreover, RazorSQL has built-in support for scripting languages like JavaScript Java C# VBScript Groovy Python Ruby PHP HTML CSS Tcl PL/SQL shell scripts etc., as well as advanced editors specifically designed around these scripting languages making them work faster than ever before.
This further helps save developing time while working on web applications development projects using this software's library functions when working with dynamic websites etc.
All told Razor SQL is one of the best overall data management solutions out there that comes with numerous features that make it easy to create powerful applications quickly even with no prior experience in the field of coding or programming.
The importance of good data management applications for businesses in 2023
In 2023, good data management applications will be crucial for businesses of all sizes. Today, almost every business relies on data to function effectively. But as technology evolves and our world becomes increasingly interconnected, losing or compromising important data can have serious consequences for a company's bottom line.
Data management applications help organizations manage their data in a secure way so that it is accessible and usable across various platforms and devices. They also provide tools for extracting value from the information stored within it, whether that's generating insights into customer behavior or developing new marketing strategies. In short, good data management applications are essential if businesses want to stay competitive in the future economy.
Poor data management can lead to inefficient decision-making, missed opportunities, and lost revenue. In fact, research shows that companies with poor data governance suffer far greater financial losses than those with excellent data management practices.
Therefore, if your organization isn't already using effective applications for data storage and retrieval, you should start looking into options now. There are a number of amazing options available today, and as technology evolves so will these applications.
Top 3 factors to consider when searching for data management vendors?
Data management is a critical part of any business, and it's important to find the right vendor for the job. Here are three factors you should consider when searching for a data management vendor:
Capability – Make sure your data management vendor has the capabilities necessary to meet your specific needs. This includes having the ability to ingest, store, and process large amounts of data quickly and easily.
Solutions – Be sure to choose a solution that fits your company's unique needs. Some solutions may be better suited for processing large volumes of data while others may be better suited for managing complex queries or tracking user activity.
Pricing – Don't forget to factor in pricing when evaluating potential vendors. The cost of a solution will vary depending on how much data it can handle, how many features are included, and how frequently updates are required.
Data Management Best Practices
Data management assists organizations in enhancing their ability to amass, retain, modify, and scrutinize data while preserving the authenticity of their information.
To derive maximum benefits from data management endeavors, it is imperative to comply with the industry's leading practices.
Outlined below are three crucial pointers to build a feasible data management approach:
1. Make Data Governance and Data Quality Top Priorities
Data governance depends on setting up a consistent structure for collecting, analyzing, and sharing data across all business units.
Establishing consistent processes and expectations around handling data will ensure accurate results from analytics initiatives.
It is also crucial to have quality assurance procedures in place that check the accuracy of incoming data sets.
Without these measures, you could have incorrect or incomplete insights derived from flawed datasets.
2. Be Smart About Deploying Data Management Platforms
The right platform can be integral in managing a variety of different types of enterprise-level data solutions involving structured and unstructured files as well as big-data applications such as Hadoop or Spark for machine learning tasks.
When selecting the right platform for your organization's needs, make sure whatever you choose meets all your current requirements but also allows room for growth into more comprehensive solutions if needed in case those arise down the line.
Additionally, it's worth time to research cost benefits when looking at different options. Long-term cost savings can often be achieved by adequately vetting offerings before purchasing.
3. Be Sure You Can Meet Business, And User Needs Now And In The Future
When deploying tools, it is crucial to not just look at deploy once-use scenarios forever but instead think outside of the box and imagines ways it might need adjusting over time due to changing user needs, technological advances, security concerns, etc.
If changes are going to be needed, then make sure whatever system you choose allows you to respond quickly instead of having superfluous steps that require manual workarounds, which could lead to more mistakes, ultimately defeating any gains made through automation initially.
This means looking at the overall architecture involved, including integration points, cloud environments, workflow setup, etc.
FAQs
1. What are the different kinds of data management tools available today?
There are many different data management tools available today, and they all have their own strengths and weaknesses. Some of the most popular include spreadsheet software, database management systems (DBMSs), applications that help you organize your files by type or category, dashboards that provide easy access to data across multiple platforms, and content marketing automation tools.
2. What is the Best Data management software available?
There are a variety of data management software currently available on the market, and it can be difficult to decide which one is best for your needs. Some common features that different software may have include: backup, encryption, analysis tools, tracking systems, and reports.
The best date management software currently available is nTask.
3. What are the best features of enterprise data management software?
An enterprise data management software should have all the features essential for managing large amounts of data within an organization. Some of the best features of enterprise data management software include:
– Scalability
– Data integration
– Data quality and governance
– Data security
– Data warehousing
– Data visualization
– Workflow and collaboration
– Support for multiple platforms and devices
– Customization features
– Robust support and resources
4. What top data management tools are best for my business?
The best data management tools for your business will depend on your specific needs and use case. That said, there are quite a few options that may cut close to what you are looking for in top data management tools. Here is a look at some of these:
1. nTask
2. Tableau
3. Amazon Web Services
4. Microsoft SQL Server
5. Microsoft Azure
5. What type of processes should one adopt regarding data quality assurance? 
It is vital to have quality assurance procedures that check any incoming datasets used to ensure accuracy within any analytics initiative launched by an organization using said dataset.  
6. Are there guidelines available related to cost benefits when selecting database platforms?
Yes – it's valuable to research the long-term cost savings potential associated with database platforms before deployment, along with understanding what capabilities exist – allowing one to prepare their database deployments better to meet future demands without additional costs being incurred down the line.  
What are the five genuine data types?
The five genuine data types are numbers, strings, Booleans, objects and arrays. Numbers represent numeric values in a program and can be either integers or floating-point values. Strings are sequences of characters that provide text-based information. Booleans refer to logical true or false values which can be used to control the flow of a program. 
Objects are collections of data that have individual properties and methods associated with them while arrays store multiple related items in an indexed manner so they can be easily accessed. 
Numbers are fundamental components of many languages as they provide computable values to equations and mathematical logic operations. They can be defined as either integers (whole numbers) or floating point (decimals). Integers range from negative infinity up to positive infinity with no decimal places whereas floating point will contain decimal places when written out using standard notation such as 1.0 for one whole unit.
Conclusion
In summary, compelling use cases utilizing high-quality data require careful planning plus sound execution strategies deployed throughout an entire organization, so all parties know exactly what they're getting into before committing resources towards larger projects involving large amounts or sensitive datasets.
Not doing so could lead to unknowingly costly mistakes further down the line resulting from incorrect/inaccurate usage/integration points therein, leading to 'more than' undesirable consequences downstream, such as reputational damage, among other things beyond just financial derivatives lost along the same journey.
We have just given you a rundown of some of the most efficient platforms for data management. All these options are packed with features that can not only help you manage your data but also, enhance your efficiency in overall working.
When making your decision make sure that the one you choose aligns with your requirements, suits your preferences, and is in line with your budget. With strong software at hand, you will be ready to conquer the business world without any fears.
That's all from our side. Best of Luck!
---
More Readings: