An efficient dashboard software at hand can completely transform the way you do business. With precise metrics obtained from the software, you can make wise decisions about the future of your business. It can also help you identify bottlenecks in the processes and bring a drastic change in your performance.
We are here to talk about dashboard software, ideal features, and advantages of good software, and the best dashboard software of 2022.
What Is Dashboard in Software?
Dashboard software refers to a tool that specializes in gathering data and displays it in an organized form. The software measures Key Performance Indicators (KPIs) and offers insight into the business. With the data obtained from the company dashboard software, companies can measure their performance and introduce changes wherever necessary.
The tool gathers data, tracks your performance, organizes the data obtained, and presents it in customizable visual displays. Additionally, with the help of such a tool you can easily observe the latest trends, the ups and down in your business, and potential threats that may hinder your progress.
All in all, dashboard software is your key to simple and easy data summaries, with the help of which you can enhance your company's performance.
Ideal Features of a Good Dashboard Software:
It can be difficult to choose a dashboard software for your company especially when you are unaware of the specifics of this software. We have compiled a list of some of the most important features that should be a part of the software you choose:
User-friendly interface: Having an easily adaptable, user-friendly interface guarantees quick and easy onboarding. Not only can it save a lot of your time but also help you quickly familiarize yourself with the working of the software.
Editable Templates: Having prebuilt, customizable templates can make the development of a personalized dashboard a piece of cake for you, especially if you are a newbie.
Multiple display options: No matter what software you chose, it should offer multiple display options i.e., visual charts. The availability of this chart means you can choose the visual chart that best suits your business and have your data displayed on that chart.
Integrations: This feature will make sure that your workspace is not scattered on different platforms. Integrations with other tools unify your workspace to help you save your time and effort.
Multiple fields: You might need to personalize your dashboard to gather more data, having the option to create your own custom fields or merging different fields can help you gather insights into the data or offer more narrowed data fields.
Accessibility management: Your dashboard can contain confidential information about your company and as such, needs security. Good software will offer you the ability to manage accessibility so that you can control the access to your dashboard by assigning different roles and different visibility options.
Quick and easy accessibility: Since you have to stay up to date about the latest developments and trends, you need to have 24/7 access to your dashboard. The tool you are looking for should be available on all devices so that you can access your dashboard whenever, wherever you want.
Future insights: Another important aspect of good software is its ability to generate insights about future trends. This can help you make more informed decisions.
Sharing options: Another ideal feature of dashboard software is the ability to share your dashboard with others. Different sharing options can play a critical role in exchanging information gathered.
What Are the Benefits of Dashboard Software for Your Company?
Now that you have an understanding of what is a dashboard in software and its ideal features, you must be wondering as to why getting on is necessary? How will it help your business? What are the benefits of having one?
Here are a few noticeable advantages of having dashboard software for your business:
Single-glance view of metrics: Offers you a complete view of all your metrics and KPIs at a single glance. Easy and instant access to valuable information can play a pivotal role in how you plan for the future.
Easily accessible for everyone: Previously, employees had to tediously gather data and extract required information with a lot of hard work. Thankfully, with the help of dashboard software, employees can get quick and easy access to all the necessary information.
Offers updates: to make sure your business stays up to date with the changing trends, you have to have access to real-time updates. A dashboard software can gather this data for you and offer you insights into the latest trends and much more.
Enhanced productivity and efficiency: Data-driven decisions will produce more successful results and as such, will help in improving your productivity and efficiency.
Unifies data: The data gathered from different resources are gathered into a unified platform which makes it easy for you to view and analyze it.
Easy communication and collaboration: The availability of the data can improve collaboration and communication within the company and also align the goals and objectives of the employees.
Better profitability: Access to a good dashboard software means you can make informed decisions about your business which will increase your chances of success hence, better profitability.
Along with the above-mentioned advantages, good IT dashboard software can help you forecast the future trends in the business, the potential issues that may become a roadblock in your way to success, and much more.
List Of The Top 5 Dashboard Software
We have just given you a roundup of what is a dashboard in software, the ideal features of a business dashboard software, and the key benefits of a company dashboard software. Moving on to the list of the best software in town.
nTask
iDashboards
Klipfolio
Dundas
Zoho Analytics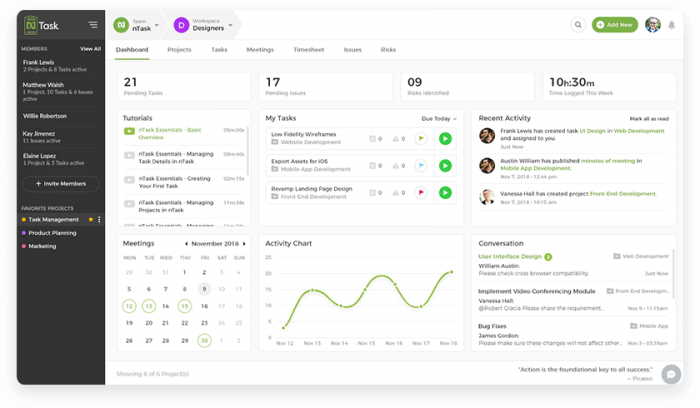 nTask is our favorite and one of the most efficient tools in the market. You might think that we're promoting our brand, but we have all the reasons to. We can't help but gush over the featureful tool packed with the best of the best. We will give you a rundown of the tool and surely, you will love it too.
nTask is basically a project management software that offers additional management solutions for all the management processes in a business. be it the development of a workflow, allocation of tasks, scheduling meetings, or collaborating with teams, nTask keeps you all the features that can simplify management for you.
The software is trusted by 250,000+ companies in over 155 countries and has mostly received positive reviews from its users. With the help of nTask, you can say goodbye to antique methods of data collection and projective and transition into the digital world.
The free dashboard software offers you multiple features at an inexpensive price, probably providing more value than the money you invest in the tool.
Key Features:
Offers different views for your projects i.e., grid, calendar, list, Gantt charts, and Kanban boards
Allows you to add custom statuses to different tasks
Customization features help you personalize your dashboard
You can time track your progress to analyze your performance
Offers automation features to save your time and effort
Offers multiple integrations with third-party apps
Allows you to identify and resolve potential issues and risks
Risk analysis with Assessment Graph and Risk Matrix
Gantt charts simplify and summarize complex information
You can assign different roles to team members to control accessibility
Two-factor authentication keeps all your data safe and secure
Pricing:
Basic plan – available for free forever
Premium plan – $3 per user per month
Business plan – $8 per user per month
Enterprise plan – Custom pricing
Generate reports and project analytics with nTask

Manage tasks, projects, documents, issues and risk easily. Sign up today!
2. iDasboards

iDasboards is our next choice for the best business dashboard software. The tool offers a wide variety of visual features along to create attractive reports.
They offer solutions for different industries including, healthcare, manufacturing, insurance and transportation, and logistics.
Key Features:
Helps you gather, clean, and combine data from over 160 sources with its built-in ETL tool
You can view your dashboard on any device anywhere, anytime you want
You can choose from a variety of chart options and customize your dashboard per your liking
Allows you to share your data internally and externally
Provides foolproof security to keep your data secure
Offers drag-and-drop functionality to help you customize your dashboard
You can embed other apps to get more comprehensive data
Pricing:
For pricing details, you can contact the vendor to get a custom quote for your business.
3. Klipfolio

Klipfolio, a free dashboard software trusted by over 50,000 users from all over the world. The tool offers Business Intelligence to keep you up to date and help you make more precise, data-driven decisions.
The cloud-based software is easy to use and offers 100s of integrations to its users.
Key Features:
You can get instant access to 100+ metrics
You can segment and filter your data to suit your company's needs
You can store your data history and retrieve it whenever needed
Multiple visualizations so that you can pick and choose your display
With the help of Klipfolio, you can gather insights into the data and take relative action to improve your performance
Custom themes allow you to personalize your dashboards
You can share your dashboard with others
Pricing:
Free – $0 per month
Plus – $99 per month
Pro – $249 per month
Custom – Custom Pricing
4. Dundas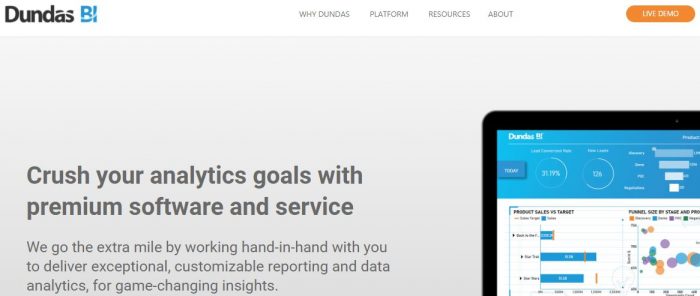 Dundas is the last of our best IT dashboard software. The tool offers flexible Business Intelligence (BI) to help you improve your performance and increase the profitability of your business.
Dundas offers interactive, actionable insights that can help you make better, informed decisions for your business.
Key Features:
Offers data analytics solutions to help you improve your performance
You can take help from Dundas' BI consultant team for guaranteed success
Offers helpful resources that support you throughout your journey with Dundas
You can collect data from different resources, create data visualizations, analyze it and share it in the form of dashboards and reports
Pricing:
Dundas offers custom quotes to its clients so you can contact their team to get one for your business.
5. Zoho Analytics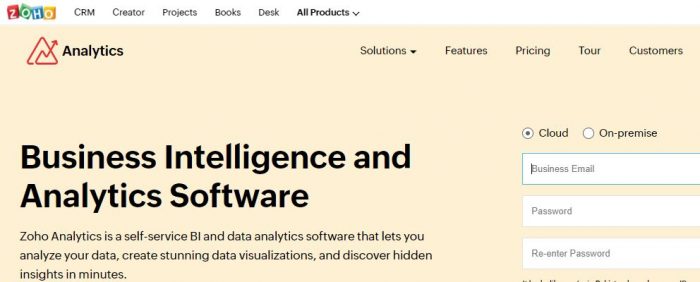 Zoho Analytics is a Business dashboard software. With the help of this tool, you can get visual insights into your data and make data-driven decisions for your business.
The tool allows you to create interactive and insightful dashboards. The tool offers a suite of different solutions guaranteed to help you improve the performance of your company. The tool helps 500,000 companies all over the world with its robust features.
Key Features:
Gathers and blends data from different resources
Allows you to create personalized reports and dashboards with simple drag-and-drop
You can use different visual options to customize your dashboard
Zoho Analytics' AI-powered assistant answers your queries in the form of reports
Makes communication easy with comments, sharing, etc. features
You can embed the tool in your own product
Offers 500+ integrations
Mobile apps available on iOS and Android
Pricing:
Basic – $24 per month
Standard – $48 per month
Premium – $115 per month
Enterprise – $455 per month
It's A Wrap
A suitable dashboard software can transform the way you do business. its actionable insights generated from data gathered from various resources can help you improve your performance for the better.
We hope that this article will help you realize the importance of a good dashboard software and hopefully, you will be able to narrow down your choices to choose the best software for your business.
Signing off now, bye!