As much as critical path analysis is important to a project, calculating CPs can be a real pain in the neck. Manually charting the minutest details of tasks, keeping an eye on start and end dates, and tracking everything is simply asking too much from a project manager.
Fortunately, you have the sweet embrace of critical path analysis software that can make the process a walk in the park for you.
Critical path analysis software are a dedicated project management tools that can help you generate a critical path for a project. The tools can simplify work for you by helping you analyze, schedule, and manage a complex project.
In this post, we dive into the best options available in the market for critical path analysis, but before we do that, let's check out the benefits of using such software for your business.
Benefits Of Critical Path Analysis Software:
Using software for critical path analysis can significantly reduce the burden on your shoulders. It can simplify the process for you, making it easier to not only generate the critical path but manage the whole project as well.
Here are a few of its most remarkable benefits that might convince you to invest in a relevant tool immediately:
Time Efficiency: Using a tool for the job can reduce the amount of time you spend on determining the critical path manually. All you have to do is input all the tasks and approximate duration for completion of each task, an ideal tool will generate the best route to getting things done.
Visualization: One of the biggest advantages of using software is that it offers you a big picture of all the tasks in the process. With the details displayed at the front, you can easily identify the status of the tasks and how long it will take you to actually complete all the tasks in the workflow.
Track Your Performance: A software for critical path analysis can also help you keep an eye on your performance. You can compare the expected start and end dates with the actual ones and analyze your performance easily.
Enhanced Efficiency: By reducing the amount of time and effort you spend on determining the critical path, critical path analysis tools can transform the way you work. You can invest your time and efforts in things of more importance and improve your efficiency by many folds.
Unified Platform: Project management tools for critical path analysis offer a unified platform for different activities in the workflow. The tool can also help users communicate and coordinate with each other without any hiccups in the process.
With all the benefits in front of you, we reckon you would like to explore your options and dive in headfirst as soon as possible. Well, fortunately, you are at the right place because we have curated a list of the best software for critical path analysis. Take a look at the list and make a smart decision for your business.
2023's Best Critical Path Analysis Software:
nTask
Wrike
LiquidPlanner
Lucidchart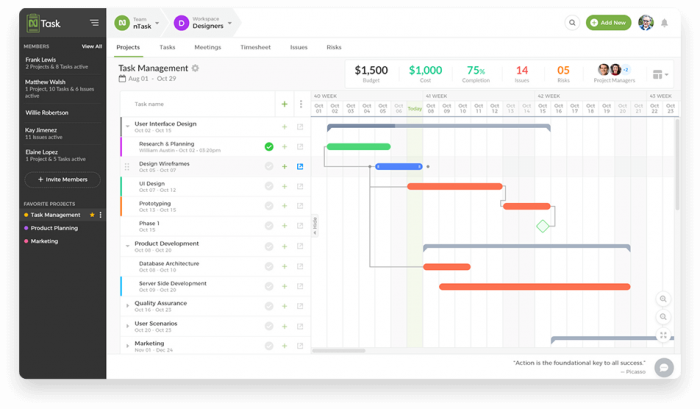 nTask is our favorite for this list. You might wonder why? Well, nTask is our product and we know it best, its functionalities are no secret plus the ease-of-use just does the trick for us. On top of everything, the tool offers really affordable pricing plans, starting at just 43 per month.
With its advanced features, the project management software has managed to sign up 250,000+ teams from all across the globe. nTask community continues to grow with the latest upgrades in the tool, geared for a smoother experience.
Moreover, nTask is not just a project management tool, it is a one-stop-shop addressing all your needs. From task management to financial summaries, time tracking, and much more, you name it, nTask has got it.
Key Features:
Full visibility on workflows with Gantt charts and Kanban boards
Create a task, add task description, assignees, and create to-do lists
Link issues or meetings with projects
Create task dependencies
Set planned and actual dates
Set milestones
Real-time notifications, and alerts
Prioritize tasks with custom statuses
Manage budget and generate financial summaries
Create and assign risks and issues
Third-party of integrations
Pricing:
Basic plan – available for free forever
Premium plan – $3 per user per month
Business plan – $8 per user per month
Enterprise plan – Custom pricing
Robust Project Delivery With nTask

Organize tasks, issues, projects, Gantt charts, and risks, all in one place. Sign up today!
2. Zoho Projects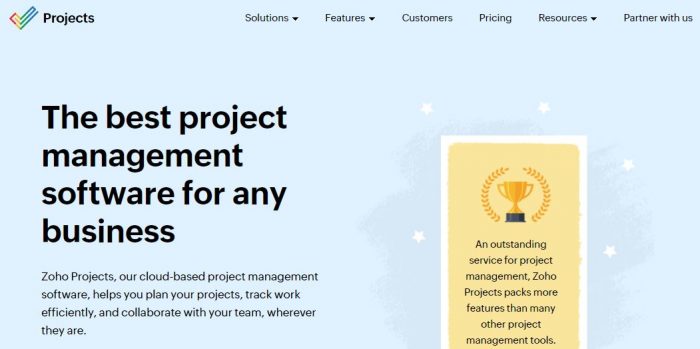 Zoho Projects is one of the most renowned tools when it comes to project management. The platform offers a host of different solutions for business management. Zoho Projects is a cloud-based management software that can easily take over most of your manual tasks and make management a piece of cake for you.
Key Features:
Create four types of task dependencies and edit them
Identify critical tasks
Create a baseline to track progress
Offer multiple templates to help you get started immediately
Color code details to keep everything organized
Visualize task dependencies
Reminders and notifications
Integrations with other apps and tools
Pricing:
Free plan – available for free
Premium plan – $5 per user per month
Enterprise plan – $10 per user per month
3. Wrike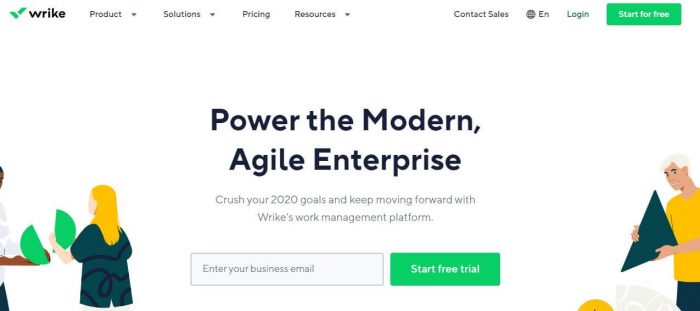 Wrike is our second pick for the list of the best software for critical path analysis. Wrike offers a suite of advanced features with high usability. Along with mainstream features, the management platform offers customizations so that you can personalize your workflow for the business.
Furthermore, real-time communication with Wrike makes coordination much simpler and easier.
Key Features:
Helps identify bottlenecks with critical path analysis
Gantt chart offers visualization into the workflow
Control multiple projects from a single platform
MPP, MPX, and. XML tasks to Wrike with duration, task dependencies, and resources
Create tasks, add dependencies, and track progress
Adjust dates and deadlines accordingly
Share tasks, etc. using a link
400+ integrations
Combine Gantt charts with Kanban boards and templates for faster working
Pricing:
Free plan – $0 per user per month
Professional plan – $9.80 per user per month
Business plan – $24.80 per user per month
Enterprise plan – Contact Wrike team for pricing
4. LiquidPlanner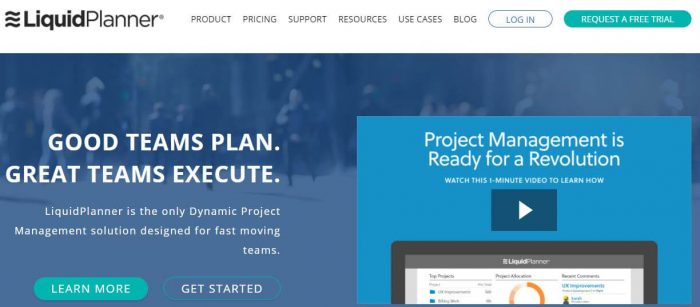 LiquidPlanner is another great tool that can change the way you manage your projects. The tool is an excellent critical path analysis software since it allows you to build efficient plans using predictive scheduling.
Key Features:
Smart schedule bars help identify the time a task will finish at
Move tasks from one status to another while keeping the priority status intact
Automatic resource leveling
Manage all your projects in a single portfolio
Offers data-driven insights
Time track tasks
Make accurate predictions with estimate calculation
Import and export tasks
Use predictive scheduling by adding target dates
Pricing:
Free plan – $0 per user per month
Essential plan – $15 per user per month
Professional plan – $25 per user per month
Ultimate Plan – $35 per user per month
5. Lucidchart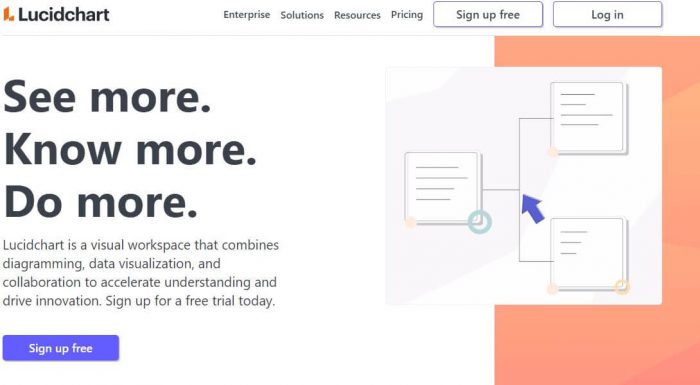 Lucidchart is our fifth and last pick for this list. The tool offers efficient solutions to help teams accomplish their goals without any delays in the process. The software is not only good for project management but also functions as a brainstorming and mind mapping platform wherein team members can communicate and collaborate without any gaps in the process.
Key Features:
Visualize complex structures with intelligent diagramming
Shared space for collaboration
Connect with a variety of apps and tools
Improve visibility by integrating with Lucidspark
Real-time co-authoring, in-editor chat, shape-specific comments, and collaborative cursors
Trustworthy security
Pricing:
Free plan – $0 per user per month
Individual plan – $7.95 per user per month
Team plan – $6.67 per user per month
Enterprise Plan – Contact team Lucidchart for a custom quote.
Wrap Up!
This was a roundup of some of the best critical path analysis software. We have made the selection process easy for you by adding key features and pricing details of each product. All you got to do now is to analyze the requirements of your business and choose the one that suits you best.
We are sure you will be able to make a smart choice for the success of your business.
Best of luck!
---
More Resource: