If you want to switch from your current PM software for a more suitable option that is more inclined towards creativity in 2021, then you have come to the right spot.
In this article, we will inform you about the best creative project management applications that you and your team can use to increase productivity in the new year. Let's start from the beginning.
How Project Management Applications can help Creative Teams?
At first, the idea of a rigid Project Management Application with their standard rules and features seems odd to be used for creative teams but they actually do help increase productivity.
How? Well, Project Management Software help increase collaboration among the teams whether they are in the same place or remote teams. They also organize all of the dates and deadlines related to the projects.
One of the best uses of project management software is to keep an effective balance between tangibility, practicality, and administrative needs with the creativity, imagination, and the freedom needed to stand out to the crowd.
What is the Comparison Criteria to measure Project Management Softwares?
There are no hard and fast rules about this but based on the features and complex functionalities that the Current Project Management Softwares provide, here's a comprehensive breakdown of what the criteria should be while evaluating the applications in question.
1. User Interface
User Interface is one of the top features that is measured and monitored while choosing any new application these days.
That's why when you are choosing Project Management Applications for creative teams or any team for that matter, check if they are offering clear displays with intuitive navigational features that your team members would like to use.
2. Usability
Usability is another functionality that is a very important entity to be checked while choosing any application.
For companies that have a highly creative team at work, choose an application that has a flawless customer support and amazing easy-to-use technology attached to it, because when it comes to a team as a whole, not everyone is seamlessly tech-savvy and they would need help in getting to know the software.
Try to get a software that has pre-made templates embedded into it right off the bat. That will make working on recurring projects very easy and get the application a big thanks from the team, from day one.
3. Features and Functionality
Choose the application that provides the greatest number of features and functionalities but also check if you actually need all of them before making a decision. Because there are a lot of alternatives in the market that can give you a lot more for a lot less money. So choose wisely.
Generally, if you want to check the functionality arsenal of software, you should look for the following:
Briefs and Intake forms
Collaborative Feedback
Budget Management
Customizable Workload Management
Reporting Features
4. Integrations
Another important feature to check in any application nowadays is integration which that app has with other important applications related to your work. These other applications include the creative cloud apps by Adobe, like Adobe Photoshop, Premiere Pro, Illustrator, InDesign, and many others.
These apps are very useful to every creative team nowadays, that's why you should always choose the application that can be easily Set-up with the software without breaking the bank.
5. Value for Money
And Lastly, you should always go for the most effective but a reasonable option too for your software needs. There are many applications in the market right now that can fulfill the needs and requirements of your team and it's your job to look out for that perfect software.
Let's get on with the reviews.
9 Best Project Management Softwares for Creative Teams that you can benefit from in 2022.
Table of Contents
The 9 Best Creative Project Management Apps of 2022: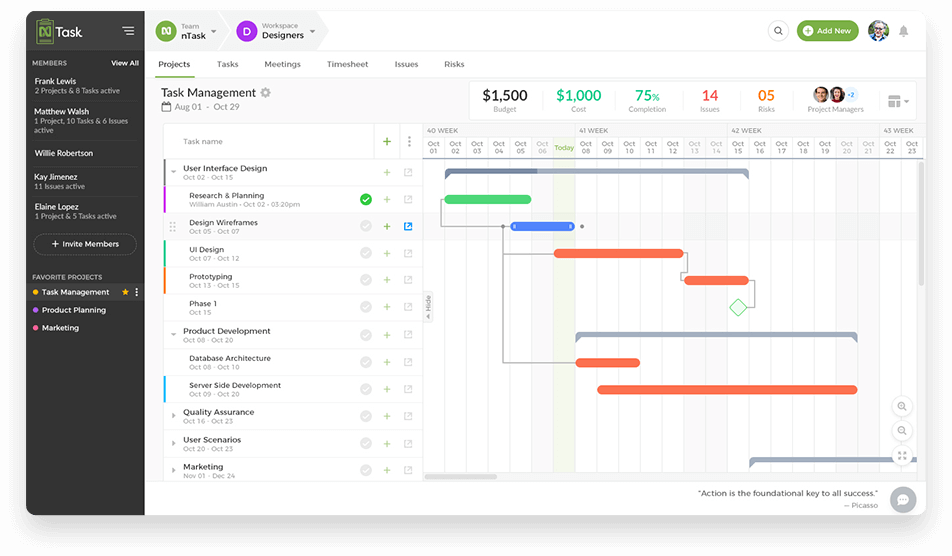 nTask is the perfect fit for your team if you want all of your important aspects related to project management, wrapped into one amazing application.
The features offered by this application are endless. Some of them include timesheets, issue tracking, setting up meetings with your physical or remote teams.
This application attracts big business or small startups alike because of its amazing affordability and reliability. Another important attraction of this application is that it is a very affordable alternative to very comprehensive management applications like Jira and Wrike.
If you are a new user, this application will help you along with the start-up process quite excellently. The user interface that this application possesses, helps the users to grasp an amazing understanding because of its inane simplicity.
It also provides many of the important tools regarding project management at the very start without you having to subscribe to heavy package plans or anything.
Key Features
Here is a feature list of nTask's features:
Advanced-Data Sorting
Time Management
Multiple Board Views
Activity Management
Risk Matrix
Outstanding Customer Support
Approval Process Control
Pricing
Basic: Free for unlimited task for up to 5 team members.
Premium: Starting at $3/month per user with Project planning, Gantt charts, and bulk actions.
Business: $8/month (paid annually), risk management, risk matrix, custom fields, and user permissions.
nTask is one of the best creative project management app:

Use it for personal or creative team productivity. nTask is free and includes unlimited tasks and checklists.

Monday has an impressive arsenal of tools that your creative team can really enjoy. These tools include annual and monthly expense monitoring, blogging planning, marketing projects management, onboarding different processes, and many other amazing features.
When it comes to customizable workload management, Monday is the way to go. It can also incorporate multiple concerned parties sharing the same project boards and has many customization options that help navigate through the project workload.
Using Monday.com, you can reassign tasks by simply clicking and dragging the task. You can also change the view of your timelines as lists, on a map, as spreadsheets or on a Kanban board, among many other views.
Monday.com can be integrated seamlessly with applications like Excel, Slack, Gmail, Jira, GitHub, Dropbox, Trello, Google Drive, Typeform and many others.
Key Features
Monday.com contains the following features:
Prioritized Project Management
Seamless process of Workload Management
Intuitive User Interface
Efficient Collaboration
Excellent Customer Support
Pricing
Free Trial Available
Basic: $39/month
Standard: $49/month
Pro: $79/month

FunctionFox is an incredible PM software for creative teams because it was specifically designed by an ad agency to be used for PR, digital firms, other ad agencies, and marketing firms.
Some of the amazing features that this application possesses are streamlining internal communication, estimating budgets, running reports, task and action assignment, streamlining time and expense tracking and many more.
By being affordable and usability overall, FunctionFox is among our top recommendations if you are looking for project management software for a creative team. This low cost and a comprehensive feature set make this application an amazing choice for smaller teams.
Key Features
Cost-to-Completion tracking
Budget Management
Collaboration Tools
Resource Management
Milestone Tracking
Gantt Charts
Time and Expense Tracking
Pricing
Classic: $5.00
Premier: $10.00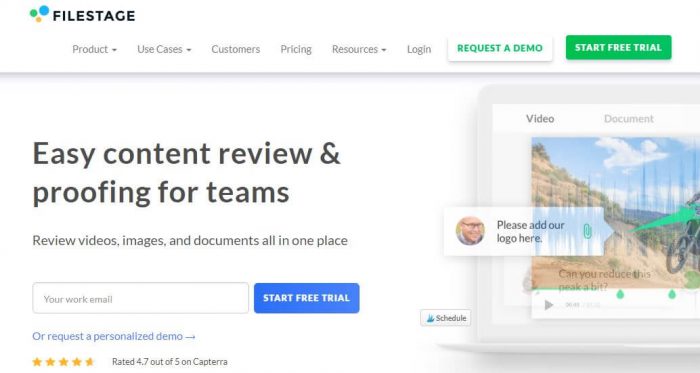 Filestage is an all-in-one online proofing solution for creative project teams to get their work reviewed and approved faster. The software helps teams collect, organize, and automate feedback on files throughout the approval process while reducing errors and ensuring compliance guides are met.
With Filestage you can share files and collect feedback from colleagues or clients for all kinds of projects like marketing campaigns, video production, website design, product catalogs, or anything else.
The platform makes it easy to keep track of all your review processes and the status of each file. The tool also enables you to save time and complete projects faster by automating manual tasks and eliminating back-and-forth email chains.
Key Features
Task and workflow automation

Share, comment, and discuss files

One-click approvals for files

Customize workflows and projects

In-built versioning of files

Real-time collaboration on files

Unlimited reviewers can give feedback

Set due dates for files
Pricing
Free trial for all plans available

Starter Plan: 89 € per month

Pro Plan: 219 € per month

Enterprise Plan: individually adapted to the customer needs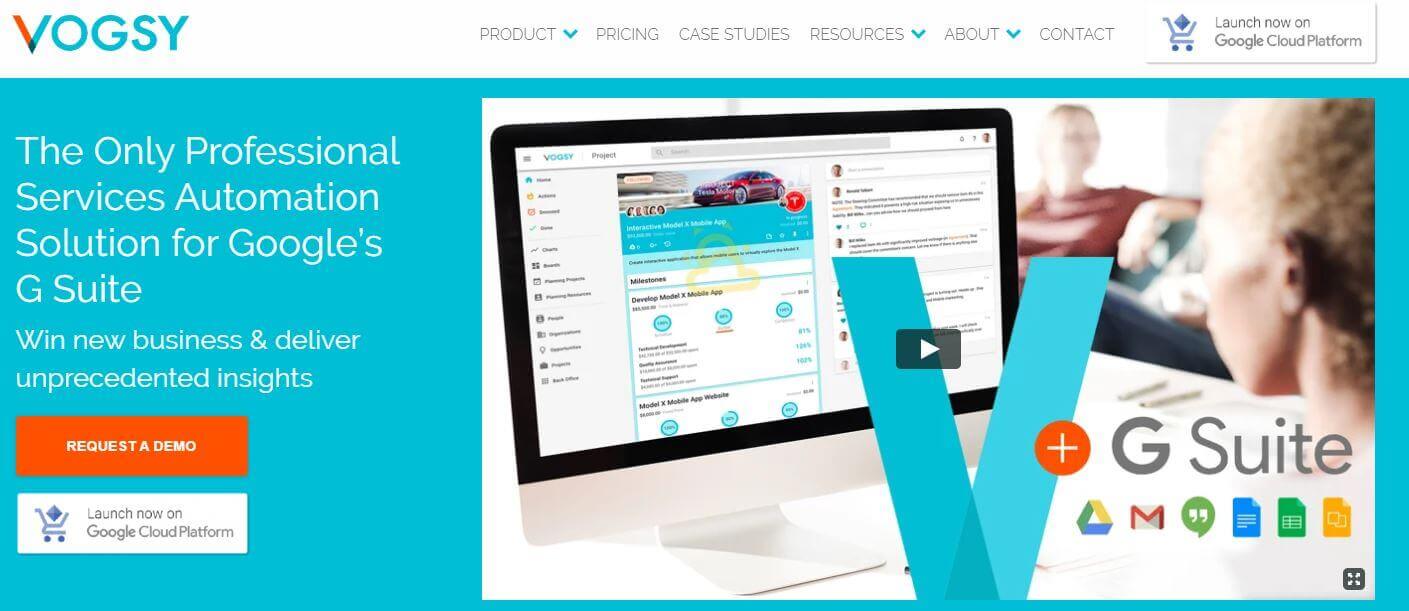 If you need a way to unify all of your business workflows and automating all of your operations to effectively reduce admin, then VOGSY is the perfect fit for you.
This application helps you save time when you are going through the process of automating PM workflows, setting tasks, sending invoices, filling out timesheets and many other processes.
It can also help you produce reports in real-time about resource utilization and budget burning. You can also integrate this application with other software like Google Sheets and Google Drive.
VOGSY users always get used to the software pretty quickly because of the UI resemblance with that of Google's material design. Their customer support is also pretty impressive that is run by real developers and not call center reps.
You can integrate VOGSY applications like Salesforce, HubSpot, QuickBooks, and Xero.
Key Features
Billing and Invoicing
Business Management
Collaboration
Customer Relationship Management
Project Tracking
Resource Management
Professional Services Automation
Pricing
Free Trial Available
VOGSY License: $19/month/user
Onboard Pack: $2,400 (Unlocks all of the features)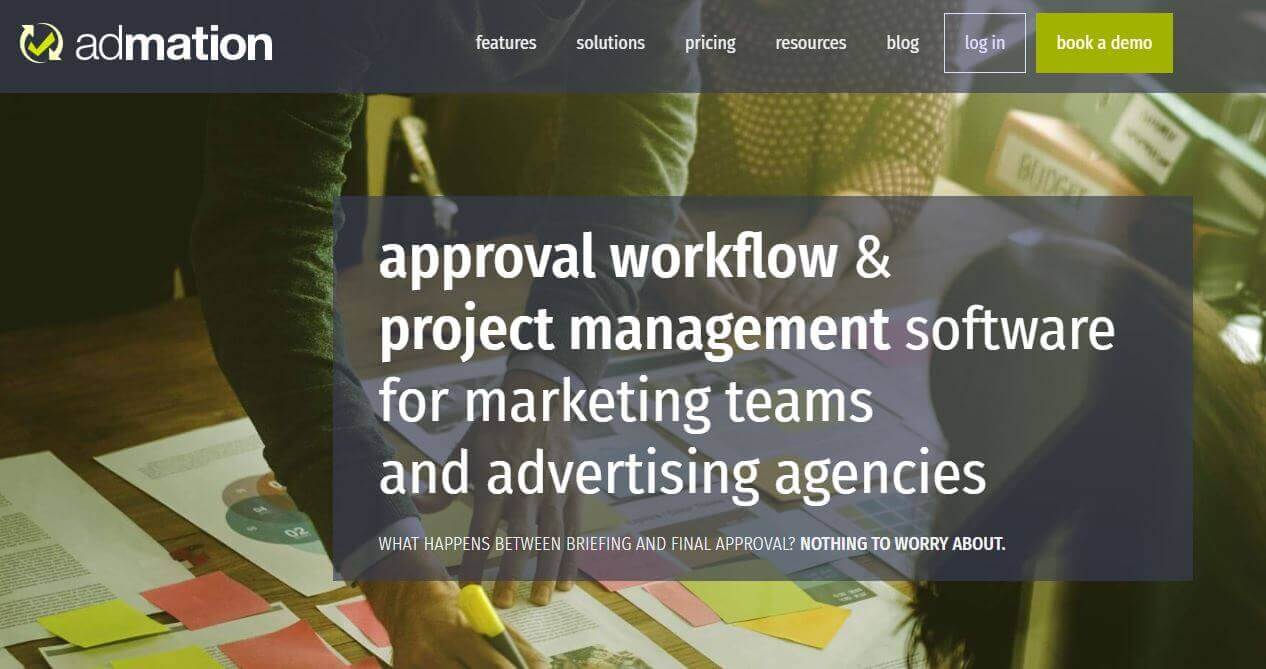 This is an amazing software that was designed specifically for creative project management. With Admation you can easily manage your workflow whether you are working with marketing teams or ad agencies.
Admation is an incredible PM tool that has multiple features all wrapped in one comprehensive tool. These features include assigning tasks, project timelines, briefing templates, time tracking, a comprehensive brand archive, and resource allocation to name a few.
With a simplistic easy-to-use interface, Admation offers an incredible central dashboard that enables you to monitor all of your projects and resources.
Key Features
Customizable Dashboard
Task Scheduling
Online Proofing
Collaborative Review
Document Storage
Resource Allocation
Time Tracking
Workflow Management
Pricing
This software is available at a starting price of $30 but you can also check out its free demo before making a final decision.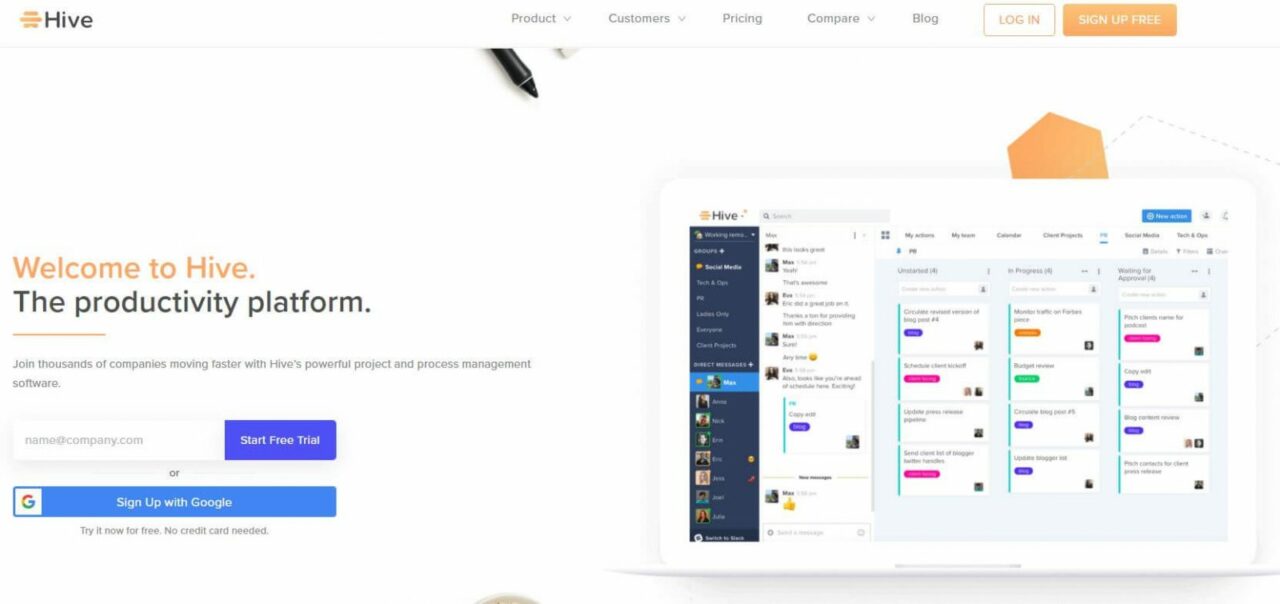 Hive is a highly adaptive application that can host from 10 people a team to even a company included in the fortune 500s. Don't believe us? Well, the following companies are already using Hive: Starbucks, WeWork, IBM, and Uber.
With Analytics powered by AI, Hive has thousands and thousands of complex integrations, flexible project views and many other features that easily streamline your work into one centralized location.
Hive also has incredible approval and proofing functionality that makes the process of assigning approvals and providing feedback on them, quite easy. You can also incorporate your Gmail and Outlook accounts with Hive.
Key Features
Project Management
Collaboration
Agile Project Management Tools
Gantt Chart
Workflow Management
Kanban Tools
Pricing
Free Trial Available
Professional: $12/user/month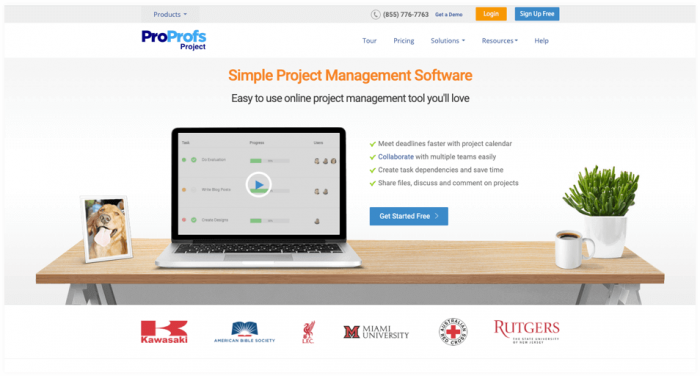 This is a feature-rich tool for successful creative project management. Store and manage multiple portfolios in one place. Access them on the go with the tool's mobile app. Share files and give feedback to cross-functional teams easily.
ProProfs Project lets you stay updated on project status. Get alerts and notifications of task completion and approaching deadlines. Visualize your tasks with interactive Gantt charts and track work progress efficiently. Its drag and drop functionality makes it easier to set and assign tasks.
Create easy and accurate invoices with billable and non-billable hours tracking for smooth client billing. Automate invoices and keep clients up-to-date, always.
Key Features:
User-friendly Dashboard
Real-time Updates
Insightful Reports
Workflow Management
Team Collaboration
Time Tracking
Gantt Chart
Pricing:
15-day Trial Available
Essentials Plan: $2/user/month
Premium Plan: $4/user/month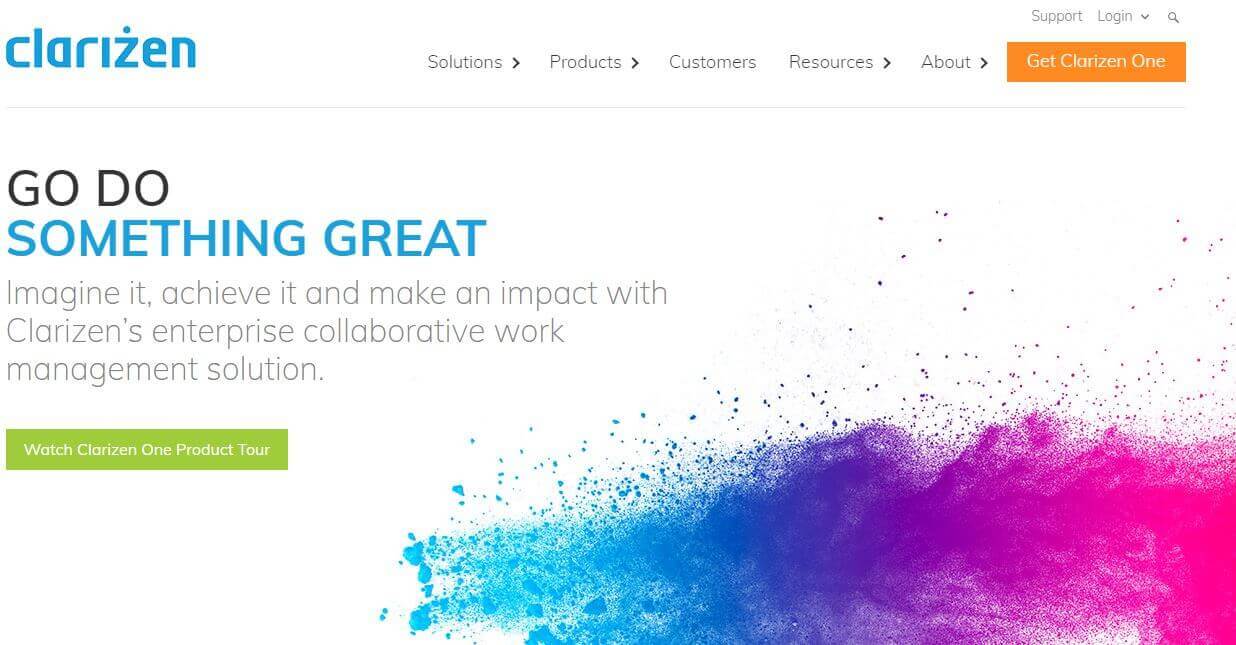 Clarizen is effective software that is a perfect fit for the creative teams out there. It embraces complex workstyles and hybrid approaches in order to support the working style of every individual user.
With a highly configurable UI and workflow automation according to your own set of rules, makes the user more comfortable and confident while using the software.
This software is fully-featured and can easily help you manage your resource management, workflow management, portfolio management while establishing proper collaboration channels.
You can easily incorporate many applications with Hive. These applications include NetSuite, Jira, Slack, Google Drive, Tableau, Box and Salesforce among many others.
Key Features
Time tracking
Multi-tiered network security
Timesheet management
Billable & non-billable work items
Budget tracking
Dashboards
SSP & LDAP integration
Estimation
Social collaboration
Progress management
Scope management
Data encryption
Activity tracking
Document review
Real-time team updates
Financial management
Gantt Chart
Issue tracking
Projects
Financial indicators
Real-time analytics
Real-time data
Request routing
Third-party integration
Drag & drop interface
Resource management
Risk assessment
Security & encryption
Real-time updates
Task planning
Centralized document repository
Task scheduling
Task tracking
Time & expense tracking
Timesheets
Project hierarchy
Application firewalls
Project budgeting
Collaborative planning
Pricing
Free Trial is available
Subscription prices start from $45/user/month
Conclusion
There is an unbelievable number of options available on the market for any genre of software but it's really up to us to identify our needs and requirements and find the perfect software in this never-ending haystack.
This article has some of the best choices to select if you want to manage a creative team on the principles and features related to project management. So, in the immortal words of the ghost from Indiana Jones, "CHOOSE WISELY".
Additional Reading:
The 25 Best (& Free) Project Management Software of 2022