Construction projects deal with a number of different elements and require effective management of resources, time, and budget to be deemed a success.
This can often be difficult to stay on top of. The construction software for small builders can offer automation for these management processes and allow teams to work more efficiently by providing tools to simplify the processes and operations.
There are many construction software for small builders each with its own set of features, different pricing points, and different advantages.
With so many construction software for small builders to choose from it can often be quite difficult to choose the right tool for your team. That is why we have put together a list of the best tools to choose from.
But first, let's see why you should even consider investing in such software in the first place.
Benefits of Investing in a Construction Software for Small Builders
Investing in construction software for small builders may seem like an added task and another burden on your budget. So why should you spring for construction software at all?
There are many benefits to be gained from investing in construction software that will help not only manage but also maintain your construction initiative and help with the many elements that make up a successful construction project.
Here are just a few of the benefits you can gain from using construction software for your next construction project.
Streamlines Your Processes and Operations
When you invest in a dedicated construction project management software you gain the ability to streamline and simplify your operations and processes throughout the construction project lifecycle.
You have a centralized platform that will help you and your team keep your construction project according to the project plan created and within the budget allocated and the schedule decided.
Saves Valuable Time
There is a lot to get done in a construction project including administrative work and resource management.
By using a dedicated construction project management tool you can use the software to automate a lot of the monotonous tasks that need to be done as well as keep everything organized.
You will be able to avoid having to search for different things and juggle between different applications thus saving a lot of time to focus on the more important issues at hand.
Saves Money
While you may feel that investing in construction software is an added expense, the actuality is that you will actually save money in the long run.
By using construction project management software you stay up to date on all the elements of the project as well as its progress and any issues that may arise.
Being well updated gives you and your team a chance to get ahead of problems that may cause unnecessary project delays. Delays mean extended schedules and increased budgets. Therefore, getting ahead could save you money.
Such solutions also provide you with the ability to be more organized and thus work more efficiently and overall save you money.
Considerations to Keep in Mind When Choosing Construction Software for Small Builders
When we put together our list of the best construction software for small builders we wanted to include all the available options that would incorporate the best solutions for your teams.
Here are some of the features we think are important for construction management software to include to offer the most help to small builders and construction companies.
Project Management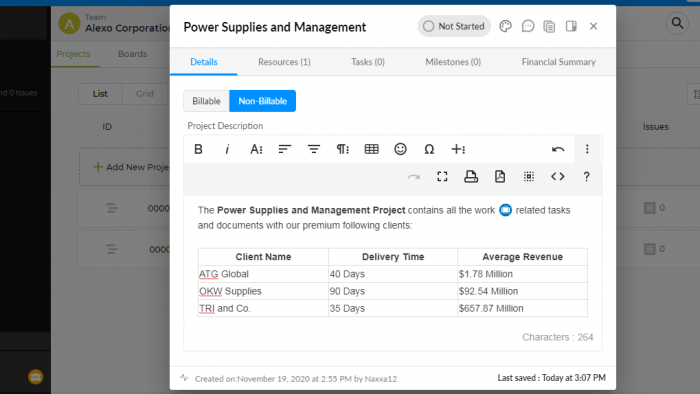 Whether your construction job is an initiative to build a residential, commercial, or industrial building, property, or feature they all classify as a type of project. Therefore, you want construction software that helps you manage each aspect of a construction project.
Tools that include project management offer features that allow you to organize tasks, scheduling, and project monitoring.
Your construction project will have a budget as well as a deadline in which it needs to be complete and construction management software offers the ability to manage each element of a construction project and streamline the processes and operations that are associated with it.
Timesheets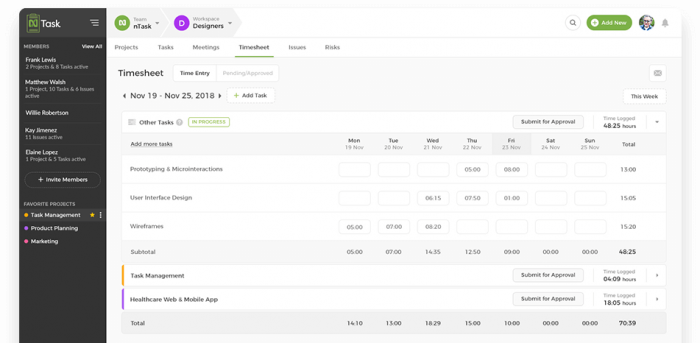 Making sure that employees are getting to work and that they are working on the project at hand is important to be able to track.
Timesheets in construction software are beneficial to track how long employees have worked and even to streamline invoicing and billing.
Certain software offers the ability for employees to track time on the go with mobile apps which we awarded extra points to considering it allows employees to track their time when they are on-site as well.
Document Storage and Management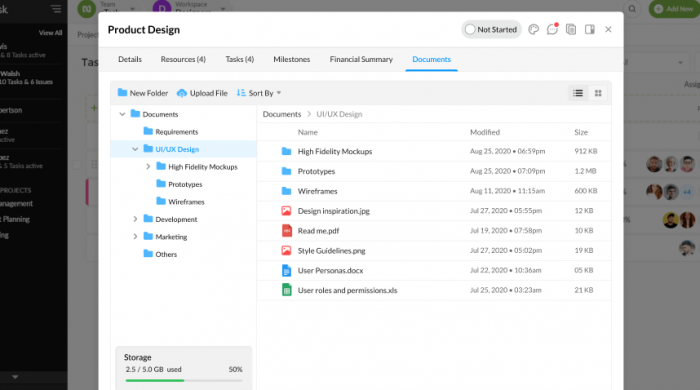 Construction projects often include a lot of different documents and blueprints such as layout plans and permits which need to be managed and kept track of.
Choosing a tool that offers the ability to manage and store all these documents in a centralized location ensures that nothing gets misplaced. It also makes sure that everyone who needs access has the option to view the files.
Not only can you organize relevant files and documents but you and your team can save the time and effort that would otherwise be needed to store, organize, and stay on top of the documents.
Easy-to-Use
This is a consideration that is important for all types of software you want to incorporate into your organization or team.
Using a tool that is too complicated is either not used by employees or takes too much time and effort to onboard. Both lead to wastage of time, effort, and money.
You want a tool that is easy to use for your entire team. Consider that not each member of your team will have the same knowledge and ability to use the software as others.
Therefore, it is important to choose a tool that has a friendly user interface for your team members to be able to understand.
Cost of the Tool
Another consideration to keep in mind is the price of the construction software. Your organization will have a budget that needs to be kept in mind when choosing the right tool for you.
With so many options to choose from of construction management software, you have a range of pricing plans to choose from as well.
We have tried to include all types of software at different pricing points to include in our list.
Best Construction Software for Small Builders
Here are our top picks for the best construction software for small builders and construction companies.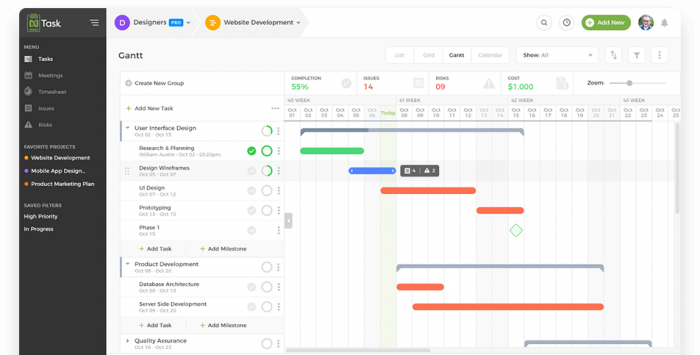 nTask is first up and is a versatile project management software that offers a comprehensive feature set with flexible tools that can be used for all types of projects and by a variety of different teams.
The tool comes packed with features and tools that manage each aspect of a project from initiation all the way till a project is completed and delivered.
Having an all-in-one platform, different and affordable pricing plans, and a user-friendly user interface the tool made it to the top of our list.
Key Features:
Project management and project tracking tools
Mobile applications
Timesheets and time tracking capabilities
Document management and file storage
Communication tools
Progress tracking
Pricing:
nTask comes at four different pricing points; Basic, Premium, Business, Enterprise
The Basic plan is free of cost
The Premium plan starts at $3 per user, per month
The Business plan costs $8 per user, per month
There is also a custom Enterprise plan. For a quotation, you need to contact one of the sales representatives.
Construction Software for Smart Teams.

Manage documents, vendors, projects, teams and contacts, all in one place. Sign up today!
2. OrangeScrum

Next up we have an open-source software called OrangeScrum. OrangeScrum is a construction scheduling tool that aids in resource allocation, coordination among teams, and time management.
While the tool is equipped with a load of great and useful features, you will need to purchase add-ons for certain crucial features like project templates, document management, etc.
Key Features:
Resource management and resource scheduling
Task linking
Project overview and dashboard
Time tracking features
Custom task status
Pricing:
OrangeScrum offers a 'Freemium' plan which is free of cost for up to 3 users
You can also use the Cloud Edition for $4 per user, per month
OrangeScrum also offers an Enterprise Self-hosted option and a Community Edition plan.
3. JobProgress

JobProgress is a cloud-based, all-in-one platform designed particularly for contractors by contractors.
The tool offers contractors the ability to run their business from any location and acts as a productivity tool packed full of features for the construction project.
Teams can monitor, keep track of, and measure the progress of a project site with ease with project dashboards.
The tool is easy-to-use and users have raved about its useful features. It also offers the ability to prove helpful to a number of different construction projects such as general construction, demolitions, cleanup, and more.
Key Features:
Scheduling tools
Dashboard workcenters
Online sales and marketing
Pricing:
JobProgress starts at $50 per user, per month with a one-time $500 setup fee.
4. Procore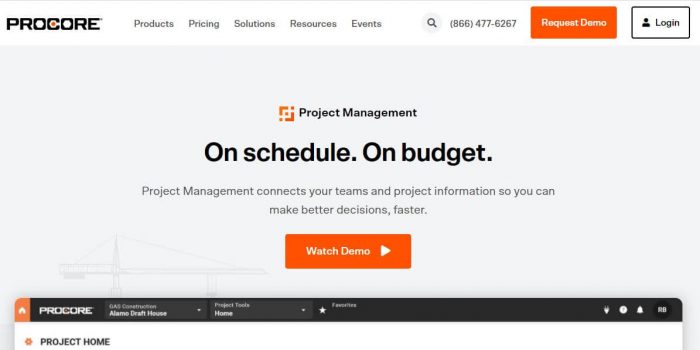 Procore is a strong competitor in the construction software world. This software can assist any construction manager in managing difficult projects.
It is one of the more expensive choices on our list but the way it can handle all parts of a building project with such ease makes it worth it.
However, if you are a smaller construction firm you may want to try out the software before purchasing it since it is better suited for companies with more employees.
Key Features:
Custom reports
Budgeting features
Change and contract management
Scheduling features
Pricing:
For pricing details contact the sales team at Procore.com
5. BuilderTREND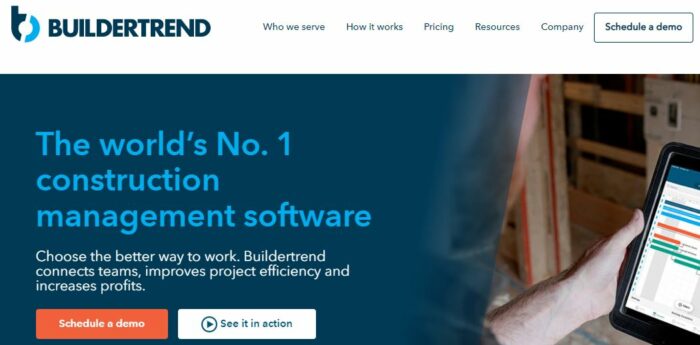 Over the last seven years, BuilderTREND has been recognized as a Constructech Top Product, and with good reason.
BuilderTREND covers a task from pre-sale through completion, including project management tools to ensure the job is completed as quickly as possible and a way for clients to log in and deposit payment or authorize modification orders.
The software boasts a slew of cool features and has the potential to please even the most discerning construction manager.
Key Features:
Change order management
Job costing
Project management and project tracking
Subcontractor management
Pricing:
BuilderTREND offers a Core plan which costs $99 per month
Alternatively, you can upgrade to the Pro plan which starts at $299 per month
Conclusion
Construction software is a must for construction companies and developers to get organized and manage the whole project from start to finish. Let us know how the above listed construction software has helped you to get productive at fwilson@ntaskmanager.com