Construction projects are a lot to manage on the best of days and when you factor in the complexities of modern design.
They get big and often unruly with a lot of different safety concerns, equipment rental issues, and personnel problems, among many other things.
To make sure that everything is on track regarding the construction management process, you want incredible software that will regulate all of the factors that we mentioned above. That software is going to be construction scheduling software.
Construction scheduling software that is rocking the construction management programs is pretty dynamic and robust, and they are ready to take on anything that you throw at them related to construction.
But before we get to our top picks for the best construction scheduling software, we need to discuss what the construction scheduling process actually is.
What is Construction Scheduling?
Construction as you may know is an absolute behemoth of an industry. There are a lot of different projects that can come under the banner of construction like residential, heavy industry, renovation, commercial, engineering projects, and institutional projects.
Some of these projects are barely defined in the overall scheme of things, but construction project management as a whole involves many different crafts and skills like planning, leadership, and resource management to take care of every little facet of your construction project.
However, there are many differences when it comes to construction project management and other projects in the real world.
But still, when it comes to managing the projects, the construction project managers must determine the feasibility of the project being developed, they need to schedule, plan and manage all of the resources related to the project, and they have to make budgets while also tracking and reporting the results.
So, with all this in mind, let's move on to the primary purpose of a construction schedule to understand why we make it in the first place.
What is the Primary Purpose of a Construction Schedule?
When we talk about the construction schedule, we come to know that it is all part of the planning phase and it is crucial to deliver the project elements and the promised milestones on time without going over the budget that was agreed on at the start of the project.
But one thing that is different about construction project management is that you have to complete so many different little projects to complete a big construction project. You can say that there is a dependency between the big project and the smaller projects surrounding it.
When there are so many things dependent on each other, the biggest hurdle in a construction project manager's day is to organize all of the projects in such a sequence that all of them are precisely executed when they are supposed to and not at random.
So, without further ado, let's talk about our picks for the best construction scheduling software that you can use in 2022 to manage all of your construction projects easily without any hurdles.
Best Construction Scheduling Softwares to Use in 2022
These are the amazing construction scheduling tools that we are going to discuss in this article.
Let's discuss all of these amazing scheduling software in detail and find out how they can be beneficial for your construction projects in 2022.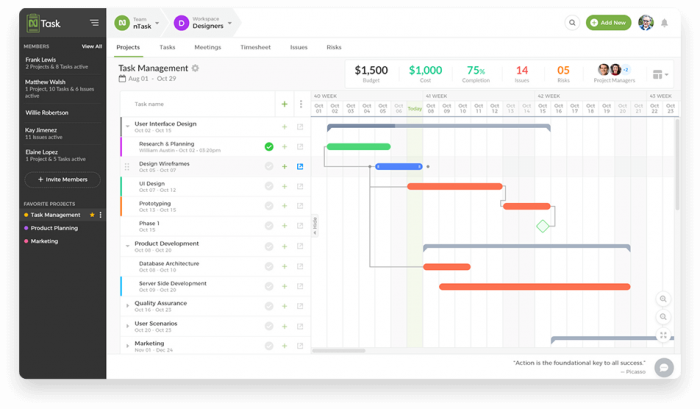 Whether you want a construction project or a software development process, the best management software for you is always going to be nTask.
The software is an incredible project management and task management tool that allows you to keep an eye on anything and everything that is happening around the development process that you and your team are working on.
When it comes to construction scheduling, nTask is incredible as it allows you to log all of your projects into its interface, and using different views like Gantt charting and Kanban boarding, you can easily set all of the dependencies that are in your project.
When you have set those dependencies, everything is going to be in order, and you can rest assured that your big construction project and the surrounding projects are going to be performed in order without any hiccups.
Key Features
Task management
Project management
Time tracking
Issue tracking
Risk management
Gantt charting
Bug tracking
Pricing
nTask offers a free trial to every single customer that signs up which helps you to get an idea of how everything works and what you are going to get when you pay a starting price of $3/month
Business plat is starting at $8/month
Intuitive Construction Scheduling Software.

Manage issues, tasks, projects, risks, and teams, all in one place. Sign up today!
2. Procore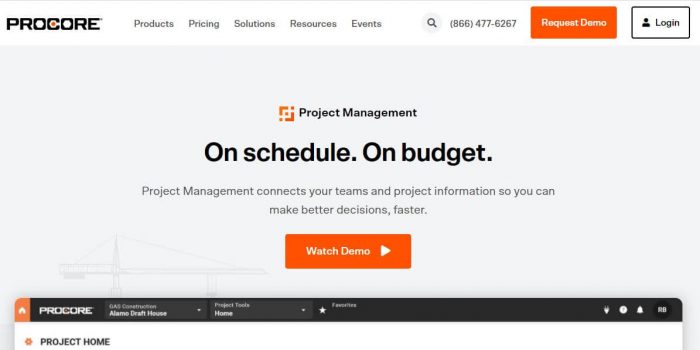 Procore is the tool that is used by the Human Resource department, the safety department, and the financial department related to the construction project. They use this tool to ensure that all of the concerns regarding the scheduling of the construction are handled.
The tool has an incredible document management module that allows it to store many different elements like employee contact logs and the certifications that they have.
But not everything is up to the mark, especially the billing module. It still works but it is not up to the industry standard.
Key Features
Budget estimation and management
Construction scheduling
Project management
Documents storage
Change order management
Bid management
Activity management
Project tracking
Pricing
There is a free trial of this incredible construction scheduling software if you want to check out what it has to offer before putting your money on the line
If you think that Procore is the software for you for all of the construction scheduling needs of your team and your company, then you need to contact the company and get a custom quote made according to your needs and requirements
3. ProjectManager.com

Another great application on the list is Projectmanager.com. The application is an incredible cloud-based project management software that allows you to access your data from anywhere around the world.
This feature is a huge benefit for construction managers as they have to travel all over the world because of their work, and with this feature, they can keep an eye on anything and everything that is happening with their construction project.
Key Features
Activity dashboard
Project management
Cloud access
Construction scheduling
Project planning
Time tracking
Milestone tracking
Gantt charting
Collaboration tools
Task management
Time & Expense tracking
Pricing
There is a free trial plus a free version of the application that provides an idea about the wonderful features that this incredible construction scheduling software has to offer
If you want more premium features than the free version of the application then you will have to pay a starting price of $14/month
4. CoConstruct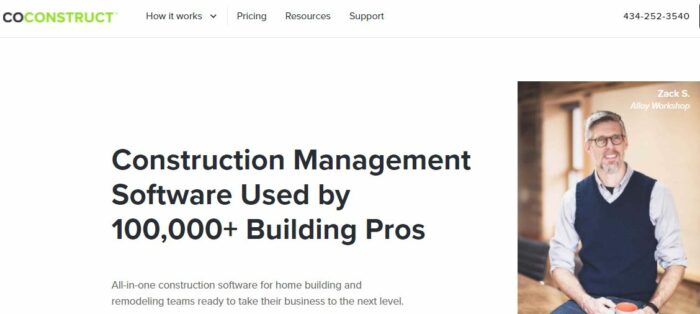 CoConstruct is incredible construction software that is very popular in the market right now, but where it lacks finesse is its scheduling features.
Nonetheless, the software is excellent when it comes to remote access or cloud computing, and provides access to the interface data to all sorts of different personnel connected to the construction project like contractors, design-building companies, and modelers.
Here are some of the incredible features that the construction scheduling software has to offer to its clientele.
Key features
Activity Tracking
Compliance Management
Data Import/Export
Document Storage
Mobile Access
Activity Dashboard
Alerts/Notifications
Customizable Reports
Real-Time Data
Pricing
The application is incredible and you have to keep our word for it because it doesn't offer a free trial or a free version that is going to help you get an idea of what it contains and how its features work
If you want to acquire the software for your construction scheduling needs then you need to contact the company so that they can make a custom quote for you according to your needs and requirements, and the number of projects that you are currently working on
5. e-Builder

Another construction scheduling software, e-Builder, is useful for government project schedule management. It is a robust digital transformation solution to design, operate, and build for asset owners.
It is a helpful tool for construction communication, invoicing, and sharing updates. Makes it easy for your team to manage documents, get notifications, and manage construction projects. The solution for the capital project is designed to meet the construction goals. Enable contractors, architects, and design firms to use a centralized solution for your project needs.
Here are some of the key features of e-Builder
Key Features:
Planning and communication
Design reviews
The procurement process is made easy
Operations and document management
Construction budget management
GIS and mapping
Mobile apps available
Pricing:
Free trial not available
The application provides user-based and capital-based custom pricing.
6. eSUB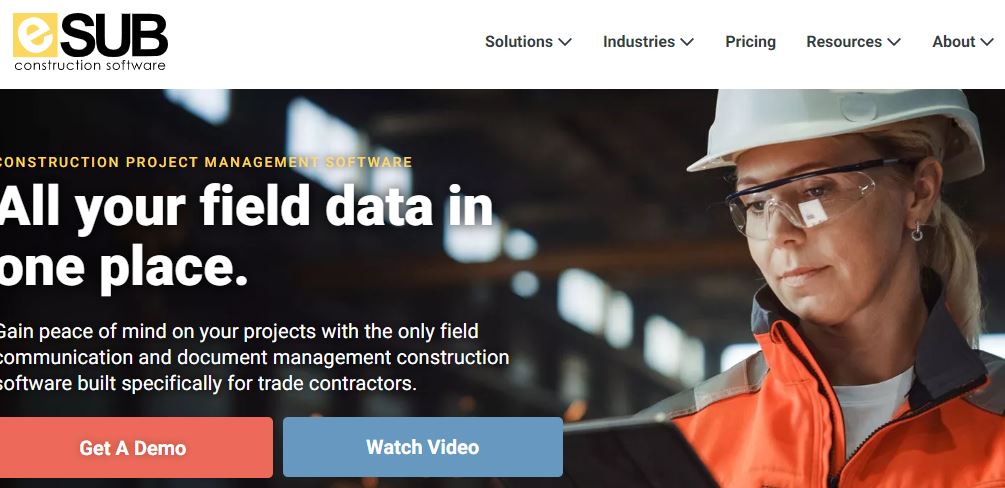 eSUB is a dedicated construction project management software with field communication and document management solutions. The tool is specially tailored for trade contractors with the most robust and user-friendly management solutions designed to help users improve their productivity.
The construction software is exceptionally efficient at documentation. eSUB centralizes all the processes to ensure you can control everything from a central location and do not have to jump from one location to another to streamline things.
The cloud-based solution helps contractors deal with and manage daily operations without any hiccup in the process.
Key Features:
Scheduling and resource management
Serves different trades
Meeting minutes
Equipment rental
Unlimited file storage
eSUB cloud
Field reporting
Advanced tracking
Document control
Pricing:
eSUB offers a demo for its new users so they can learn their way around the tool and understand how it works. It also offers training and other helpful materials for onboarding.
Its Base package is available at $39 per month.
Advanced and Premium solutions are available at custom pricing and include labor productivity, document management, and job cost management
7. Smartsheet

Smartsheet is already recognized in the project management realm for being a reliable and efficient solution. The cherry on the top is its construction management solution. Smartsheet is an excellent solution for your construction project management and scheduling needs.
The tool helps with accurate planning, scheduling, collaboration, and management of tasks. With its efficient solutions, Smartsheet has improved the efficiency of its users by up to 70%, provided complete visibility into projects, and improved safety time.
Smartsheet is already helping 80,000+ users worldwide, and the numbers are expected to grow considering its innovative, featureful solutions.
Key Features:
Define project scope, schedule, and budget preconstruction
Safety management
Create a portal to view multiple projects simultaneously
iOS and Android mobile apps
Resource management
Quality control
Reporting
Multiple integration options
Enterprise level security
Workflow automation
Budget management
Pricing:
Individuals and teams of 25 or fewer members can opt for the Pro plan, which is available at $7 per user per month
The business plan is loaded with advanced options and is priced at $25 per user per month
Custom-tailored pricing for the Enterprise solution
8. Fieldwire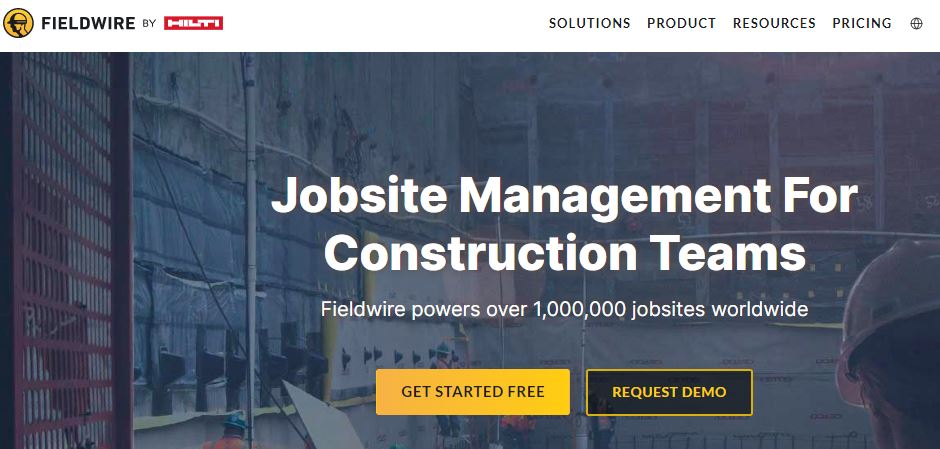 Fieldwire is a Jobsite management software mainly constructed for construction teams to help them manage everything on-site. Its tailored solutions help construction teams tackle day-to-day operations with acute efficiency.
The construction software is suitable for all teams, big or small. All team members can collaborate on projects, schedule everything from the start to the end, track work progress, and visualize project progress via Gantt charts, Kanban boards, etc. Fieldwire also offers mobile apps so that everyone stays on the same page.
Key Features:
Assign tasks
Efficient coordination
Track performance
Record information as it is constructed
Scheduling and reports
Real-time messaging
Tasks, punch lists, and inspections
Mobile plan viewing
Easy-to-use
Pricing:
Its basic plan is available for free for up to 5 users
Growing teams can sign up for the Pro plan, which costs $29 per user per month and is billed annually
For advanced teams, Fieldwire offers the Business plan priced at $49 per user per month, billed annually
The most advanced solutions are provided in the Premium plan, priced at $89 per user per month
Conclusion
These were our top picks for the best construction scheduling software that you can use in 2022. If you think that something is missing in the overall article and should be included, then write to us and we will review it ASAP.
---
Y0u May Also Like: