If you are looking for a Clockify alternative that offers advanced features and is more efficient then, worry no more. We have got your back!
We have curated a list of the top 6 Clockify alternatives that offer better time tracking features at a reasonable price (some of these are even free!).
Time Tracking – An Essential Tool For Better Working
No matter if you are an individual working alone or in a team, you have to keep an eye on your performance. Consistent tracking allows you to identify hiccups in the process, resolve issues, etc. Furthermore, you can also explore areas that need improvement. It also allows you to make better decisions for the future.
You cannot improve your work unless you determine the inconsistencies in your performance. Time tracking software provides you with all the features needed to gauge a team's or an individual's performance over time. So, read on and identify the one that fulfills your requirements and benefits you the most!
Why Should You Look For Clockify Alternatives?
Clockify has made a place for itself as one of the most renowned and successful time tracking software, it calls itself 'the most popular free time tracker for teams.' While Clockify has some of the best features for time tracking, it falls short when it comes to screenshot monitoring, app tracking, etc.
This is where a Clockify alternative can take over. It will not only fill the gaps and fix the loopholes but will also, offer multiple innovative features for enhanced working. A Clockify alternative will include various inventive specs that will make time to track a walk in the park.
With the help of a Clockify alternative, you can increase your productivity and boost your performance with quick and easy timesheet generation, invoice creation, and detailed time tracking.
Let us now proceed to the list of the best Clockify alternatives.
List Of The Best 6 Clockify Alternatives:
Let dive into the best picks for Clocify alternative software.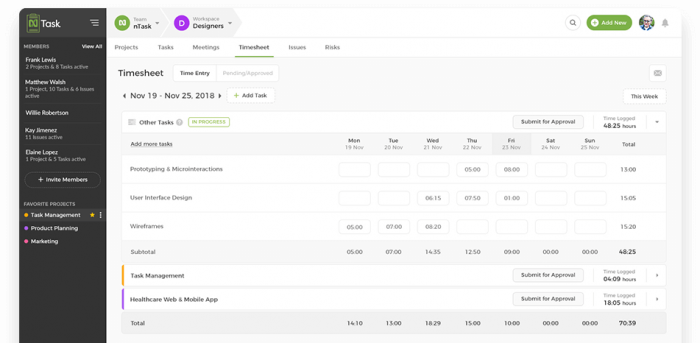 Starting off with one of the best time tracking software on our list, nTask. nTask is a featureful software with which you can manage a plethora of time-tracking tasks. Its advanced features give you a detailed insight into the working of your team.
With the results generated from nTask's time tracking module, you can implement changes to better your performance, identify bottlenecks, resolve issues, and strategize for improved productivity in the future.
The project management software has a total of 7 management modules, all of which are designed to optimize your work. Not only does it allow you to generate timesheets and track times but also, assists in multiple management procedures such as issue management, risk management, meeting management, task management, etc.
Its user-friendly interface is another one of its characteristics that makes it stand out from the rest.
Key Features:
Plan And Budget: nTask allows you to identify hourly rates, determine how much an initiative costs and how much it is bringing in. You can effectively manage non-billables, provision time, and material costs. Also, you can receive automated reminders in your inbox, reminding you of budget depletion.
Simple Timesheets: Weekly timesheets generated through nTask are easy to manage. Users can manually log the hours linked to a specific task or a project.
Unified Space: To save you from the constant juggling typical of an inefficient app, nTask helps you manage your tasks, meetings, time tracking, etc. in a single platform.
Mobile App: nTask's mobile app is another attractive feature of the software with which you can track your daily tasks on the go.
Flexible Report: You can submit the timesheet to your boss with a single click, no hassle whatsoever. The approved timesheets can be sent back with feedback. Allows team members to send timesheets manually and also lets them withdraw timesheets to omit errors whenever necessary. You can also assign a project manager through workspace settings.
Third-party integration: 100+ third-party integrations maintain a seamless flow of work.
Visualization Features: Kanban Boards and Gantt charts provide visual reports that make it easier to track progress and identify bottlenecks.
Pricing:
Basic plan – available for free forever
Premium plan – $3 per user per month
Business plan – $8 per user per month
Enterprise plan – Custom pricing
nTask is the best free Clockify Alternative.

Manage teams, tasks, to-do lists, and timesheets all in one place. Sign up today!
2. Toggl

Toggl is another Clockify alternative that has a firm standing in the business world. The time tracking software is used by over 5 Million users worldwide, which goes on to show its usability, reliability, and efficiency.
It allows companies and individuals to track the time spent on a project and helps them determine their productivity and efficiency. One of the most baggable features of Toggl is that it syncs data across multiple apps helping you streamline your workflow and unite it in one workspace.
Users can also share report links with clients and shareholders which guarantees transparency and quality. Also, the interface is simple and easy, so users do not have to spend hours understanding the software.
Key Features:
Time Tracking: Toggl allows for manual and automatic time tracking. Automatic time tracking starts when a user logs in, even if Toggl is not launched. Manually, the hours can be entered by the users themselves.
Offline Support: Toggl can also be used in the absence of a connection making it even more efficient.
Export Timesheets: Users are allowed to export timesheets in CSV, PDF, or XLS files. They can also email the reports to the relevant authorities.
Idle Users: It also tracks time for idle users to make sure that billable hours are calculated properly.
Alerts: You can schedule alerts that can remind you if the project goes over the budget limitations.
App: Toggl app can be downloaded on iOS and Android phones.
Customer Support: Toggl team has a record time of addressing the customer's issue within 3 hours.
Multiple Integrations: 100+ integrations with apps for smooth working.
Pricing:
Free – available for free for up to 5 users
Starter – $9 per user per month
Premium – $18 per user per month
Enterprise – Custom pricing. Unlimited users.
Related:
18 Best Timesheet Software for Employee Time Tracking in 2023
3. TimeCamp

TimeCamp is the third one in our list of the best, most popular Clockify alternatives. The Clockify free alternative keeps you on top of your work with free time tracking and improves your profitability.
TimeCamp is feature-rich software that helps you operate your business and track its progress so that you can increase its profitability. With the tracking software, you can analyze your resources, the time spent on each project, finances invested in every step of the process, and you can also, identify risks and take better decisions for improvement in the future.
Furthermore, users can see a visual representation of time spent on tasks via Graphical timesheets in the calendar. Since TimeCamp is automatic software, it saves hours of hard work usually put into managing the timesheets manually.
Key Features:
Automated time tracking: Automated time tracking allows you to work freely so, that you do not have to switch between tasks.
Tracking Feature: The tracking feature allows you to track your team's productivity, performance, and profitability of the project.
Productivity Tracking: If your team uses certain apps frequently, you can track the time spent by each member on these apps.
Reports: The reports generated by TimeCamp give insights into the performance of your team along with helping you identify the profitability and tracking the finances of the project.
Invoice: You can mark your time as billable or non-billable which makes invoice generation much easier. Input precise data to receive flawless invoices.
One-click approvals: Rather than seeping through the timesheet reports of your team one by one, you can approve the timesheets with a single click.
Integrations: Integrations with more than 100 apps.
Pricing:
Free – $0
Basic – $5.25 per user per month
Pro – $7.50 per user per month
Enterprise – Contact team TimeCamp for custom pricing
4. Hubstaff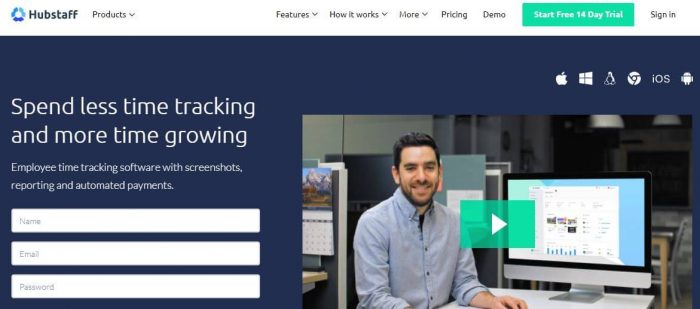 Hubstaff is a top-rated Clockify alternative that allows companies to efficiently track the performance of their employees working in the office or at home.
It provides an efficient system of monitoring wherein a wide range of features such as screenshots, ap and URL tracking, automatic payroll, invoicing, etc. help keep an eye on the progress of the project and the finances involved along with employee's input.
This app is used by teams, freelancers, large-scale enterprises, etc. since it caters to the need of anyone and everyone.
Key Features:
Time Tracking: Time tracking with Hubstaff is relatively easy and simple. Employees can easily start and stop the timer from their Linux, Mac, or Windows desktop apps. Time can also be tracked via chrome directly.
Detailed Timesheets: Detailed timesheet generation give you an insight into your employees' activity and their performance.
Advanced Tracking: Hubstaff's most innovative feature is screenshots that can be taken during work hours. Employers can also track employees' activity through their mouse and keyboard use. This feature, however, can be turned in if and whenever required.
Location Monitoring: Employers can also look into the location of their employees using GPS – geofencing time tracking app and web-based reports.
Advanced Monitoring: This allows you to gauge time spent by a team member on a website or an app.
Invoice: This allows you to set pay rates for an individual employee or a project, that way the payments will be sent automatically based on the working hours.
Pricing:
Free – $0 for 1 user forever
Basic – $7 per user per month
Premium – $10 per user per month
Enterprise – $20 per user per month
5. TSheets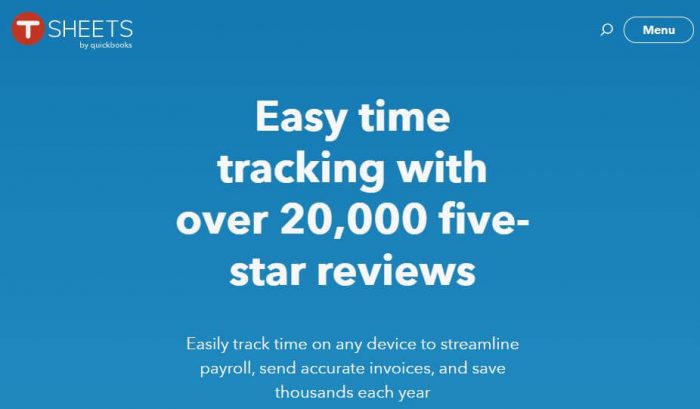 TSheet has landed on number 5 in our list of the best Clockify alternatives. TSheets offers flexibility to its users so that they can get their job done without any hiccups.
Its intuitive interface makes it attractive for users who prefer simple and easy working. It is suitable for small teams, individuals, remote teams, corporations, etc.
Tsheets is a cloud-based management software with multiple time tracking features that make it different from other alternatives. Users can track activity from anywhere, anytime they want.
Key Features:
Time Tracking: Employees can clock in and out of work with just one click, no complexities whatsoever.
Mobile App: TShees' mobile app allows you to keep an eye on your employee's activity, and you can also submit and approve their time form anywhere in the world. GPS tracking and geofencing features are also available with the mobile app.
Payroll Calculation: To generate accurate payrolls, TSheets gives you the freedom to automate overtime rules, customize pay rates, and preset complex overtime calculations.
Interactive Reports: Reports generated in real-time give insight into the business and help improve its profitability.
Integrations: Integrate with other apps to streamline the workflow and manage your work more efficiently.
Pricing:
Premium – $20 per month with an additional $8 per user per month. Base fee includes 1 admin. Free trial for 30 days.
Elite – $40 per month with an additional $10 per user per month. Base fee includes 1 admin. Free trial for 30 days.
6. Harvest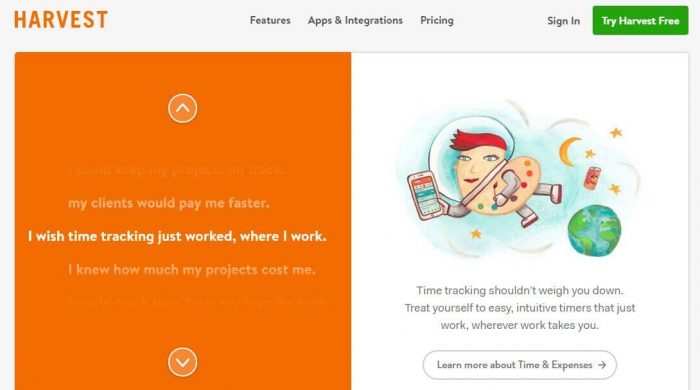 Harvest is the last Clockify alternative that provides all the time tracking features required for better monitoring of employees' performance.
This tool is hailed for its simple time tracking features, quick invoicing online, and powerful reporting software. The Clockify free alternative is also renowned for its efficient functionality, where employees can enter the data in one go after a week or track time while they work.
Its inventive features make the whole process simple, quick, and easy, with no fuss.
Key Features:
Track Time: You can track time by the end of the day or side by side. The mobile app makes it easier to enter work hours with just a few clicks. Also, automated reminders remind you to update the timesheet regularly.
Timers: Integrations allow you to start the time from the app of your choice. Visible time tracking through browser extensions is also laudable.
Visual Reports: Visual reports help you analyze the budget and improve performance for the future.
Invoice Management: Generate invoices, email them, and set reminders for quick working. PayPal and Stripe's integrations make it easy to pay invoices online.
Integrate: Integrate with some of the best management apps for seamless working.
Pricing:
Free – $0 1 user and 2 projects allowed.
Pro – $12 unlimited users and unlimited projects.
Concluding Thoughts
Before you take your pick, weigh your options, identify the pros and cons of each Clockify alternative, compare it with the app, and then choose the one that fulfills your requirements and suits your team best.
We have listed some of the best, most outstanding, Clockify alternatives. These time tracking software are abundant in features and low in pricing. Additionally, most of these software offer free plans for individuals and freelancers and a 14-30 days free trial so that you can identify the best Clockify free alternative along with the ideal pricing plan for your team.
The ball is in your court now!
Best of Luck!