Citrix alternatives provide a variety of functions that can help project managers and freelancers alike. As a result, the work is not only done at a robust rate but also flourishes with more favorable results.
Just in case you tried your luck with Citrix and didn't like the overall user experience for any reason, we have compiled a list of Citrix alternatives. These alternatives are for mobile and desktop users alike. So, take your pick and let us know what you think.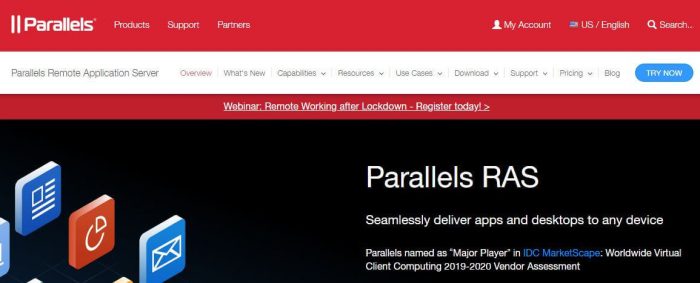 Parallels Remote Application Server (RAS) product portfolio is a very unique app that serves the purpose accurately. This app provides computing in a way that fully satisfies the needs of customers, clients, businesses, and service providers once and for all.
Common categories with Citrix Virtual Apps and Desktops:
Remote Desktop
Virtual Desktop Infrastructure (VDI)
Pros:
Easy and simple to install.
It offers a wide sense of interactivity.
When somebody is not connected to the online system, he can have remote access.
Cons:
At the early stages of use, it seems a little perplexing in it's functioning but when you go through the application for a while, it begins to get more comfortable.
Pricing:
Parallels Desktop – $78.99/year
Business Edition – $99.99/year
Pro Edition – $99.99/year

Amazon Workspaces is another fine addition to this list in terms of being a Citrix alternative. It allows the apparent permission of cloud-based virtual desktop users to have access to their documents, history, Chromebooks, resources, and system support without any hesitation.
Also, users have access to their important data through operating systems, such as Windows, Mac Computers, and various portable devices. Of course, Amazon workspaces Fire Tablets, and Android tablets.
Pros:
Convenient for its users due to broad-spectrum applications.
Interactive and user-friendly.
Security features bundled with flawless connectivity are a big plus.
Cons:
There are no cons as such. The only apparent setback is that this application doesn't allow you to transfer data from one machine to another virtual machine.
Pricing:
80 GB starting from #7.25/month
175 GB starting from $19/month
Check this out:
6 Best Cloud Storages to Use in 2022

VirtualBox is very beneficial to remote users who are either hired off-site, or they are unable to work at the office on a regular basis. The application's rating soared up during the recent COVID-19 pandemic issue. Overall, we feel that this one is a nice addition to our list of Citrix alternatives for desktop and mobile users.
On a side note, VirtualBox is an open-source x86 and AMD64/Intel64 VDI solution for enterprises. This is especially useful if you are looking to work in a remote area.
Pros:
It is very handy and useful simulation software.
Considered to be the best when it comes to the free virtualization of operating systems.
Continuously updated to offer an error-free user experience to veteran project managers.
Cons:
The program may choke up a few glitches and performance hits when you are looking to use MaxOSC via a virtual OS setup. We wouldn't recommend using VirtualBox as a Citrix virtual app and desktop alternative if you are strictly going to be working on a virtual Mac OSX environment.
Pricing:
Perpetual Socket – $1000 per socket & $220 for software update license and technical support.

This app is another handy alternative for those who wish to get by with a mix of remote and on-site work. Workstation Pro is specifically designed for technical developers and it also has the features of testing and debugging.
Besides, some other features are deployed and execution of the software is made easy by running more than one *86-based operating system at the same time on the same computer.
Pros:
It is a great tool to add, edit, run, share, and mount virtual machines.
You can easily make desired changes and installation of operating systems such as Linux and windows.
Cons:
Compared to other applications, Workstation Pro is a bit expensive and not at all cost-effective. It causes some problems and difficulties whenever you intend to export virtual machines. At the same time, this program is not ideal for new users. They might experience a steep learning curve.
Pricing:
Workstation Pro is priced at $249.99.

No matter which part of the world you are in, VNC Connect offers you remote access and control over your devices. It has a wide range of user base. Common users of VNC might be your average project managers, whereas enterprise-level users can range from different multinational corporations altogether.
Pros:
It is very easy and reliable, you can connect numerous home computers and work computers even if they have different operating systems.
System support is remarkable and it feels like you're working in an office.
Fast connectivity.
Cons:
The biggest con of VNC Connect is that it doesn't support audio between the two computers.
Pricing:
Free version available
Pro version is priced at $40 per year/ user

Teamviewer is very easy to use as it provides great support and access through remote connection setup. You can view your connection's monitor, cell screen, and desired area of the screen. The program supports a screen control function too for people who want to perform a task on the main PC from a remote location.
Pros:
The program works tremendously fine as far as user experience is concerned.
Teamviewer has a wide range of flexibility across different platforms that make work quite convenient and time-efficient.
Cons:
Teamviewer is highly dependent on the availability of a strong internet connection. If the connection is strong, the application works fine. Slow connection poses a hindrance on a constant basis.
Pricing:
TeamViewer's starting price is $49/month (or $588 per year)
Anydesk is a fast and robust software that comes with swift remote access. AnyDesk is a very nice alternative to Teamviewer in terms of installation file size, overall performance, and connectivity. Compared to Teamviewer, AnyDesk's performance doesn't drop that much over a slow internet connection.
Pros:
The file size is comparatively very small.
Uses minimum OS resources, and doesn't hit the RAM that much.
Cons:
AnyDesk devs can add more security features to the program.
Pricing:
$10.99 per month; a free version and free trials are also available.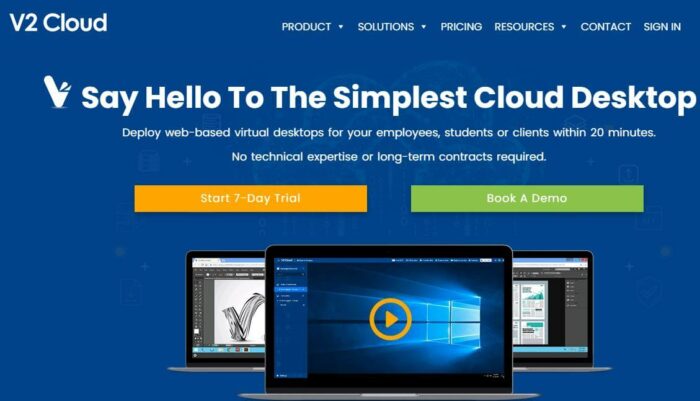 V2 Cloud is a fully integrated Desktop-as-a-Service solution designed with speed and simplicity in mind. It ensures the security of your data with technical safeguards, daily snapshot backups, antivirus protection, secure data centers, data encryption, and more.
User can access their business information through the different operating systems and on all devices via the desktop app or web browser.
Pros:
No in-depth training required
Tech support team is available in 3 minutes
Monthly pricing is based on your business needs. No contract.
Cons:
V2 Cloud does not support GPU at the moment
Pricing:
The basic plan, business, and enterprise plans available
Starts at 40$/month
7-day risk-free trial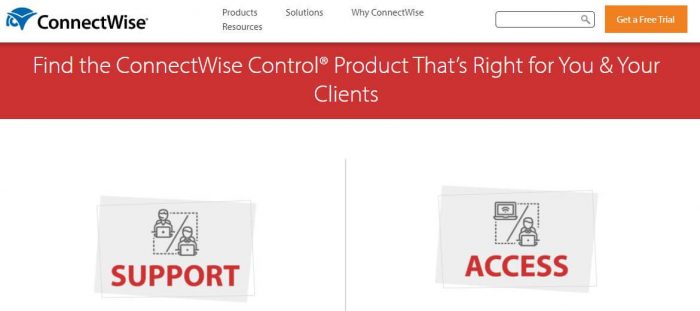 Connectwsie manages and administrates cloud-based universal remote access software by providing unique and feasible solutions to remote access, system support, and remote meeting users.
Pros:
Getting connected is extremely easy.
Robust customer support offers insight into ConnectiWise Control issues
Cons:
As a handy Citrix virtual apps alternative, ConnectWise Control does not have any major flaws whatsoever.
Pricing:
$23.70 per month per user; a free trial is also available.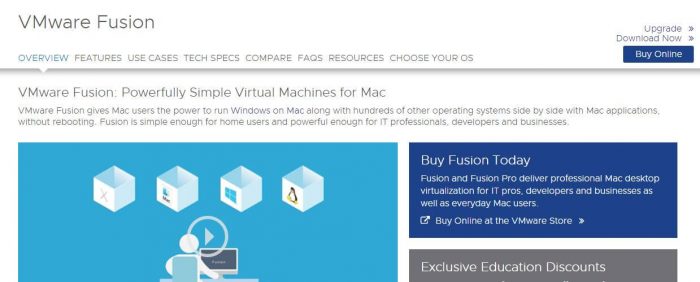 It provides virtualization solutions for running programs within a Windows or Mac OSX environment. Fusion may not be a flawless solution for program developers and project managers, but it does seem to hold its ground pretty well.
Pros:
Easy drag and drop documents functionality.
Overall easy to use in terms of user experience.
Cons:
Problems come with power and processing. Large programs can not run as easily as their small-sized counterparts.
Pricing:
$21.00 per month/per user.
Have a look at the best calendar app:
11 Best Calendar Apps To Supercharge Your Productivity in 2022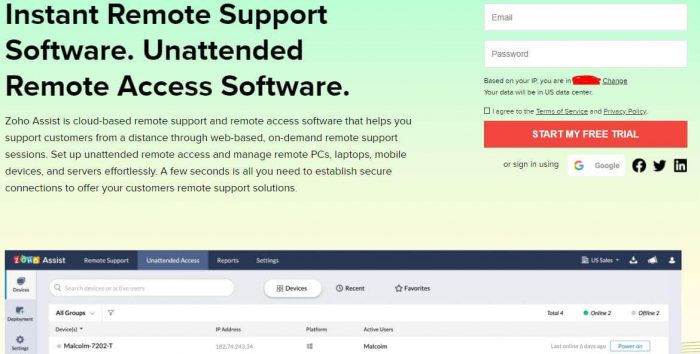 No prerequisites are required for the installation of Zoho Assist. It is one of many applications that the company has developed under the name: 'Zoho.' As far as this app is concerned, it is designed specially in a way that it can be run on any browser. It is made for local franchises and mediocre businesses that don't have extensive requirements and are too much to spend.
IT system support and small IT companies comprising of technicians can benefit the most from Zoho Assist.
Pros:
Just like most remotely supported applications, Zoho Assist connects your system support expert's computer to your client's computer through a tool that can share screens.
It allows easy interactive tools that can help to supervise work, deliver support, and administer at the same time.
Cons:
There are limitations when it comes to simultaneous connections. It can cause a bit of trouble. Also, a 2GB file limit can cause a problem for a certain number of users.
Pricing:
Price ranges from $10 per person to $150. It depends on the usage level.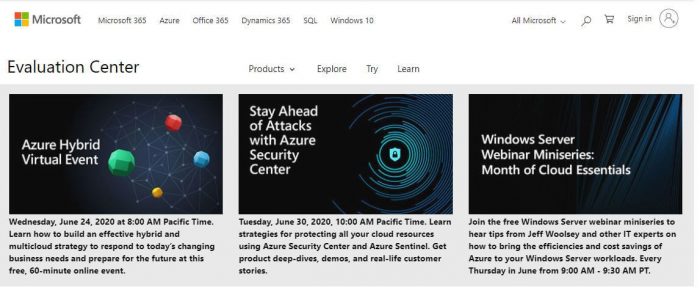 Microsoft Hyper-V Server is a renowned competitor in the market. As a feasible Citrix virtual app alternative, it is a stand-alone product that provides a simplified, user-friendly, and cost-effective optimized virtualized solution.
Pros:
Modeled around a unique setup that helps to offer more intuitive control over a long range of virtual applications.
Institutional virtualization is now made possible in the physical environment with the help of this virtual app.
Cons:
There is no such difficulty when it comes to operating Hyper-V, only access granted through VPN is a little worry.
Pricing:
Hyper-V ranges from $3607 To $4,246

Recently known as GoToAssist, RescueAssist provides business-leading widespread remote channel support. It also offers ITIL-based service desk administration and system support to upgrade IT business operations, which is very cheap and cost-effective.
Key new unique features include lightning-fast connection time, splendid and sublime support including chat, remote view, and quick file transfer, in-channel administrative collaboration (integrations and amalgamation with apps like Slack), and mobile device support + sharing of camera.
Pros:
It is userfriendly, very convenient, and has a sublime GUI
Unattended support has made work a lot easier
Administrators can access employees' systems to make changes
Cons:
Pricing:
Price ranges from $54 to $99 per user/per month.

BeyondTrust remote support is considered to be the number one enterprise that is as safe and secure as a bank. It is leading and the world's best system there is to offer. This was one of the reasons why the program made it to the Citrix virtual app alternatives.
Pros:
It has a splendid GUI; one interface can connect to all computers.
Cons:
It asks too many questions when you are looking to grant any permission and make changes.
Pricing:
BeyondTrust Remote Support is a bit expensive as it costs $1,996

Splashtop business access is very beneficial in many ways. It is very convenient and easy to use. At its core, the program works as a remote desktop that ensures that your work is going smoothly alongside all the collaboration aspects between teams and customers.
The program is overall easy to use and makes it a go-to choice for users all over the world.
Pros:
The connections are high resolution and very fast and efficient in performance
Full features available in the toolbar are very helpful and eye-capturing
Cons:
Although there is nothing to dislike about the Splash Business Access application, sometimes the wake-up option doesn't work in desktop apps.
Pricing:
$40 per month and $480 per annum for up to 25 computers

Awingu is a unified workspace that offers highly secure and audited access to your company files and legacy, web, and SaaS applications in a browser-based workspace, accessible via any browser, on any device.
It is non-intrusive and builds on top of your current architecture. The solution is deployed as a virtual appliance on all common hypervisors and will connect with standard protocols to your existing IT assets (e.g. RDP, WebDAV, LDAP, …).
For end-users, everything is available in a browser via Awingu's online workspace. No need to install agents, plug-ins, etc.
Pros:
Simple to use and cost-efficient
Easy setup and works on any device
Cons:
Works well on browsers but not on other devices like USB-based devices
Problems in user knowledgebase and troubleshooting
Pricing:
Named users subscription: $90/user (minimum order 50 users)
Concurrent users subscriptions: $120/user (minimum order of 20 users)
Concurrent users perpetual: $250/user (minimum order 20 users) (from the 2nd year on, $50/user for M&S)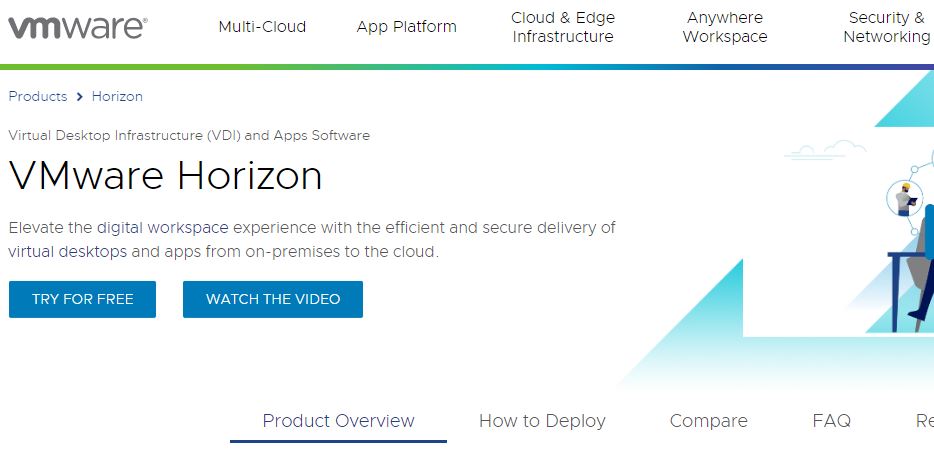 VMware Horizon is digital virtualization software that offers a digital workspace to its users. Users can use the tool to access and manage desktops.
IT teams can deploy and access virtual desktops and apps using a single control plane of VMware horizon. To ensure users have a seamless experience, it offers automation features and simplifies management.
Employees can stay connected from anywhere in the world, at any time, via any digital device.
Pros:
Built-in security and integration with Carbon Black via a zero-trust model.
Modernized automated operations
Flexible deployment options
Easy and secure access to different devices
Cons:
The downside to the software is that it has poor connectivity to a pre-added server
Minor network fluctuations often break the screen or slow down the optical mouse
Pricing:
VMware Horizon is available at a one-time price of $3,116.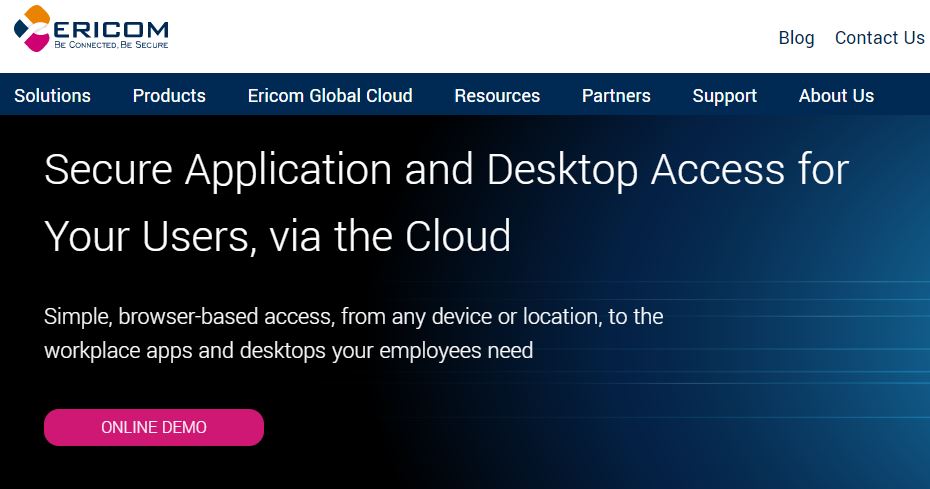 Ericom Connect is a VDI solution with simple, secure, and quick access to desktops and applications on the cloud. The tool is tailored to serve enterprises of all sizes, be it small, medium, or large.
Ericom Connect is relatively easy to set up and use. IT teams can deploy the software to access desktops virtually.
The best thing about the tool is that it does not require expensive infrastructure to integrate it into a pre-set IT environment. It easily integrates into preexisting IT environments, and users can start leveraging its benefits immediately.
Pros:
Ericom Connect offers centralized, web-based controls to manage access and security
Easy to set up, manage and install on remote as well as on-site desktops
Easy access to resources from a centralized platform for all users
Cons:
The only drawback of the software solution is system connectivity issues; otherwise, it is impeccable software with reliable features.
Pricing:
Users can start with a free trial or contact the vendor for a custom quote.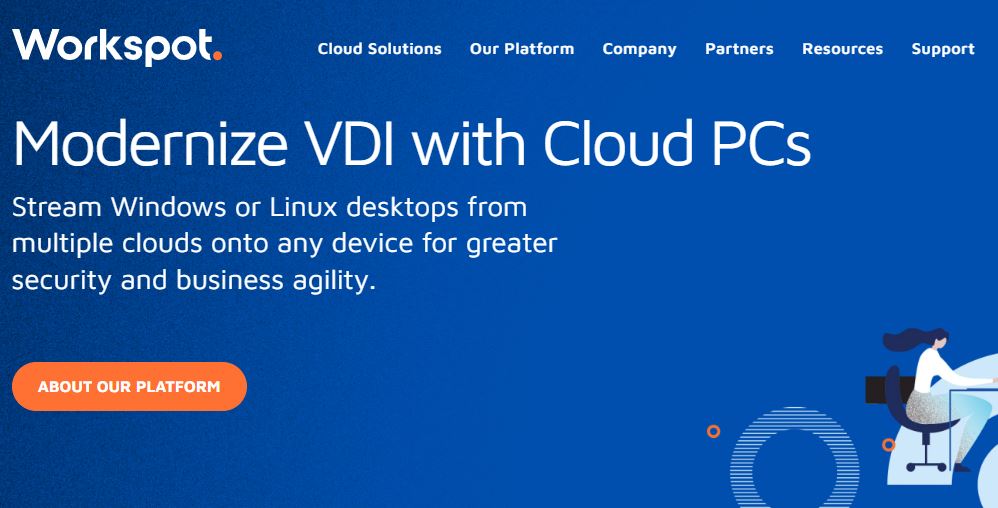 Workspot is another fantastic Citrix alternative that allows IT teams to deploy and manage virtual desktops, apps, etc., anywhere in the world.
The cloud enterprise PC platform allows its users to access their cloud desktop from any device, anywhere in the world. It is a relatively affordable VDI solution with comparable features and high efficiency.
With event log functionality users can monitor and record employee activity.
Pros:
Fully customizable and scalable cloud desktops
IT professionals can blacklist or whitelist specific sites
It is the only solution that integrates with Windows 10 via Azure and GCP
Cons:
Workspot does not have a number for direct inquiries, which is terrible if you need immediate support
Non-admin end users cannot reboot Windows updates
Pricing:
Workspot offers a demo to its new users but no free trials.
It is available at a highly affordable price of $15 per month and includes platform, cloud cost, Go-Live services, and support.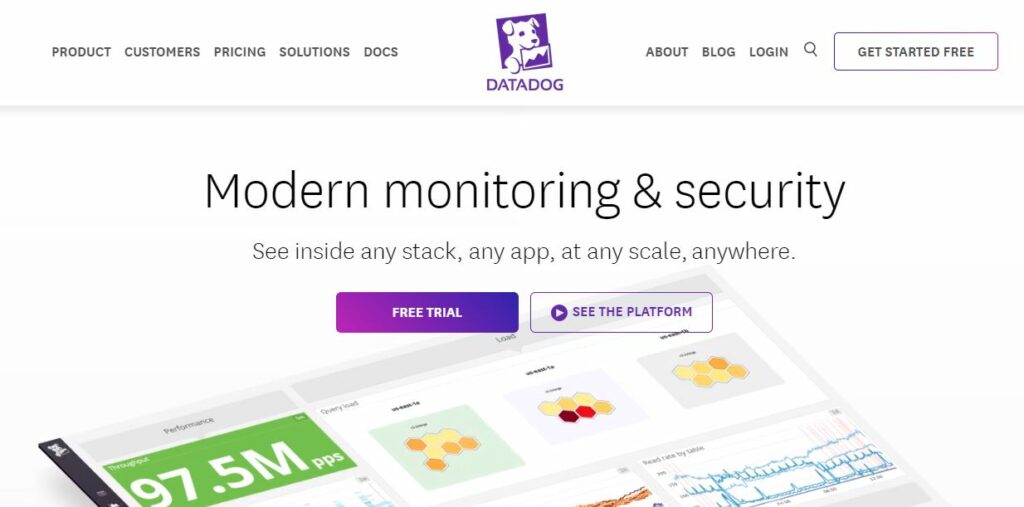 Datadog is a cloud-based monitoring and analytics platform that helps organizations monitor their IT infrastructure, and applications, and log data in real-time.
This Citrix alternative open-source program comes with many key features that put it in the league against the former tool.
Datadog can monitor a wide variety of systems and applications, including servers, databases, networks, and cloud services like AWS and Azure.
This Citrix's free alternative can also provide deep insights into application performance, user behavior, and system metrics, helping organizations optimize their IT infrastructure and improve user experience.
Pros:
Provides real-time insights into application performance and user behavior, helping organizations optimize their IT infrastructure and improve user experience.
Datadog is a cloud-based solution that is easy to set up and scale, and it can integrate with a wide variety of systems and services.
Get detailed insights into security-related events and can be used as part of a comprehensive security monitoring solution.
Cons:
Datadog does not provide remote access to applications or desktops like Citrix.
The Citrix alternative open source may not be as customizable as Citrix, particularly when it comes to user experience and interface design.
Pricing:
Includes free plan with basic features
The pro plan starts at $15 per host/ per month
Enterprise solution starts at $23 per host/ per month
Best Citrix Workspace Alternatives for Medium-sized companies
Citrix is a powerful and comprehensive enterprise-level management solution that can provide businesses with the tools they need to manage their applications, networks, data, and devices. It has been used by numerous organizations to help them streamline their operations and maintain secure IT systems.
With Citrix's suite of integrated services, businesses can ensure that their IT systems are running smoothly and securely, while also providing an efficient platform for collaboration and communication.
The most appealing aspect of Citrix is its versatility; it can be used by all types of enterprises, regardless of size or industry. It is capable of handling a wide range of workloads, including desktop virtualization, application streaming, server consolidation, and storage optimization. This makes it ideal for both large and small-scale organizations who are looking to optimize their IT infrastructure as well as increase productivity.
Citrix also offers robust security features that enable businesses to protect their data from unauthorized access or misuse. With advanced encryption methods and identity management solutions, businesses can be sure that their data remains secure at all times.
Additionally, Citrix makes it easy to deploy and manage applications across multiple platforms; this enables enterprises to ensure that all users have access to the applications they need and that the latest updates are available in an efficient manner.
Best Citrix Workspace Alternatives for small businesses
As much as Citrix is suitable for Enterprise level businesses, it is also an excellent choice for small businesses looking to increase their productivity and collaboration.
The tool provides a comprehensive suite of applications and services that can help small businesses streamline their operations, improve collaboration, and boost efficiency.
One of the main benefits of using Citrix is its integrated platform, which allows users to access multiple applications in one place. This makes it easier to manage employee tasks, share files, and collaborate on projects. Additionally, Citrix is incredibly secure, with built-in security features that protect data from unauthorized access.
To that effect, this application also offers a wealth of features designed to improve workflow efficiency and reduce costs.
For example, it allows administrators to remotely manage applications from anywhere in the world and provides powerful tools for automating routine tasks. Furthermore, Citrix has tools for optimizing application performance and monitoring infrastructure health to ensure everything runs smoothly.
Finally, Citrix Workspace makes it easy for small businesses to scale their operations as they grow. It can be easily configured to meet the needs of any business size or budget – making it an ideal choice for companies of all sizes who are looking to maximize their efficiency while minimizing cost.
We have handpicked these best Citrix workspace alternatives for businesses of all sizes. Take a look below and give it a shot.
Conclusion
Although we made an effort to suggest a state-of-the-art program as Citrix virtual app alternatives, there might be software that isn't mentioned here. Of course, there are many! On that note, if you have a favorite software that isn't on our list, feel free to talk about it in the comments section below. Alternatively, you can write to us with your suggestions at fwilson@ntaskmanager.com.