Task management is one of the most important activities that you perform on a daily basis.
But have you noticed that the process is taking you a long time just because you are keeping all your thoughts in your mind instead of writing them down? It's called projecting "stuff" on a piece of paper or within an app where you can easily plan and execute your workflow.
Speaking of task planning and tracking, we have handpicked some of the best apps to improve the experience for you. Besides, these apps are a great way of getting tasks out of your head & into a virtual notebook where everything is managed and accessible whenever needed.
What is a Task Planning Process?
The task planning process encompasses the actual "planning" phase for any activity. Look at it this way: stakeholders come up with an idea. They need a project manager for the implementation and successful execution of that idea.
Project managers create a grand plan followed up by several tasks that are planned on paper. Do you get what I am saying? That's what task management processes are. They are plans to do something within any given timeframe.
Let's discuss some of the best apps that you can use, not only as a project manager but as an individual contractor to smoothen the workflow.
Best Apps for Improved Task Planning
Here are the apps that we are going to discuss in this article.
Table of Contents
Let's discuss them in detail.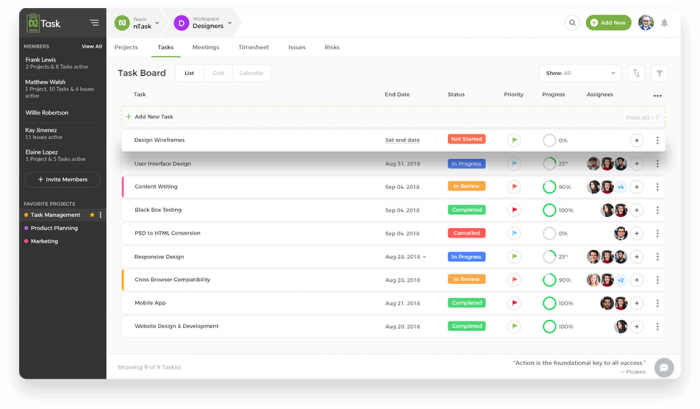 Being the best task management/project management application in the market, nTask is an amazing software that you need in your life if you want to organize the thoughts in your mind and convert them into workable tasks.
The software is immensely packed with different features that enable users to plan and manage the tasks and processes that are associated with their projects. Here are some of the features that the application has to offer.
Key Features
Multiple board views
Calendar, grid, board, and list view
Public links
Minutes of meeting
Activity logging
Due date tracking
Task filters
Meeting follow-ups
Activity tracking
Notifications
Calendar sync with Google
Approval process control
Pricing
Free basic plan
Premium plan at $3 per user/month
Business plan at $8 per user/month
14-Days free trial for all paid plans
nTask is one of the Best Free Task Planning App.

Manage all your tasks, projects, collaboration, timesheets and more in one place. Sign up today!
2. Alternote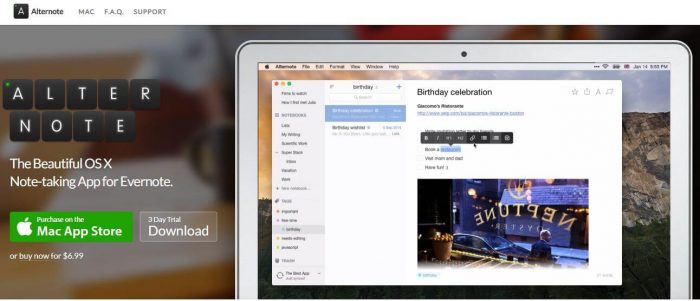 Purely a note-taking app. Alternote is an amazing application that enables you to transfer your thoughts onto a digital canvas that ultimately helps you to plan your tasks accordingly so that none of your precious ideas get overlooked.
Key Features
Minimal UI & smooth experience
WYSIWYG editor
Colored tags
6 amazing built-in fonts
Expand Markdown-like symbols
To-do lists
Live word count
Seamless Evernote integration
Pricing
You have to contact the company for a price quote
3. Apple Notes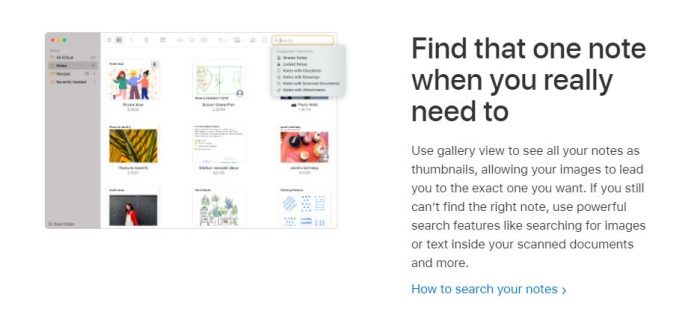 Another exemplary note-taking app for task planning that helps you to put your thoughts in a digital database is Apple Notes.
The application is available only on Apple devices and that's the biggest drawback of the application but other than that, the application is very basic and has a minimalistic design that makes it quite intuitive and easy to use.
Key Features
Add Notes Using Siri
Share a Note
Lock Notes
Organize Notes in Folders
Notes Shortcut in Control Center
Make a Table
Share Links and Text to Notes App
Pin Note
Pricing
Free to use on Apple devices
Related blog:
4. WorkFlowy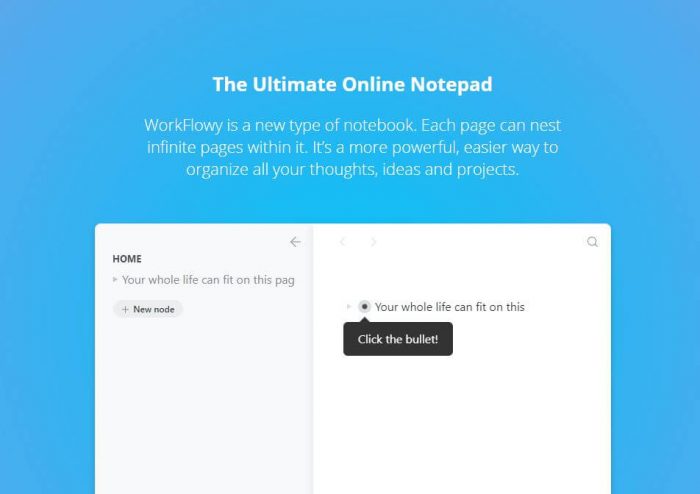 WorkFlowy is an incredible app for task planning that is used by scores of people around the professional world. The application's structure and working are difficult to understand but when you get the hang of it, it's surprisingly useful.
Every single line that you write in the application is considered both a heading and a list item for the subtasks, and when you write a line, you can zoom in on the bullet points that appear next to the tasks and also add the sub-items connected to the tasks.
Key Features
Unlimited lists
Email confirmation
Premium support
Backup to Dropbox
Theme and Fonts
Pricing
The app has a free version
The paid subscription of this application starts at $4.99/month
Recommended Reading:
5. Evernote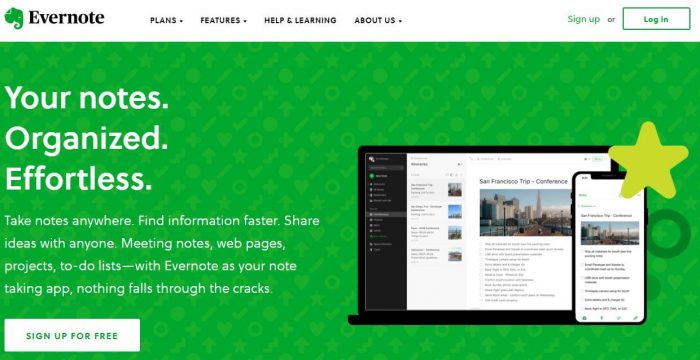 Evernote is one of the best note-taking applications on the market right now. The application enables you to take notes so that you can transfer your thoughts on a digital storage space so that you plan your tasks accordingly and never lose any important idea.
Key Features
Store all itineraries, confirmations, and travel documents
Other products include Skitch and Penultimate
Web clipping support
Mobile and Web interface
Annotation and markup
Give feedback and share ideas
Store notes, web clips, files, and images
Web clipper browser extensions
Grab the whole web page: text, images, and links
Share notes and collaborate on files
Evernote Food for collecting food moments
Evernote Clearly for clearing web content
Pricing
A free trial of the application is available so that you can check the software out before spending a dime on it
The paid subscription of the application starts at $7.99/month
6. OneNote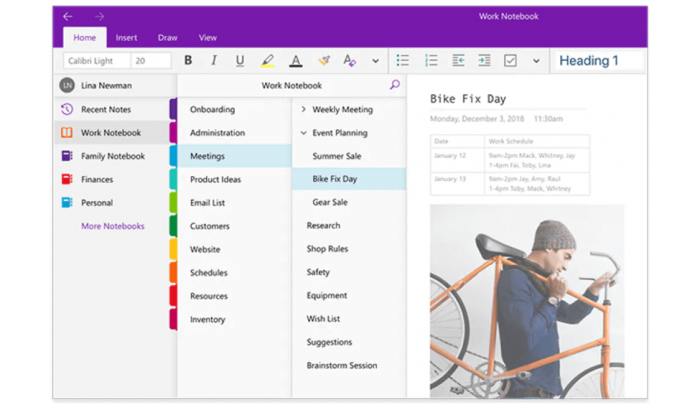 OneNote is an incredible note-taking application that belongs to Microsoft's family of applications and is probably one of the best applications if you want a digital scrapbook of all of your ideas.
The application has a drag n drop functionality which helps you to add the content you need in one place and work on it as you wish. This greatly helps in task planning in a domain where everything is spread out and you have no clue what connects to what.
Key Features
Task Planning
Annotations
Live to share
Save while you surf
Task planner
Book summary
Remember everything
Social notebook
Pricing
The Premium subscription of the application starts at $7.99/month
7. NotePlan

NotePlan is a new and exciting application that is in the beta stage right now, but it will be a definite hit when it drops in the software market. It is an incredible brain dump application that allows you to transfer all of your thought and ideas onto a digital platform. A definite winner.
Key Features
Intuitive
Easy Note-taking
Easy formatting
Task planning
Pricing
Contact the company for a price quote
8. Remember The Milk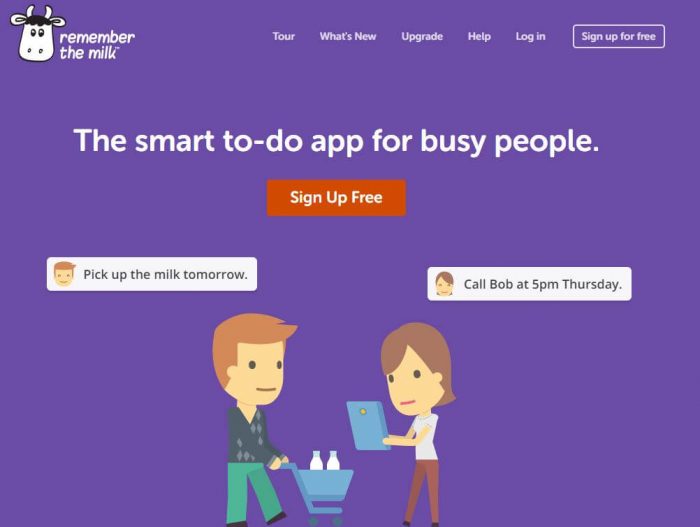 Remember the Milk is a solution that allows you to stay on top of all of your tasks. Remember the Milk provides you with a solution where you can easily view everything that you need to get done all on one platform.
The tool is compatible with different devices and ensures that you remember your tasks by giving you reminders and gives you the tools to easily manage your tasks as well.
Key Features:
Reporting features
Analytics features
Mobile access
Ability to create tasks and subtasks
Alerts and notifications
Task scheduling
Pricing:
Remember the Milk offers a free plan
You can also upgrade to a Pro plan which costs $39.99 per year
9. MindNode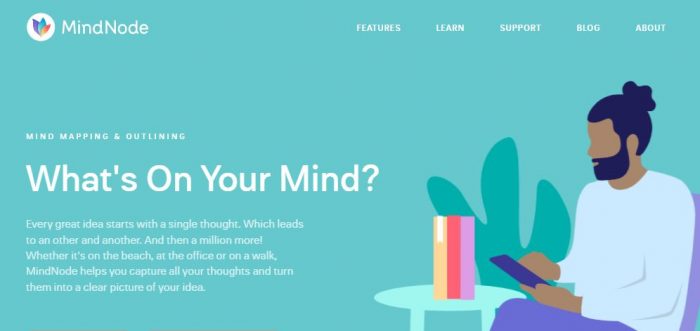 Another type of software that can help simplify task planning is mind mapping tools such as MindNode.
MindNode is a fantastic way to increase productivity through its mind mapping features. The tool assists you to stay more organized by providing a platform where you can focus your thoughts and see more clearly exactly what needs to be done.
The tool allows you to personalize a variety of graphic templates and visual tags to help you meet your specific requirements.
Key Features:
Activity dashboard
Commenting features
Collaboration tools
Workflow management
Third-party integrations
Activity tracking
Data visualization tools
Presentation tools
Status tracking
Pricing:
MindNode offers a plan which is free to use
You can also upgrade to a paid subscription which starts at $2.49
10. Spike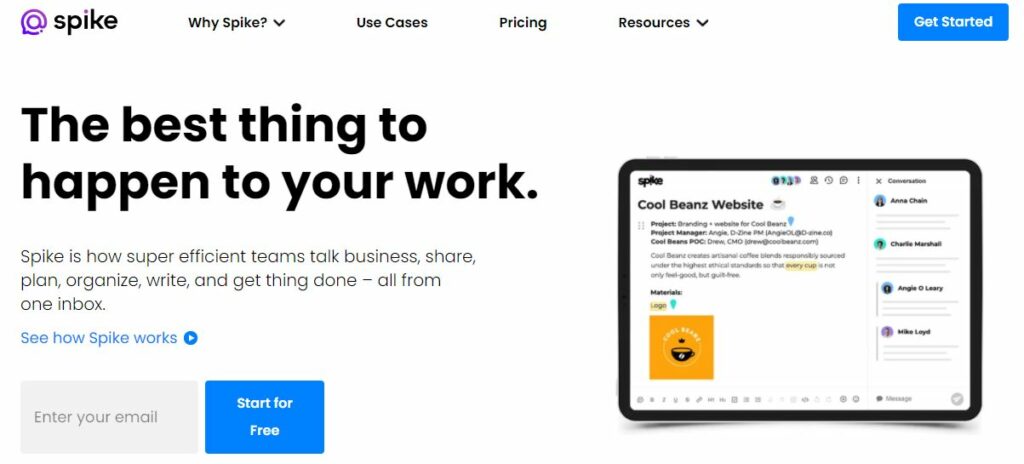 Spike is another great note-taking app to help you improve your task planning processes. It is best for collaborating, creating, editing, and sharing dynamic notes within your email inbox. Thus, from the ease of your email inbox, you can plan and connect with your team in the most agile manner. 
Moreover, it offers a wide space to help you jot down all your versatile ideas and combine them in one place. With Spike, you no longer have to spend time on unnecessary meetings. All you have to do is create notes of important planning processes, share them with your team, and edit, chat, store files and manage tasks in real-time. 
Thus, use Spike to communicate better, faster, and together. 
Key Features
Conversational emails
Collaborative notes
Collaborative tasks
Group chat
Calendar
Super search
In-line RSVP
Video and audio meetings
Cloud integration
Real-time messaging
Priority inbox
Custom notifications
File preview
Translate
Pricing
Free plan for everyday use with up to 2 email addresses
Pro plan for professionals and small businesses at $5 per user per month with up to 3 email addresses
Business plan for power users and large teams at $10 per user per month with unlimited email addresses. 
11. Todoist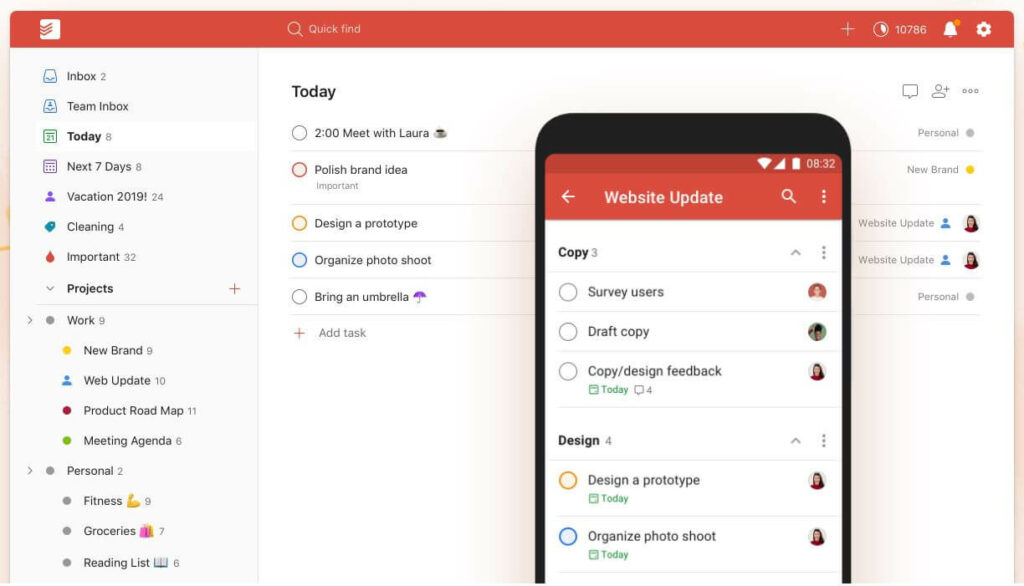 The next best app to help you improve your planning process is Todoist. It is a great app to let you keep everything in one place for organized management. So far, Todoist has completed over 1.5 billion tasks in 150 million-plus projects. 
It has been a great source of help for millions of users to organize, plan, manage and execute their tasks effectively over the years. It helps you prioritize your tasks, get a clear view of everything and never lose track of important tasks.
Moreover, it also helps you to focus on the right things and centralize all your work in one space. With its 10+ apps and plugins, you can get real-time updates anywhere at any time.
So, align your workflows and begin to plan better with Todoist.
Key Features
Quick Add Task
Recurring due dates
Sections and subtasks
Reminders
Priority levels
Real-time notifications
Kanban-style cards
Labels, filters, and themes
Add tasks via email
Comments and file uploads
Multiple integrations
Pricing
Free plan for starters with 5 active projects
Pro plan for power users at $3 per month with 300 active projects
Business plan for teams at $5 per user per month with 500 active projects per user
Over to you!
These are some of the top-rated task planning and management applications. Use them for better work management and getting more done in an organized manner. Share your suggestions at: fwilson@ntaskmanager.com
More Readings: